Laundry Room Remodel | Week 3
This post may contain affiliate links, please read my disclosure policy.
Three weeks into the laundry room remodel, and the color palette is taking shape: paint & cabinets are the start of the end product!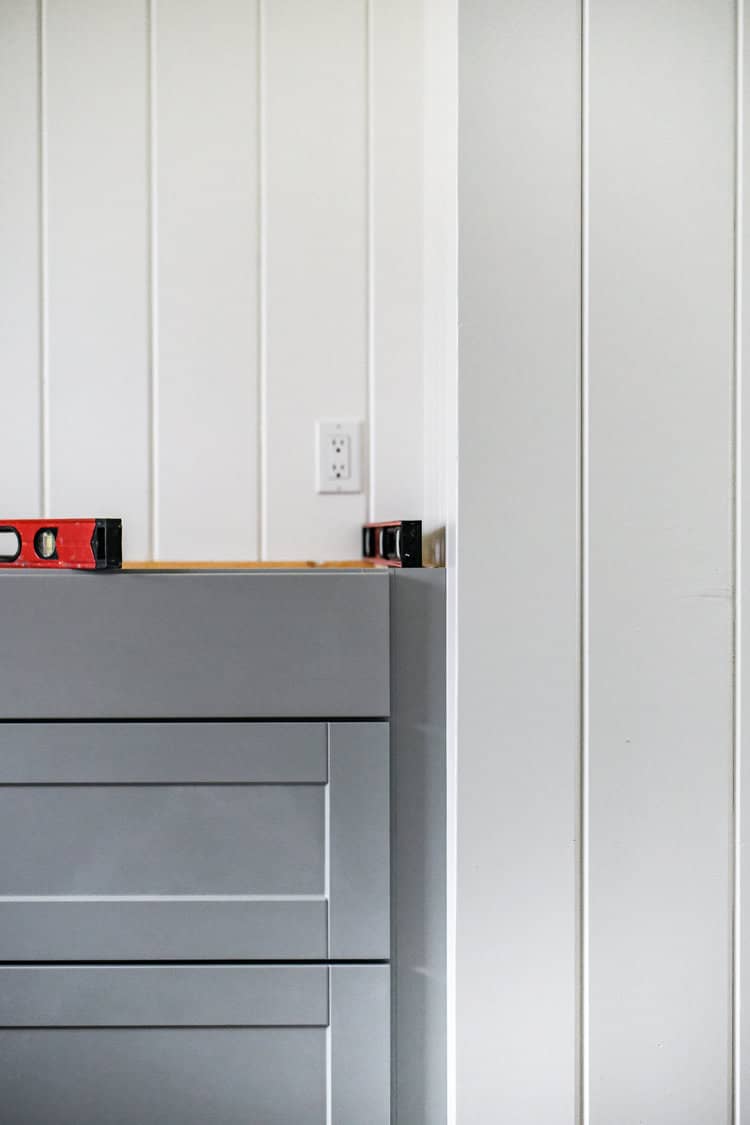 In case you haven't been here in awhile, let me tell you a little bit about this project. We are renovating our laundry room in partnership with Home Depot to refresh our home for spring. When they approached me about this project, we had about 30 days to wrap it up. It's been a few weeks now, and everything is starting to come together. If you want to see "before" photos, click here!
If you remember, I was nervous about the pine paneling looking too much like a log cabin cover up, but the Kilz primer & a couple of coats of white paint, and those panels look incredible. I am so happy we decided on real wood rather than ready made sheets. They look fantastic. If you are considering a similar project for your home, you will love it.
We used Bistro White on the panels because that is what we have in most of our home. It's my go-to warm white paint color. There is so much debate out on white paint, but Bistro White is my favorite!
After the panels were wrapped up, we were able to begin installing the cabinets. The cabinets are Home Depot's ready-to-ship cabinets. I simply measured out the space and then calculated the cabinet spacing with Sketch Up (free design program!). The cabinets ship within 3 days and are very inexpensive and convenient. I will mention that these cabinets are inexpensive and ready-made – they are not custom cabinets, but they are perfect for a utility or laundry room. For the price, these are really wonderful.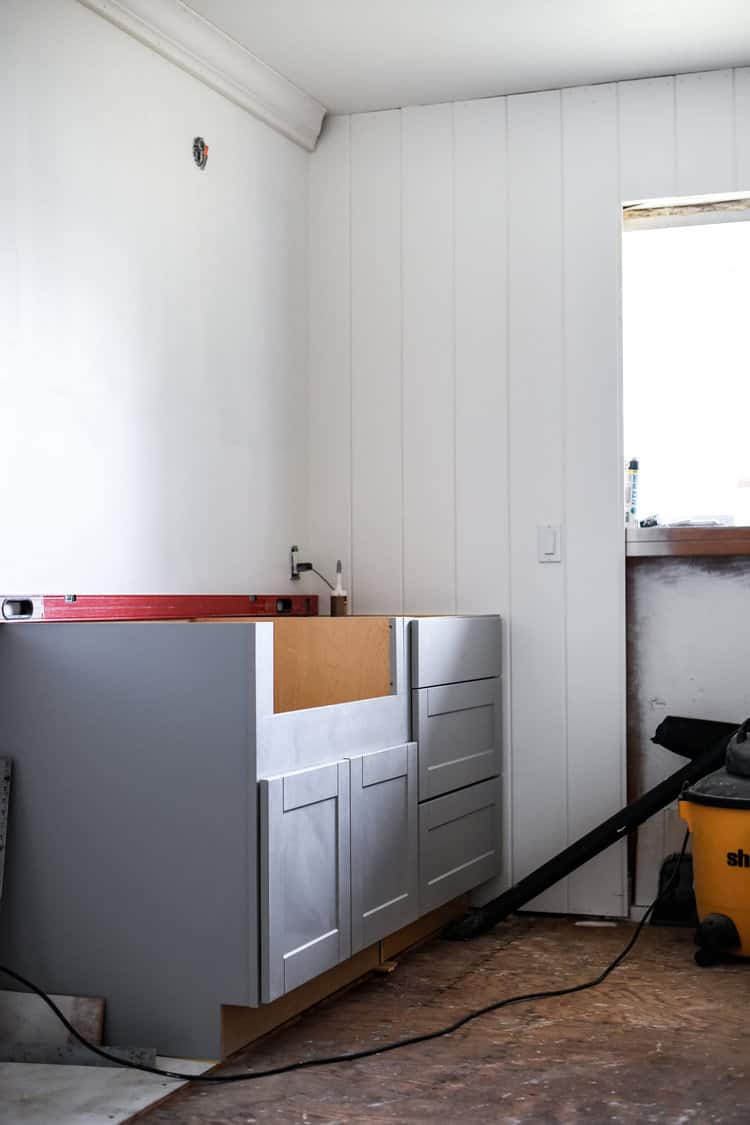 By now you may know how much I love white everything. Going with gray cabinets was a toughie for me, but the color is incredible. It doesn't quite show through as well as I'd like it to in these photos – it looks so crisp up against the white paneling, and it truly the prefect gray, bravo Home Depot.
The sink and faucet also arrived this week, but I will show those to you once we get them installed. We are still waiting on the countertops to be delivered and installed and I am very excited to see the quartz en masse (rather than just in sample form). I don't have much experience with quartz, so I can't wait to see what it looks like once installed. I am hoping it lives up to the hype!
On Monday, the tile guys will start installing the flooring, and once the countertops go in, they can begin the backsplash. I cannot wait to see that backsplash go up! I think there's always a balance of splurging and saving in a room, but it's important to have one really special element in any space, be it tile, hardware, or light fixtures. The backsplash in this room is my "splurge", and I think it will make all of the other elements shine even brighter.
I hope you have a beautiful weekend, and as always, thank you so much for stopping by, I love being able to share these projects with you, and your support means so much!