Laundry Room Remodel | Week One
This post may contain affiliate links, please read my disclosure policy.
I enjoyed sharing the process of our dining room during the One Room Challenge this fall so much that I thought I'd share a similar series as we renovate our laundry room. It's always fun to see a space from start to finish, and I love being able to share my ideas with you!
We didn't have plans to remodel our laundry room, but my friends at The Home Depot approached me about working together on a "clean sweep" campaign for spring. How could I say no?
So here we go…less than 30 days to remodel a laundry room. I was lucky to find an awesome contractor available to help us from demo to finish. We also have a really great tile guy who will be helping us with the backsplash and flooring.
Our home was built in the 60s and when we moved in, it hadn't been touched. The linoleum, pink bathrooms, and wood paneling was all original. While some love mid-century modern, I do not. Over the past year, we have remodeled our kitchen, dining room, entryway, and guest bathroom. It's nice to have those big projects wrapped up so that I can focus on smaller projects entirely.
I have worked with Home Depot quite a bit in the past, and I really love any opportunity I get to partner with them. They always allow creative freedom which is really nice because I know I won't have to compromise my designs. So needless to say, I'm very excited about this project…
---
farmhouse laundry room design plan
---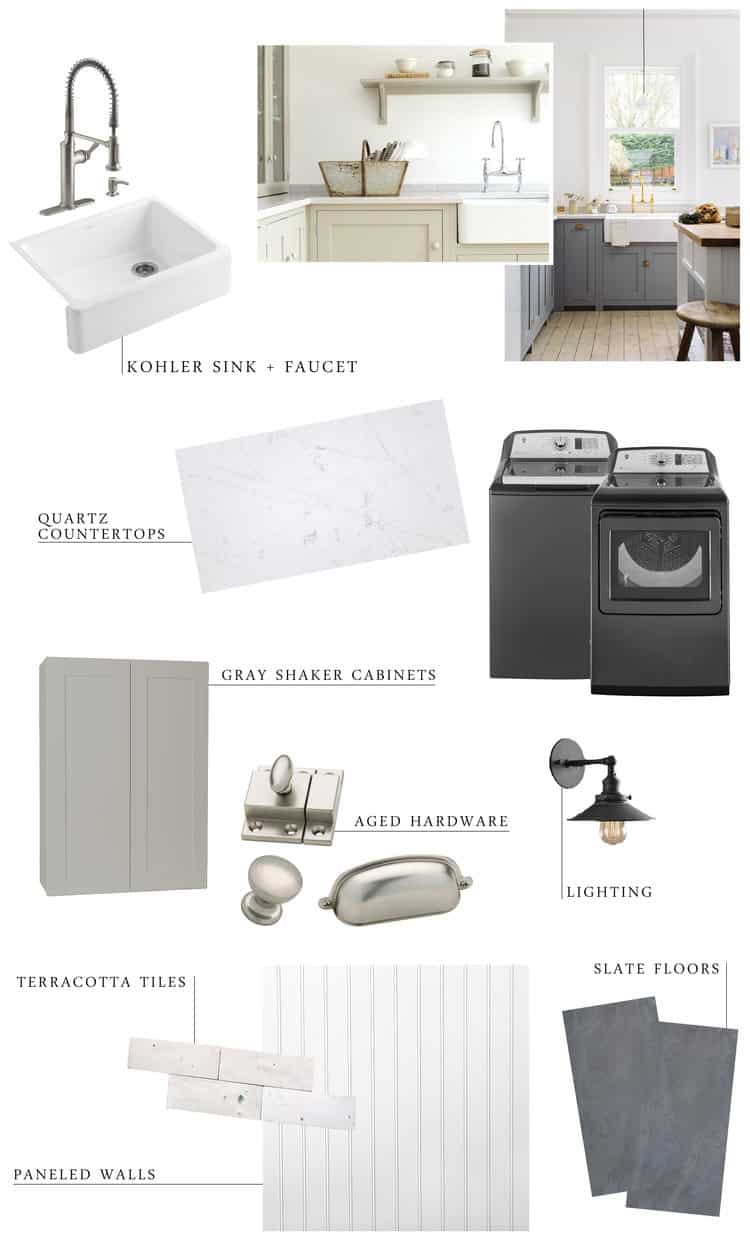 So let me tell you about our laundry room…
It is really, quite large. It has a beautiful window that looks out over the apple trees. It has loads of storage and cabinets, and even has a "drip dry closet". I have always envisioned a door where the window is because it leads right out to the apple trees. I spend so much time outside under the trees, and out with the goats, that a door here makes much more sense than a window.
I also knew I wanted to remove the drip dry closet, while it's definitely unique, it's similar to the indoor BBQ…not functional any longer. Aside from those two structural elements, the rest of this room will all be cosmetic updates: adding crown molding, new flooring, base boards, cabinets, countertops, and backsplash.
Once the room is finished, I hope to have an area where I can not only do the laundry, but also wash fruits and veggies from the garden as well as prep flowers.
Home Depot has so kindly provided me with cabinets, countertops, Kohler products (sink & faucet), hardware, a washer and dryer, and a new vacuum. I am feeling incredibly grateful. Our current washer and dryer is hanging on by a thread. The washing machine sounds like a rocket ship, whenever someone comes over while it is running they ask, "What in the world is that noise?"
The lid is also broken – even after replacing it, it does not stay open, so I prop it up each time I do the wash, plus the lid-lock latch completely broke off, so we have to jam a little piece of plastic in each load to trick the washer into thinking the lid is locked. Even with all of that said, I am very grateful to have a laundry room, and a washer and dryer at all, but I am so excited to have a brand new washing machine that works!
---
before photos
---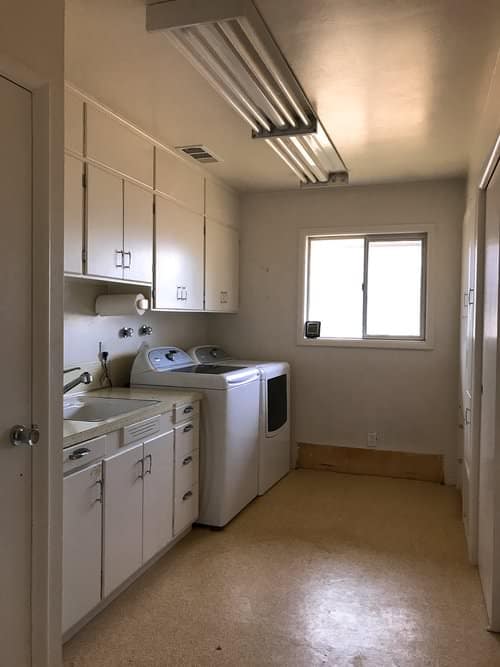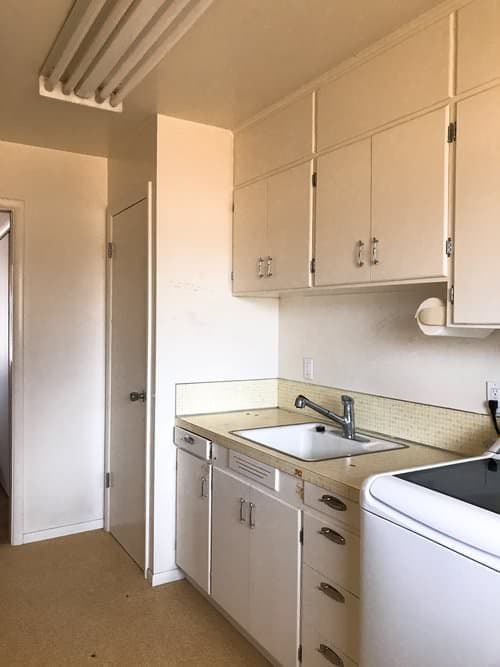 While designing this space, I wanted to push myself a little bit out of my normal "white" comfort zone. Rather than selecting white shaker cabinets, I chose a beautiful gray, and to keep the cool tones present throughout the room, I'll be using aged nickel hardware and black and white accents.
I visited the Home Depot the last time I went to Reno to select a countertop. I had heard all about Quartz countertops, but I have yet to use them in our home. After doing a little bit of research, it seems that Silestone Quartz is a designer favorite. I have selected the Statuario color because it is a nice bright white color with minimal veins – I wanted to keep the color as light as possible since we will be installing in black slate tile.
Speaking of, it was a tough decision as to what I should install for flooring. I like a nice bright space, but the classic style of slate really sucked me in. I think it will tie the white counters and gray cabinets together really well. Once I decided on slate, I then couldn't decide if I should opt for herringbone flooring or a more traditional stacked pattern. Ultimately, I chose the traditional route. While I love herringbone, it didn't feel right for this room which I want to look very minimal and clean.
It seems that I have something against upper cabinets because once again, I have decided to skip them. The laundry room is 130 SF, so we will have sufficient storage without the upper cabinets. However, I wanted to keep the room interesting, so we will be installing vertical paneling on the walls as well as a counter to ceiling backsplash on the main wall. To say I am excited about the backsplash is an understatement. I splurged on Clé tile, and I cannot wait to have those little terra-cotta beauties in my hands! I selected the color "rice paper" because I loved the gray and green undertones (I did not care for the subtle pinks of their "weathered white").
Finally the light fixtures…I learned my lesson during the one room challenge to check, double check, and then triple check the sizing. Photos online can be deceiving! I am so glad I did because the lighting I initially wanted would have been much too large for the wall. We spent a good hour mulling over placement and style, and in the end I selected these classic farmhouse style sconces from RH to be placed above an open shelf on the main wall.
That sums it up for week one…we have finished demo, and now our contractor is wrapping up plumbing and electrical! Next week we will begin to put it all together, and we are hoping to have everything wrapped up by the first week of February. I hope you enjoy following along as this room comes to life. Thanks so much for taking the time to visit me today, I hope you have a wonderful weekend!