Laundry Room Remodel | Week Two
This post may contain affiliate links, please read my disclosure policy.
Hello! How was your week? If you missed last week, let me fill you in a little bit…We are currently remodeling our laundry room in partnership with my friends at The Home Depot, and we have less than 30 days to wrap up the project.
click here to see the design plan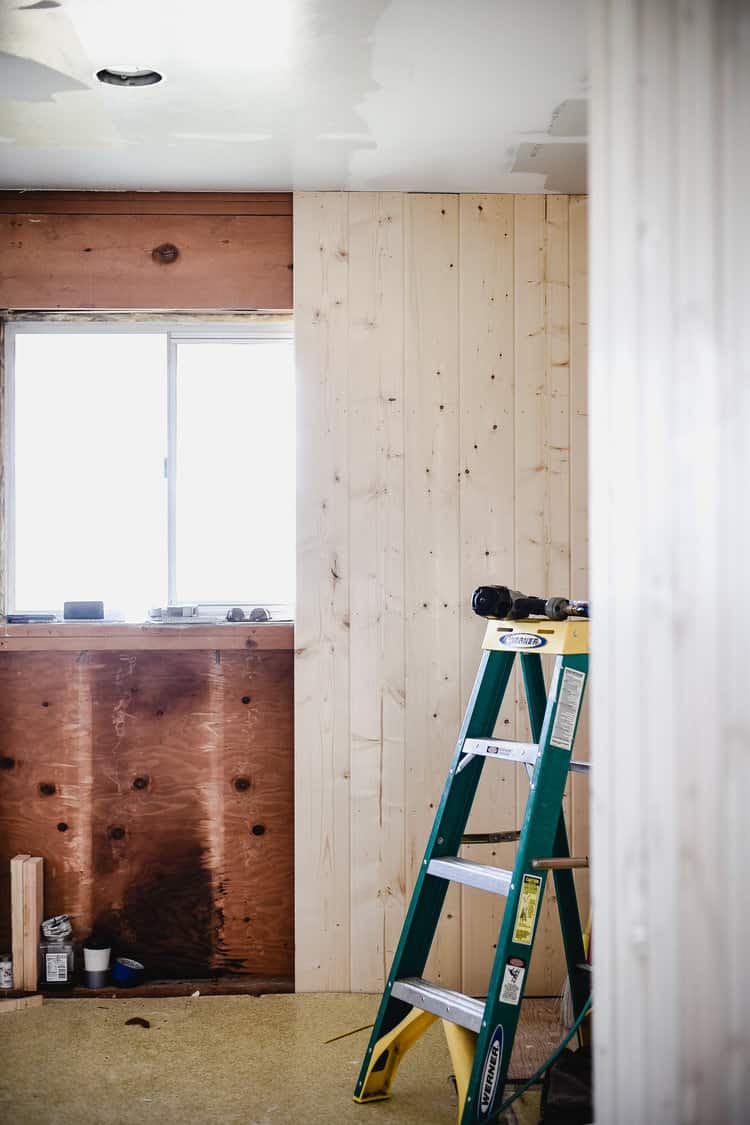 We started the room last Wednesday, and we are already beginning to put everything back together. This week we wrapped up plumbing, electrical, framing, and almost all of the paneling.
Our contractor sourced pine tongue and groove boards for me to add vertical wood paneling to the walls. I cannot believe PINE PANELING is back in style (albeit painted), but it seems that it's made its full circle.
There are many ways to add wood paneling to your walls. Metrie has an awesome pre-finished option which is very simple to use, and can be done by yourself. It is even pre-painted, so it's very fuss free.
You can purchase pre-cut "shiplap" from The Home Depot which comes cut and spaced for you. You can also cut down plywood into equal sized "boards" which can be nailed directly onto the walls and spaced out using tile spacers. Make sure they are cut exactly the same size though!
Since we have tongue and groove paneling in quite a few places in our house, I wanted to keep it consistent, so we went with 8″ pine tongue & groove. I was nervous that the pine notches would show through the paint, but my friend Maria (@dreamywhiteslifestyle) talked me off my ledge. She has pine in her house, and loves it.
We wil be painting the paneling Bistro White by Valspar – it's the color we have in our living room, hallway, and on all of our trim. We will also be priming the paneling with 2 coats of a Kilz primer to prevent any knots in the wood from seeping through the paint.
Today, our contractor is cutting and placing the paneling onto the walls. To do so, he removed all of the sheetrock and took the room down to the studs. This is because the paneling is too thick to place over the sheetrock. He installed small horizontal strips of wood over the studs so that he had something to nail into as he placed the boards. When he reached the corners he saw that the wall was not perfectly straight, so he cut the board to fit into the space making everything appear to be square, when in reality, it's a bit off due to the age of the home.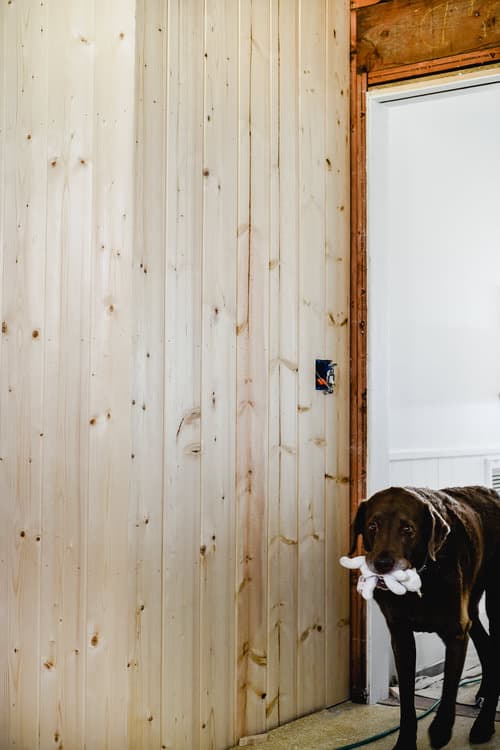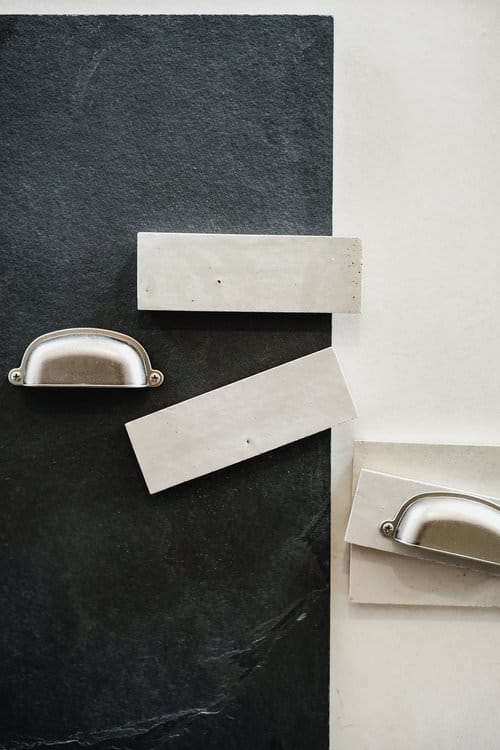 I have been in and out of Reno quite a bit lately because we are just about to break ground on a big project. My dad and I are helping a family renovate their home over the next month or two, so I have been buttoning up all of the design details on that before we get started. This week I was able to stop by The Home Depot to pick up the slate flooring for the laundry room as well as all of the hardware.
The backsplash tile also arrived this week, and it is absolutely amazing. I cannot wait to have it installed! It is perfectly imperfect in every way. The color is "rice paper" by Clé Tile, and it looks beautiful next to the slate and aged nickel hardware.
Oh, we also received a new vacuum from Home Depot this week. Greg was so excited to open it up since we have had the same vacuum since college, and this was a major upgrade. He's not letting me use it until I take photos because he wants it to look brand new when I share photos with you guys. You would think it was a much more glorious item than a vacuum by the way he has been treating it.
Over the next week we are hoping to get the paneling painted and cabinets installed. Then it's tile, lights, and countertops! I hope you have a wonderful weekend, and as always, thank you so very much for stopping by!