Oh, how I love fresh flowers! There's something about having a bouquet in the house that makes you feel good, like "oh yes, I keep fresh flowers in my house because I like to treat myself like a queen."
I once read an article that said, "You should have something living in every room." I've stuck to that rule, and am a firm believer that it does make a difference in the energy of the home.
I think I shared the story of me getting in trouble when I was 16 and grocery shopping by myself (with my dad's credit card)? I came home with a few necessities and bundles of fresh flowers for my bedroom and bathroom. I couldn't understand why my dad was upset at the fact that I chose flowers over food? It's still yet to be determined. I'd happily give up my daily goat cheese routine cold turkey for fresh flowers.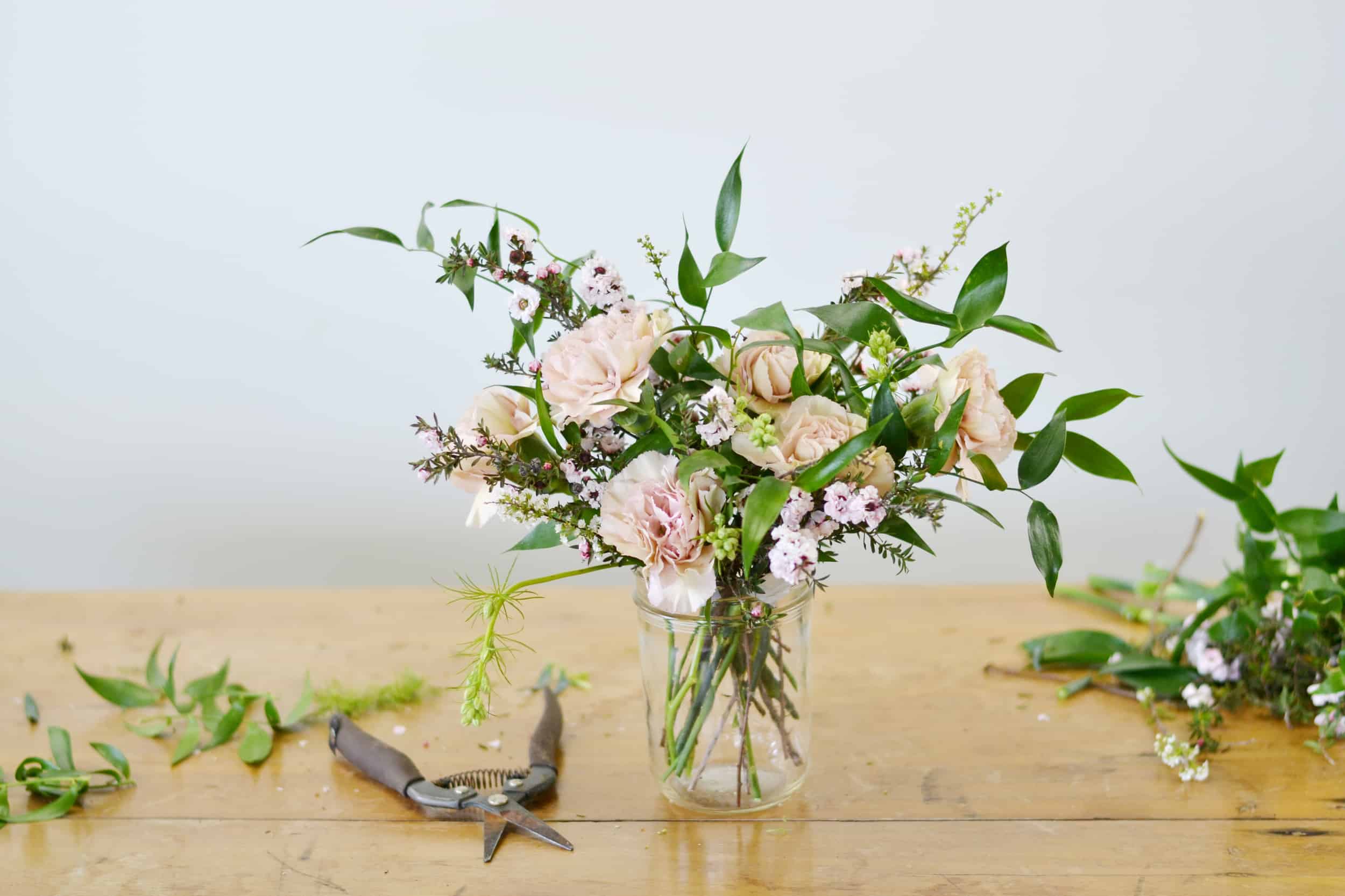 I have loved making pretty bouquets since I was a teenager, and find a lot of joy in building them into something beautiful. I like to think each bouquet tells a story, and has a distinct shape – some are perfectly round (the rule follower), while others are all over the place and drooping down to the floor (the rebel). I am partial to the rebels.
I think a lot of people get nervous about flower arranging and either purchase pre-made bouquets or plop store bought bundles right into a vase. But flower arranging is like painting – the beauty is in the eye of the beholder, and there's no wrong answer. Even a simple stem placed in a large vase can make a huge statement!
Some of my favorite flowers to work with are actually branches. They add so much texture and structure to a bouquet, and spring is the perfect time for them! This mini bouquet is incredibly easy to make, with just a few inexpensive flowers; you can whip this up for very little. If you're in a pinch for what to give mom this year, pick up a bundle of greenery, a bundle of accent flowers, and a bundle of branch type flowers. All of these can be found in the "2 for $10" section at Whole Foods! Then print out some of these free recipe cards, and you've got Mother's Day covered!
DIY $15 Mother's Day Mini Bouquet
Step 1: Tape a grid over a mason jar.
Step 2: Place greenery throughout the gird, stripping leaves below the water line!
Step 3: Add filler flowers to bulk up the arrangement. Make sure you remove any leaves on the stem! If you have leaves sitting in the water, they will rot, and kill the arrangement quickly!
Step 4: Begin to place your "WOW" flowers into the arrangement, filling in any 'holes'.
Step 5: Fill in any areas that need more pizazz with remaining greenery or fillers!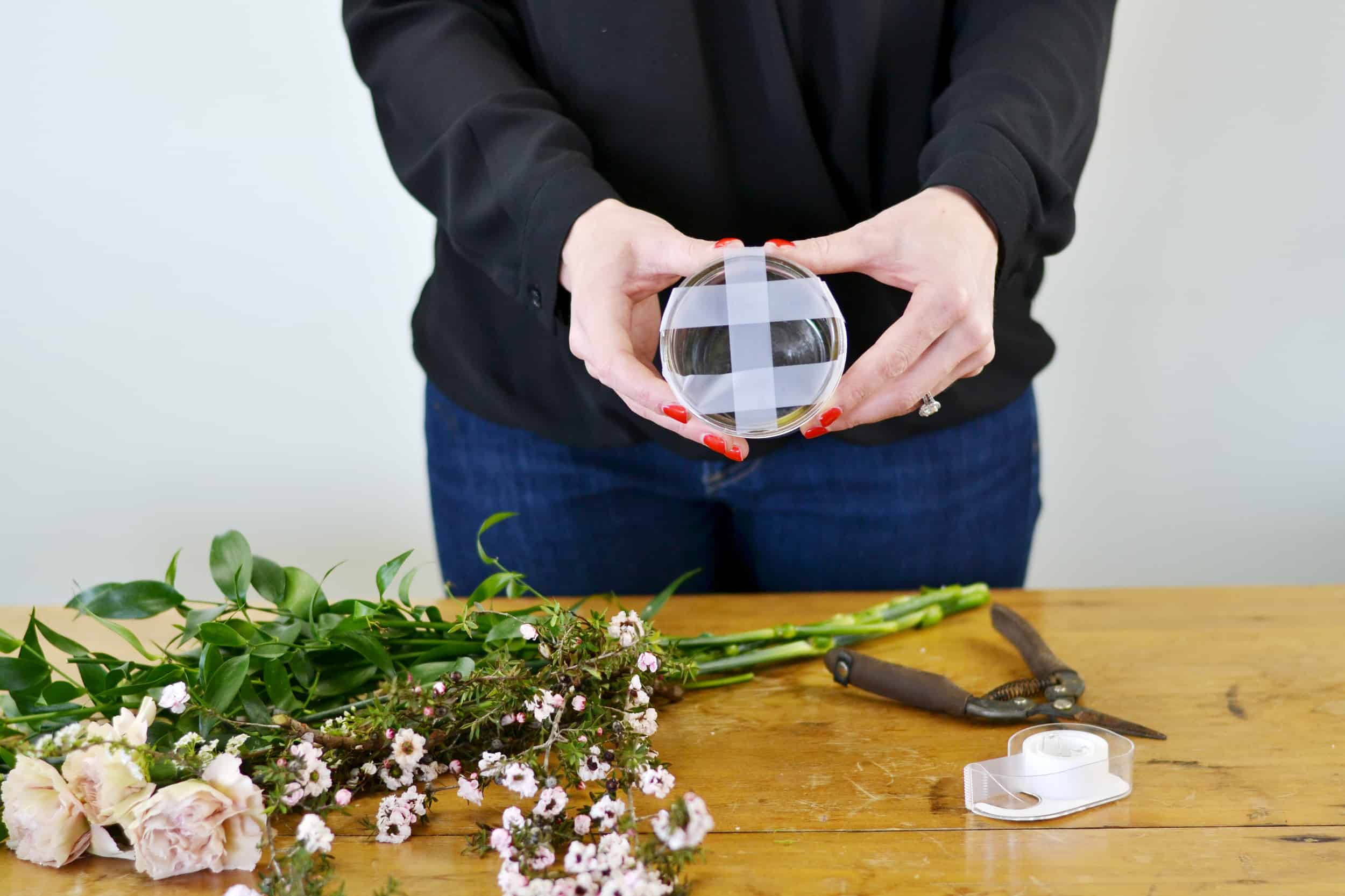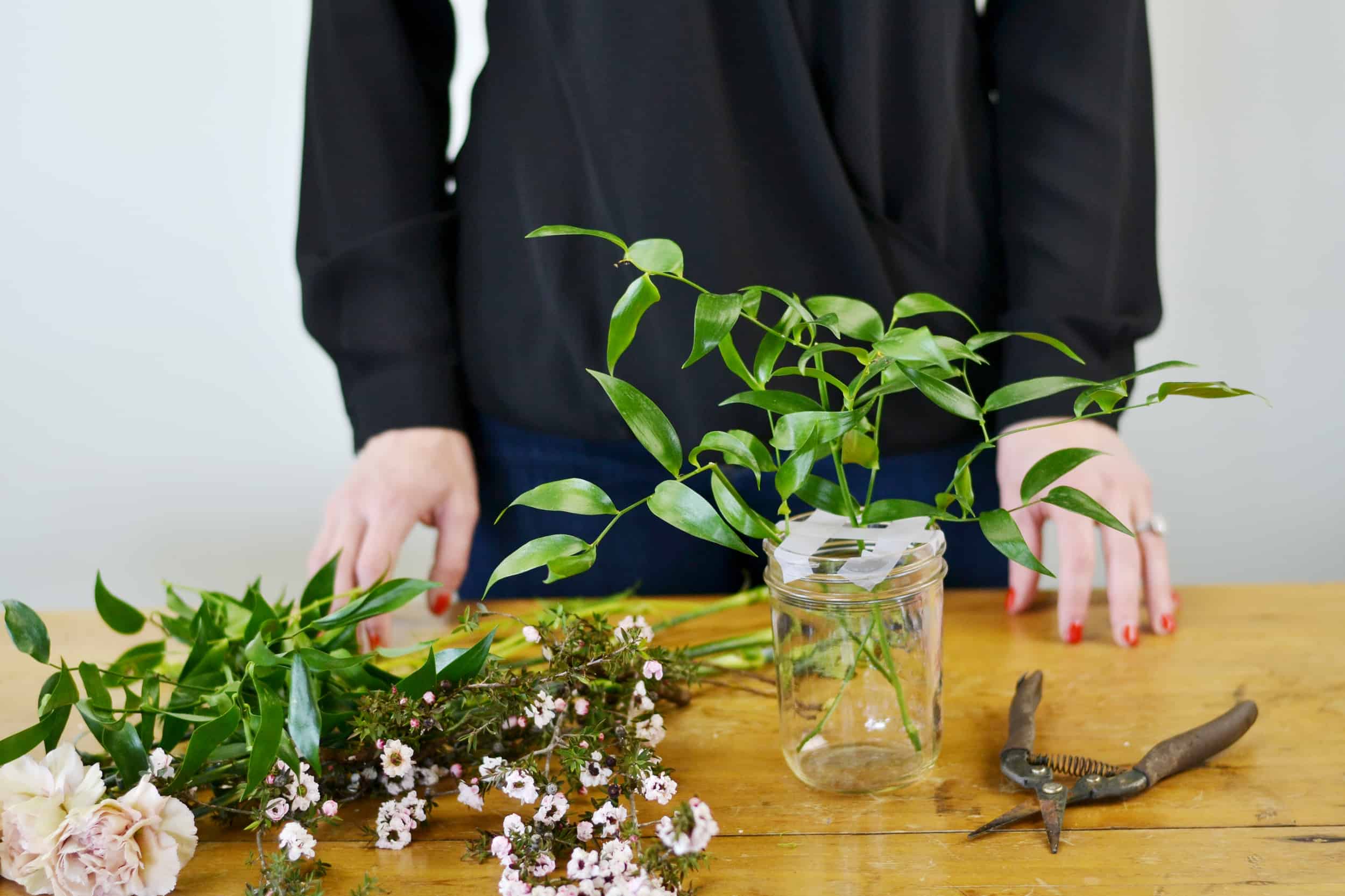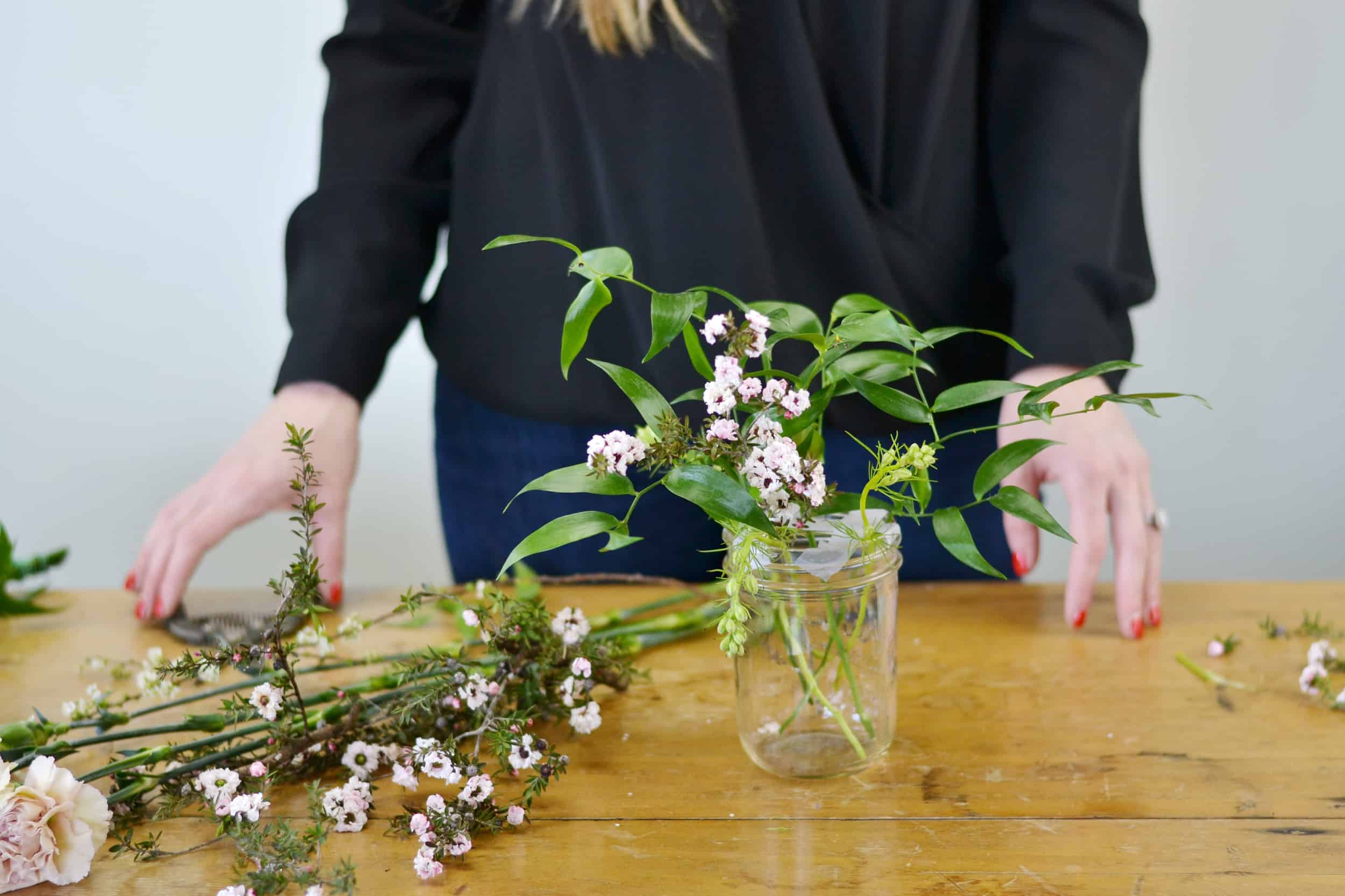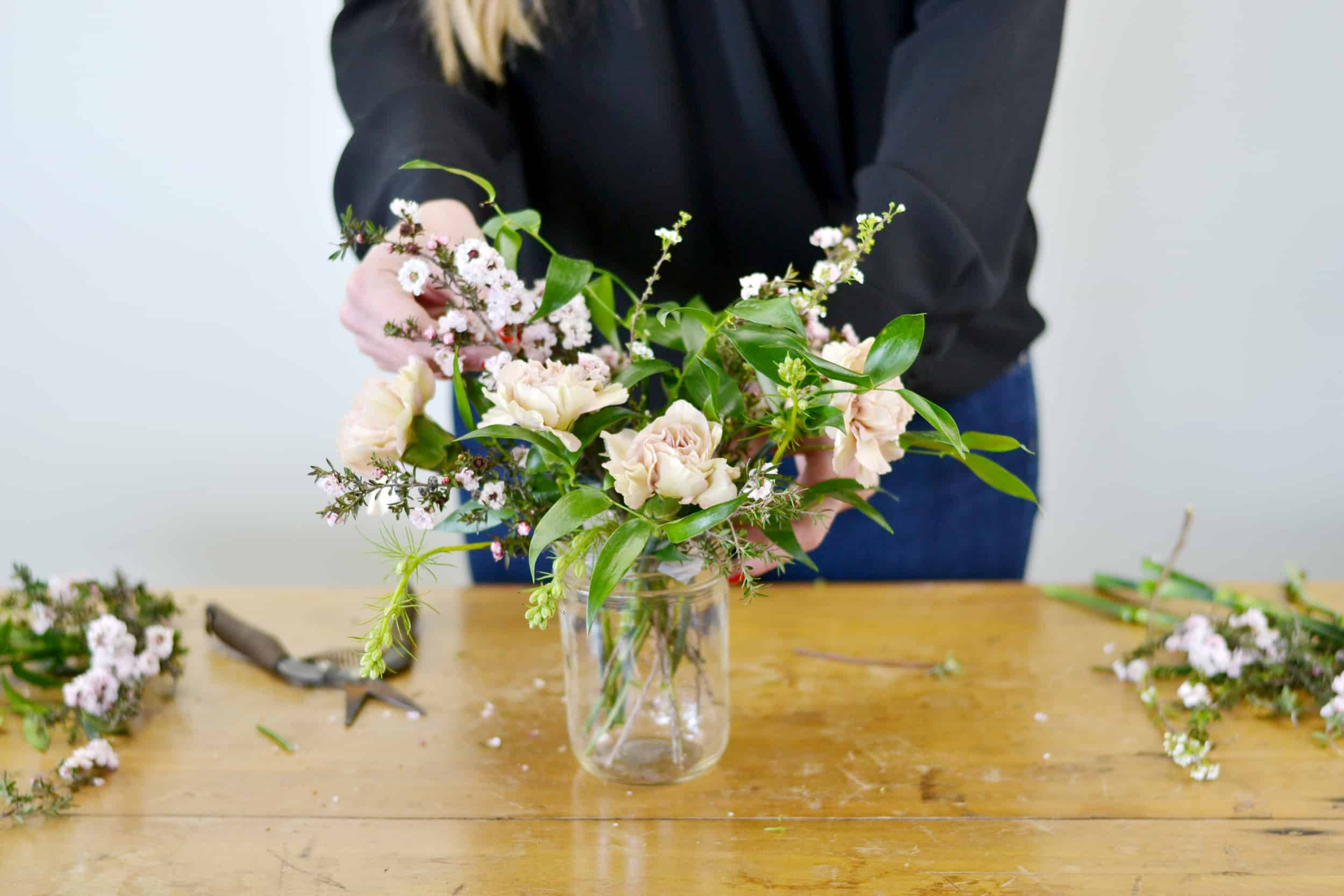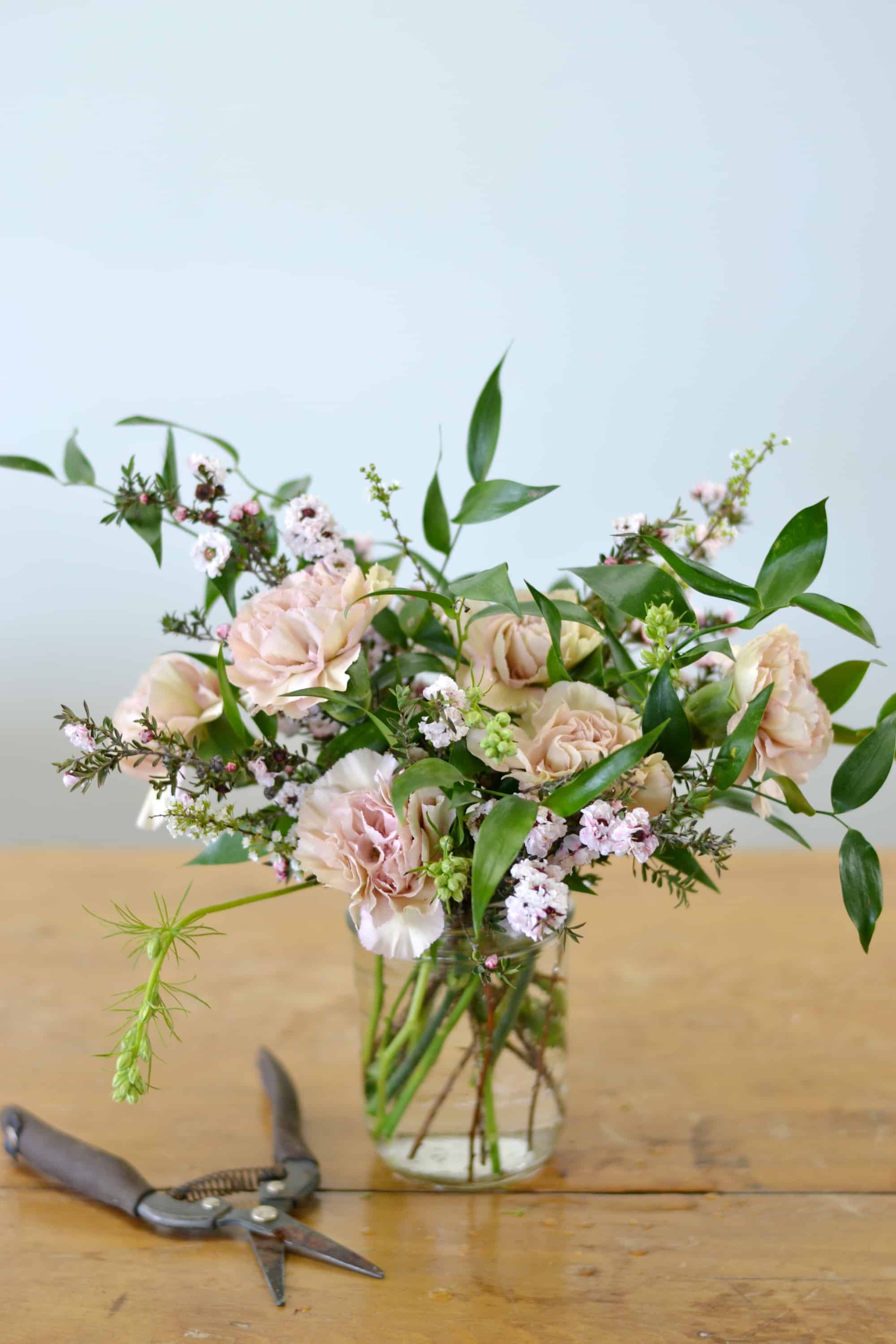 ---
Pin me!
---