Secrets for an Organized Laundry Room with A Free Printable & Laundry Tips
This post may contain affiliate links, please read my disclosure policy.
I hate doing laundry. HATE IT. It's a never ending job, and I always seem to run out of hangers, which results in my clothes not getting hung up, which then results in the clothes piling up on the chair in our bedroom. Does anyone else have a chair? Greg always remarks, "wouldn't it be nice if we could actually sit on the chair?" Which I respond with an evil emoji face.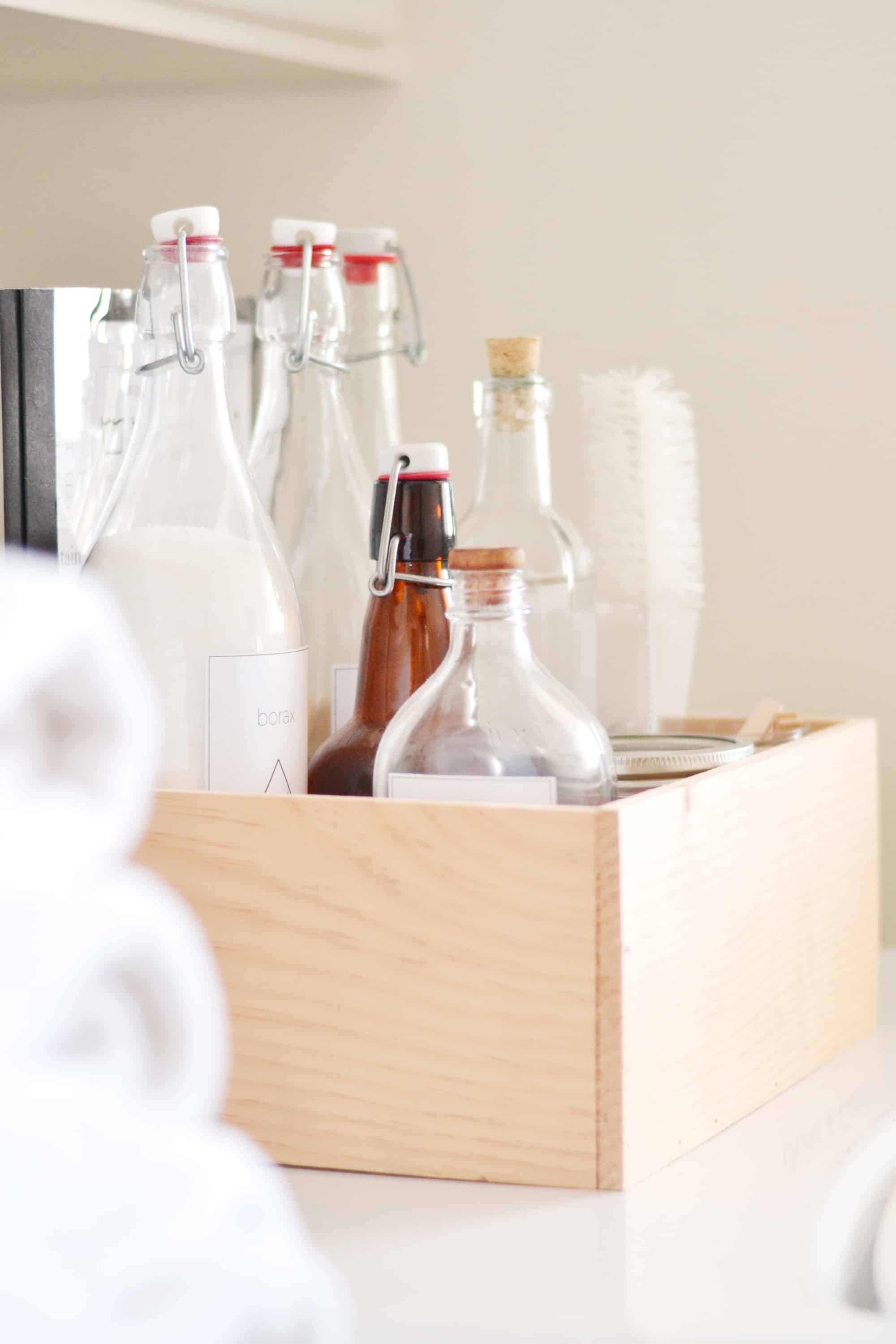 At my bridal shower, I asked my guests to fill out laundry cards with their best laundry tips. My favorite tip was: outsource. LOL, I wish! I honestly probably would if I could, but up here, we don't even have a dry cleaners, so I find myself in the laundry room a lot.
I'm actually pretty lucky because our laundry room is humungous. Even bigger than our pantry. It's a nice airy and bright room, with so much storage that half of the cabinets are empty. So I better stop complaining about doing laundry.
Well, in an attempt to get better at doing the laundry, I thought I'd spruce up the room with a little organization.
These labels added to glass bottles make doing laundry that much easier, plus the laundry cheat sheet keeps me from having to google "how the hell do you get chicken poop out of denim." Hot water and vinegar in case you're wondering.
I used a wooden crate and glass bottles to organize all of my laundry necessities, and the result is a very organized laundry room. I love having the cheat sheet on hand, and covet the little glass bottles like tiny little delicate people.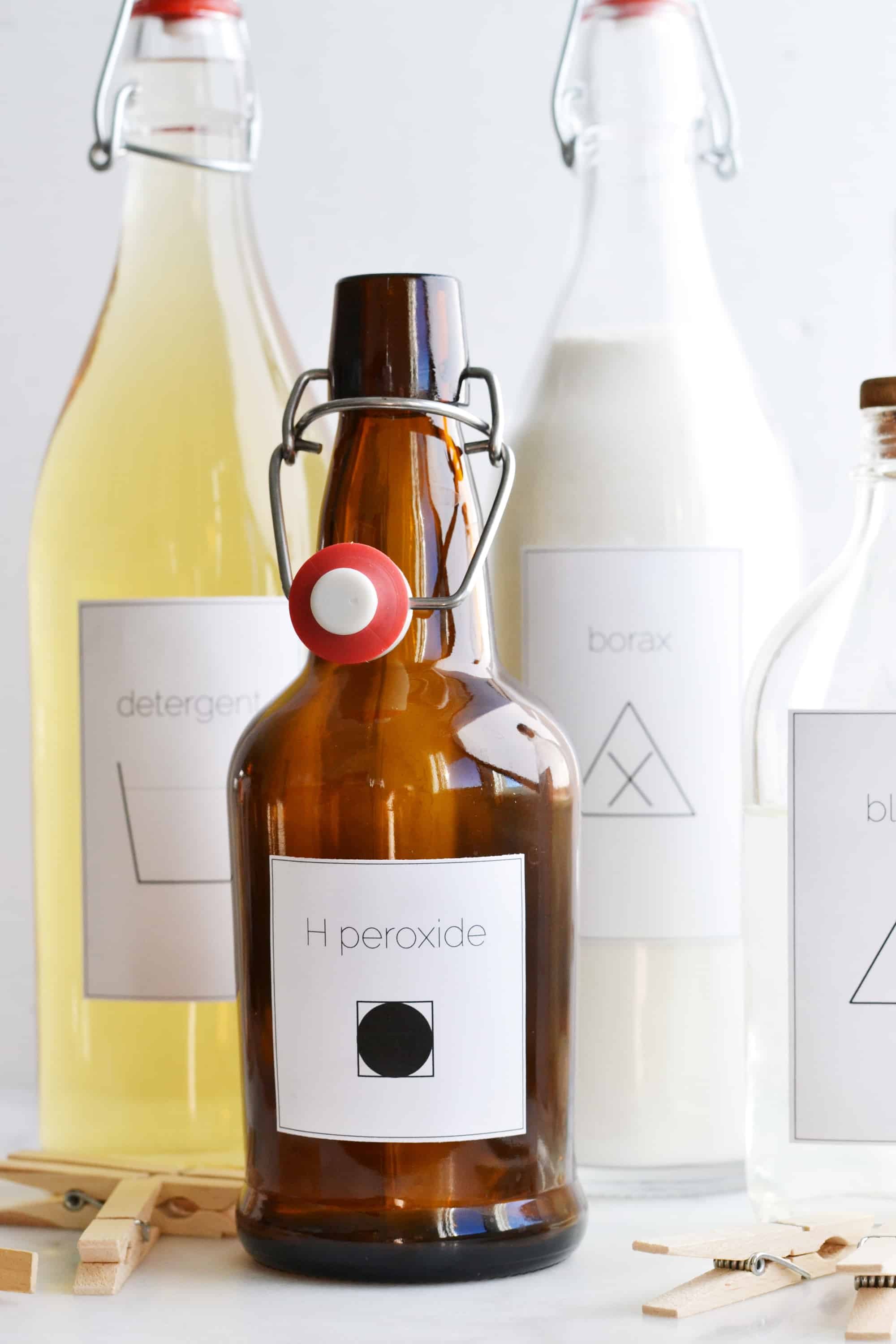 My laundry room isn't always 100% organized, but when I am able to keep it organized, this is my routine: 
Remove clothes from the dryer promptly, fold any sheets, towels, or rags immediately and put away. Carry the rest of the laundry to the kitchen. I know this sounds weird. But you're WAY more likely to do the laundry if it's sitting on your kitchen counter than if it's sitting on your 'laundry chair'. I started doing this when I was a nanny for a family, and it worked wonders!
Keep all of your laundry necessities in a crate, tray, or box. Put them in pretty containers for a little something extra. Sort of like spritzing perfume onto your resumè (any other Legally Blonde fans?).
Bulk wash: Some people say to do one load a day, and if that works for them, great! It absolutely does not work for me. Just like I like to bulk shoot for the blog, I like to do 3 loads of laundry in a day rather than one every day. That way I can carve out an hour of my day to do the laundry, and only have to do it 2-3 times a week.
Keep weird ingredients on hand. Some of my favorites are baking soda, vinegar, and a mesh bag. Toss bras and underwear in the mesh bag, which is also great for shoes. Not sure when to use vinegar or baking soda? Download the cheat sheet at the end of this post!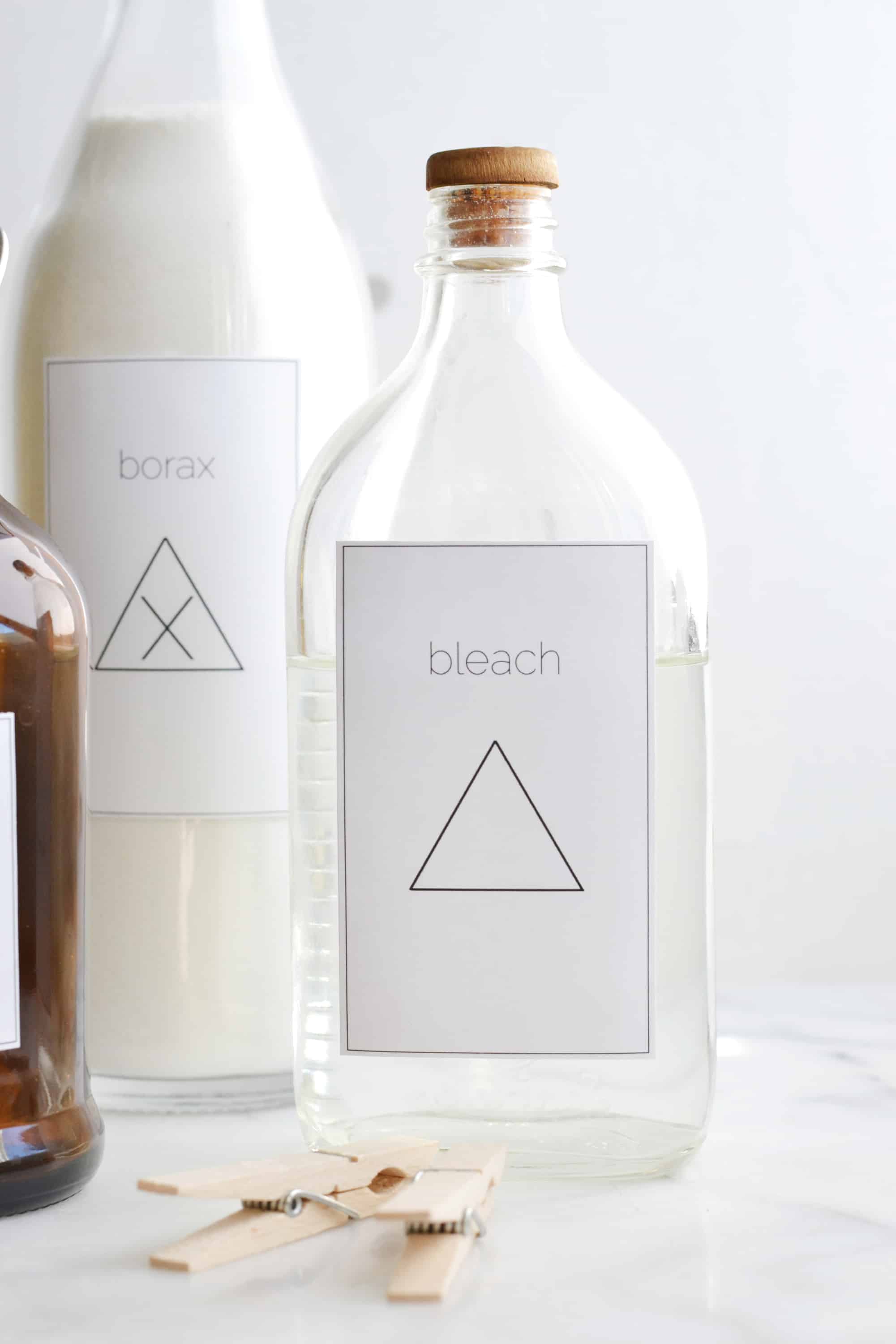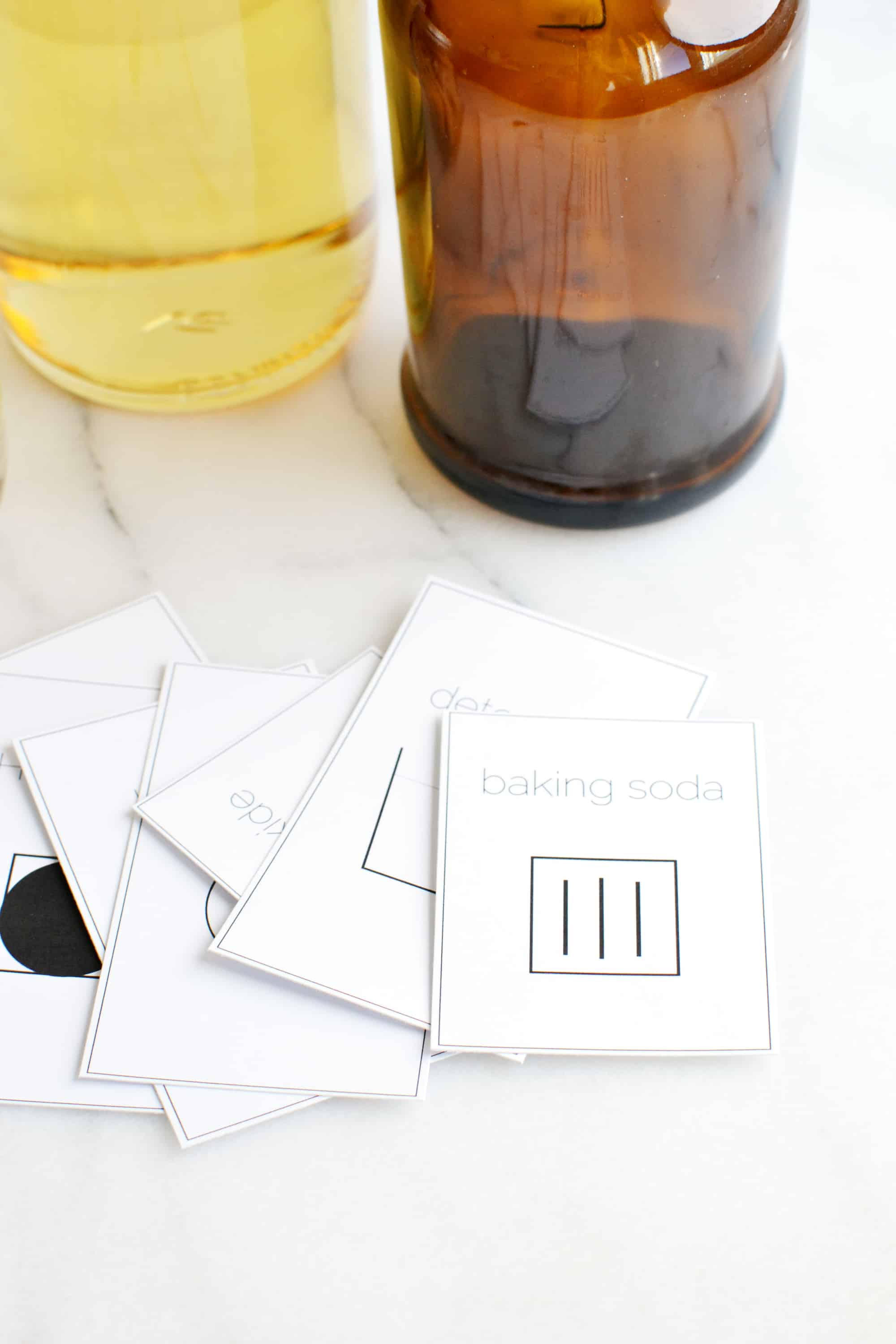 DIY Laundry Bottles:
Assorted Glass Bottles and Jars
Double Stick Tape
Scrapbook Trimmer (my favorite craft supply)
Use a scrapbook trimmer to cut out the labels, and add strips of double stick tape to the back. Secure the labels into place, and fill with detergent, etc…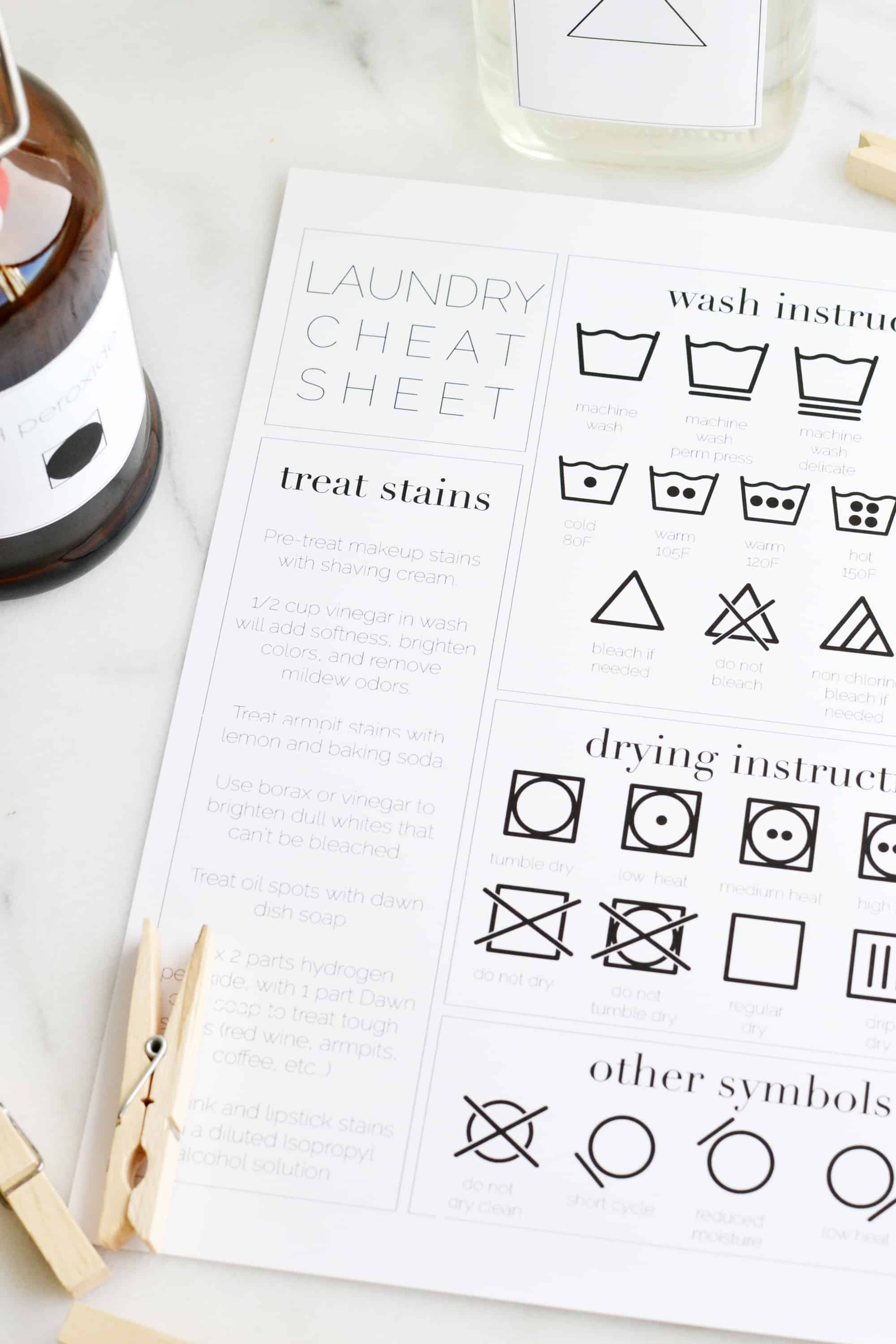 What are your best laundry tips? I'd love to hear them in the comments below!
---
I'm thrilled you're going to print out my free download! Click here to get the laundry room labels!