Mercury glass and greenery are the perfect touches for a farmhouse Christmas.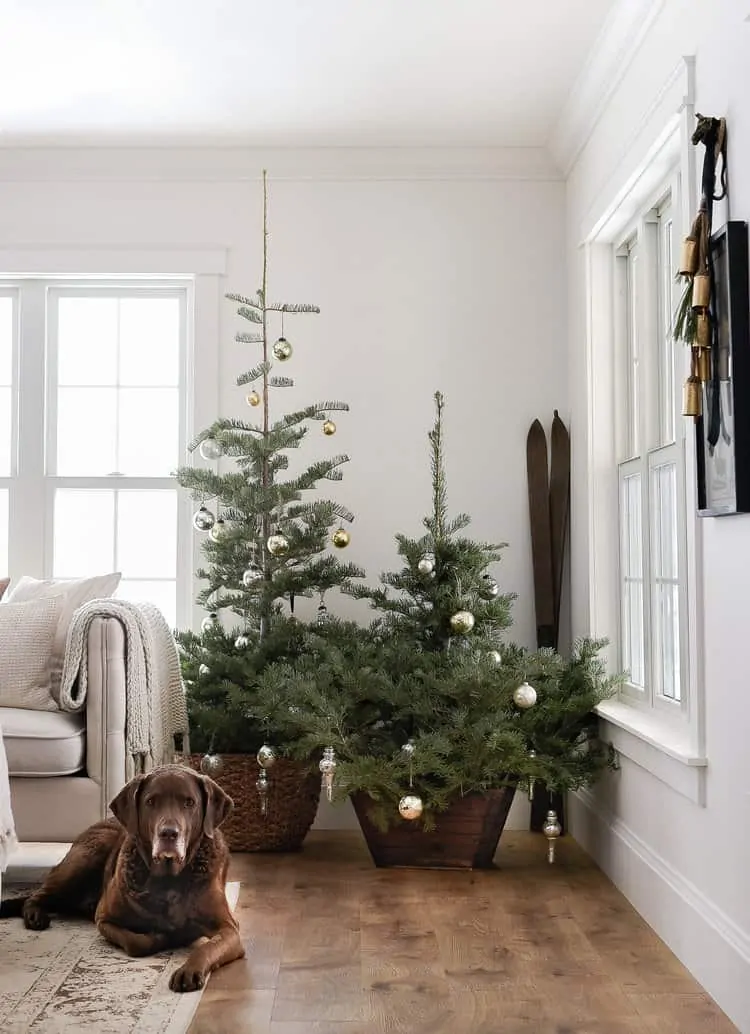 A Simple Farmhouse Christmas
---
– featured in –
Better homes & Gardens Farmhouse Christmas Magazine
---
Last year we didn't end up decorating much for Christmas because we knew we would be out of town for the holidays. We didn't get a tree or string lights, but since we remodeled this year, I was excited to put a tree up and decorate around our new fireplace (see it pre-remodel).
We headed out to cut down our Christmas tree last week, but Greg and I disagreed on what style of tree we'd cut. He wanted something giant, and I wanted something short and bushy. So we got both. He was so excited about his tree, he even measured it "roughly 13.5 feet".
We piled our three trees into the truck and headed back to the ranch. I picked up my car and I followed him home…when all of a sudden our Christmas tree flew out of the back of his truck, and I ran right over it. Completely decimated it.
It was like hitting a deer – only it was our Christmas tree. I tried honking my horn, but he had no idea that our tree had just abandoned ship. 
I stopped and tried to move the tree out of the road. I couldn't believe that I had just run over our tree, but there was really nothing I could do…and it was his tree that was killed, so I wasn't too concerned because I knew we still had options.
I started driving home again and about a mile up the road, there was the second tree, laying in the middle of the lane. 
I stopped my car and tried to load the tree into my trunk because this was my tree, and I really loved it. As I was laughing, crying a little, and trying to stuff a tree into my trunk, Greg showed up – he had realized what was going on.
We were laughing so hard because while we were cutting the trees down he was making fun of "people who strap down their Christmas trees"… Joke was on him. 
So we lost Greg's tree, and I got to decorate with my short bushy tree that I initially wanted. I love the way these two little guys look next to each other: one short and stubby, one tall and lengthy. They are the two most unlikely pair, and I couldn't love them more.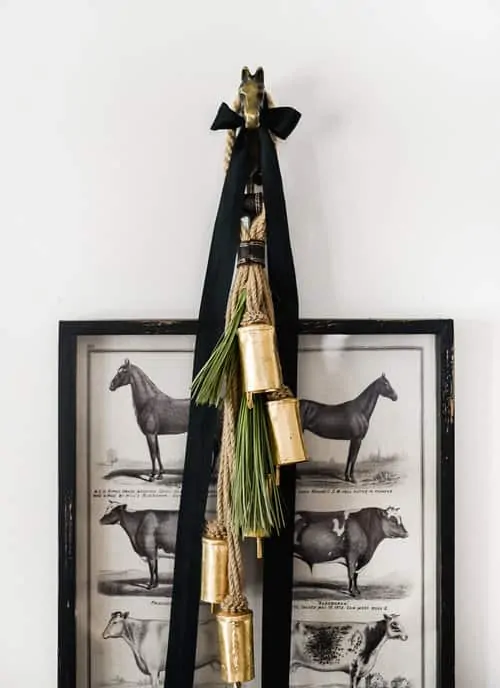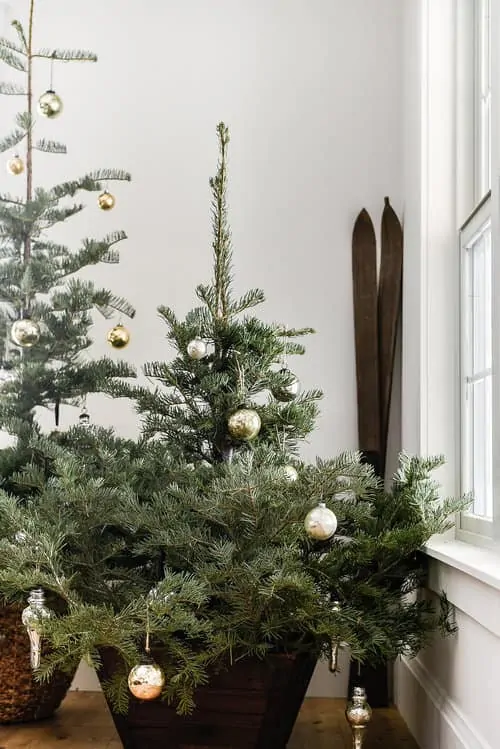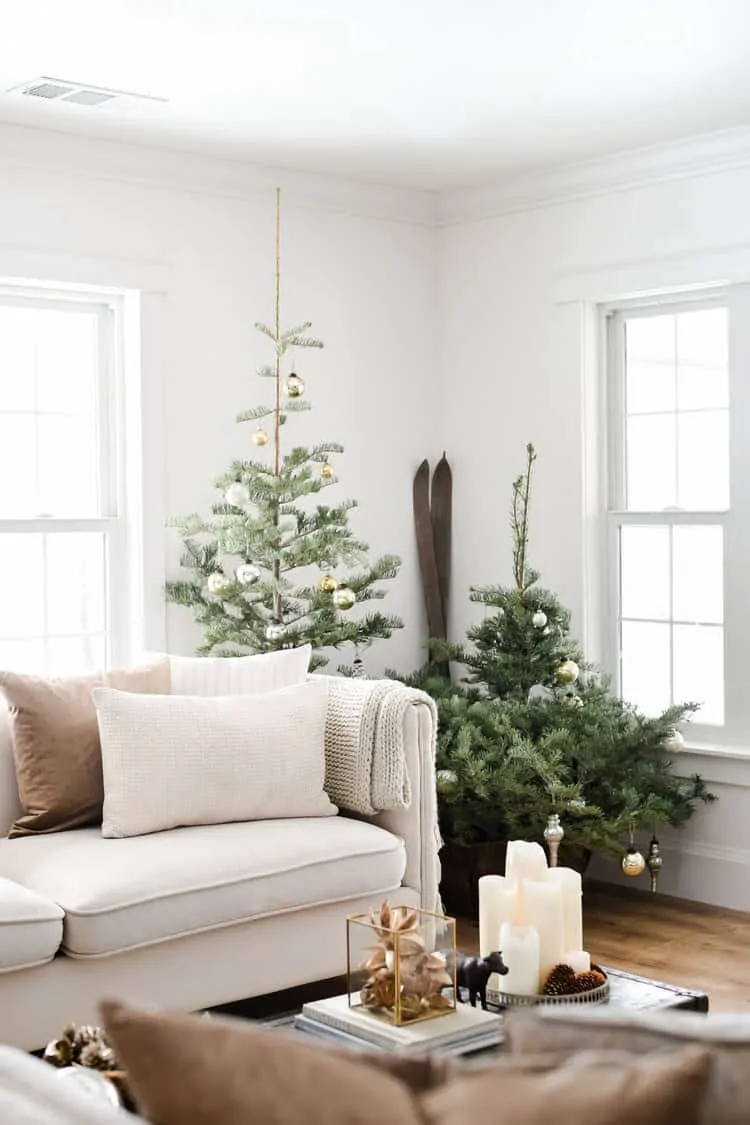 I used a wicker and a wooden basket to hold the trees, and put little jars inside the baskets to keep them upright and full of water. I decided to use only mercury glass ornaments and didn't even add lights. I thought about keeping them totally bare, but decided that the mercury glass was just right.
I stuck to using gold & silver and black & white with bits of greenery mixed in. I love this farm animal print, I just hung it here, and added the horse hook above it which was perfect for the bells with a silk black bow. I've had the mercury glass globes for years, and love using them. I put battery powered twinkly lights inside of them and they look beautiful when lit up.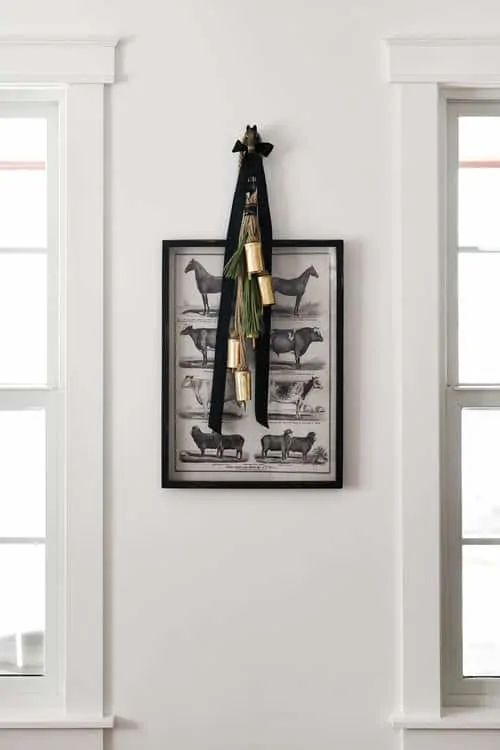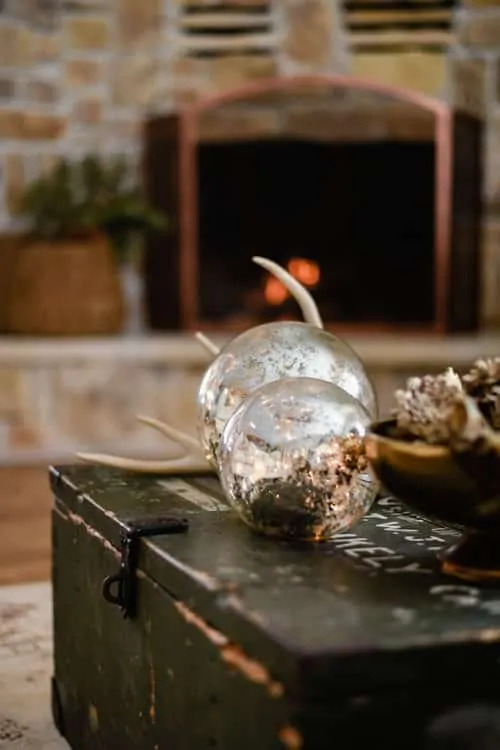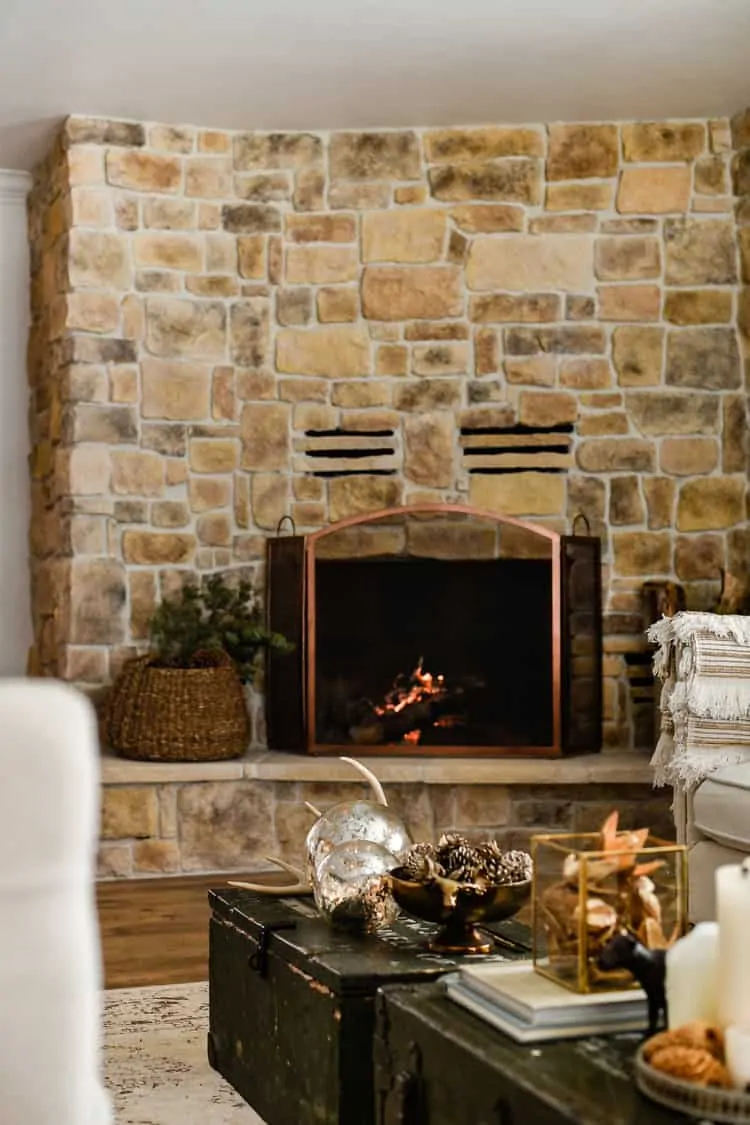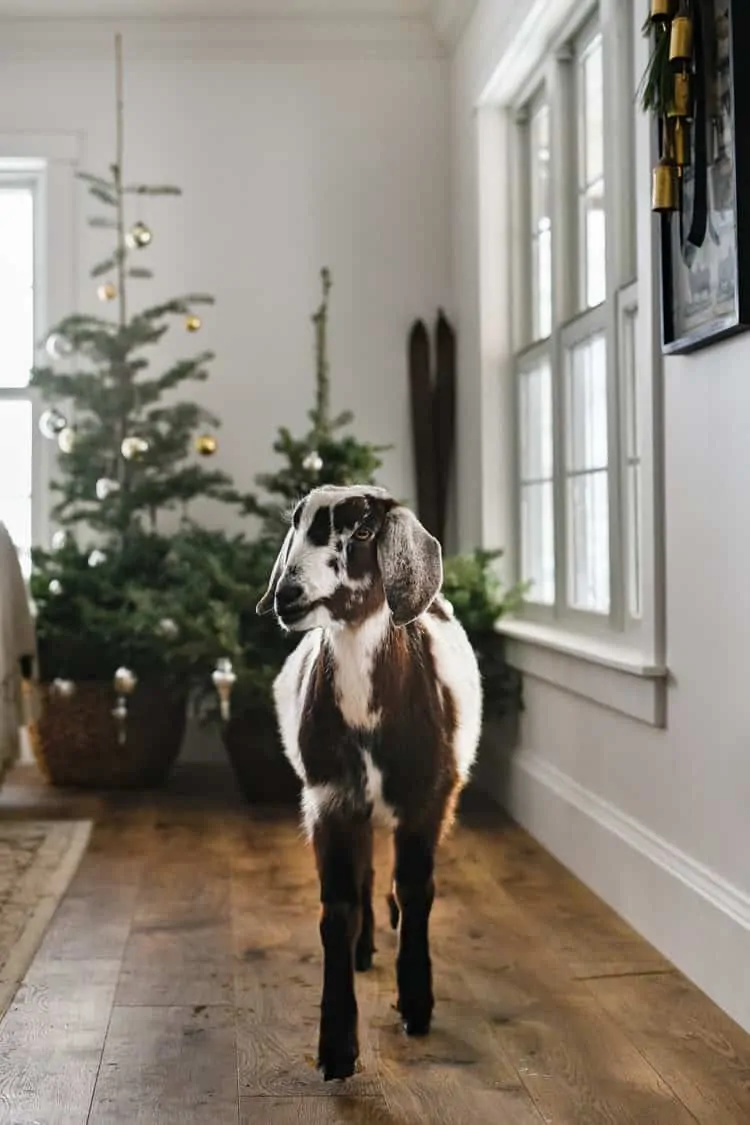 Elderberry and Buckwheat made an appearance when I was taking photos. Elderberry is such a gentleman and doesn't get into much trouble, but not pictured is Buckwheat knocking over a vase… I also took a few photos of their house dressed up for Christmas, I'll share those in a different blog post.
Oh, and see those little deer figurines?? They were our wedding cake toppers, so I love taking them out each year because it brings back beautiful memories. I filled up the giant metal bowl with oversized ornaments and pine cones and I think that is one of my favorite decorations in the house.
My sister is here and I'm feeling guilty for being on my computer – so I'm going to sign off and go wrap some presents and spend a little time with her. I hope you have a wonderful Christmas with your friends and family, thank you for taking the time to stop by and say hello. So much love to you!