Thank you Sixpenny for sponsoring this post. All thoughts and opinions are my own.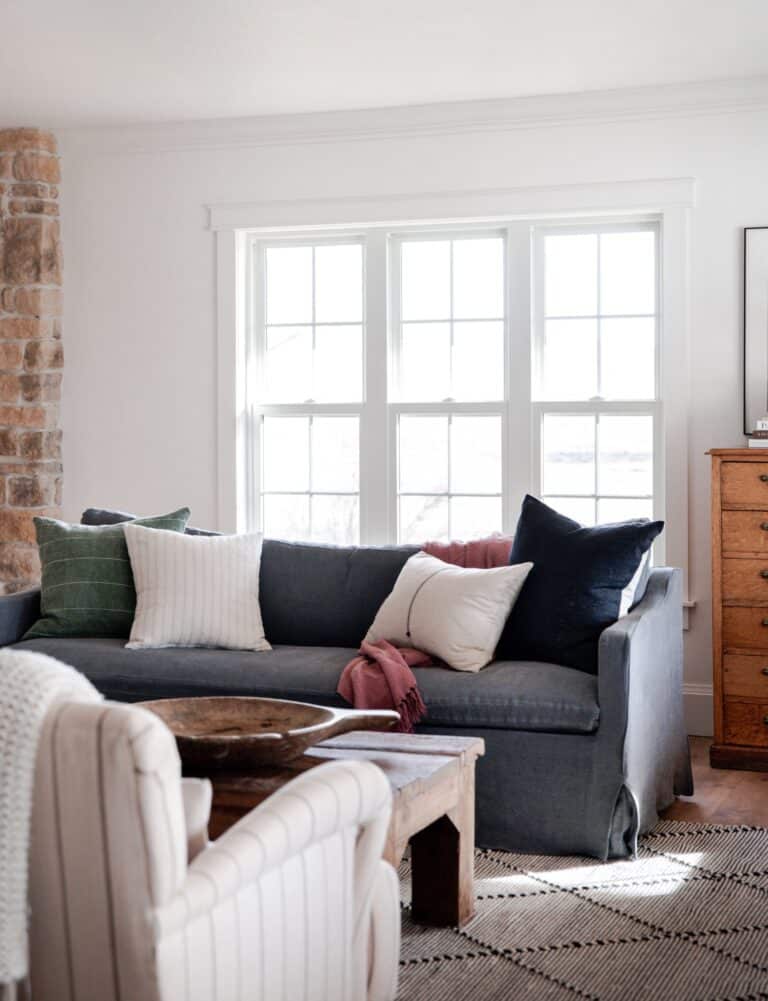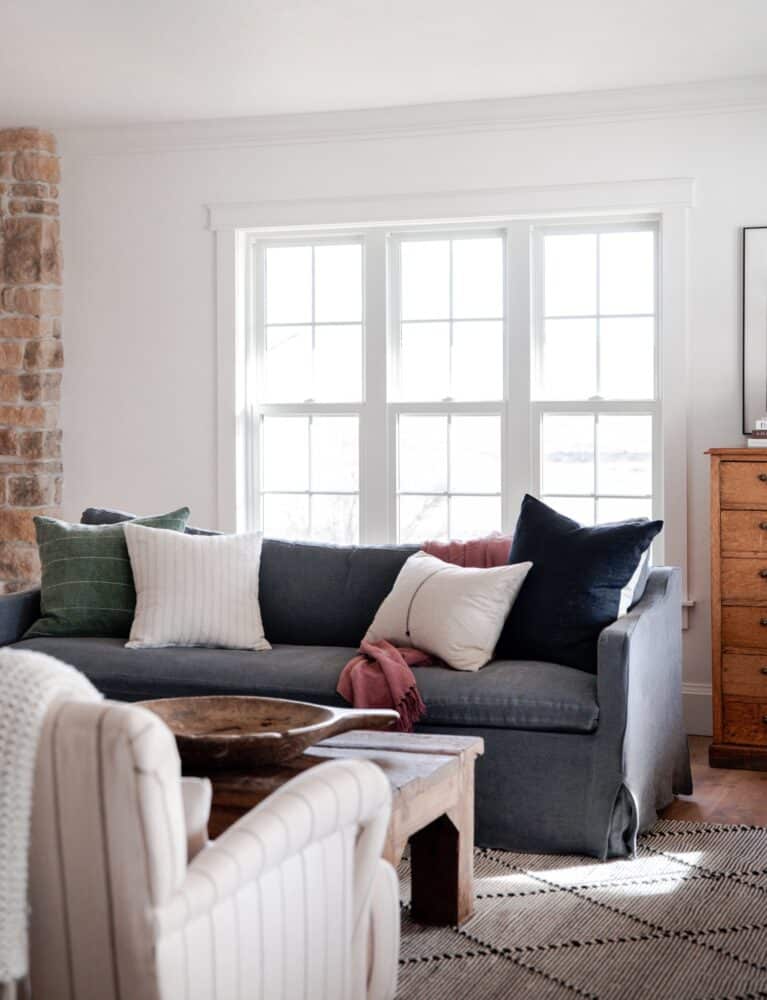 I've been waiting patiently for the arrival of our new sofa from Sixpenny! I've been dreaming of updating our living room for awhile now, and slowly but surely it's come together. This sofa is one of the final elements to go in!
Our old sofa was actually purchased for our wedding, and after we moved, I decided to keep it for awhile. I really liked the clean lines of our last sofa, but I wanted to add a little more depth to the room with a darker sofa.
I have been a fan of Sixpenny for a few years when I discovered them for a staging project we were doing. Through that project I ended up recommending them to another client. Both times, I have been very happy with the quality and design of the sofas!
See below the Neva Chair, styled for the project I referenced above.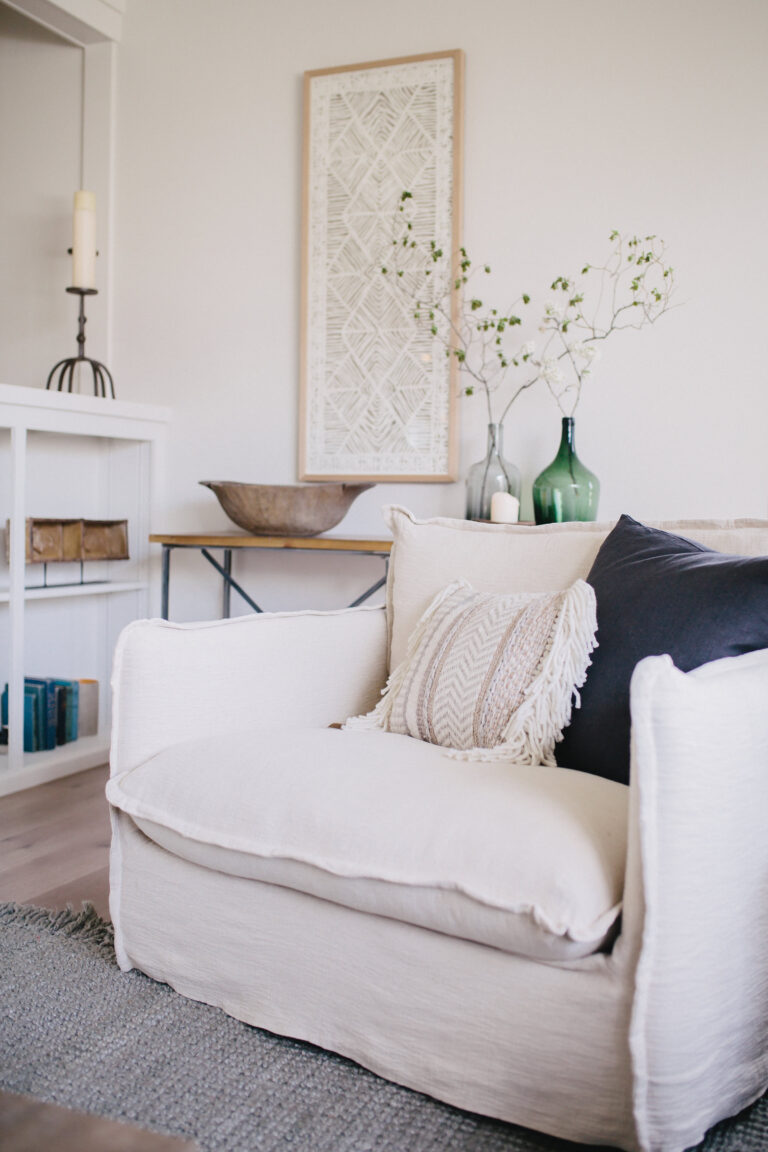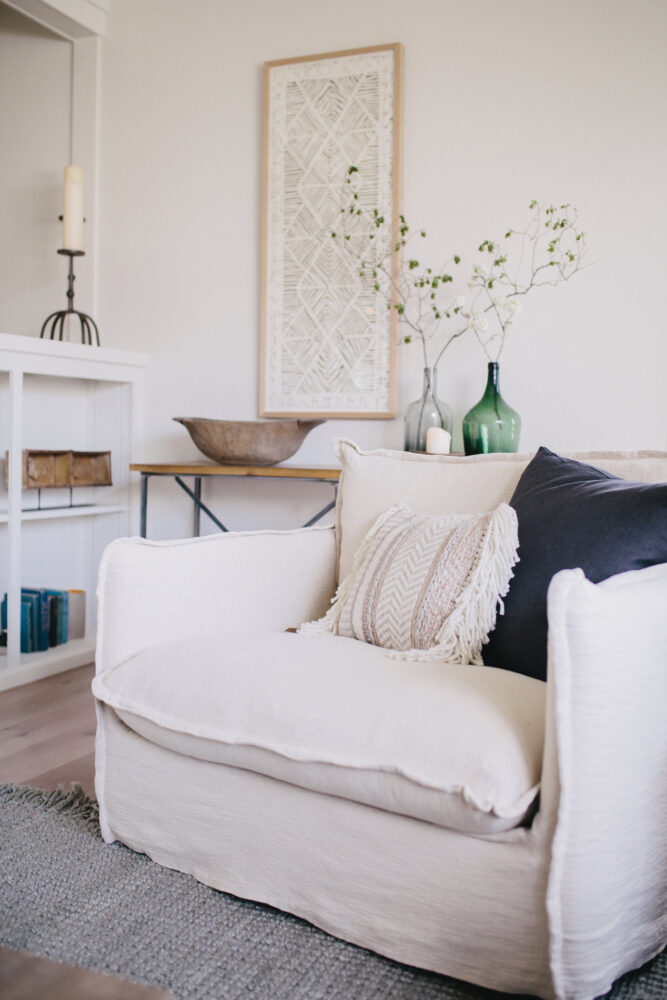 So when I went on the hunt for a sofa in our living room, Sixpenny immediately came to mind! I reached out to them to see if they'd be interested in working together, and I was so excited when they said yes!
The Amelia sofa caught my eye right away for it's streamlined yet welcoming design. I love the slight slope of the arm rests and the slender curve in the back cushion.
I ordered a few sample swatches before committing to the black pepper color that we ultimately ended up with. I loved all of the colors, but instantly knew that I wanted something in the lightweight linen fabric.
I actually had a reader reach out and tell me that she had also ordered fabric samples from Sixpenny and another upholstery company, and that when she tested the fabric for its washability, the Sixpenny fabric proved to be the most washable!
I also love Sixpenny's 6P Now program with offers 2-3 week delivery plus FREE SHIPPING and if you don't love it…FREE returns! Just make sure to keep all packaging.
Amelia Details:
The frame is made of kiln-dried hardwood with plywood reinforcement.
Frames are reinforced with corner blocking for increased stability.
Design with a welted seam along outside of arms and top.
Elegant slope arm returns to the classic shape.
High-tenacity webbing and spring suspension system.
Bench seat cushion is built around a highly resilient foam core and wrapped with a 70% feather down, 30% fiber blend.
The uninterrupted one-piece back cushion is built around a foam core and wrapped with a 70% feather down, 30% fiber blend.
Removable slipcovers provide easy cleaning and care.
Country of origin is China.
Free of chemical flame retardants.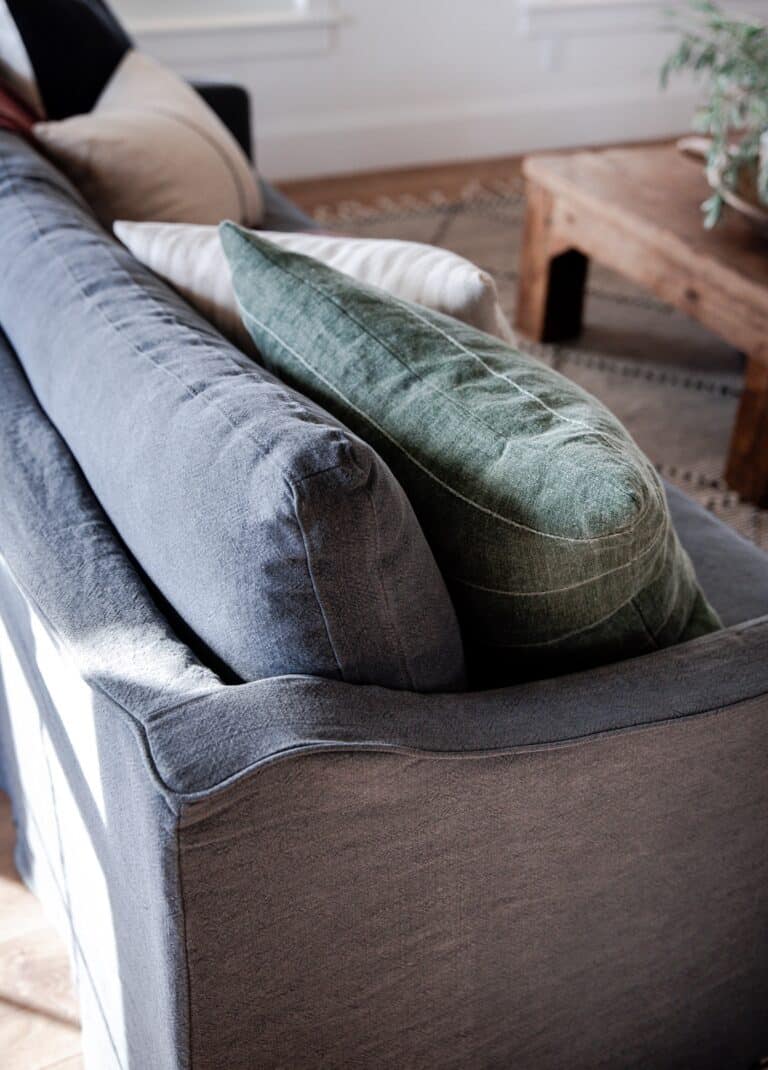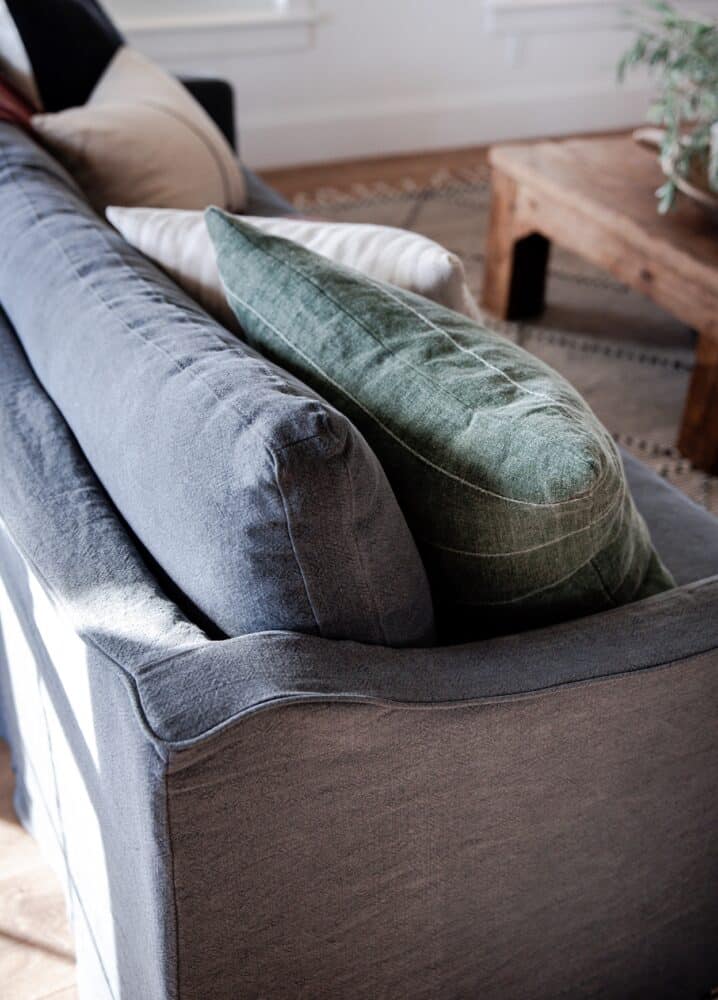 I asked what you guys wanted to know about the sofa! Here are the answers:
What material is the cushion, and how much do you sink into it?
The cushions are made of a foam core wrapped in 70% down (make sure to select the feather down cushion option). You do not sink very deep into the couch, it is pretty firm.
Does the cushion need to be fluffed?
Sixpenny recommends fluffing the cushions regularly. I do this with my pillows anyways, so I'm not too worried about it.
Does the linen fabric wrinkle?
So far, I have not noticed wrinkling. When it arrived, the slipcover was creased in some areas due to the packaging/shipment, but it easily steamed out.
Is it a slip cover? Is it machine washable?
The sofa is slipcovered, and is recommended that it is dry cleaned at least once per year.
How do you wash out "oops spots"?
I like to use my favorite spot vacuum for oopsies! Make sure to do a test patch to see if any discoloration happens. You may need to do the entire sofa to prevent water spots from showing.
Does the cushion tend to get sloppy looking easily?
So far, the cushions are not getting sloppy looking at all. I mentioned the sofa is pretty firm, I really like this quality because I do not want to have to be fluffing all of the time.
What is the best material for pets?
Sixpenny notes that the best material for pets is the lightweight linen option.
Is it flame retardant and non-toxic?
I reached out to Sixpenny to find out more info about this. They noted that they are required by law to comply with flammability regulations and work with their suppliers to utilize the safest material to comply. They said they do not use any flame retardant chemicals.
How do you choose the right size sofa for a living room?
If you have a large space to work with, be sure to order a larger sofa! I like a 90″+ sofa for large rooms, and an 84″ for smaller spaces. For reference, the Amelia sofa is 84″ and we have a 9×12 rug, I have enough room for a small side table on either side of the sofa.
---
---