This small bathroom remodel takes shape in a former hallway! You'll love this small bathroom renovation idea!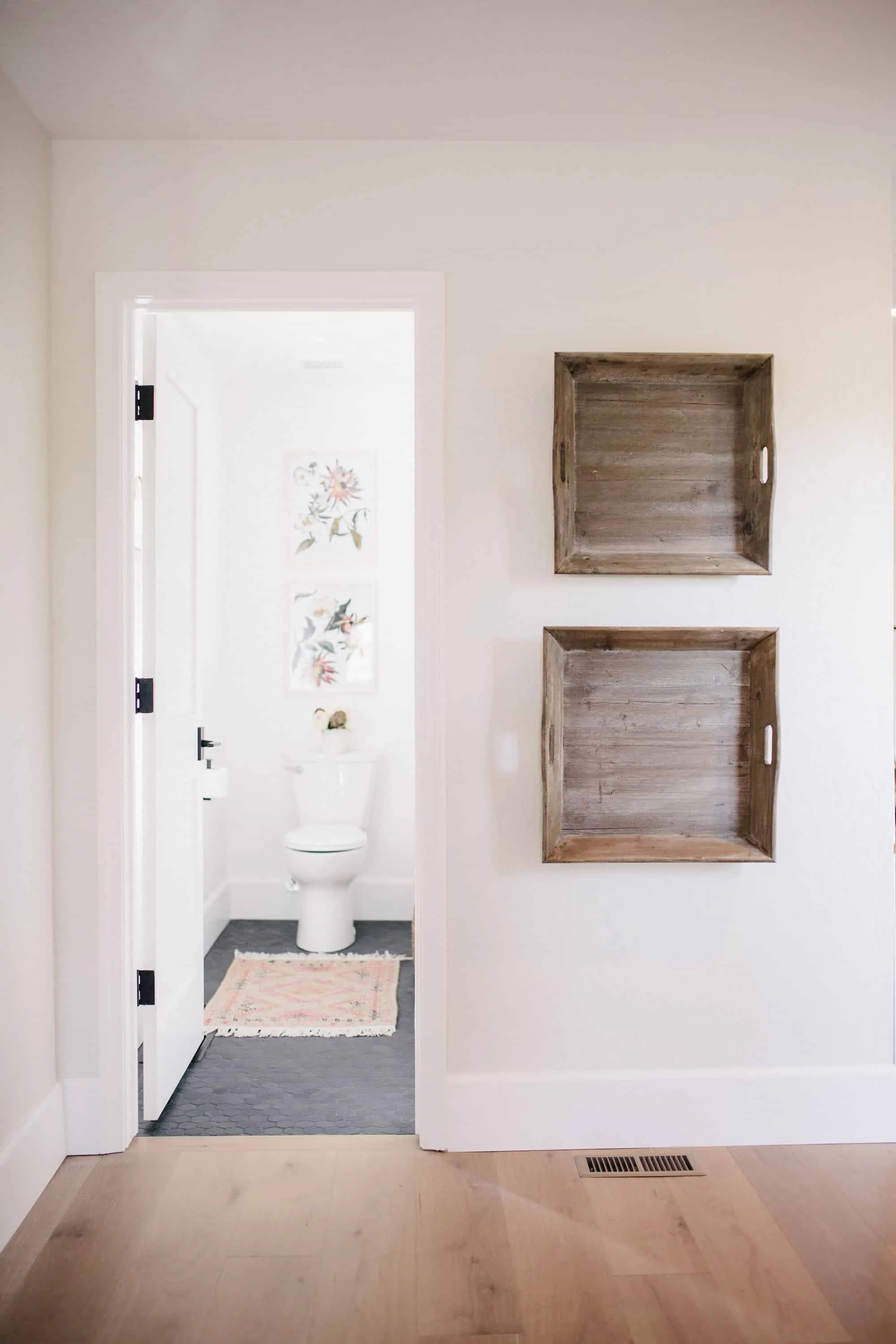 Small Bathroom Remodel
I've learned that remodeling any space involves a lot of problem solving. Trying to turn a dated or not so functional space into a beautiful and fully utilized area involves getting creative and making the most of what you've got. Then, throw the budget in, it becomes creative engineering.
Do you remember the bathroom renovation we did at our house? If you haven't checked it out, head over there next for more sources. We ended up using the same mirror in both spaces, I guess it's one of my favorites!
Now, let me show you around this small bathroom remodel, I hope you enjoy seeing how we made it all work!
---
Want to see more from this remodel project?
Entryway Makeover (with built-in bench!)
---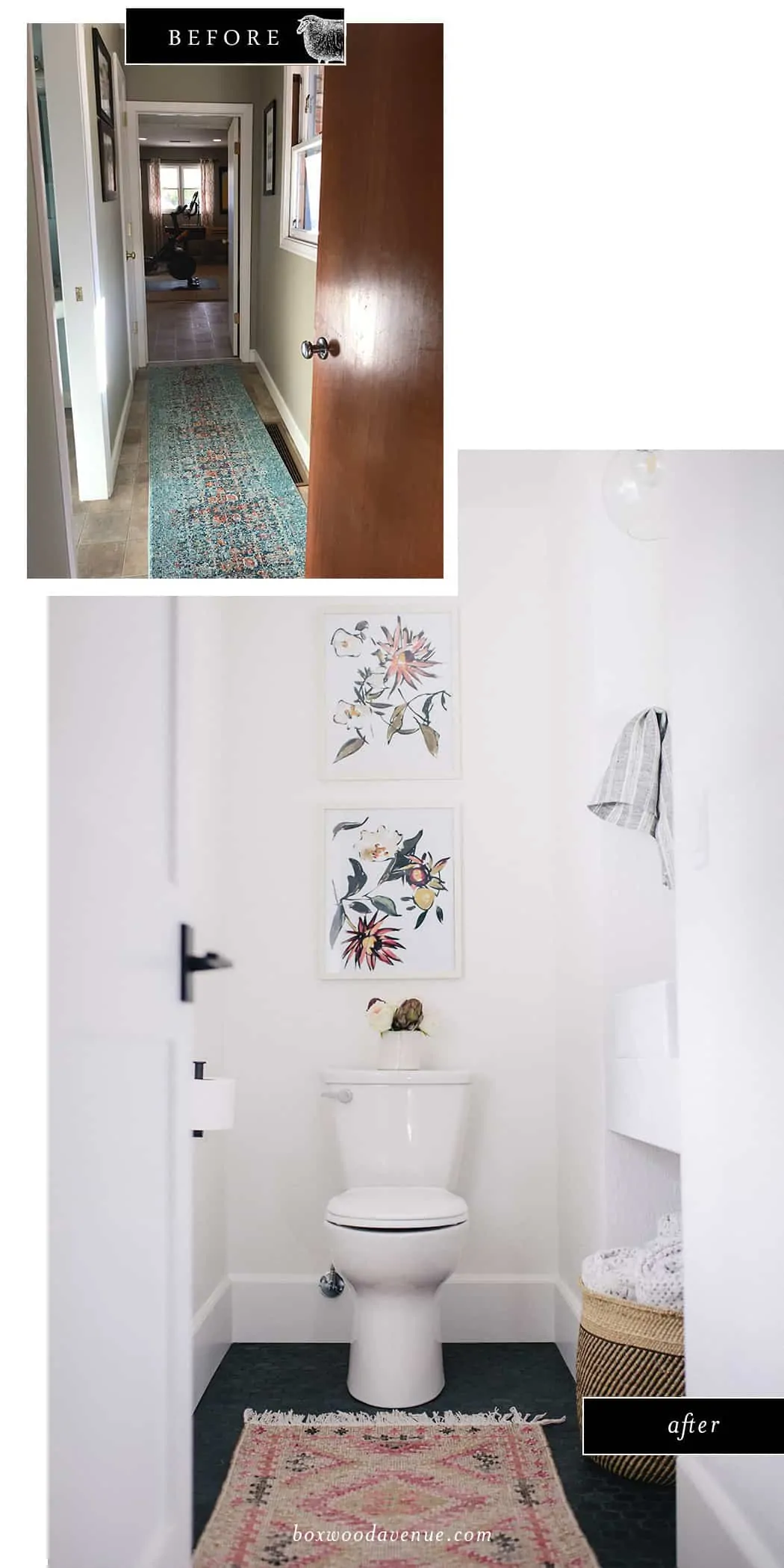 This home is the house we remodeled last year in Reno, NV. Most of the homes in the area were built in the 60s and 70s, and most of them are pretty dated. A lot of them have been remodeled, but there's one thing all of them have in common: location!
This location is nestled right outside of midtown. Close enough to be able to visit all the new shops and restaurants, but far away enough to have a little peace and quiet. I loved getting to work on this house with my dad and renovate it to become more functional! One of my favorite projects of the house was this small bathroom remodel!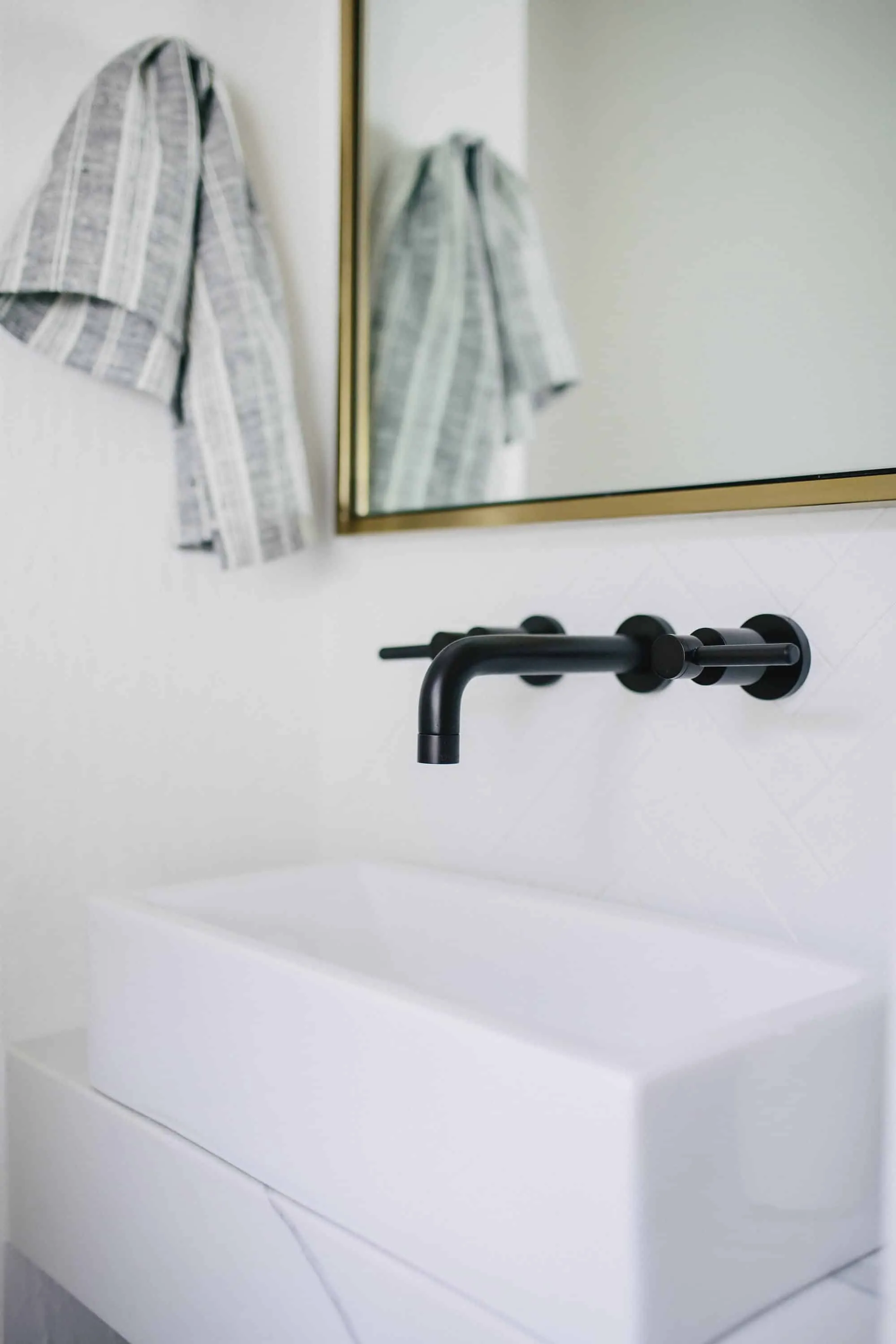 When we first arrived, we immediately saw that the previous homeowner had added an addition to the home by converting the garage into a small living room. Adding more space to a home is awesome! …Unless it's completely wasted space, costing square footage and presenting problems for the homeowners.
To access the addition, the homeowners had to go through a skinny hallway with a very low clearance. This was even more problematic because the client is very tall! So, to access this addition, he needed to duck, or forget to duck and hit his head on the clearance!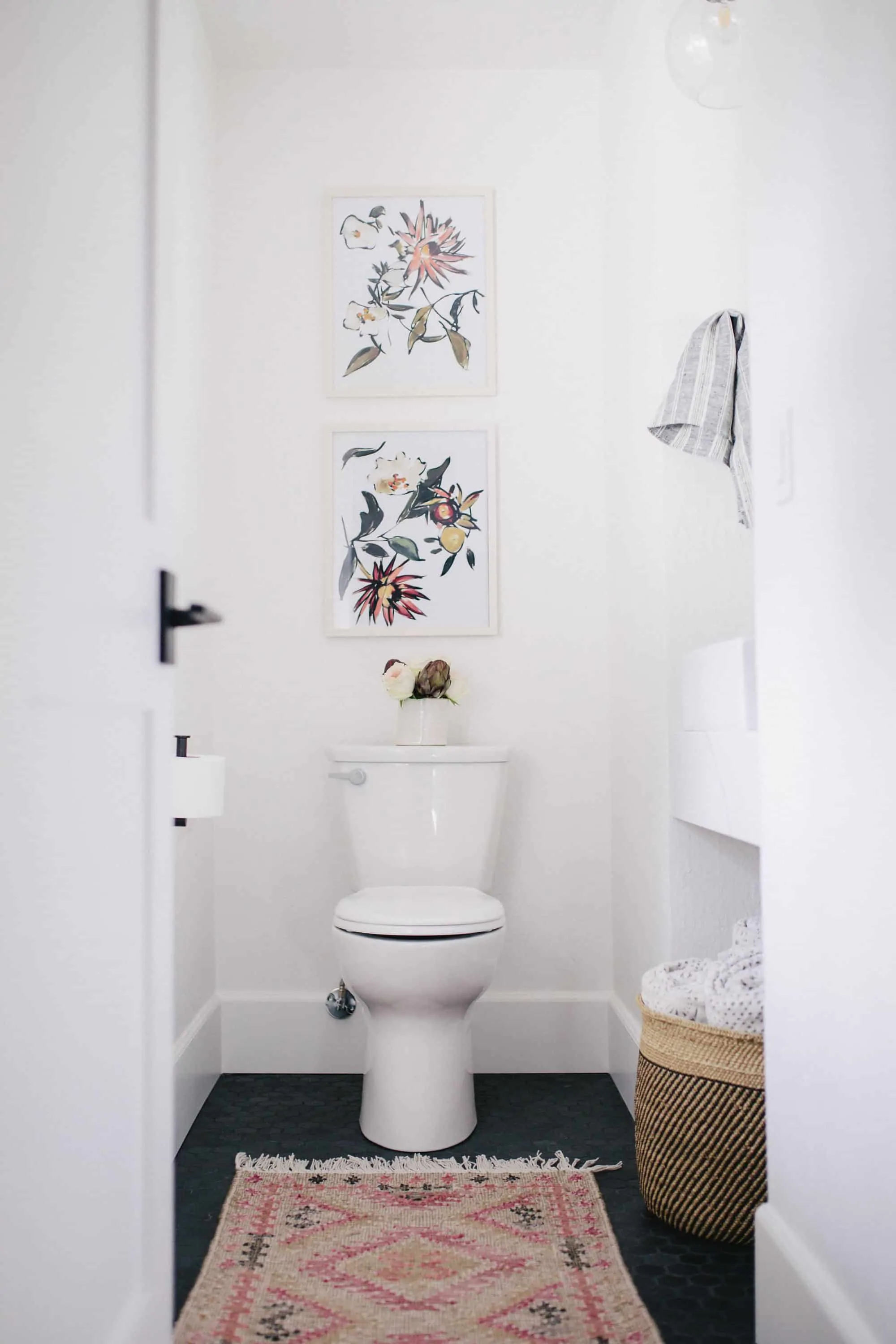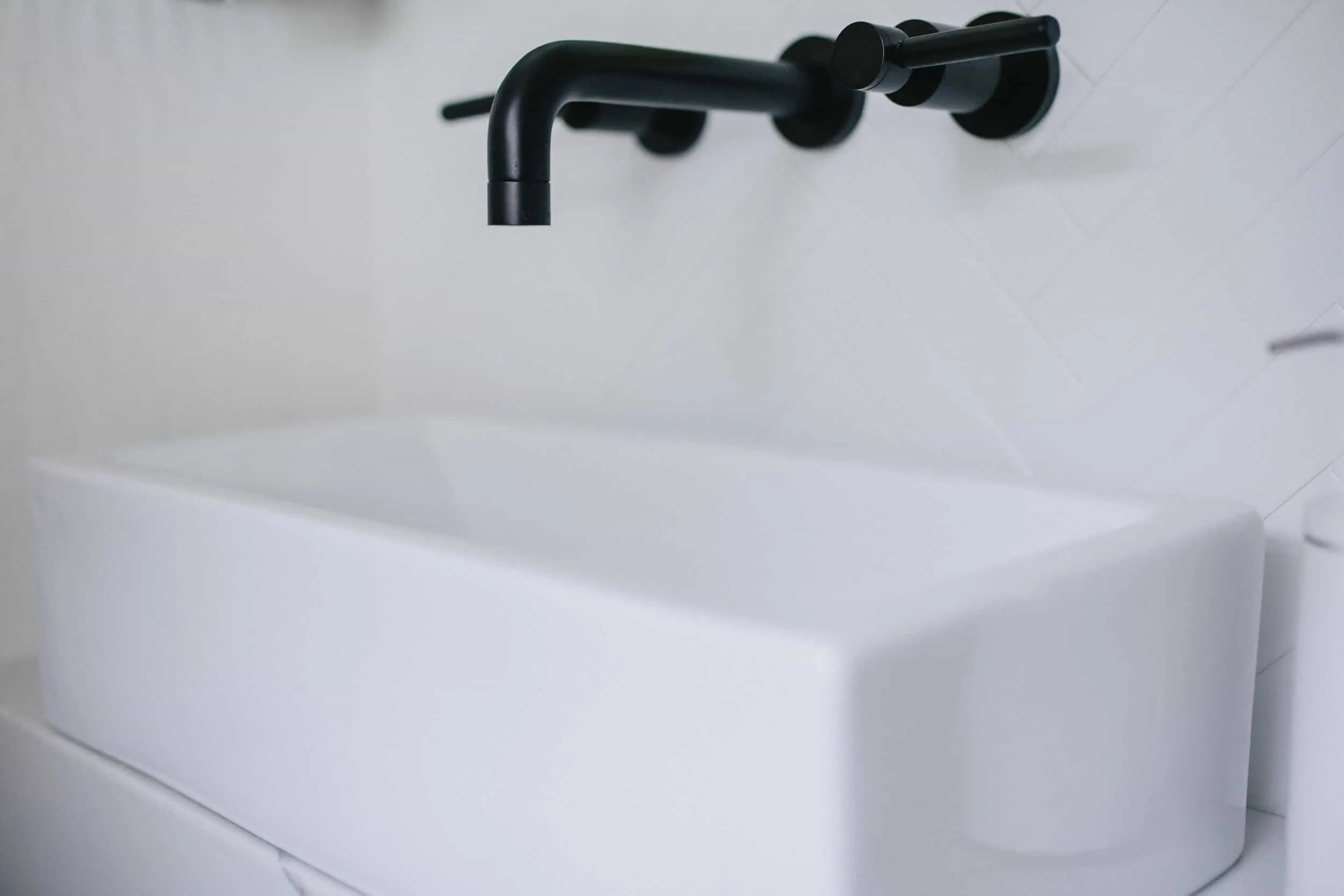 This hallway was narrow because crammed between the hallway and the kitchen, was a small bathroom. The bathroom (see below) was nice enough, but fairly outdated. However, the placement of the bathroom ate up valuable kitchen space!
shop this small bathroom remodel

---
Before…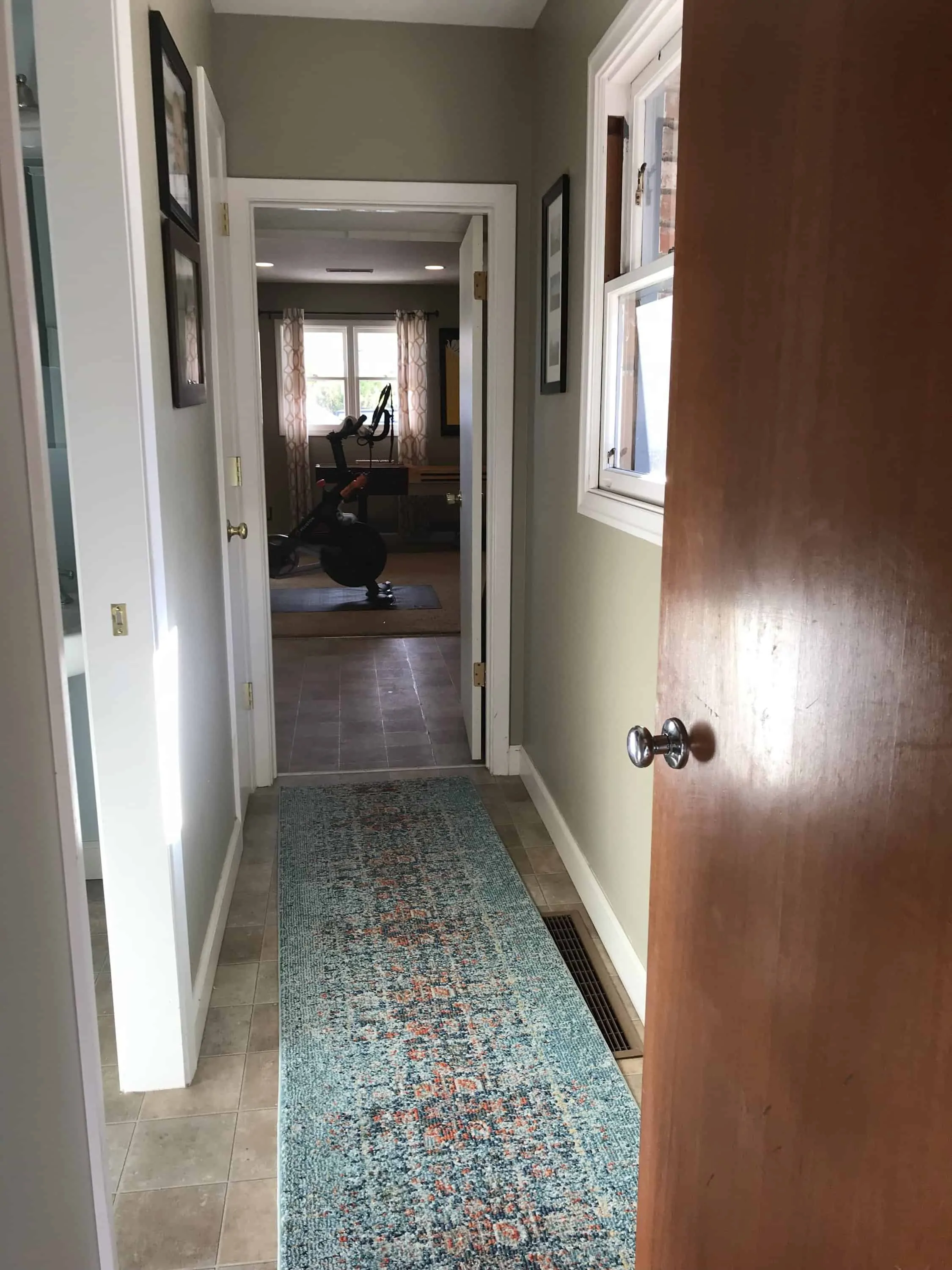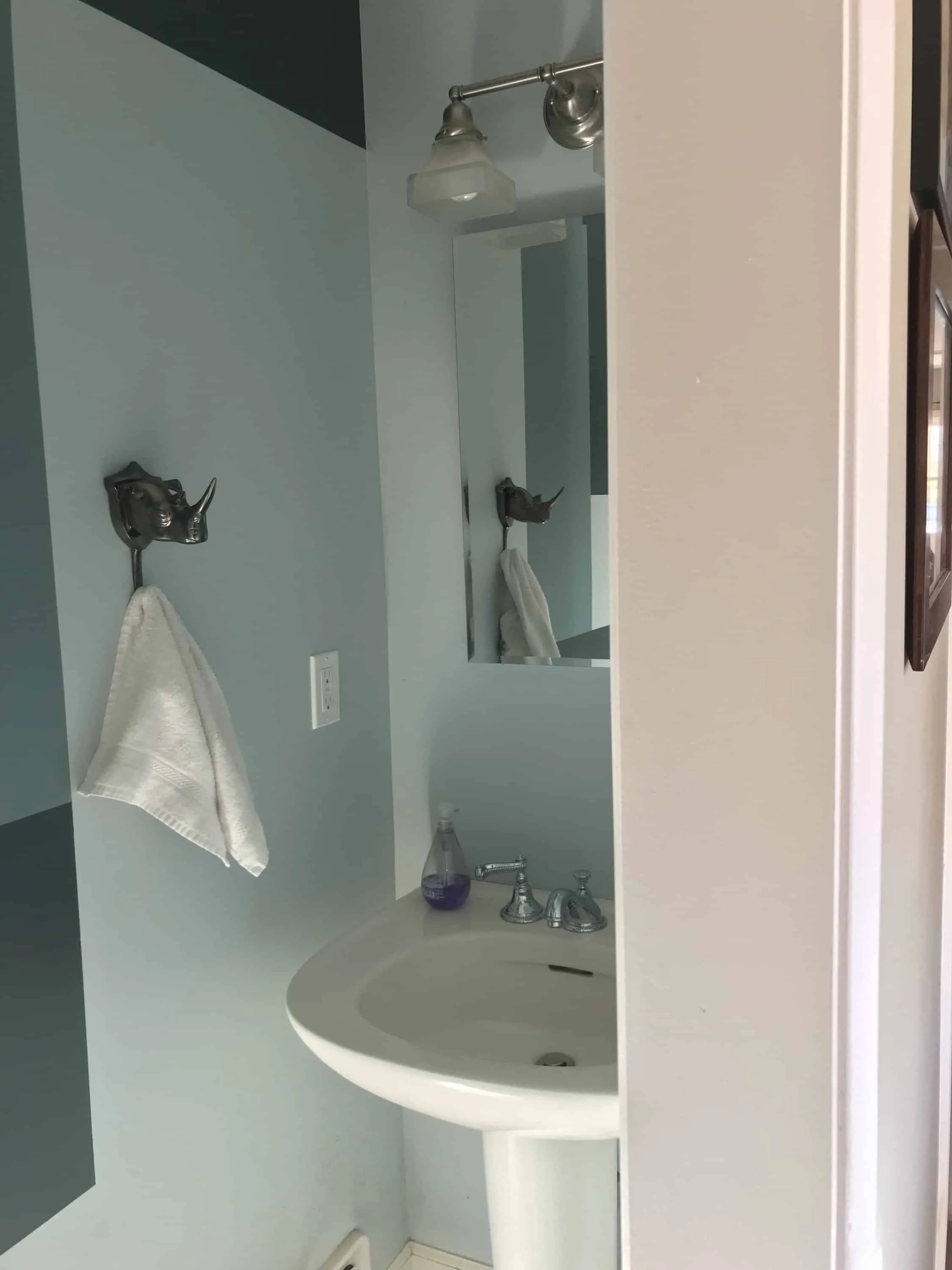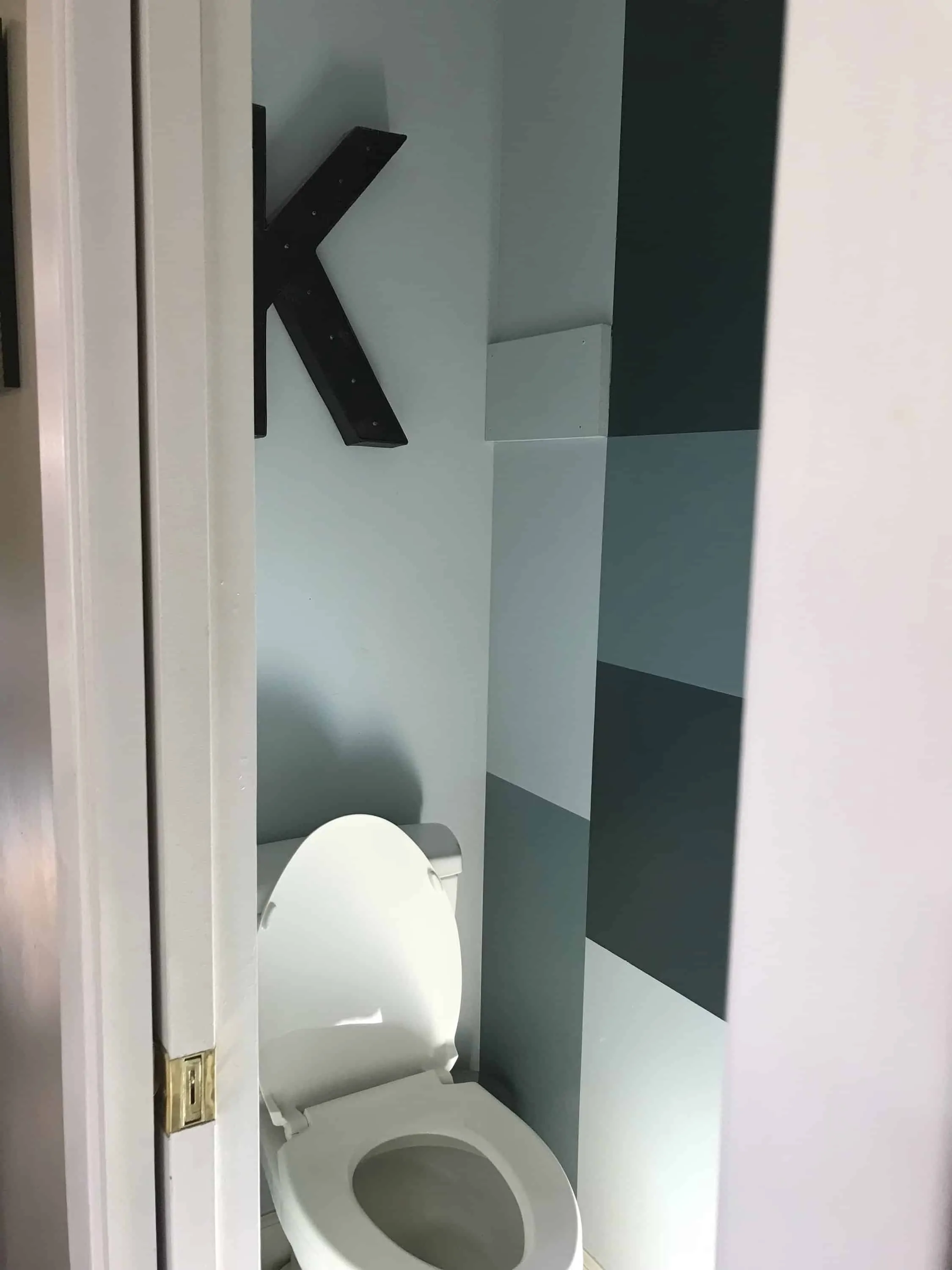 ---
Our solution was to remove the bathroom and the hallway, opening up the addition to the kitchen, creating an open floor plan.
Where the hallway once was, is now a small bathroom that is much more modern, bright, and fresh!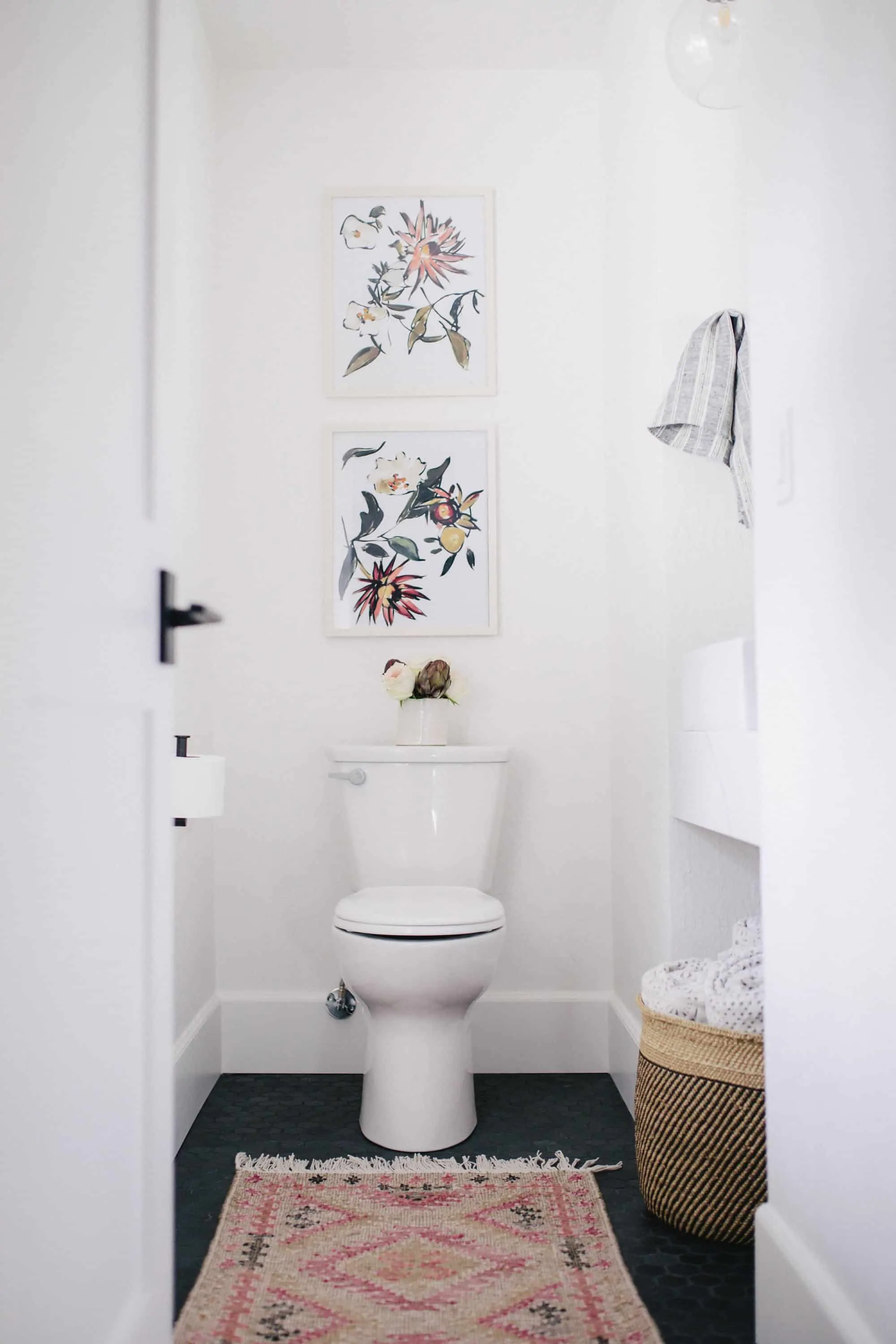 You'll see we had very little room to work with here, but knew we could fit everything if we got a bit creative! We added a spot for the sink in-between studs, and placed the toilet where the beginning of the hallway once was.
I loved the look of a single hanging light and a floating sink to keep things light and fresh. I didn't want to add too many heavy details because of the small space!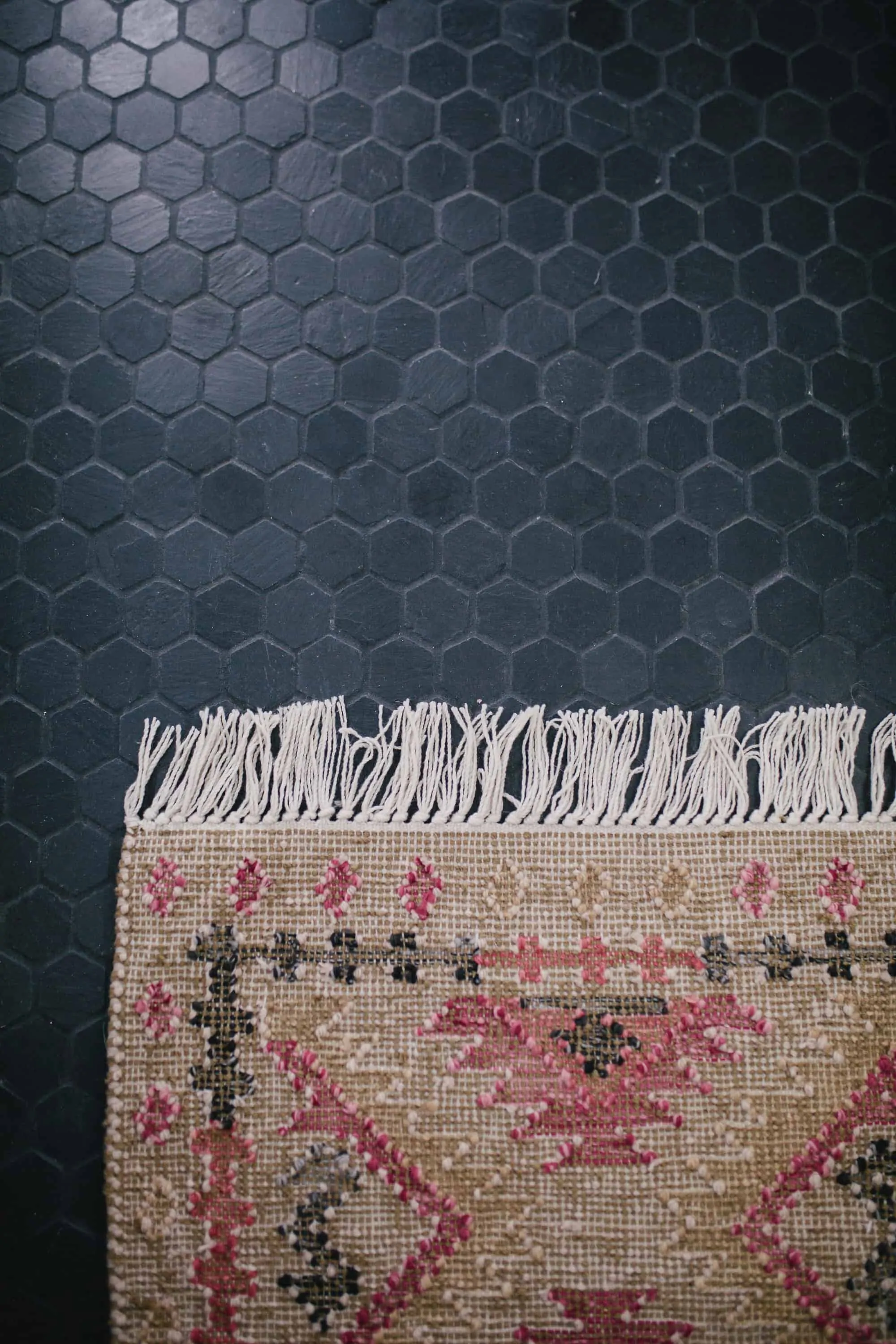 The black floor and black grout were a fun and inexpensive design touch. I think I forgot to mention we were working on a TIGHT budget for this project! So finding as many inexpensive elements as possible was crucial!