There's nothing like a gooey, chewy, chocolate chip cookie fresh from the oven! Even though recipes may seem simple, there are a few tricks to perfecting them for the best chocolate chip cookies you've ever had!
Chocolate chip cookies are one of those things can either be a quick 15 minute task, or a 72 hour production. You can buy pre-made dough, prepackaged ingredients, or make your own, and chances are, if you're making your own, you've sifted through 204832481 recipes claiming to be THE BEST EVER. Well, here I am, adding another post to the pin-osphere claiming to have the best chocolate chip cookie recipe (in the world).
I was in search of dynamo Christmas cookie recipes to make for my college professors, and stumbled upon this recipe. You see, throughout college, I had the habit of baking cookies for my (favorite) professors during finals; only on one occasion do I think the cookies helped with my grade ;).
Table of Contents
I followed the tips and tricks to a tee, and the results were perfection! These cookies are chewy for days, crisp on the outside, and melt in your mouth. Once you try the 'salt' trick, you'll never go back! Here are my tips for achieving the perfect cookies – then click over to get the full recipe adapted from the NYT.
FAQs for The Best Chocolate Chip Cookies
Do I really need to chill the dough?
If you can. I made these cookies over the course of a few days. Greg couldn't wait the standard 24 hour chilling period, so my first batch was only chilled for a few hours. They turned out great, yet I noticed the batch that was chilled for 24+ hours was slightly more attractive. 
Salt vs. Unsalted butter – help!
When I see recipes explicitly say "use unsalted butter", I generally roll my eyes. As if the extra tiny bit of salt is going to cause your recipe to completely fall apart. In my opinion, it doesn't matter what kind of butter you use, and if you're worried about your recipe being overly salty (but all you have on hand is salted butter), just don't add quite as much salt as the recipe calls for.
Do I have to sift the flour for my cookies?
I may roll my eyes at the butter debate, but I am a firm believer in sifting. Just make up your mind that you're going to be a sifter, and it's all down hill from there. 
When do I add eggs?
Now this is important! Next time you make cookies stand by your mixer and watch the dough during the butter/sugar stage. There will be a point in time (about 2 minutes in) when you see the color and texture change – it will be considerably lighter, and look fluffy. At that time, you can add your eggs (one at a time), then watch again, you will see the color get even lighter, and the texture even fluffier. Once that happens, you'll be ready to add the dry ingredients.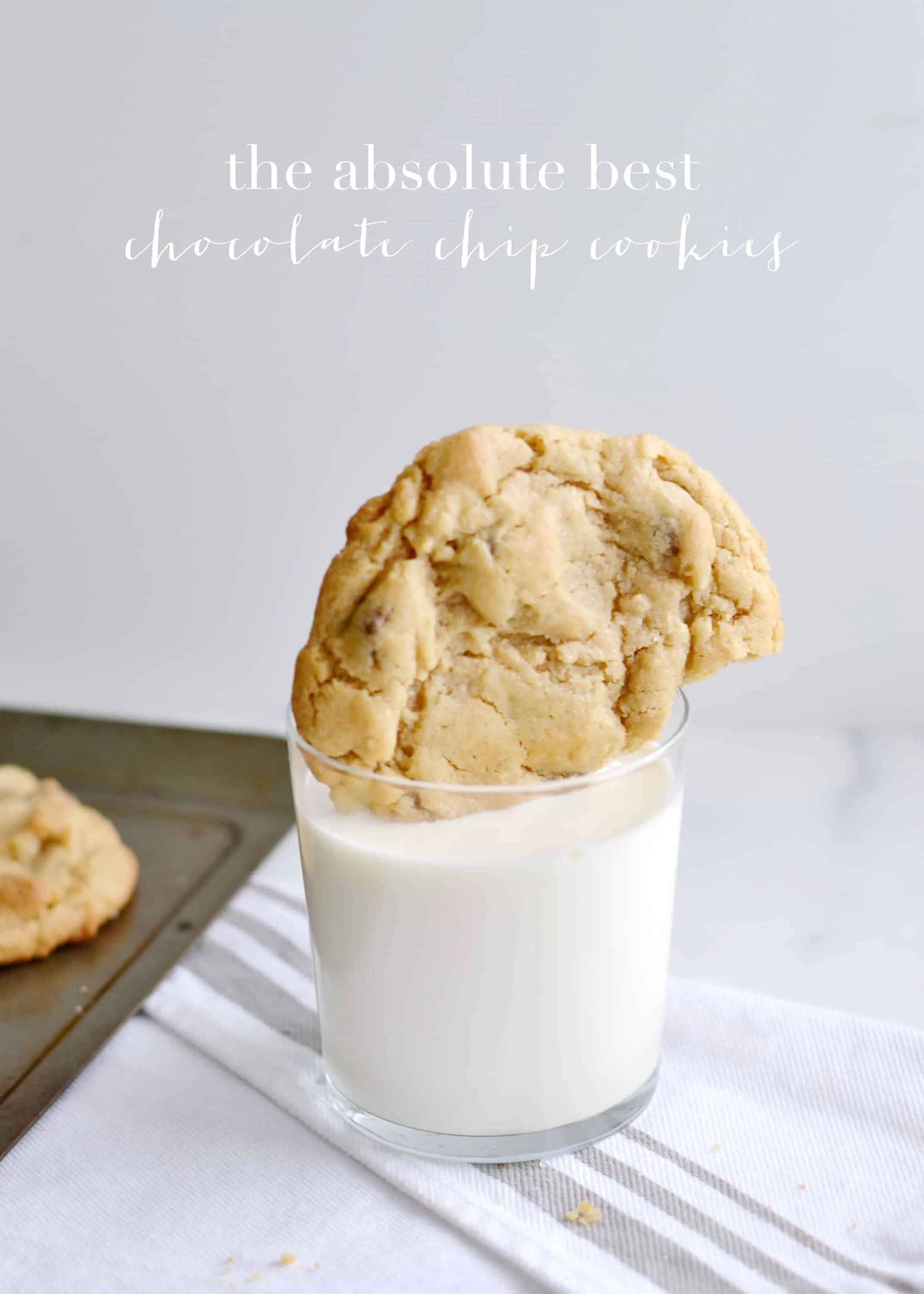 Other Tips for the Best Chocolate Chip Cookies
Use parchment paper! It'll be your best friend, plus it'll save you clean up time.
Salt the top – I'm telling you: YUM!
I like to use a giant ice cream scoop to get the perfect size (think the size of an apricot).
Pull them out JUST when the edges start to look golden.