Customizing the Perfect Wood Stain Color
This post may contain affiliate links, please read my disclosure policy.
Looking for the perfect wood stain color? Learn how you can easily customize any wood stain to get the perfect color!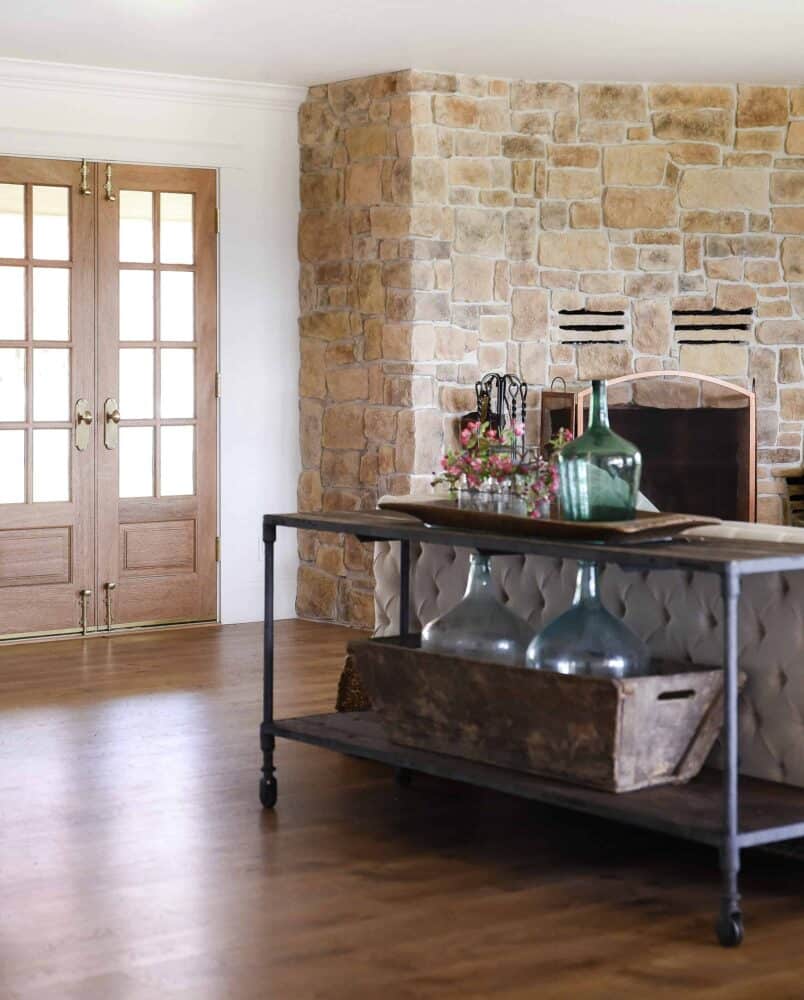 What I started doing interior design work, there were two tasks I absolutely dreaded. 1. Lighting plans. 2. Selecting a wood stain color.
From my experience as a consumer, pre-designer, I always struggled with wood stain. I found that the popular stains available OTC (at the hardware stores) often resulted in undesirable colors. 
The question remains: how to mix wood tones in your house? Let me help you get the stain color right…then, mixing is no problem!
After a few years under my belt, I now love the excitement of picking out a wood stain color. I still hate lighting plans.
You see, there are so many wood stain color options available that you probably don't know about! Today, I am going to share them with you! I'm also going to give you some of my tips and tricks for mixing different wood tones in your house to create a cohesive look!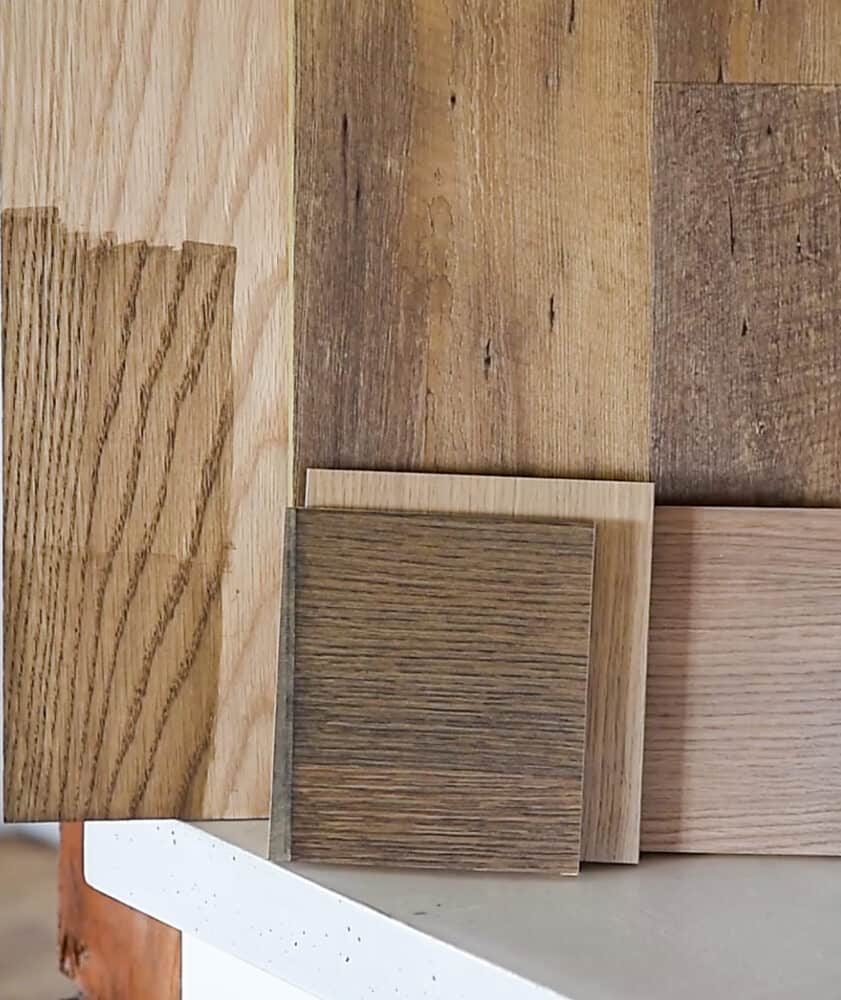 How to Select Wood Stain Color
If you're trying to determine what color to stain wood, there are a few things you need to consider:
What is the species of the wood?
What are the natural undertones in the wood?
With so many different species of wood, it's hard to name them all, but here's a quick way to remember hardwood vs. softwood. Hardwood typically loses its leaves in the winter, whereas softwood varieties are typically evergreen. This helps me remember that oak, elm, maple, mahogany, etc… are all hardwood varieties. Pine, juniper, cedar, etc…are all softwood varieties.
Regardless if the wood you are staining is hardwood or softwood, you will see that every different type of wood is a different color and contains different grain patterns. These variables can even be different from tree to tree!
Common Undertones in Wood Species
Beech, White Oak, and Maple – slightly pink undertones
Pine – yellow undertones
Mahogany, Red Oak, and Walnut – red or pink undertones
When determining what color to stain wood, you will want to first have an idea of what the overall color scheme of the project is.
Usually, this is determined by the largest wood element in the room, more often than not, the wood flooring. 
The color of the wood floor will set the foundation for the rest of the elements within the room.
If you're reading this in hopes of picking a stain color for your wood floors, I suggest just going with whatever you're most drawn to! There's no right or wrong here. However, there are some things I like to avoid when selecting wood floor stain color: 
Avoid yellow undertones – try to go with something a little more neutral. Oak is a great option. 
Avoid red or orange undertones – stick with something less saturated that reads rich without feeling too saturated in color. 
I really like a timeless look and try to avoid trends – I look back at homes built hundreds of years ago and draw inspiration from them! I love the look of a wider plank, neutral wood, and subtle imperfections.
Lighter wood floors often read a bit more contemporary, while darker floors can feel more traditional. However, that isn't always the case. You should consider your overall style and determine if your furnishings are going to be heavier and more traditional or lighter and more contemporary.
Once you have the flooring color selected, picking out the rest of the wood stains in the home is a breeze! The wood floor color will help you determine the wood tones throughout the rest of the house!
I love mixing and matching wood tones throughout a house, but it's important to stay within the same undertones. If your wood floors have a warm honey undertone, you will want to mix in warm wood furnishings. If your wood floors are cooler, try selecting wood pieces that also have a cooler undertone to them.
While keeping the same undertones is important, so is adding contrast! I suggest using a variety of wood shades throughout a project to add dimension, contrast, and interest! Too matchy-matchy can feel boring and look flat.
---
You Might Also Like
All About my Wood French Doors
---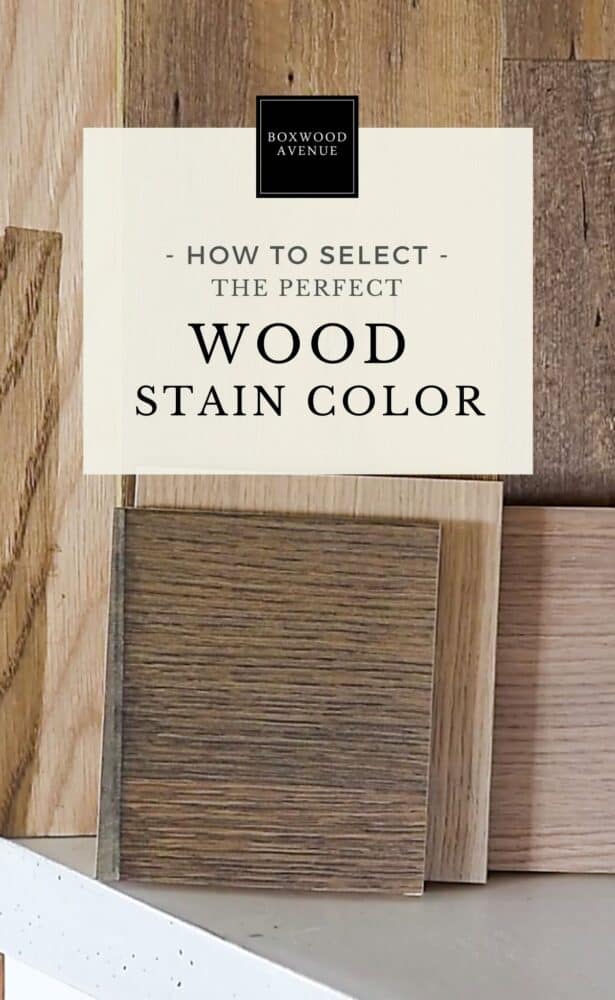 So, how do you find the *perfect* wood stain color?
I think my biggest tip is that you are not confined to what you can find at the hardware store! There are so many different wood stains out there that will produce beautiful results!
The wood stains available at most hardware stores often pull out very saturated colors in the wood and can make your wood projects look red, orange, or yellow! The alternative stain colors available generally feel a little too washed out or cool to me. It's difficult to find that perfect "100 year oak" color!
Stress no further! Sherwin-Williams offers customers the ability to tint their stains, giving you the freedom to create your own custom stain mix! I am not sure if this gets you as excited as it gets me…it's very exciting. Click here to learn more about S-W custom stain colors.
In addition SW custom stain colors, you can also find great wood stain color options with these brands:
WOCA Oil (worth the price for your wood floors)

Overall, it's important to understand the species of wood you're working with and understand the natural undertones it contains. Once you determine the undertones, figure out the general style of the project. Select an anchor wood piece or finish to help guide you throughout the color selection process.
Use this anchor piece to determine the various shades of wood you will use in the home. Remember to stick to a cohesive undertone, but use many shades to add contrast.
If you found this post helpful, I hope you'll subscribe to the blog, and check me out on Youtube and Instagram! Thanks for being here!