Update an old brick fireplace by using cement! This brick fireplace makeover completely transforms this living room!
If you have a dated brick fireplace in your home and you'd like to update it, this post will give you inspiration for a modern update! This beautiful transformation shows what a cement coating looks like over brick.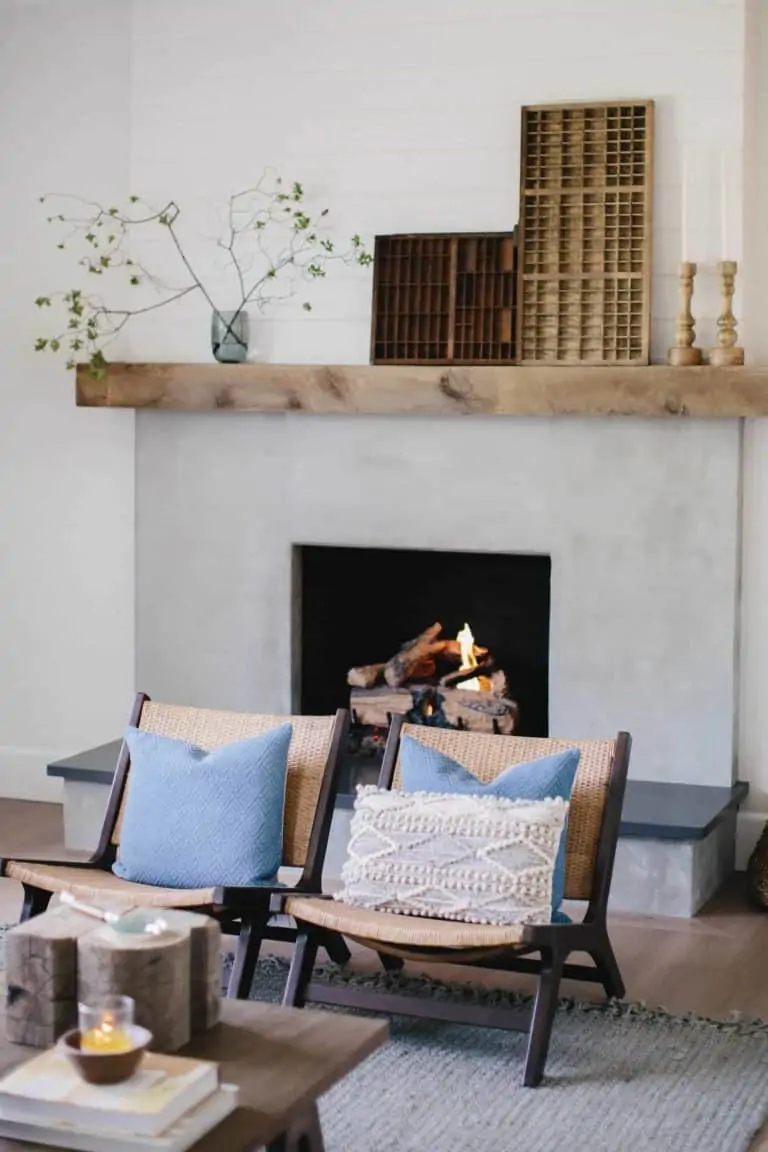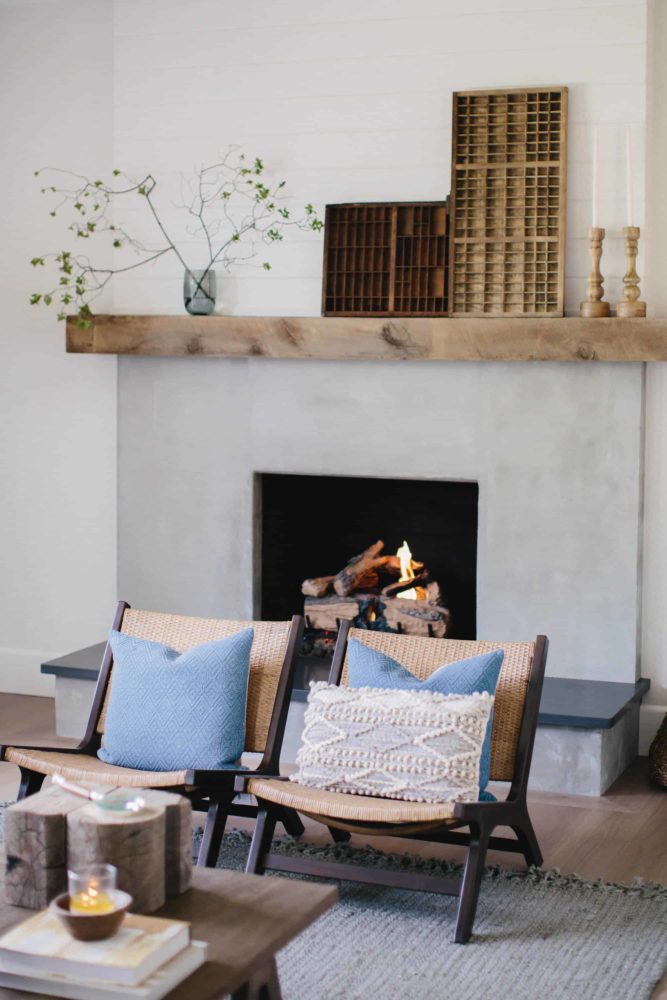 Brick Fireplace Makeover Using Cement & Wood Mantel
See how we updated this old dated brick fireplace with cement and a wood mantel! This brick fireplace makeover feels modern and fresh and totally transformed this family's living room!
I have received a lot of question asking about the particular materials we used for this project – I do not know what the company used to achieve this look as I produced the design and vision and didn't DIY this project.
I believe it is a cement smear (overcoat) that they added over the brick. It was not expensive and only took them a few days to complete!
If you are trying to get this look, reach out to a local tile installed or mason – they will be able to help you narrow down the materials! :)
Brick Fireplace Makeover
Before…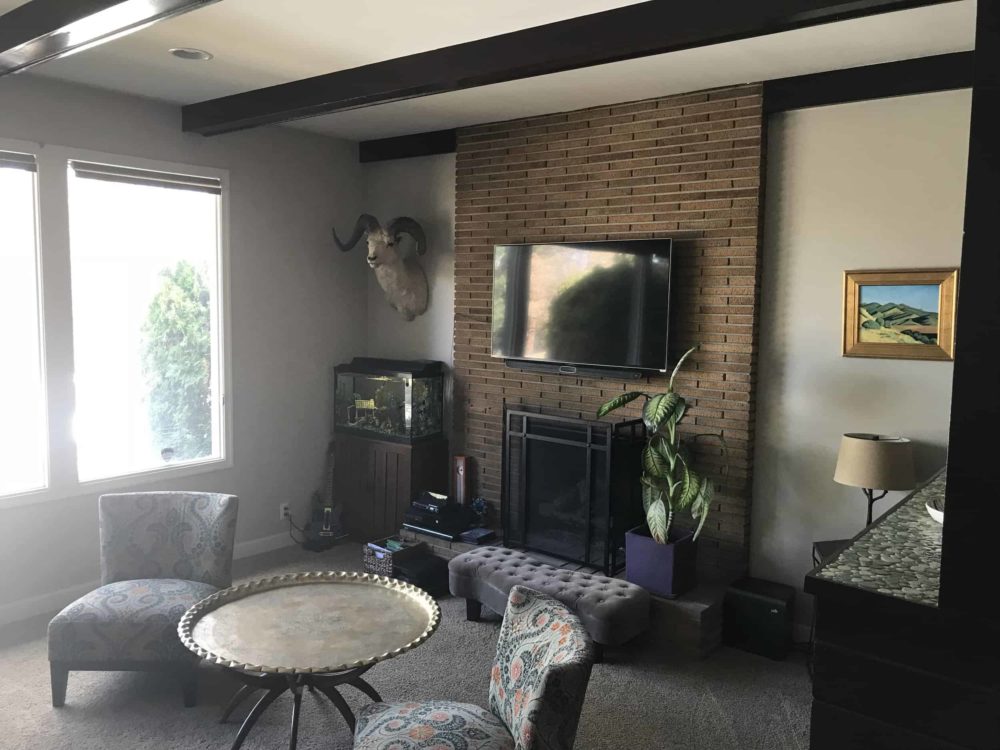 After!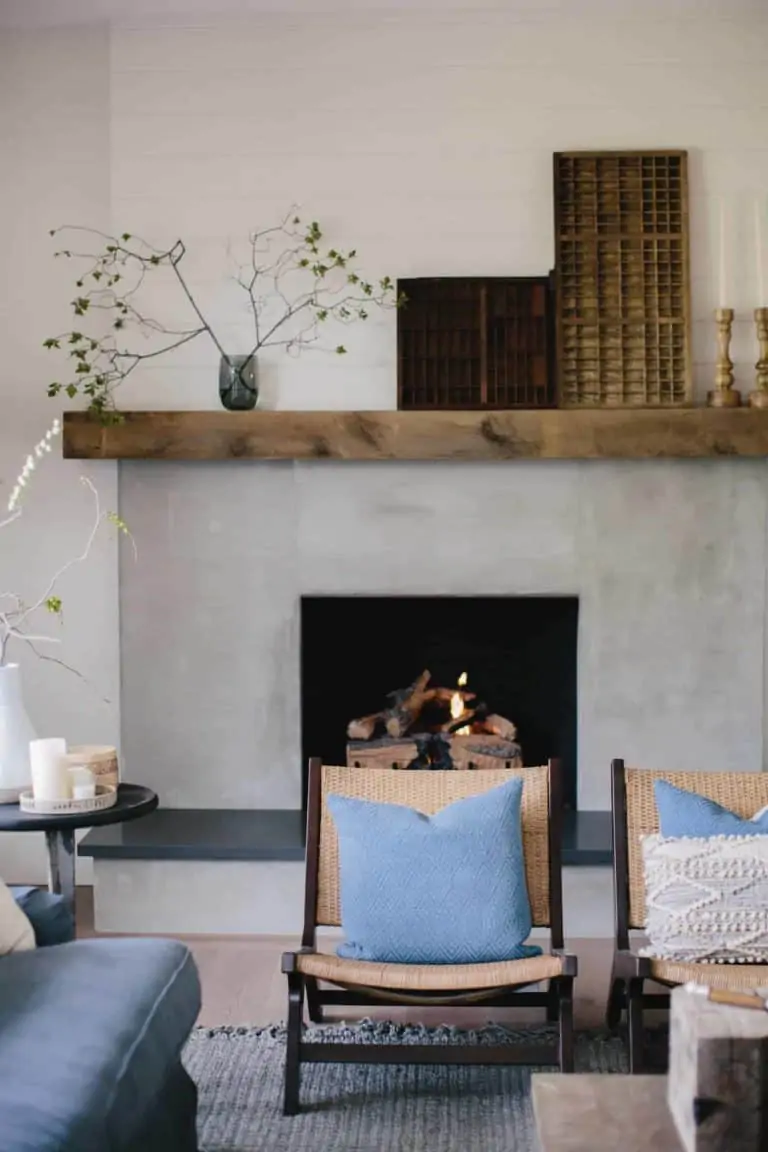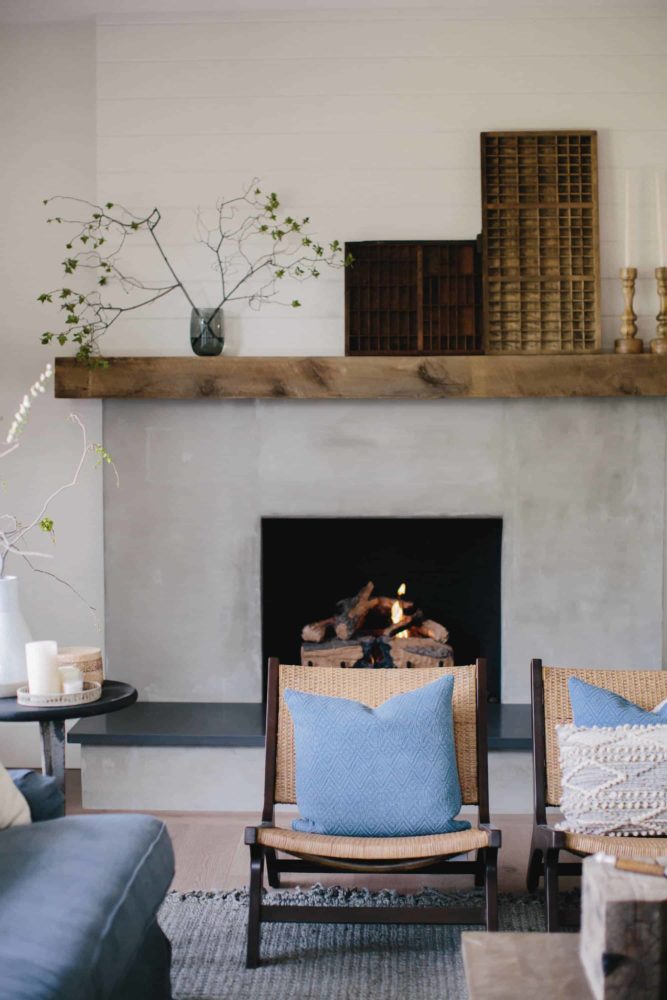 Okay…now onto the good stuff.
Brick Fireplace Makeover Using Cement and Wood!
When we first toured this house, we immediately knew that the fireplace would need a major overhaul. There are a few options when it comes to updating an old brick fireplace.
1. You can paint it. This is cheap and easy, but has a bit of a farmhouse feel. If painting is the route you'd like to go, try DIY Roman Clay – it feels more modern to me!
2. You can slap some veneers on the fireplace. Either fresh brick or faux stone, adding veneers to a dated fireplace can instantly update it. This is what we did in my home!
3. You can float it with concrete. This has a more contemporary feel and is quite inexpensive.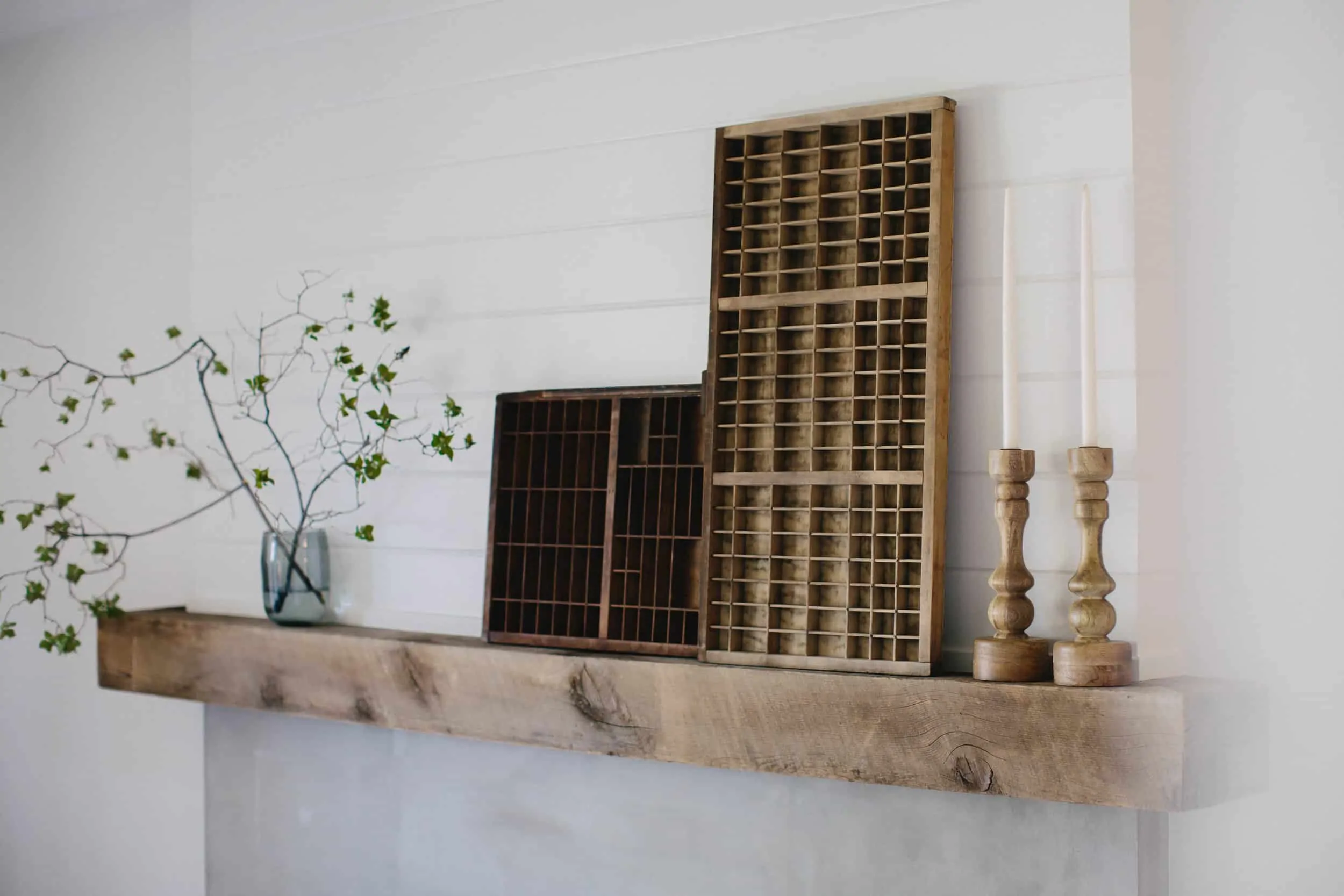 ---
Shop This Room

---
The Updated Fireplace Design
This house is anything but farmhouse, so I really didn't want to go the route of painting the brick. Doing so would have clashed with the entire feel of the house and thrown off the flow.
We needed something that would complement the contemporary and transitional elements that we'd used throughout the rest of the house.
Since we also used quite a few organic elements throughout the house I wanted to add a splash of that on the fireplace too.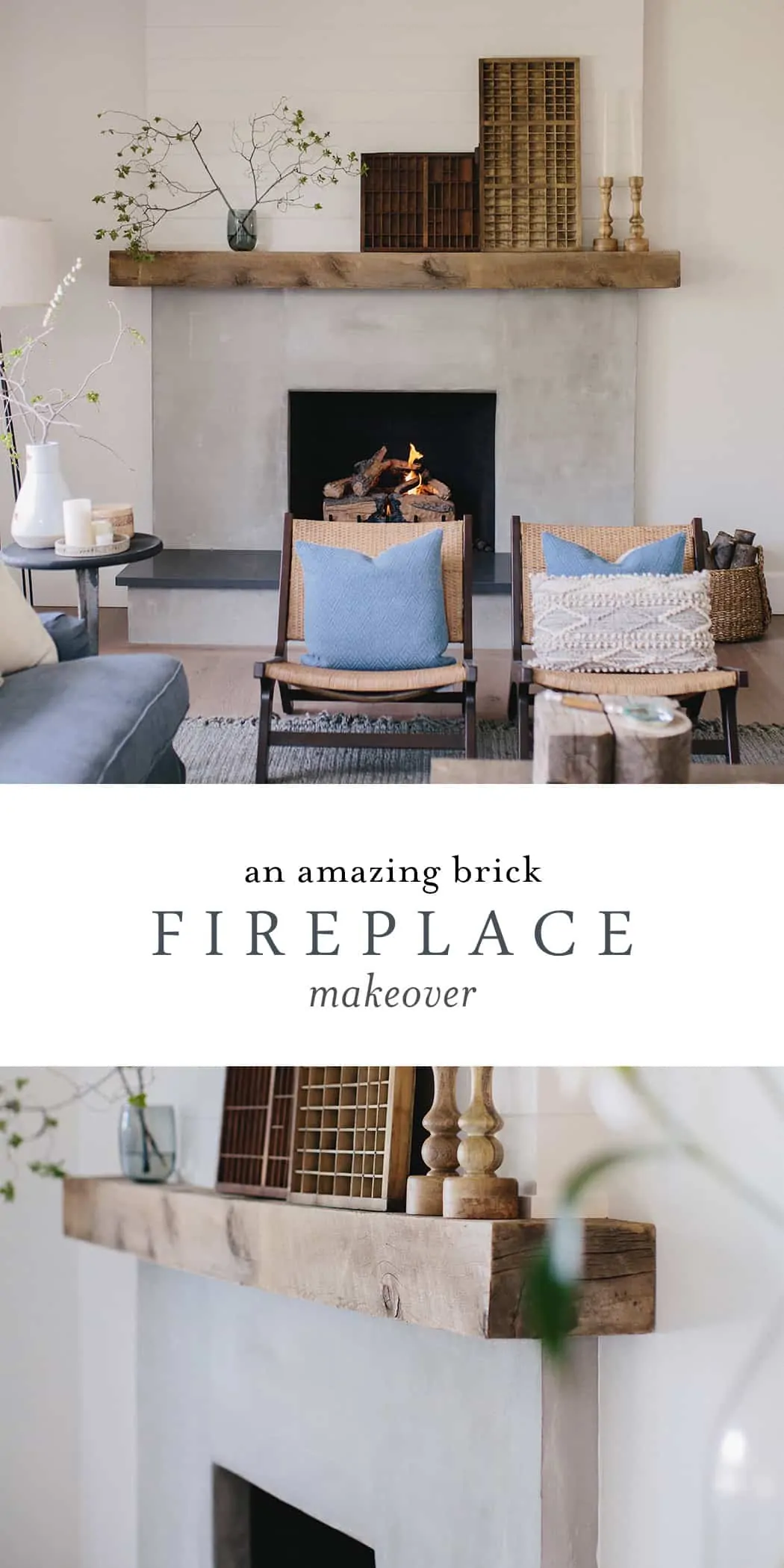 Smearing the brick with cement was the perfect solution for updating this old brick fireplace! It compliments the cement tile that we used in the kitchen (I'll be sharing photos of that soon!).
To make the fireplace feel a little more cozy and warm we used an old fence post found on the ranch and turned it into a mantle!
My dad is crazy talented and was able to create beautiful corners on the fence post and turn it into an absolutely gorgeous mantle!
While we could have floated the entire fireplace, I felt that it would make the room feel a little too modern and cold.
Instead, we added tongue and groove paneling above the mantle which matched the original paneling in the built-ins (which you can see from the kitchen).
Take a look at the entryway makeover where you can see the original tongue and groove, I think you'll love the built in bench!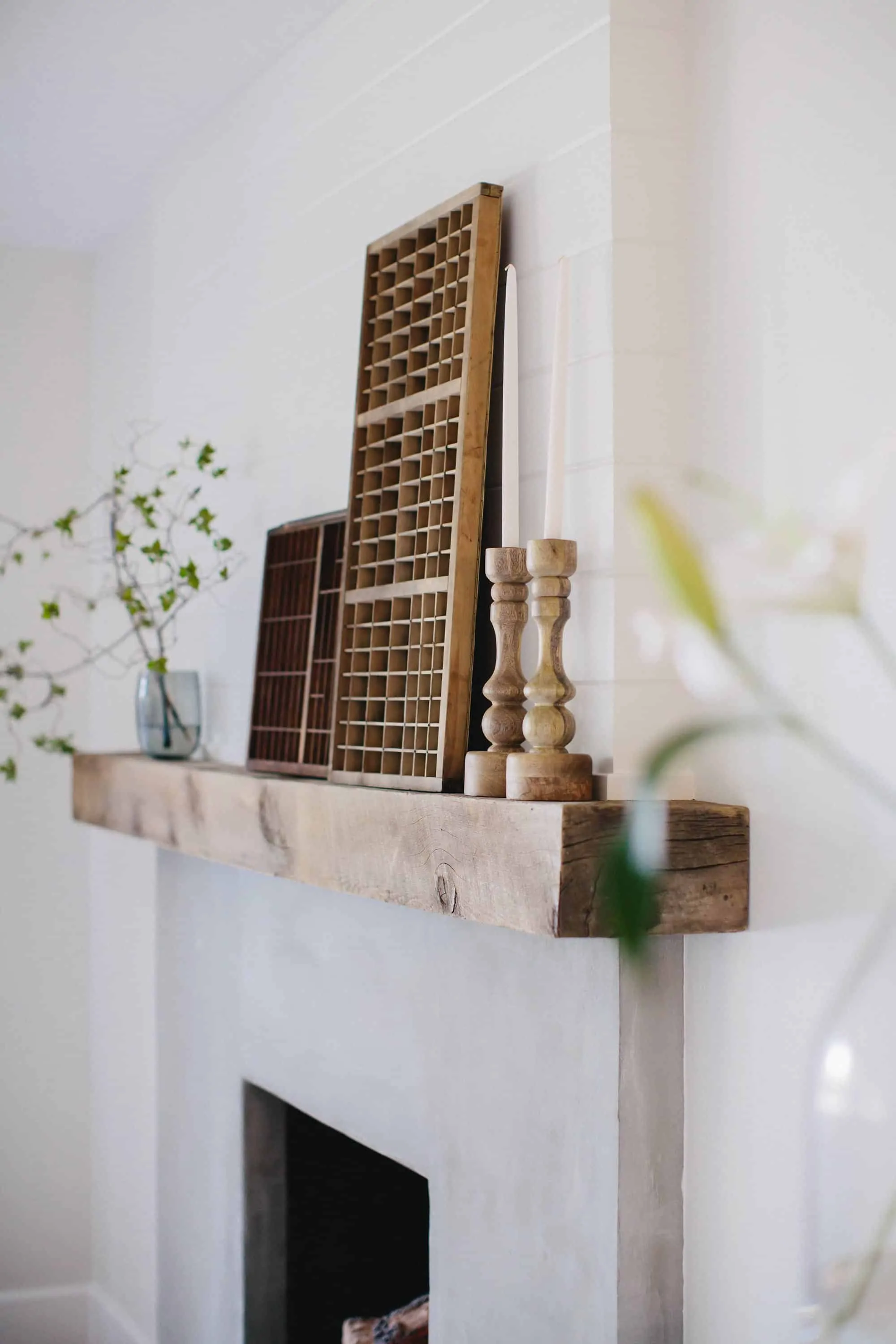 As you can see, this simple update completely changes the entire look and feel of the room. Smearing cement over old brick is a great way to makeover an old and dated fireplace without spending a lot of money!
You can easily do this in your home, simply have a tile installer come out to float the brick with cement. We used a piece of remnant stone as the hearth which was installed after the cement dried.
I hope that you enjoyed seeing the first glimpse of this remodel project! If you live in the Reno-Tahoe or Bay Area, I am now taking on clients for interior design and full scale remodel projects.
I have an amazing team that I am incredibly grateful to work with! If you know of anyone looking to remodel their home, please help spread the word!
Photography by Gagewood Photo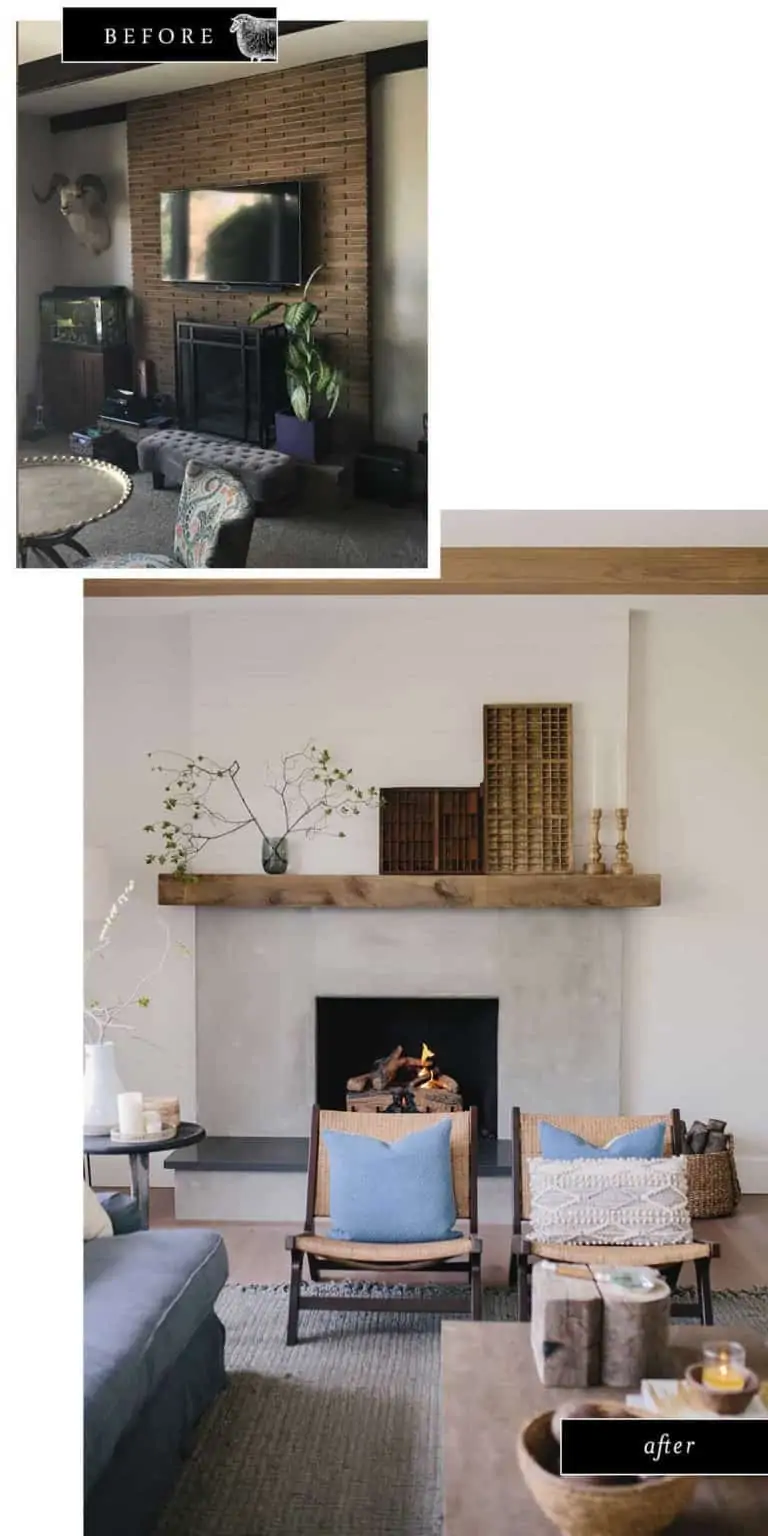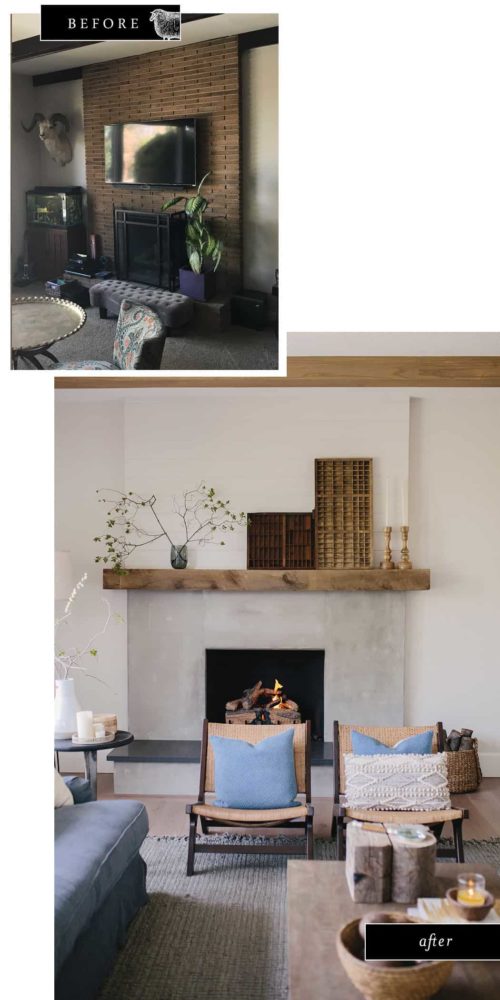 Read Next: The Best Tile for Every Room in your Home