I think you'll rethink those white walls once you see how beautiful a dark painted room can be! From black bathrooms to green offices, this is some lovely design inspiration!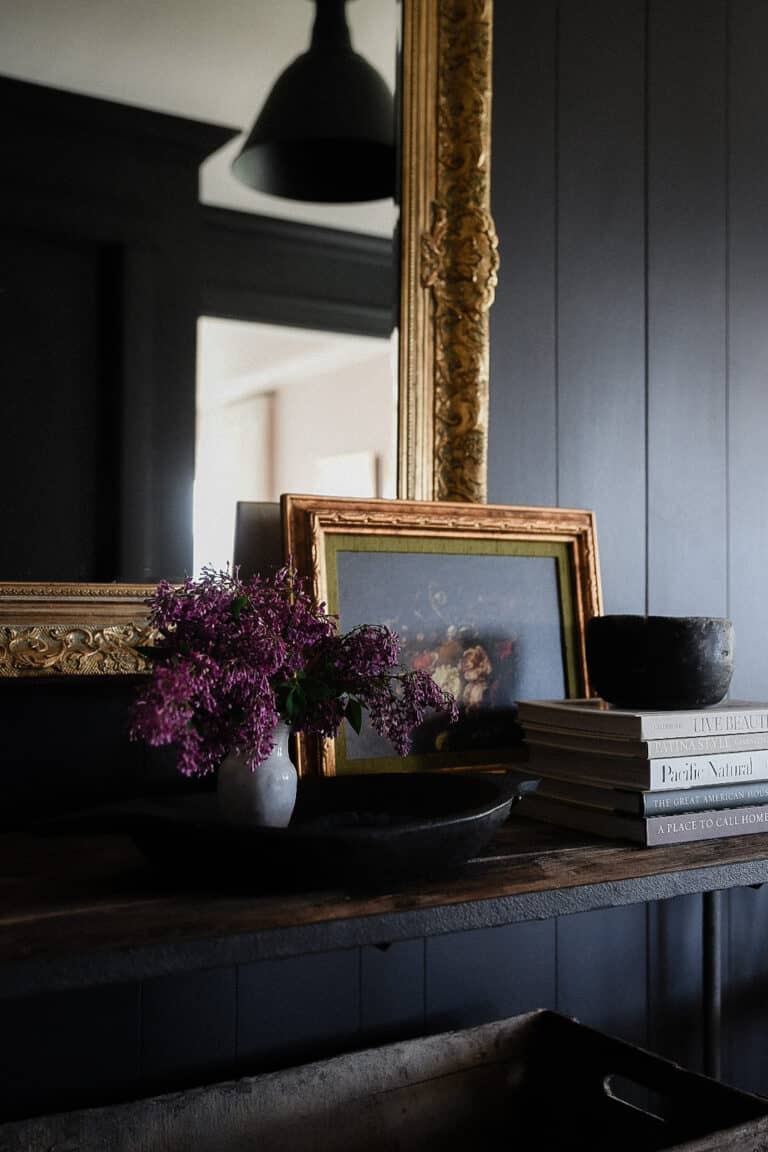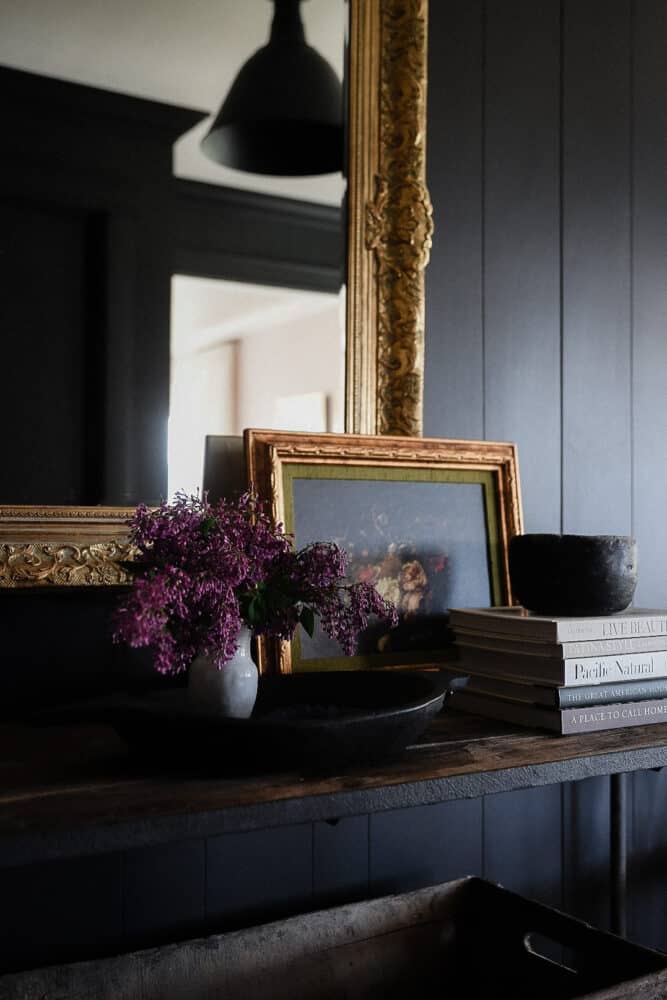 The room in the very back of our house is known to our contractor as "the party room". Pool table, giant TV, terribly ugly (yet comfy couch) – it fits the stereotype of a 1960s man cave completely.
I have a vision of re-doing it with a mix of equestrian interiors & moody styles. Painting the walls a deep green or possibly dark gray, adding gold hardware, and lots of taxidermy, sounds so dream. Creating a cozy man cave that still says "we like to party", but in a tasteful way is the goal.
I did something similar in our dark and moody entryway! Using the color Midnight Stroll by Clark & Kensington which is a verrrry dark navy adds the perfect amount of drama. It turned out beautifully!
Dark and Moody Inspiration
As I gathered inspiration for these rooms I noticed what a difference a white ceiling makes. As you can see below, rooms with the ceiling painted in a dark color as well as the walls, have a more dramatic effect. Yet, rooms with a bring white & crisp ceiling are much less dramatic.
I love the design below by M. Elle with the wood clad ceiling, rich gray walls, and built-in shelves filled with wood and books. I also love the bathroom spaces with dark walls, it accentuates the smaller spaces in a very elegant way, I think I might be considering something similar for our guest room!
Enjoy the inspiration below, and let me know what you think about dark walls in your home!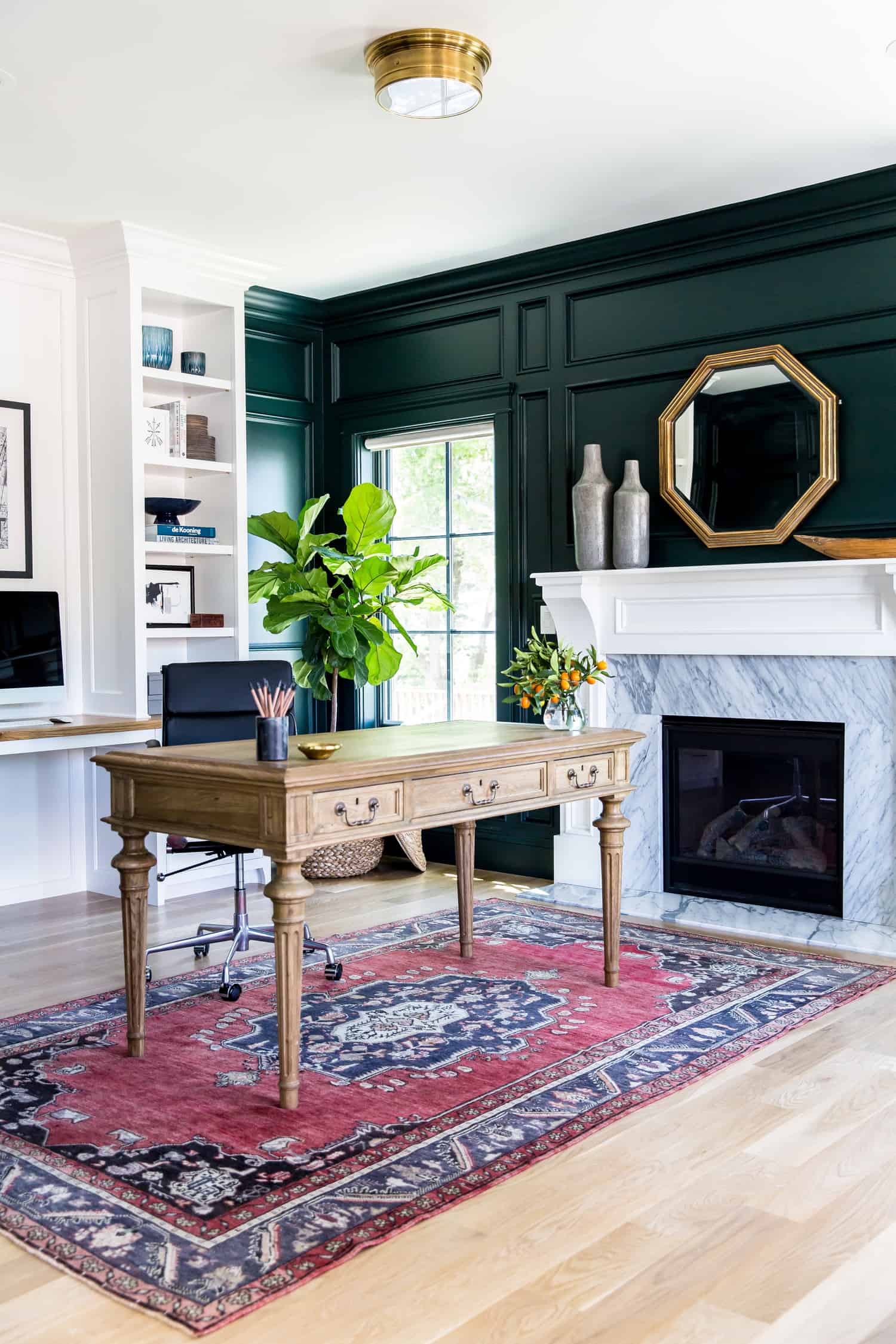 This beautiful office features a pop of green – just enough and not too much.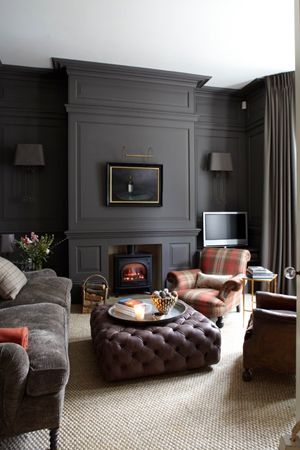 Perhaps the most perfect charcoal color ever?
Lovely Design by Sr Gambrel | Sheer Luxe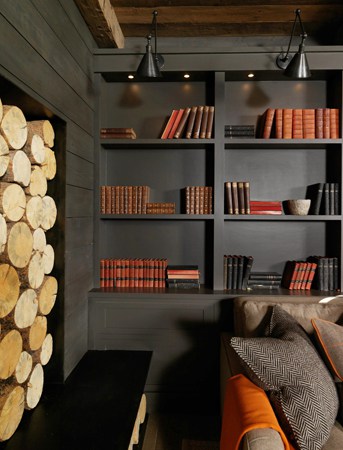 One of my favorite designs of all time, it's the perfect mountain rec room!
Designed by M. Elle Design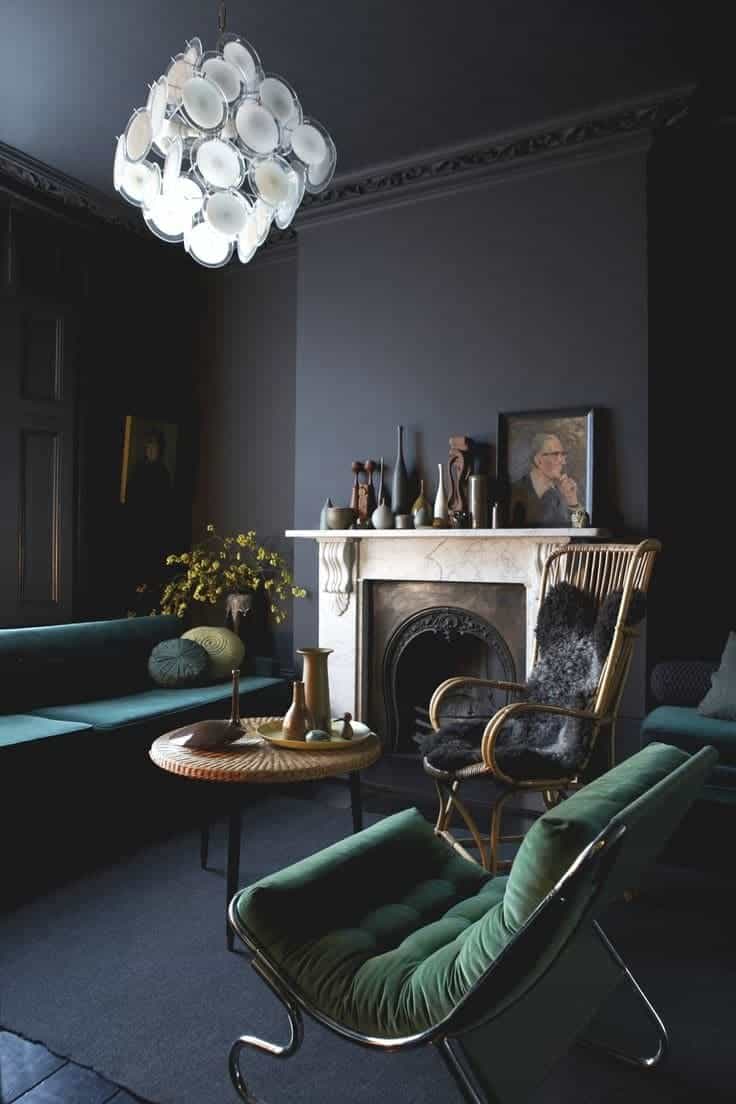 Black on black with gorgeous emerald green couldn't be more beautiful!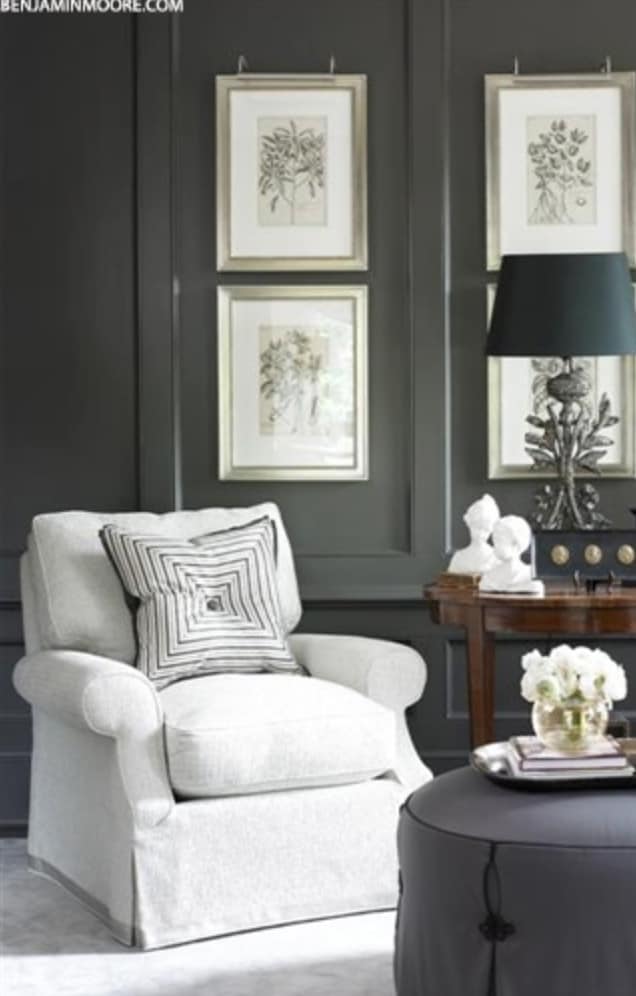 I love the use of multiple shades used here with the contrasting white chair and carpet!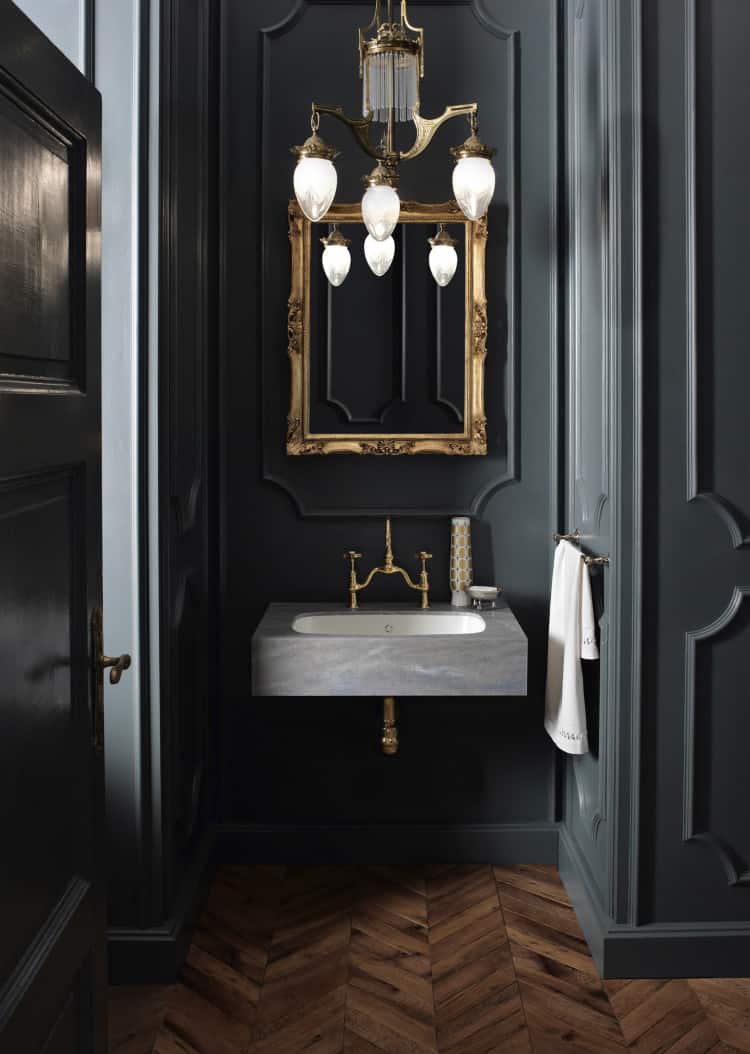 Pretty sure this design speaks for itself. Amazing details here.
Pink and black are one of the most beautiful combinations! Perfectly designed.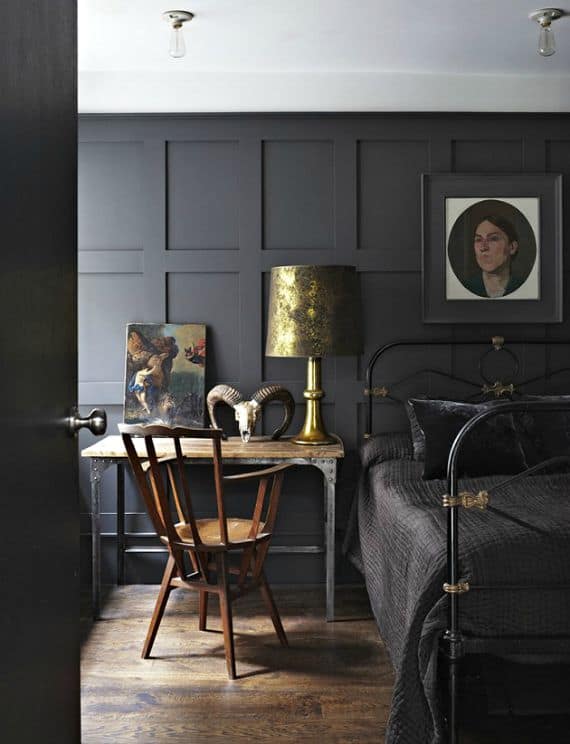 Black paneling and bedding make this space rich and moody!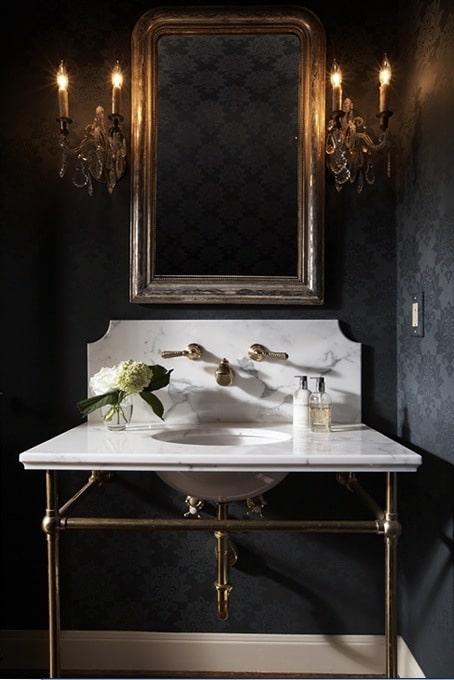 The marble detail against the gorgeous black wallpaper in this powder bath is stunning!
Ashley Goforth Design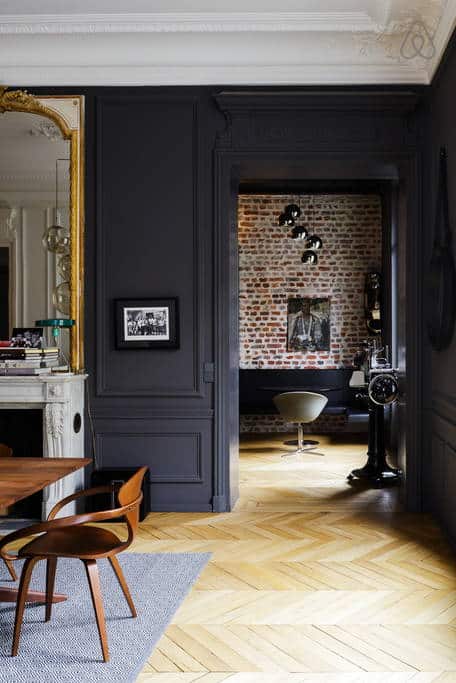 A herringbone, gold, brick, and molding delight! Then throw in the black paint as the cherry on top!