Darling Easter Bunny Sugar Cookies
April 12, 2019
These Easter bunny sugar cookies couldn't get any sweeter! Take a simple sugar cookie and turn it into the perfect Easter dessert by adding marshmallow bunny ears!
Thank you so much for stopping by! This post contains affiliate links, I receive a small amount of compensation if you choose to purchase from my links (for example – as an Amazon Associate I earn from qualifying purchases). I only link to products that I know and love.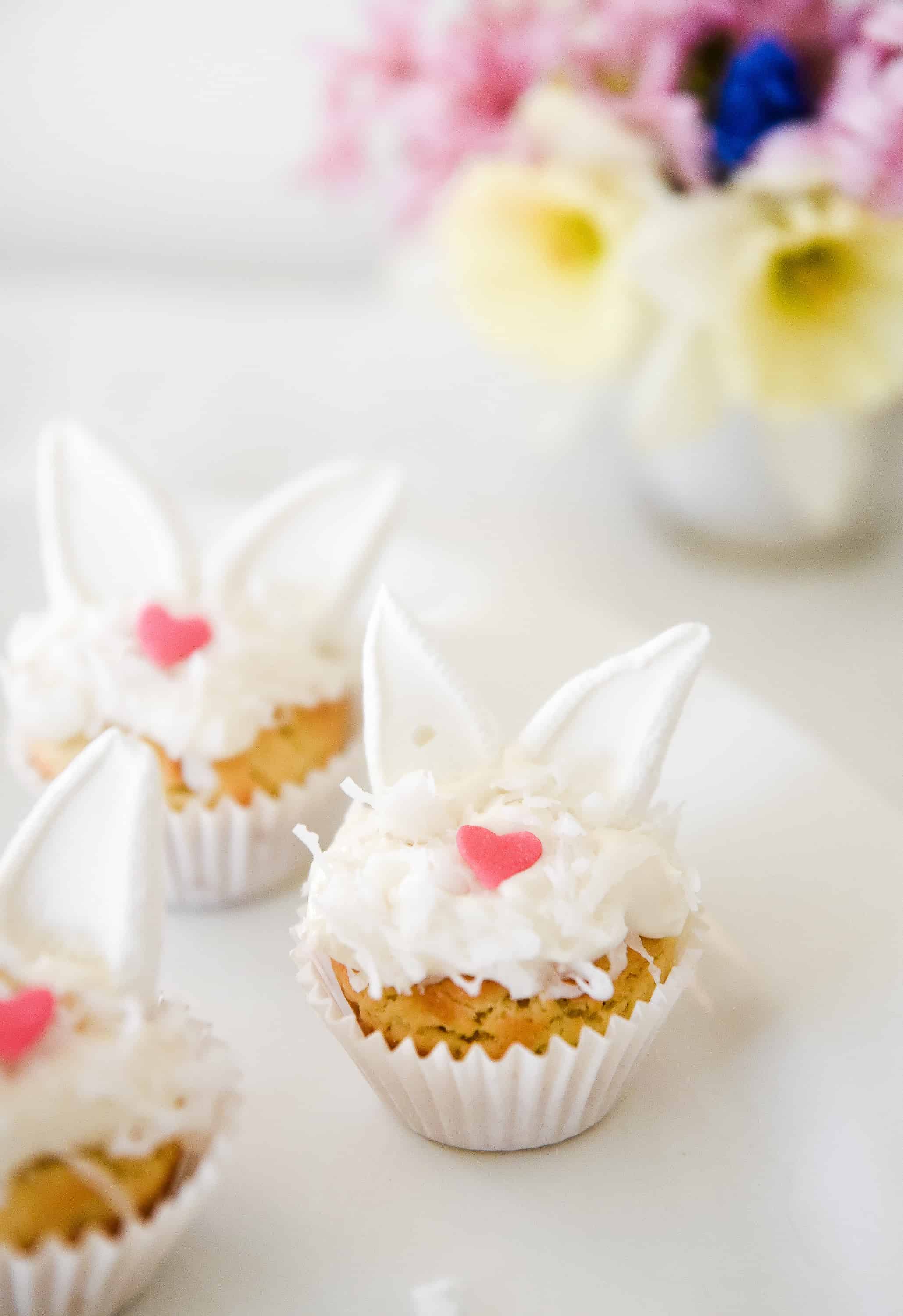 Easter Bunny Sugar Cookies
These Easter bunny sugar cookies are made using a simple sugar cookie recipe! Instead of baking them on a cookie sheet, press the dough into a mini muffin tin! When you pull them out of the oven, press the center in to create a bowl for a delicious light and fluffy cream cheese frosting. Then, top the cookies with shredded coconut flakes and marshmallow bunny ears!
If you're looking for more Easter dinner menu ideas, join me on YouTube and visit my friends' blogs. Julie Blanner is sharing a delicious candied carrot recipe, Farmhouse on Boone is sharing a yummy deviled egg recipe in the Instant Pot, and Our Oily House has a wonderful healthy Easter morning sweet potato casserole!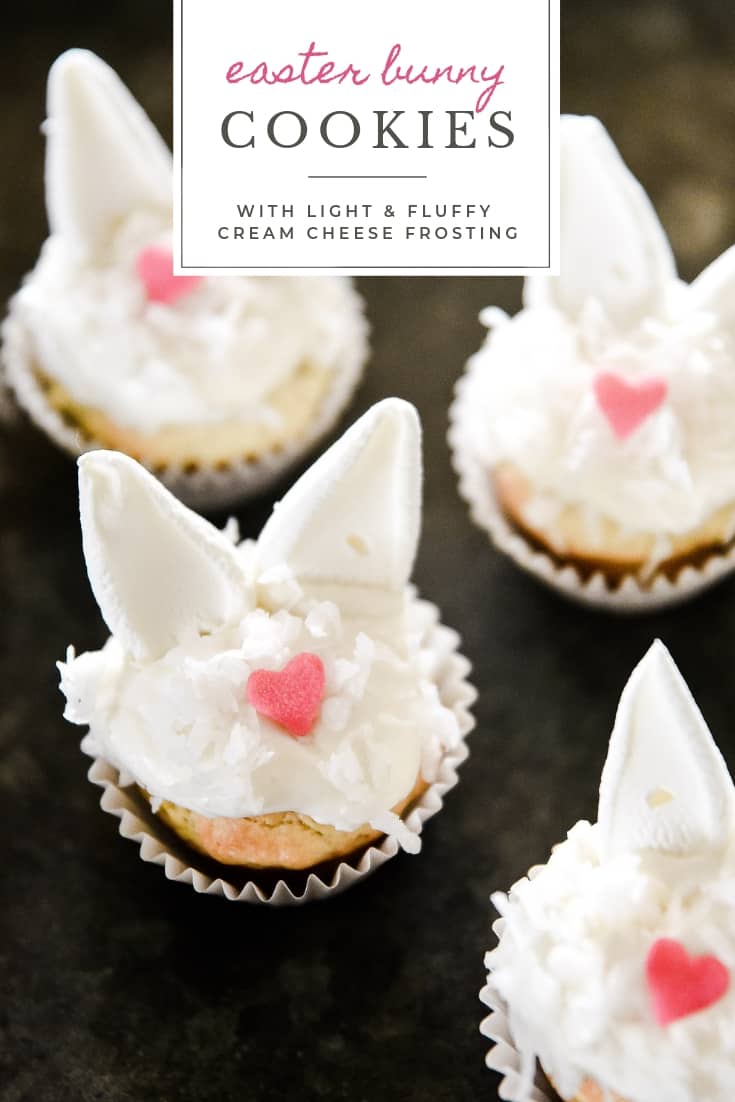 How to Make Bunny Ears out of Marshmallows for Easter Bunny Desserts:
Use sharp kitchen scissors to cut a marshmallow on the diagonal.

Repeat on the opposite side of the marshmallow.

Dip into frosting and add to cupcakes or cookies!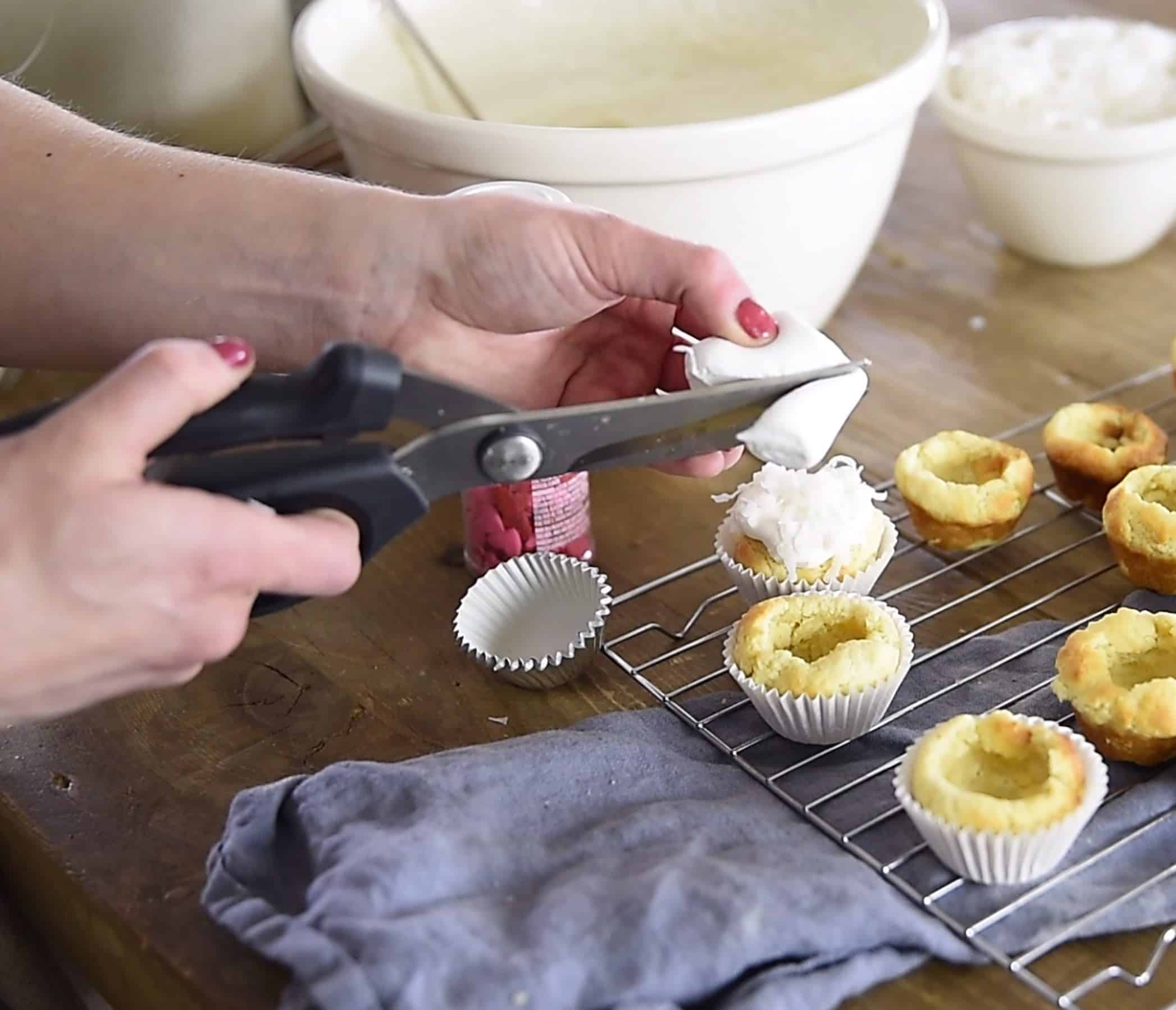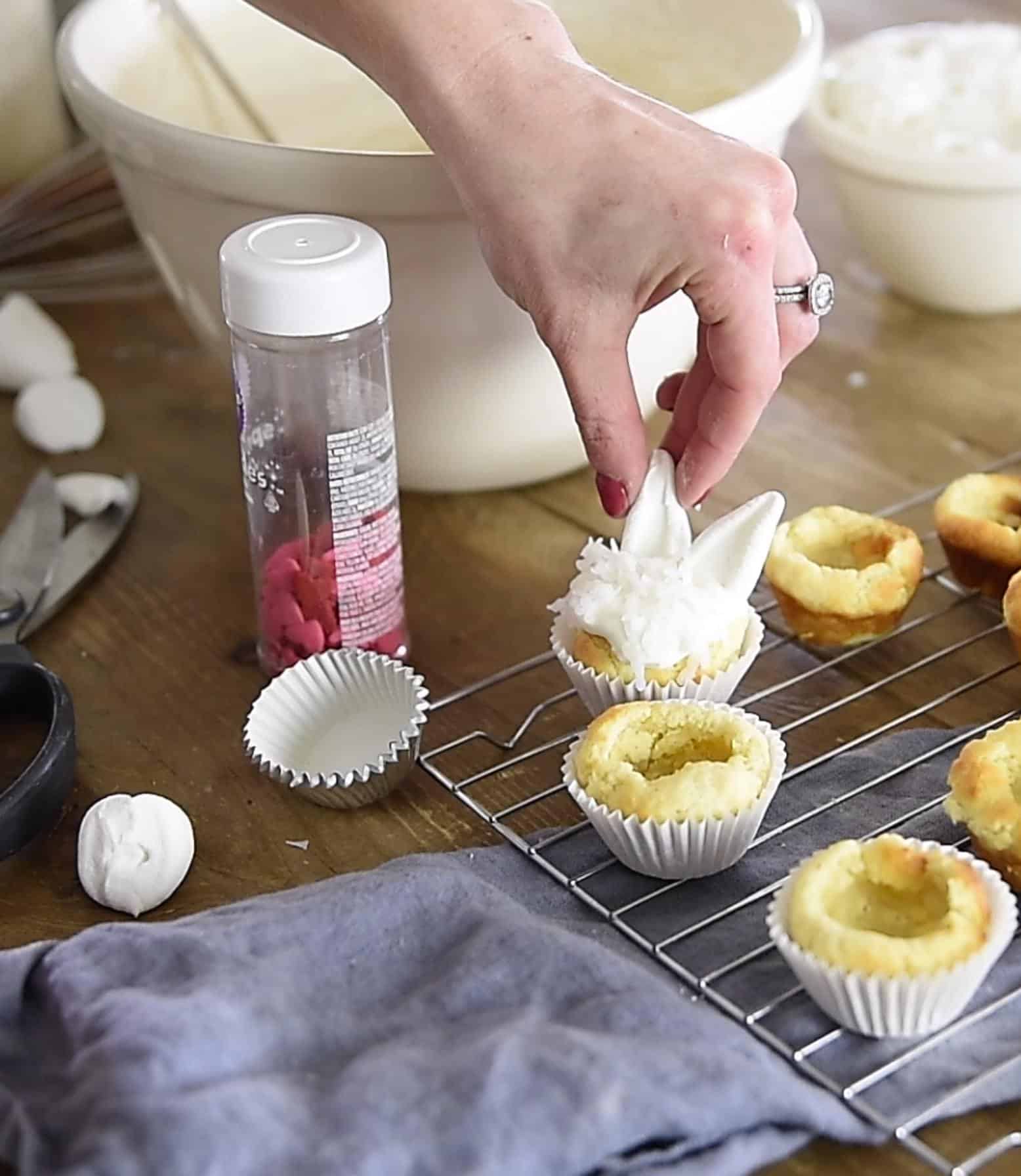 This frosting recipe is a great cream cheese frosting recipe that can be used for cupcakes, cakes, and cookies! Adding heavy whipping cream lightens the cream cheese flavor and makes the frosting much less dense than a traditional cream cheese frosting.
In this recipe, I used vanilla extract, but you can get creative and add any type of extract that you'd like! You can also add a bit of food coloring to alter the color of the frosting!
Note when making the frosting: make sure your ingredients are very cold! This will help thicken the frosting!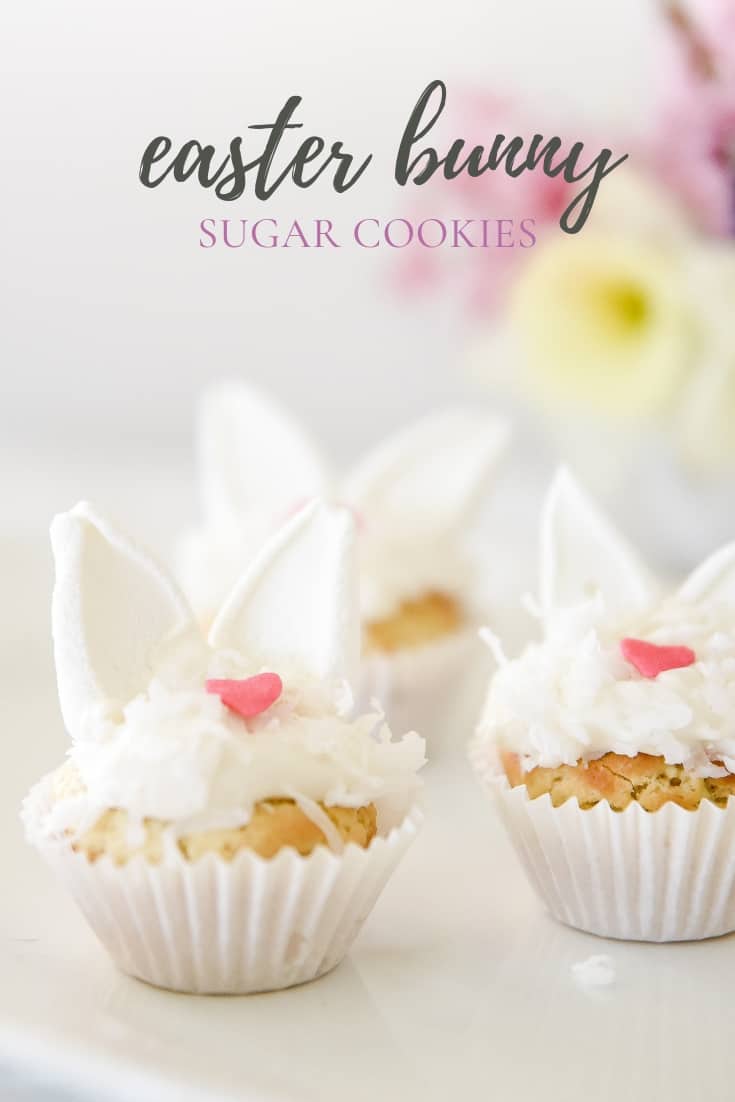 Darling Easter Bunny Sugar Cookies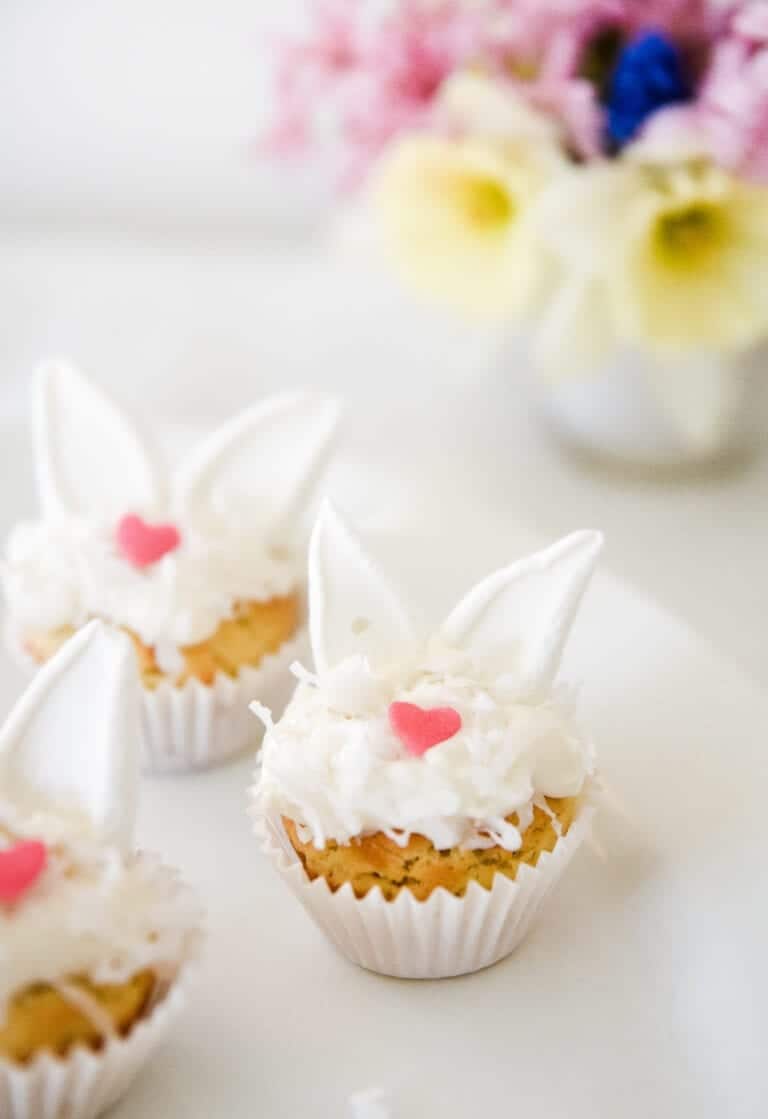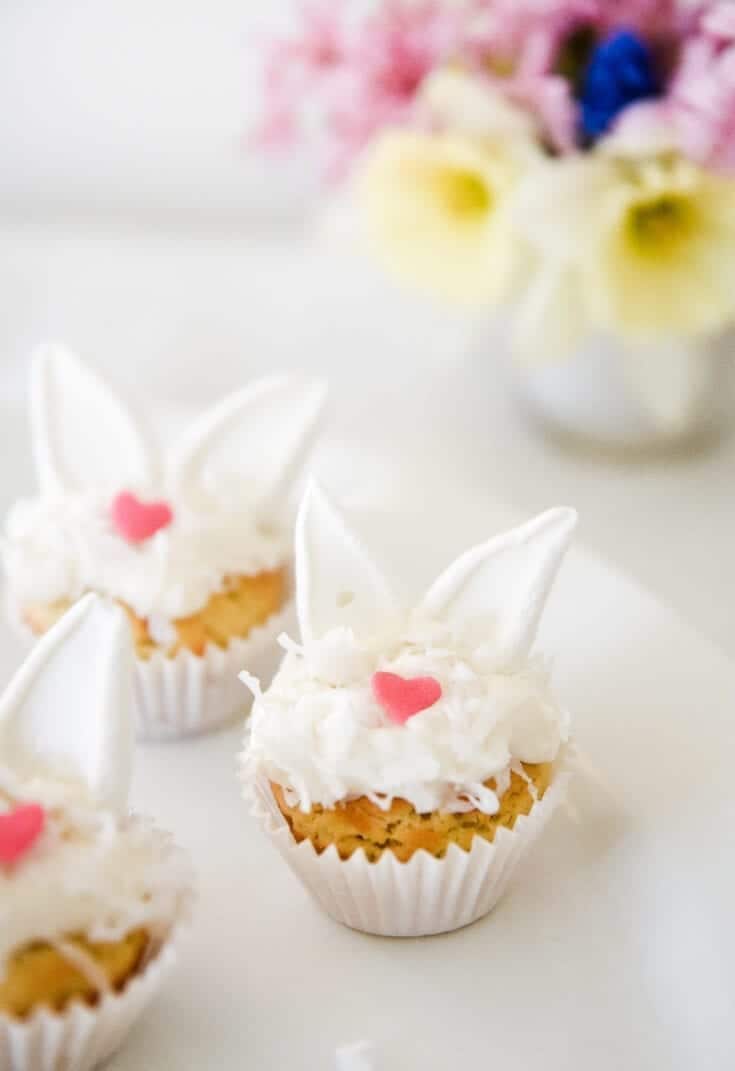 Ingredients
Sugar Cookies:
8 oz cream cheese
3/4 c butter
1 1/2 c sugar
1 egg
1 tsp vanilla
2 1/2 c flour
2 tsp baking powder
pinch of salt
Frosting:
8 oz cream cheese
1 1/2 c heavy whipping cream
1 1/2 c confectioners sugar
1 tsp vanilla extract
Cookie Toppings:
Sprinkles (optional)
Marshmallows
Shredded Sweetened Coconut Flakes
Instructions
Steps for the cookies:
Preheat the oven to 350 degrees.
In a large mixing bowl, mix 8 oz. cream cheese and 3/4 cup butter. Once combined & fluffy, add 1.5 cups sugar into the same mixing bowl and beat until fluffy. Then, add 1 egg and a splash of vanilla. Mix until light and fluffy.
Next, sift in 2.5 cups of flour, 2 tsp. baking powder, and a healthy pinch of salt salt. Mix until combined.
Once the dough is complete, roll into small ping-pong sized balls and press into a greased mini-muffin tin pan.
Bake at 350 F for 10-12 minutes, until the tops turn golden.
Remove from the oven and use the rounded end of a wooden spoon, a cork, or similar object to create a bowl shape in each of the cookies.
Remove cookies from the tray and let cool completely.
Steps for the frosting:
In a large mixing bowl, beat 8 oz. cream cheese until creamy.
Add in 1.5 cups sugar and a healthy splash of vanilla - beat until combined.
Slowly add in very cold heavy cream around the edges of the bowl. Whip with an electric mixer as you add. Continue to whip until stiff peaks form. This may take several minutes.Note: if the cream is not cold, you may experience trouble getting the mixture to thicken.
Refrigerate for 30 minutes.
Steps for assembling the cookies:
Once the cookies have cooled, remove the frosting from the refrigerator.
Either pipe, or spoon in frosting into each cookie.
Top with shredded coconut.
To make the bunny ears, cut a marshmallow diagonally on each side. Place the ears onto the cookies, and if desired, finish with sprinkle eyes and/or nose!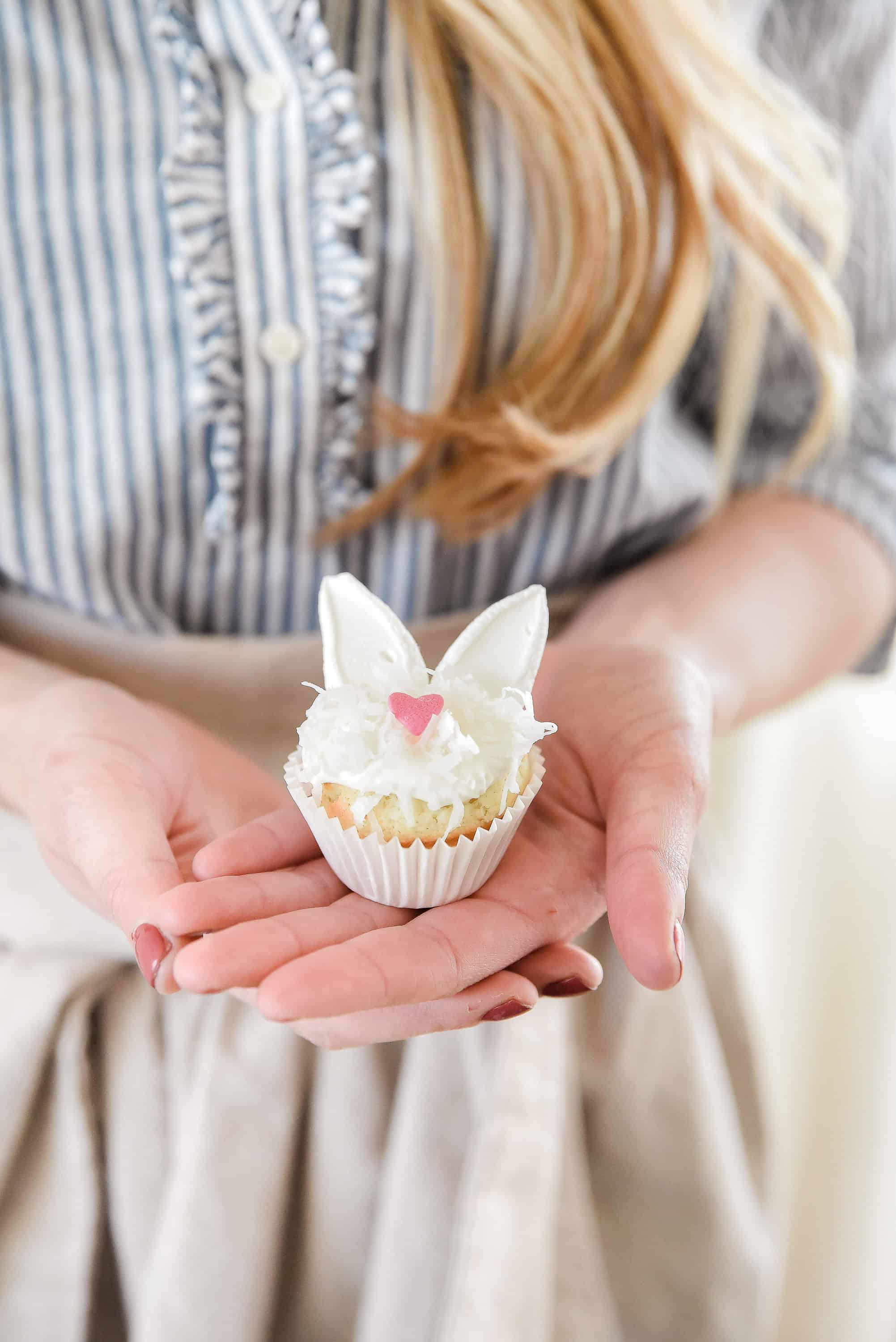 ---
More Easter Recipes!