Get inspired with these simple farmhouse inspired spring decorating ideas!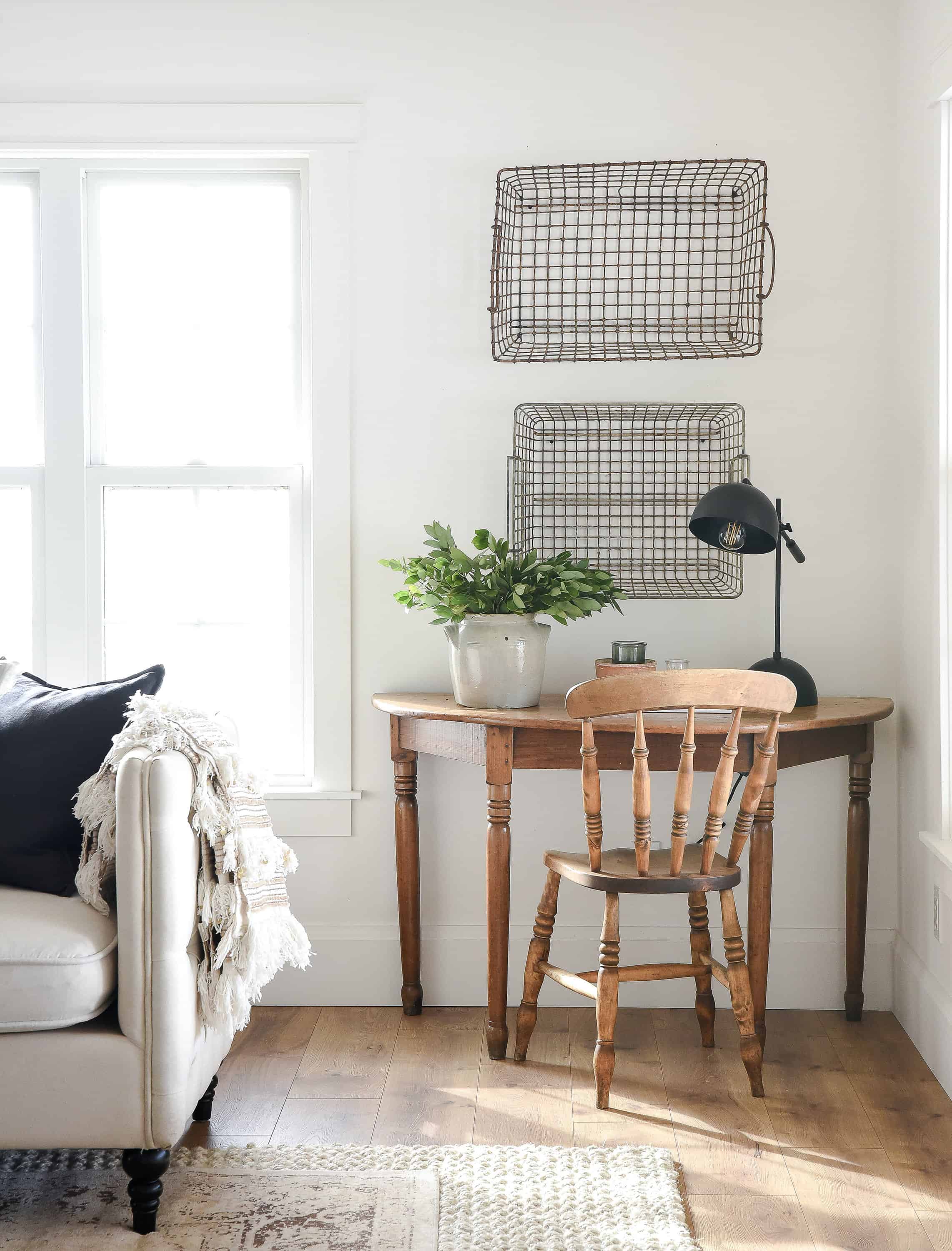 Spring Decorating Ideas
I can't tell you how ready I am for spring to get here! This winter started off slowly, but has gained a lot of momentum this month and won't let up! The freezing temperatures and snow are miserable to take care of animals in. I will let out a long sigh of relief when the hose thaws out and I don't have to truck out warm water from the bathtub.
After Christmas, my house was feeling a little drab and cold. I had stowed away all of the Christmas decorations, but hadn't really taken much time to freshen things up. The table behind our couch sat mostly empty and the corner where the tree was remained bare.
I knew I wanted to add something in the corner where the metal spice rack was before Christmas, but I wasn't sure exactly what to use. A small chest of drawers would be perfect, but I didn't necessarily have a furniture budget to order anything, and I won't be visiting any antique stores anytime soon.
Then, I remembered the small curved table and chair in our guest bedroom. It took me just a couple of minutes to move the table to its new location, which fit perfectly next to the window!
Looking for more decorating ideas? Check out my summer decorating tips!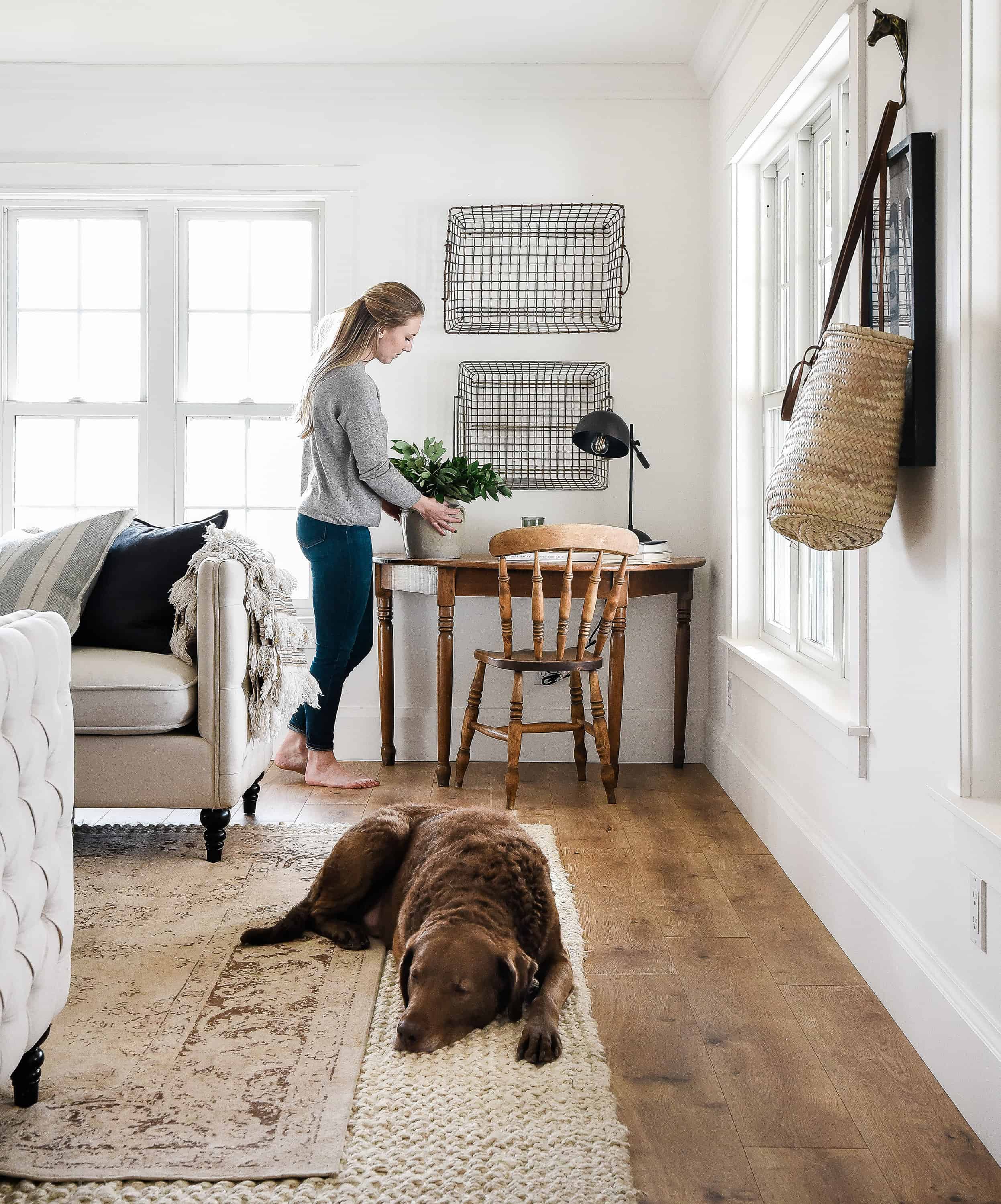 I picked up one of Leanne Ford's new lights from Target the last time I was in Reno, and I was excited to put it to use! I love how this light makes this otherwise vintage area a little bit modern.
Above the table I decided to hang two vintage oyster baskets on the wall. I wasn't sure how they would look stacked one above the other, but I am so happy with the way it turned out! The imperfect rectangle wire baskets are the perfect thing to make this area of our living room shine. It's amazing how adding this table and chair made our living room feel so much more cozy and lived in!
I encourage you to think of creative ways to use what you already have in your home in a new way! I think you will be surprised at how much fun it is to freshen up your space by shopping your own home!
Read below for more easy ideas to update your home decor for spring this year! Then be sure to scroll down and visit my friend's spring homes, linked below!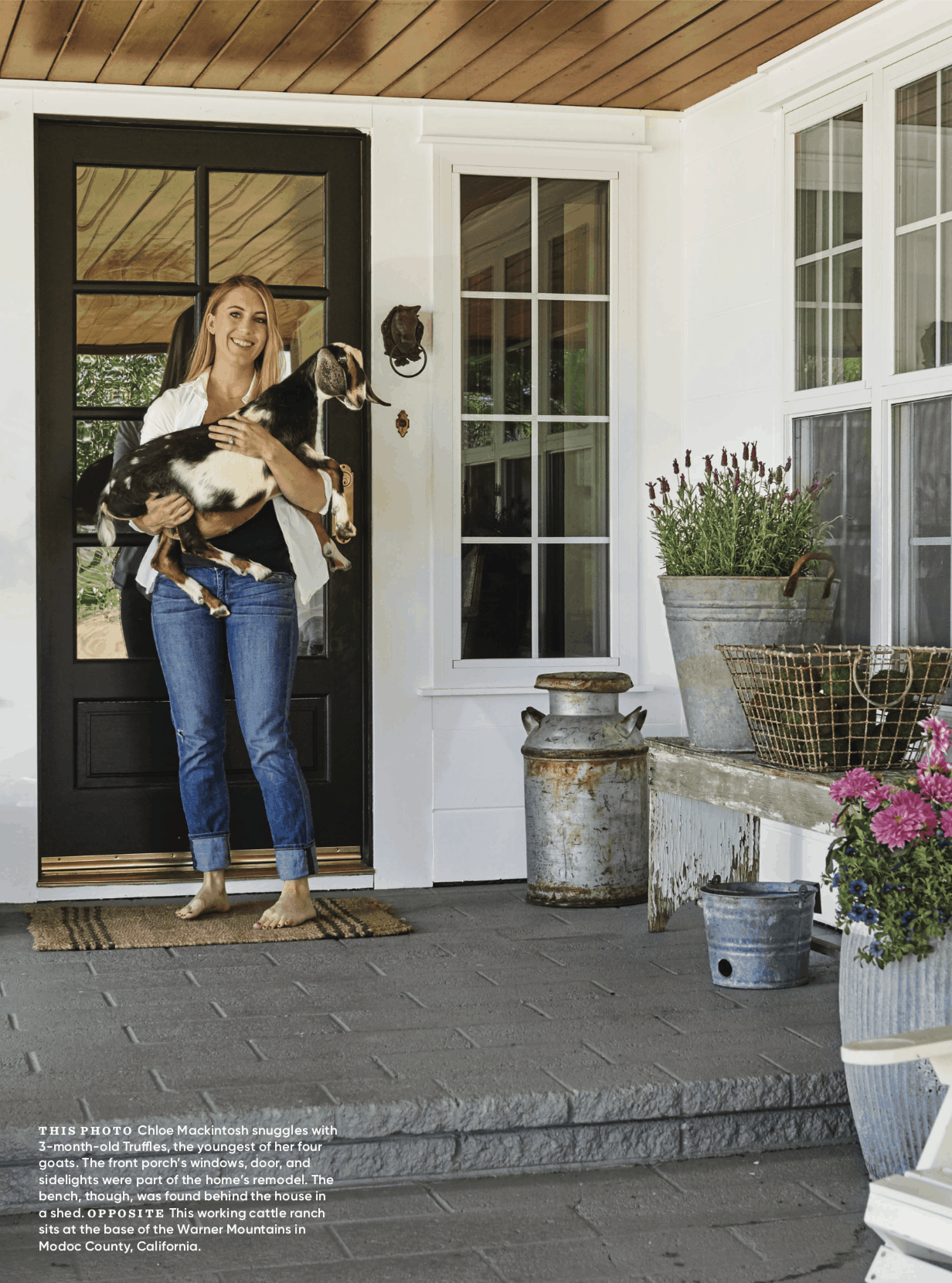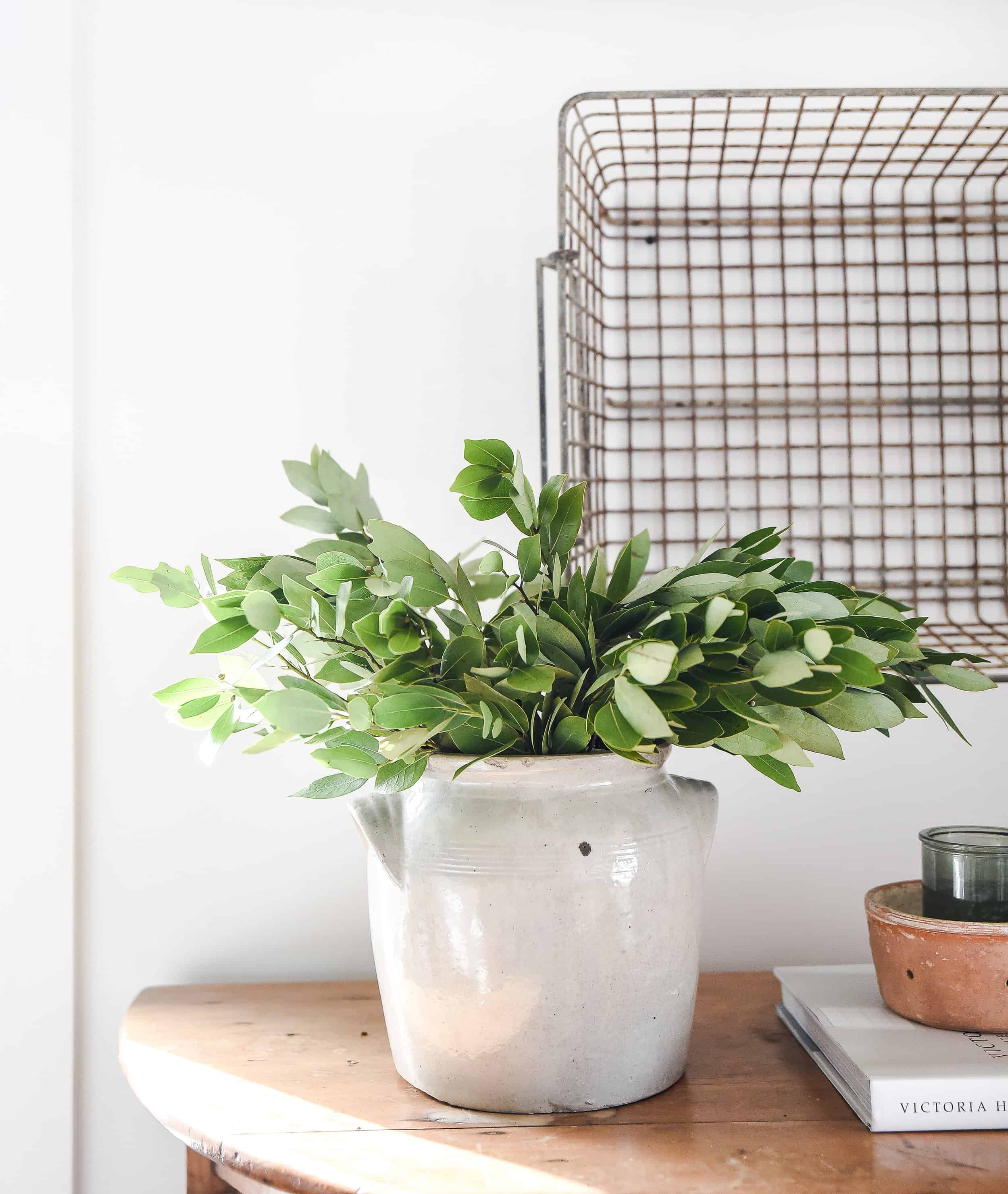 6 Easy Ideas to Freshen up your Home for Spring
1. Plants & Greenery
If you don't have much of a budget to spruce things up inside this spring, I suggest picking up a few plants! You can find great plants at home improvement stores. This is an inexpensive way to bring new life into your home!
I also love filling vintage vases and vessels with fresh florals and greenery. Whole Foods or Trader Joes always carry inexpensive flowers. This is my go-to way to make our house feel alive and fresh without spending much money!
2. Texture & Warmth with Organic Elements
Much like fall decorating, I love adding texture and warmth with natural elements! These items are so versatile and can fit for many different seasons! Add lemons or citrus to small bowls, or plant flowering bulbs in ceramic vases.
Wicker or wire baskets, wood trays, woven bags, or bowls are all wonderful ways to update this spring!
---
more home decor & renovation articles
French Range Review: La Cornue
White Concrete Countertops Pros & Cons
---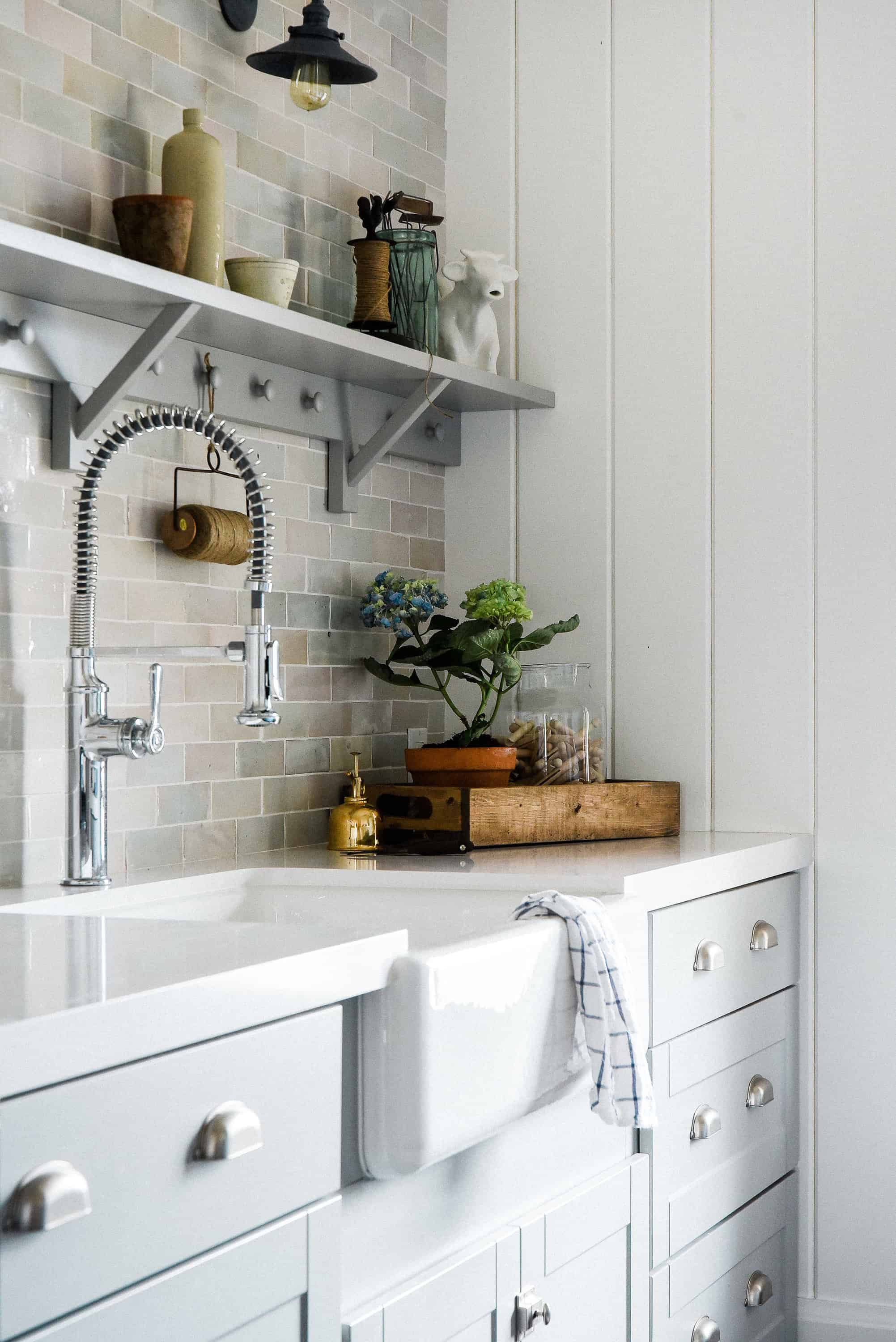 3. Little Decor Updates
Adding a few things here or there throughout the house can help everything feel fresh and new inside! A new candle in a beautiful container or a wreath on the door are simple and quick updates for spring! I particularly like placing empty ceramic vases on shelves and as soon as the trees start blooming, I have a place ready to display them!
4. Light & Colorful Throws
In anticipation of spring, it's nice to stow away the chunky throws and bring out lighter options! Linen or light cotton throws feel fresh and clean. I love the texture of linen and tassels or pom pom accents turn a functional blanket or throw into a beautiful piece of decor!
5. Fresh Pillows
Swapping out pillows is one of the first things I do to welcome a new season! I tend to keep a lot of dark colors and chunky knits throughout the cooler months, so come spring, I like to switch things over to linen and cotton! Green is a pretty spring shade that is versatile with many different colors and patterns! I also love blue, pink, and stripes!
6. Pops of Color
After a long winter, adding a few pops of color will make your home feel alive! Blues, pinks, greens, and florals are all beautiful shades that will naturally spill into the summer months. If you have a neutral home, having a few decor pieces with a pop of color is fun and fresh!