Printable Easter Gift Tags
This post may contain affiliate links, please read my disclosure policy.
You'll love these printable Easter gift tags to make your own homemade Easter treats this season!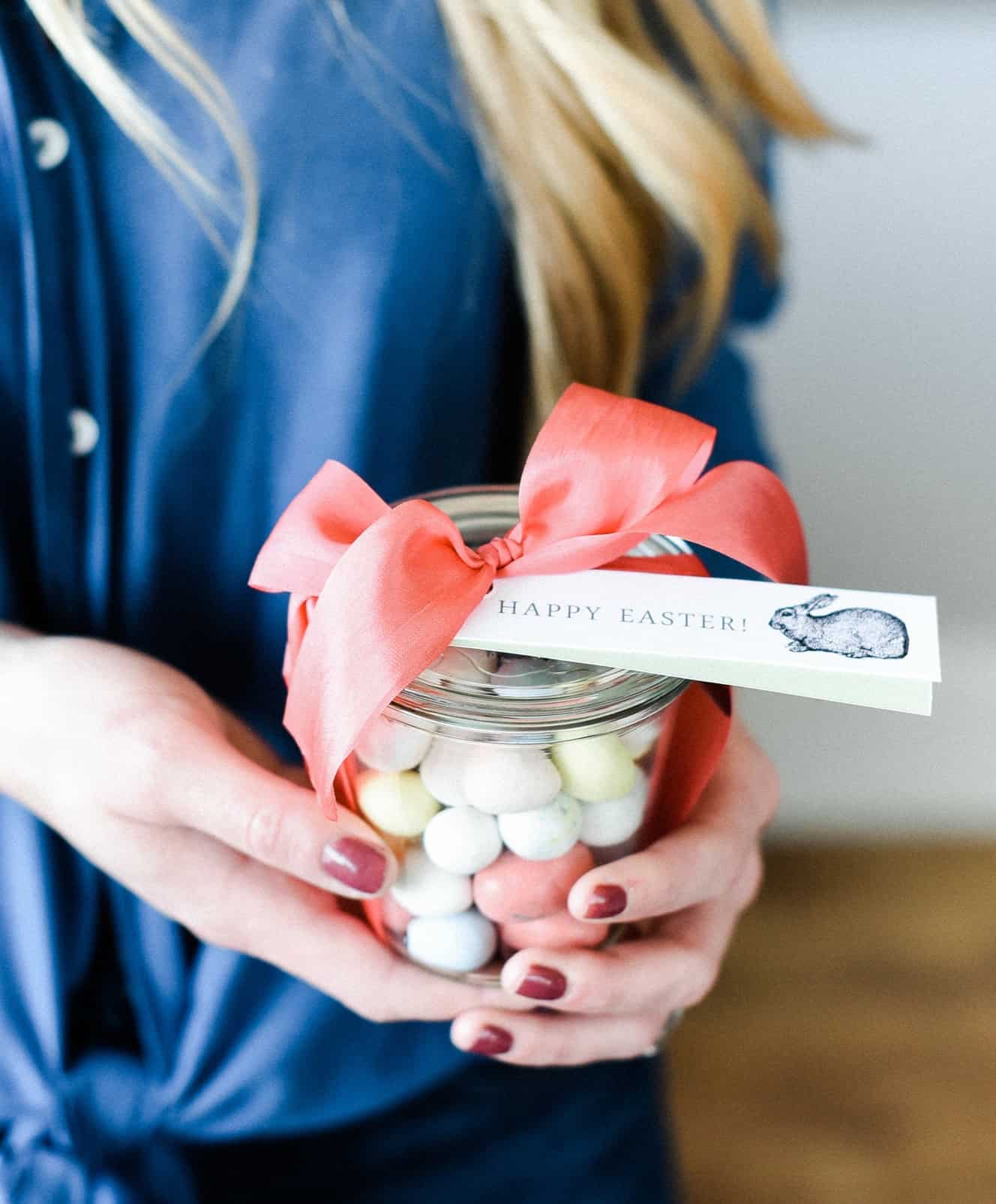 Printable Easter Gift Tags
With Easter right around the corner I've been starting to gather inspiration for decorating, Easter table decor, and crafting!
I was browsing one of my favorite online shops, Terrain, and came across weck jars for sale with candy inside. I thought this was so cute, so I wanted to recreate these at home!
I am so excited to share this quick and easy Easter treat recipe with you today, but even more excited to join together with over 25 of my blogging friends to share some beautiful spring printables! We did this last year, and there were so many great ideas – I shared some free printable envelope liners which you can still download for Easter cards this year!
Once you're finished checking out this post, be sure to scroll down and visit some of my friends blog's. I think you will love all of their ideas!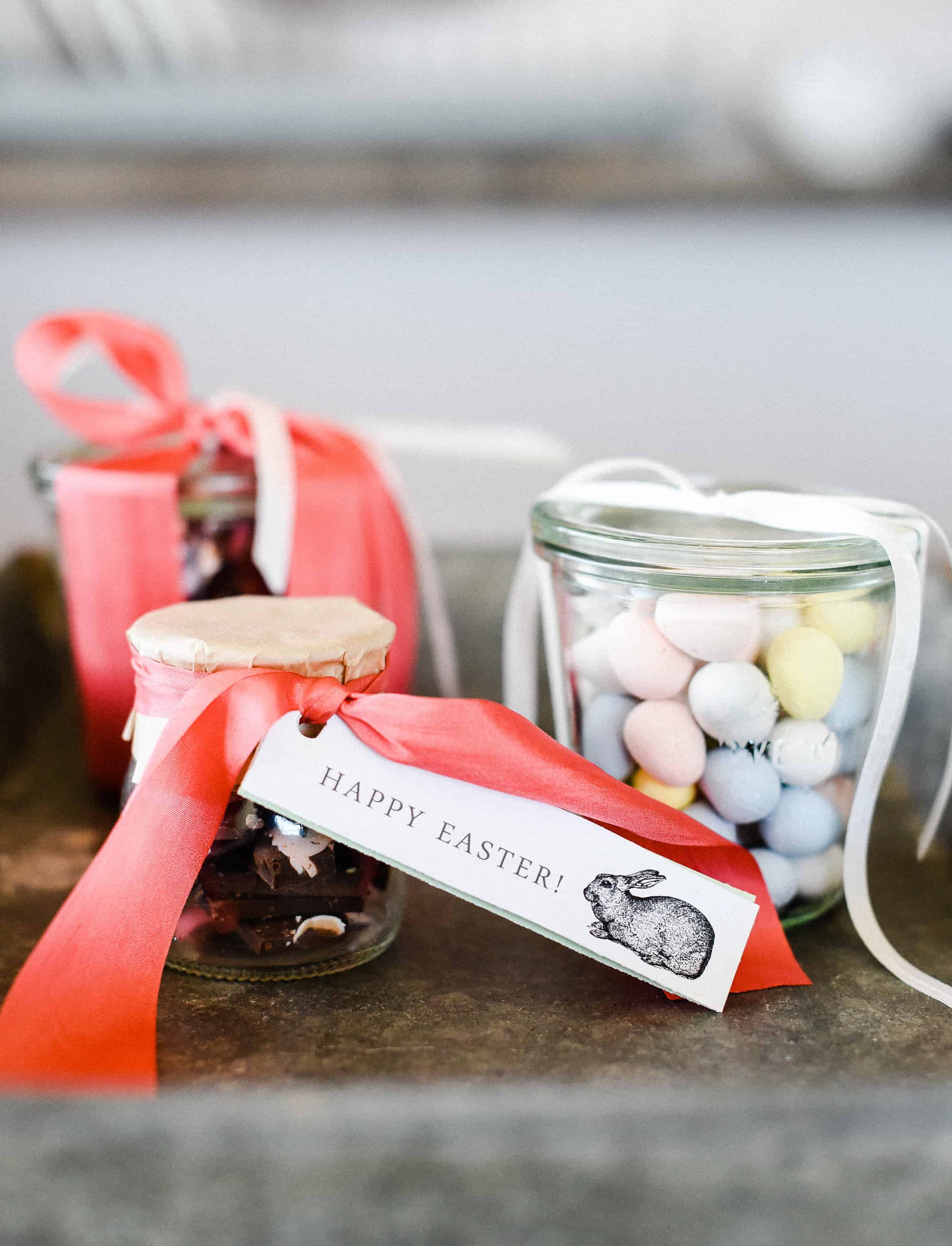 Easter treats are the perfect thing to add to Easter baskets! I have made two versions of these Easter treats. One, a simple jar full of Easter candies. The second, an easy homemade Easter chocolate bark!
Easter bark is so easy to make! With just 4 candy bars, I was able to make half a dozen jars to give in Easter baskets or as gifts.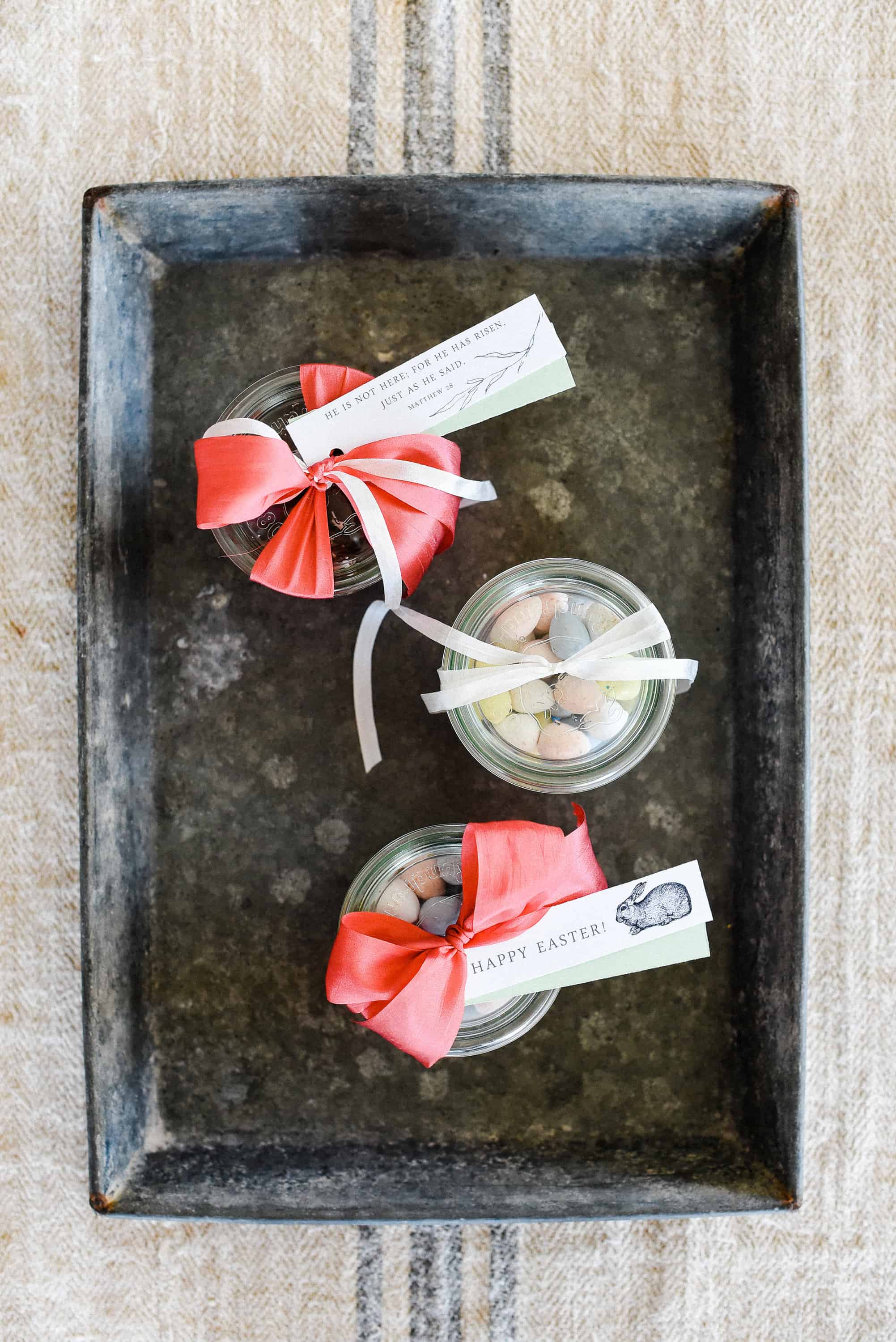 To make this chocolate bark, you simply melt the chocolate over a double boiler (or in the microwave) and spread evenly over a silpat baking mat (or parchment paper).
Then sprinkle crushed Easter candies over the top of the melted chocolate. Once the chocolate has hardened, break it up into small bite size pieces and place into jars. Finish them off with free printable Eater gift tags!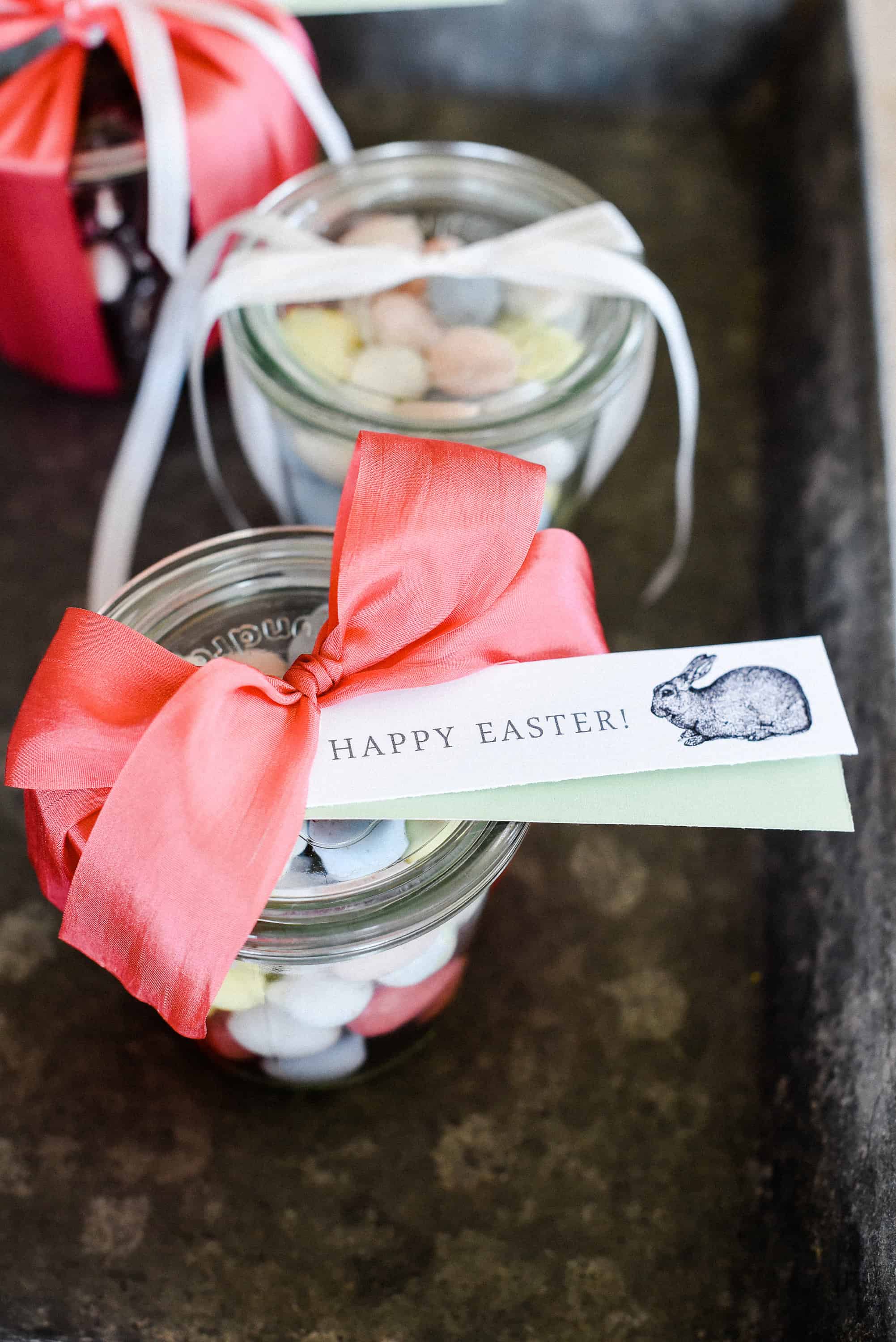 You don't have to stick to regular chocolate for this recipe! You can get creative and use white chocolate or any kind of chocolate you'd like! I think dying white chocolate in Eater pastel colors would be a fun twist on this Easter bark!!
Get creative with the toppings – try dehydrated fruit, marshmallows, or jellybeans!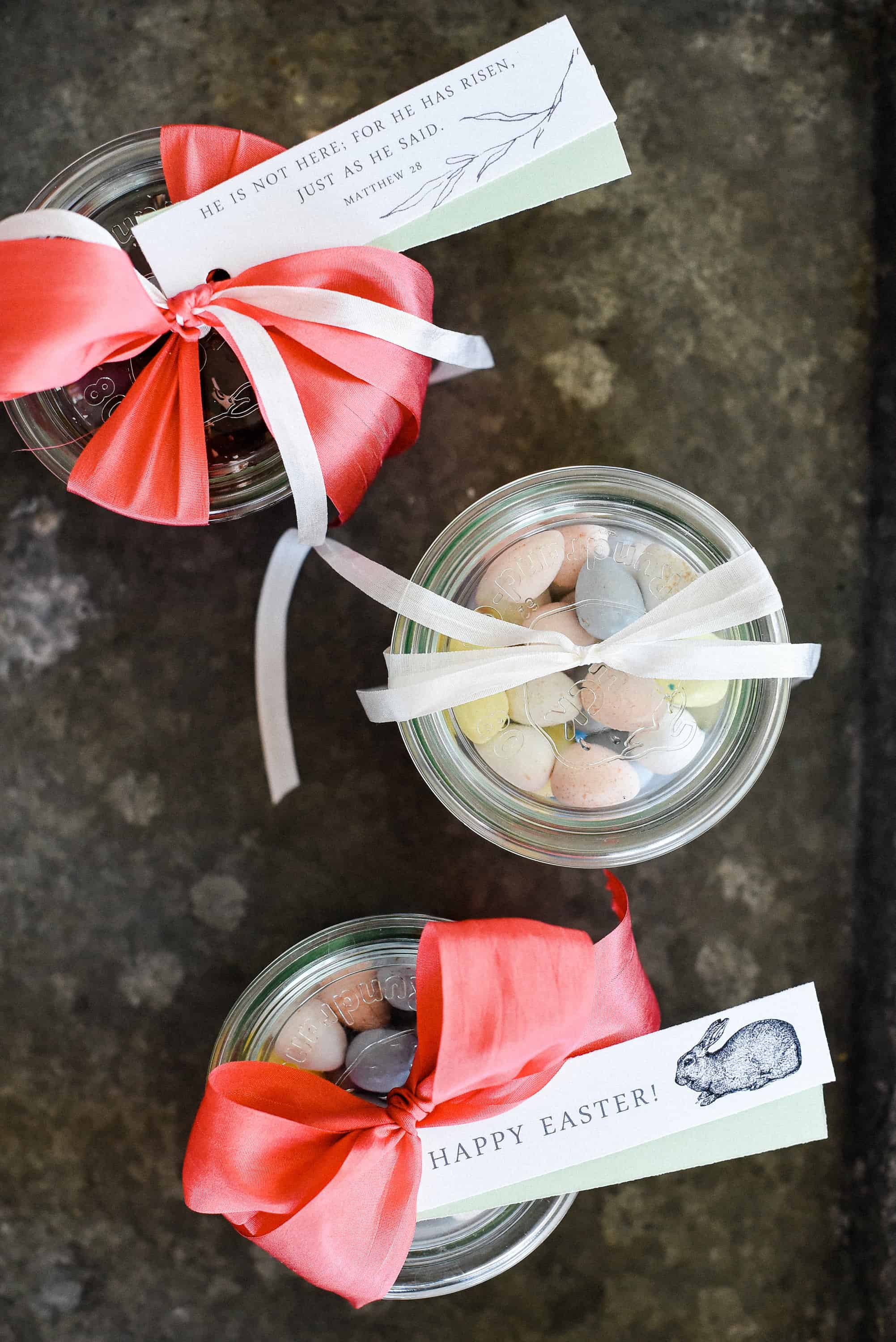 subscribe to our youtube channel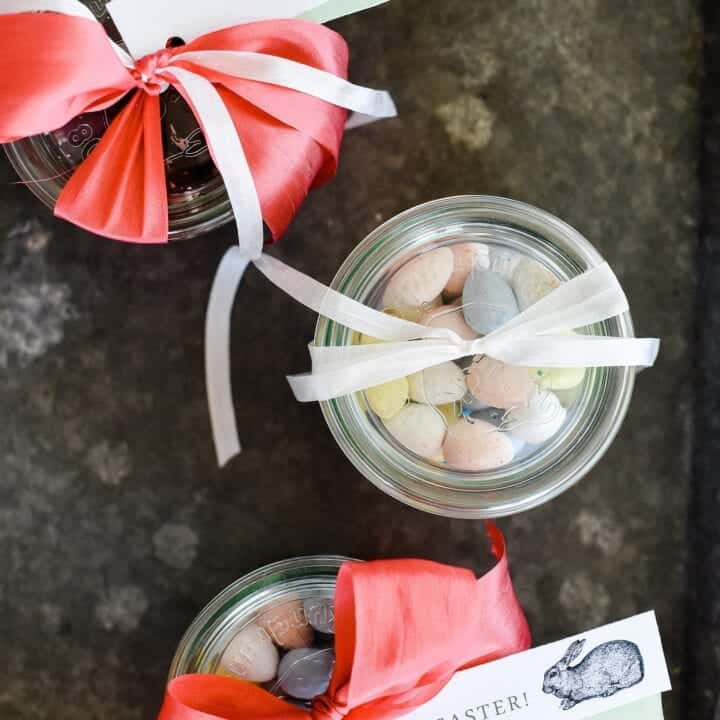 Easter Treats with Gift Tags
Easter treats are made even sweeter with these free printable gift tags! Make Easter bark and finish it off with printable gift tags! Plus scroll down for links to over 25 darling spring printables!
Materials
Easter Chocolate Bark
Ingredients:
14 oz. quality chocolate (any kind - Guittard is my favorite)
1/2 cup Easter candies (cadbury eggs or something similar)
Supplies:
Glass Jars (weck jars are my favorite)
Free Printable Easter Gift Tags
Silpat baking mat
Instructions
Begin by melting the chocolate. Break the chocolate into pieces and melt either in the microwave or double boiler. A double boiler will result in smoother chocolate.
While the chocolate is melting, place the candies in a bag. Use a mallet to crush the candies into pieces. Set aside.
Place a silat mat (or parchment paper) on a cookie sheet or platter. Once the chocolate is melted, pour over the prepared dish, then sprinkle with the crushed candies.
Freeze for 10-20 minutes until completely solid.
Once solid, break the bark into small bite sized pieces. Place into glass jars and finish with ribbon and these free printable Easter gift tags
pin for later…