DIY Coffee Scrub (Coconut Coffee Scrub)
This post may contain affiliate links, please read my disclosure policy.
You'll love making your own DIY coffee scrub with coconut oil! This homemade scrub will make your skin silky smooth. It is a great exfoliant with many natural benefits!
Homemade coffee scrub is so easy to put together and also makes for a great homemade gift for showers and holidays. Even keeping a few basic supplies on hand like coconut oil and Vitamin E oil allows you to make homemade sugar scrubs and salt scrubs anytime you like.
This post is sponsored by the makers of Ball® home canning products.
DIY Coffee Scrub (Coconut Coffee Scrub)
This recipe for DIY Coconut Coffee scrub will leave your skin feeling silky soft and is a luxurious gift to give to family and friends.
The combination of coffee and coconut has many skin benefits including exfoliating the skin, aiding in minimizing fine lines and wrinkles, and hydrating the skin.
This is great not only for taking a shower to exfoliate your body, but it's also great for exfoliating your hands!
More handmade gift ideas: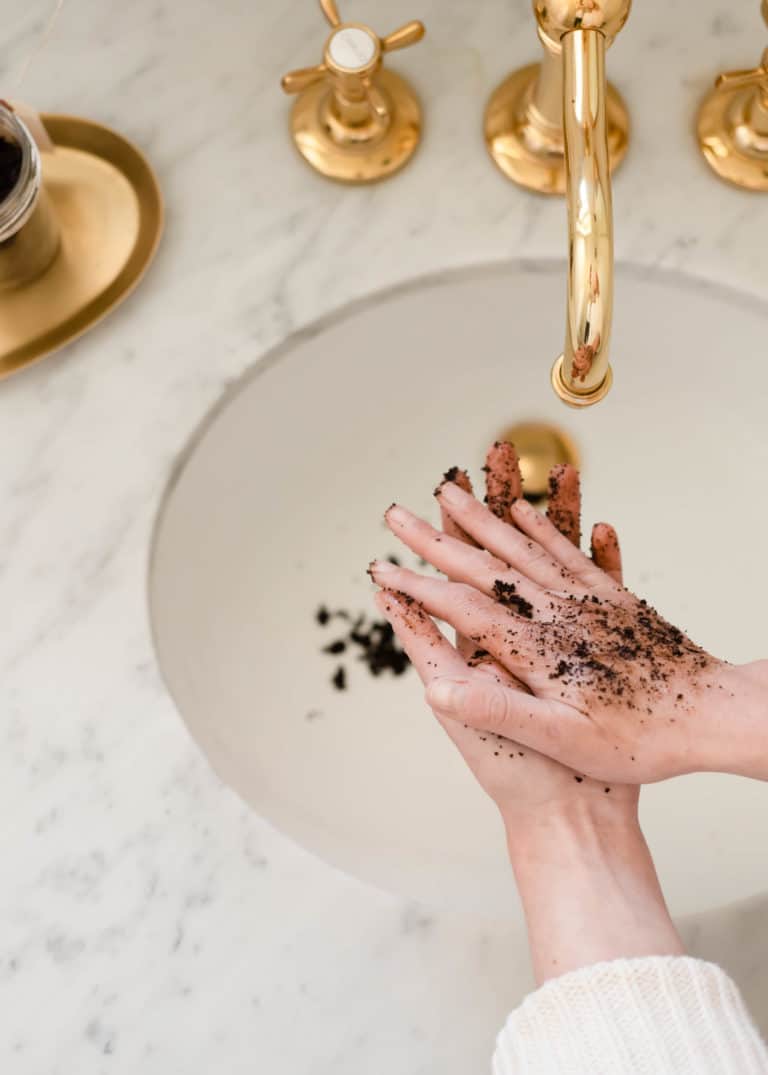 How to Make DIY Coffee Scrub
Ingredients:
Ground Coffee
Coconut Oil
Mason Jars (we love the jars from the makers of Ball® home canning products!)
Steps:
Gather the ingredients – the coffee, the coconut oil, and the mason jars.
Combine the coffee and oil in a bowl and stir together!
Next, transfer the scrub to the mason jar and store in a cool and dry place.
Benefits of Using a Body Scrub
Body scrubs slough away dead skin cells, promote skin cell turnover, and leave your body exfoliated and polished. Another benefit of using a homemade body scrub is that it can be less expensive AND you can control the ingredients. Using simple ingredients gives you clarity on exactly what you're using.
Coffee benefits for skin:
Coffee has many benefits for the skin. Aside from being a great exfoliant for the skin, it also is:
Full of antioxidants
Has anti-aging benefits
Rich in B-3 which can help protect your body from the sun
Anti-inflammatory
What type of coffee is best for coffee scrubs?
You can use any type of ground coffee that you have on hand. Instant coffee also works!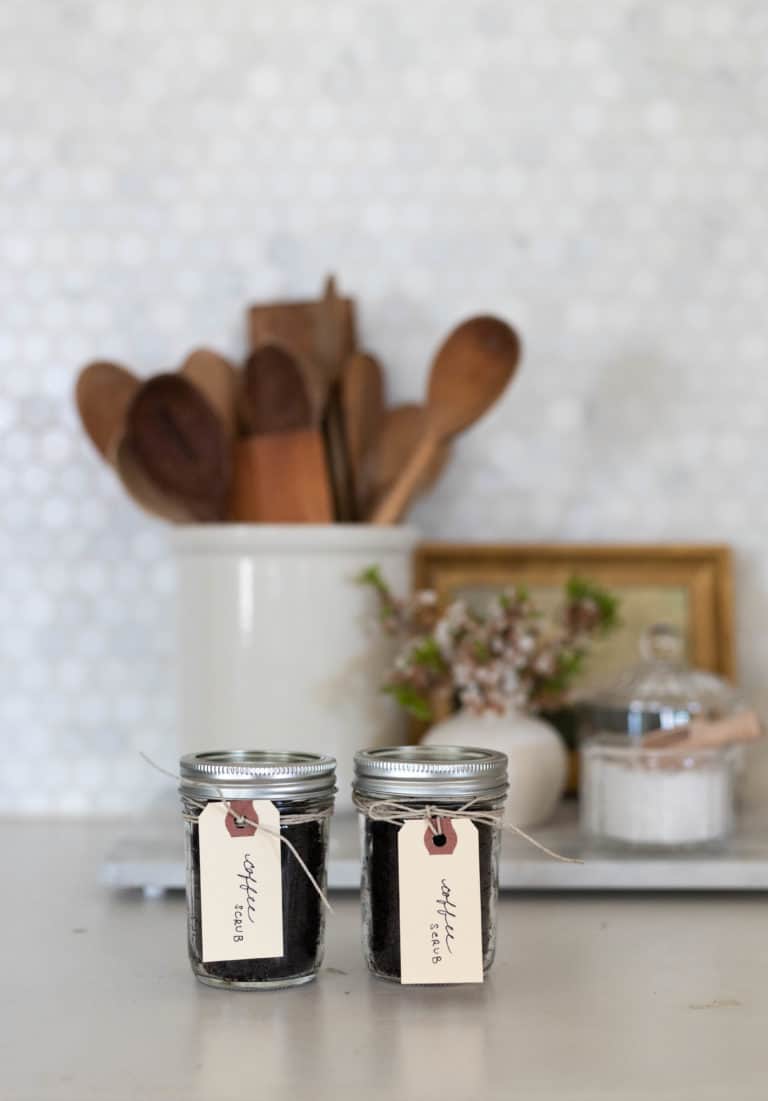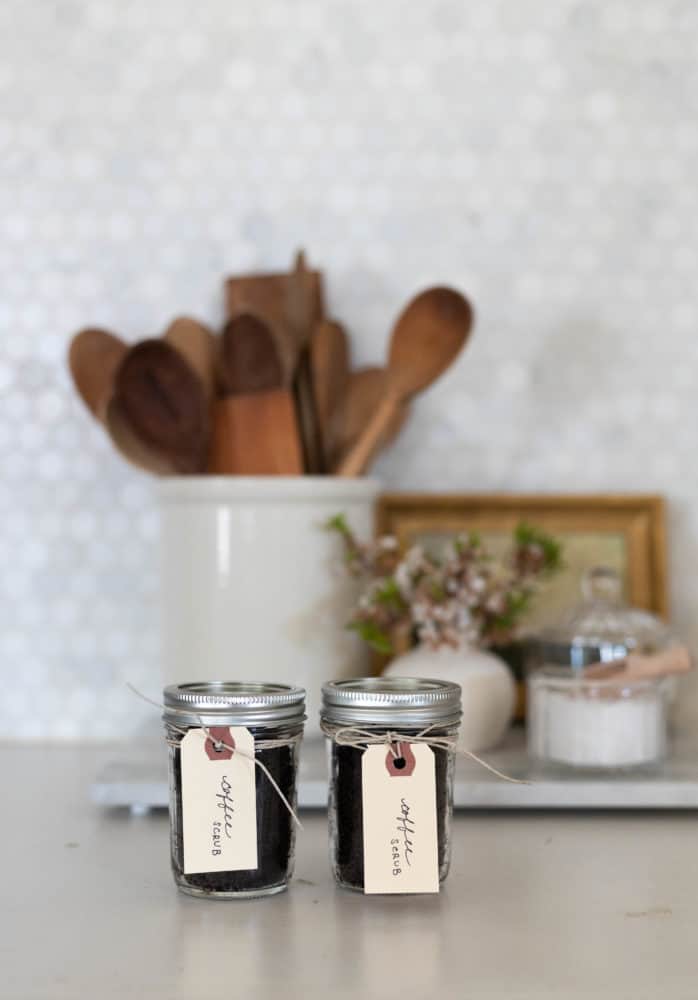 Benefits of Coconut Oil
Coconut oil has lots of benefits for the skin. Here are some of the benefits:
Super moisturizing for the skin
Rich in antioxidants
Helps prevent and reduce the appearance of wrinkles
Reduces redness
Benefits of Vitamin E Oil
Vitamin E oil is used in many skin care products because it is very moisturizing:
Reduces fine lines and scars
Combats sun damage
Minimizes itchy skin
Calms angry skin spots
Anti-aging properties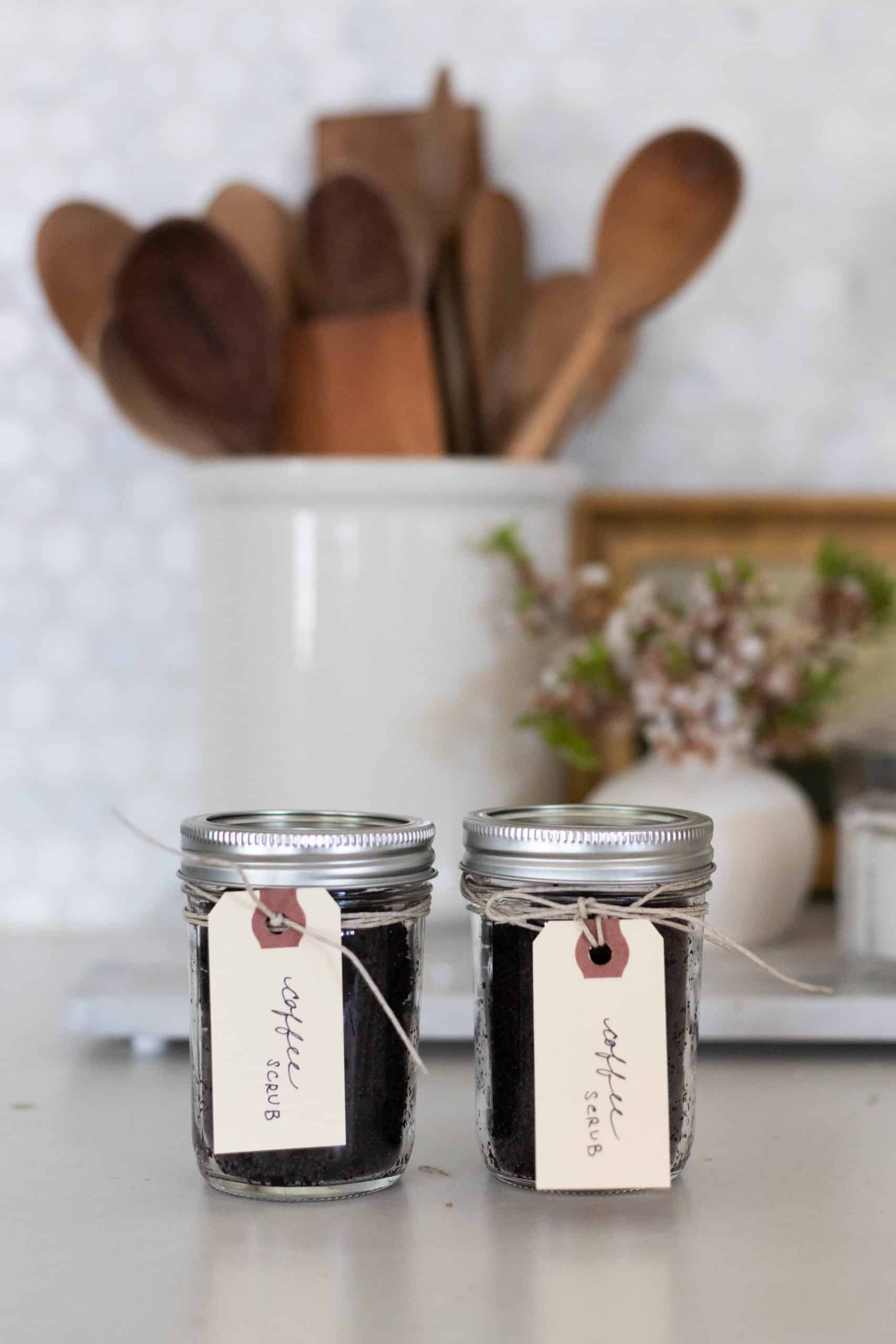 Fractionated Coconut Oil vs Coconut Butter?
Fractionated coconut oil is more easily absorbed by the skin. It also lasts longer because it naturally has a longer shelf life. Fractionated coconut oil remains a liquid even at lower temperatures. Coconut butter is a solid at room temperature, but has a very low melting point.
Fractionated coconut oil is made of coconut butter that is heated above its melting point until the oil is separated from the liquid. Fractionated coconut oil is odorless. If you don't care for the scent of coconut, this is a great option!
Will coconut oil clog the drain?
Whenever you use coconut oil in the shower or bath, run some hot water down the drain. About 30 seconds to a minute should do the trick!
Where to store diy coffee scrub?
Store the DIY Coffee Scrub in a sealable mason jar. We, of course, love our mason jars from the makers of Ball home canning products! Store them in a cool, dry place. Preferably in somewhere like a bathroom cupboard.
How long does homemade coffee scrub last?
The scrub should last up to three months as long as it's kept cool and dry. If you notice a smell or any discoloration, it has expired. Note, this is not safe for preserving.
Alternate oils for Coffee Scrub
While coconut oil is a great option because it absorbs into the skin easily and has so many great benefits, olive oil and grapeseed oil are also options.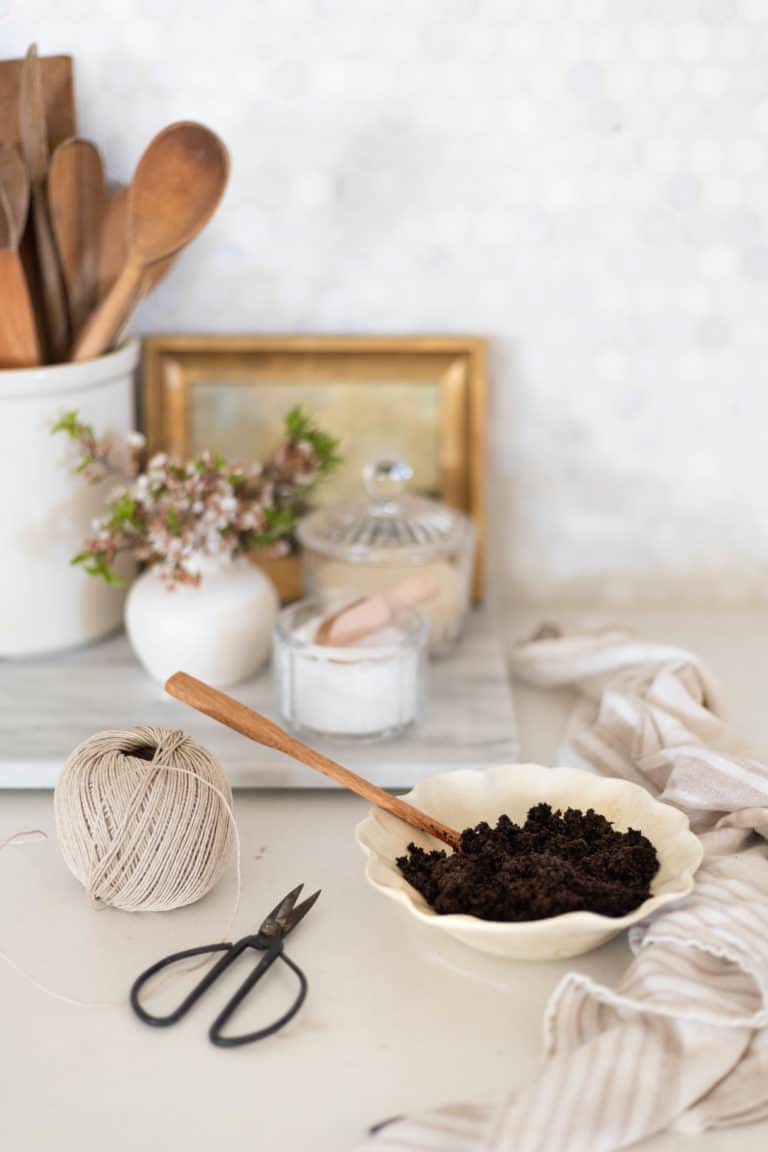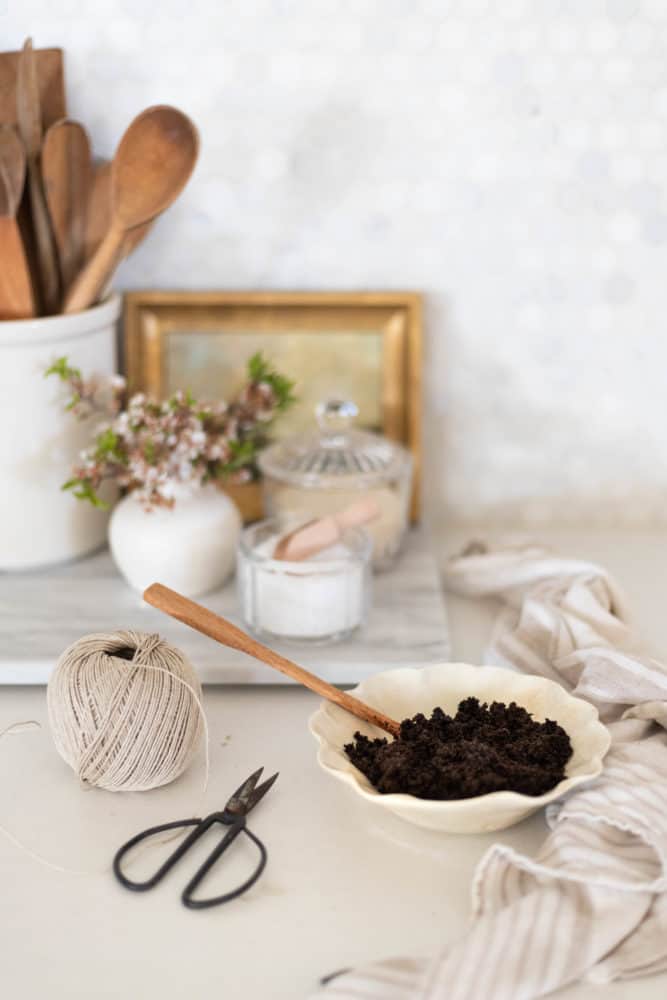 If you love making your own skincare, be sure to check out our Rose Sugar Scrub and Rose Body Polish.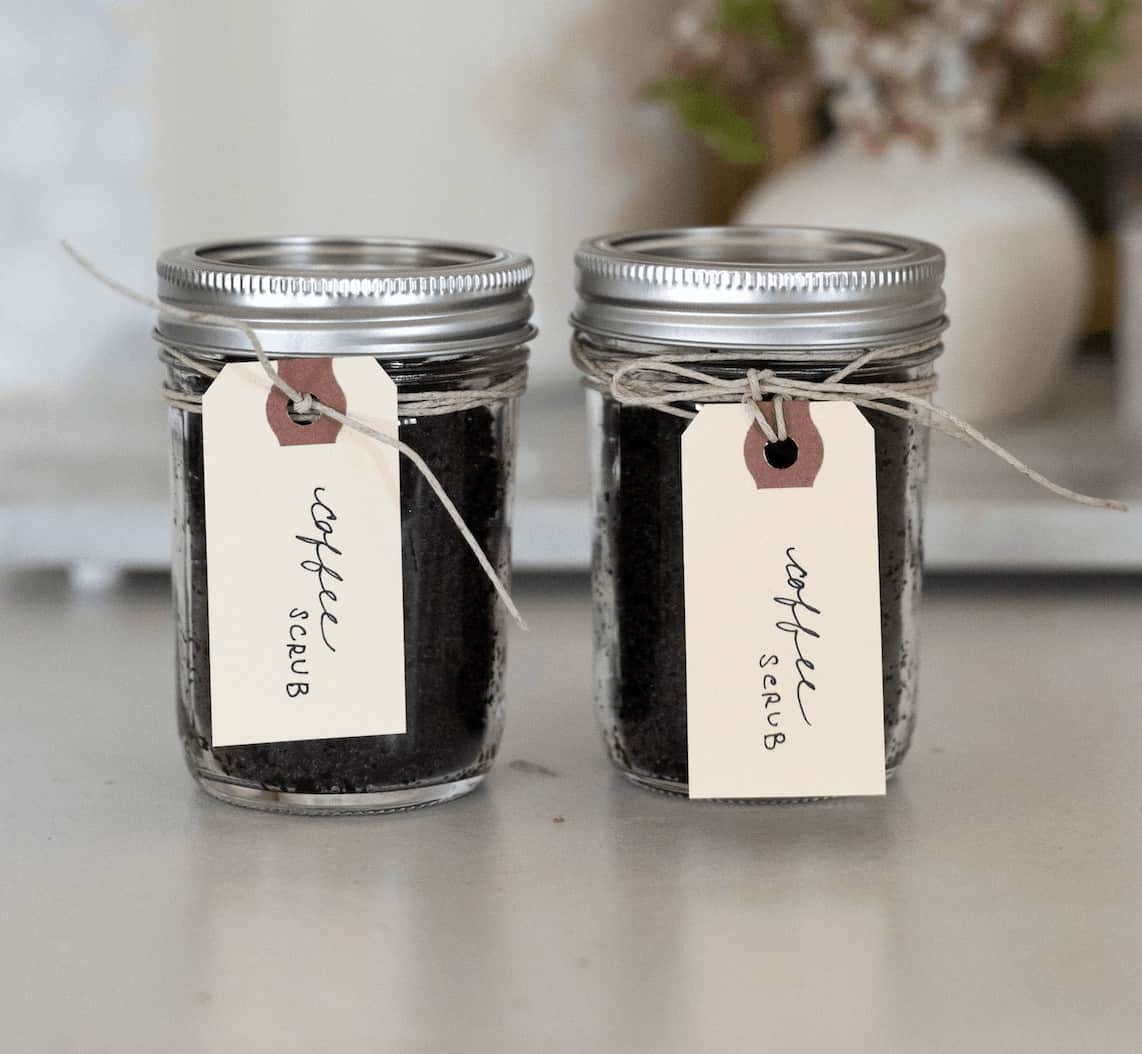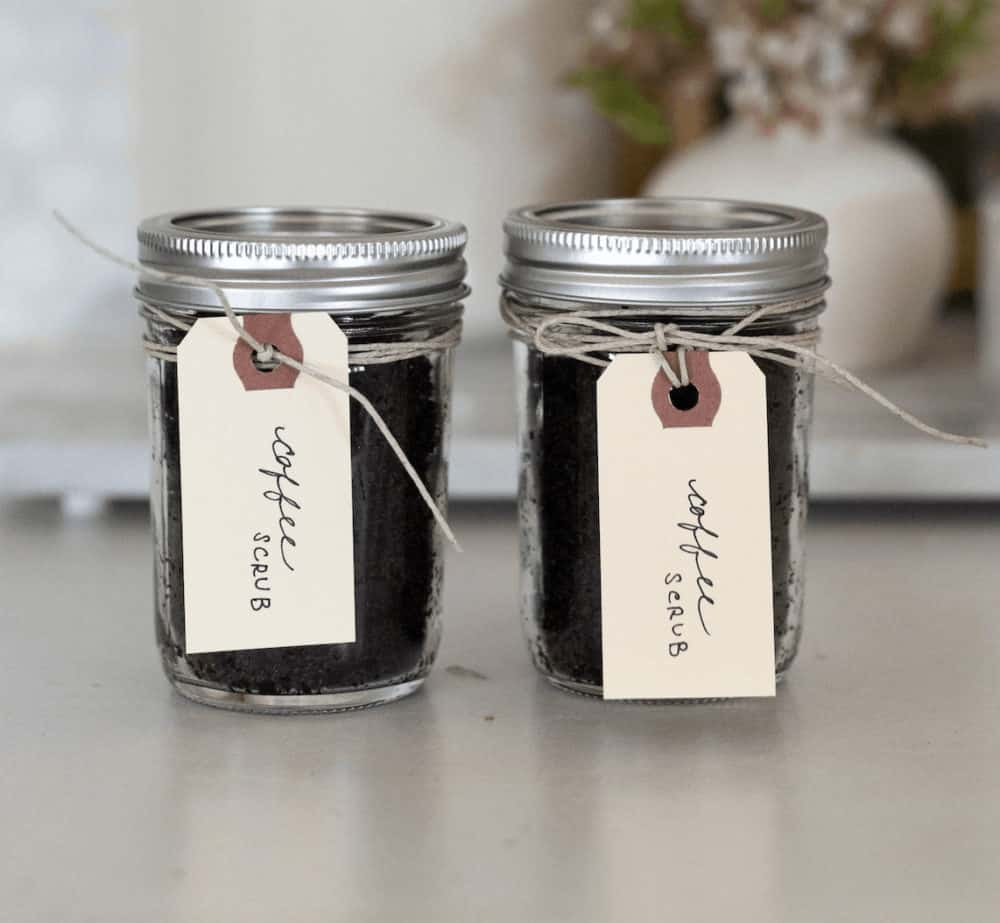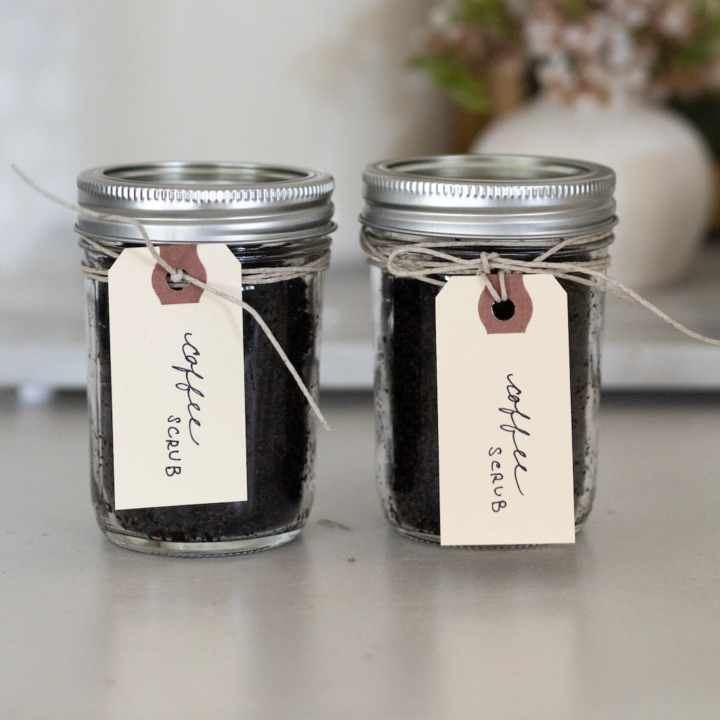 DIY Coffee Scrub (Coconut Coffee Scrub)
Make your skin silky smooth with DIY coconut coffee scrub! This lovely handmade gift is the perfect easy and inexpensive treat for anyone!
Materials
2 cups ground coffee
½ cup fractionated coconut oil
2 tsp Vitamin E oil
Tools
2 8 oz. Mason Jars
Mixing Bowl
Spoon
Instructions
Pour all of the ingredients into a bowl and mix well. The consistency should be that of wet sand.
Place in mason jars and seal. Keep in a cool dry place. Use in the shower.

Notes
You may opt to add a little bit more oil to reach your desired consistency.
You may also want to add some essential oil of your choosing.
If you don't have fractionated coconut oil, you can use grapeseed oil or even olive oil. Alternatively you may use coconut butter. Coconut butter is solid at room temperature, so melt it at 10 second intervals to combine. It has a really low melting point, so this is a great option too.
Recommended Products
As an Amazon Associate and member of other affiliate programs, I earn from qualifying purchases.