Engineered Hardwood vs Hardwood Floors (Pros & Cons)
This post may contain affiliate links, please read my disclosure policy.
If you're floor shopping for a home renovation or new build, chances are you're wondering what in the world the different between engineered wood and hardwood flooring is? Is one better than the other? What are the pros and cons of each option?
I hope this post is incredibly helpful to you are you make this expensive and permanent decision! In this article you will learn all about the difference between each material and at the end have confidence in making the selection for your home!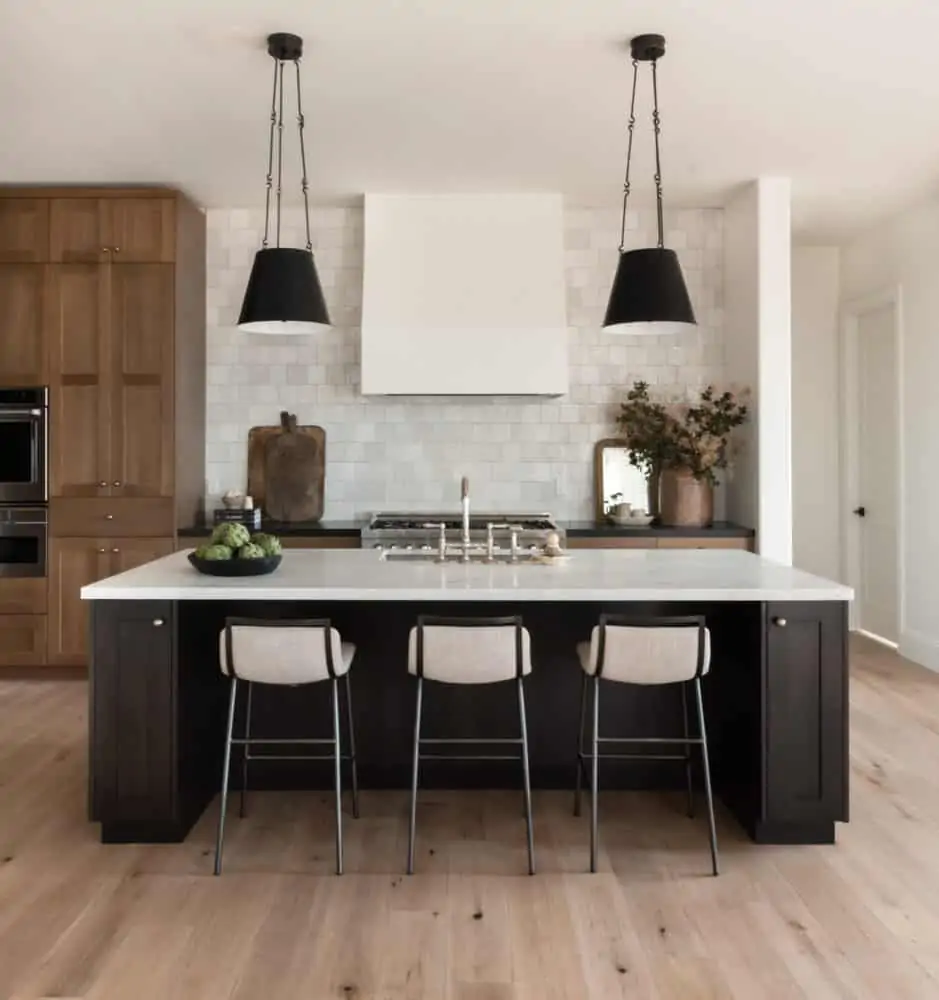 Shown here: Grand Pacific Engineered Wood in Fisherman's Pier, see more of this kitchen reveal with design tips!
Pros and Cons of Engineered Hardwood vs Hardwood Floors
I recently went shopping for hardwood flooring with a client, and happened to learn quite a bit about the difference between hardwood floors and engineered hardwood floors.
I was so excited to learn the pros and cons of each, I even took notes. While many of the flooring showrooms simply talked about the pros of engineered hardwood – we ended up at a hardwood floor showroom in a little house packed to the brim of floor samples. It was there that I learned so much – and now, I am going to share all I can to help you understand the difference between each type of flooring.
If you are interested in learning about Pergo laminate flooring be sure to check out my blog post!
Hardwood Flooring
What is hardwood flooring made from?
Wood! True hardwood floors are made from single pieces of timber of various species of wood, usually a hardwood species like oak, maple, or walnut. Soft wood species like pine, fir, or cedar aren't typically used for wood flooring because they are softer in nature.
The wood is milled into long planks from single pieces of timber.
Did you know, hardwood floors were originally used as a structural element of a building, laid perpendicular to joists to add integrity to the structure? Nowadays, hardwood floors are used more for aesthetic purposes. They are more durable than engineered wood and can be refinished multiple times.
Pros of Hardwood Flooring
Can be refinished: Hardwood floors can be sanded and re-stained many times to suit your style. As styles change, the floors can be sanded and refinished for an updated look.
Beautiful and timeless: Wood floors will stand the test of time, they are the best option for a timeless home.
Durability: Hardwood floors are not subject to de-lamination or buckling like engineered wood floors are.
Cons of Hardwood Flooring
Costly: Hardwood floors are generally much more costly than any other type of flooring.
Cannot go directly on a concrete subfloor: Before hardwood floors can be installed on a concrete slab, a subfloor must be used – such as layer of plywood – as a barrier between the hardwood and concrete.
Can Scratch: Wood floors are made from organic materials and can scratch. Softer woods are more prone to nicks and dings. I believe this adds charm and character to a home, it is my opinion that this isn't a con, but I wanted to include it in case maintaining perfection is important to you.
Maintenance: Just like a wood deck or wood fence, wood floors require maintenance. Proper care will extend their lifetime and beauty.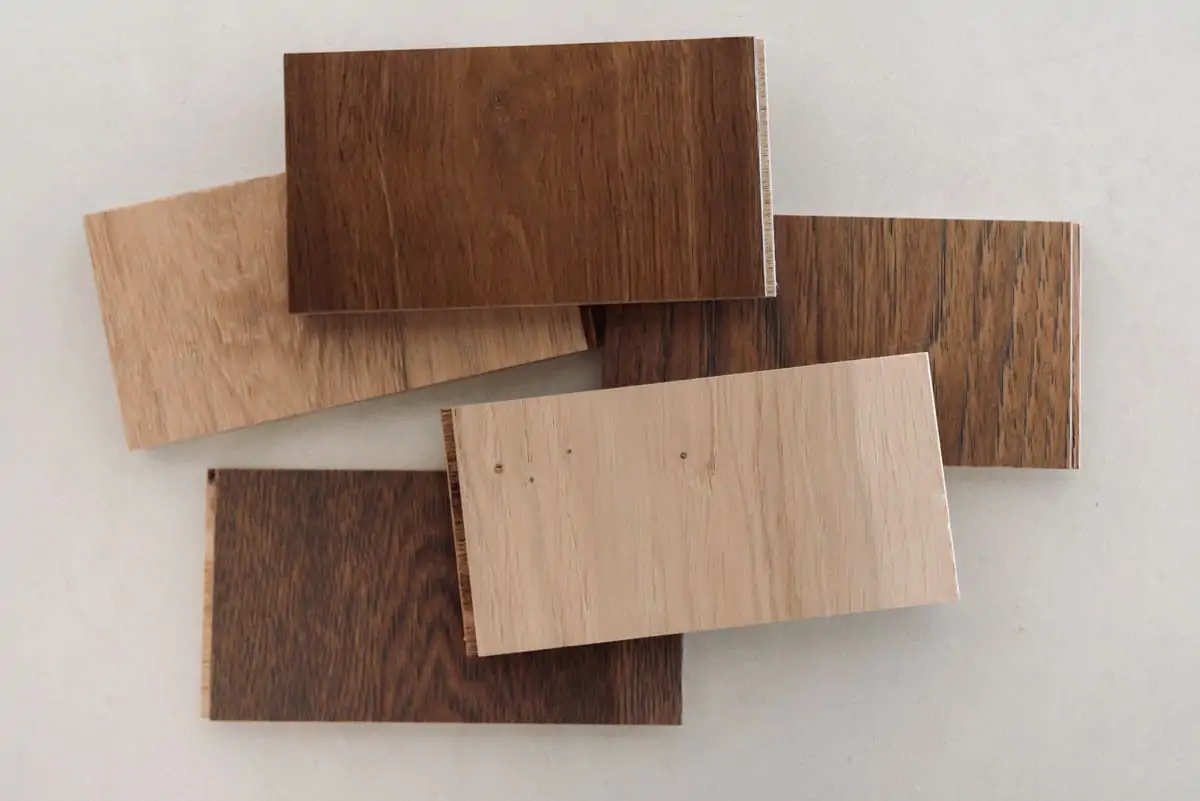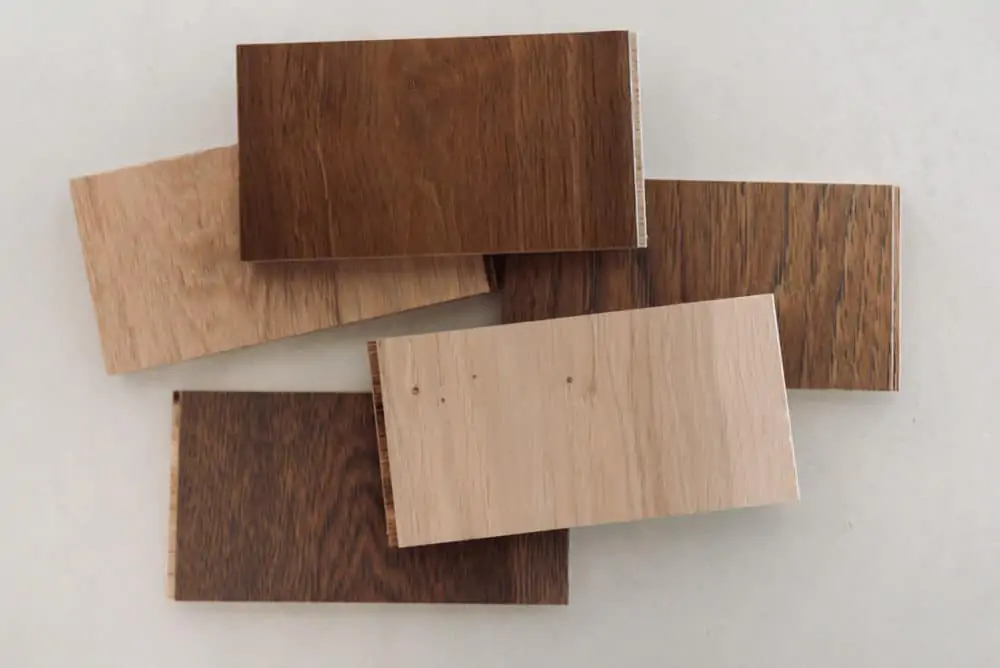 Engineered Hardwood Flooring
What are engineered wood floors made from?
Wondering how are engineered floors made? Let's break it down!
Engineered flooring is made of very thin layers of wood, rather than from a single piece of timber. The layers of wood are glued together and form a solid and durable plank.
The top layer is made from hardwood so the entire plank is looks as if it is true hardwood, however, the layers beneath the top layer can be made from any type of wood, commonly plywood. The top, hardwood layer is pre-finished and sealed to look like hardwood prior to installation.
Engineered wood floors come ready to be installed so staining on-site isn't necessary. Whereas hardwood floors (see below) come raw, and are generally stained once installed. There are hundreds of brands of engineered hardwood floors with thousands of color options. No matter your style, there is an engineered wood option out there for you!
Because engineered hardwood floors only contain a thin layer of true hardwood, they can typically be refinished just once or twice in their lifetime.
Pros of Engineered Wood Floors
The Look for Less: Typically, engineered wood floors are more affordable than hardwood floors because they only contain a small layer of hardwood, yet they give the appearance of true hardwood.
Ready to go! These floors are stained and finished and can be installed easily without the need for staining.
Works on cement subfloors: Hardwood floors cannot be installed directly on cement, whereas engineered can be.
Comes in many species and colors: There are hundreds and hundreds of color and species options, giving customers a wide array of style options.
Can be more stable: With multiple layers of plywood or birch backing the hardwood, the wood has a little "wiggle room" as the floor naturally shifts from everyday life.
Cons of Engineered Wood Floors
Require special care: These floors cannot be cleaned the same way hardwood floors can be. Only use engineered specific cleaning products.
Not as Thick: With only a single thin layer of true hardwood, they can scratch and become damaged more easily.
Limited in Refinishing: As noted above, the thin layer of wood cannot be sanded down and refinished more than once or twice in its lifetime.
Subject to Buckling and Delamination: The glue used is not impenetrable and humidity can cause buckling, these floors are very sensitive to water and humidity.
Delamination of Engineered Wood
One of the main problems with engineered wood floors is delamination. This is caused when the layers of the wood begin to separate from each other. Remember that engineered wood is made up of glued together layers of wood. If the glue begins to break down or the pressure between the layers weakens, the floors can bubble, crack, and chip.
It's very apparent when this happens can can cause you to want to pull your hair out!
Before you install engineered wood, make sure that it is properly rated for the humidity of your environment. If you live in a very humid climate or very dry climate, speak with a local flooring showroom about brands they trust for your specific location.
Note: Most flooring companies offer a warranty, some even a lifetime warranty, on delamination under normal wear and tear. But what causes delamination?
Humidity
Humidity is the key factor in maintaining the integrity of engineered wood flooring.
A humidity level between 30%-50% is ideal. Luckily, that is pretty standard for most homes, but checking your home's humidity is recommended if you plan on installing engineered wood.
If your home's humidity isn't within the 30%-50% range, you can run a humidifier or de-humidifier to alter the moisture in the air.
What about peeling or chipping of engineered hardwood? This is called delimitation and is caused when the engineered hardwood you purchase isn't rated for your environment. In particular: the humidity of your environment.
Water Damage
Water causes wood to expand and contract, additionally it can break down the glue used to hold the layers together. Both of these issues will cause delamination. That is why it is important to clean up spills immediately, avoid using cleaning products like a steam mop or spray, and keep the floors as dry as possible.
Improper Care
Caring for engineered wood is very different than caring for hardwood floors. Using a product that isn't specifically made for engineered wood can destroy the glue and finish of engineered wood flooring and cause delamination.
Always use a cleaning product that is made specifically for engineered wood. As a rule of thumb, avoid anything with acidity (such as vinegar), moisture, or polish. You do not want to strip away the protective finish of the planks. Once this happens the glue can easily begin to break down and cause buckling or separation of the layers.
A vacuum made for hard surface floors such as wood and a dry dust broom are your best friend for cleaning this type of flooring.


What to look for in engineered hardwood?
More expensive, doesn't always mean better quality. Keep in mind the wear layer and the number of plys of wood that back the wear layer. The simplest way of thinking of it is that the thicker and more layers, the more durable.
While thickness matters, so does species. Selecting a harder wood vs a softer wood will provide you with more durability and vise versa. If scratches and dents bother you, opt for a hardwood species like maple or hickory. White oak is also a great option!
Thickness
The number of layers that compose the planks as well as the "wear layer" (top hardwood layer) are the major factors in quality and cost.
The thinner the wear layer, the lower in cost the engineered wood typically is. Starting at around 1 mm thick and going up to 5 mm. A 4 mm wear layer will provide 2-3 sandings within its lifetime. You can find many great brands with a 4 mm thickness for around $5-6/sf.
Other Questions to Consider
Where it's made?
What it's made of?
What the backing is made of? Plywood and birch are common backings. Consider how many layers are within the core of the plank.
What is the sealant or finish? Most floors are sealed with Polyurethane or Aluminum Oxide.
What the humidity rating is? Does the humidity of your area play well with the specific option you are considering?
Does the company consider sustainability and toxins in their product?
Favorite Brands of Engineered Wood