This is a sponsored post in collaboration with Kohler, all opinions are very much my own. For more information about sponsored posts, visit my terms page.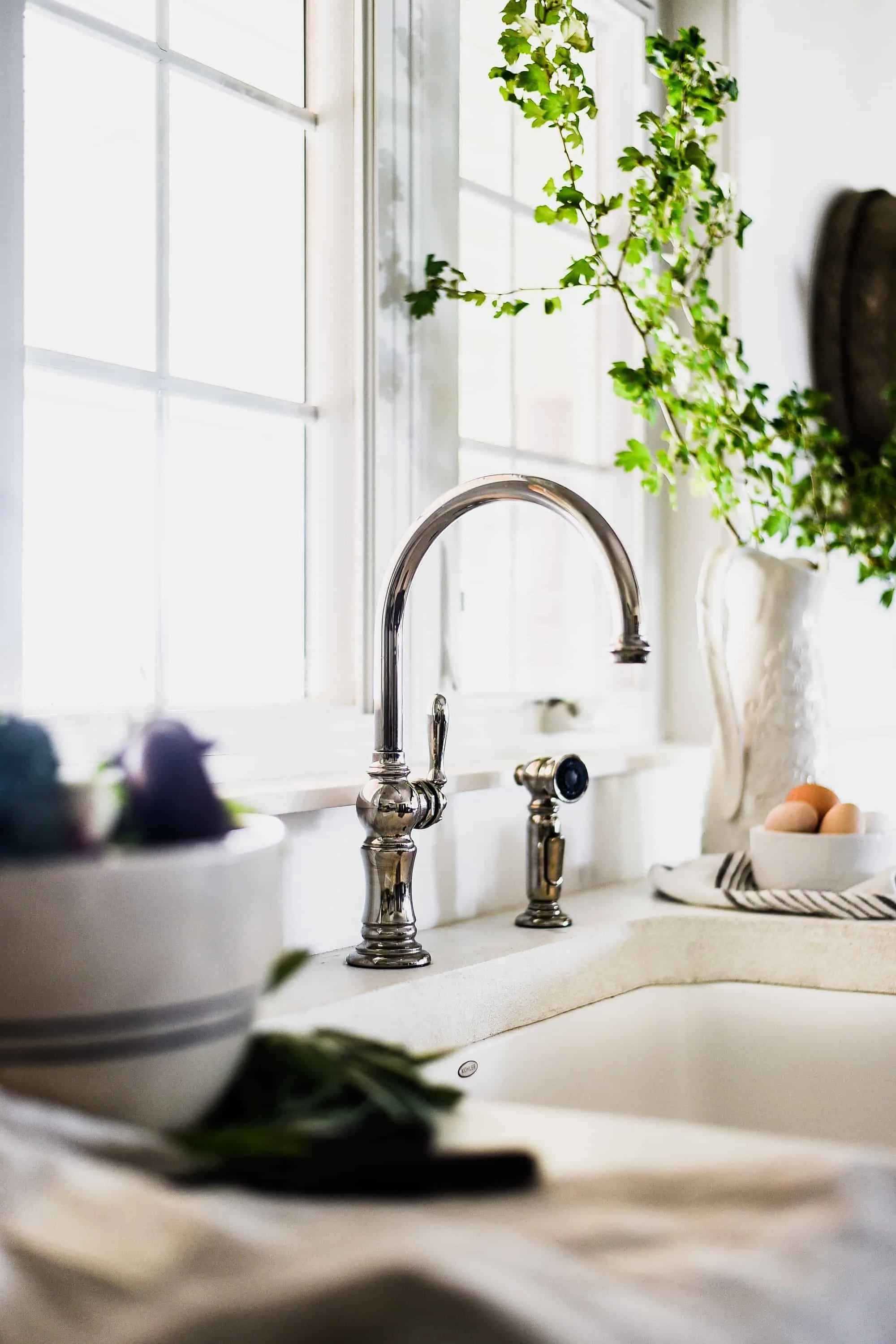 I mentioned that when we began remodeling, someone from the Kohler team reached out to see if I might be interested in collaborating with them in our kitchen. Since I had already fallen in love with their extra wide, extra deep apron front sink, I was happy to jump on board to create our farmhouse kitchen with their designs.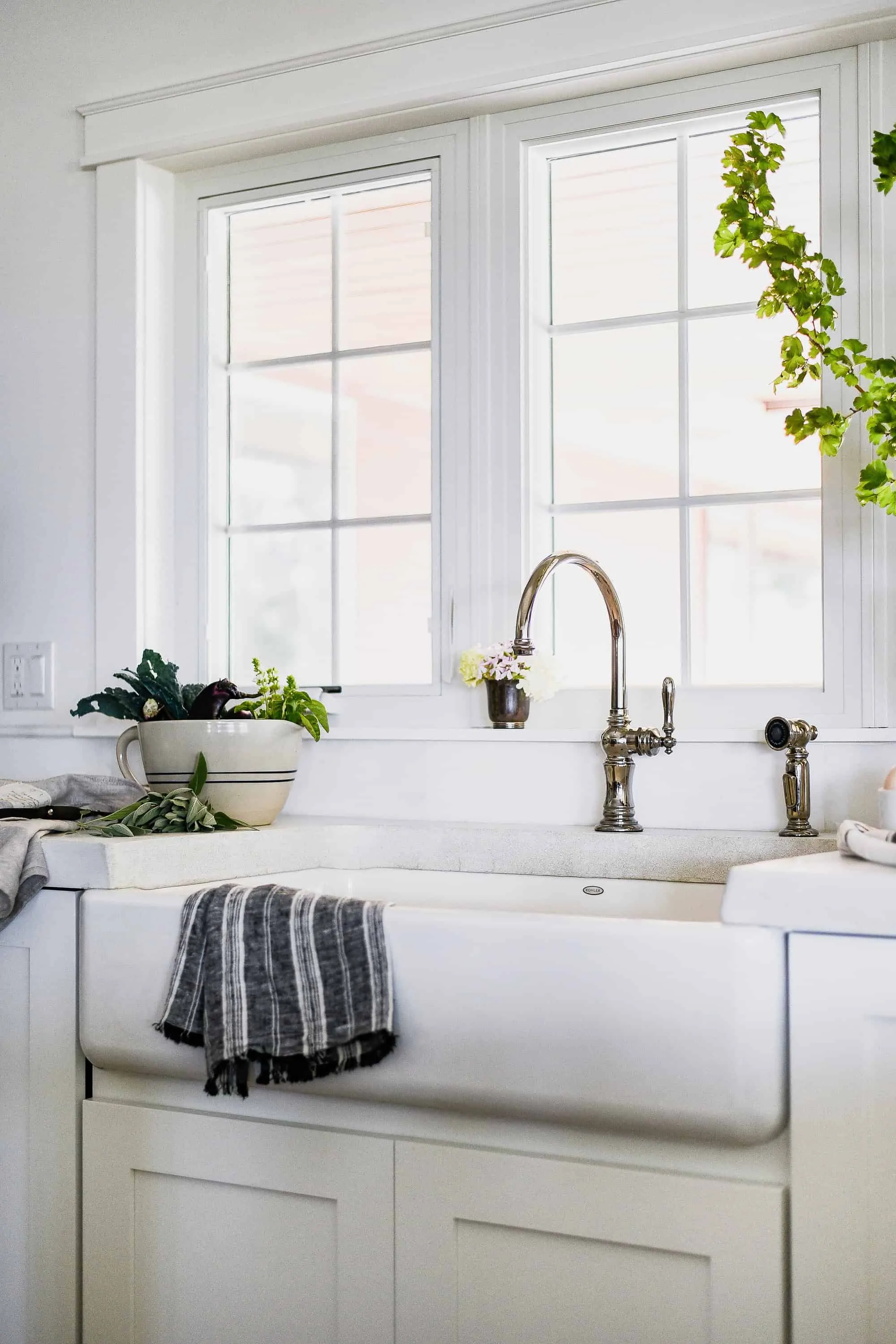 I gathered inspiration from Pinterest and beyond and selected our Kohler goods. I initially wanted brass products; however, I ultimately selected nickel to create a mixed metal palette with our stove and light fixtures. I am so happy I did that! I absolutely love the way the metals play together in the space.
Now that we have lived in our new space for awhile, I thought it would be nice to share some of my thoughts about our new Kohler products…
First of all, the sink has exceeded my expectations. I have tossed in hot pans straight from the stove. I have left tomato sauce plates overnight. I even accidentally smashed lily pollen all over the inside of it (anyone else know the horrors of removing lily pollen from white surfaces?). It still shines like the first day we got it. It has the perfect unnoticeable slope, and I really like that the drain is in the upper corner, so that I can maximize sink space when needed. I wholeheartedly give it five stars.
When Kohler and I agreed to work together, a pot filler was not on my list of options. I was really hoping to install a pot filler in the kitchen, but I decided that it wasn't a necessity, and that if Kohler wasn't able to provide one, we would skip it to save a little money because pot fillers are pretty expensive.
To my delight, they agreed to send me the artifacts pot filler in addition to the sink and faucet. It was the last product installed in our kitchen, and I loved the way it looked against the tile above the stove. So here's the climax of this story…then…I used the pot filler.
I equate that moment to purchasing a dish washer or washing machine after years of not having one. Sure, you can absolutely get by. Life isn't terrible without it. But after that first use, you sort of fall in love with an appliance. You wonder, how did I ever get by without this wonderful tool?
That's me and this pot filler.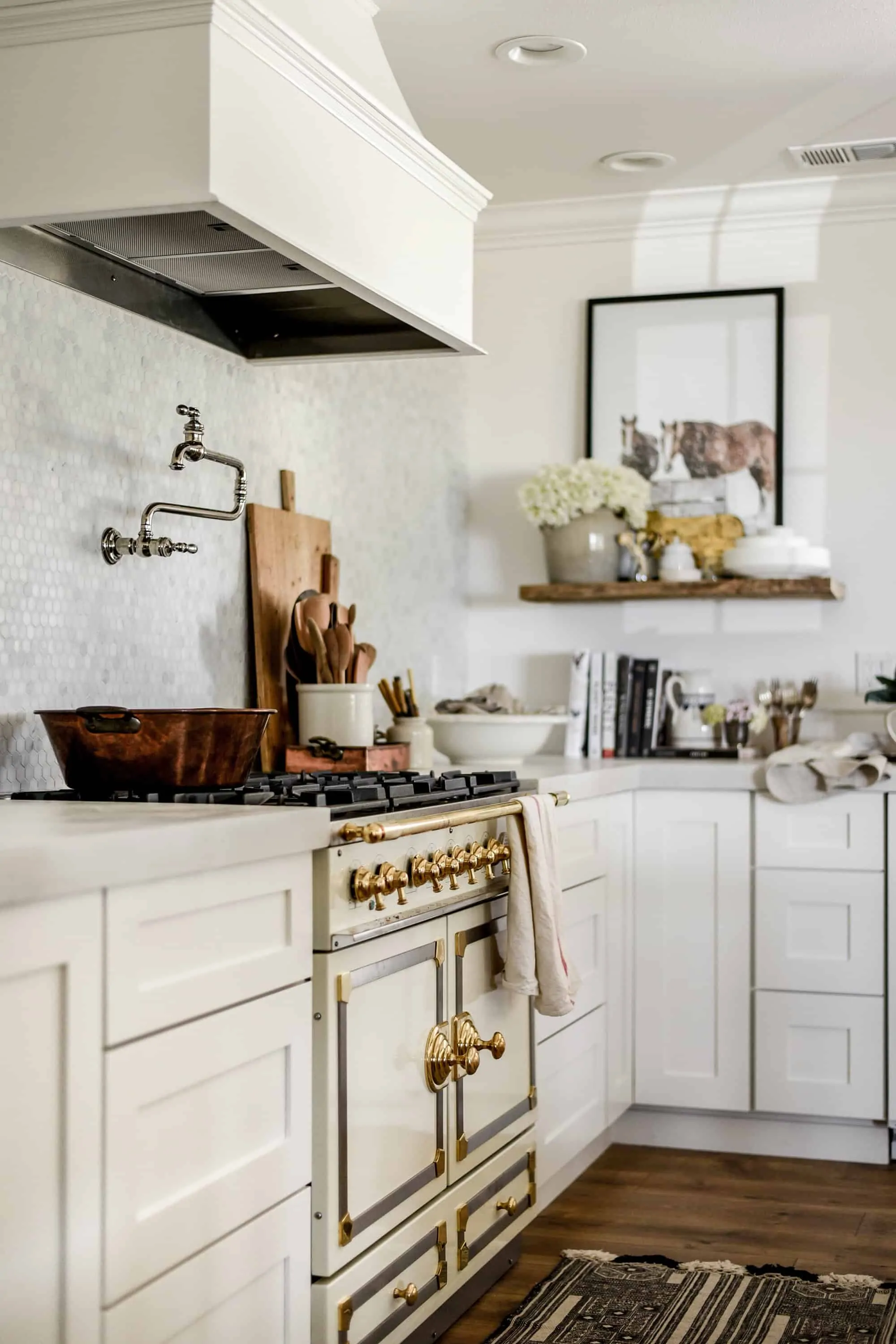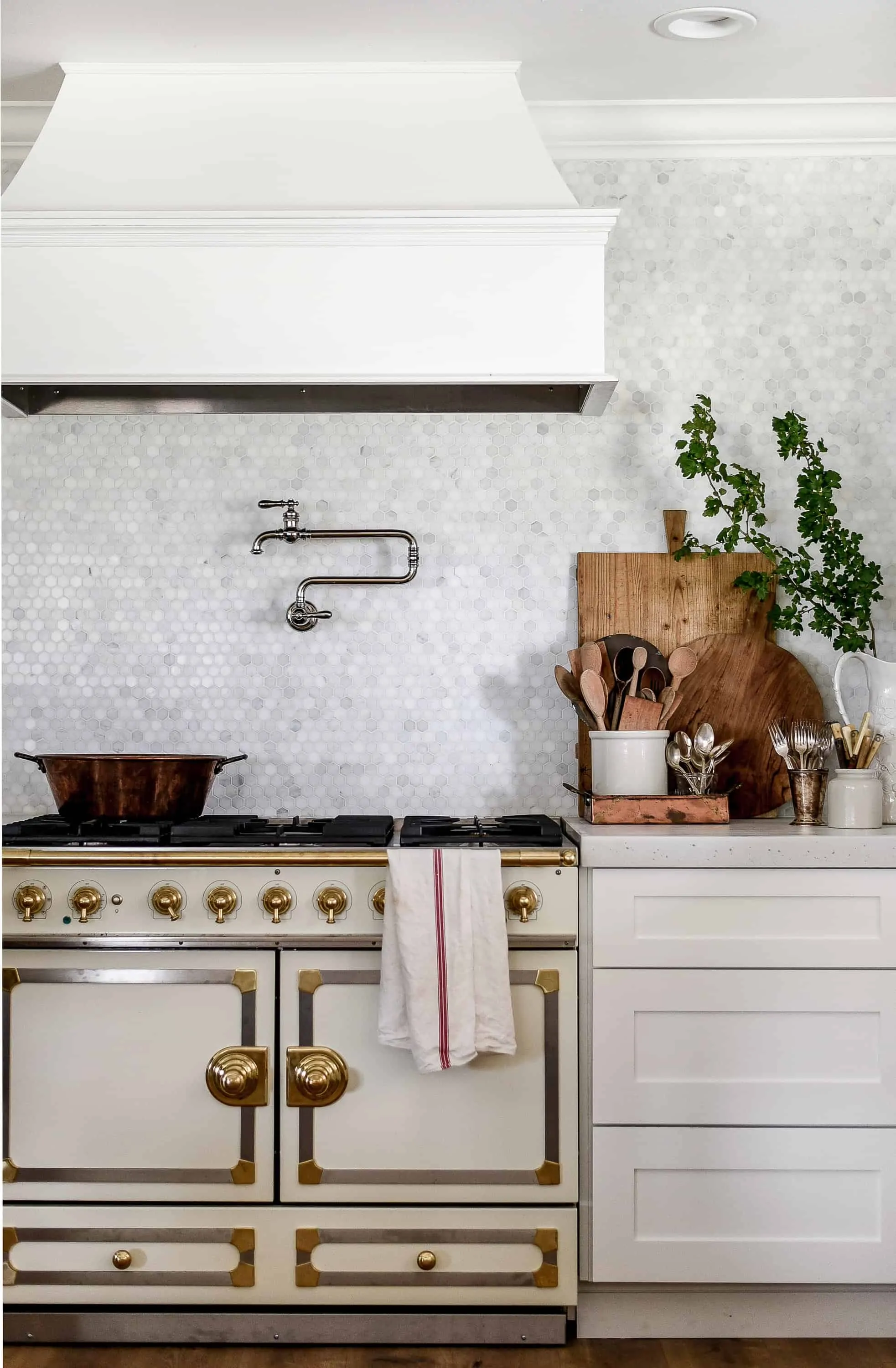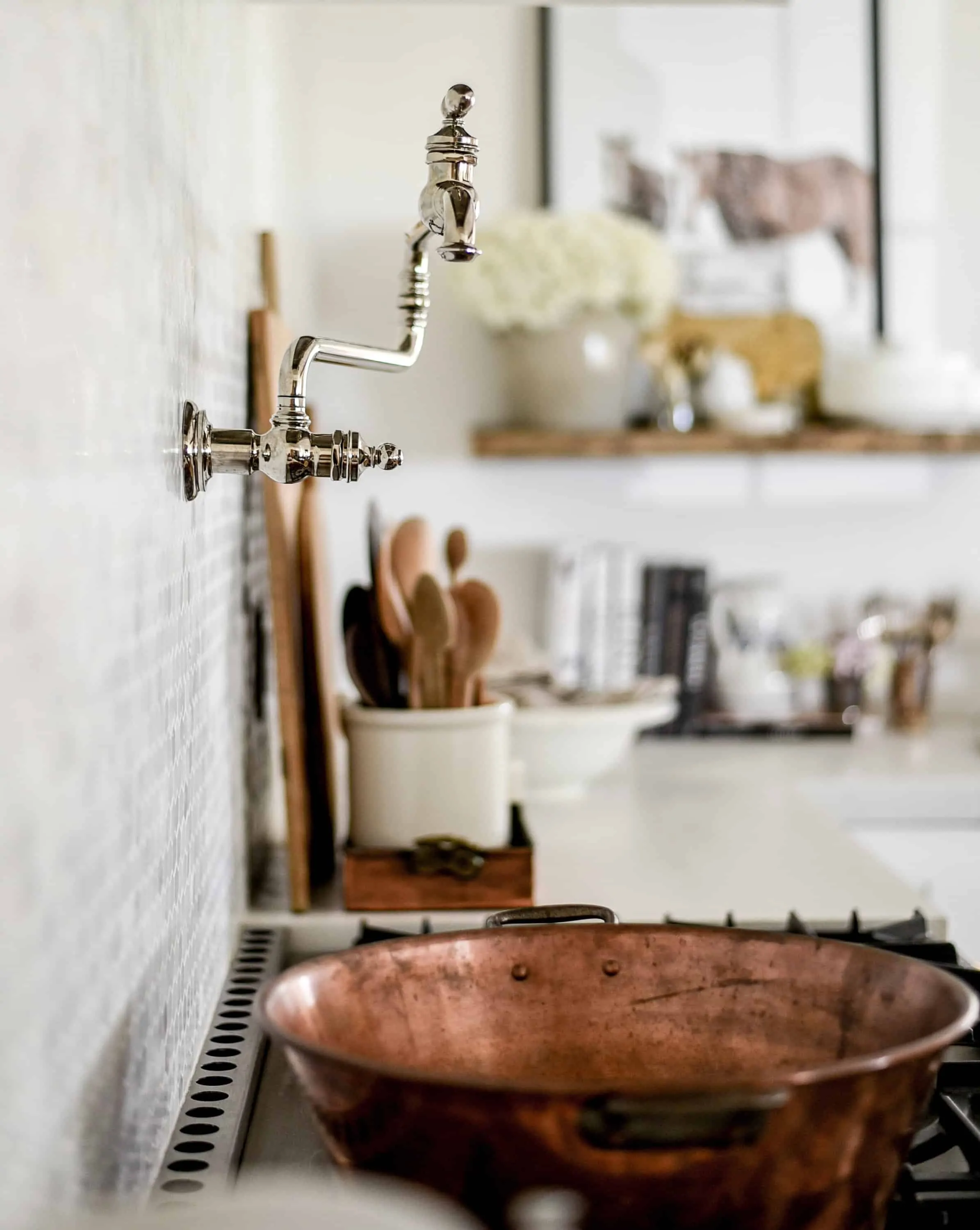 I never knew how much I needed it. Not just for looks, but for adding water to soups, making my nightly cup of tea, canning, and everyday cooking. It's hands down my favorite "extra" in our kitchen. If you're remodeling your kitchen and thinking, "I'm not sure if we need a pot filler." Let me tell you, you need a pot filler. Buy a cheaper fridge, or skimp on hardware, but don't leave out the pot filler. I use it every single day, and appreciate it every single time.
Lastly, I will mention the beautiful artifacts faucet. I love the high arc of the spout. I love the antique elements of the design. Most of all, I love the way the nickel metal is aging. It resists water spots, but is beginning to soften after a few months of use if that makes sense? It doesn't have the harsh reflection of chrome, but still stays within the color palette. It's beautifully antique in both design and color. I couldn't be happier…except for maybe if I had gone with the bridge version, but I digress.
A big thank you to Kohler for sponsoring this post, and an even bigger thank you to you for your support of my site. Thank you so very much for stopping by, I hope you have enjoyed reading about our new goodies, please let me know if you have any questions, I'd be happy to answer them!