Fourth of July Decorating Ideas for your Porch: DIY Bunting
This post may contain affiliate links, please read my disclosure policy.
Try these easy 4th of July decorating ideas for your home! Use these simple tips to add a festive touch to your home this holiday season!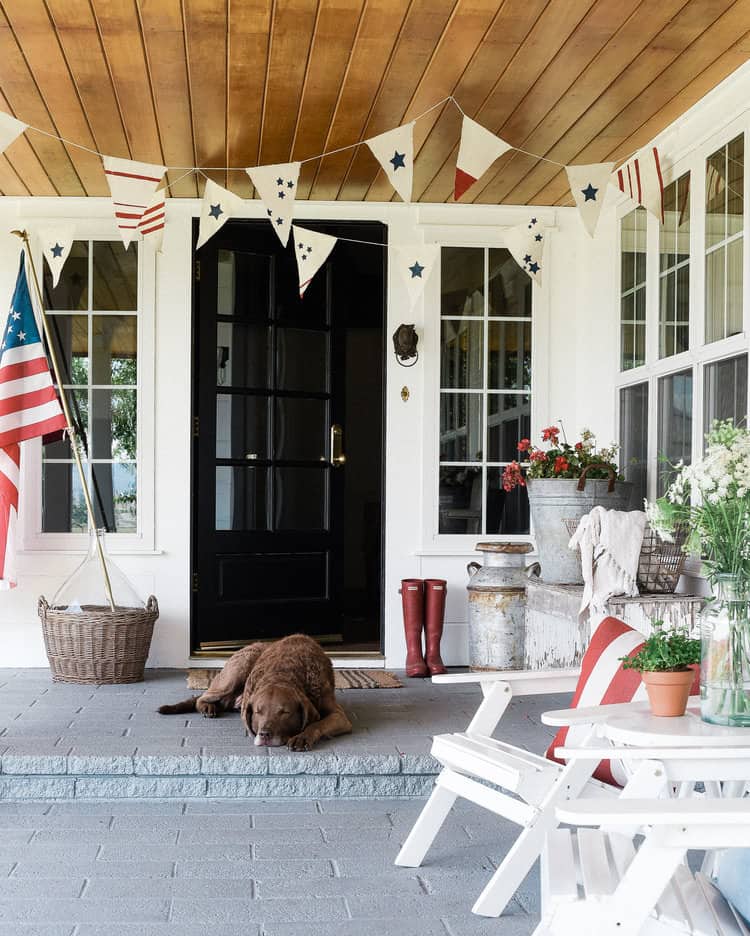 Fourth of July is one of my favorite holidays because of all of the celebrations our town puts on for the community. Parades, fireworks, rodeos… There is always so much to do and see, and I love getting to celebrate America with neighbors and friends! Unlike other holidays typically spent with family, 4th of July allows us to get together with neighbors and friends!
Our town celebrates "Fandango Days" on the Saturday closest to the Fourth, with a parade and festival. This year, we will have a rodeo after the park festival, and I can't wait!
Many of you know that I coach high school cheerleading, so the parade is always such fun! The girls walk in the parade and have a small performance at the end, I love watching them!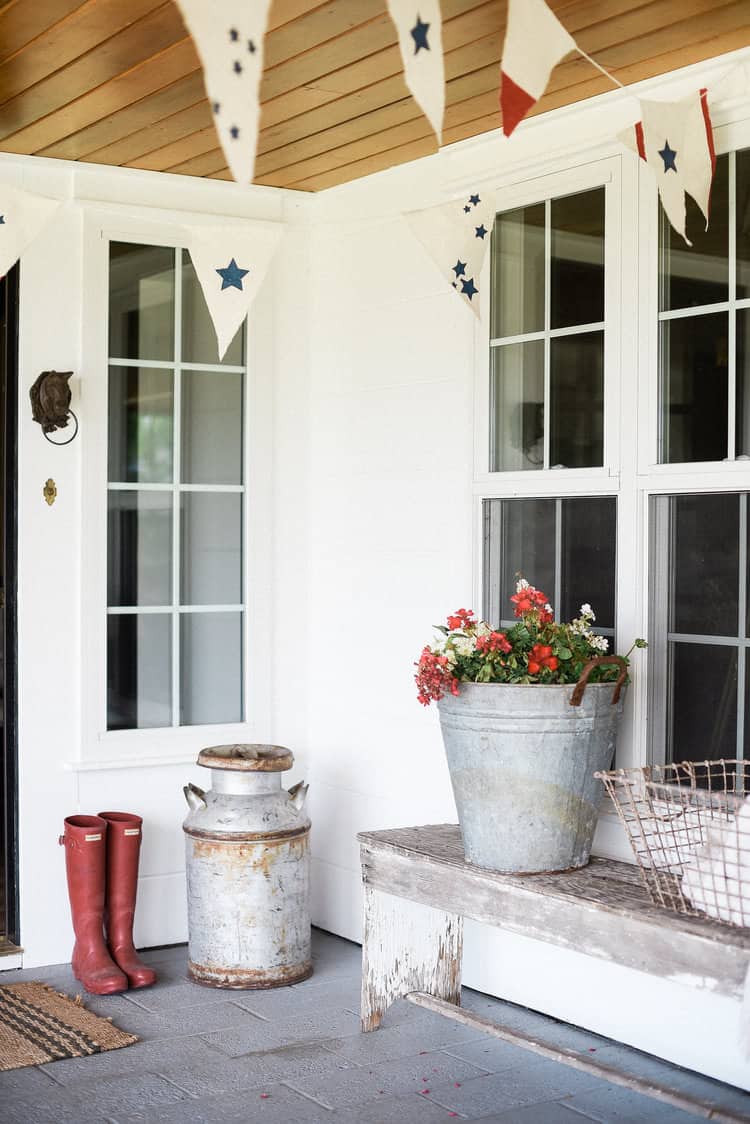 This year, we will be celebrating on Wednesday (the 4th) with our neighbors at their home for a BBQ. I think I am going to put together a pasta salad and cocktail to bring to the BBQ. I might pull down the bunting from our porch too and take it over to help decorate!
With all of that said, it seems kind of silly to go out and buy a bunch of themed things for the holiday. Unless you love to decorate for the Fourth of July, you probably don't have very many patriotic decorations… Or do you? 
I think you'll be surprised to find that you can easily make something ordinary appear patriotic! I used blue and white platters and added pops of red to them to make what is normally just a blue and white platter appear to be a Fourth of July platter. This mindset can be applied to anything in your home that falls into a red, white, or blue color scheme!
I also took the time to make some DIY 4th of July bunting to hang on our porch. This project took me about 30 minutes, and I just love how darling they turned out! These were inspired by Pottery Barn's 4th of July bunting, but I think the different patterns and shapes make these even cuter than the inspiration!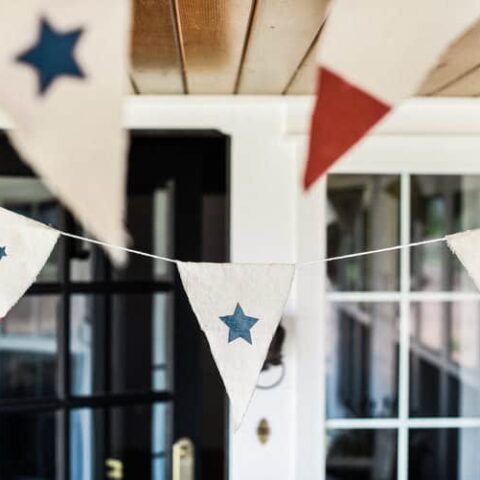 Fourth of July DIY Bunting
Try these easy 4th of July decorating ideas for your home! Use these simple tips to add a festive touch to your home this holiday season! 
Materials
painter's dropcloth
baker's twine
Cricut star template (or buy a stencil)
paint (red, blue)
masking tape
sponge paint brush
Instructions
Create a triangle template for the flags by cutting a piece of printer paper into a large triangle. To do so: Fold the paper in half (hot dog style) and mark the center, draw a straight line from the center to each side of the opposite corner, and cut to create the triangle.
Fold the painter's drop cloth into layers, and trace the triangle pattern. Then, cut the fabric to create individual fabric triangles.
Create a star stencil with your Cricut - you can click here for my free pattern. If you don't have a Cricut, you can purchase a pre-made stencil, or simply use painter's tape to create stripes and skip the stars.
Place your template on the flags, make sure it is pressed firmly down. Use a sponge paint brush to paint over the stencils, then remove the stencils to reveal the stars! Use this same method with painter's tape to create stripes.
Once the triangles are dry, use hot glue to secure each triangle to baker's twine. I spaced my triangles out about 6-8".
Decorate!

Tip: Shop your home
When I began decorating for the holiday, I went into it with the mindset that it wasn't possible because I didn't own anything Fourth of July themed…but then I started hunting around my house for red, white, and blue items, and I was surprised at how much I found!
My red boots that I wear daily look perfect next to the flag I found tucked away in our entryway closet.
I remembered that I had sewn a red and white striped pillow years ago, but it had been folded in our linen closet, never used!
Simple red and white flowers, paired with all of the other things I found in my house, plus the DIY bunting made our porch look extremely festive, and I didn't have to buy a single "themed" item!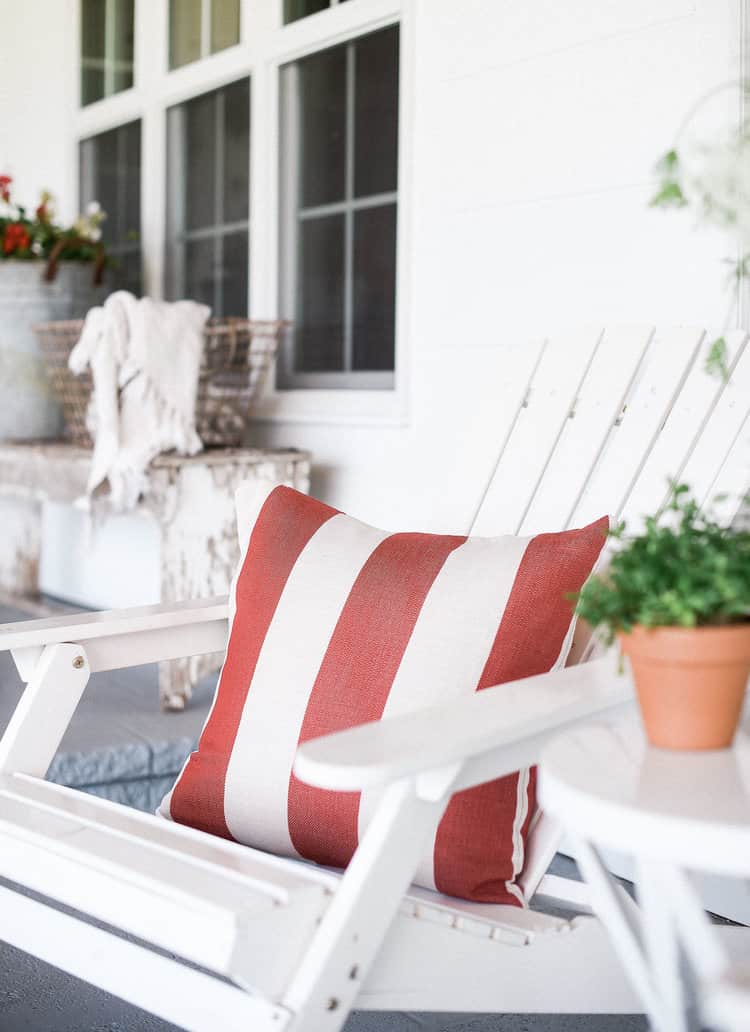 Find ways to turn everyday items into festive treats!
One of my favorite ways to dress up a party is to repurpose everyday items into themed decorations! Use painter's tape and red & blue paint to add stripes to anything! You can do this to plain napkins, cloth bags, white pillows, and so much more!
An easy way to dress up glassware or plates without altering them is to simply adorn them with gold star shaped stickers! You can find these stickers at any grocery store, and you can easily remove them once the party is over!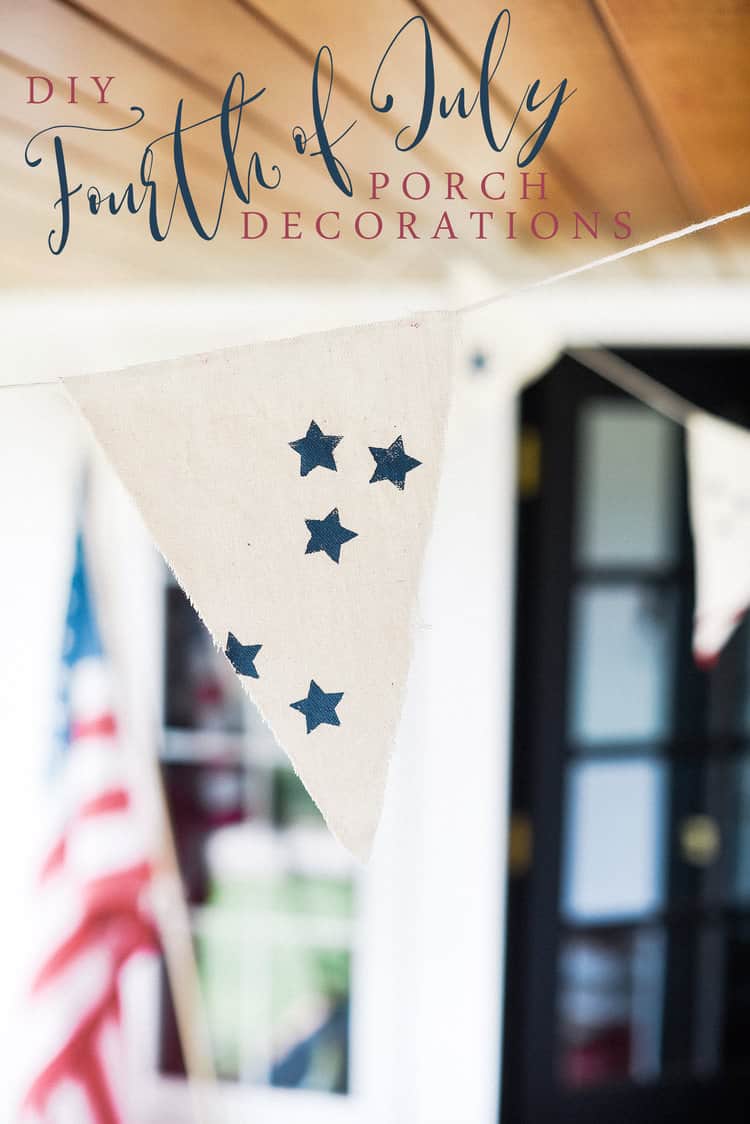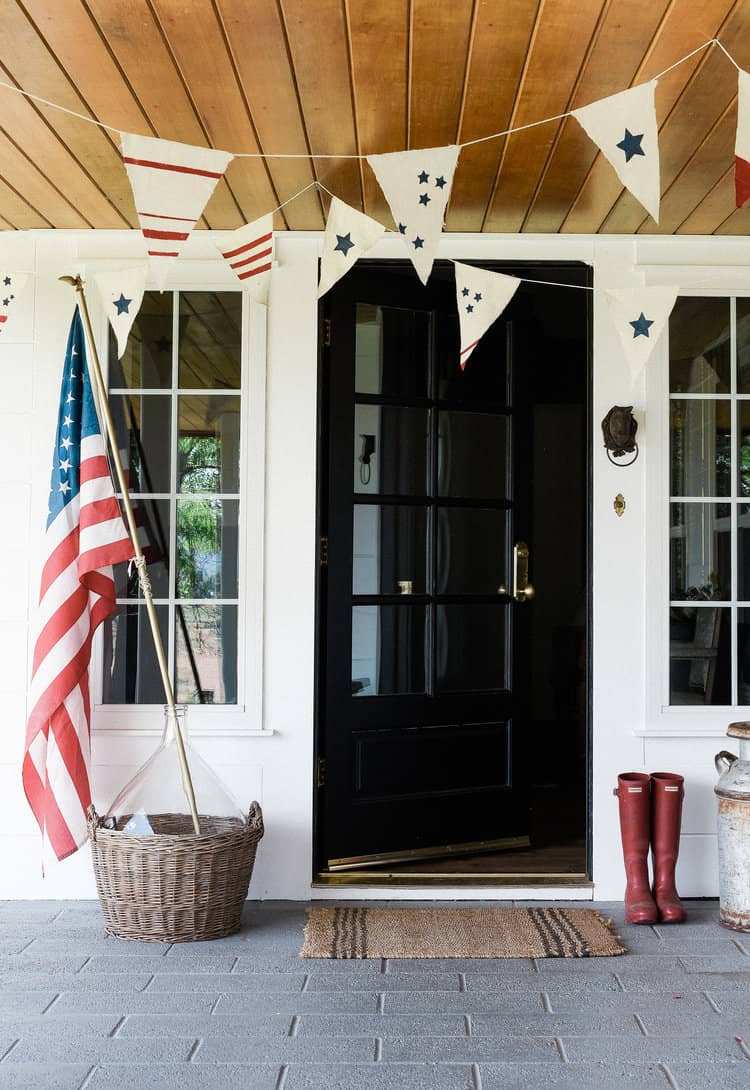 I hope you enjoyed these simple ideas to decorate your home for the 4th of July! Thank you so much for stopping by, make sure to subscribe below to get the latest blog posts delivered to your inbox!
More Fourth of July ideas!