How to Create Beautiful Gallery Walls
This post may contain affiliate links, please read my disclosure policy.
Learn how to curate beautiful gallery walls in your home with inexpensive wall art and our fool proof tips!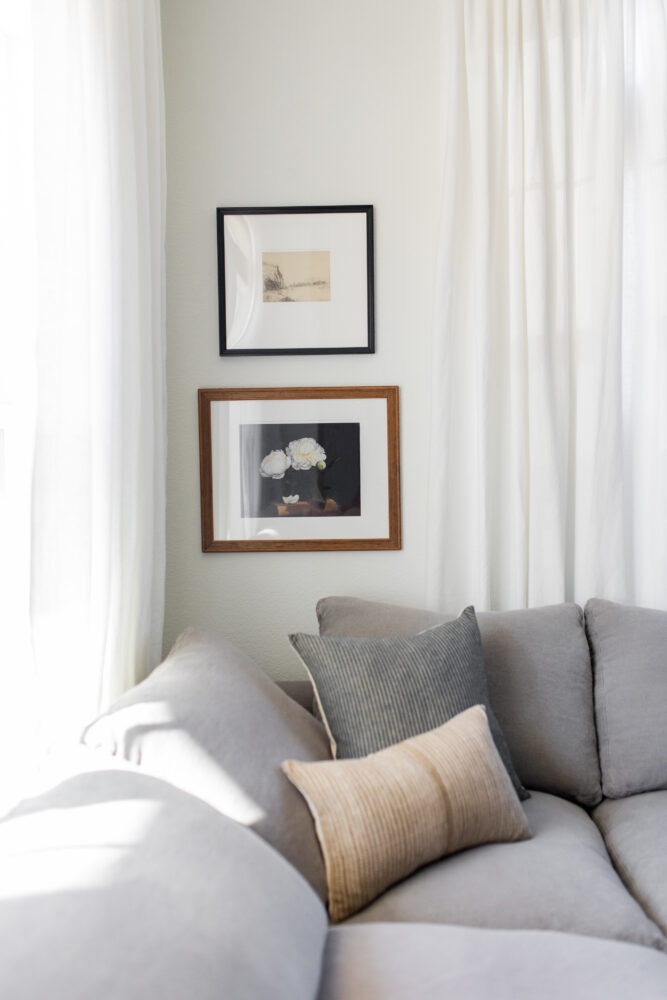 How to Create Beautiful Gallery Walls
One of the most common decorating hangups you might face is selecting artwork. We share a lot of decorating tips here like: how to shop for furniture like an interior designer, how to find the perfect coffee table dimensions, and living room decorating tips. Today we're talking all about creating a beautiful gallery wall!
You might be stuck wondering: Where to source inexpensive artwork? How to curate artwork for a cohesive look? Or maybe, how to fill a large wall with a gallery art wall?
Gallery walls may feel like they're going out of style in 2020, but when done right, this is actually a very timeless and traditional way to display a collection of artwork.
One of my favorite places to add a gallery wall is on a staircase or in a hallway! Avoid filling every inch of space, sometimes it's better to have a less is more look. I also think it's a really really lovely touch if you're able to add picture lights to a gallery wall. It instantly makes the whole wall feel much more intentional. Learn more about unique wall art ideas!
---
Gallery Wall Tips from Boxwood Avenue Interiors Lead Designer Justyne DeWilde:
"When selecting your art, focus on color palette and content. It's easy to fall in love with art prints with so many libraries available, however, use them to compliment your vintage or original art. Also be aware of your frame material and how it will best showcase the art. Consider using a vintage frame for a fine art print and a new, more modern frame to update the aesthetic of your found or vintage art."
---
Boxwood Avenue's Tips for Creating Gallery Walls:
Don't feel overwhelmed – art is meant to be an expression of your interests and life! It needn't be perfect or stuffy.
Like all else in design, I like to start with a color palette and mood. I ask myself what feelings I want the artwork to evoke in the space. Is it a child's room? A bathroom? Living room? What is the vibe?
Once I know what I'm going for in terms of mood and colors, I think about scale. What sizes do I need for this space? Do I want something oversized, or something more delicate? Resist the urge to fill every square inch of open space, sometimes less is more. Sometimes more is more… It's really about the mood you're going for! Do you want drama? Or do you want something a bit more understated?
Choosing Photos and Art
I love mixing prints with original pieces of artwork. Occasionally I will sprinkle in some family photography, but I try to avoid gallery walls full of family photos. It feels too shrine like to me.
Instead of a wall of family photos, select one you love and frame it in an intimate area of your home such as your bathroom vanity or bed side table.
If you want more of a personal touch with your artwork, try finding a local artist and having something commissioned.
"If you want to make the art more personal to you and your home without adding family photos, consider commissioning art from a local artist. This could be a landscape photo that you took on a family vacation of somewhere meaningful that will remind you of your trip. This could be a photo of your wedding bouquet translated into an abstract oil painting etc…" -Justyne B|A Interiors Lead Designer
When selecting artwork for a gallery wall, I like to find complimentary pieces that play well together. They don't need to match per-say, but I like to find pieces that have a similar palette and feeling that don't compete with one another.

Example: Try selecting nature based art that varies in material. Such as one sketch, one landscape, and one water color. Use different sized mats to provide interest and depth.
After you've found art you love, find ways to vary the scale. I love mixing oversized, matted, un-matted, and small scale prints and paintings to create interest in the wall!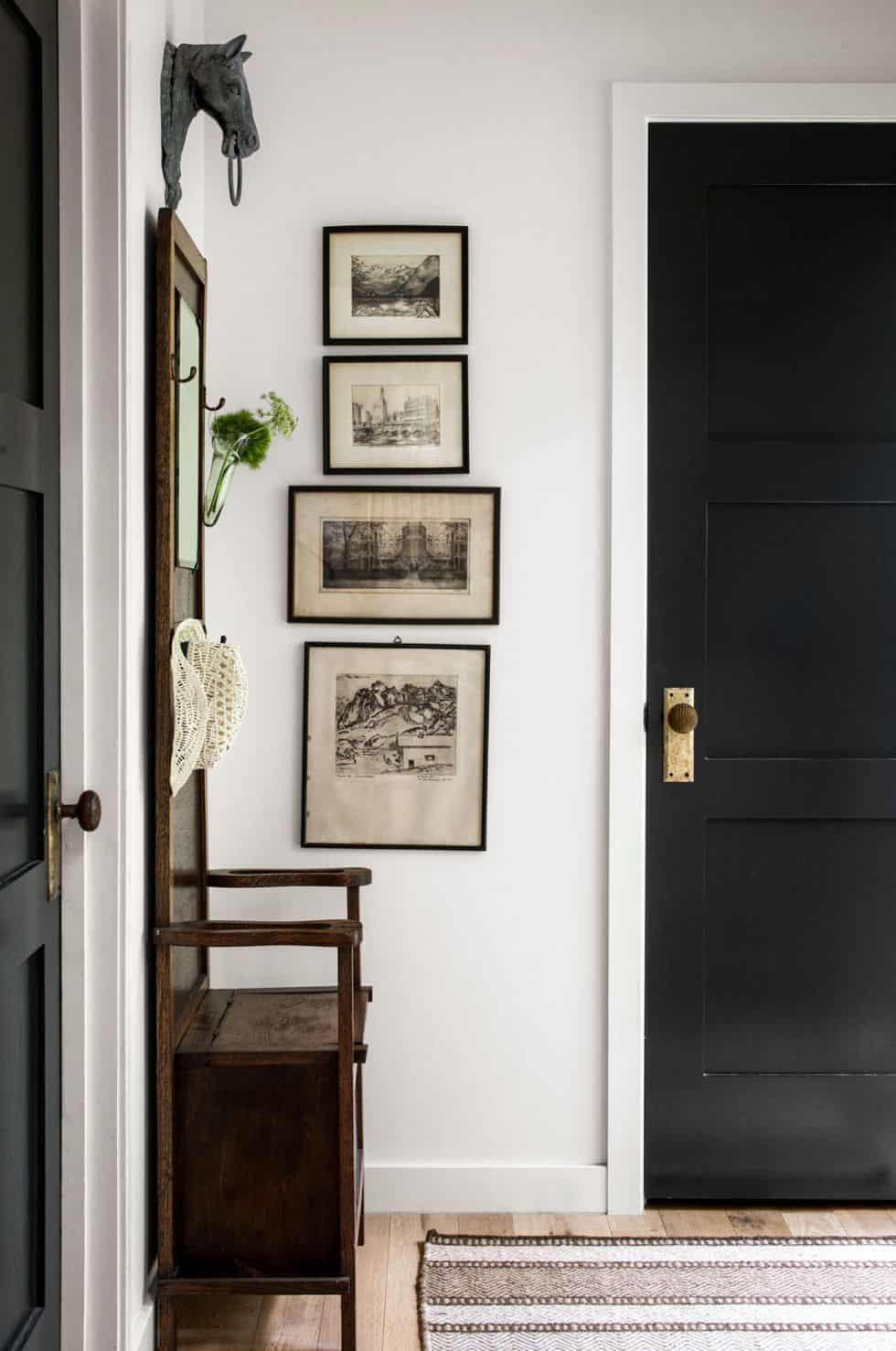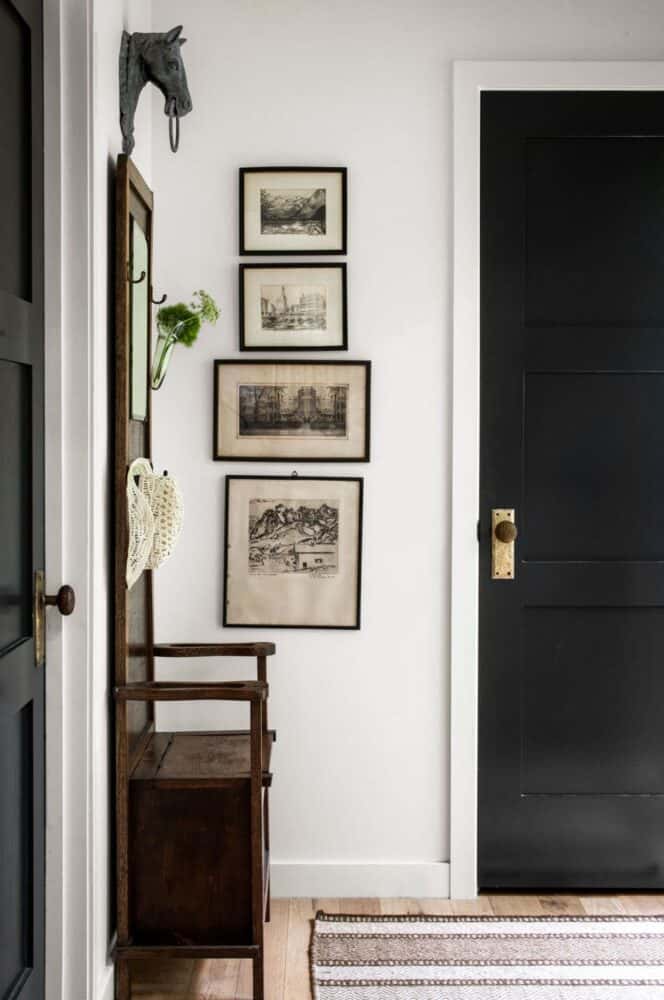 Gallery wall elements that feel a little out of style...
Wood Signs
I think an authentic wooden sign can be done in a tasteful way in say a child's room or a rec room; however, using them in a living room setting feels a bit dated.
Spindles
Spindles belong on furniture and stiars...not on a wall. I love repurposing things to be used in fresh and fun ways, but if I'm keeping it real with you, spindles aren't one of those things.
Faux Farmhouse Signs
I like to avoid using things that are made to look like they're something they're not. I love authentic farmhouse signs, but the faux signs feel a little forced.
Wood Letters & Arrows
Instead of wood arrows or letters, try finding unique metal objects or vintage pieces of artwork to use in your gallery walls.
Empty Frames
It's easy to find beautiful and inexpensive artwork for your gallery walls! Fill those pretty frames up with interesting work!
Oversized Clocks
An oversized clock takes over the space without providing much interest, try a beautiful oversized print instead!
Where to Buy Gallery Wall Frames?
One of the hardest parts of putting together a gallery wall is finding a great frame! In my experience, frames are either very expensive (but perfect in every other way) or cheap and clunky looking.
I have purchased frames from Ikea, West Elm, Simply Framed, and many others. Ikea frames are inexpensive and seem perfect, until you try to hang them…they're so flimsy and cheap.
West Elm gallery frames are lovely, yet quite expensive, especially if you're putting together a gallery wall with lots of frames!
I enjoyed using Simply Framed, but don't love their frame options. Frame Bridge is more expensive than I'd like to spend…blah blah blah. The list goes on!
While putting together some art for a client I came across these amazing gallery wall frames. In full disclosure: I haven't held them in my hands yet but, they look PERFECT! Not too cheap, not too expensive. The 'exotic wood' color is amazing, and the thickness of the frame is *just right*. I am excited. Are you excited!?
I also found these frames from Michaels which are a great option for a modern gallery wall with a set of 8 or 9 of these in a grid. Personally, I'd order an additional mat to mat them down a little bit more for a more modern look. I'd probably go with 5×7 mat fit for the 16×20 frames.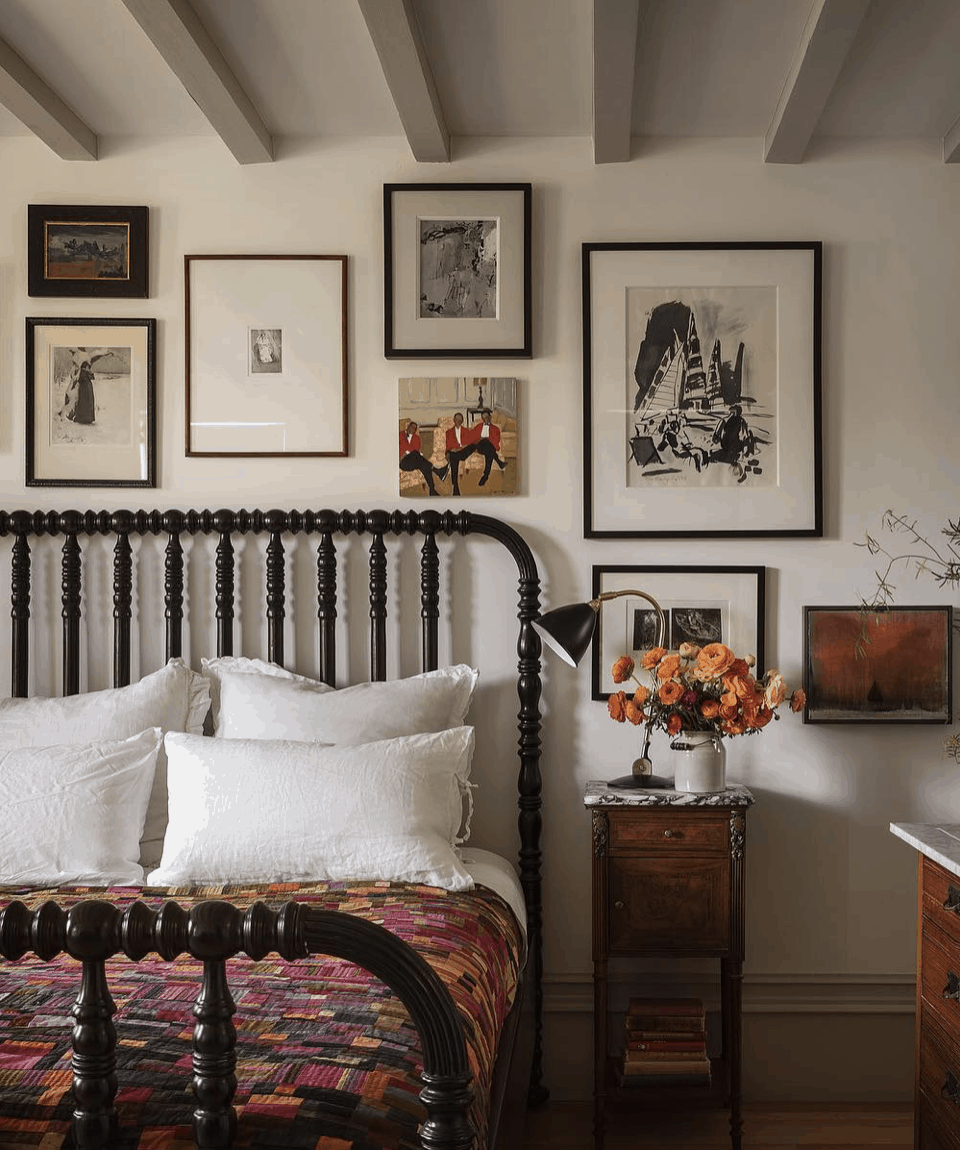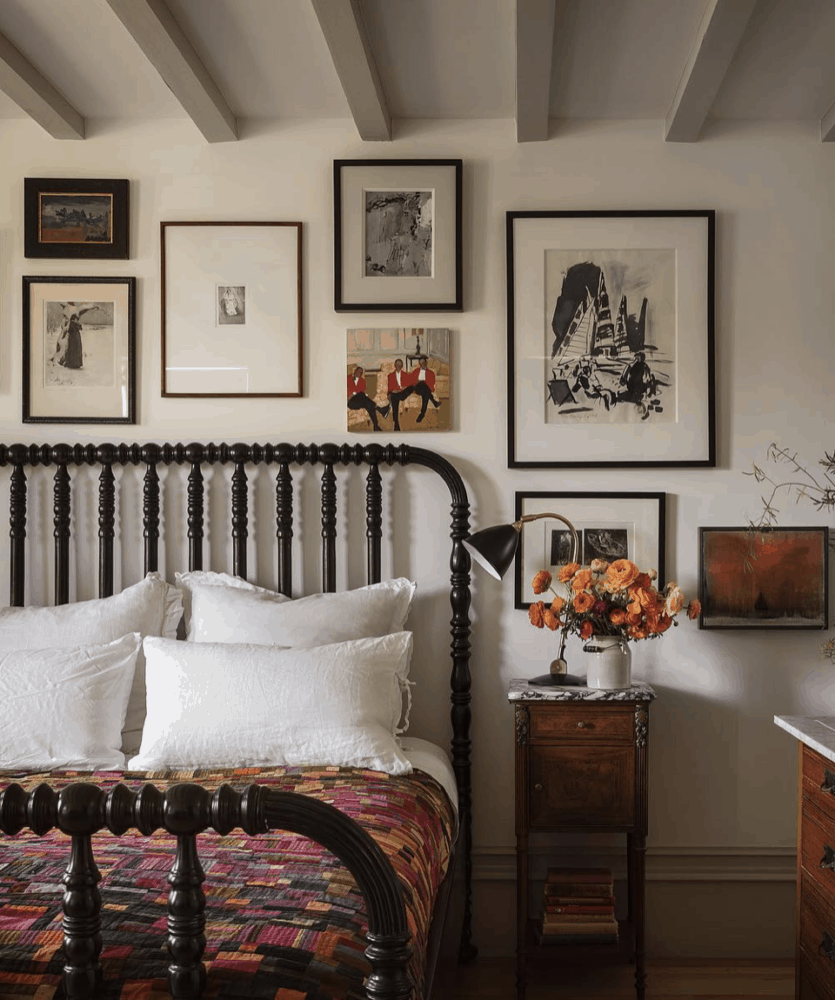 Gallery Wall Layout Ideas:
When building your gallery wall, you have lots of options. You can simply stack two pieces of art and call it a day! Or maybe you're trying to fill a whole wall? Here are some ideas:
Symmetry: You can create symmetry by stacking frames in columns and rows. This looks best when using acrylic or simple gallery frames. I really like it when this style is matted down to show lots of white space around the art or photos. I like a 5×7 mat, but 8×10 is also pretty. Or, try even smaller like 4×4. You can also weight the mat at the top or the bottom for an even more artistic look.
Asymmetry: For a less structured look, try going asymmetrical and placing the art in a stair step pattern.
Stacked: Stacking the artwork one on top of the other in slightly different sized frames is always beautiful. I love this look with a picture light placed above!
No Rules: One of the things that bugs me about gallery walls is that often times, they look too contrived. Too forced. Try throwing all the rules out the window and just putting the artwork on the wall the way you think it looks best. This provides a much more authentic feeling. Honestly, I think this is the best way to go!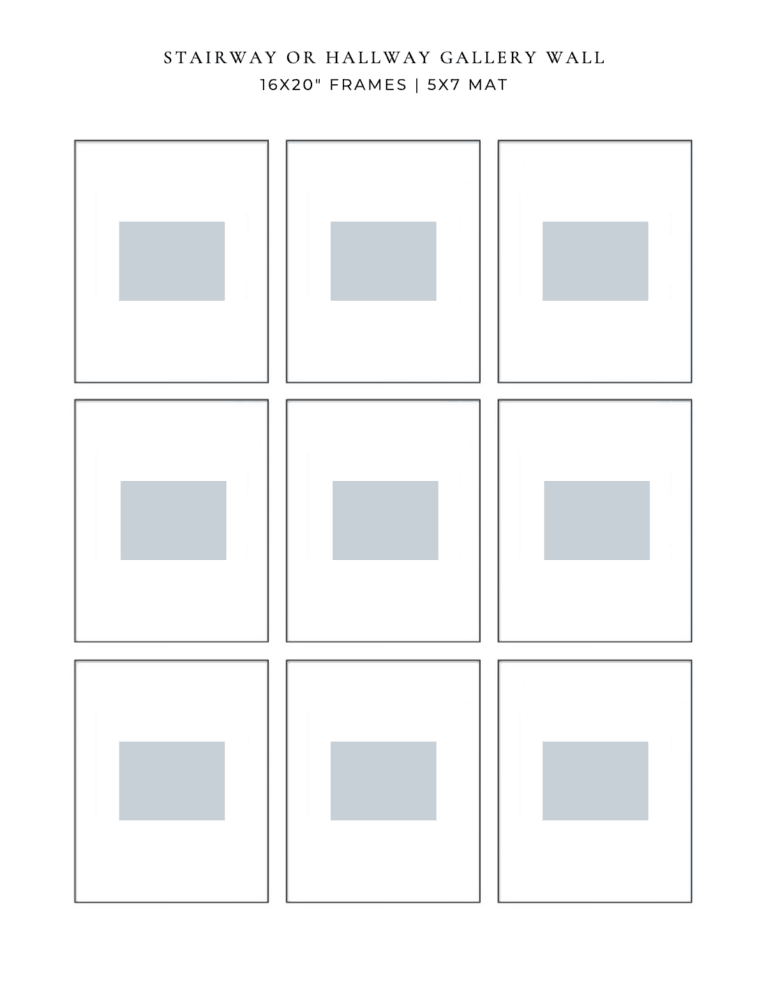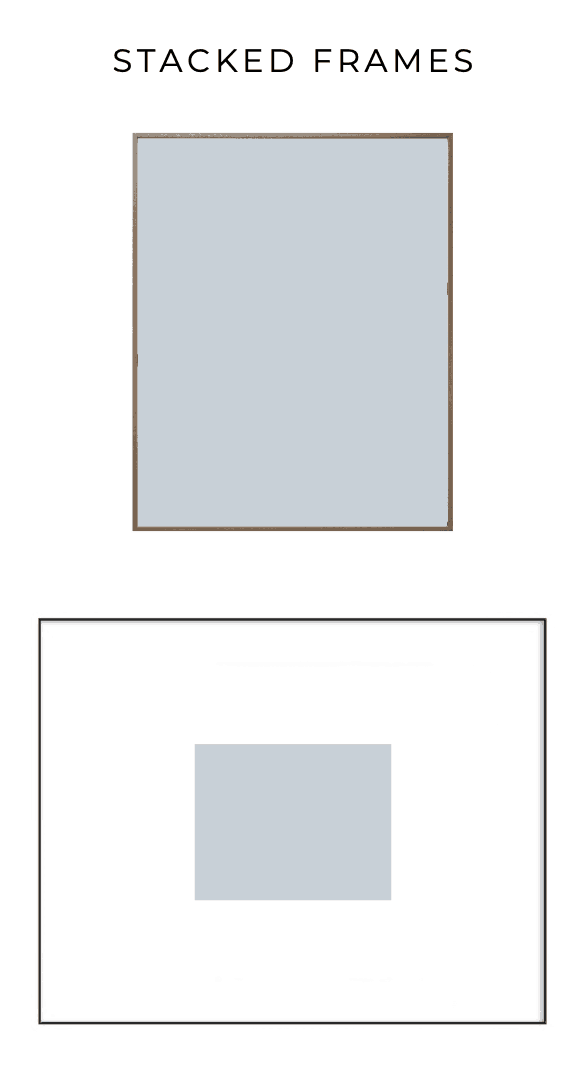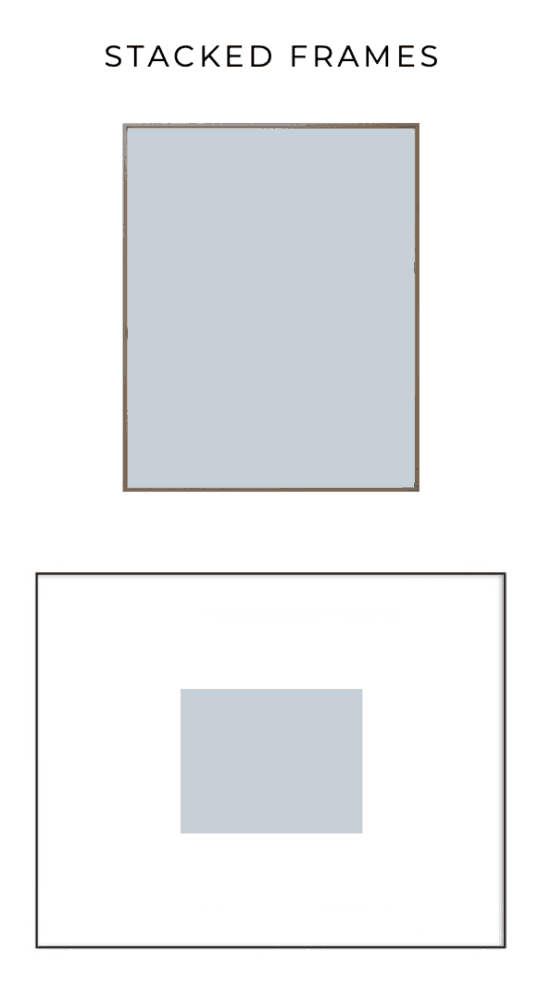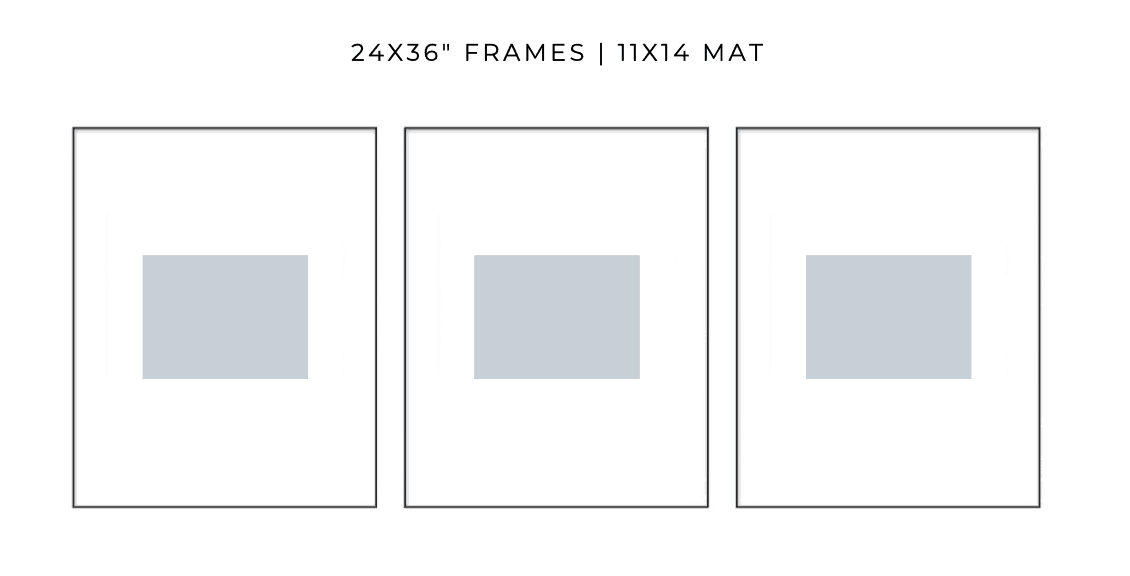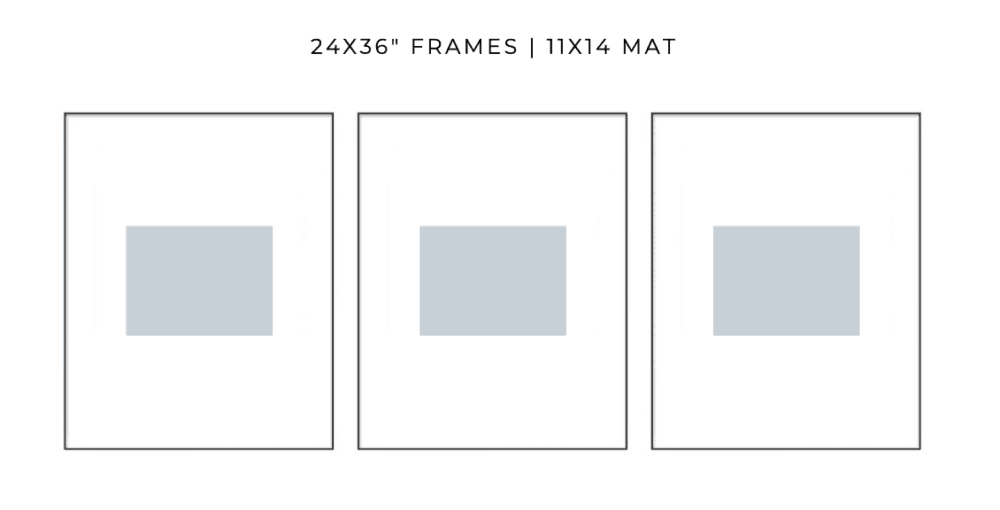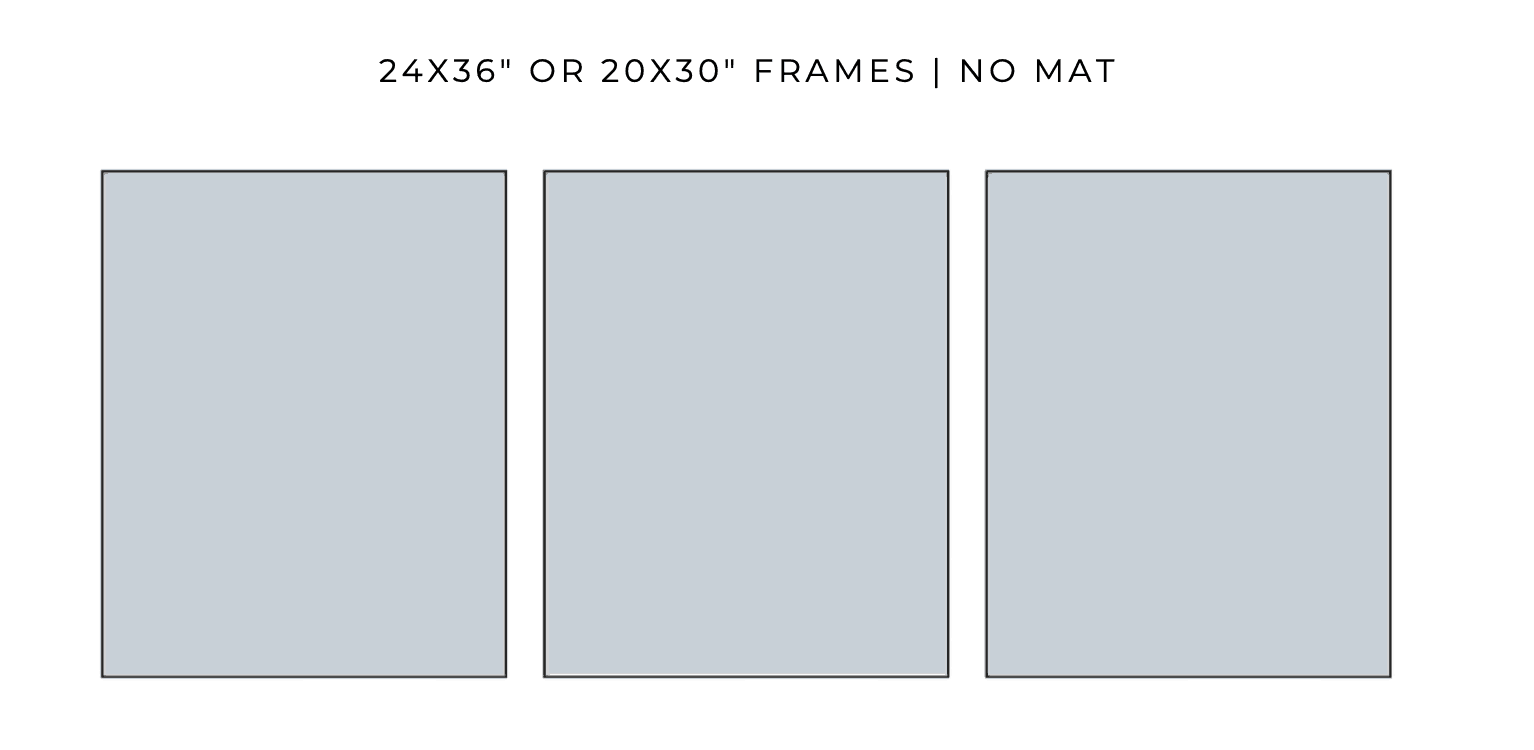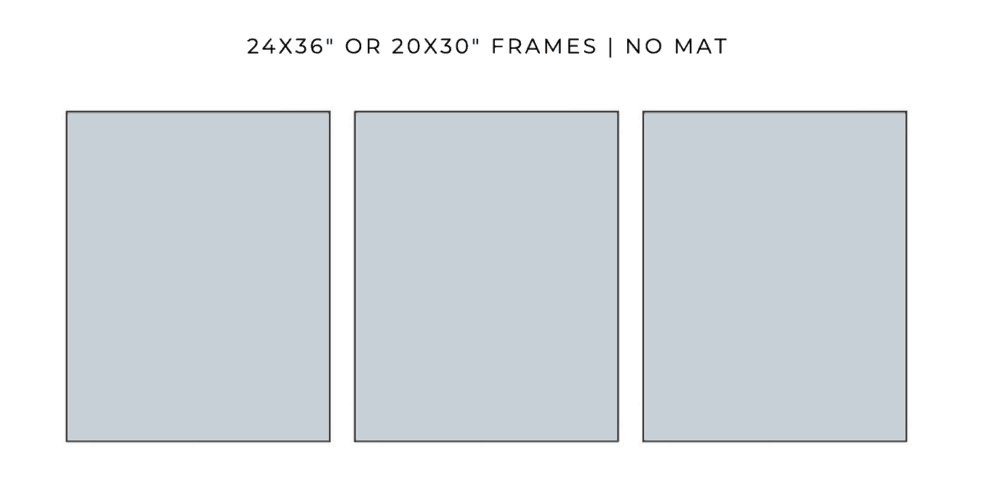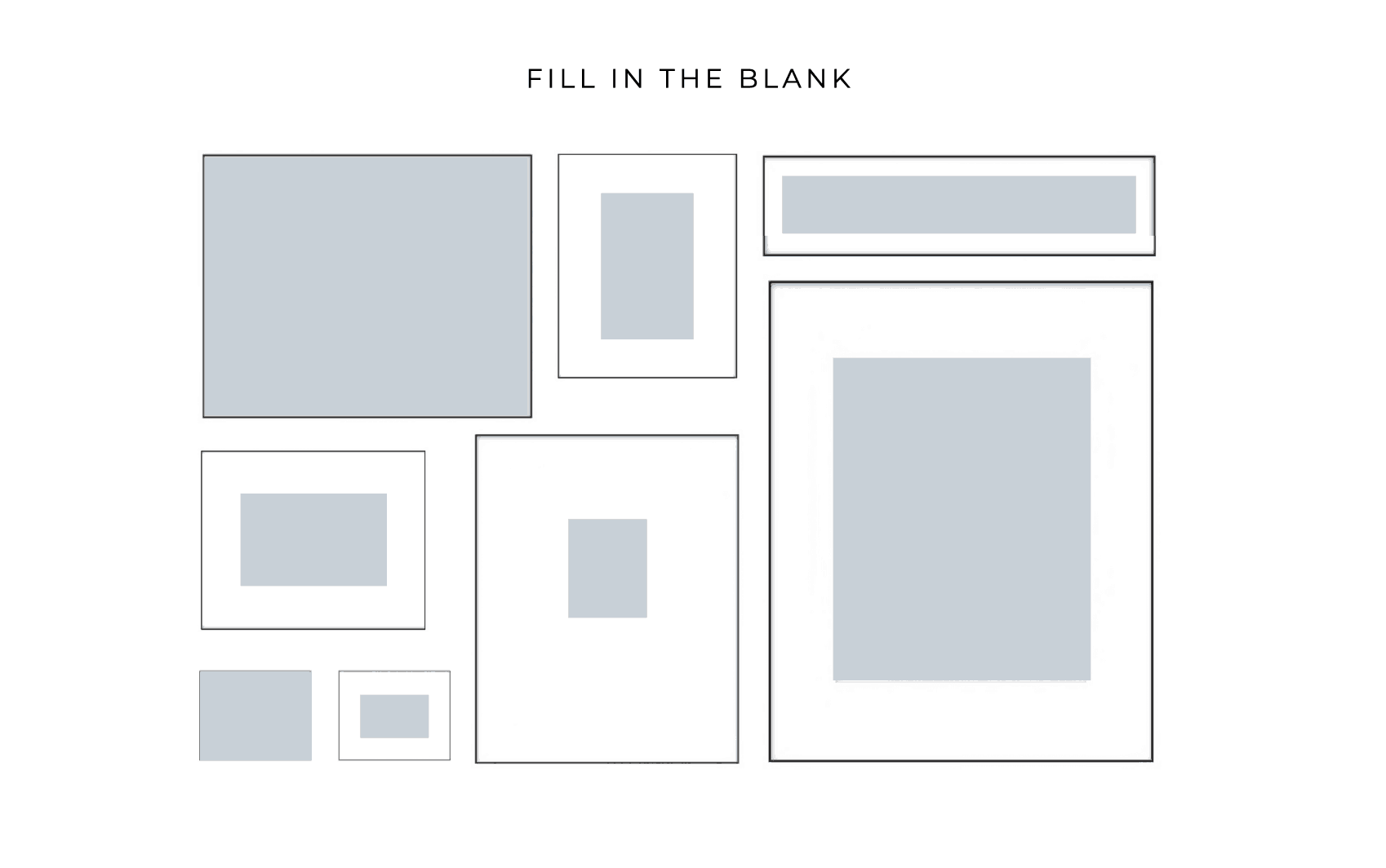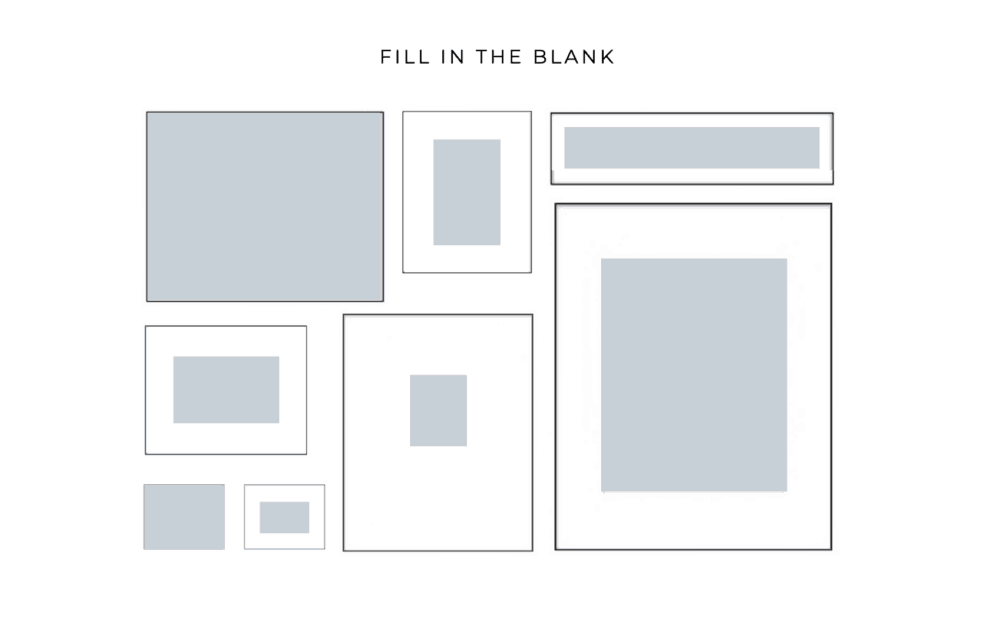 Where to Find Art for Gallery Walls?
Where to Find Frames for Gallery Walls?
1.x – best oversized wood
Desenio – best variety
ikea – most inexpensive
West Elm – best vintage inspired version
Thrift Stores & Flea Markets – best for vintage frames
Custom frame shops like: Simply Framed or Frame Bridge (overpriced IMO, but easy if you don't have time to DIY)
Craft supply stores like Michaels or Hobby Lobby
How to Create Beautiful Gallery Walls
Pick the spot for your gallery wall!
Hallways and staircases are great locations for a curation of artwork. You may also have a large blank wall you need to fill in a dining room, bedroom, office, or living room - these are all great locations.
Pick a color scheme and vibe.
Just like designing an overall room, first decide the vibe and the color palette for the gallery wall. Is your style modern & clean? Eclectic? Vintage? If your style is modern and clean, you should stick to frames of all the same shape, color, and size with contemporary art or black and white photographs. If your style is vintage, you can mix up the frame sizes and styles with vintage looking frames sprinkled in. If your style is eclectic, try mixing and matching photography with original art.
With that said, I try to stay away from too much of a "theme". It starts to feel a little too contrived when there is a solid theme to a gallery wall.
For example: I see a lot of farmhouse themed gallery walls with faux signage, wood letters, etc... I feel like these look a little out of date now as the farmhouse style starts to evolve into a more contemporary look.
Draft the gallery wall. 
Use a pencil and ruler to mark out the gallery wall onto a piece of paper. I like to use graph paper for this and use each "box" represents 1 foot. Start to draw out the gallery wall on the paper - draw frames of different shapes and sizes to get an idea of the size and how many peices of artwork you'll need.
You can also use tools like Canva to "draw" out the room using lines and boxes. This is just to give you a rough idea of the space and layout. It doesn't have to be 100% exact.
Source your artwork!
Don't worry too much about size yet, just start scouring art sites to find art you love! I like to pin these to a secret board so that they are all in one virtual gallery for reference. This is a brainstorming phase for you to gather the art you are drawn to! If you have any personal or family photographs you'd like to use, you can upload these directly to pinterest.
Curate the artwork.
Now that you have a board full of artwork, start piecing the art together! I like to mix and match vintage paintings, contemporary black and white photography, sketches, and even mixed media such as framed fabric. However, what I like might be different from your taste! If you have a more modern style, you might try sticking to all black and white photography.
Select the frames and mat sizes.
Once you have narrowed down the art, start to think about the size of each print. Reference your gallery layout you created in step 3 and visualize how each print will look once it is placed into the gallery.
I utilize Canva for this step and import the digital images of the artwork into a board and start to lay it out onto the board. I drag and drop the images into the Canva board and will even drag and drop digital photos of frames into the board so that I can see how everything will look. This will help me determine the frame color and size, and help me decide on a mat (if any).
Once you have a layout and look you love, order up the art, frames, and mats!
Hang the gallery wall!
I like to use butcher paper to create paper "frames" and tape them onto the wall to show the *exact* placement of the artwork. Sometimes my sketch might be a little off, or I make tweaks as I see fit once the real life gallery wall begins to take shape. After you tape out the layout and are happy with the look, start to hang the artwork!
Tip: Once hung, use a little piece of sticky putty on the bottom corners of the frames to hold the art exactly in place, and keep them straight throughout the chaos of everyday life!