Wondering the ideal coffee table dimensions? Or Need help selecting a coffee table for your living room? Here's our pro design tips for finding the perfect coffee table!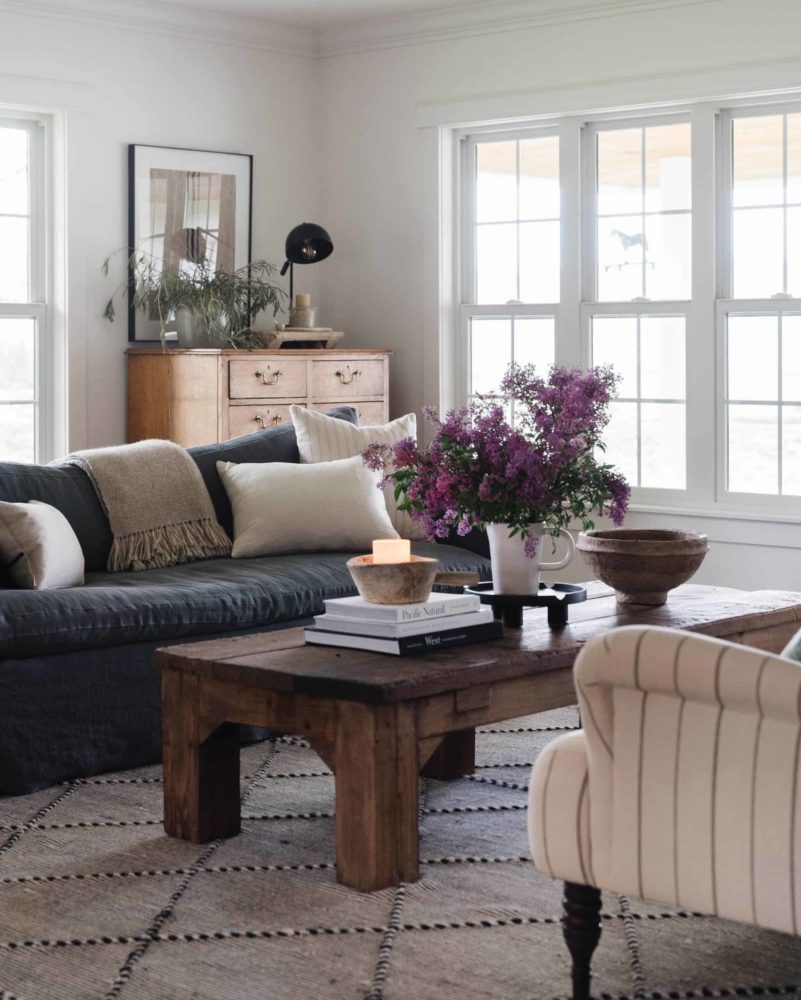 How to Select a Coffee Table: The Best Coffee Table Dimensions
Today, we're here with some more living room decorating tips! One thing I see time and time again is a coffee table that is just too small for the space.
Selecting the right coffee table is honestly tricky. In our design studio, we often either source something vintage or opt to have something made, simply because most coffee table dimensions available to purchase from big box stores are flat out – too small.
A major design mistake people make when decorating their homes is purchasing furniture with dimensions that are too large or too small. Like I mentioned in our post about creating gallery walls, we call this "getting the scale wrong".
When we see good design – there are a million little nuances that all add up to perfection. Scale is one of the most important elements that attributes to the certain je ne sais quoi of a fabulously designed space. We must remember, a design that appears to be effortless is never truly effortless.
Selecting A Coffee Table
When selecting a coffee table, I think we can pretty much always err on the side of "bigger is better". Of course, there are many exceptions to this, for example if you live in a very small apartment and have apartment sized furniture. Or if you have a tight space and need a small coffee table to fit.
When we are sourcing a coffee table for a client, or for our own homes – we start with an assumption of a 40″x60″ coffee table during the floor planning process before we've made any selections. Sometimes a little smaller or a little larger depending on the size of the room.
An important note: If your room is smaller, and you have a smaller sofa, a smaller coffee table will be the best fit. Keep in mind the importance of scale.
A coffee table that is about 2/3 the size of your sofa is a great starting point!
So why are there so many too small coffee tables for sale online? Shipping! It's so much more cost effective to transport a 40″ coffee table than it is a 60″ coffee table! At the end of the day, a company analyzes market demand and factors in the cost of the items + shipping. Meanwhile, they're really not factoring in design or scale.
So what does this mean for you? Just keep in mind that most coffee tables you see online are too small. So use a website's filtering tool to narrow down search results from the start!
Common Coffee Table Dimensions
36×36: Either round or square. Two squares are great to pair next to each other. We often love a 36″ round coffee table for living rooms with sectionals.
40″ Long: The next size up is usually about 40″ long, and anywhere from 20-30″ wide (or deep). These tables are best for smaller spaces. If you place this size in a larger living room, it's going to feel too small.
48″ Long: This is the minimum size I like to go when sourcing for an average home size living room. Anywhere from 20-30″ wide (or deep) – it will work in smaller spaces as well. I prefer something larger than this if the room allows for it.
54″ Long: A fairly standard length for coffee tables, 54″ in length, and anywhere from 20-30″ wide (or deep) is a good size for larger living rooms.
60″+ Long: If the room is large enough for multiple chairs and a sofa, you're probably better off with at least a 60″ coffee table.
Coffee Table Buying Guide
Look for a coffee table around 40″x60″. Go up or down in size based on budget, availability, and your actual room size.
Measure everything! Use a free floor plan app (Pottery Barn offers one on their site) to drag and drop furniture in and compare scale or hire a local designer!
Search for real wood rather than wood veneer.
Facebook Marketplace or Craigslist are great options for finding a treasure in budget.
Vintage and antique shops may have great pieces hiding :).
If your budget is tight, try buying 2 smaller square tables and placing them side by side!
Too Small
Here, the coffee table is 24×48, a common size found inexpensively from big box stores.
You can see the coffee table is much too small for the rest of the space!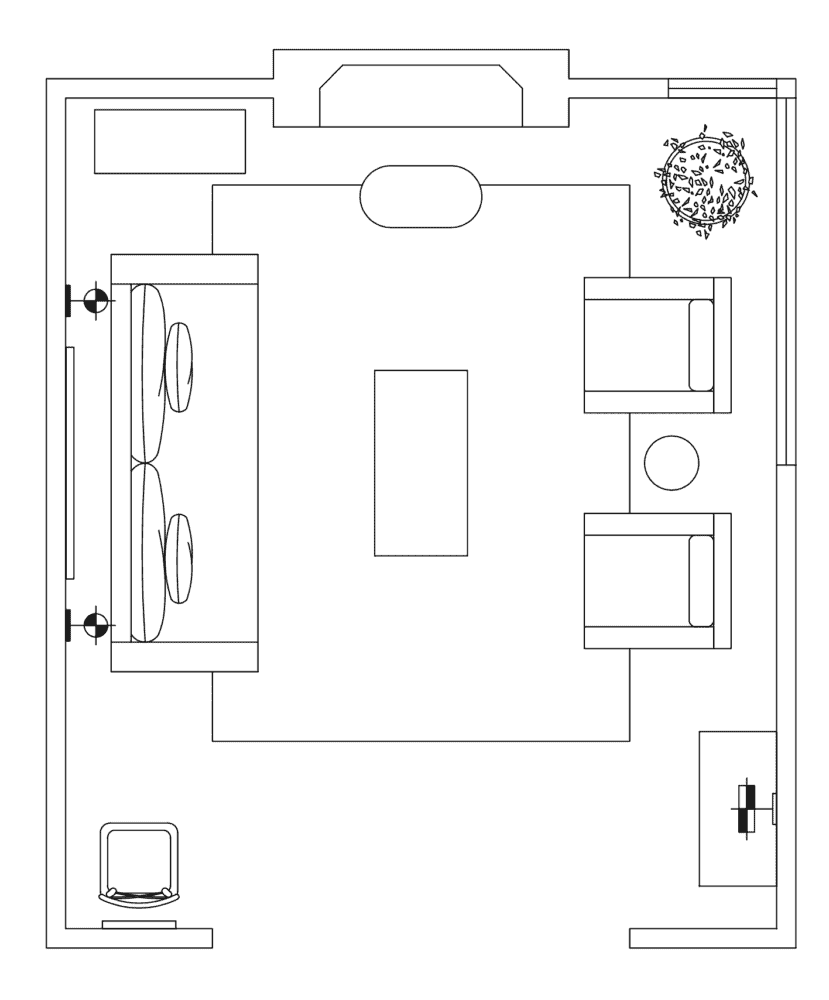 The Right Size
This floorpan shows a coffee table at 40×60, the size we typically like to use for living rooms.
It feels much more to scale with the rest of the furniture!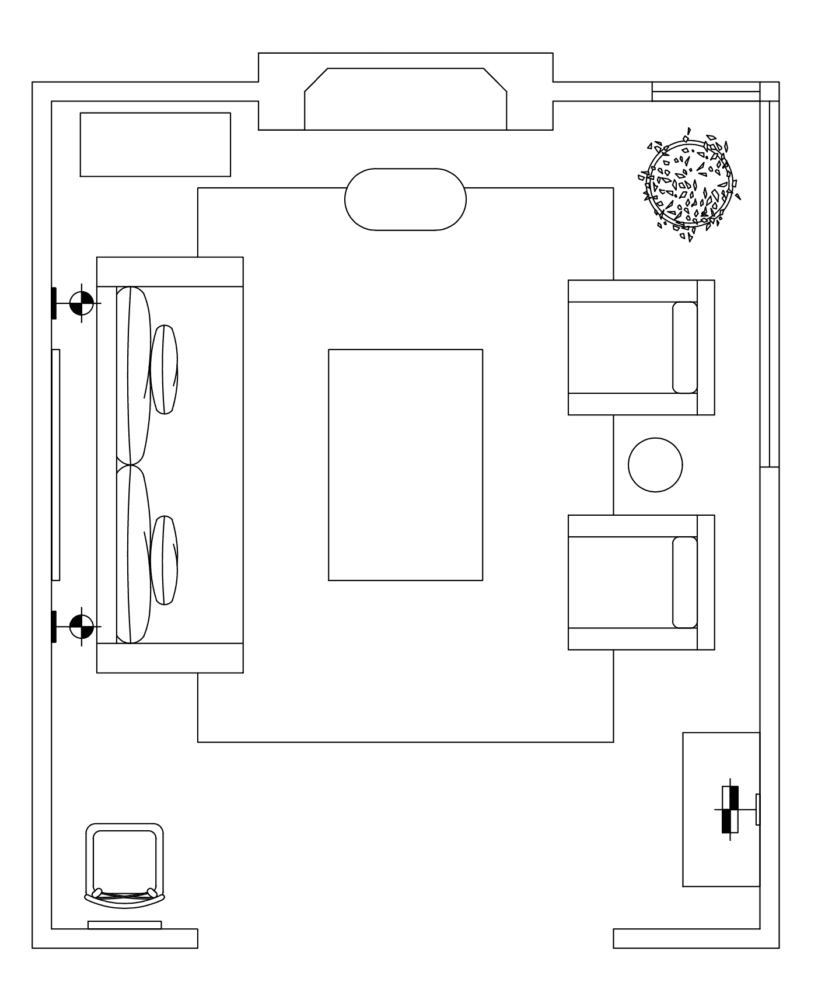 Where to Shop for Coffee Tables:
Restoration Hardware: I honestly really like RH's coffee tables. I think they're beautiful, the right size, and I love their wood finishes. For what they are, I also think they're pretty affordable. If you have an outlet near you, you can find great coffee tables at a great price!
Big Box Stores: You can find beautiful coffee tables from big box stores by using their filtering systems. Just select "48+" to browse through the larger options.
Utilize your favorite interior designer's shops! It's like free design advice! They're essentially telling you: this is the good stuff. Read More: How to Shop for Furniture Like an Interior Designer
Search Facebook Marketplace or Craigslist
Browse local antique stores (that's how I scored mine for $500!).
When to Get A Smaller Coffee Table
I've talked a lot about coffee tables being too small, but when is it better to opt for a smaller table?
You definitely don't want the table to feel too big for the space. Remember the importance of scale?
Use your judgement when it comes to your space. If you have a smaller, more intimate space, a smaller coffee table will feel more appropriate. Likewise, if your furniture is small in scale, a smaller table will be a better option.
Round vs. Square Coffee Tables
I think a round or square coffee table feels best when the furniture layout surrounds all four or at least three of the sides of the table (ex: a horse shoe style furniture layout or furniture on all sides of the table).
Because these furniture layouts are more symmetrical (non-rectangular), a square or round table is best.
I also like a round or square table for a sectional sofa. A rectangular coffee table can sometimes feel too large when placed with a sectional. A round coffee table helps add some visual interest to the lines!
---
Favorite Coffee Tables

---