How to Grow Peonies: A Simple Guide to Growing Peonies in Your Garden
This post may contain affiliate links, please read my disclosure policy.
Growing peonies in your garden is a wonderful way to have beautiful cut flowers in the spring! Learn how to grow your own peonies with this simple guide!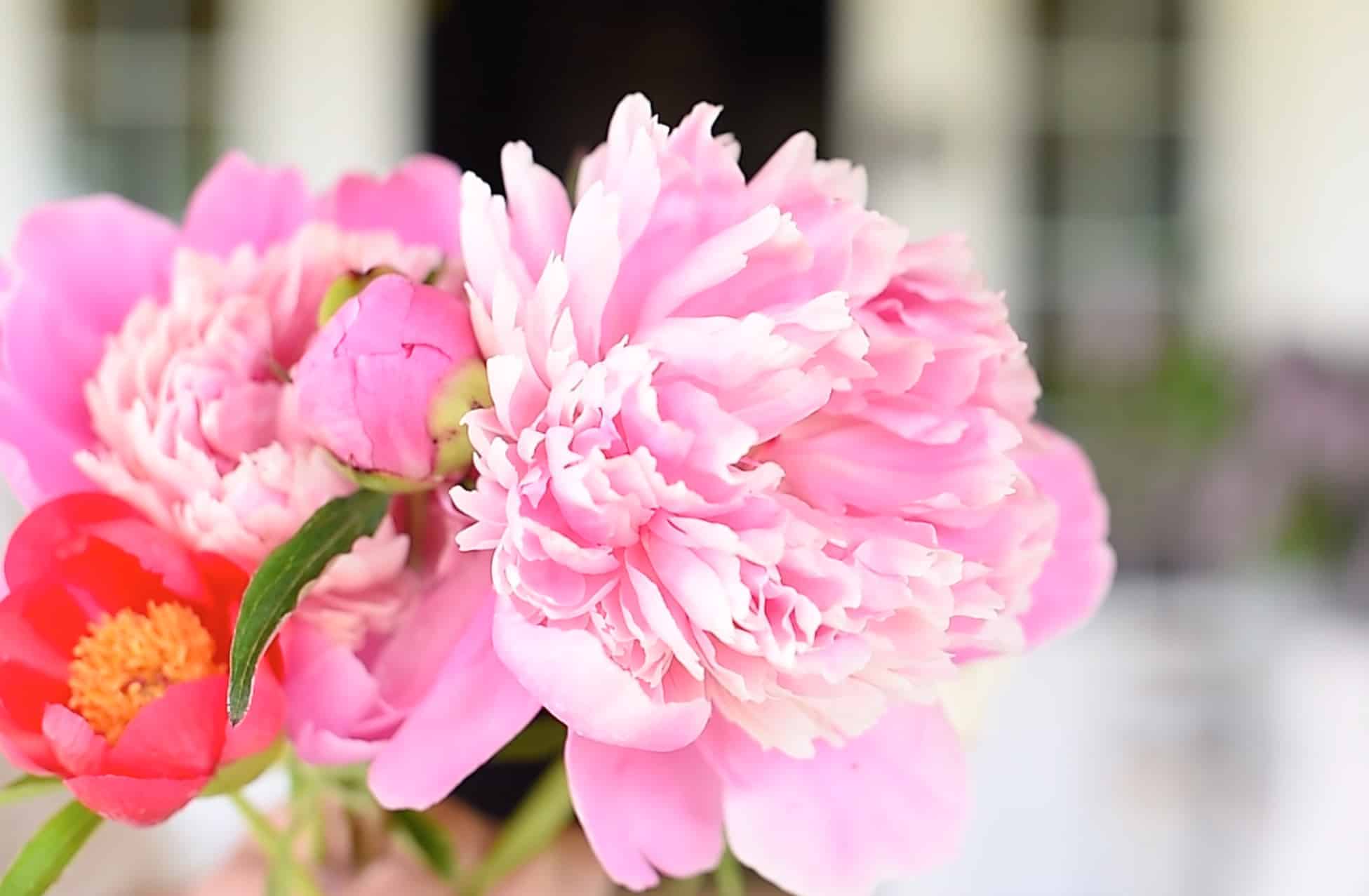 Growing Peonies: How to Grow Peonies in Your Garden
Learn all you need to know about growing peonies with expert gardener, Jordyn Pecha of Floral Mountains.
Peonies are wonderful cold hardy perennial flowering plants that produce show stopping blooms! Peonies typically bloom in the late spring or early summer depending on location. These wonderful flowers love full sun and a nice cold winter!
Each year, the peony life cycle starts from the ground. Meaning that come fall, the entire plant dies back.
Peonies are not a flower that you can plant and immediately reap the benefits. Growing peonies takes some time and patience and hopefully this post will give you a little insight into growing peonies in your garden.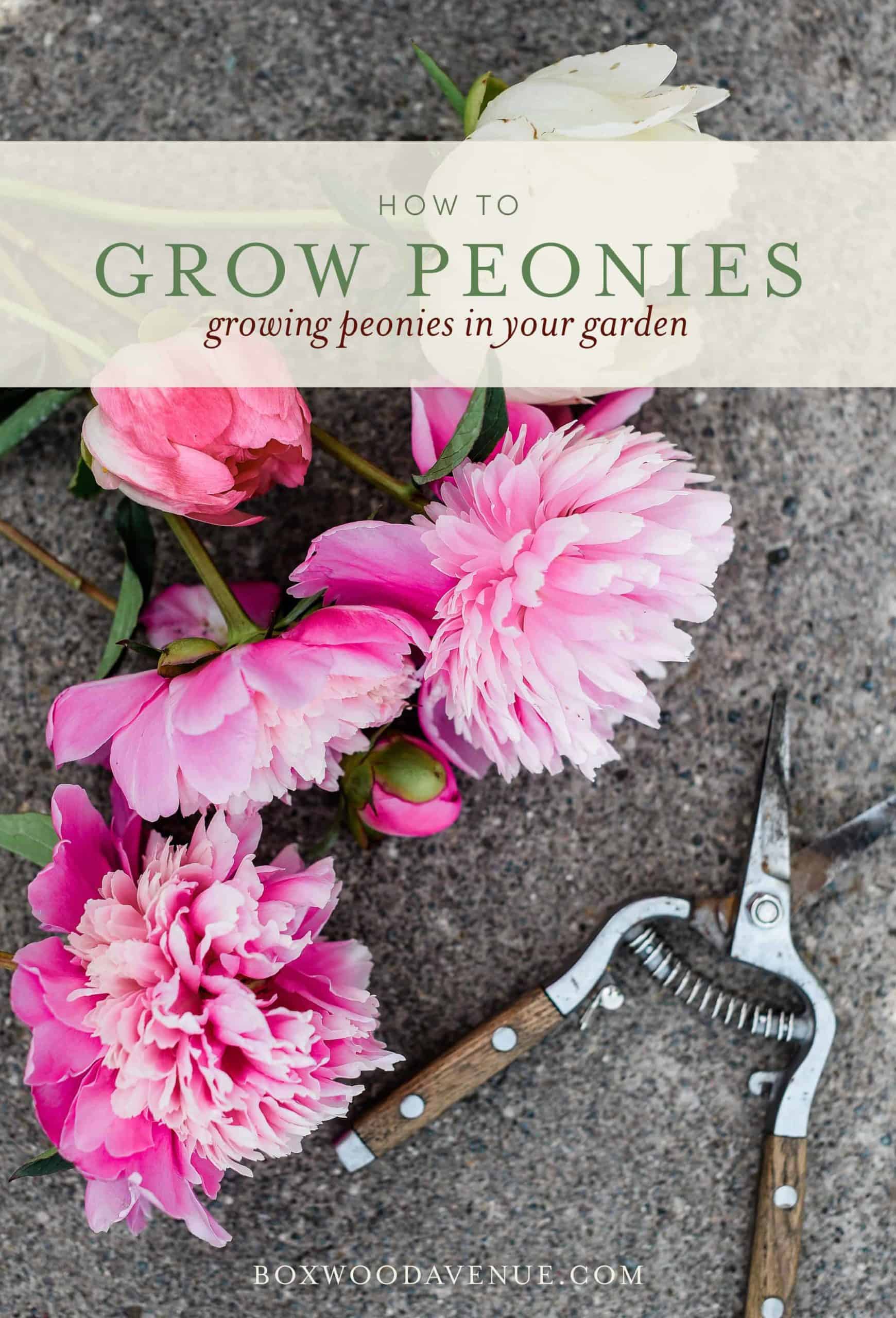 What Are the Different Types of Peonies?
Peonies come in a wide range of colors from white to pink, yellow, red and just about everything in between. There are hundreds of different cultivars to choose from, some are herbaceous and some grow as tree peonies.
Herbaceous peony blooms can be single, double or multipetaled and their bloom cycle is one to watch. Some of these cultivars begin as a vibrant coral color and by the time they drop their petals they are a creamy white. It is the most amazing thing to watch.
Do Peonies Need Full Sun?
Plant peonies in an area where they will receive plenty of sunlight. Be sure to water until the first freeze. After planting, the tuber will enjoy a nice cold dormancy throughout the winter, and come spring will begin to grow!
Where to Plant Peonies
Peonies prefer a sunny spot and do best with a hard winter freeze. Peony growing zones include: 3, 4, 5, 6, 7, 8.
How to Plant Peony Roots
From a Tuber
According to Sunset's Western Garden Book, dig a hole a couple days before planting and work in plenty of compost or a high-phosphorus fertilizer into the soil. Let that settle for a couple of days and plant your peony about 1-2 inches deep in a nice, sunny spot with good drainage. Planting too deeply can prevent flowering.
From An Established Plant
You may find yourself with a mature peony plant that is already blooming or has a large root. If this is the case, follow the directions on the planting guide careful not to plant too deeply which will prevent the plant from flowering.

According to the Iowa extension, dig a hole about 18" deep and work a high phosphorus fertilizer or compost into the soil. Plant the peony just deep enough to be covered by 1-2" of soil in a well draining area.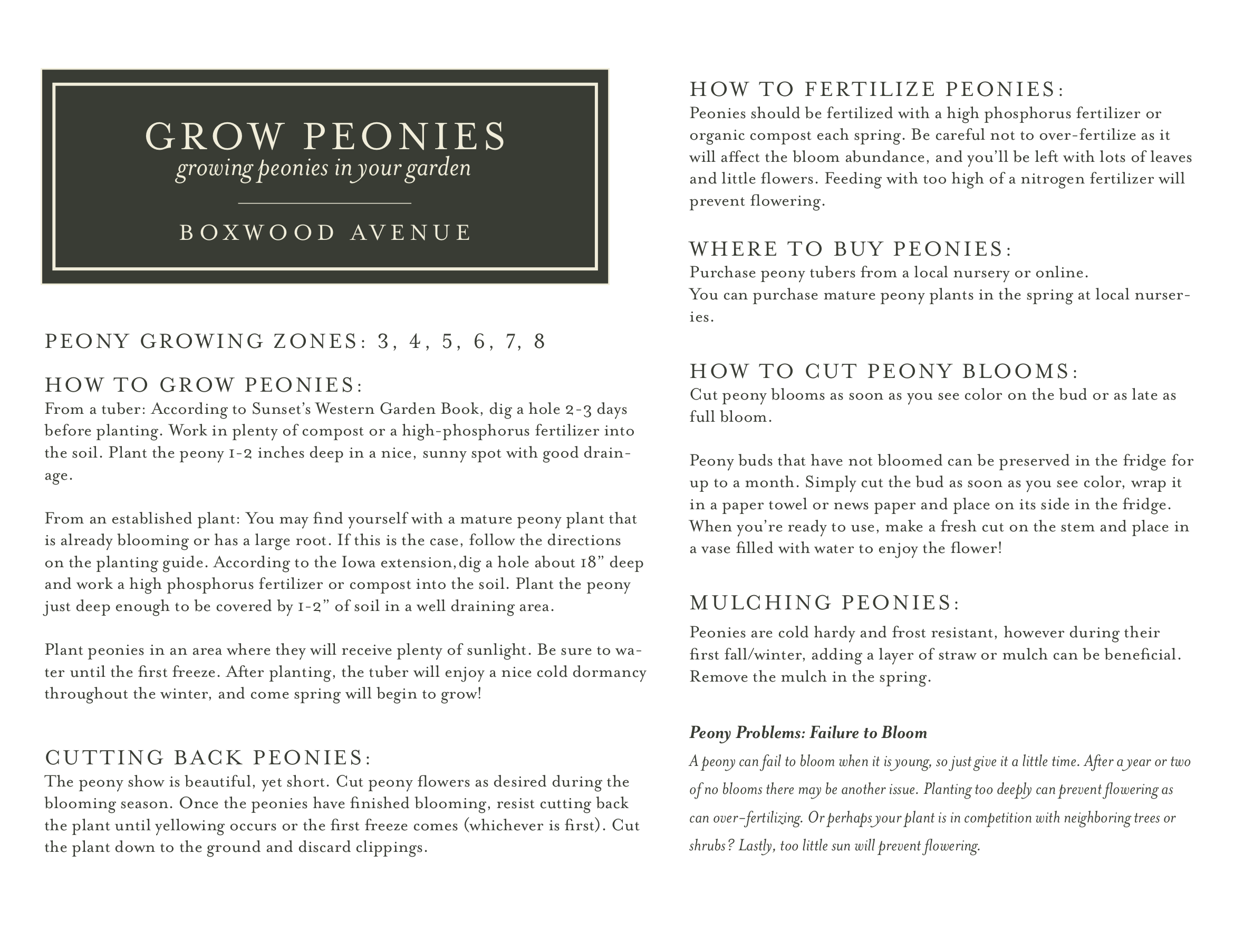 When to Plant Peonies
Peonies may take some time and a little effort in the beginning, but when you get them established, they will give you plenty of blooms for years and years. It is best to plant them in the fall as bare-root plants. These bare-roots can be easily found at any garden center. They get set out the same time as the bulbs do in the fall.
How to Grow Peonies in the Spring
If you missed the fall planting timeframe for tubers, it's okay, you can still plant peony tubers in the spring following the same instructions above. The plants may not bloom their first year, if anything, they will most likely just produce foliage. Simply cut this back in the fall and wait until the next spring.
You can also purchase a mature peony plant from the nursery. The plant will come with planting instructions, but remember to prepare the soil ahead of time with high phosphorus fertilizer or a great compost. Plant in a sunny location.
Mulching Peonies
Peonies are cold hardy and frost resistant, however during their first fall/winter, adding a layer of straw or mulch can be beneficial. Remove the mulch in the spring.
Cut Peonies & How to Store Them
As the flowers begin to bloom, cut them when they are still in a round bud and showing a little bit of color. They will open up, don't worry. Because their growing season is so short, they make it up with their storage abilities.
After you cut peony flowers, keep them dry and wrap them in paper or plastic. You can even lay them on their sides in a cooler set around 35 F and they will keep for a month (or longer)!
Just bring them out when you want them and they will open right up for you; remember to keep them dry in the cooler.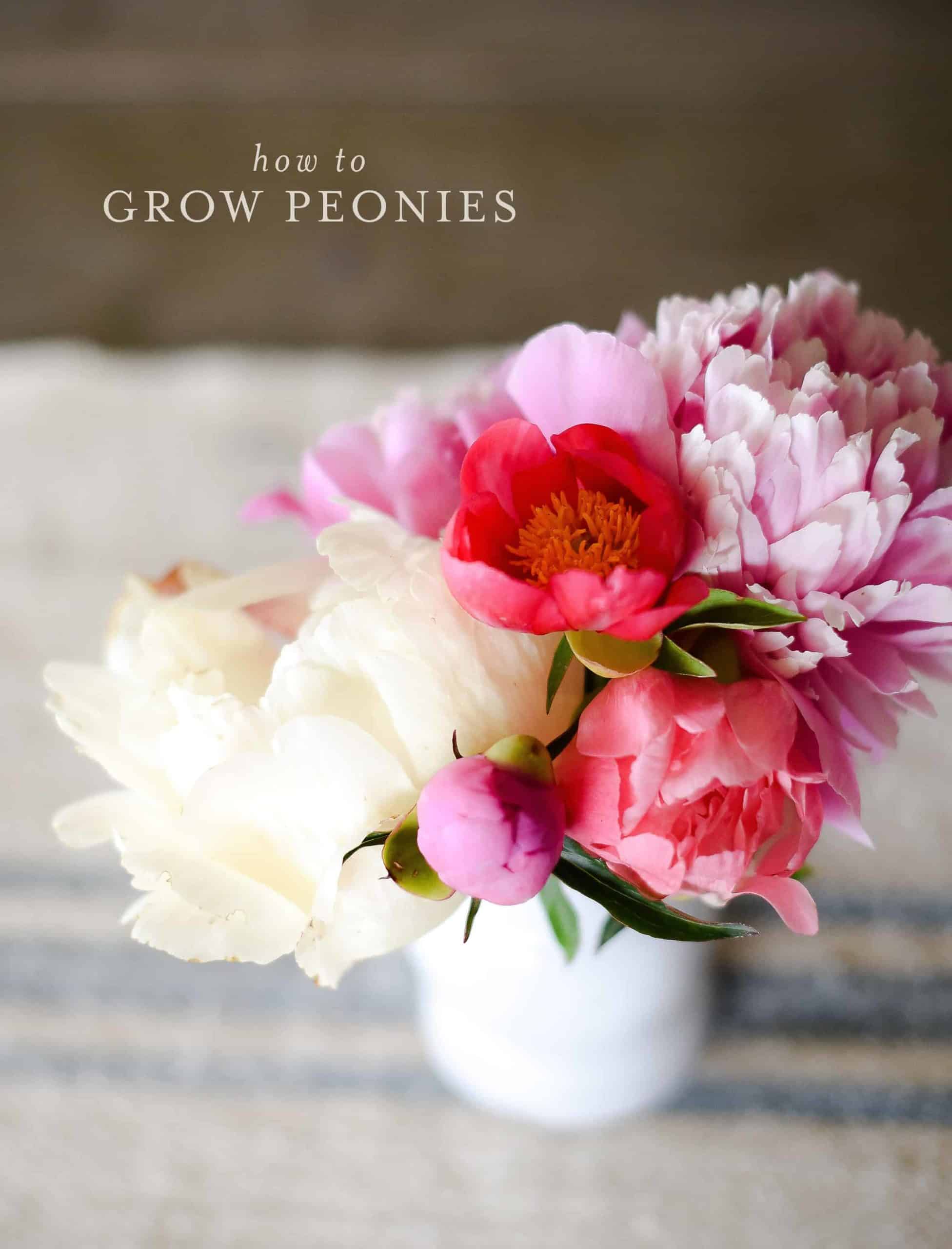 When to Fertilize Peonies
Peonies will perform best when properly fertilized in the fall, you can also fertilize or feed a bit in the spring, but feed less in the fall if you plan to also feed in the spring.
Try using an organic compost or well decomposed manure. You can also use a store-bought fertilizer with a high phosphorus ratio.
Do not over-feed peonies – you will either be left with yellowing leaves or too much foliage and little flowers.
How to Cut Back Peonies in the Fall
Cut peony plants back completely down to the ground each fall. Do not cut until the plant begins to yellow or fall comes, whichever is first. Enjoy the beautiful foliage even after the flowering show is finished!
Peony Problems: Failure to Bloom
A peony can fail to bloom when it is young, so just give it a little time. After a year or two of no blooms there may be another issue. Planting too deeply can prevent flowering as can over fertilizing. Or perhaps your plant is in competition with neighboring trees or shrubs? Lastly, too little sun will prevent flowering.
I hope this gives you a little hope that if you have a peony that isn't blooming, it's likely just getting used to its area. If you are planting them for the first time just keep in mind that you most likely will not get a bloom the first season or two. Patience is key to these flowers.