Looking for decluttering ideas for your kitchen? Use my free printable kitchen cabinet clean-out checklist to organize your home and kick the clutter!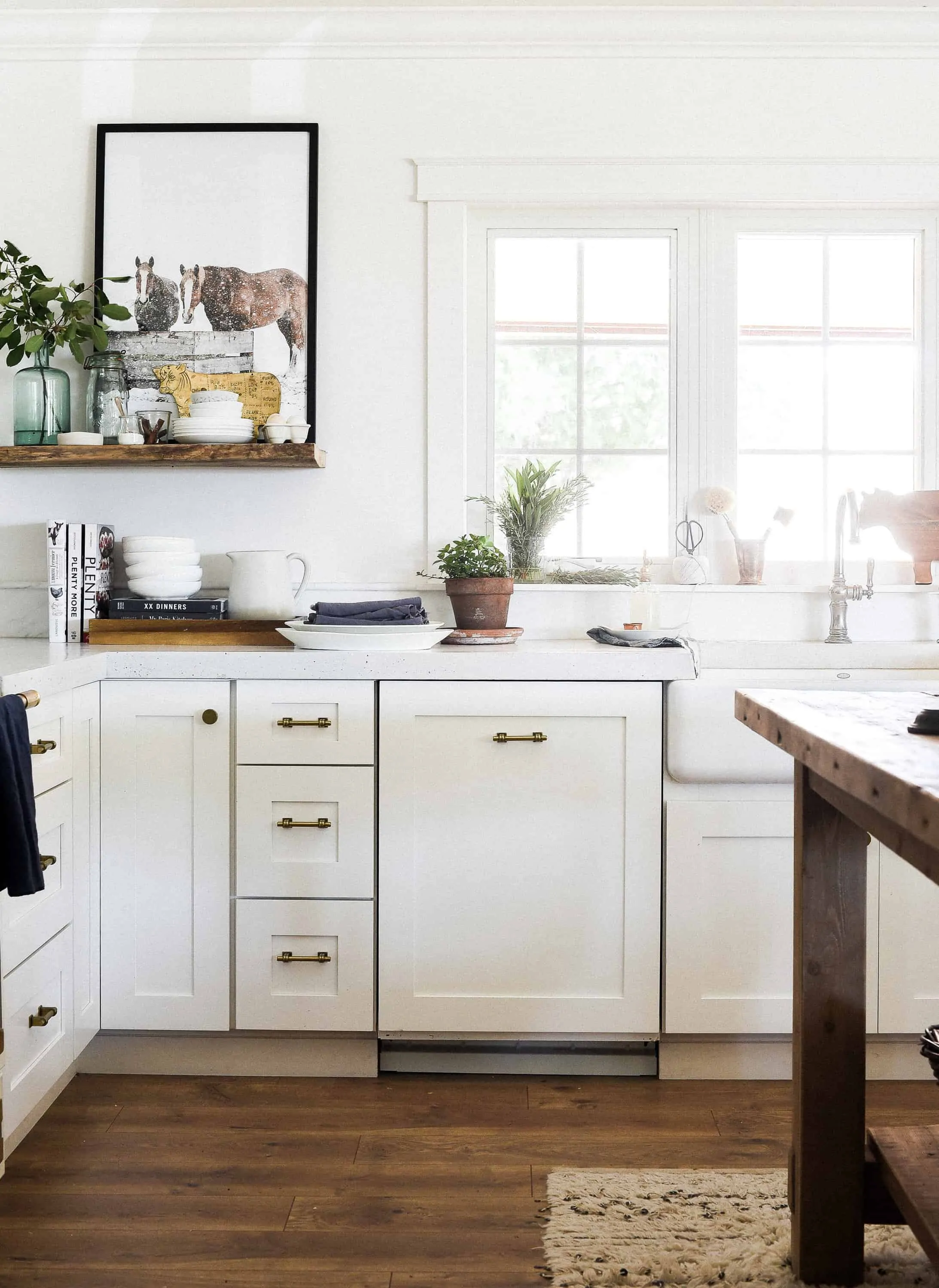 Simple Decluttering Ideas!
It's always funny to evaluate the state of my drawers, cabinets, and closets in January. As someone who is pretty tidy, I am surprised to find that my everyday items become disheveled and unorganized.
My usually organized serving trays are stacked like a leaning tower and my utensil drawers are a mess! It seems to be something I don't notice during the holidays, but once I slow down, it's like a wave of chaos.
Luckily with just a little time, organizing and decluttering is an easy task to tackle, and one that feels good too! I love this quote!!
"Organization isn't about perfection, it's about efficiency, reducing stress & clutter. It's about saving time & money, and improving your overall quality of life." Christina Scalise
My kitchen cupboards had become quite messy, so I took a few hours to re-set my pantry, spice drawer, and kitchen cabinets.
My pantry seemed to take the biggest hit this year. I think I had 3 or 4 bags of partially used flour. A few bags of sugar, quite a few empty jars, and a very messy top shelf.
Decluttering Ideas: How to Organize a Pantry
Remove everything!
First remove everything from the cabinet, which will create quite a mess, but this allows you to vacuum and wipe down the inside of the cupboard.
Start fresh with a clean space.
Vacuum the inside of the cabinets, and then give the interior and exterior a nice wipe down!
Take inventory & sort items into groups.
Take inventory of your pantry products. Figure out what you have duplicates of, and combine them into glass storage containers. Find a basket or bin to group similar items together for easy access such as: a snack basket, container for sauces, canned goods, etc…
Donate items you no longer need, and toss expired goods.
We all have some canned items that have stayed in the back of the cupboard long past their expiration date! Take some time to check expiration dates on pantry items and toss anything that isn't good any longer. Ask yourself if you will really eat or use each item before you find a home for it in your pantry. If the answer is no, it goes in the donate pile!
Put everything back!
Now it's time to replace the items back into the cupboard, after discarding things that have expired, and donating items you know you will not consume or need. Use baskets and bins to group similar items together, and add dry goods into glass sotrage containers.
It's amazing how much this simple act helps organize a pantry! I definitely recommend using canisters and jars to hold flour, sugar, cereals, nuts, grains, and crackers!
I usually have a shelf for soups and canned goods, a shelf for sauces, a shelf for baked goods, etc… I like to use baskets and bins to help corral smaller items because it helps keep things organized! Don't forget to snag some of my free organization printables to help keep your pantry organized!
Since I do this yearly, I already have quite a few glass storage containers. If you don't have any, I have linked some of my favorites below!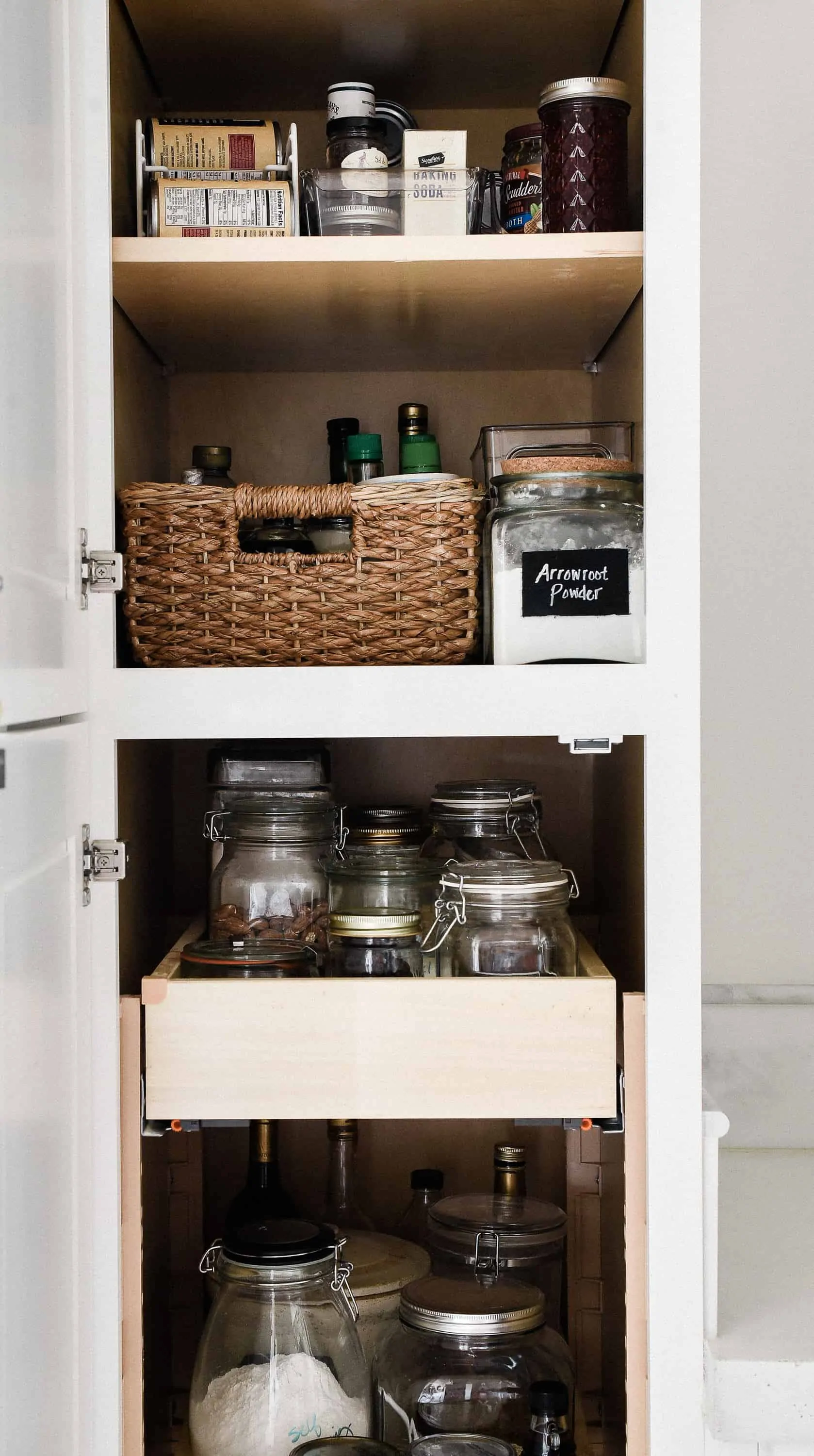 ---
click here to download the free printable checklist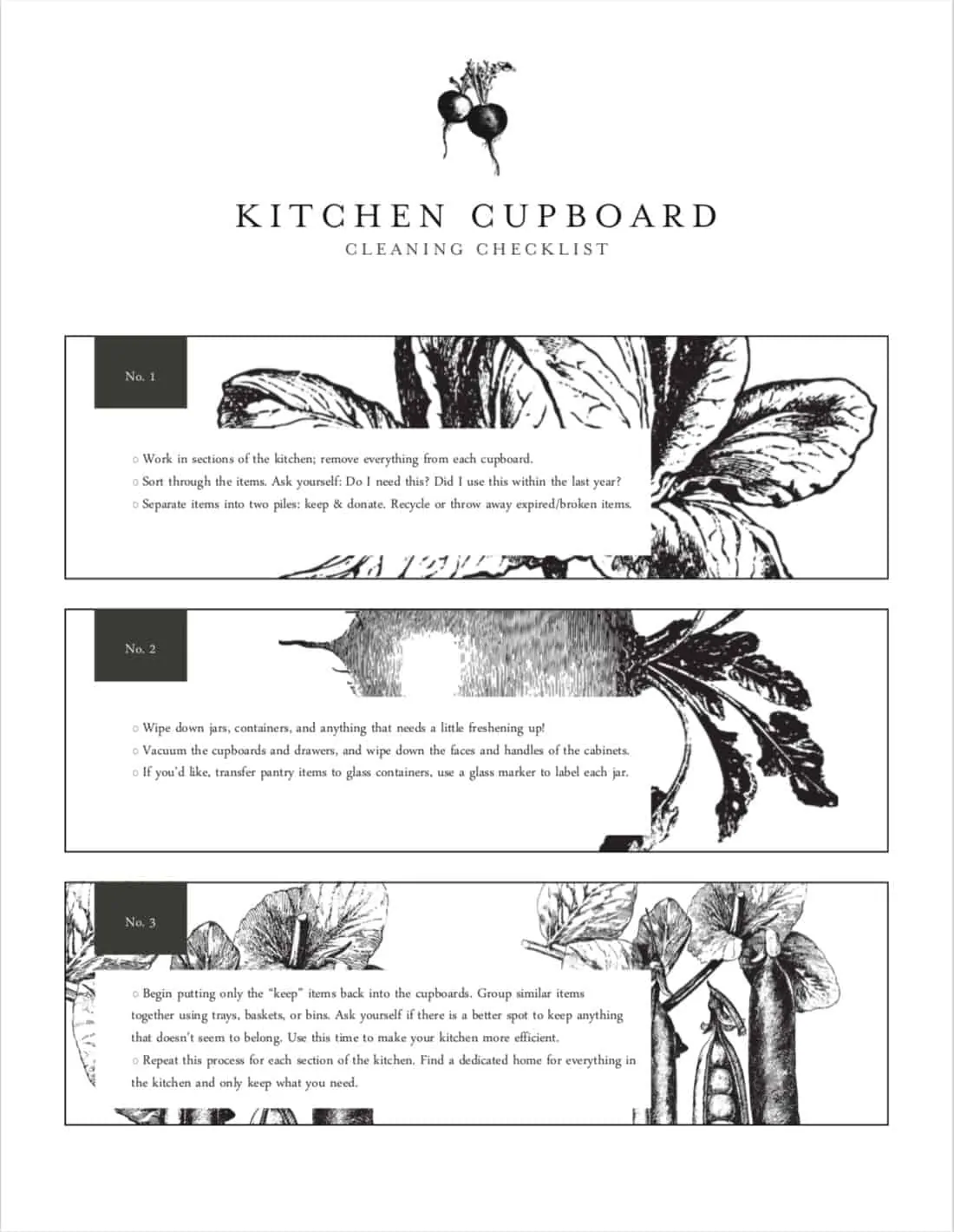 ---

Now that the pantry is finished, time to move onto the drawers! Serving spoons seem to be one of the items in my kitchen that didn't have a home. By using a small basket, I was able to corral all of my serving utensils in one area!
I use the same method that I used in my pantry to organize the rest of the cabinets. A lot of the work is just finding an appropriate home for odd things like the turkey baster, cookie cutters, and odds & ends.
Taking everything out of the drawer or cabinet is helpful to take inventory of what you have. It will help you evaluate what you really need! This method has helped me keep only the necessities and has allowed me an excess of kitchen storage. In fact, I have quite a few empty drawers!
Before & After…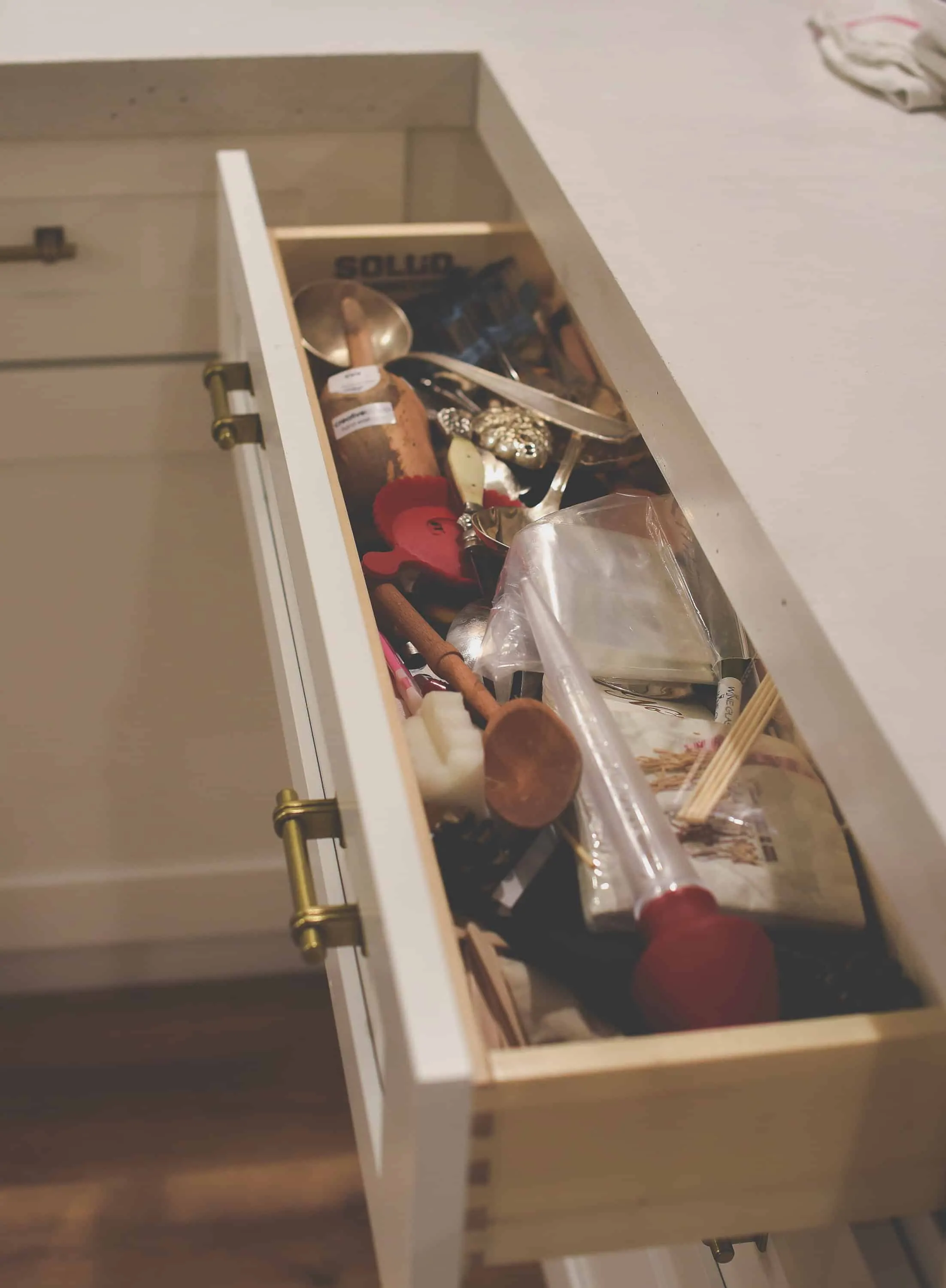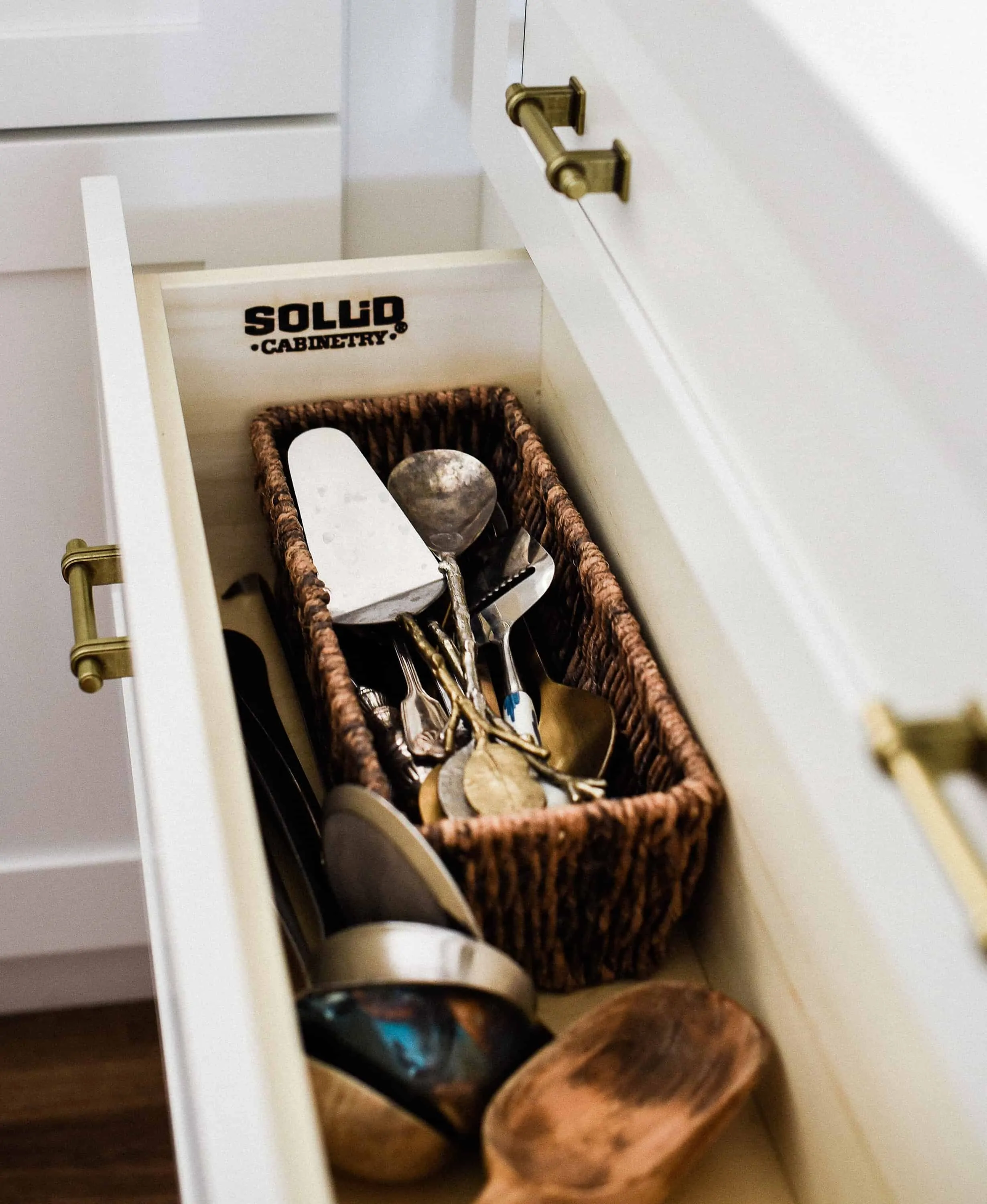 How to Organize a Spice Drawer:
Start by taking everything out of your current spice drawer. Take an inventory of the spices, and toss anything that is over a year old. Spices become much less potent with time (and by being exposed to heat and light), so keeping them over a year is a waste of space. If you have duplicates, you can combine them into a larger container, or donate what you don't need.
Wipe out and vacuum the drawer. If you'd like, transfer spices into small glass spice jars. This isn't necessary, but it adds to the visual affect of organizing your spices! I used these glass jars and a wine glass writer to label my glass jars.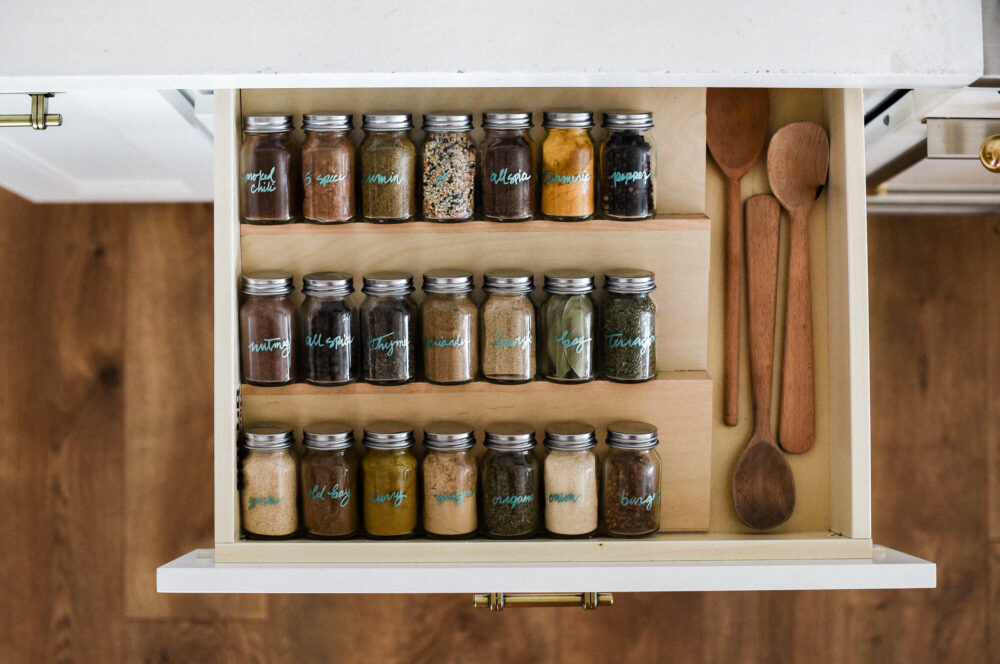 I hope sharing my kitchen organization process has been helpful and inspiring! Organizing your home and creating systems for everyday tasks will help make your life a little simpler. Don't forget to scroll down and visit my friend's blogs for more organization ideas!
---
shop my top organization products


---