10 Free Organization Printables & Ideas
January 15, 2019
Looking for easy ways to organize your kitchen and home? Use my free printable kitchen cabinet clean-out checklist, and scroll down to get more organization ideas & printables!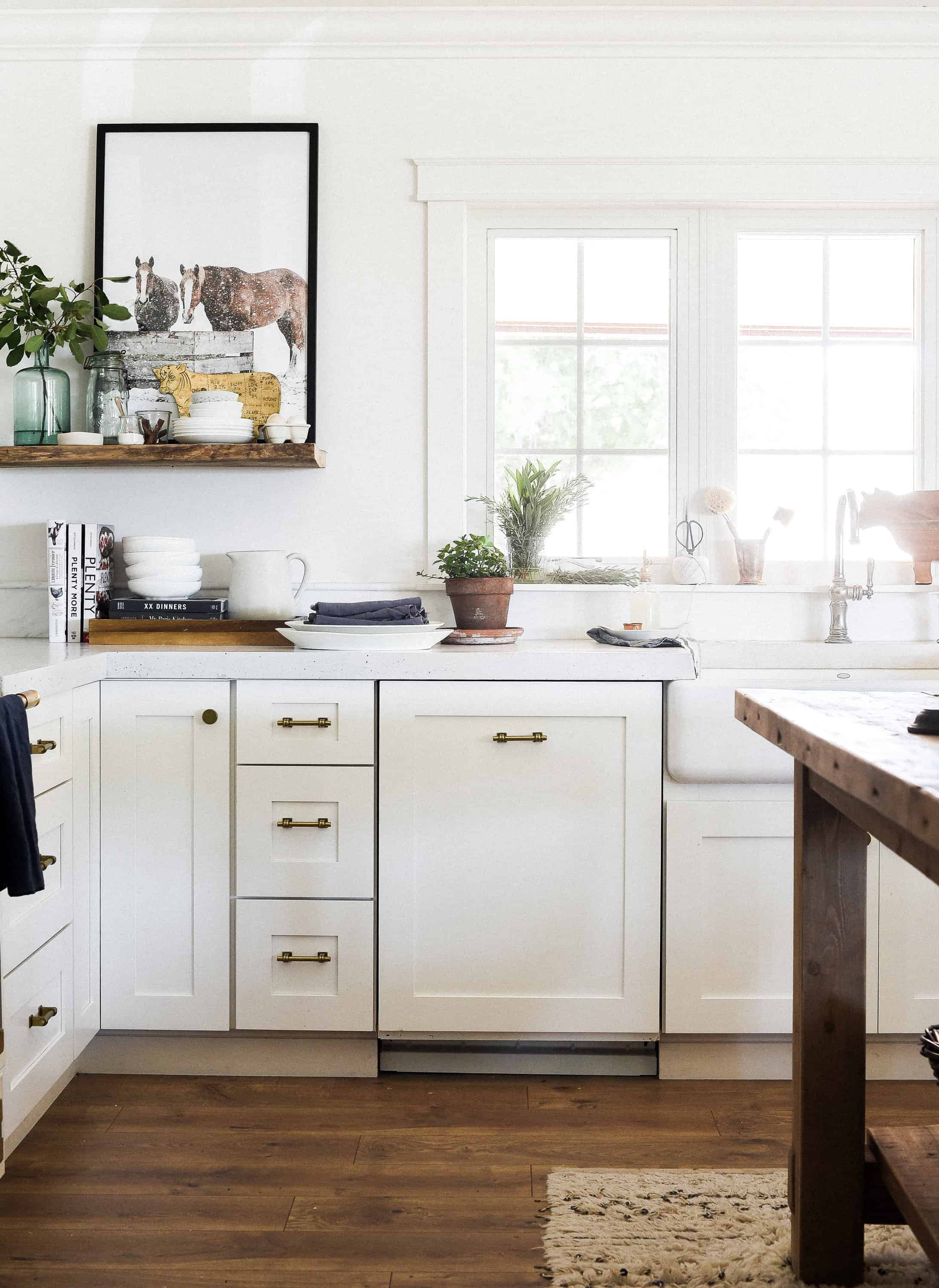 I am very excited to be teaming up with some of my blogging friends to share organization printables and ideas with you!! After you've finished reading this post, be sure to scroll all the way down and check out my friend's blog posts. There are some wonderful ideas for you to use in your home!!
With the new Netflix series, Tidying up with Marie Kondo, it seems like everyone is excited to declutter! Each January it seems fitting to take some time to declutter and organize my home. I love the fresh start of the new year, and doing a nice big purge of unnecessary items breathes new life into my house!
It's always funny to evaluate the state of my drawers, cabinets, and closets in January. As someone who is pretty tidy, I am surprised to find that my everyday items become disheveled and unorganized. My usually organized serving trays are stacked like a leaning tower and my utensil drawers are a mess! It seems to be something I don't notice during the holidays, but once I slow down, it's like a wave of chaos.
Luckily with just a little time, organizing and decluttering is an easy task to tackle, and one that feels good too! I love this quote!!
"Organization isn't about perfection, it's about efficiency, reducing stress & clutter. It's about saving time & money, and improving your overall quality of life." ~Christina Scalise
---
similar posts…
---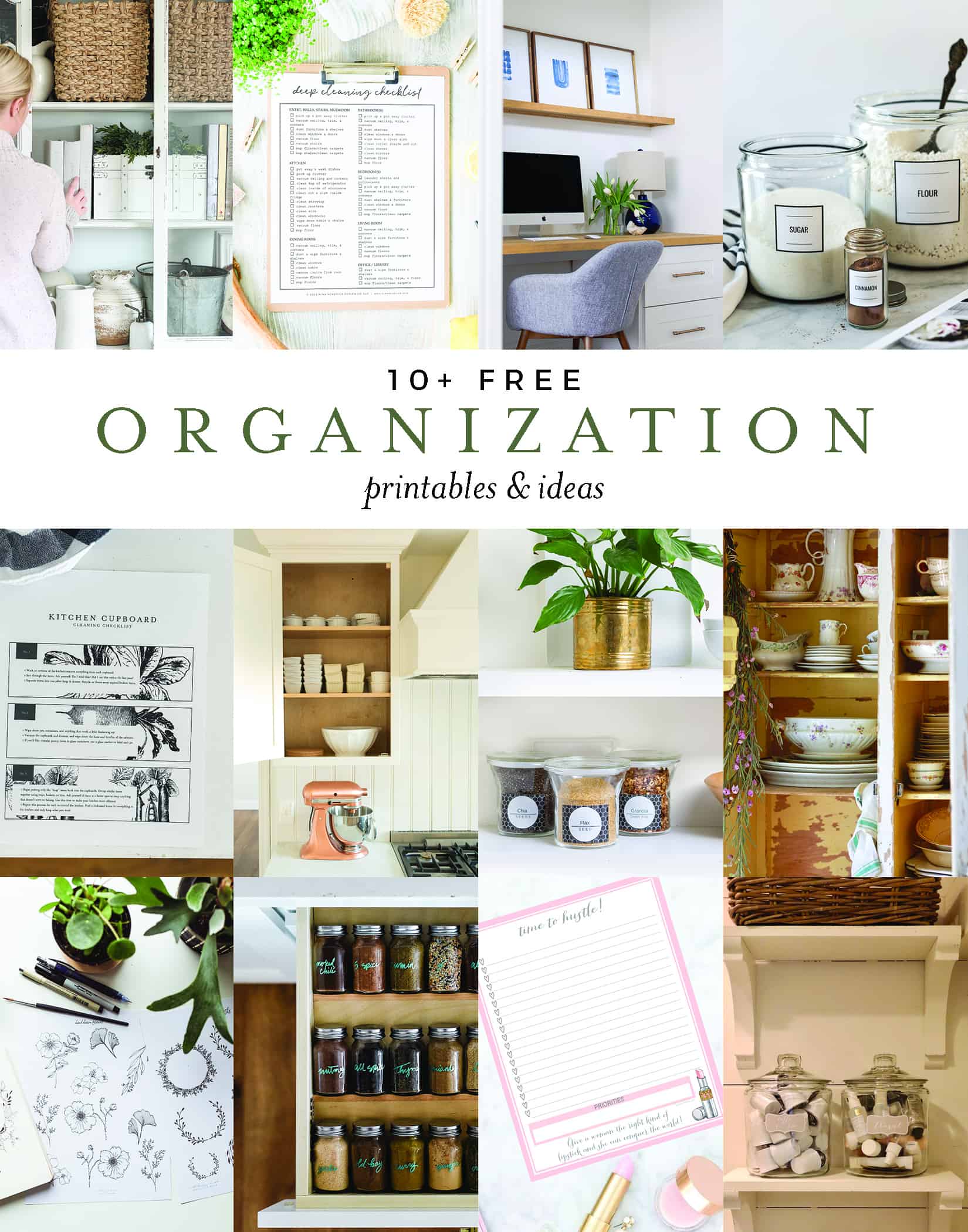 My kitchen cupboards had become quite messy, so I took a few hours to re-set my pantry, spice drawer, and kitchen cabinets.
My pantry seemed to take the biggest hit this year. I think I had 3 or 4 bags of partially used flour. A few bags of sugar, quite a few empty jars, and a very messy top shelf.
How to organize a pantry:
To organize my pantry, I first removed everything from the cabinet, creating quite a mess, but this allows me to vacuum and wipe down the inside of the cupboard.
I then empty partially used pantry goods into their designated jars. Since I do this every year, I already have large jars and canisters for my pantry goods, but if this is your first time, you can pick up inexpensive canisters from Target, WalMart, or HomeGoods.
It's amazing how much this simple act helps organize a pantry! I definitely recommend using canisters and jars to hold flour, sugar, cereals, nuts, grains, and crackers!
Then I check expiration dates on pantry items and toss anything that isn't good any longer. I also ask myself if we will really eat or use each item before I find a home for it in our pantry. If the answer is no, it goes in the donate pile!
Once I have narrowed down the items I will keep, I start putting things back, grouping like items together. I usually have a shelf for soups and canned goods, a shelf for sauces, a shelf for baked goods, etc… I like to use baskets and bins to help corral smaller items because it helps keep things organized! Don't forget to snag some of my free organization printables to help keep your pantry organized!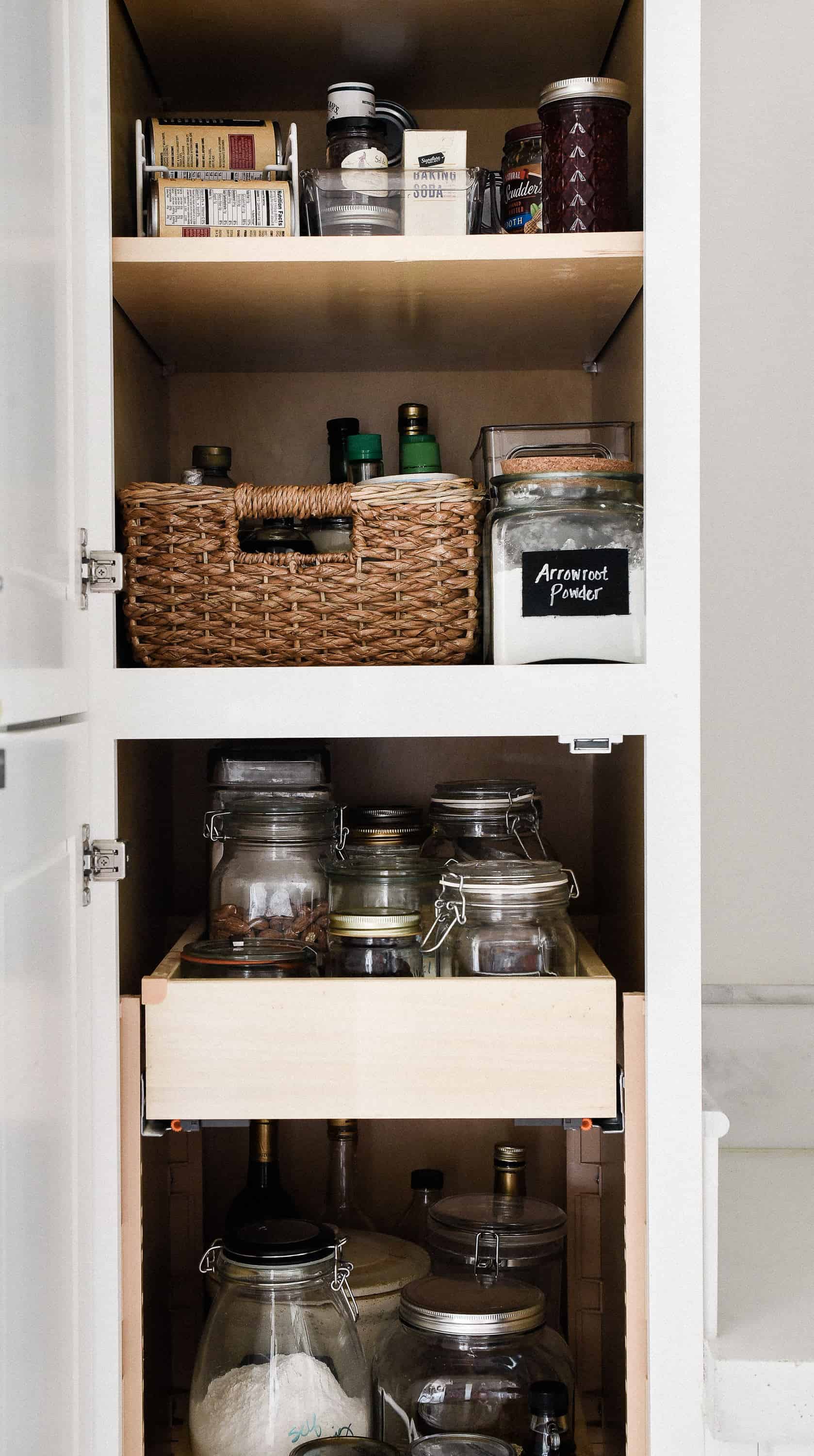 ---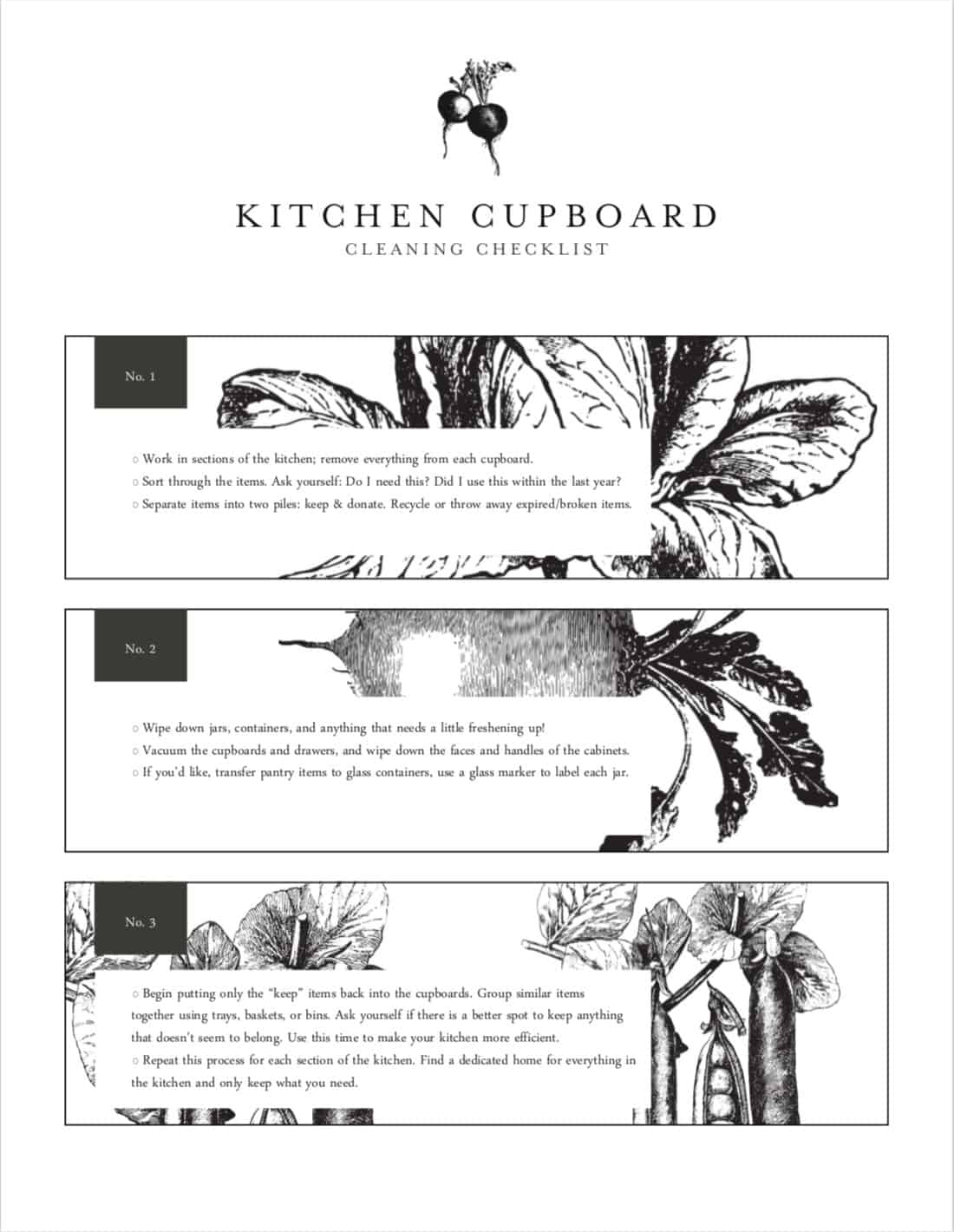 ---
Now that the pantry is finished, time to move onto the drawers! Serving spoons seem to be one of the items in my kitchen that didn't have a home. By using a small basket, I was able to corral all of my serving utensils in one area!
I use the same method that I used in my pantry to organize the rest of the cabinets. A lot of the work is just finding an appropriate home for odd things like the turkey baster, cookie cutters, and odds & ends.
Taking everything out of the drawer or cabinet is helpful to take inventory of what you have. It will help you evaluate what you really need! This method has helped me keep only the necessities and has allowed me an excess of kitchen storage. In fact, I have quite a few empty drawers!
Before & After…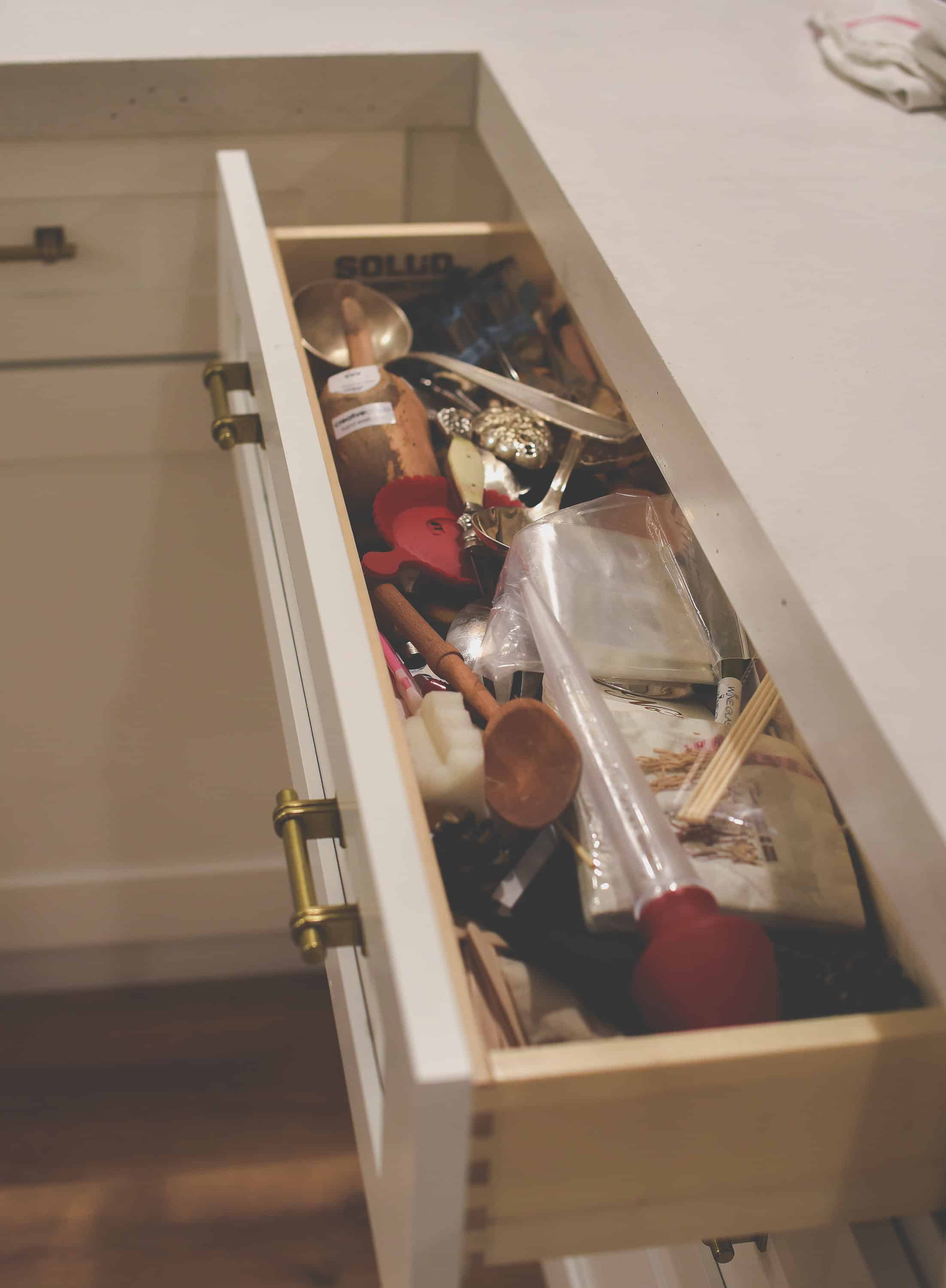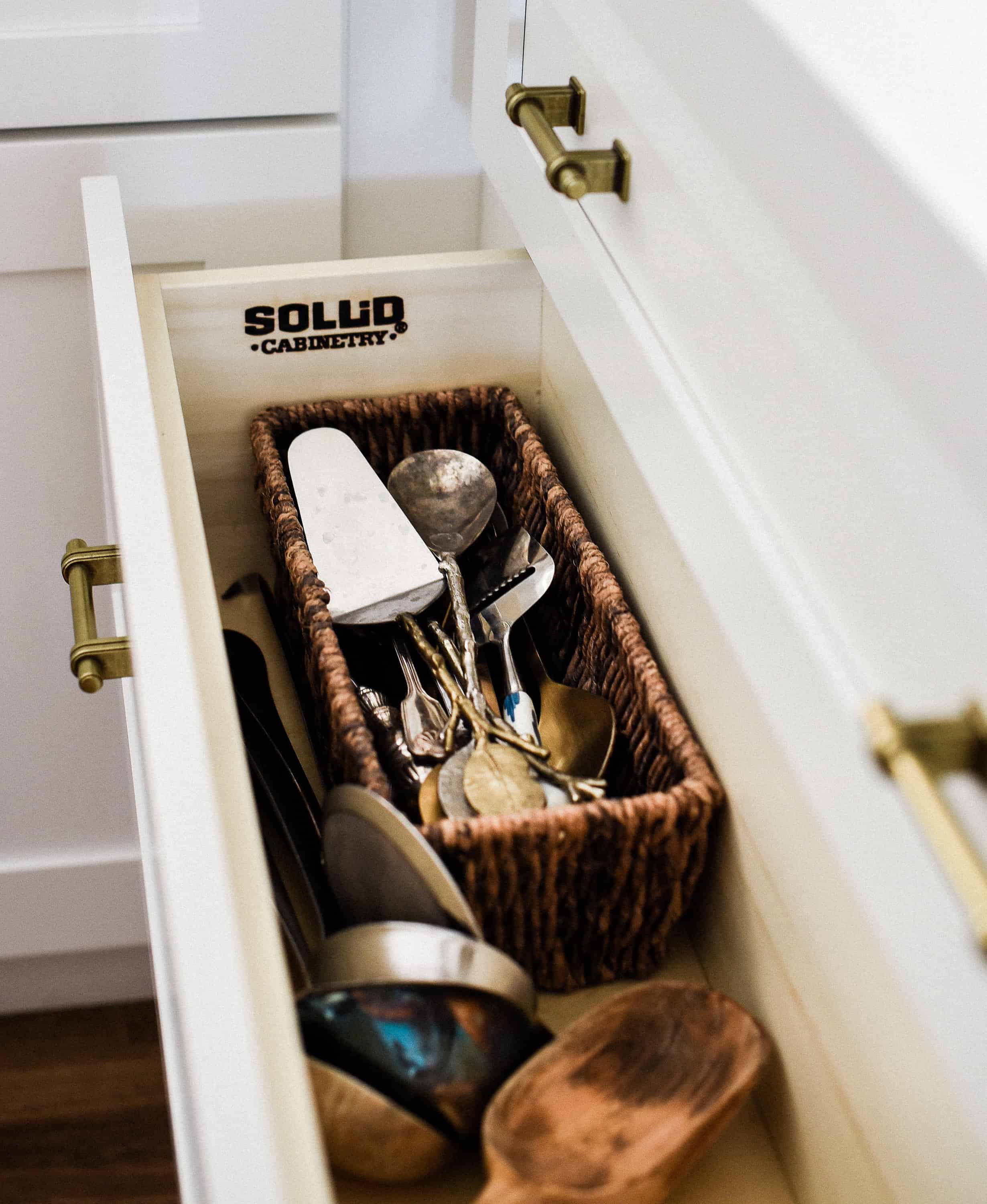 My spice drawer took a beating in 2018! Many of the glass jars were covered in unknown substances. Some of them were empty, some had no label, and some were more than two years old. It was time for me to give each jar a good cleaning and sniff test to see if the spices were still potent enough to cook with.
How to Organize a Spice Drawer:
Start by taking everything out of your current spice drawer. Take an inventory of the spices, and toss anything that is over a year old. Spices become much less potent with time (and by being exposed to heat and light), so keeping them over a year is a waste of space. If you have duplicates, you can combine them into a larger container, or donate what you don't need.
Wipe out and vacuum the drawer. If you'd like, transfer spices into small glass spice jars. This isn't necessary, but it adds to the visual affect of organizing your spices! I used these glass jars and a wine glass writer to label my glass jars.
before…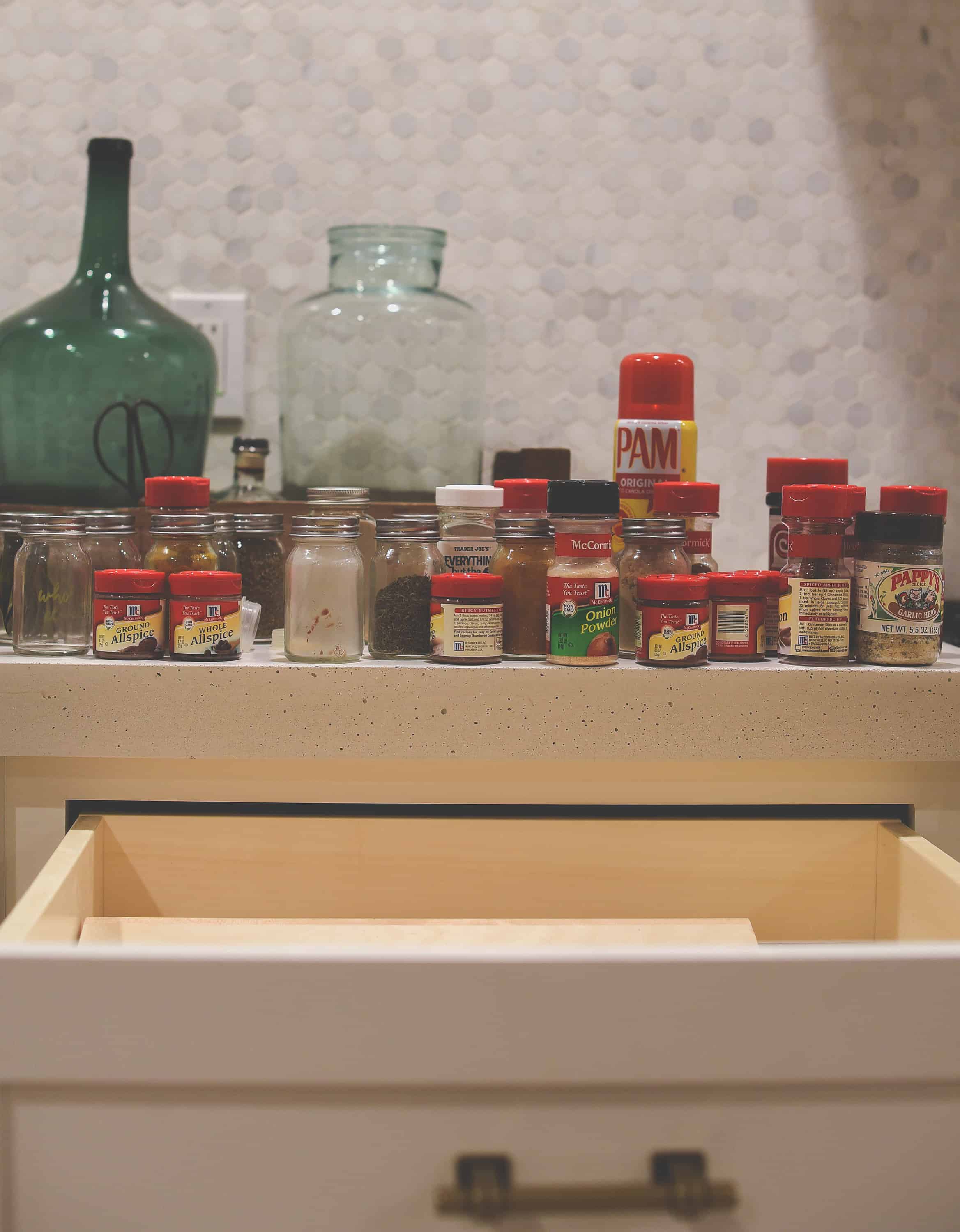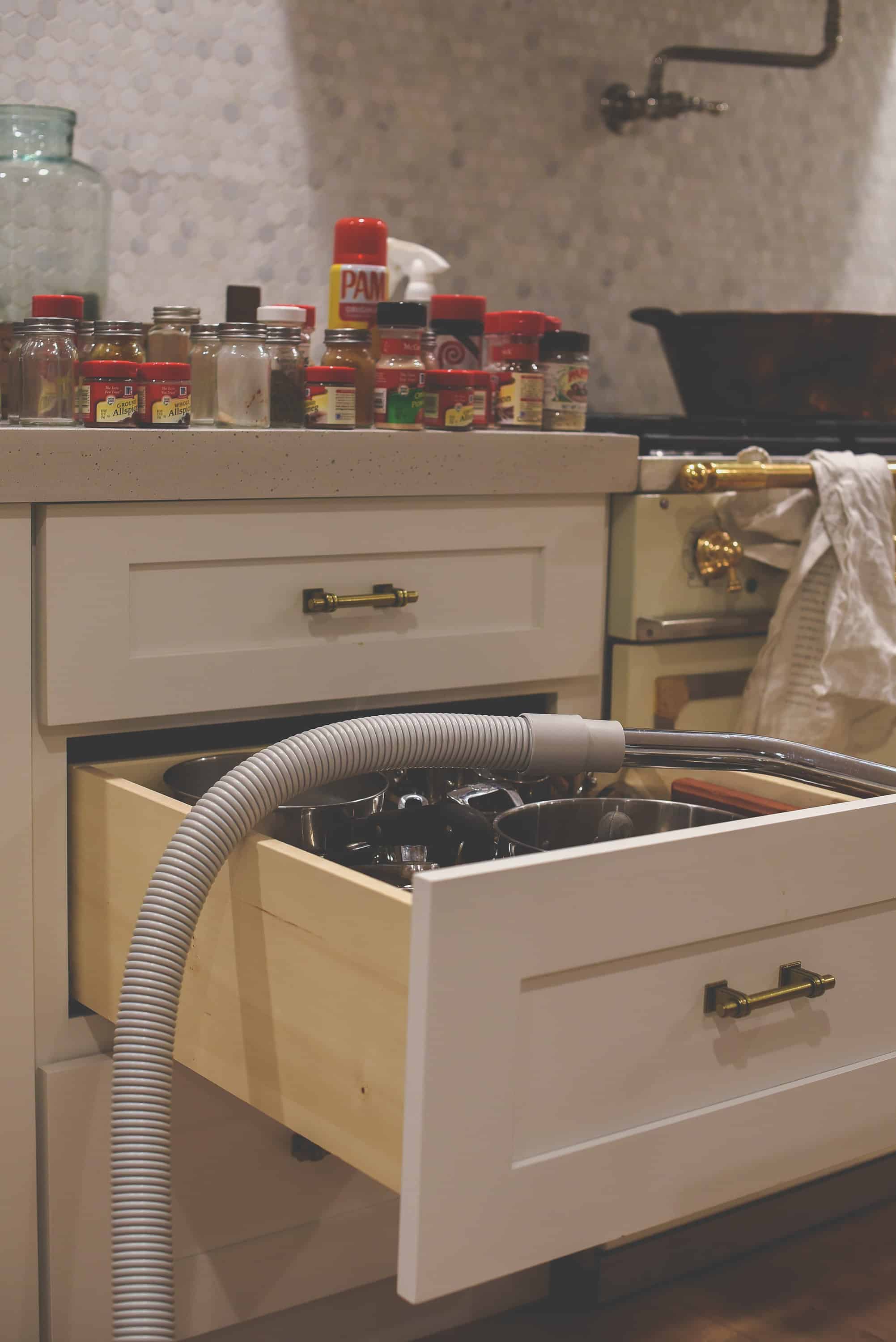 after…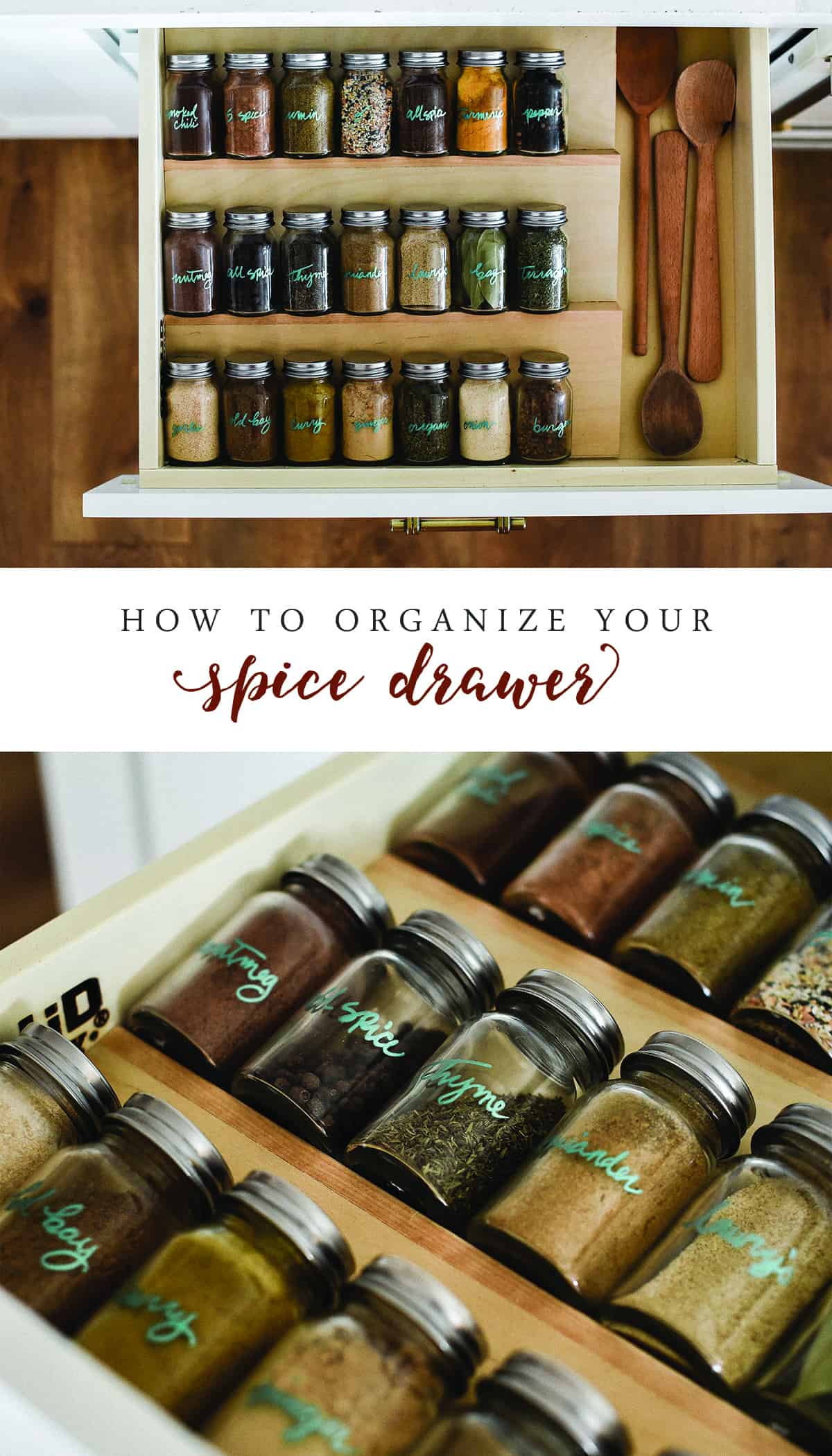 I hope sharing my kitchen organization process has been helpful and inspiring! Organizing your home and creating systems for everyday tasks will help make your life a little simpler. Don't forget to scroll down and visit my friend's blogs for more organization ideas!
---
supplies to help organize: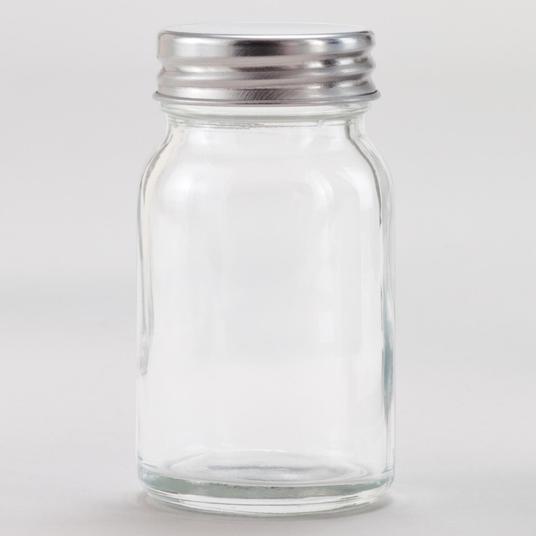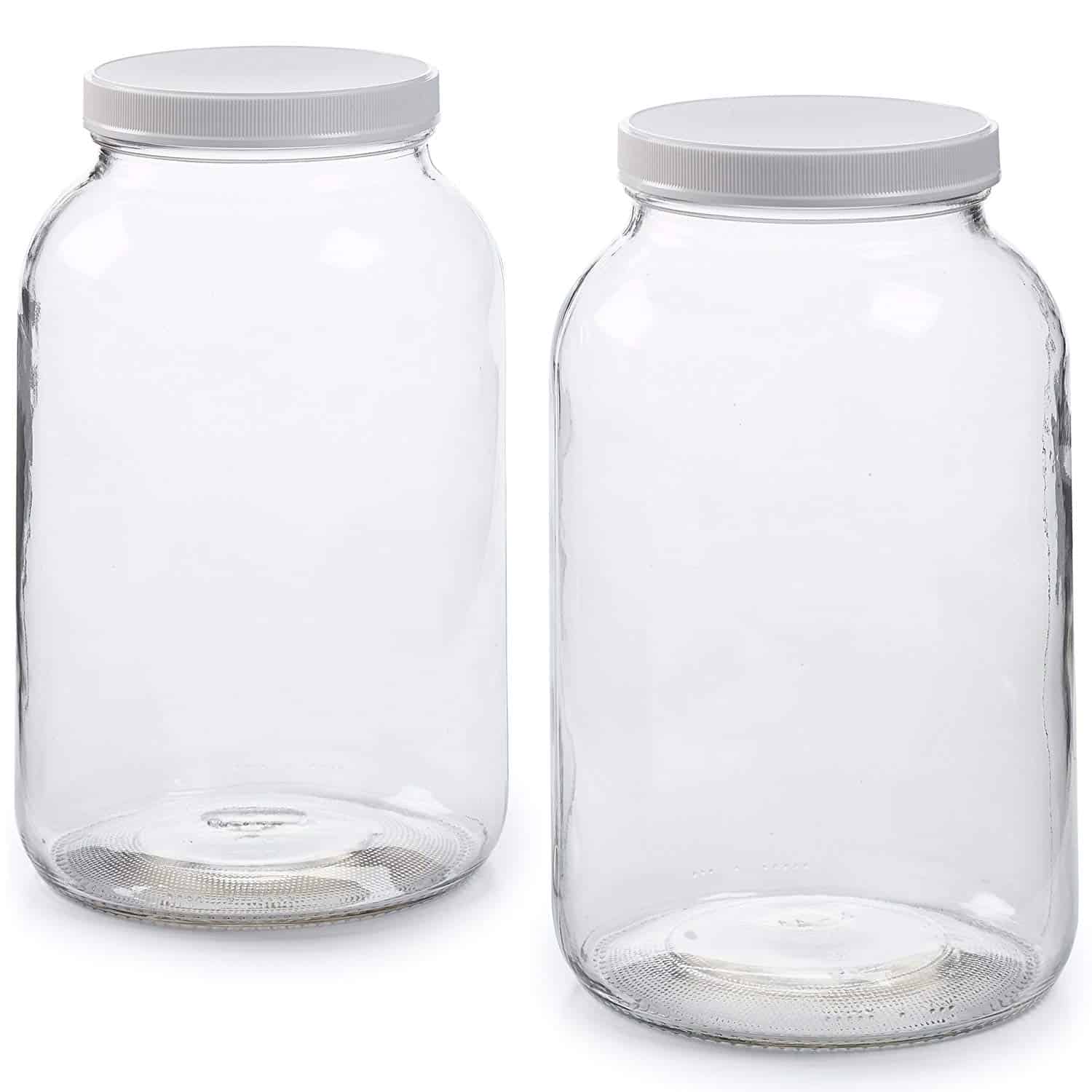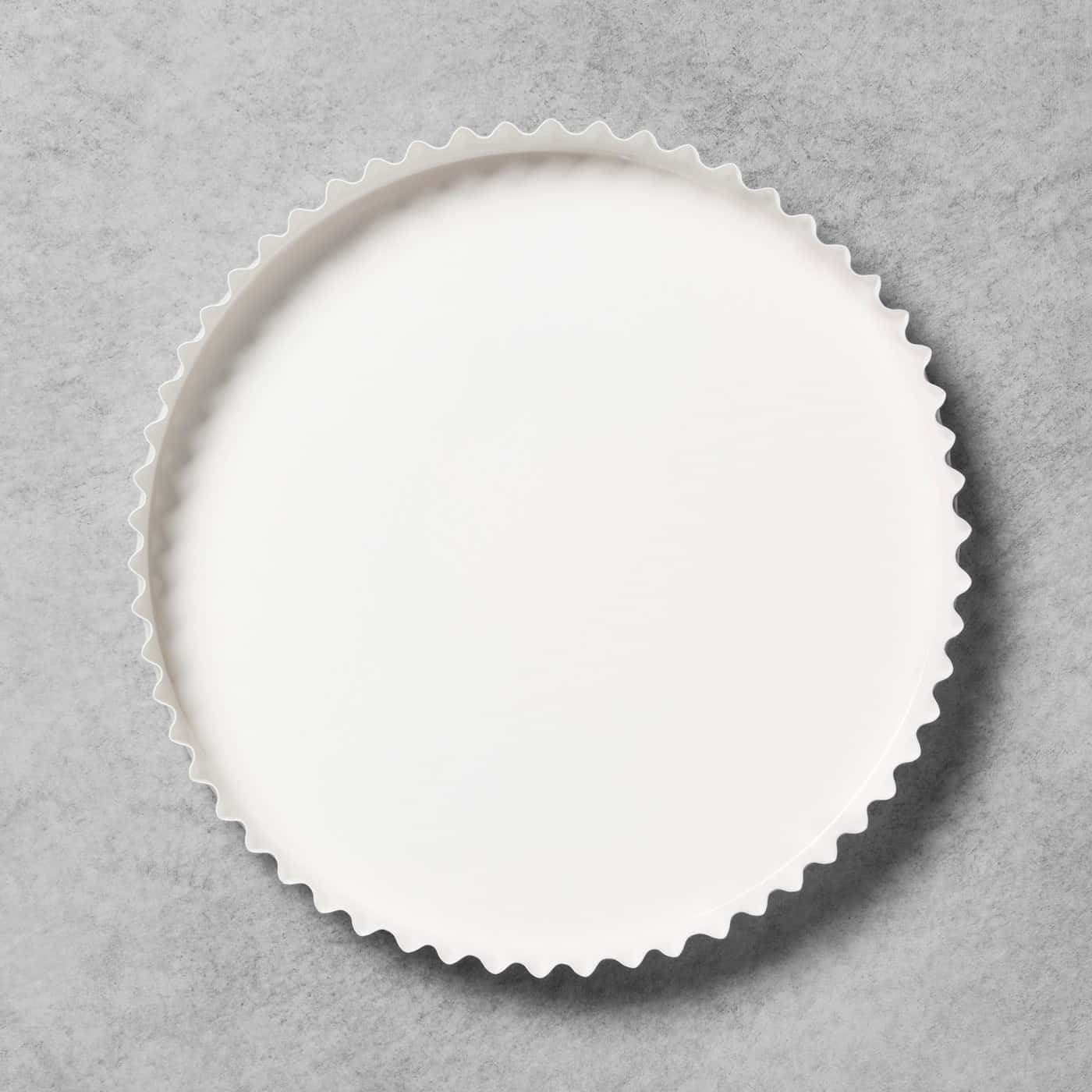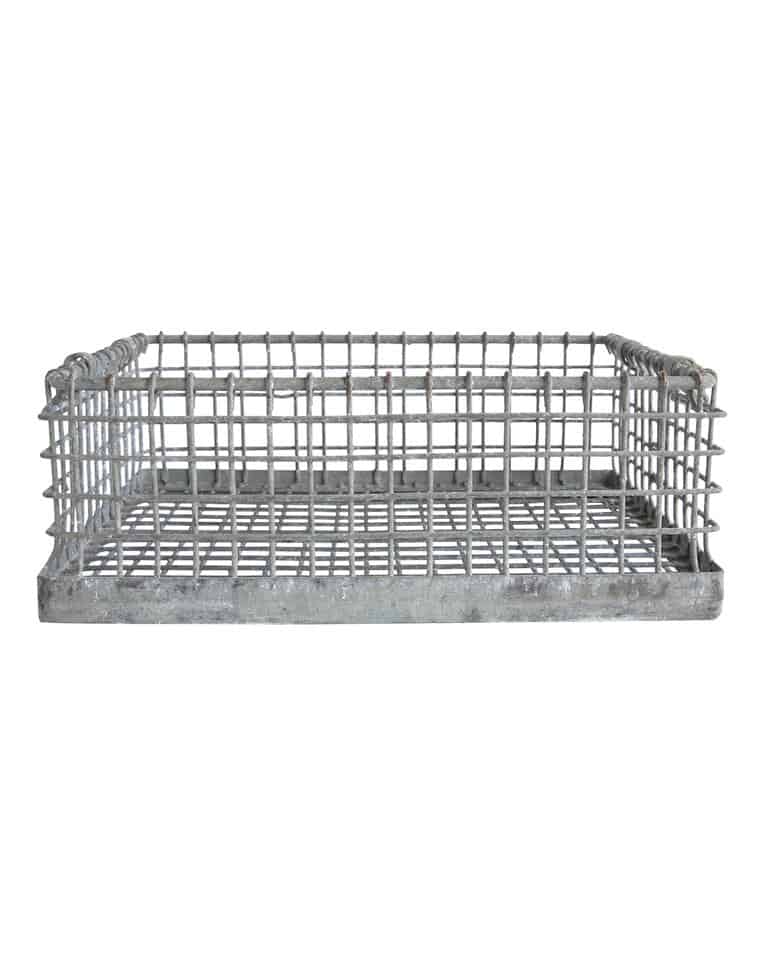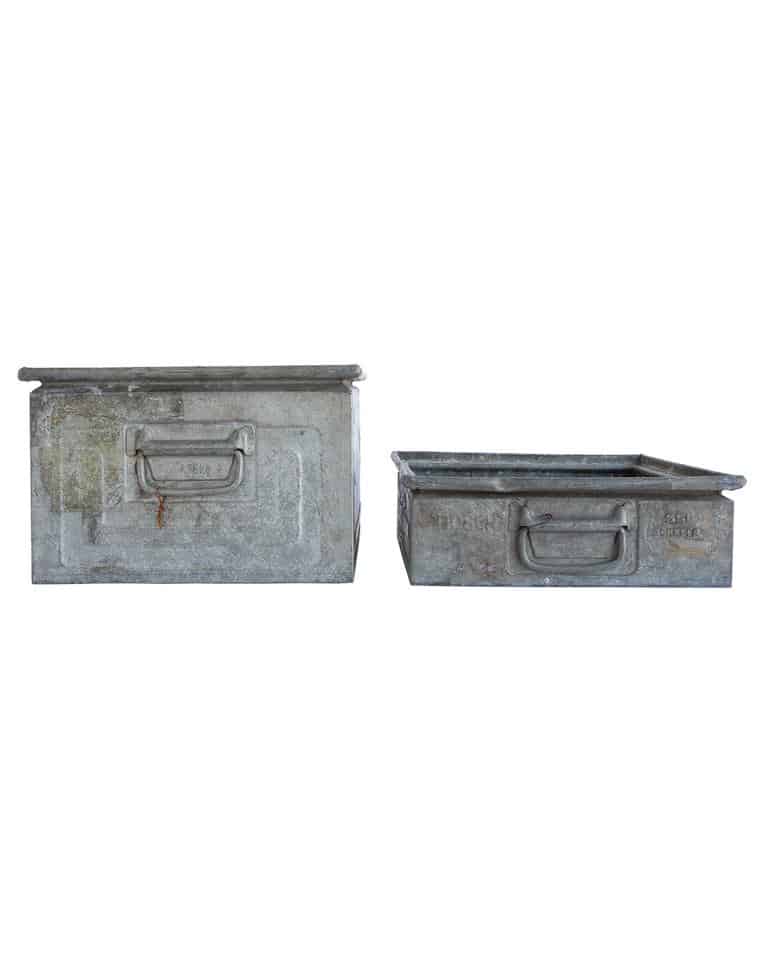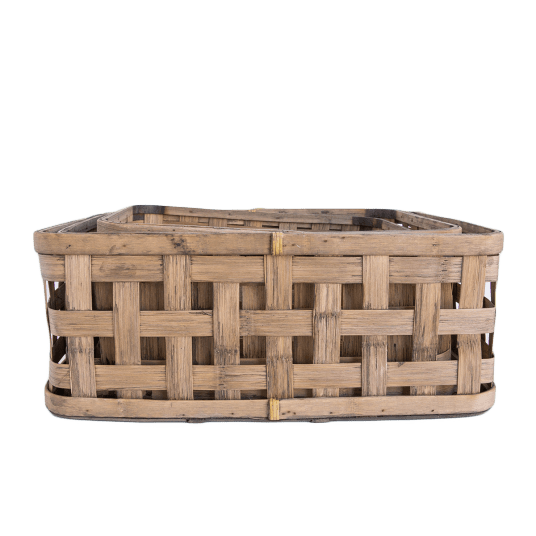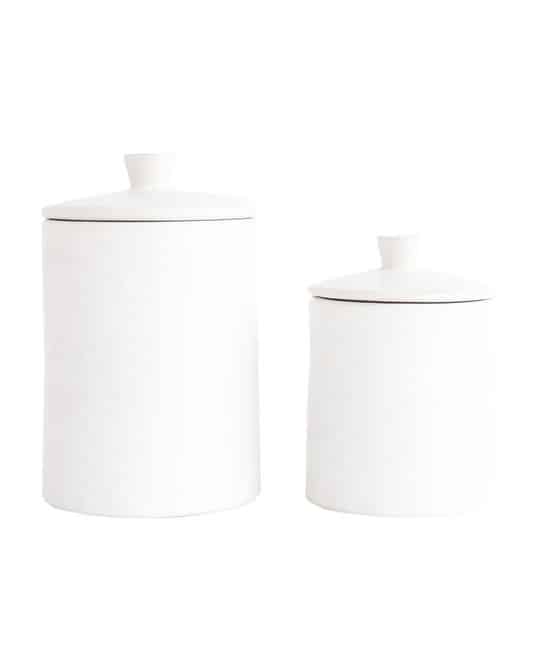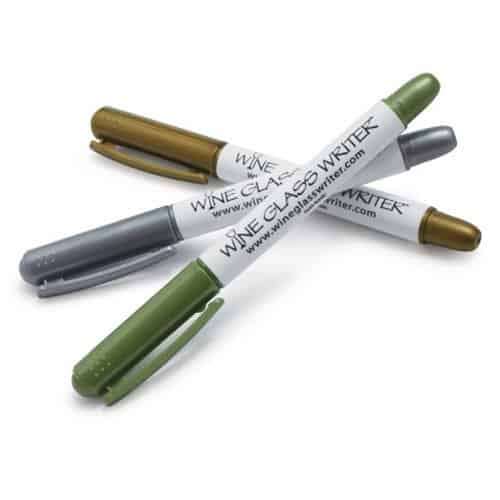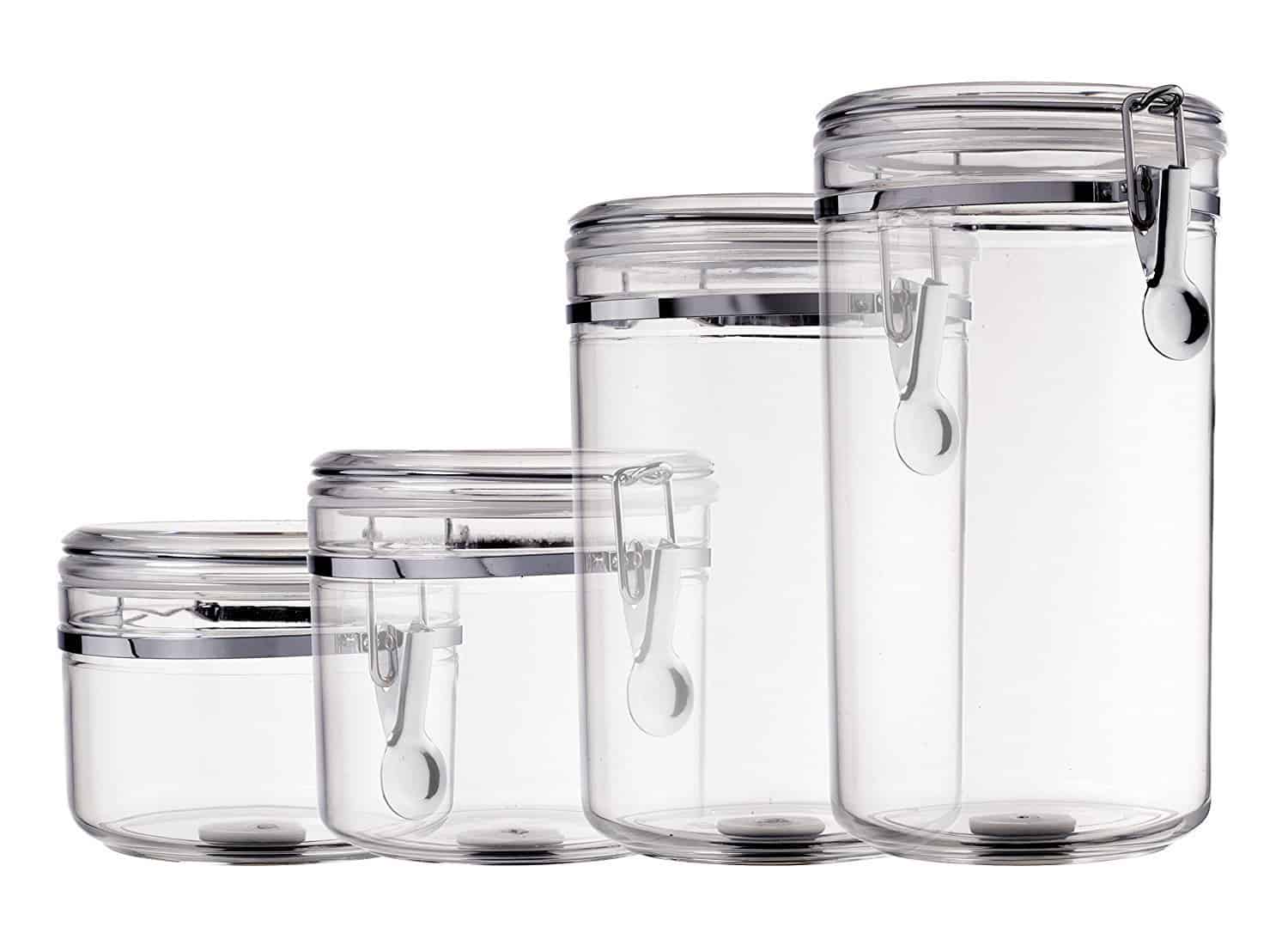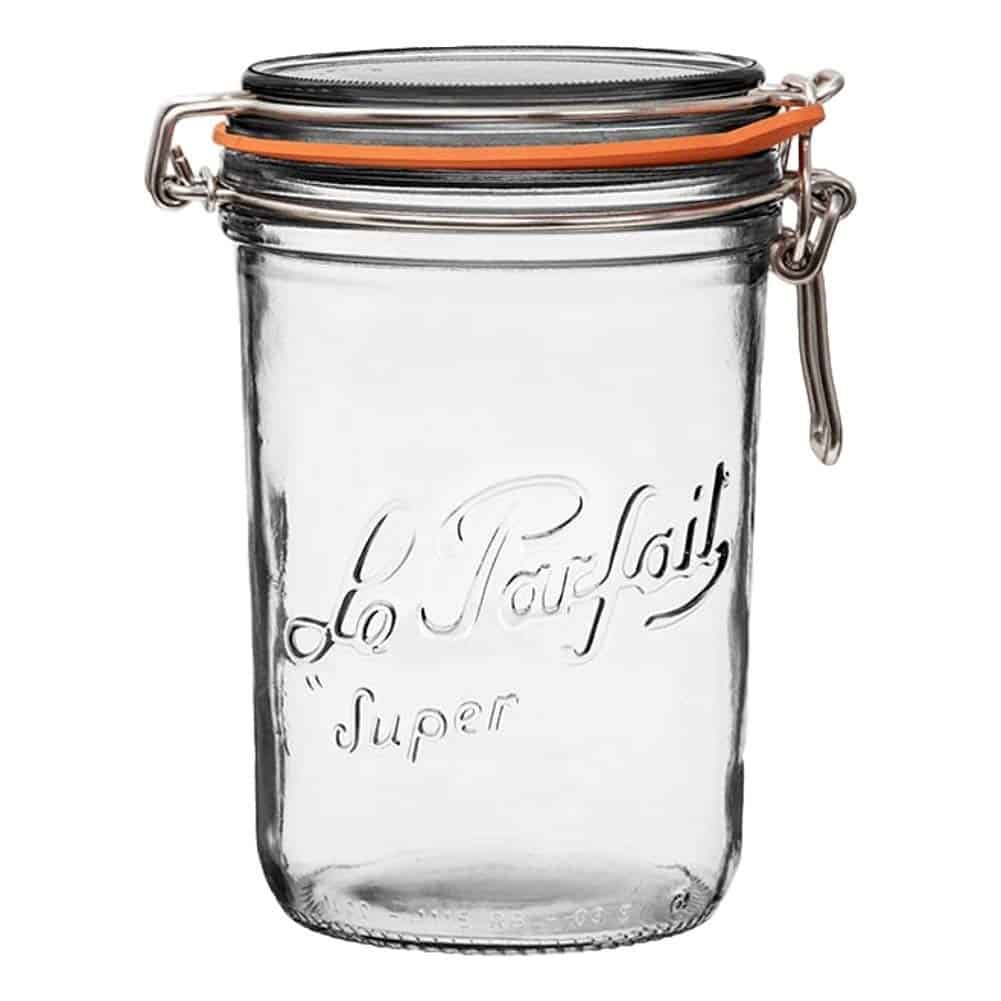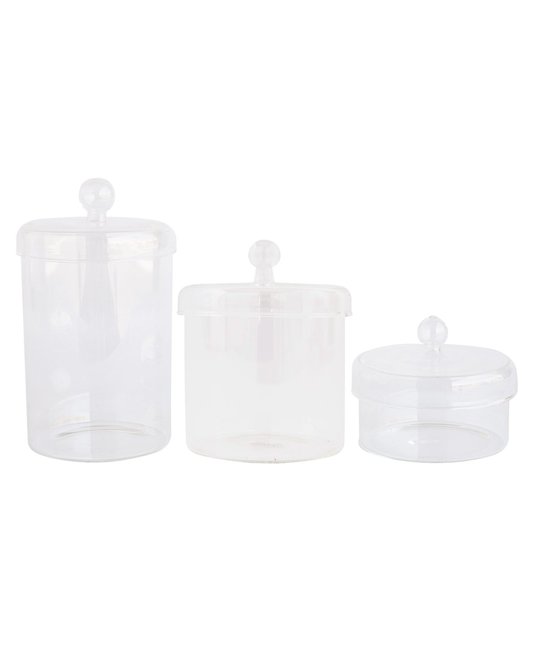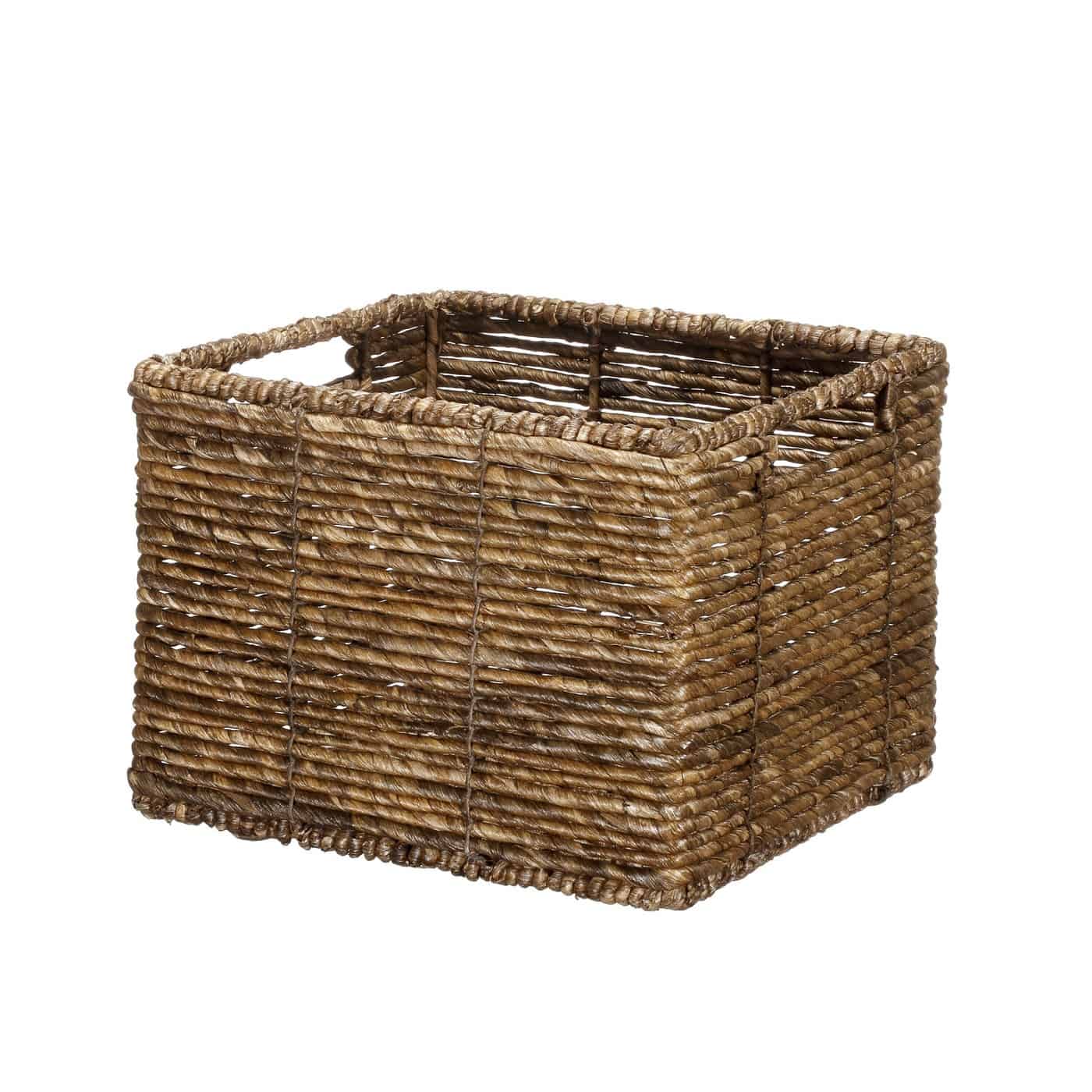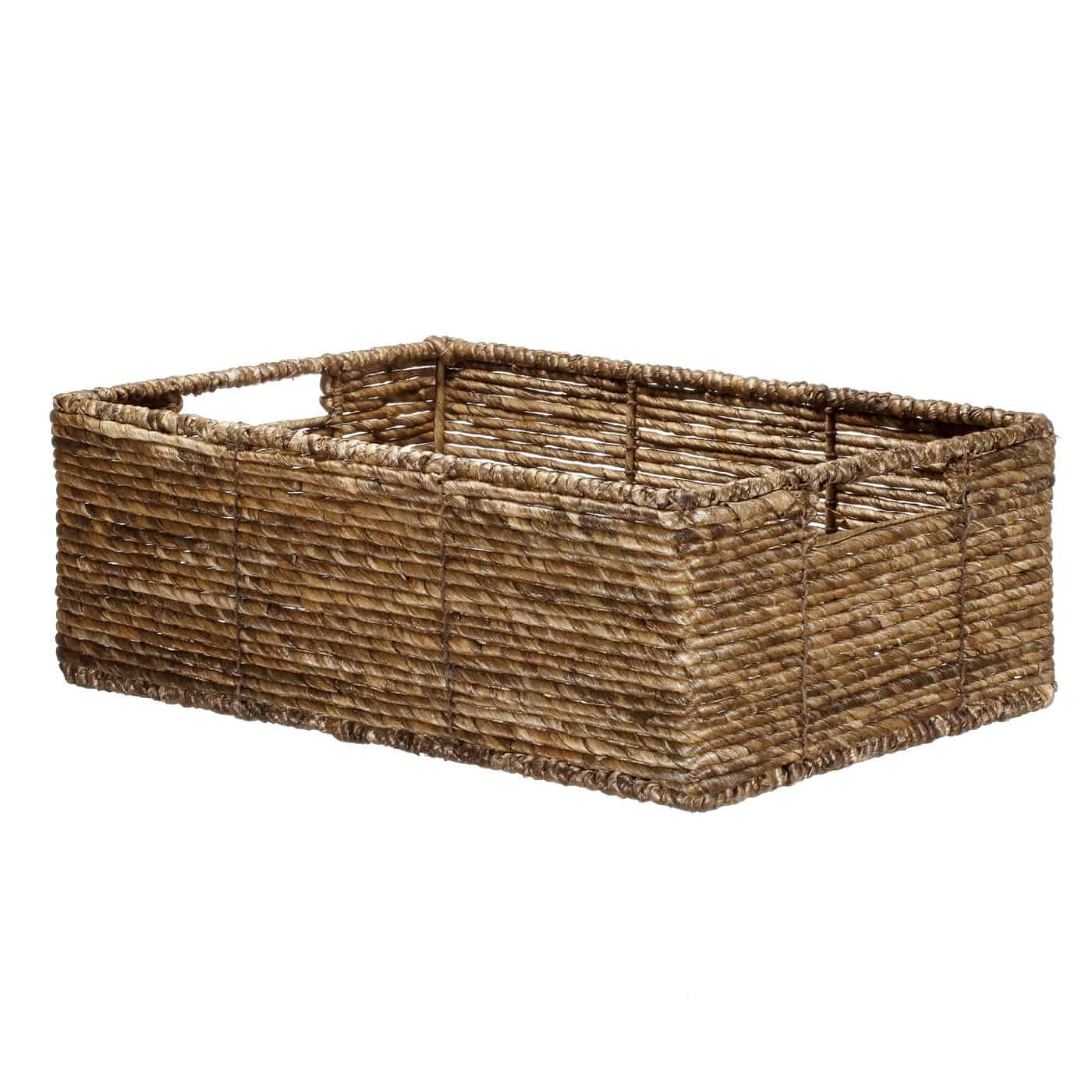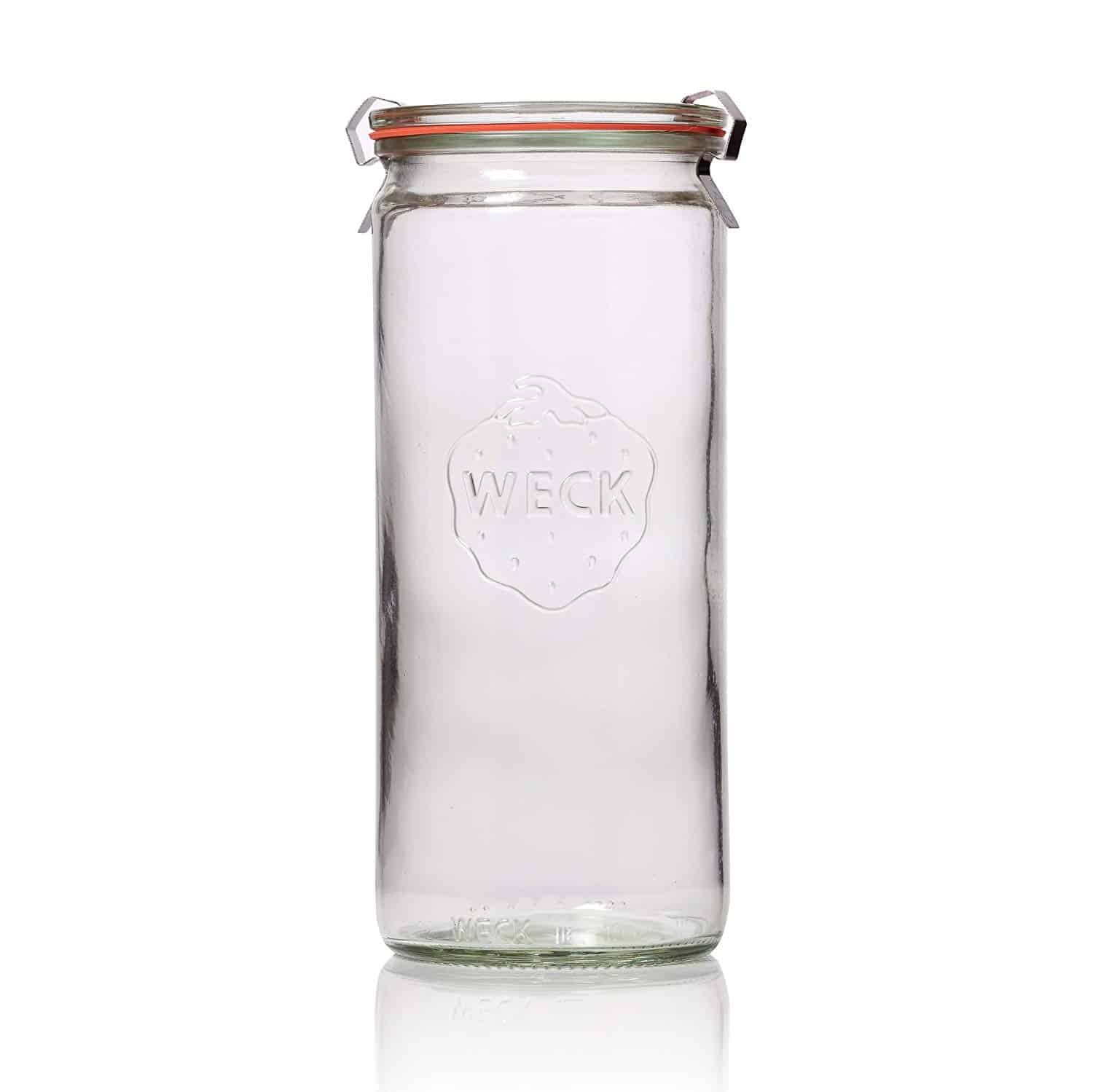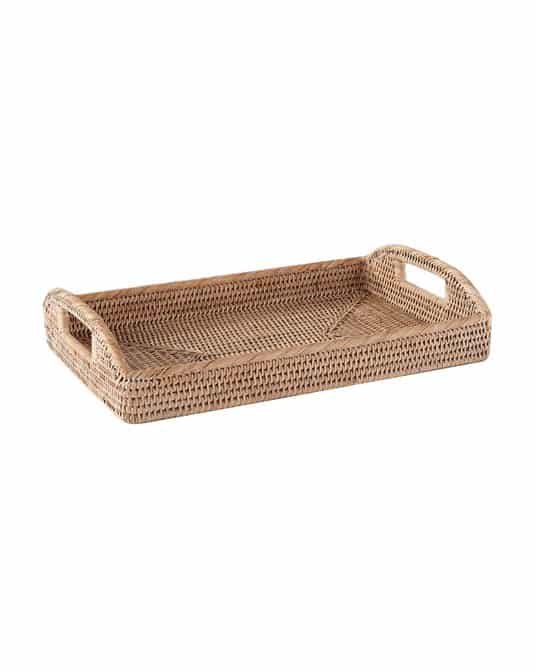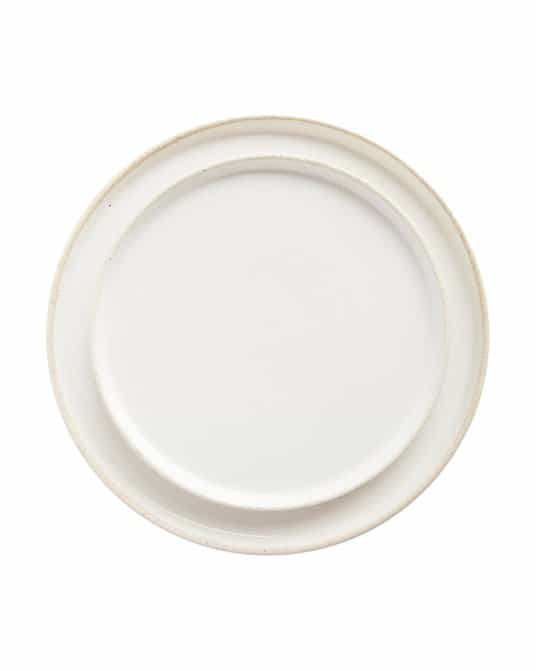 ---
---
More Organization Printables & Ideas
---

Organizing & Storing Home Decor by Love Grows Wild | Whole House Cleaning Checklist by Nina Hendrick Design Co. | 5 Habits for an Organized Home
by A Burst of Beautiful | Free Printable Pantry Labels by Anderson & Grant

Kitchen Cupboard Clean-Out Checklist by Boxwood Avenue |
Decluttering Checklist by Julie Blanner |
5 Whole Food Pantry Labels for Food Storage by Zevy Joy |
Organization Ideas by French Country Cottage

Hand Drawn Flower & Wreaths Journal Stickers by Craftberry Bush |
Free Printable To-Do List by Summer Adams |
Glass Labels by My Sweet Savannah