If you have oranges & vinegar, you can make this non-toxic homemade cleaner!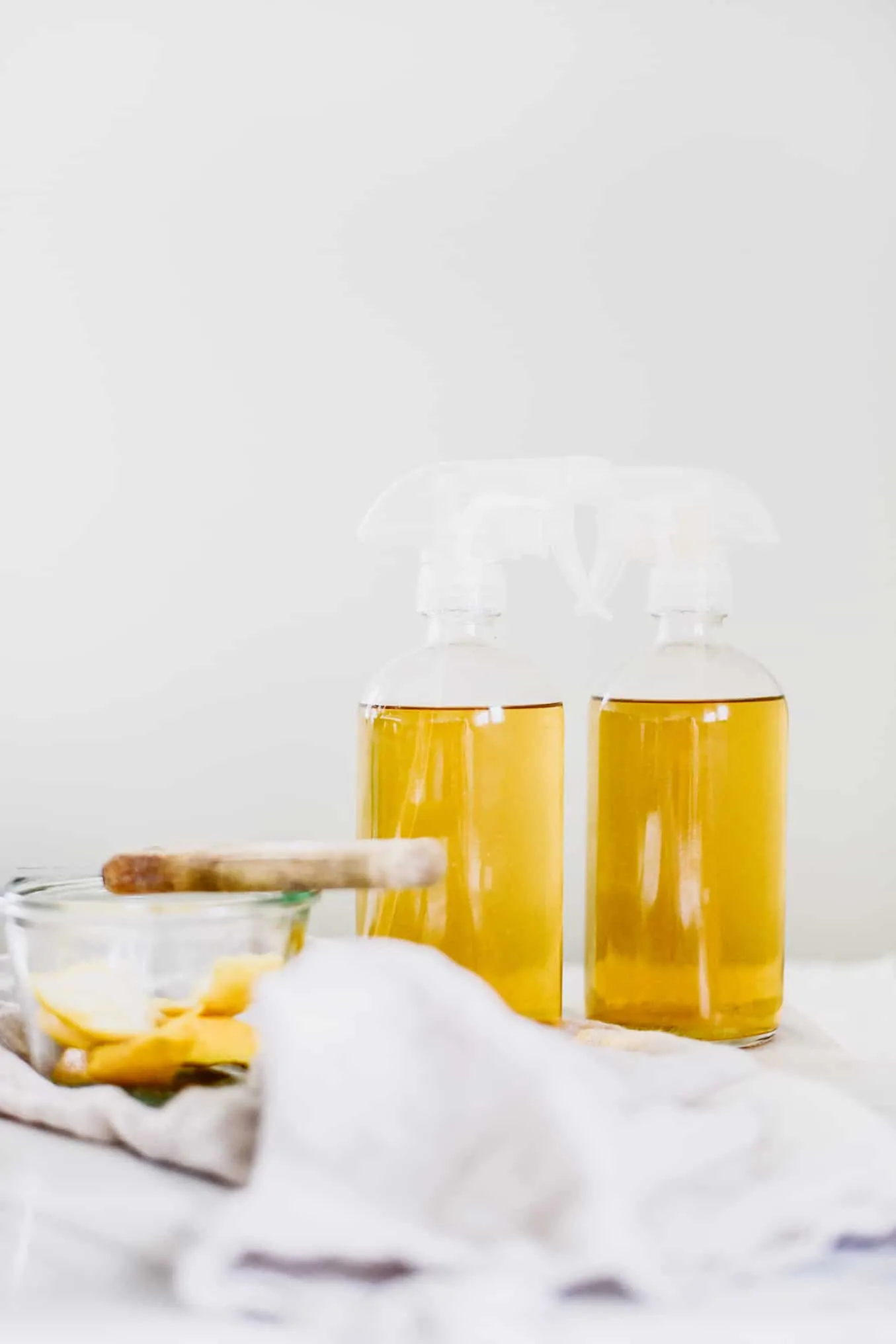 How to Make your own Homemade Cleaner with Vinegar!
In an attempt to live a greener life, I have been using vinegar and essential oils in lieu of traditional countertop spray. I have loved it. I don't know why I didn't make the switch earlier. Sort of like using my homemade liquid hand soap made from castile soap, it's been an awesome switch!
It works just as well as my previous spray, and I know that I can make a sandwich right on the counter and not have to worry about eating bleach.
Note: Make sure the surface you are spraying is okay with an acidic solution. Quartz and marble will not fair well with this spray!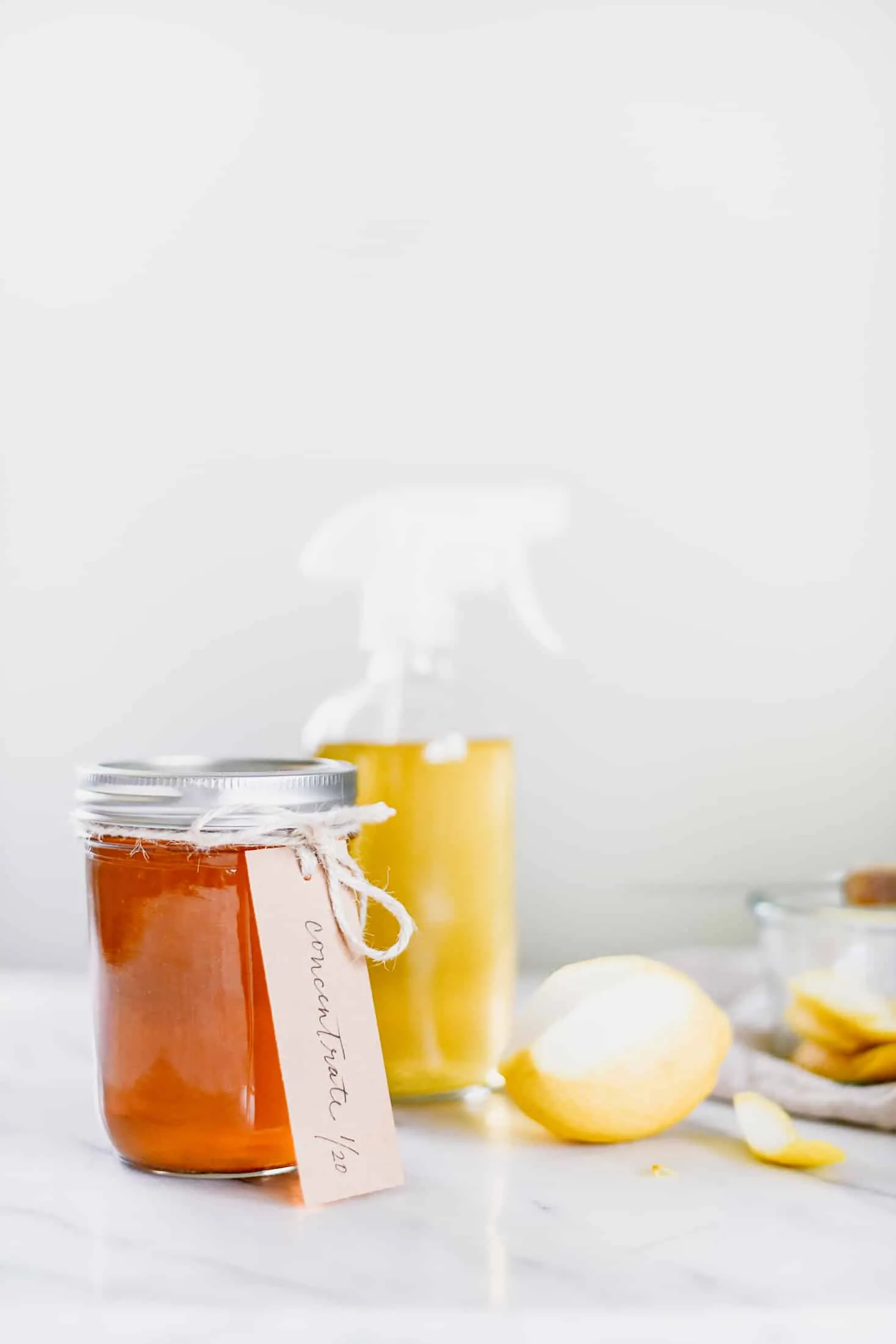 Check out my guide for the best green cleaning products!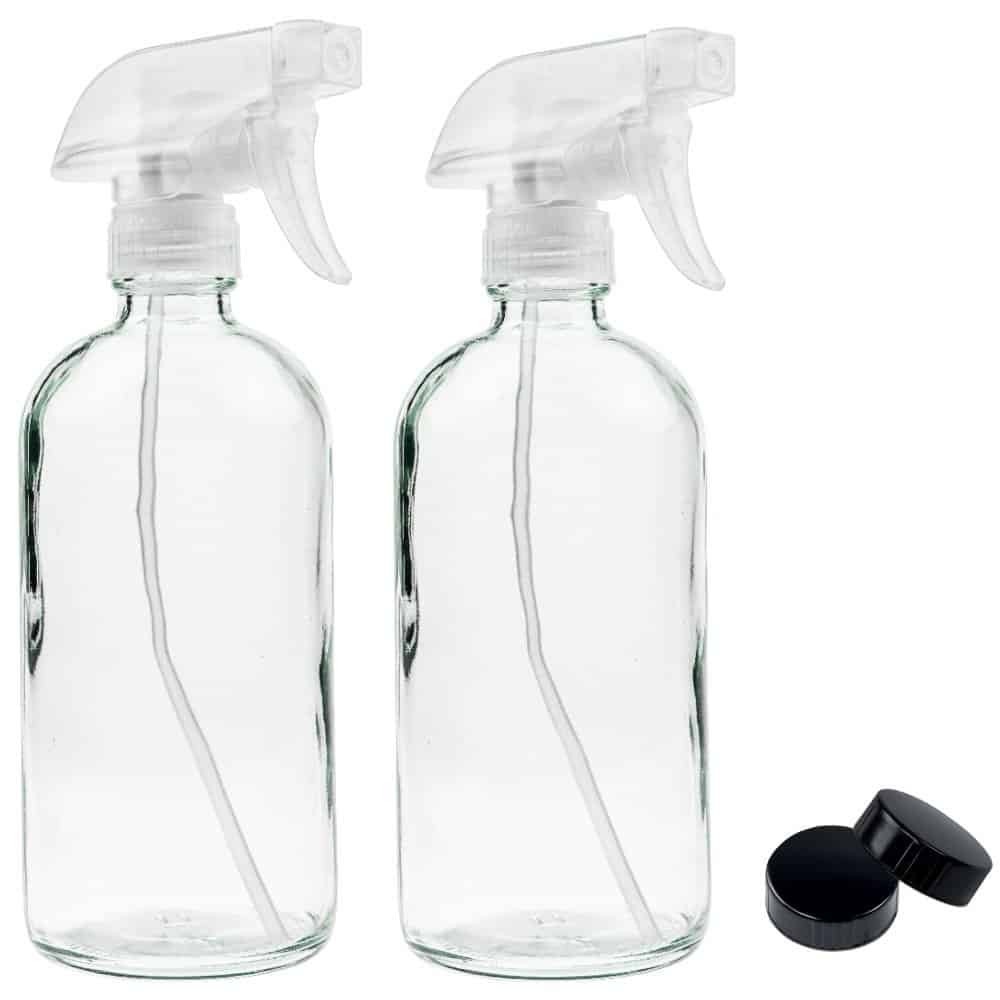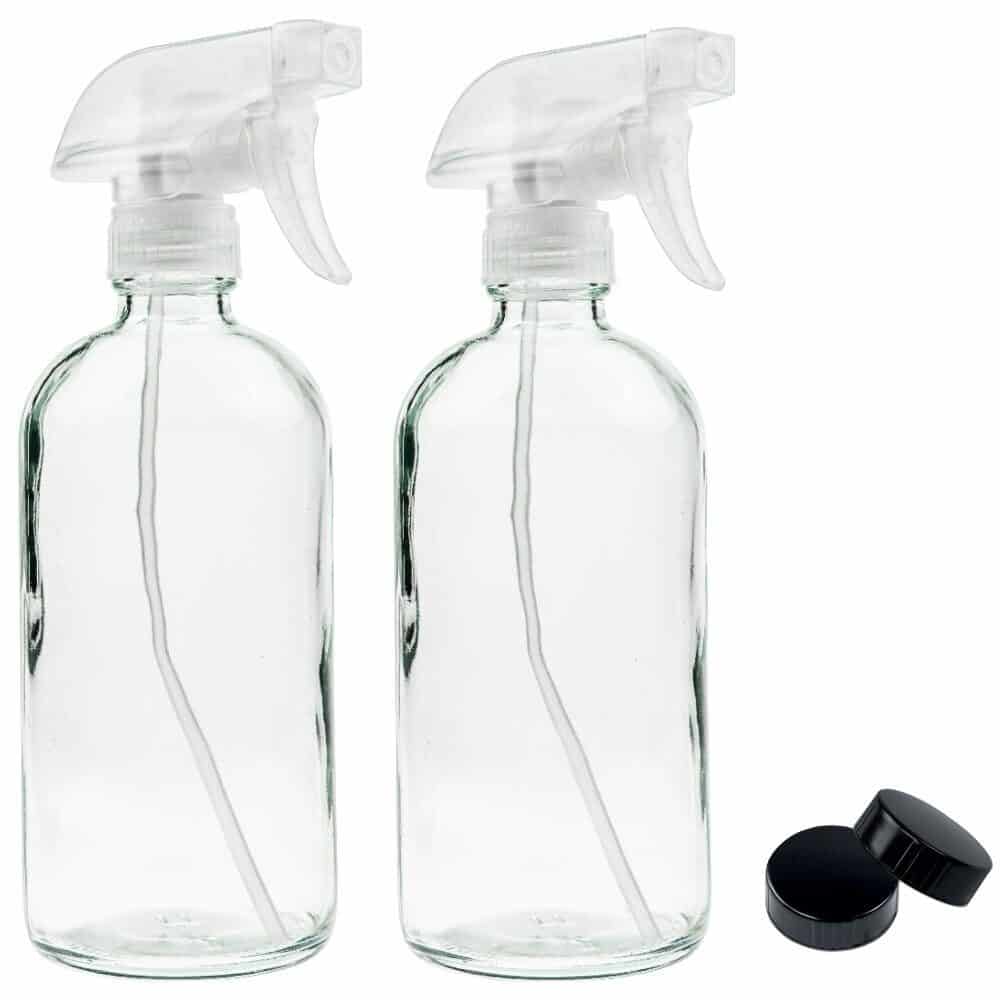 I love these spray bottles for anything and everything! They make cleaning supplies so much prettier!
Keeping a big jug of white vinegar on hand is always a great idea for natural cleaning!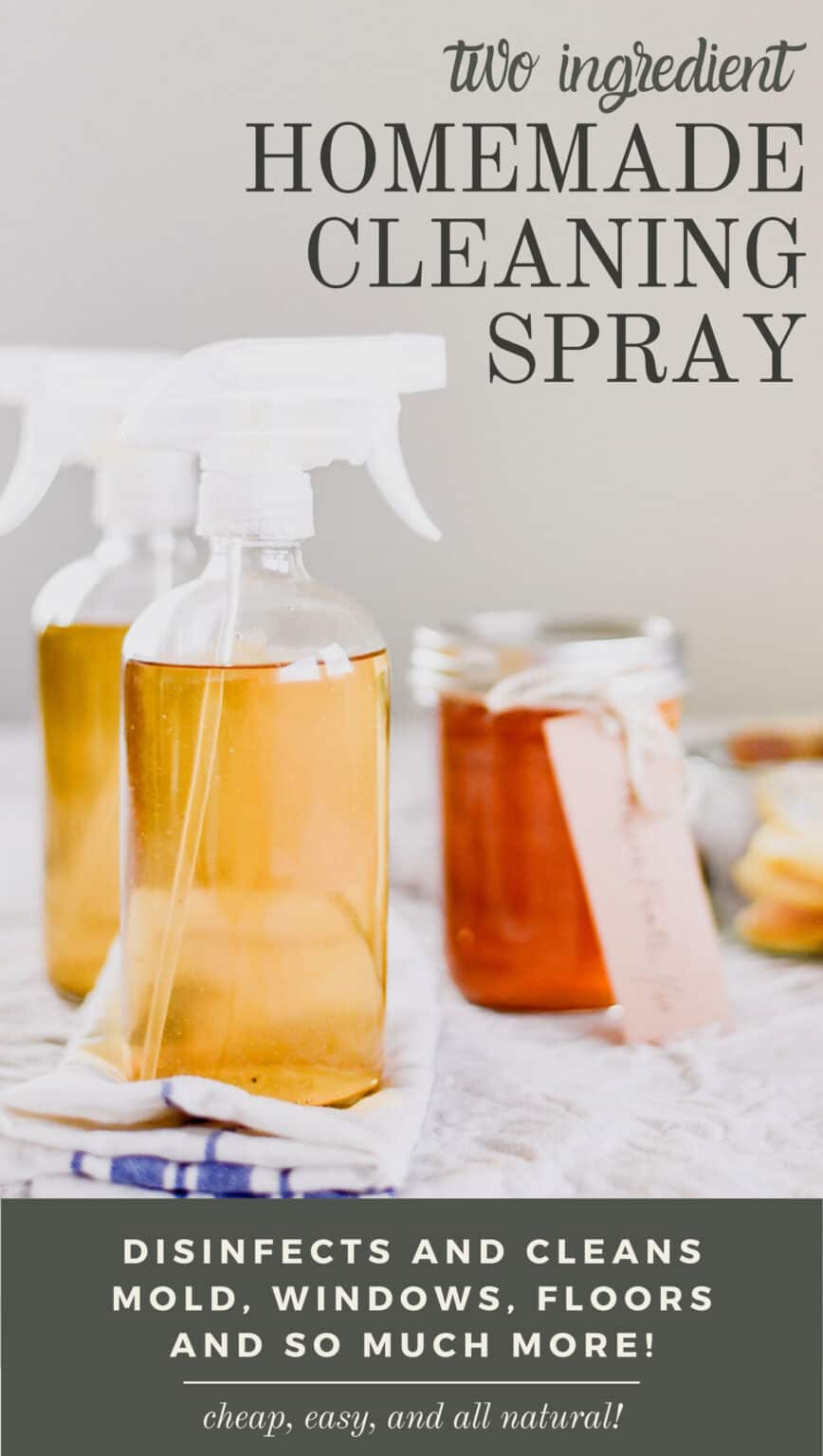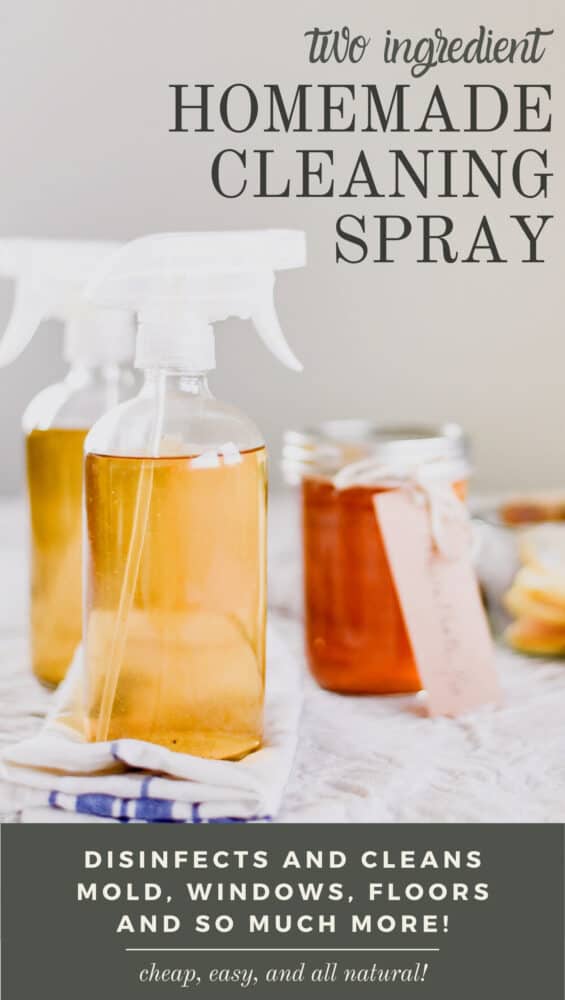 How to Make Homemade Cleaner with Vinegar:
Vinegar is an amazing natural cleaning agent! It can be used to tackle grease, dirt, grime, and build-up of minerals! Plus it kills harmful bacteria in the process!
Since vinegar is such an amazing cleaning agent, you can use this homemade kitchen cleaners for more than just kitchen surfaces! Try using it on: floors, in the bathroom, and anywhere else that needs a little freshening up!
To make your own homemade cleaning spray using vinegar, you really just need vinegar and water, but we're going to take it up a notch and add some citrus peels, essential oils, and herbs to our vinegar to make it smell delightful!
Since vinegar has a less than pleasant smell, adding citrus, herbs, and essential oils creates a lovely DIY cleaning spray that can be used throughout the home!
To make the concentrate cleaner, simply pack any type of citrus peels and herbs (optional) in a mason jar with vinegar. Store this mason jar in a cool dark place for 2-4 weeks while the orange peels steep in the vinegar.
After 2-4 weeks, you'll strain out the peels and herbs, reserving the vinegar which will have changed color to a rich orange or yellow. The reserved vinegar is the concentrate cleaner.
Dilute the vinegar with equal parts water and add to a spray bottle. If desired, add a few drops of your favorite germ busting essential oils to the spray bottle. Now you are ready to clean!
Did you know cleaning vinegar is 6% acidic, and white vinegar is 5% acidic. The 1% difference makes cleaning vinegar 20% stronger! However, most people don't have cleaning vinegar on hand, and you can certainly just use regular white distilled vinegar for cleaning!
Do not use cleaning spray with vinegar to clean granite, marble, or soapstone. It is also not recommended on quartz.
Concentrated Solution
This homemade household cleaner is a concentrated solution. This means, to use it: dilute it! I mix equal parts (1:1) water to concentrate mixture!
Aside from being a fun project to make, our homemade kitchen cleaner works very well. It also causes the kitchen to have a wonderful citrus smell. I plan on using this method from here on out. Even though it takes a bit longer to make, it's definitley worth it!
---
What can you use homemade vinegar cleaning spray on?
While vinegar spray shouldn't be used on delicate materials such as granite, marble, or soapstone. You can use this cleaning spray on a variety of household items:
Yoga Mats
Cabinets
Floors
Bathroom Surfaces (unless countertops are a material noted above)
Window Blinds
Any so much more!
What citrus can be used in this spray?
Any citrus can be used, and it certainly isn't 100% necessary; however, the citrus makes it smell delightful!
Can I use apple cider vinegar to clean?
Sure! Apple cider vinegar has a more pleasant scent and has the same cleaning ability to distilled white vinegar. You can use apple cider vinegar in the same way you'd use white vinegar to disinfect and clean!
Is vinegar a disinfectant?
Yes! Vinegar kills e.coli, salmonella, and other harmful bacteria. You could use this solution on wood cutting boards, toilets, and other surfaces that needs a deep disinfecting!
---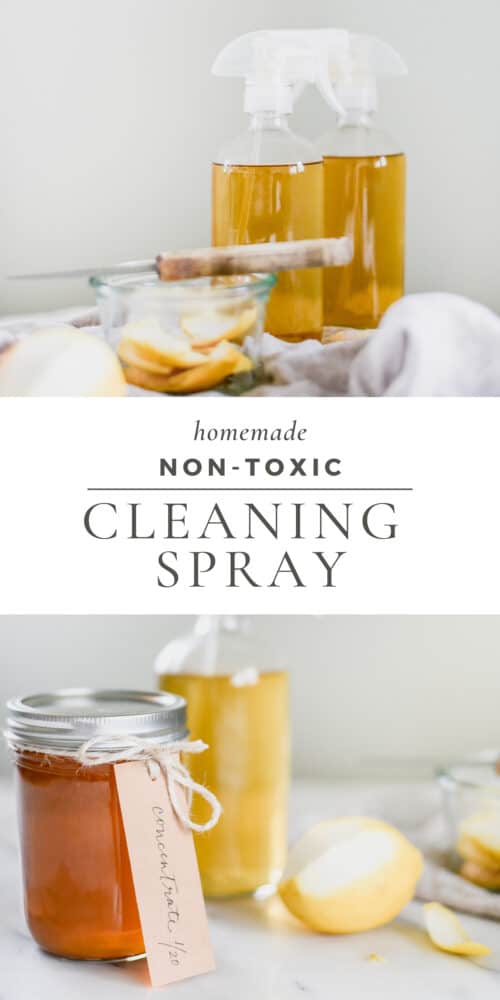 ---
More Green Cleaning Ideas!
The Best Green Cleaning Products
---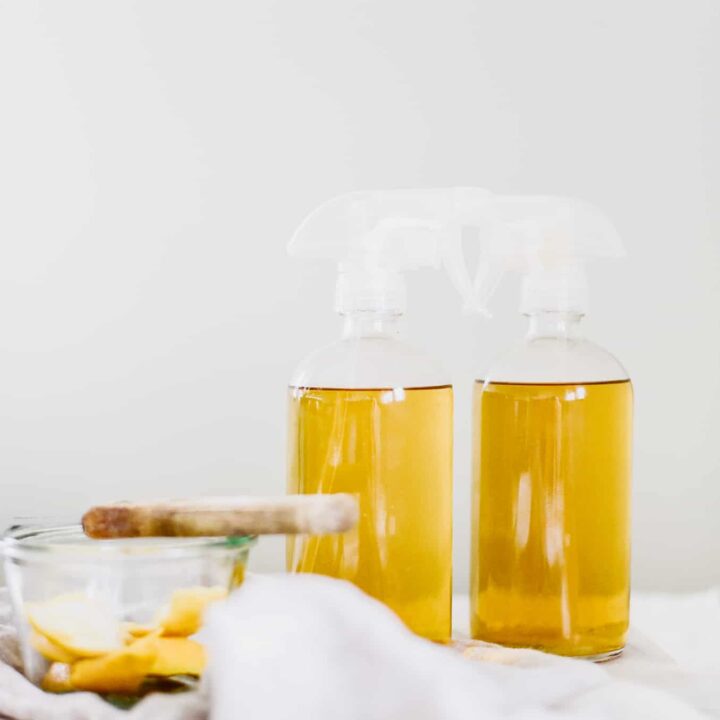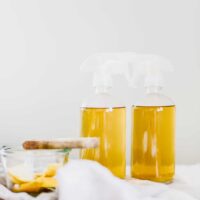 Print
DIY Non-toxic Kitchen Cleaner
If you have oranges & vinegar, you can make this non-toxic homemade kitchen cleaner! 
Materials
Citrus Peels

lime, lemon, orange, grapefruit

Herbs

optional

1/2

Gallon

Mason Jars

Gallon

of vinegar

Clear Glass Bottles

Purified Water
Instructions
Fill a 1/2 gallon mason jar halfway with peels and herbs. You can get creative here! Try rosemary and lemon, grapefruit and sage, or orange and thyme! 

Fill the mason jar all the way with vinegar, and seal with a lid. 

Allow the mixture to sit in a cool place for 2-4 weeks. It will look like a science project, but that's okay! 

Remove the lid and strain the mixture into a clean bowl or jar; you may need to do this a few times to remove all of the sediment. 

Once all of the sediment is removed, pour the liquid into a large mason jar. This is your concentrate mixture. 

To make the countertop spray, combine equal parts purified water and concentrate mixture in a reusable spray bottle. Enjoy cleaning with your homemade kitchen cleaner!