Learn how you can make delicious lilac sugar by using lilac petals to infused sugar with a lovely floral essence!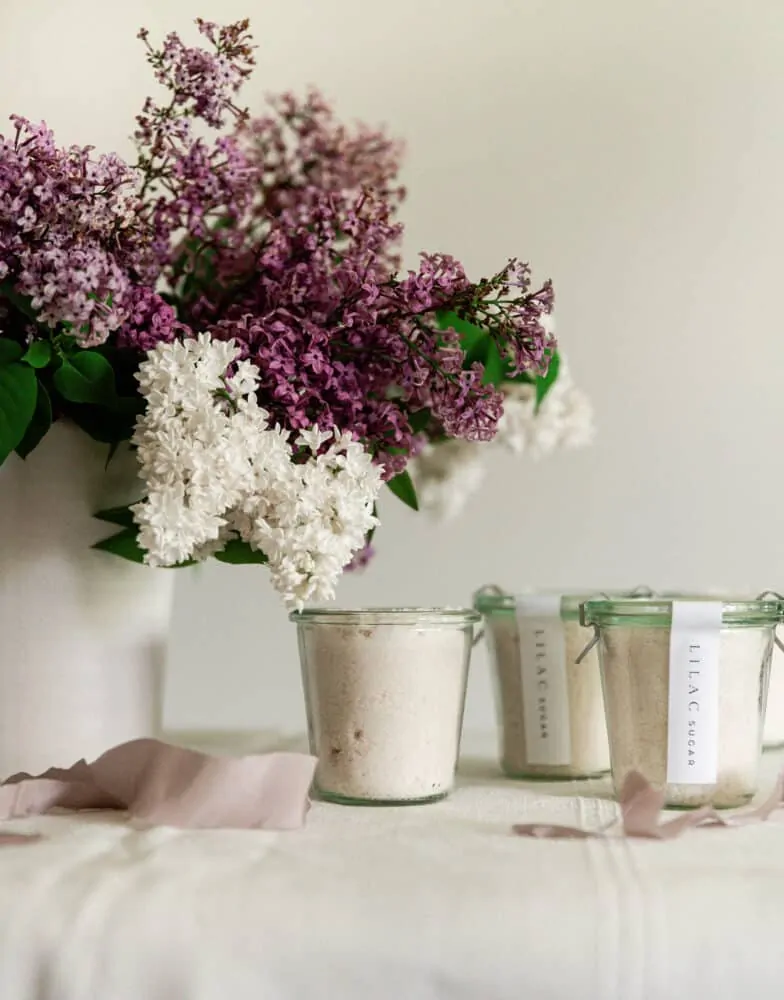 ---
How to Make Lilac Sugar
---
Making your own lilac sugar is beyond easy! To make this floral infused sugar, simply layer freshly picked lilac petals and sugar in a large mason jar.
I was inspired to preserve the beauty of the lilac blossoms this year and wanted to find some ways to bring lilacs into the kitchen.
Turns out, you can make so many things with lilacs! Lilac sugar, lilac syrup, lilac liqueur, lilac honey…the list goes on!
I had so much fun making lilac recipes this spring, and I look forward to enjoying their beauty long after their bloom has passed. Imagine lilac sugar mixed into a cup of tea on a chilly fall day. Or sipping a refreshing lilac cocktail in the late summer months.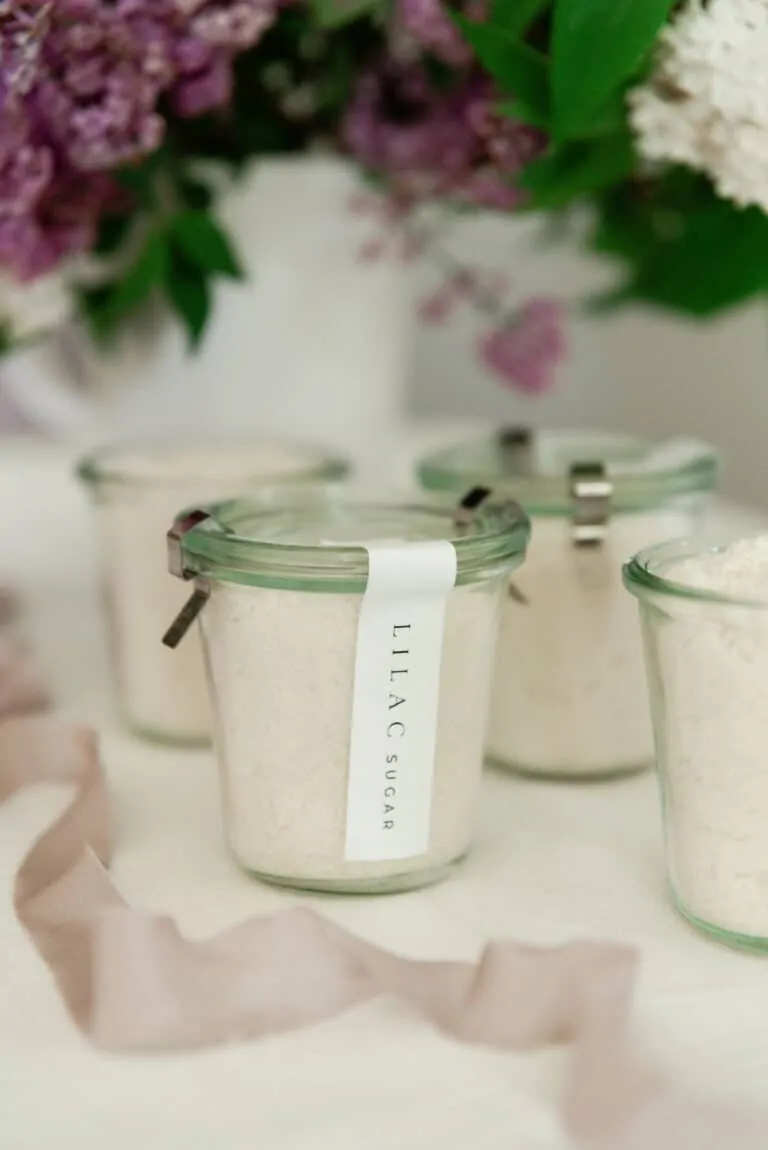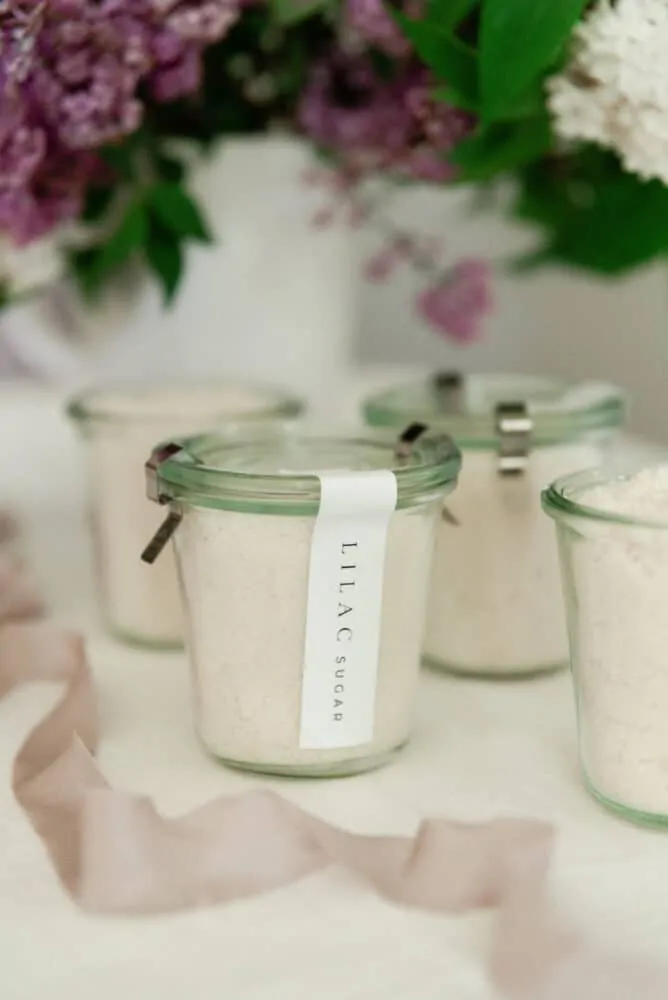 Tips for making the best lilac sugar:
After layering, shake the mason jar daily to prevent it from clumping.
Use floral clumps (stems and leaves removed) which are easier to remove after the infusion.
I have to admit, when I was making this lilac sugar, I was a bit hesitant mid process. The sugar smelled quite unpleasant, and I wasn't sure if it was going to work!
As soon as I removed the flower petals on the third day, I was so pleasantly surprised! The gentle essence of lilac was infused into the sugar in the sweetest way!
I then used tongs to pick through the sugar and remove any left over petals. Afterwards, I added the sugar to my food processor and pulsed the sugar to break up any clumps that had formed during the infusion process.
You see, the moisture from the petals is drawn out by the sugar and the sugar's texture turns to more of a brown sugar than granulated sugar. It has the texture of sand. Running it through the food processor was the perfect final touch before jarring up the sugar!
Love lilacs? Here are some great tips for arranging lilacs and preventing them from wilting!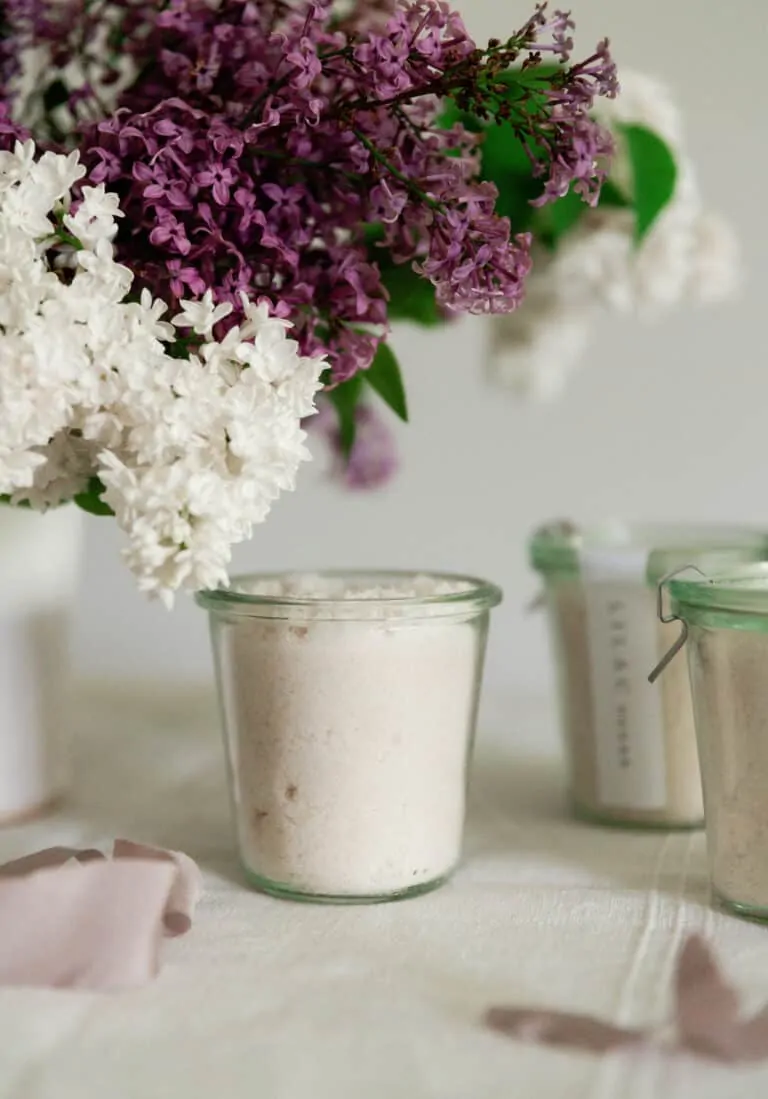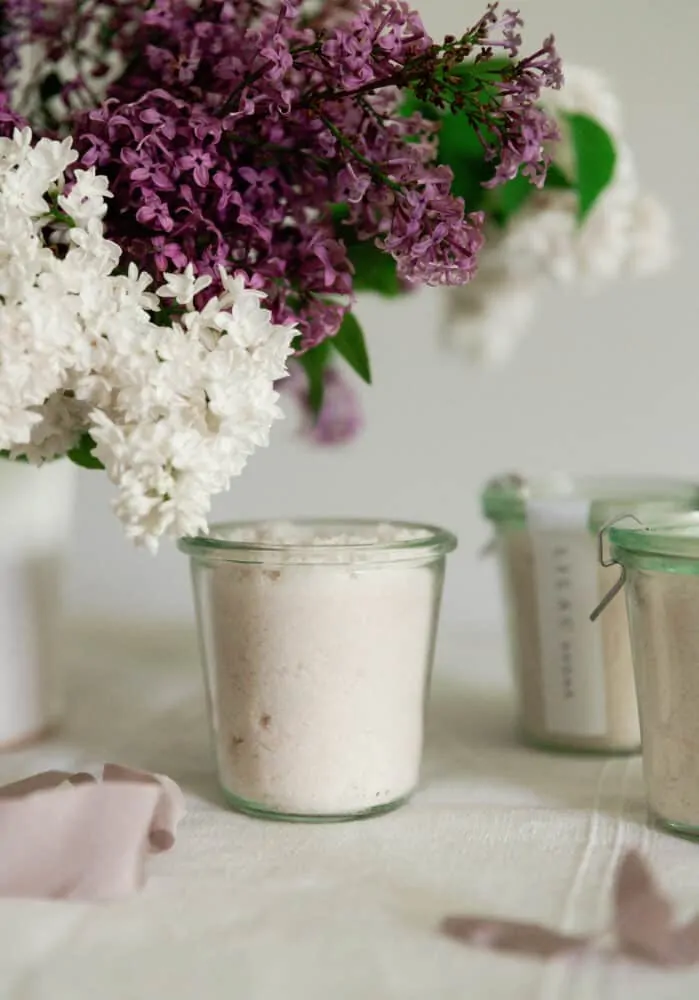 While making this, I was able to put on some music and simply enjoy the process. It reminded me of when I first started blogging.
I didn't care that the search results for lilac anything are nearly zero. I didn't care that this blog post probably won't be a big hitter. Instead, I simply had fun living in the moment and enjoying the beauty of nature!
This project took days to make from start to finish, and I soaked in every moment. Especially the photographing of it.
It reminded me of how simple life can be. How much joy can be found in something as small as infusing sugar with flower petals.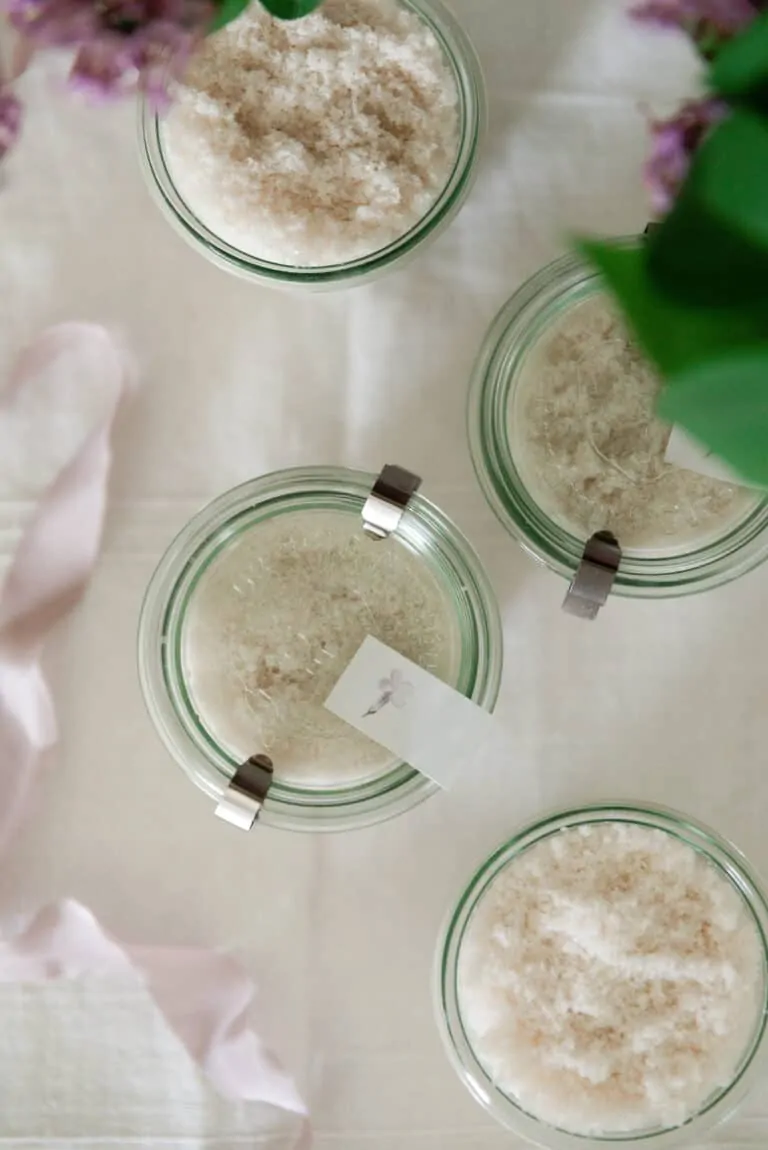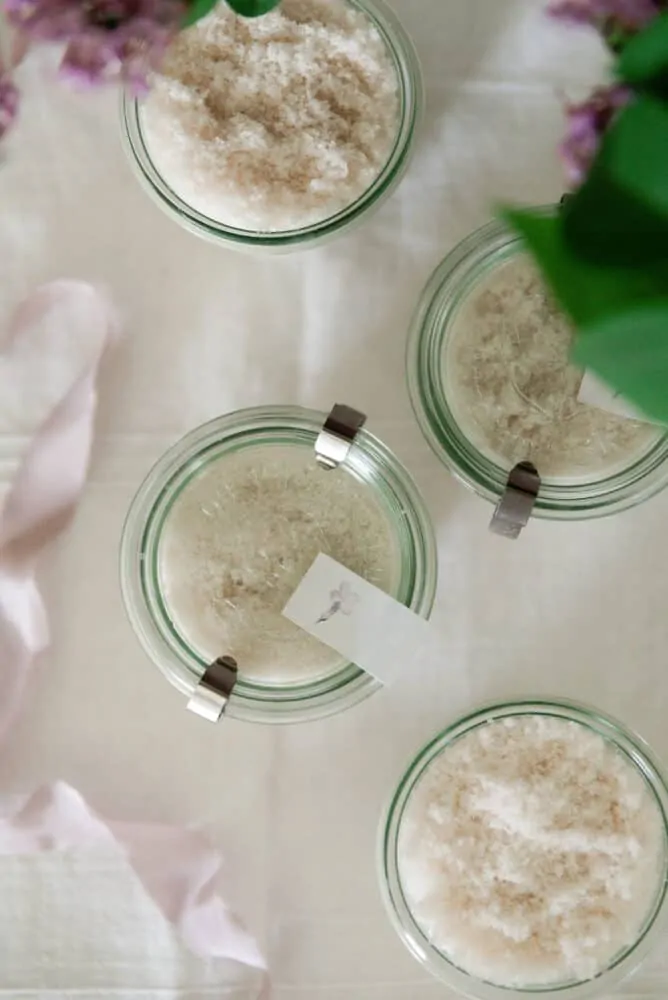 "It reminded me of how simple life can be. How much joy can be found in something as small as infusing sugar with flower petals."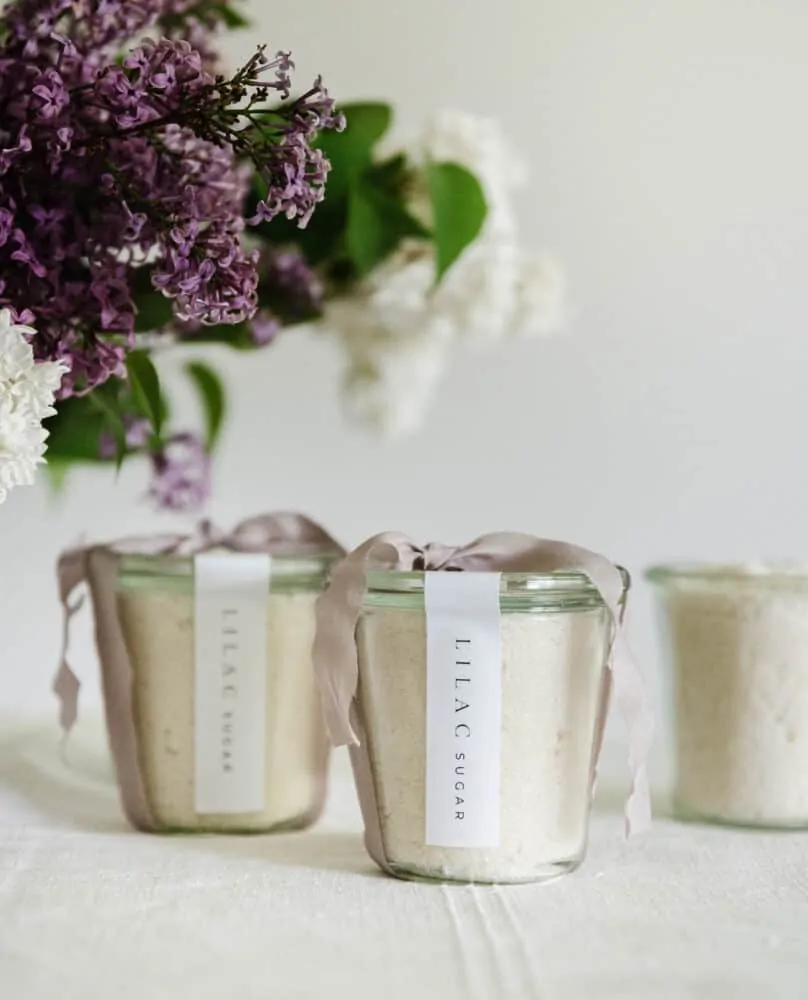 After making this lilac sugar, I decided to make little labels to turn this into a sweet handmade gift!
You can download the free printable labels by clicking here. Print them onto this label paper and use a slide cutter to cut the labels into small strips.
I hope you enjoy this lilac sugar, please let me know if you make it and how you enjoy using it!
Tips for Making Lilac Sugar
Shake daily to prevent clumping:
There is a lot of moisture in the petals of the lilacs. The sugar will begin to absorb the moisture, and if you do not shake the jar, the sugar will turn into a giant clump. To prevent this, just give the jar a shake each day.
Use clusters of flowers:
By using clusters of flowers rather than single petals, you will expediete the process of removing the petals. The petals turn a not-so-pretty brown color, and you really don't want to leave them in the sugar. I used clusters of flowers that were easily removed with a set of tongs.
Any petals that had fallen off were able to be removed with tongs, which took about 10 minutes of digging through the sugar. Would be a fun task for kids!
Finish with the food processor:
I found that blitzing the sugar through the food prcoessor after all of the flowers were removed got rid of any sugar clumps and gave the sugar a nice texture. This is an optional step, but it's worth the extra five minutes it takes!
The Recipe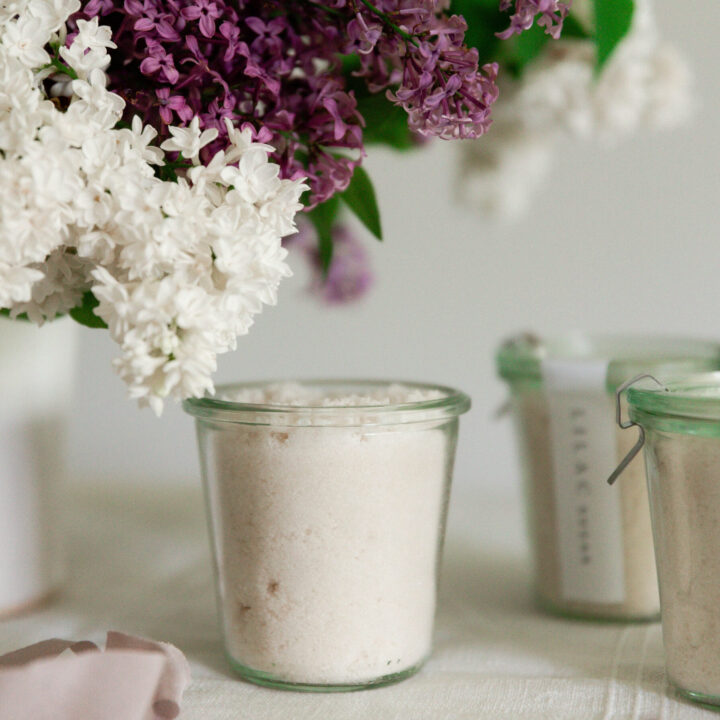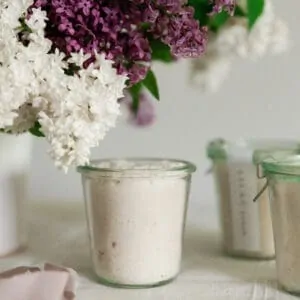 Lilac Sugar Recipe
Learn how to make your own lilac sugar!
Ingredients
2

cups

sugar

2

cups

lilac blossoms
Instructions
In a large mason jar, layer sugar and lilac blossoms.

Cover and rest for 2-3 days, shaking each day to prevent clumping.

After 2-3 days, pour the sugar mixture into a large baking dish. Use tongs to remove the flowers – removing as many as you can. This takes about 10 minutes of picking. This is a fun job for kids!

If desired, pulse the sugar in a food processor to break up any clumps that may have formed.

Divide the sugar into jars and store in a cool dry place.
Notes
While "making" this – shake daily, or twice daily to prevent clumps from forming.
The mixture will not smell pleasant while it is infusing. Don't worry, it will taste delicious once you remove the petals!