How to Menu Plan for the Week
This post may contain affiliate links, please read my disclosure policy.
Grab my tips for menu planning for the week and download my free printable menu planner and grocery shopping list!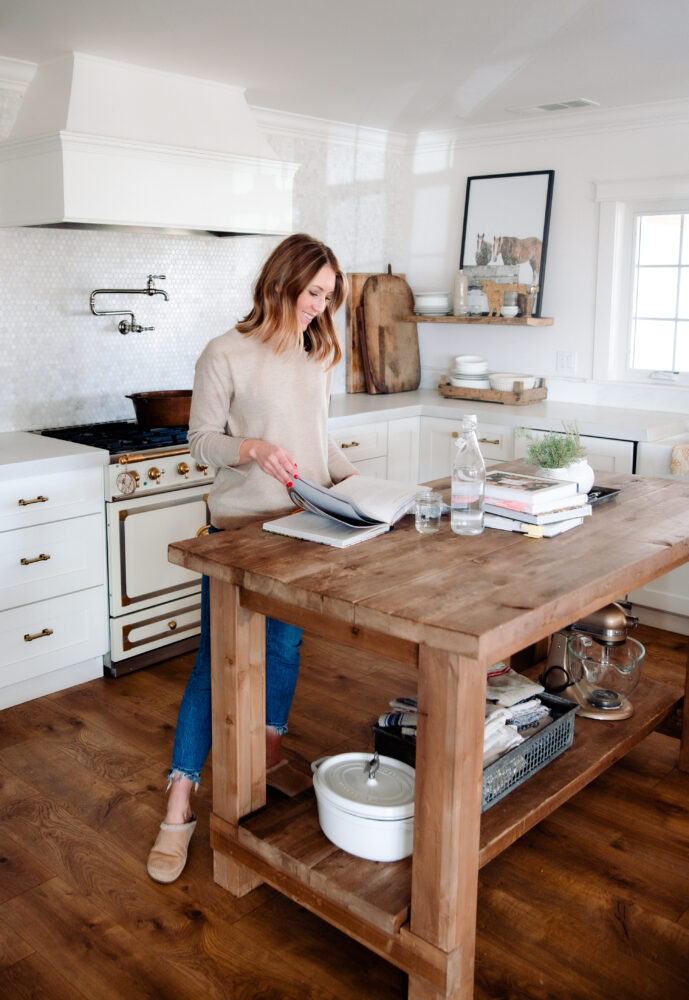 15% off Jenni Kayne with code CHLOE15

Lately I have been finding myself menu planning on Sundays to prepare for the week. We have been doing once per week grocery trips, which is slightly less than normal.
Typically, we'd eat out once or twice a week or make it to town a little more frequently. So I've definitely been trying to stay organized and on top of groceries and meals more than ever!
By planning my menus each week, I have found that I am able to maximize the groceries, reduce waste, and make the most of the things we have! Win, win, win! It goes hand in hand with a well planned calendar!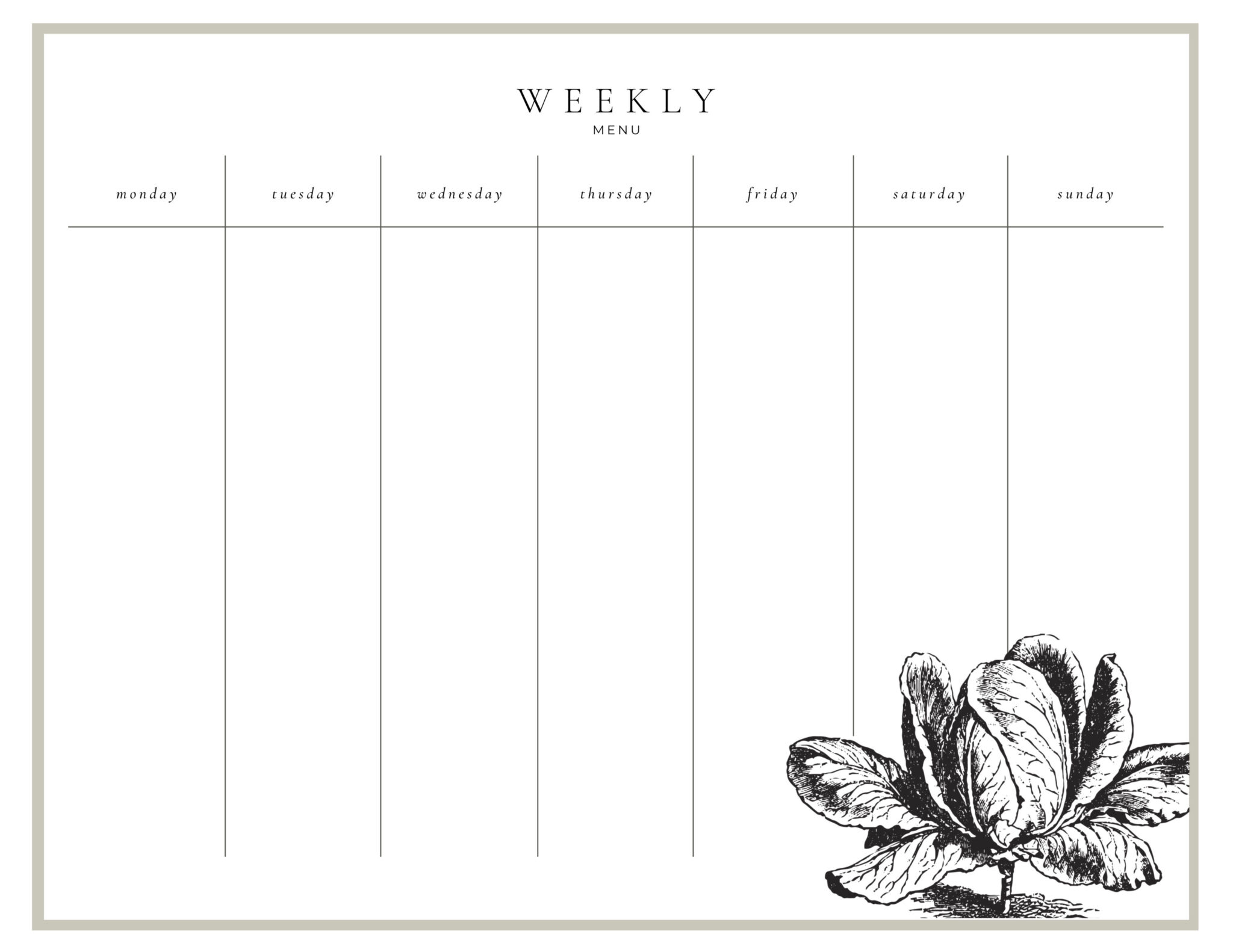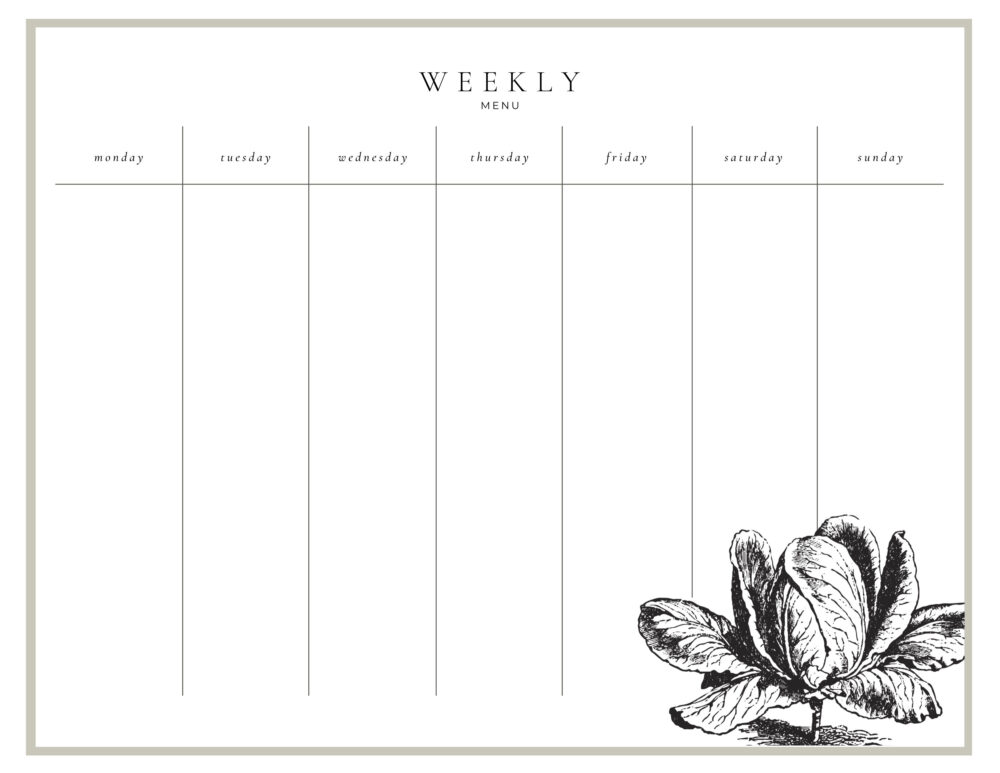 ---
Some of my favorite weeknight meals:
---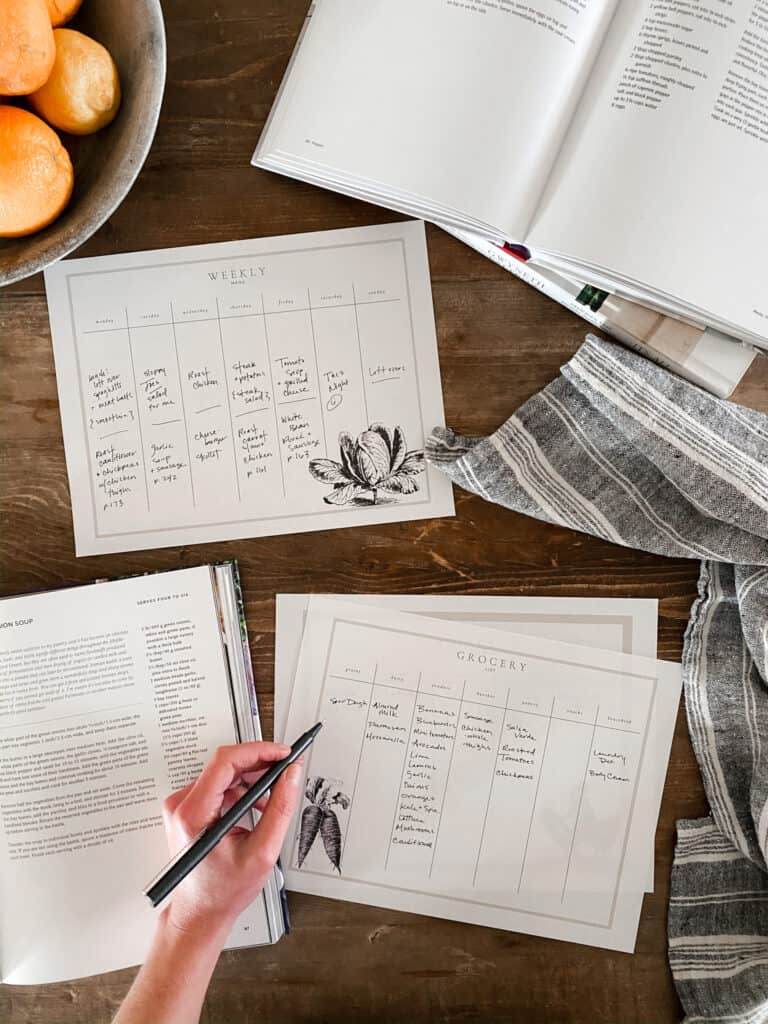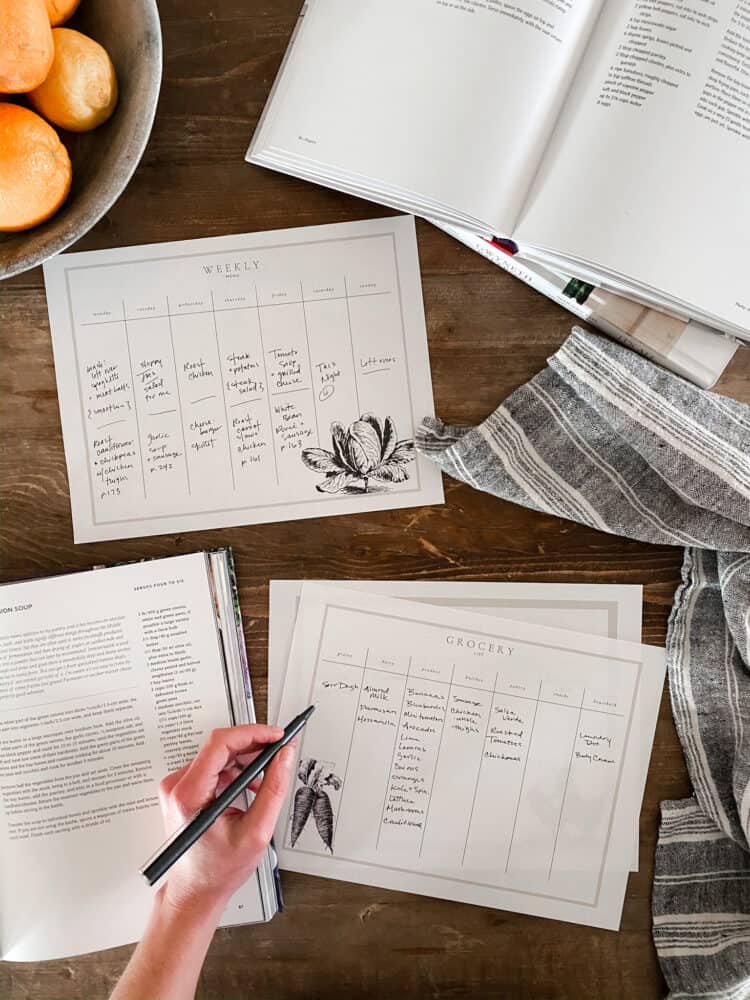 I have mentioned before that I stick to a low-carb diet, while my husband does not. I've been able to adapt the menu to fit both of those diets, which I think is super helpful for those of us that like to cut back a little on the weekdays.
I do this so that on the weekend I can enjoy myself a little extra with a glass of wine and dessert, and not have to worry about my pants getting too tight ;).
He loves things like fried chicken, steak and potatoes, and cheeseburgers. I love things like roasted carrots with walnuts and goat cheese! So where's the middle ground?
In order to make us both happy, I will tweak his favorites and make baked chicken with some bread crumbs sprinkled on top, a steak salad for myself, or skip the bun on my burger and add extra veggies.
I try to cook with mostly vegetables and a protein, and then add a side dish for him like: sliced baby potatoes, sour dough bread, or tortillas.
"This seems to be a great balance for us, and I have noticed that my mind and body both feel so much better when I skip the bread, pasta, and wine."
I used to drink wine nightly, and it took me a long time to give up that habit. Now, I enjoy wine or a cocktail on the weekend, and special occasions. I can tell a HUGE difference in my overall well being when I drink alcohol.
It's hard to skip the glass of wine at night, it really is. When I have a hankering for a cocktail or glass of wine, I make myself a mocktail and drink it out of a wine glass!
Today I am sharing a free printable menu planner, printable grocery list planner, and weekly to-do list. I have found these three simple pieces of paper have served me so well during this time, and I hope you find them useful too!
The Best Cookbooks for Menu Planning

Pick a few proteins:
I like to pick a few proteins to mix throughout the week, typically chicken and beef, sometimes pork. I like to make a roast chicken early on in the week so that I can use that meat throughout the rest of the meals! A roast chicken makes a great lunch on Monday, dinner for Tuesday, soup on Wednesday, and chicken stock to be used later on!
Stock up on veggies:
Having a slew of veggies makes it easy to be adaptable when what you've planned for dinner doesn't end up sounding as good as it did when you were menu planning. If you don't end up using all of the veggies at the end of the week, you can always freeze them to be used in soups or smoothies.
Make the most of your ingredients:
In order to save money on your grocery bill, try to make two meals from each protein. For example, I like to make 2-3 meals from our roast chicken, 2-3 meals from a package of ground beef, 2 meals from a package of sausage etc... That way you don't have to buy as many different ingredients to get you through the week.
Stretch your pantry:
Making a few pantry meals throughout the week is a great way to stretch your budget and fill the gaps between more time intensive meals. I love making eggs for dinner with chickpea stew, simple soups, and anything that doesn't take up a lot of time or many ingredients.
I hope you find these menu planning tips helpful, and enjoy using the free printable menu planner and grocery list!
I would love for you to follow along on Pinterest for even more ideas!