Learn how to make easy and delicious homemade orange marmalade! This orange marmalade recipe is perfect for preserving citrus season all year long!
You can make marmalade with any type of orange you have on hand, it's the perfect recipe to use up all of those oranges during citrus season. This recipe contains helpful tips so that you can confidently make your own homemade citrus preserves.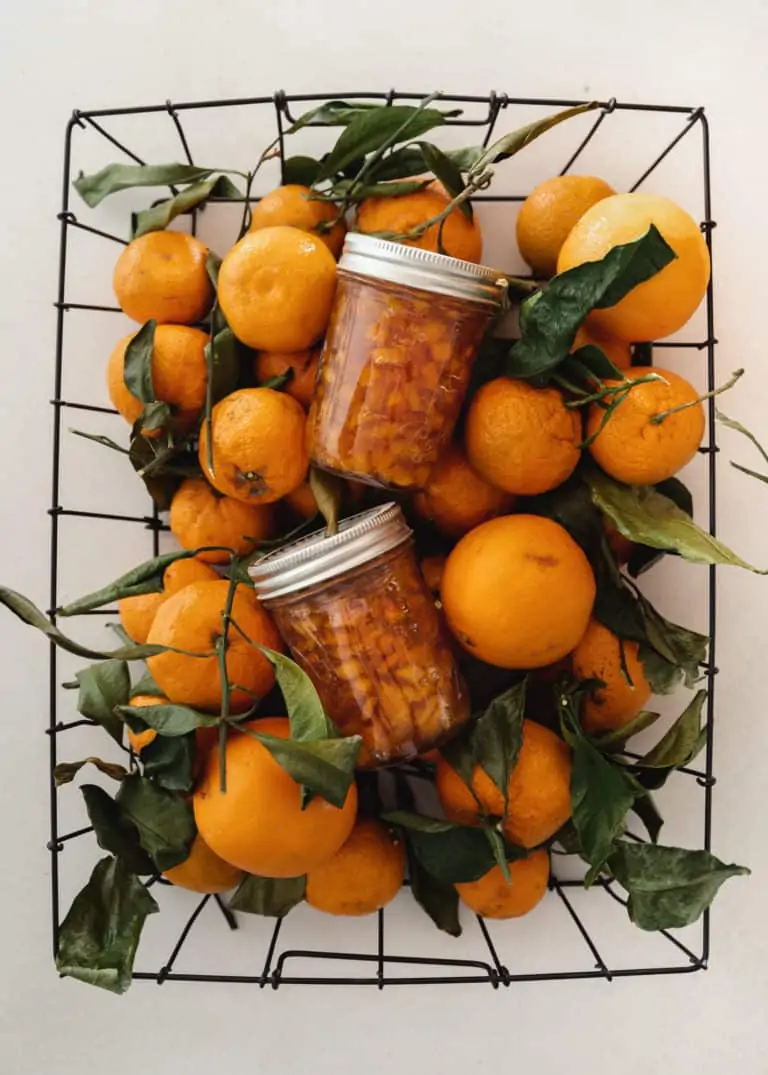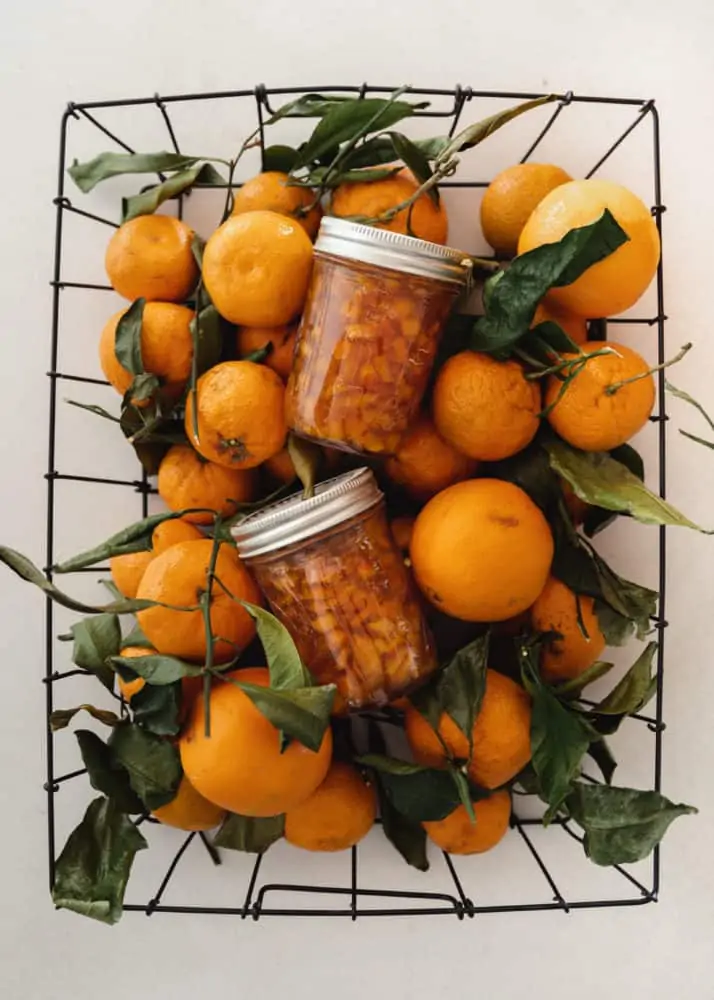 Orange Marmalade Recipe
Orange marmalade is a wonderful way to preserve the beautiful citrus of winter!
If you have more oranges than you know what to do with, make some marmalade! Or…make an orange cake, or a citrus cocktail, or even orange curd!
A lot of marmalade recipes require stripping the oranges of their pith, peeling them, soaking them overnight, etc… I knew there had to be a quicker and easier way to make marmalade!
Enter: quick and easy marmalade!
Of course, "quick" is subjective here – because this doesn't happen in 10 minutes. Homemade jams require time and energy, but this recipe only takes an hour or two rather than overnight!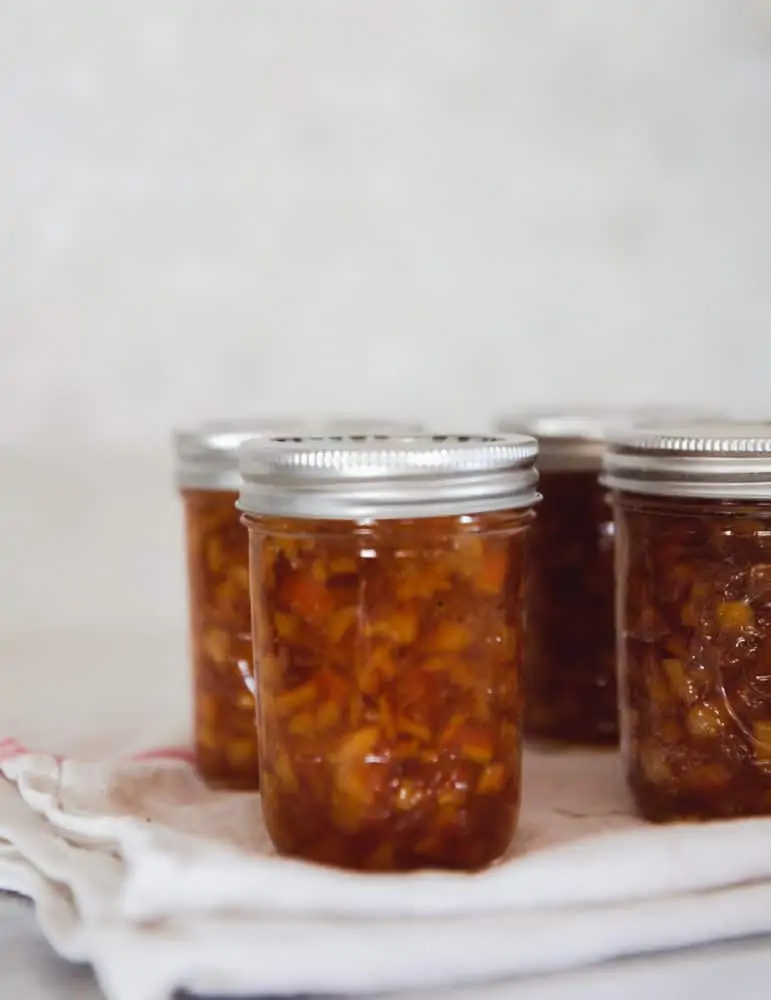 What Is Marmalade?
Marmalade by definition is: a preserve made from citrus fruit, especially bitter oranges, prepared like jam.
The name marmalade originates from Marmelos, a Portuguese quince paste similar in texture to an orange spread. Marmalade is most traditionally made using Seville oranges from Spain or Portugal.
However, you can make marmalade using any type of citrus fruit! Grapefruit, blood orange, even lemons or limes would still be considered a marmalade.
Jam vs. Marmalade: What Is the Difference?
Marmalade is prepared like jam, but the rind is included during preparation. This allows for bright bursts of tangy flavor with each bite!
I'd say all marmalades are a type of jam, but not all jams are marmalades. Marmalade is a type of jam made using citrus fruit that includes rinds.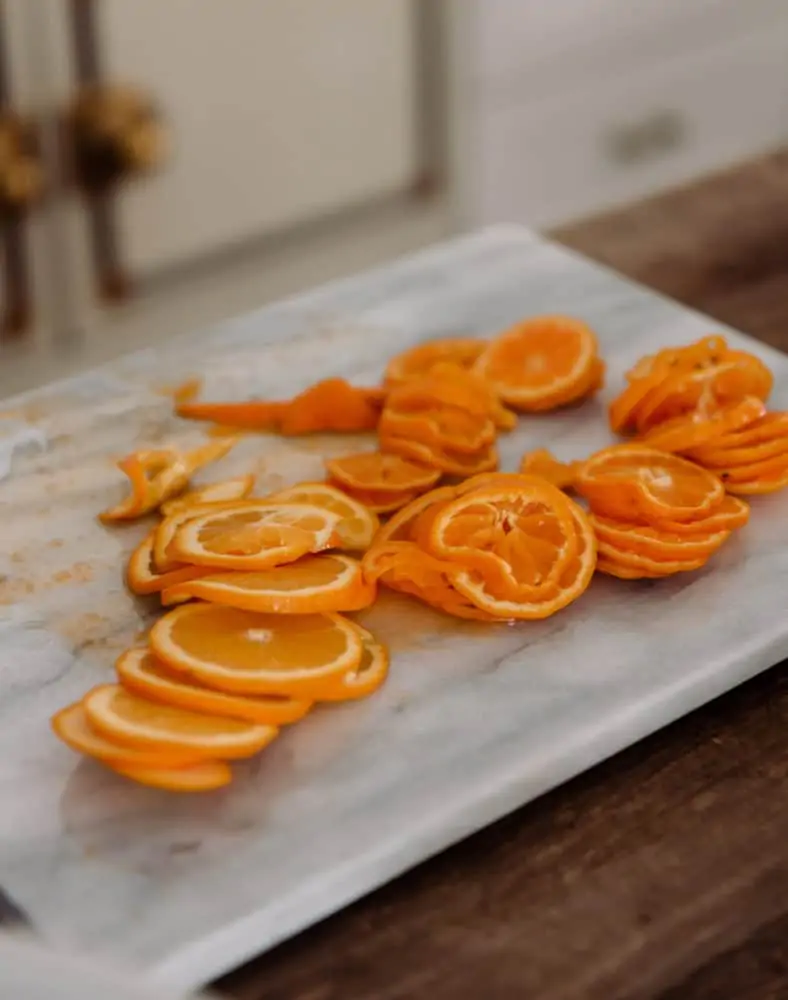 What Types of Oranges to Use For Orange Marmalade?
I prefer using an orange with a thin peel – mandarin oranges are perfect!
However, you can use any type of orange to make this delicious marmalade – blood oranges would produce beautiful marmalade!
Tip: If you do use an orange with a thicker peel, be sure to remove some of the pith (white part) of the orange to prevent bitterness in the preserves. You may also opt to not include all of the peels to keep them from overpowering the mixture.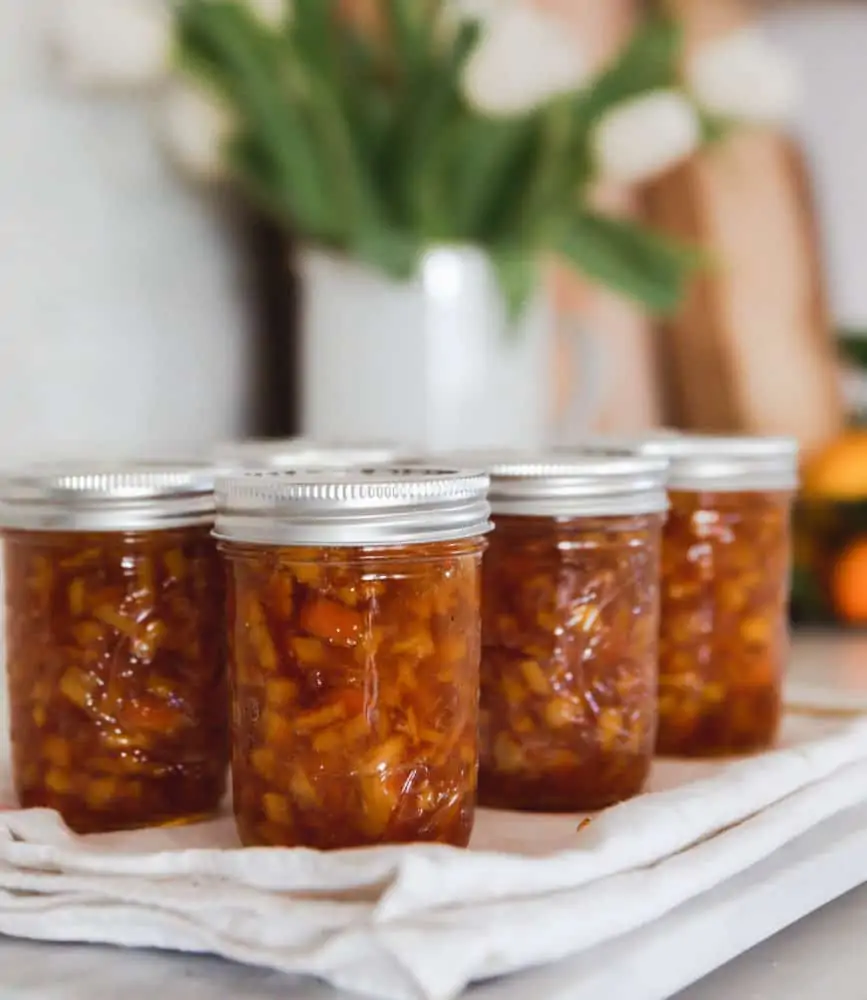 ---
How to Make Orange Marmalade
Slice the oranges into thin rounds about 1/8″ thick.
Soften the oranges by gently simmering in water for about an hour.
Add the sugar, and bring to a full rolling boil.
Simmer until the mixture reaches 220 F.
Ladle into sterilized canning jars, and process for 10 minutes (adjusting for altitude).
---
Helpful Tips
Use oranges with a thin peel for a nice consistency, I like mandarins.
It takes a long time to reach 220F (20-30 minutes of stirring). You will see a dramatic change in consistency when you're getting close. Do not over-heat (don't go above 224) – the marmalade will become too thick. It's a fine line! I use an instant read thermometer to keep a close eye on the temperature.
If you're using oranges with a thicker peel, I suggest cutting out or scooping out some of the pith (white bitter part of the peel), and not including all of the peels in the mixture.
I use a scale to measure out 2 pounds of oranges – since oranges vary so much in size and weight. This recipe makes 5-6 8 oz. jars.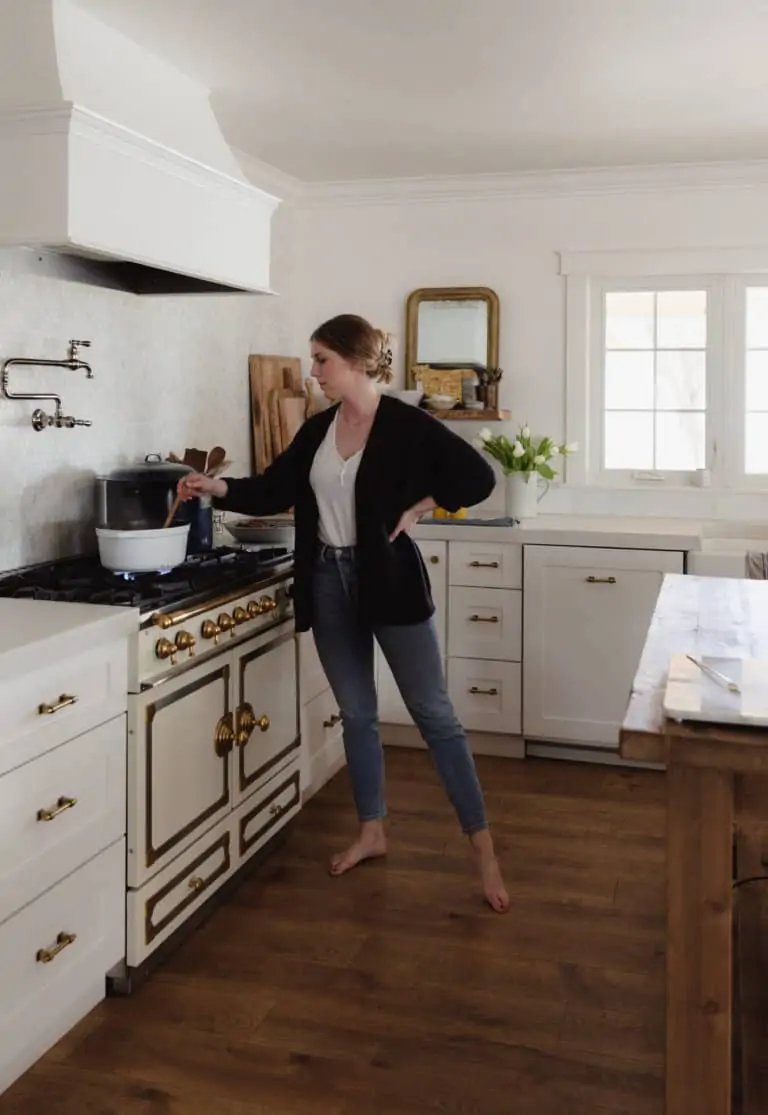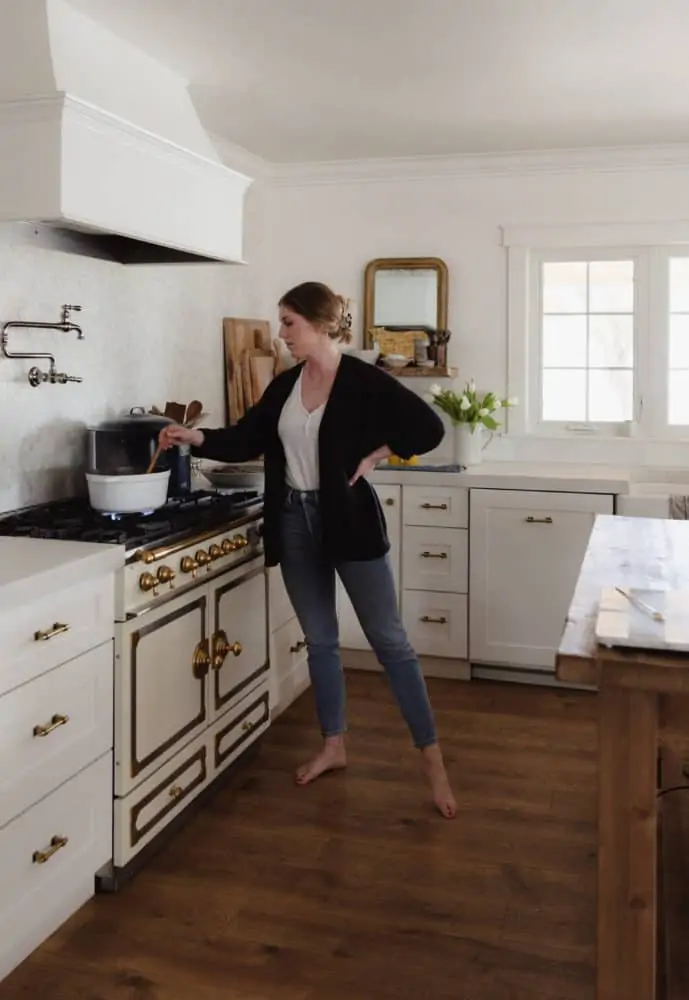 How Long Does Marmalade Last and How to Store It?
In the fridge, marmalade lasts up to three months. Maybe even longer? There's so much sugar that acts as a preservative, it will last awhile.
If canned properly, store marmalade in a cool dark place for up to 1 year.
The Recipe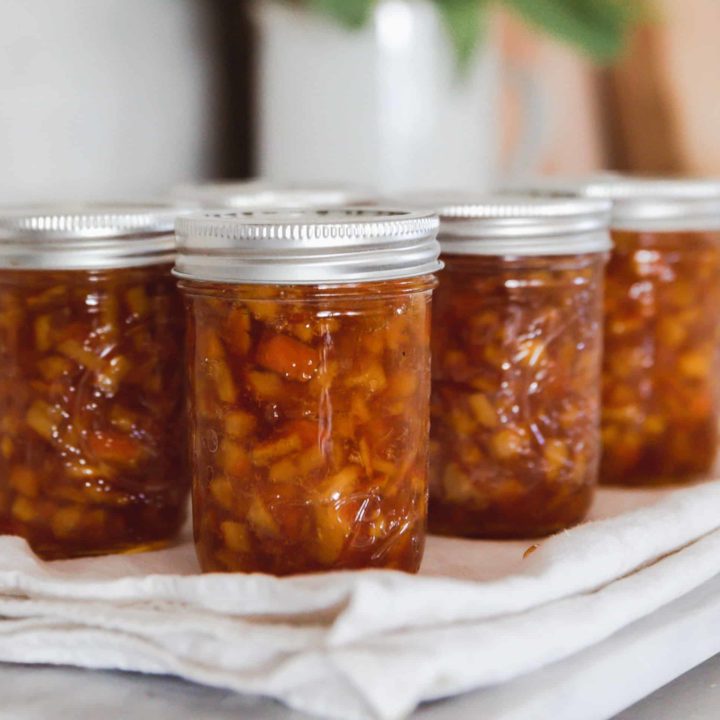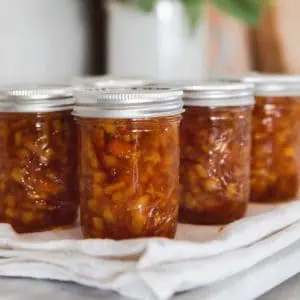 Quick and Easy Orange Marmalade Recipe
This EASY orange marmalde recipe is delicious and perfect for the beginner home canner! Learn how to make quick and easy orange marmalde!
Ingredients
2

pounds

oranges

about 8 medium

Juice and zest from 1 large lemon

6

cups

water

5

cups

sugar
Instructions
Prepare boiling water canner. Heat jars in simmering water until ready for use. Do not boil. Wash lids in warm soapy water and set bands aside.
Wash and dry the oranges and lemon. Slice the oranges into ⅛" slices and remove any seeds.

Stack the orange slices and cut into small pieces, about the size of a pea. Tip: I found cutting the slices into small pieces easiest to do with kitchen scissors!

Place the orange pieces and any reserved orange juice into a large pot. Add the lemon juice and zest.

Add the water and bring the mixture to a boil for 10 minutes. Reduce the heat to medium and simmer for 60 minutes, stirring occasionally. This softens the orange peels. A quicker method than soaking overnight.

After 60 minutes, add the sugar, stir to dissolve, and bring the marmalade to a full rolling boil. Once a full rolling boil is achieved, stir constantly to prevent burning until the mixture reaches 220 F. Use a candy thermometer to monitor this process, it will take about 20 minutes to reach this point. It will clearly thicken and become gel like.

Ladle hot jam into a hot jar leaving a ¼ inch headspace. Remove air bubbles. Wipe jar rim. Center lid on jar and apply band, adjust to fingertip tight. Place jar in boiling water canner. Repeat until all jars are filled.
Process jars 10 minutes, adjusting for altitude. Turn off heat, remove lid, let jars stand 5 minutes. Remove jars and cool 12-24 hours. Check lids for seal, they should not flex when center is pressed.

Notes
This recipe is best made using oranges with a thin peel.
Nutrition facts are estimated per jar.