How to make orange cake from scratch! This simple citrus orange cake recipe is perfectly balanced with fresh orange juice, zest, and olive oil.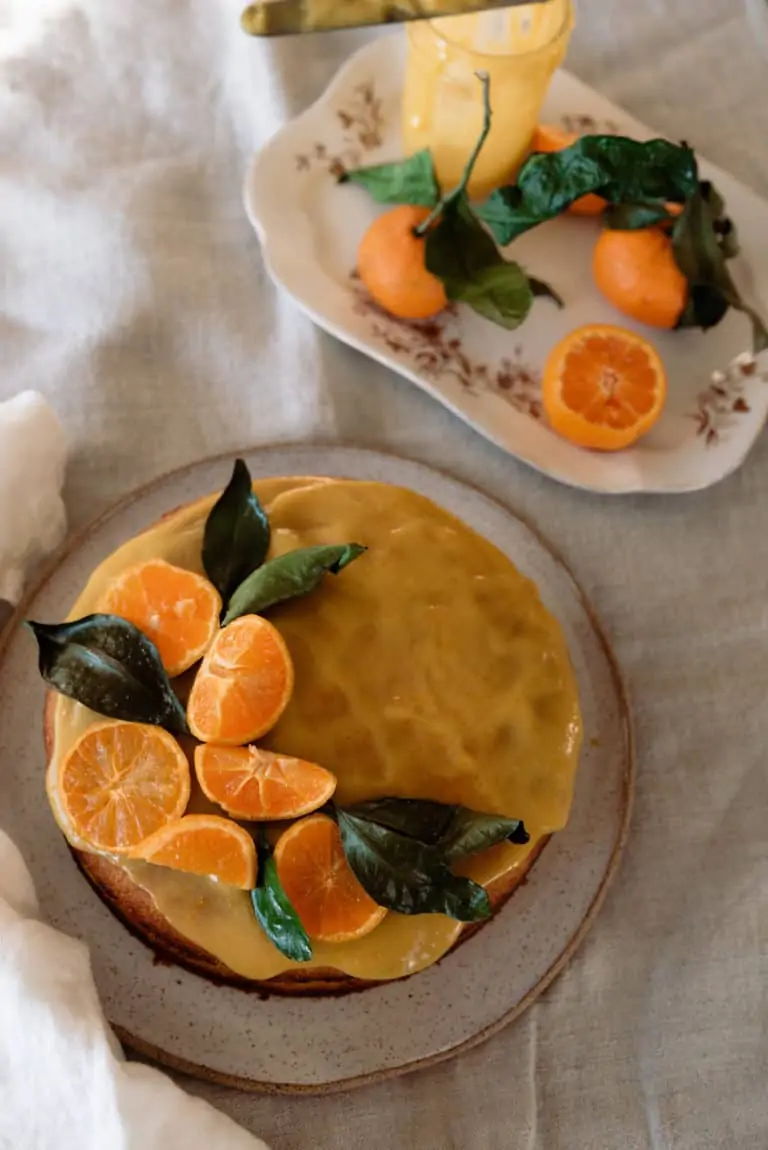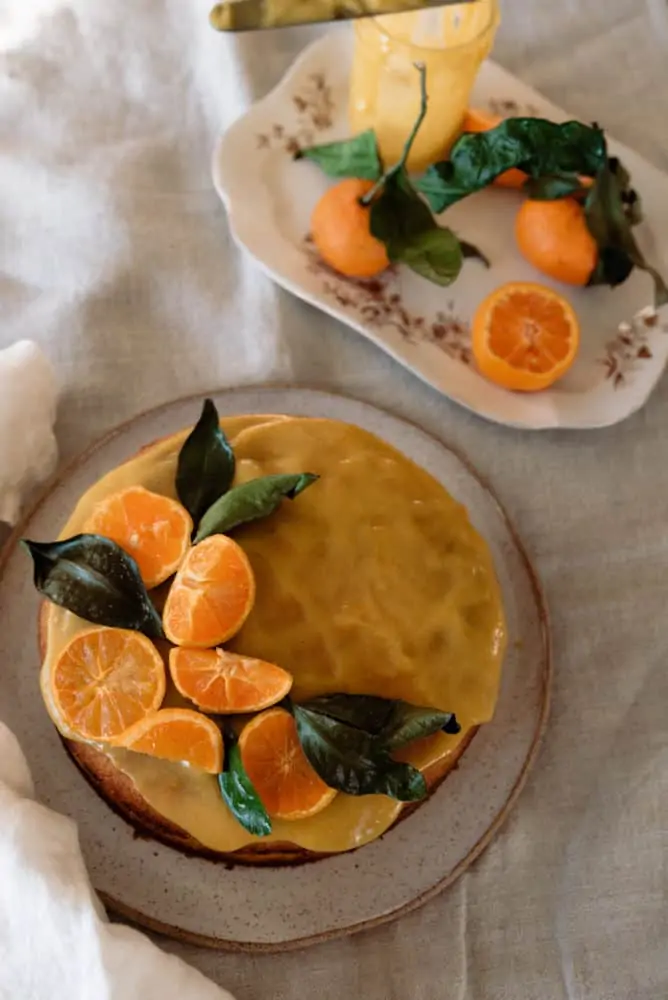 A Refreshing Orange Cake With Homemade Orange Curd
The bright flavors of citrus are a gift from winter that help us get through the dreary cold days aren't they?
It's almost hard to believe that in the dead of winter, something so colorful, flavorful, and truly delicious is ready to be enjoyed. Hard to believe, yet – I'll take it!
This light and delicious orange cake recipe is the perfect winter treat to enjoy during citrus season, or really any time of year you're in the mood for a flavorful citrus cake!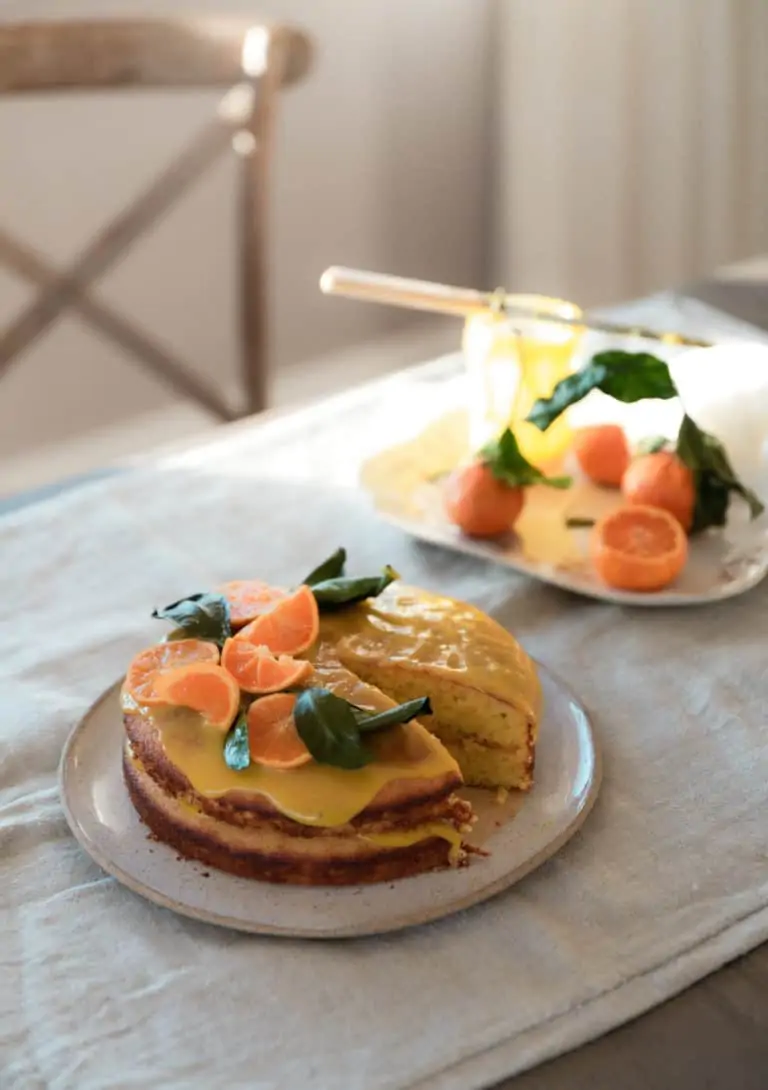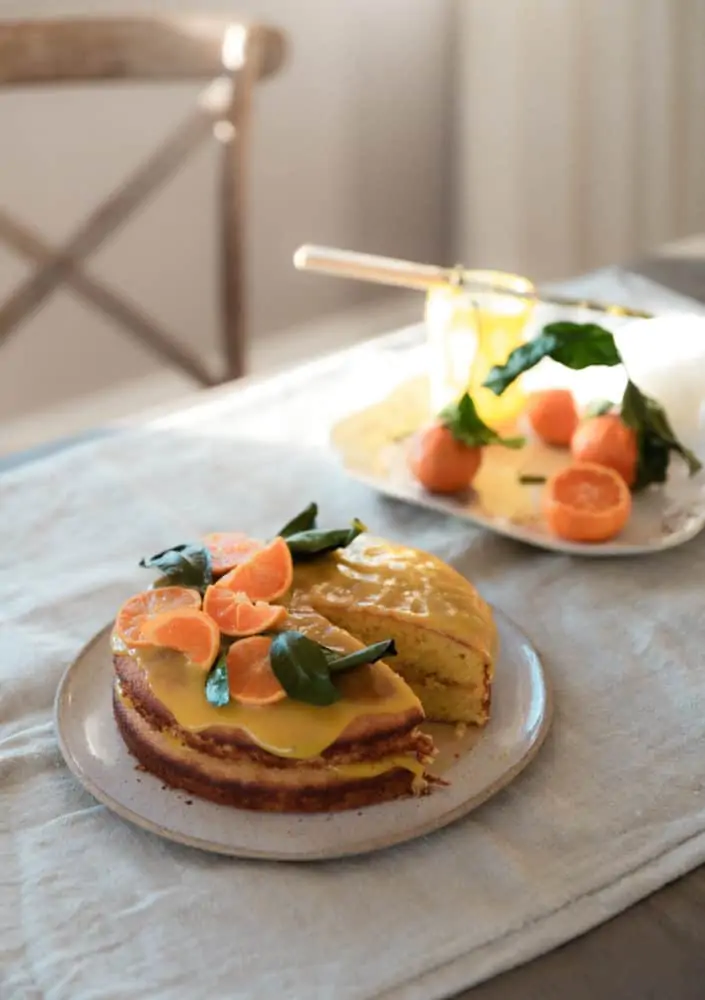 During citrus season I am usually lucky enough to receive bags of fresh oranges as we are in California and many friends of ours have citrus farming family members! This year I thought to myself, what can I make with a lot of oranges!? Here are some of my favorites:
Orange Cake
Orange Curd
Fresh Squeezed Orange Juice
Orange Scones
Candies Orange Peels
Homemade Orange Julius
Now…let's talk about cake!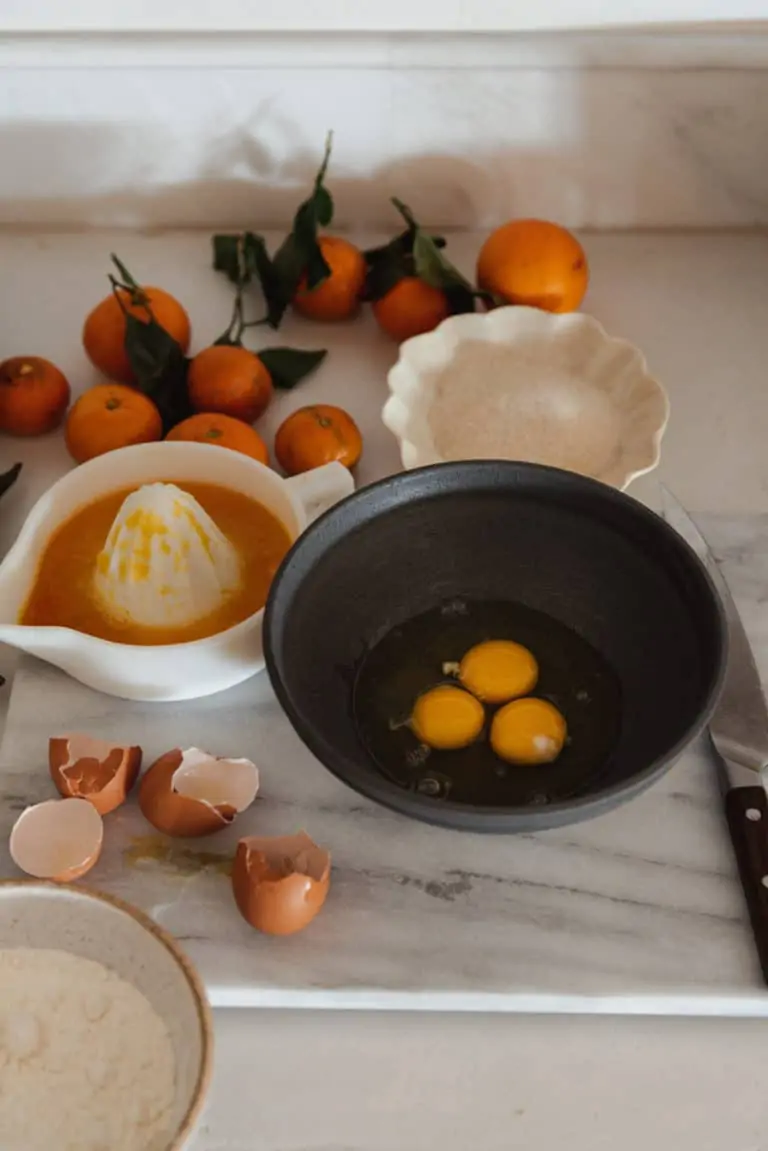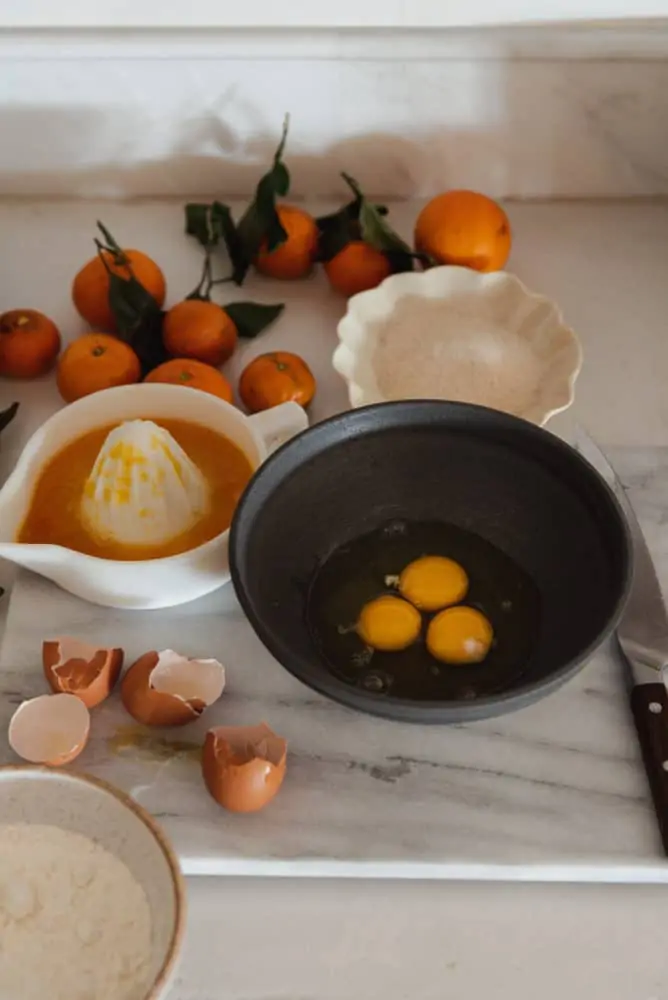 Ingredients for Orange Cake
Eggs: Make sure the eggs are room temperature. Eggs add structure, flavor, and fat to the cake.
Fresh Squeezed Orange Juice: The star of the show! Fresh squeezed orange juice will add tang and flavor to this cake.
Orange Zest: Zest brings out even more citrus flavor.
High Quality Extra Virgin Olive Oil: This richness of olive oil will round out the citrus and create a light and fluffy cake!
Sugar: A cake wouldn't be cake without the sweetness of sugar!
Salt: Salt is a necessary ingredient to balance out the sweetness.
Baking Powder: Used to leaven the cake and help it rise.
All Purpose Flour: Gluten from flour creates the structure of the cake.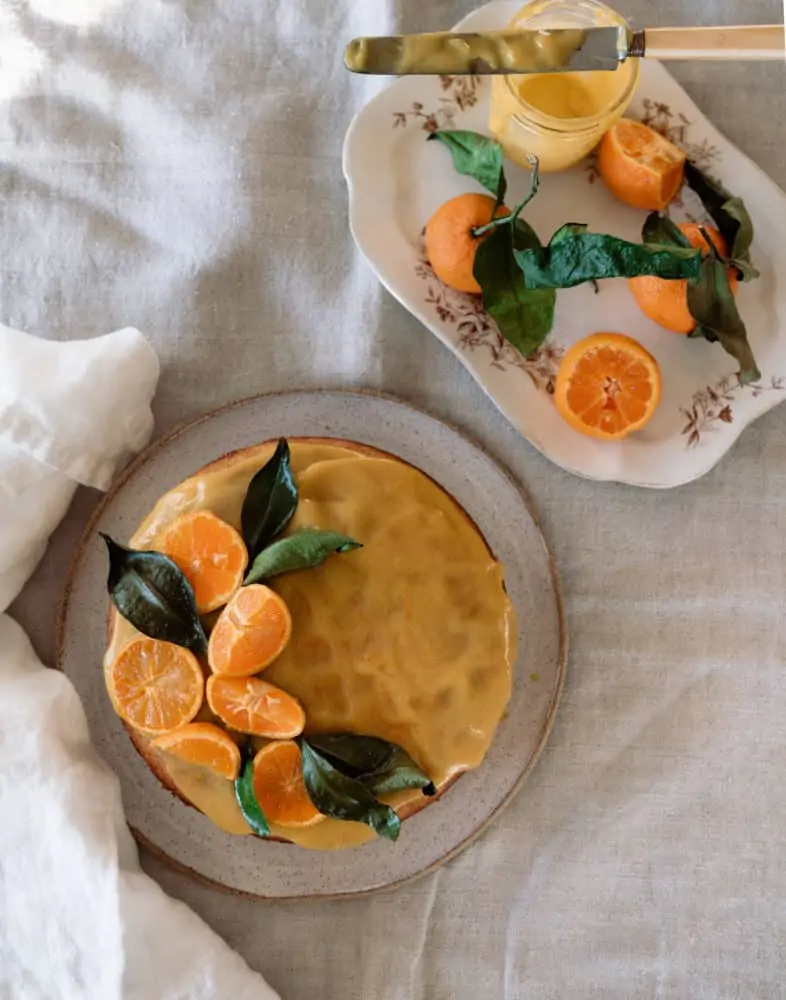 How to Make An Orange Cake
In a large mixing bowl, combine the eggs & sugar and whisk to thoroughly combine.
Add the olive oil, orange juice, and orange zest and whisk to combine.
Sift in the remaining dry ingredients: all purpose flour, baking powder, and salt.
Stir until just combined.
Divide the batter evenly into two 8″ round cake dishes or one 9″ round cake dish. Be sure the cake dishes are either lined with a piece of parchment paper or greased to prevent the cake from sticking.
Bake at 350 F for 15-17 minutes, or until the cake springs back like a sponge.
Allow to cool completely, then frost and enjoy!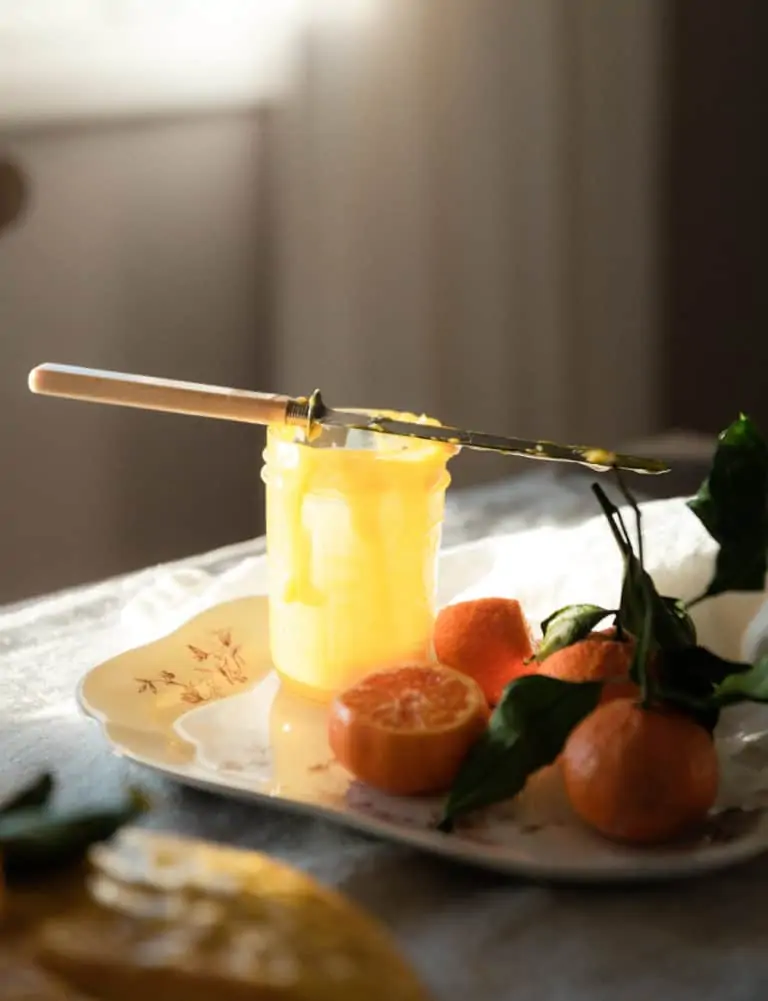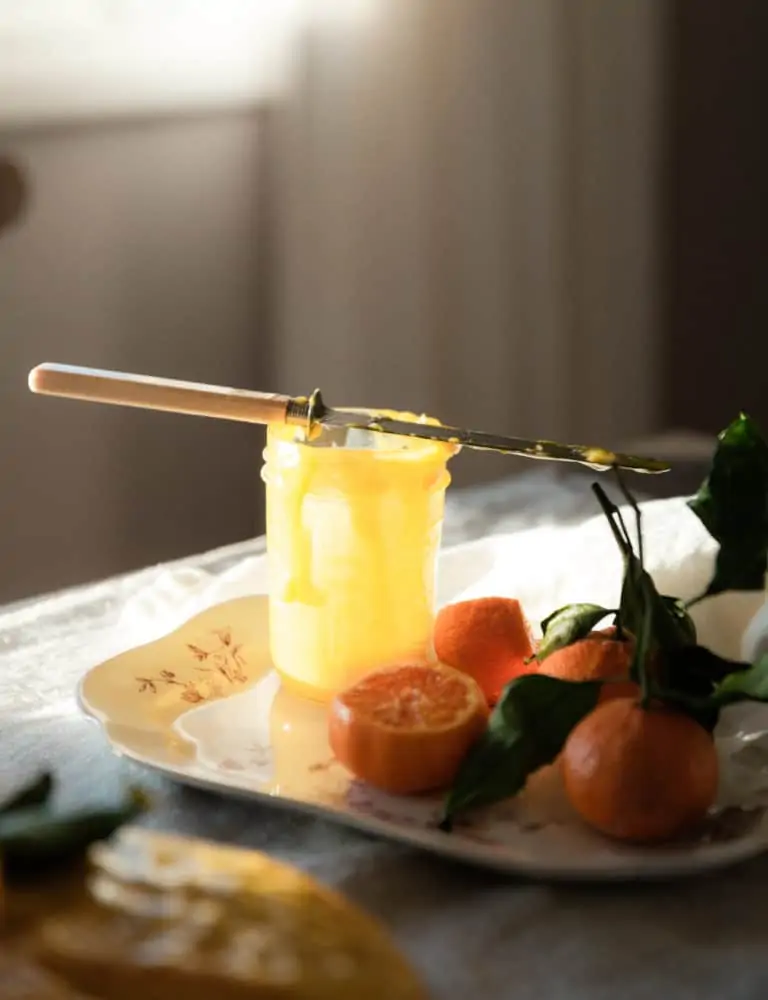 What Icing Can You Make For Orange Cake?
This orange cake recipe is finished with a delicious homemade orange curd.
Orange curd isn't hard to make, but it is a bit time consuming. If you're short on time you can simply make an orange glaze. I will include the recipe for that below. It is a mixture of confectioners (powdered) sugar and orange juice and takes less than five minutes to put together.
You may also opt for a cream based frosting such as a buttercream or a simple whipped cream. The options for orange cake frosting are endless!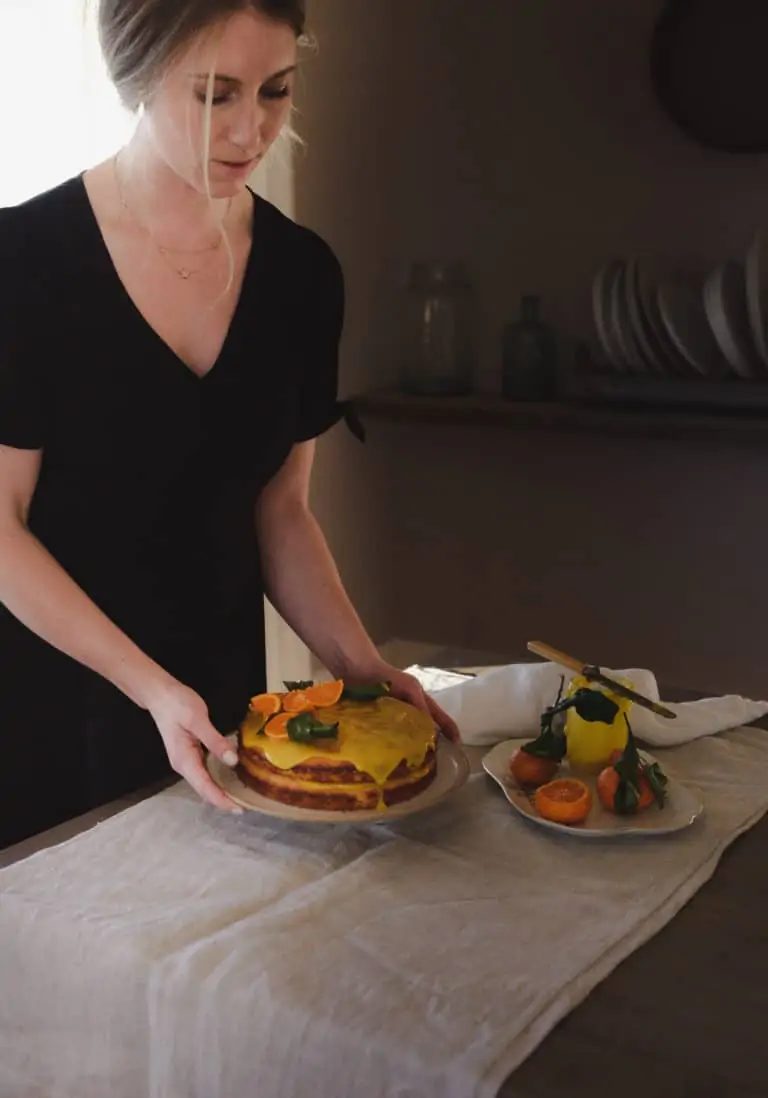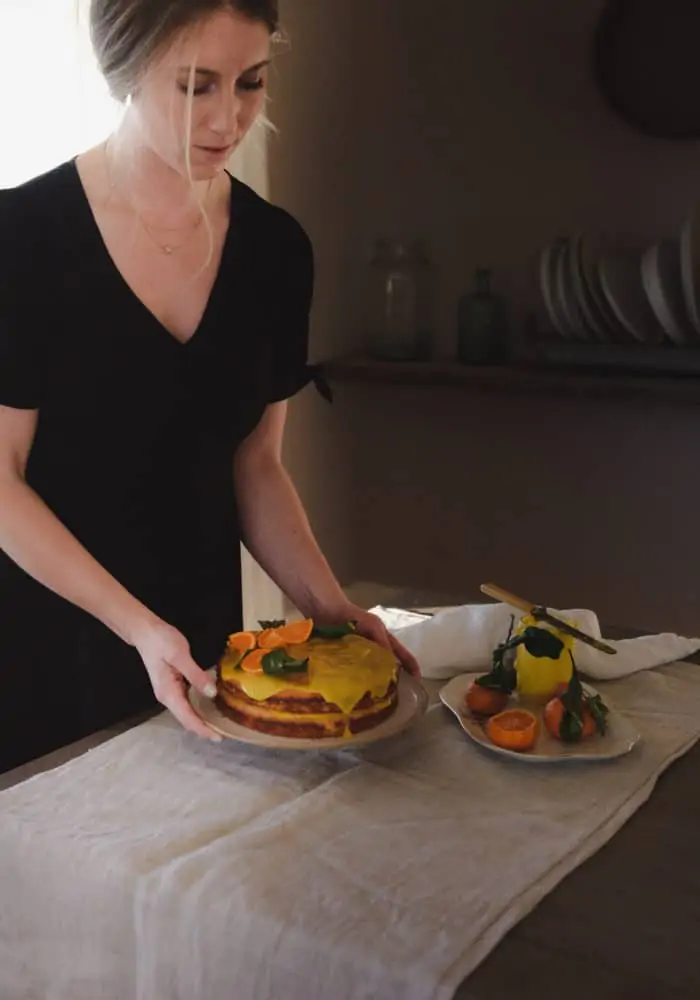 What type of oranges should you use for orange cake? You can use any type of oranges you have on hand!
Types of Oranges During Orange Season
Seville Oranges
Mandarins
Navel
Tangerine
Temple Oranges
Honeybell Oranges
Tangelo Oranges
Cara Cara Oranges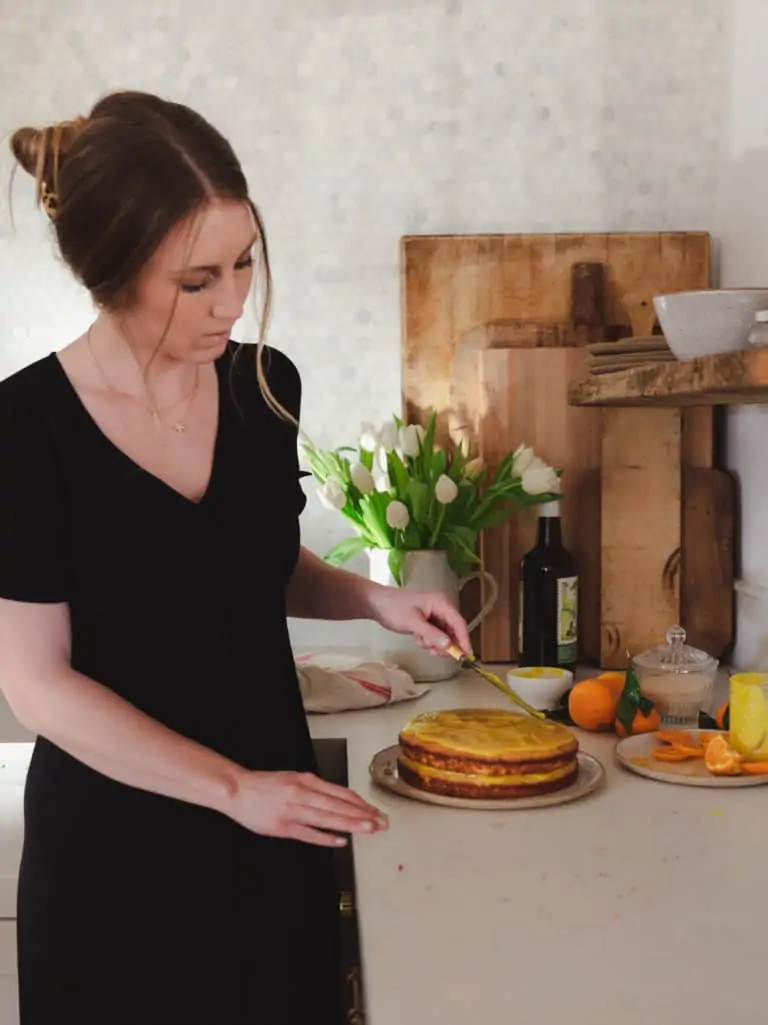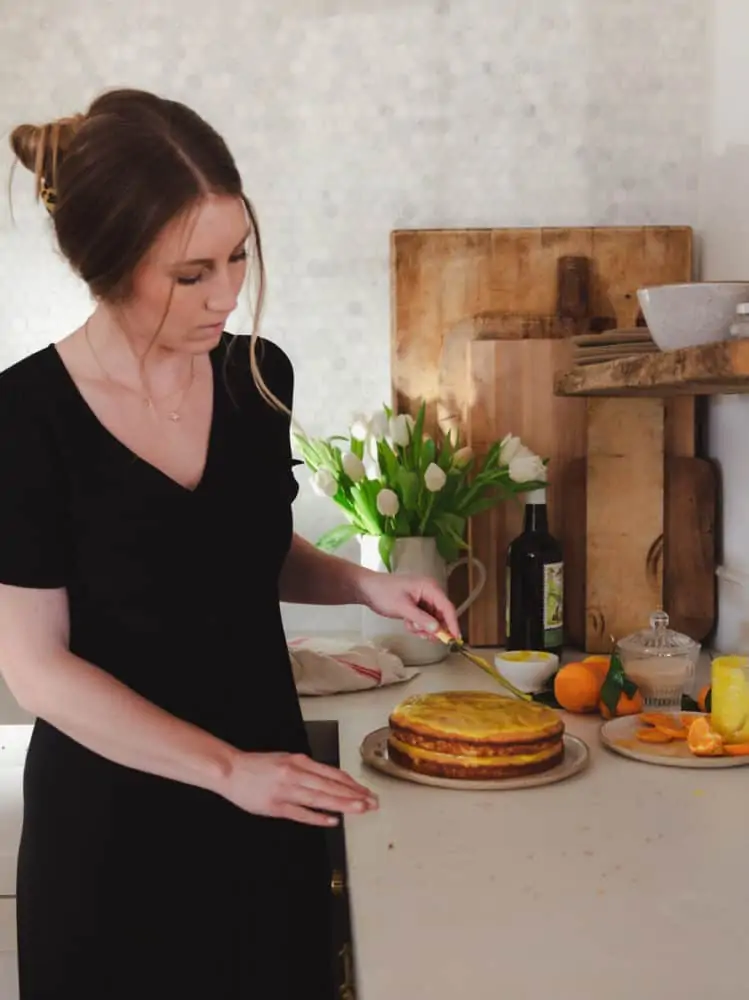 How to Decorate Your Cake
To make this cake, I simply slathered on some orange curd! It needn't be fancy, the cake speaks for itself!
To dress up the cake, I added fresh orange slices. You may also like adding candied orange peels or candied orange slices! If you have some orange leaves, they make a great decoration as well!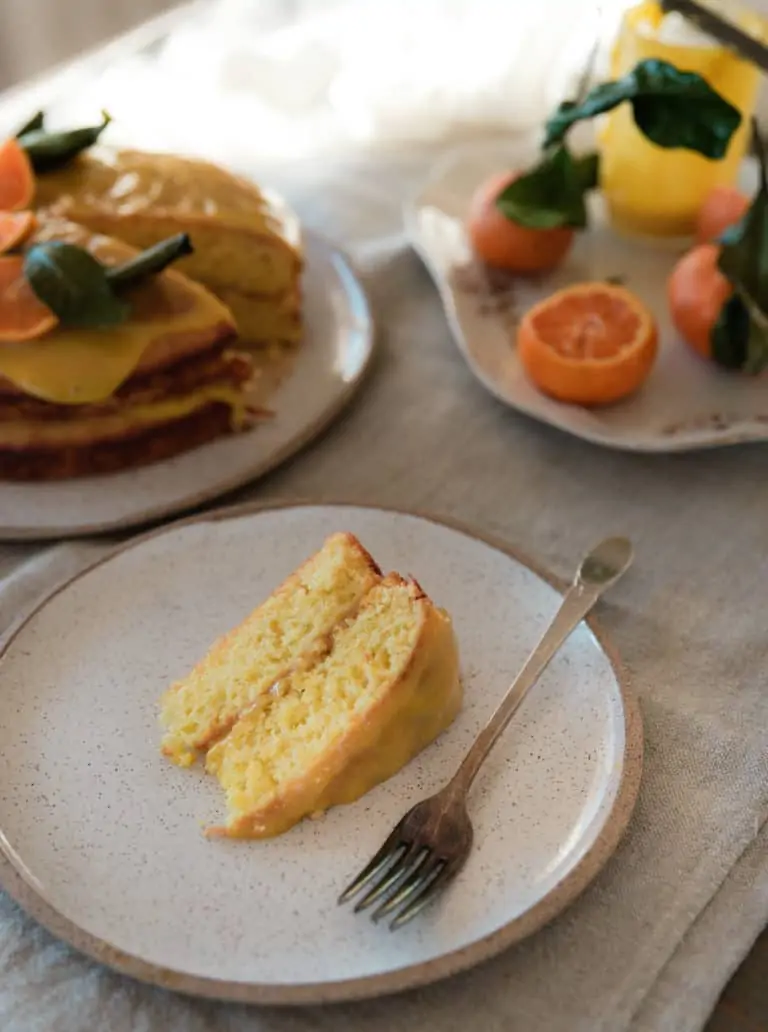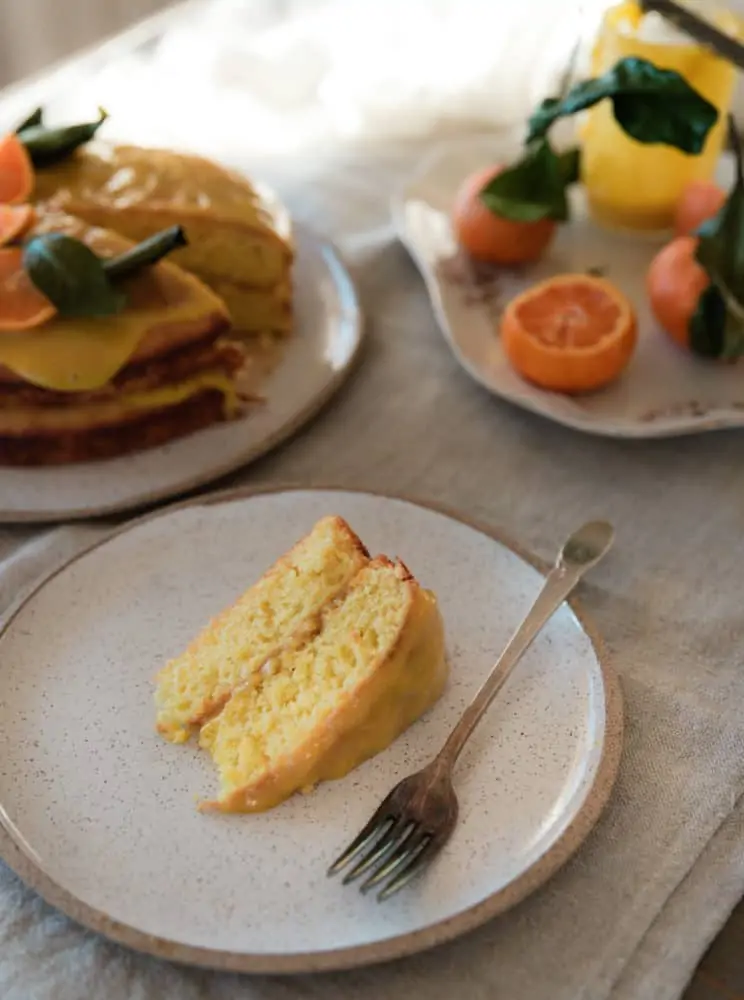 ---
Cake Making Tip
If you're wondering, how can I make my cake soft and fluffy? You've come to the right place!
Using oil in cakes and muffins (like my blueberry lemon muffins) create a soft and fluffy texture. In this recipe, olive oil provides a robust flavor and really adds a nice compliment to the orange juice and zest.
---
The Recipe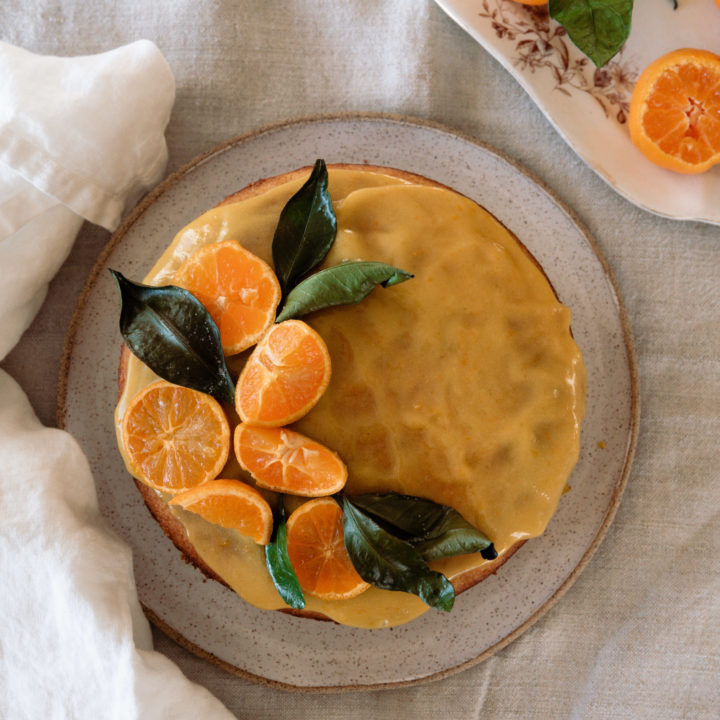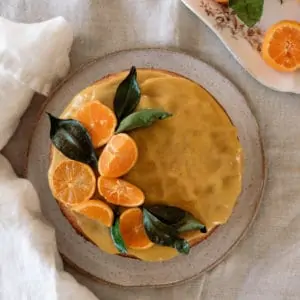 A Refreshing Orange Cake With Homemade Orange Curd
This delicious orange cake is made with fresh orange juice, orange zest, and olive oil!
Ingredients
3

large eggs

room temperature

¾

cup

sugar

⅔

cup

olive oil

½

cup

orange juice

freshly squeezed

Zest from one orange

1 ½

cup

all purpose flour

2

teaspoons

baking powder

½

teaspoon

salt

1

cup

orange curd

optional – recipe provided separately below
Instructions
Preheat oven to 350 F

In a large mixing bowl, whisk eggs and sugar until combined. Add oil. Whisk to combine. Add orange juice and zest, whisk to combine.

Sift together flour, baking powder, and salt. Stir into the wet ingredients until just combined, do not over-mix.

Divide the batter evenly into two 8" round cake pans (or 1 9" round cake pan) lined with parchment paper. Bake for 15-17 minutes, or until the cakes spring back like a sponge and just begin to turn golden.

Cool completely. Place one cake on a cake plate, spread ½ of the orange curd evenly over the top. Place the second cake directly on top, spread the remaining curd evenly over the top. Garnish with orange slices if desired.
Notes
You may opt to bake this cake in a bundt pan, square cake pan, or one 9" round cake pan. If you decide to do this, you may need to increase the baking time slightly. I found 15 minutes to be perfect for me (but my oven tends to cook things quickly). In this instance, you would not have a layered cake, rather simply frost the top of the single cake and enjoy.
This recipe shows orange curd as the frosting, but you may opt for any type of frosting. A quicker option than orange curd is an orange glaze. Combine 1 cup powdered sugar with 2-3 tablespoons fresh orange juice and stir until a glue-like consistency forms (you may need to add slightly more or less of either ingredient to get the right consistency). A single layer cake is best for this option.
I love the ruchness of extra virgin olive oil; however, canola oil can certainly be used instead.
The Recipe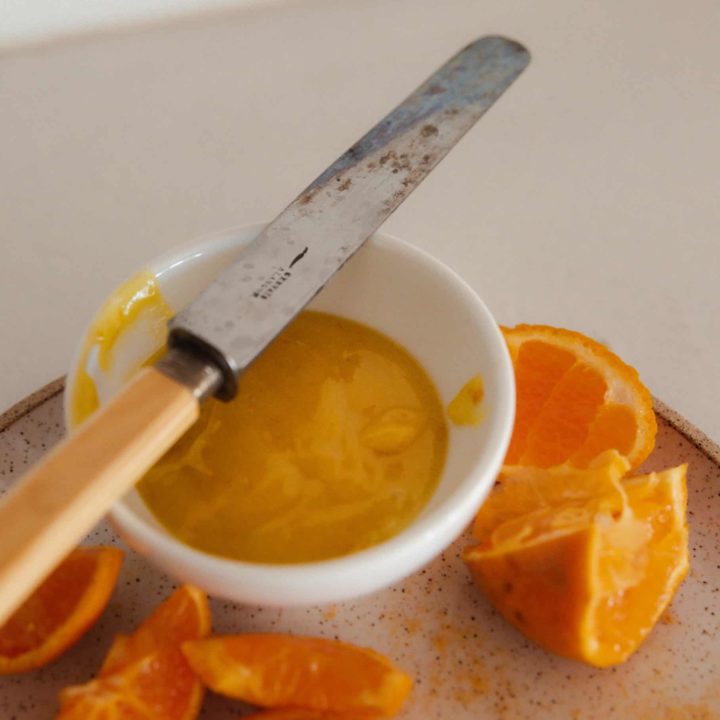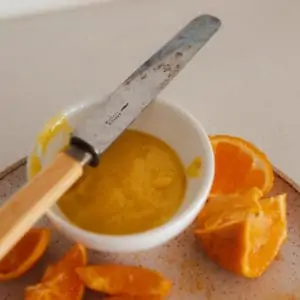 Homemade Orange Curd
Homemade orange curd is the perfect way to use up fresh citrus for cakes, scones, and more!
Ingredients
1

stick butter

room temperature

2/3

cup

granulated sugar

8

large egg yolks

room temperature

1

cup

fresh squeezed orange juice

strained well through cheesecloth

Zest from 1 orange
Instructions
In a large non-reactive heatproof mixing bowl, cream together the butter and sugar with a hand mixer on medium-high speed for about a minute, until the mixture becomes light and fluffy.

Add egg yolks and orange juice (be sure to strain the orange juice through cheesecloth to remove pulp, seeds, etc…). The juice should equal 1 cup after straining. Use the hand mixer to combine on medium speed.

Fill a medium sized heavy bottom pot with water about ⅓ of the way full, place the ingredients in the mixing bowl over the pot to create a double boiler. Bring the heat to medium high and continuously whisk the mixture.

Do not let the mixture boil, reduce the heat if necessary. Adding more water to the pot if needed to keep the pot about ⅓ full.

The mixture will coagulate and look curdled, continue to whisk gently as the mixture thickens, about 15 minutes.

After about 15-20 minutes, the mixture will thicken to coat the back of a spoon, the consistency of thick glue, it will thicken more once cooled. Stir in the orange zest and pour into a mason jar to cool. Keep refrigerated; will keep for about 10 days.

Notes
It is important the the eggs and butter are at room temperature. If needed, place the whole eggs in a bowl of warm water to bring to room temperature quickly.
When the mixture is first placed on the double boiler, it will look curdled – this is right! Continue whisking until the mixture thickens. It takes about 20 minutes, which feels like 1 hour when you are whisking something by hand. The term "watching water boil" comes to mind.
If you do not wish to strain the orange juice, be sure to at least remove the seeds. The curd will not be a perfectly smooth consistency, which is completely fine for cakes and scones.
Store in the refrigerator for about 10 days or freeze for up to 6 months.