An easy orange curd recipe is just the thing to whip up with all of those oranges you have! Enjoy their sweet citrus flavor in this no-fail homemade orange curd recipe!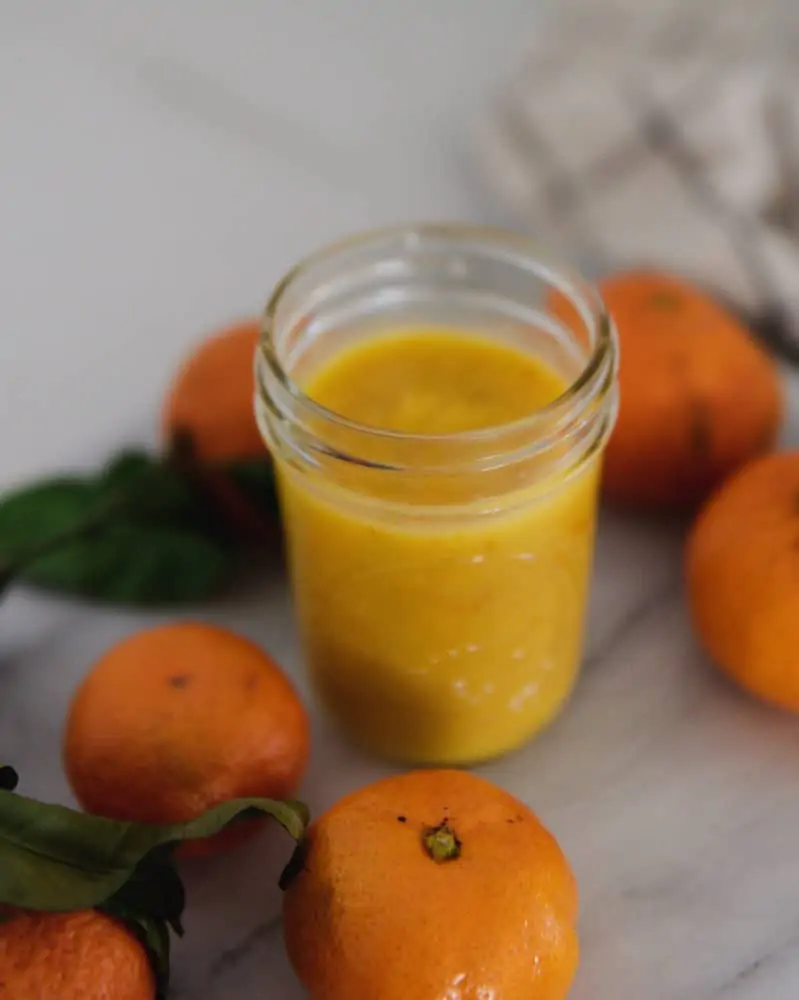 Easy No-Fail Orange Curd
This orange curd recipe is perfect for those that have never made curd before. It does not require straining or tempering the eggs, and produces delicious results every time!
Many curd recipes instruct you to whisk the butter in at the end and require careful cooking of the eggs. Often meaning the curd needs to be strained at the end.
This all sounds like a lot of work – and I am all about making things easier! So…let's skip the straining, and get right to baking shall we?
To skip the straining, you'll cream the butter and sugar together before mixing in any other ingredients! I learned this tip from Fine Cooking, and it worked fabulously!
This rich, buttery curd is perfect for cakes, scones, parfaits, and really anything that needs a bright citrus flavor added!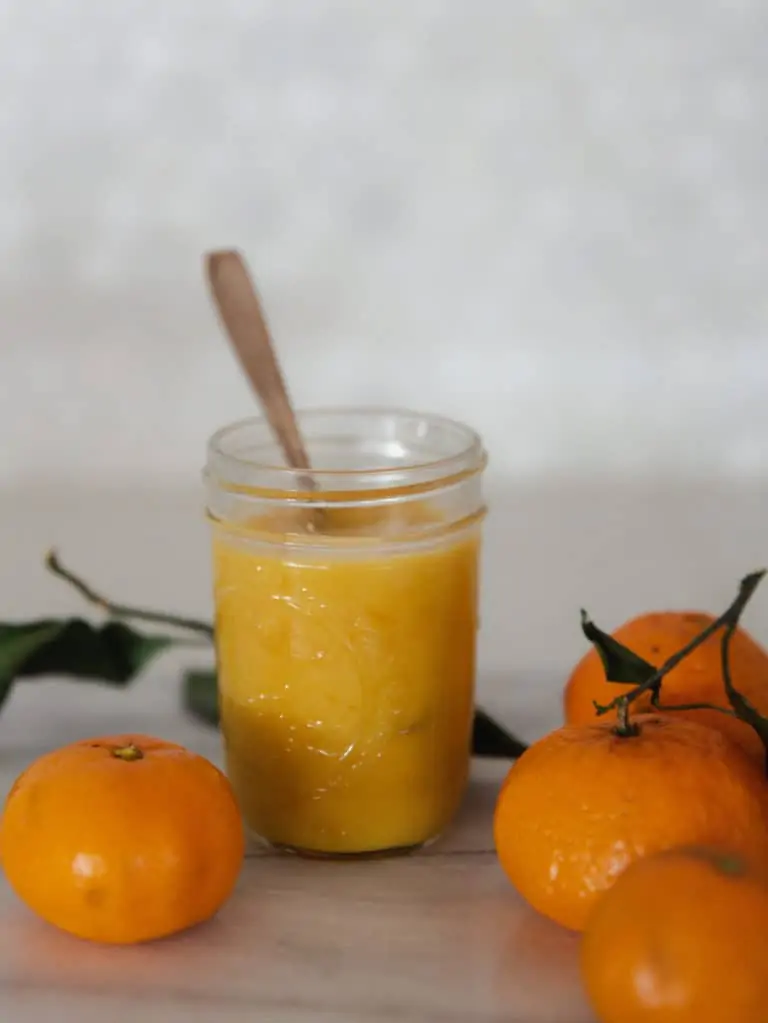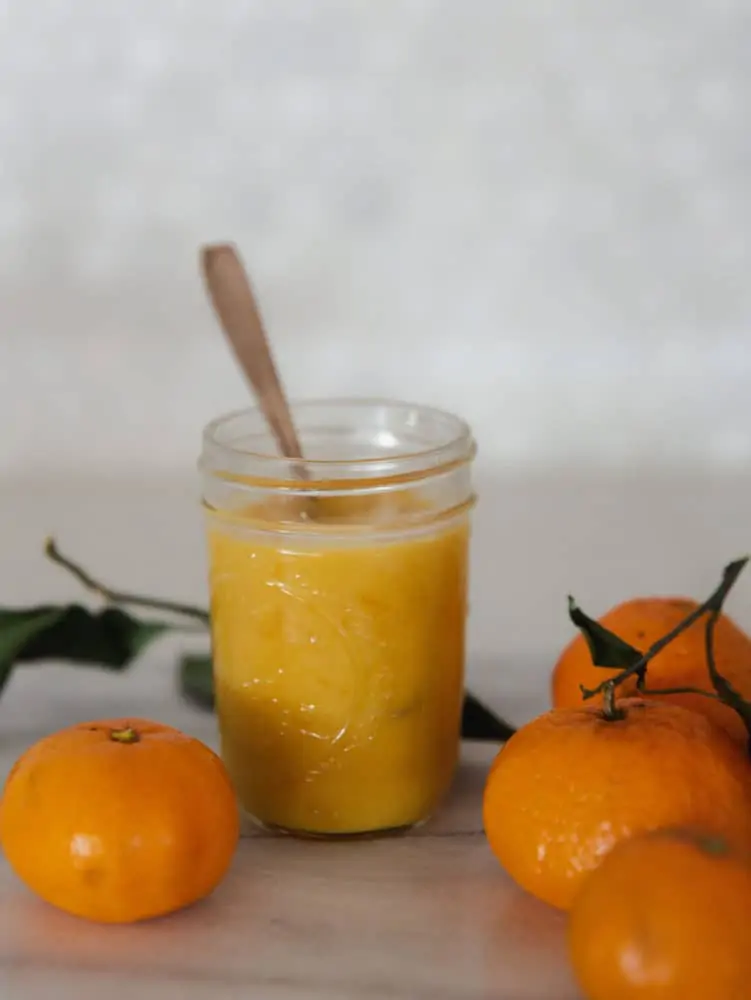 What Is Orange / Lemon Curd?
Homemade orange curd is made with a few simple ingredients: eggs, butter, sugar, and orange juice & zest.
This rich and creamy citrus spread is like a lemon or orange jam, but with a much higher fat content. It's sort of like jam with butter mixed in!
Ingredients for Orange Curd
Sugar: This sweet treat needs a decent amount of sugar!
Unsalted Butter: The butter makes this curd very creamy and spreadable!
Egg Yolks: Thicken up the curd and add a nice fat content!
Orange Juice: The not-too-tart flavor of orange juice makes orange curd sweet and delicious!
Orange Zest: Adds to the overall orange flavor of the curd!
Pinch of Salt: Salt helps round out the flavor. If using salted butter, omit this.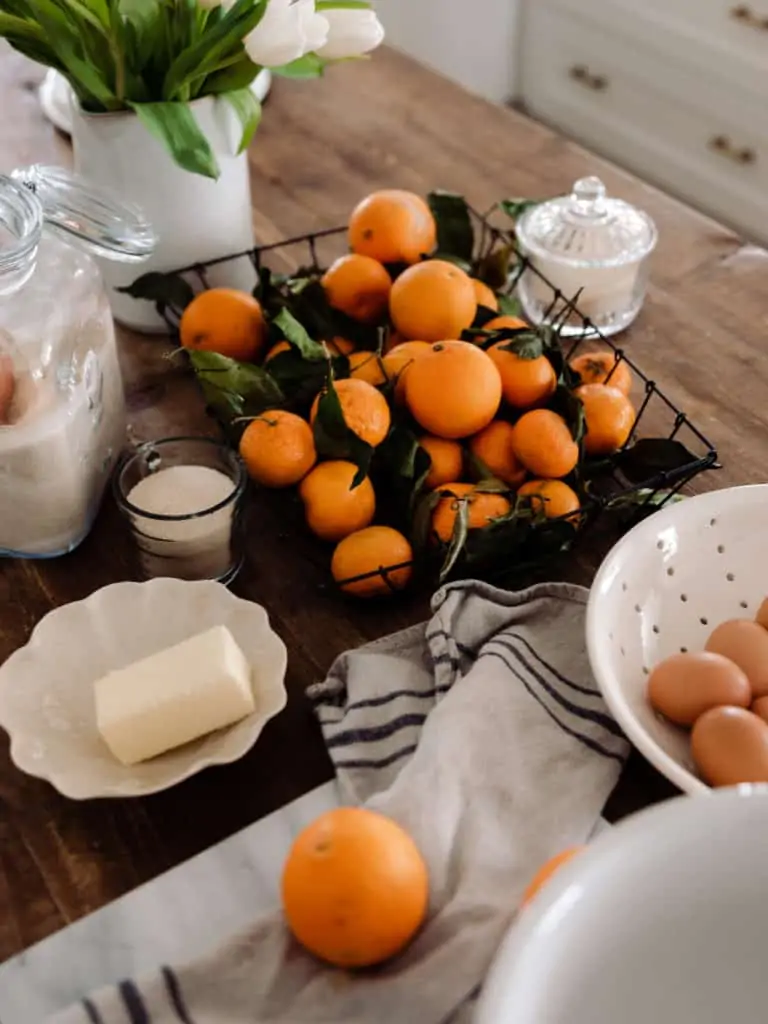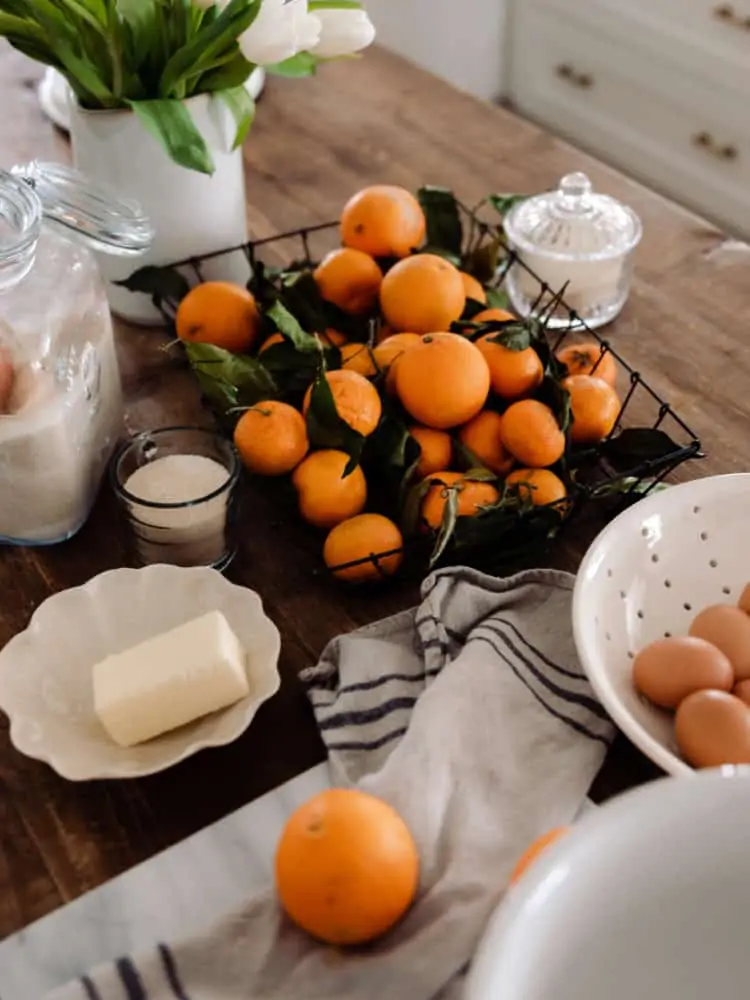 How to Make Orange Curd
In a medium heatproof bowl combine the butter and sugar using an electric mixer, about 30 seconds.
Mix in the egg yolks. About 30 seconds.
Place the bowl over a pot of simmering water creating a double boiler.
Add in the orange juice and whisk until the curd thickens and coats the back of a wooden spoon. About 15 minutes. Adjusting heat as needed, do not let the curd boil.
How Do I Use Orange Curd?
Well, I thought you'd never ask! It can be eaten by the spoonful, it's so delicious! However, it's also very rich, so a little goes a long way.
I recommend enjoying it on a scone, as a cake filling (like my orange cake recipe), smeared over a French crepe, or simply spread on a toasted english muffin!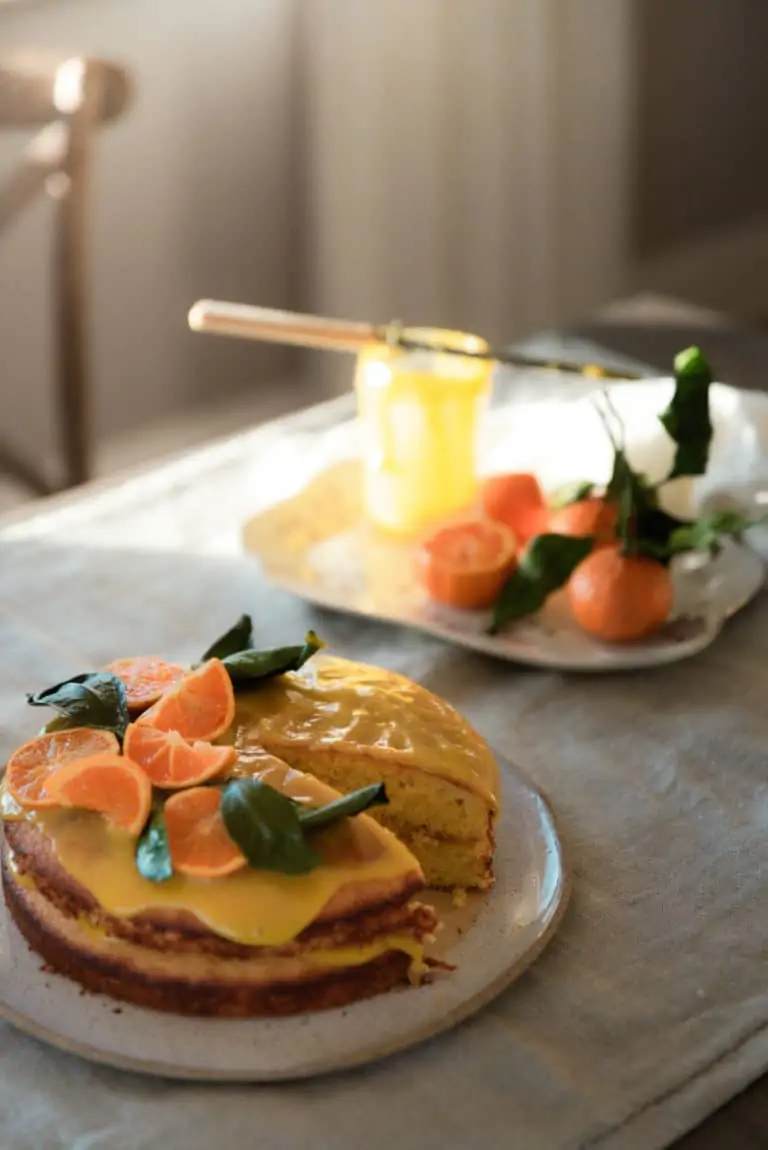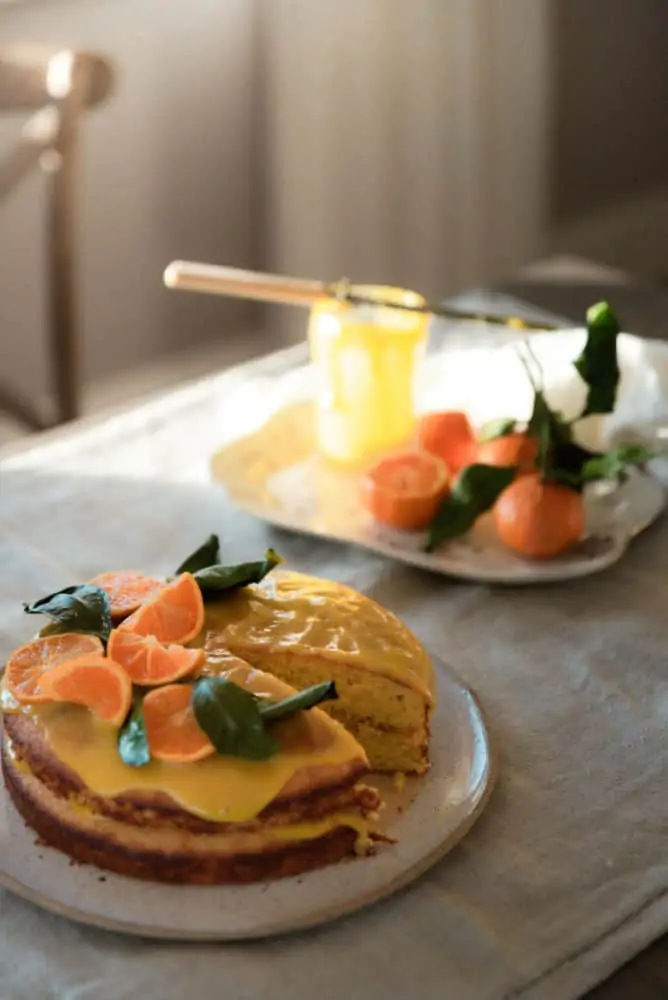 How to Thicken Curd
The eggs act as a thickener in this curd recipe. While it is possible to use cornstarch and milk instead of eggs to thicken curd, I have not tested that method so can't recommend substitutions.
Using a Double Boiler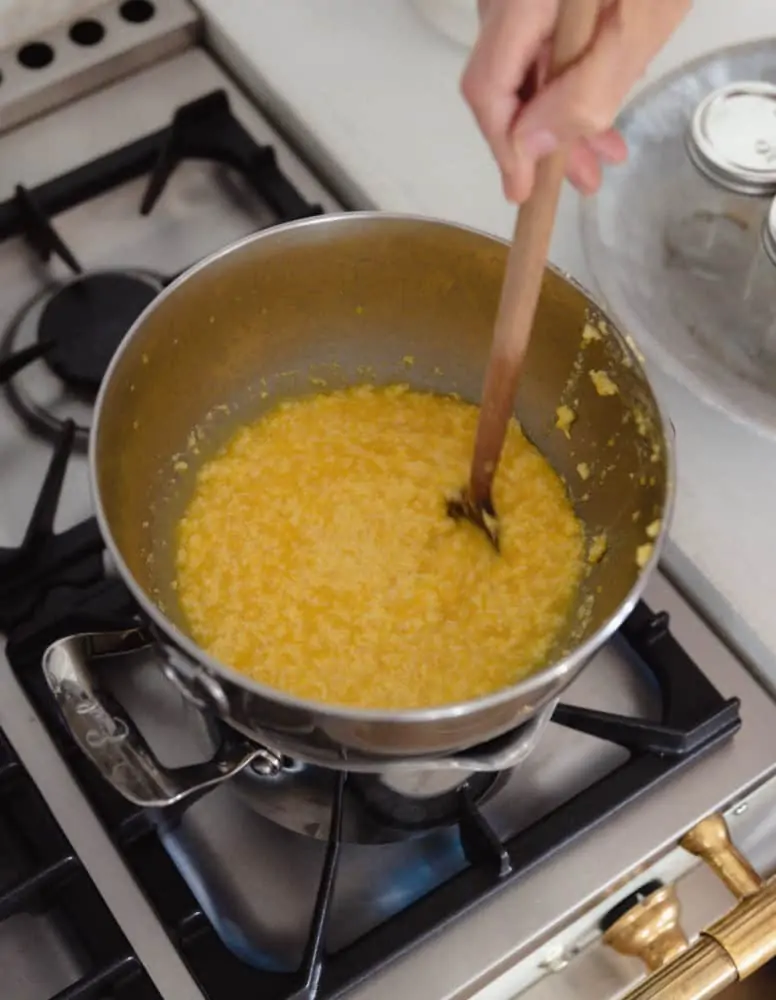 The eggs are the trickiest part of making curd. We're making things easier by mixing the eggs, sugar, and butter ahead of time. However, to keep things nice and smooth, use a double boiler.
A microwavable glass mixing bowl is the best option, but you can use any bowl that can withstand heat.
To make your own double boiler, simply fill a pot with water about 1/3 full. Then place the mixing bowl directly over the pot. Simmer the water on medium-low.
This will help the eggs cook slowly and evenly and provide you with a creamy and silky curd.
Note: The bowl should not be floating in the pot. The bowl should nest into the rim of pot and be sturdy – select a slightly larger bowl than pot.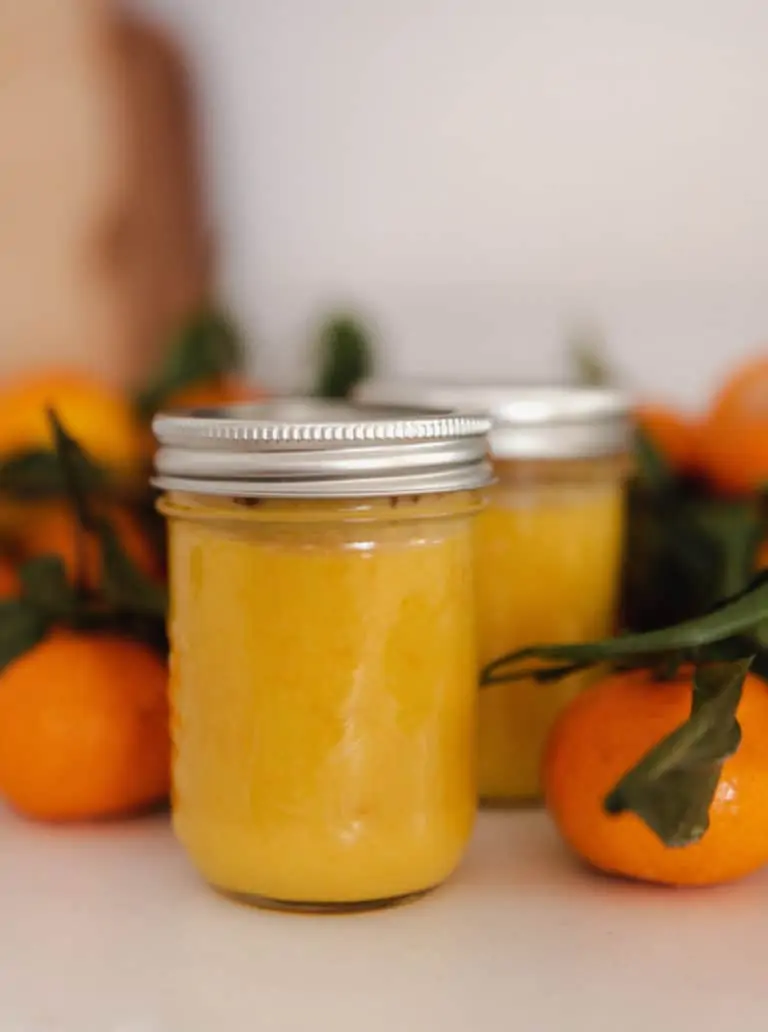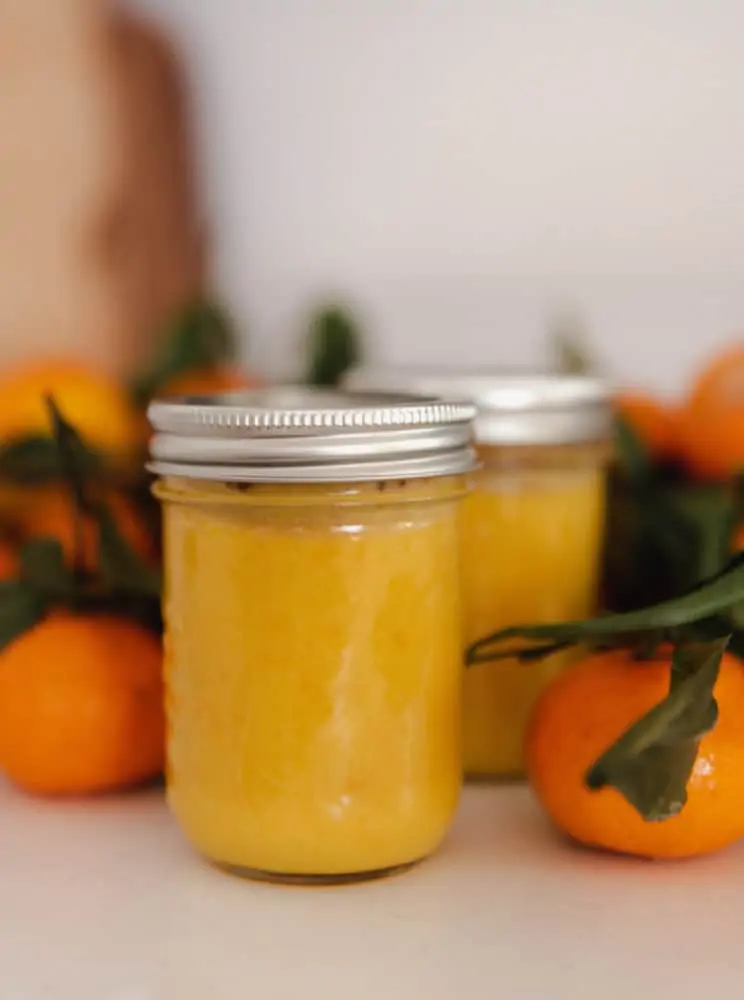 How to Store Curd
Store covered in the refrigerator for about 10 days.
Freeze for 3-6 months. Thaw in the refrigerator 24 hours prior to enjoying.
The Recipe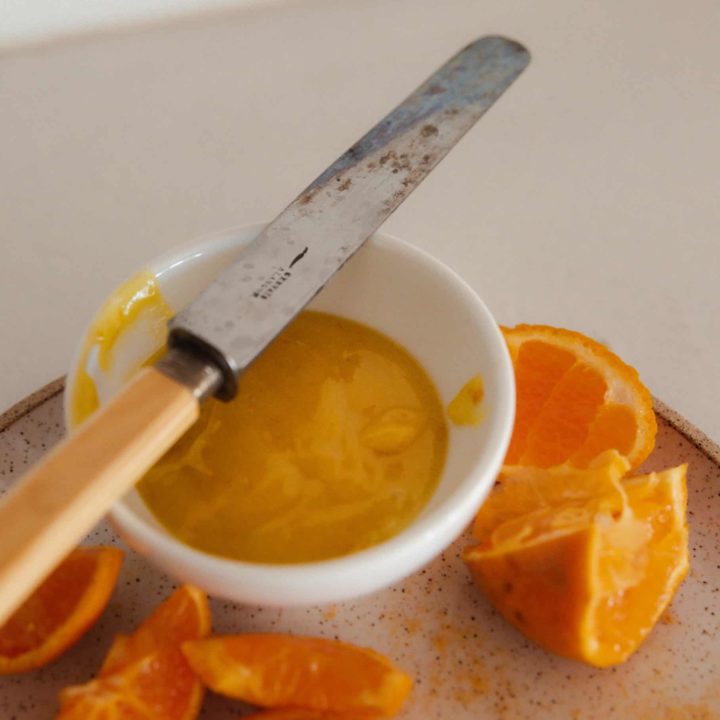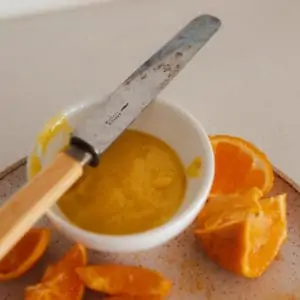 Homemade Orange Curd
Homemade orange curd is the perfect way to use up fresh citrus for cakes, scones, and more!
Ingredients
1

stick butter

room temperature

2/3

cup

granulated sugar

8

large egg yolks

room temperature

1

cup

fresh squeezed orange juice

strained well through cheesecloth

Zest from 1 orange
Instructions
In a large non-reactive heatproof mixing bowl, cream together the butter and sugar with a hand mixer on medium-high speed for about a minute, until the mixture becomes light and fluffy.

Add egg yolks and orange juice (be sure to strain the orange juice through cheesecloth to remove pulp, seeds, etc…). The juice should equal 1 cup after straining. Use the hand mixer to combine on medium speed.

Fill a medium sized heavy bottom pot with water about ⅓ of the way full, place the ingredients in the mixing bowl over the pot to create a double boiler. Bring the heat to medium high and continuously whisk the mixture.

Do not let the mixture boil, reduce the heat if necessary. Adding more water to the pot if needed to keep the pot about ⅓ full.

The mixture will coagulate and look curdled, continue to whisk gently as the mixture thickens, about 15 minutes.

After about 15-20 minutes, the mixture will thicken to coat the back of a spoon, the consistency of thick glue, it will thicken more once cooled. Stir in the orange zest and pour into a mason jar to cool. Keep refrigerated; will keep for about 10 days.

Notes
It is important the the eggs and butter are at room temperature. If needed, place the whole eggs in a bowl of warm water to bring to room temperature quickly.
When the mixture is first placed on the double boiler, it will look curdled – this is right! Continue whisking until the mixture thickens. It takes about 20 minutes, which feels like 1 hour when you are whisking something by hand. The term "watching water boil" comes to mind.
If you do not wish to strain the orange juice, be sure to at least remove the seeds. The curd will not be a perfectly smooth consistency, which is completely fine for cakes and scones.
Store in the refrigerator for about 10 days or freeze for up to 6 months.
---
More Citrus Recipes to Try
---