Learn how to make the most delicious Panzanella salad with crisp bread, juicy tomatoes, and the perfect tart dressing!
Panzanella salad is the perfect use for those end-of-season tomatoes, cucumbers, and herbs growing in your garden. The texture of the crunchy on the outside yet soft and chewy in the center bread croutons and a light vinaigrette dressing complete the meal. The final and delicious tastes of summer.
What I love about this dish is the flexibility of using whatever ingredients you have on hand. Panzanella salads are typically day-old bread with vegetables soaked in a light dressing. It's a perfect way to finish up any leftovers to create a whole new and exciting meal.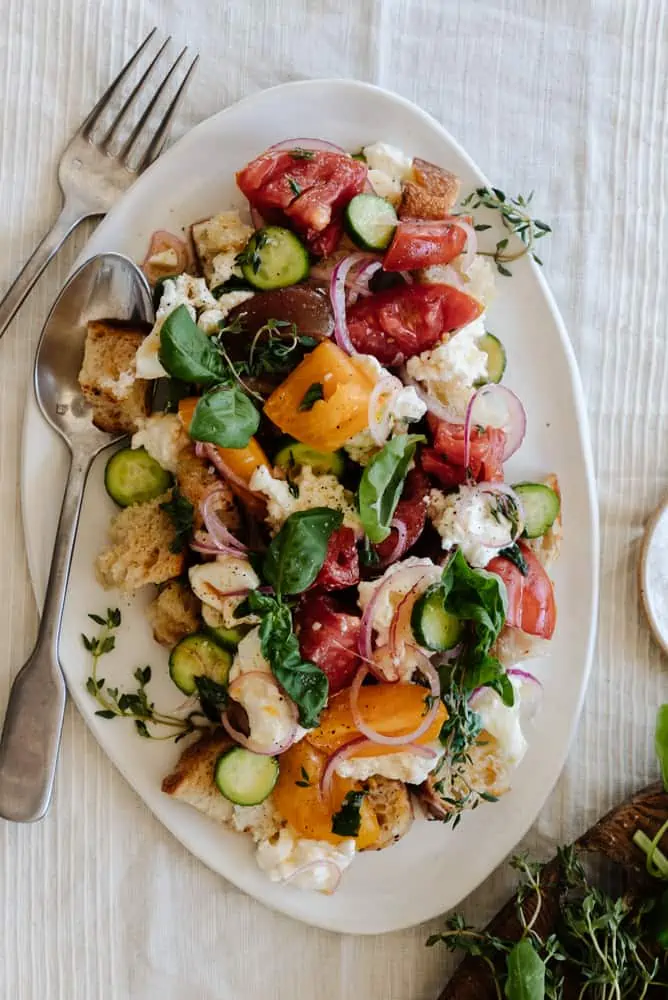 Why we Love This Recipe
Not only is this a beautiful dish, it's also refreshingly light yet filling. A perfect appetizer to serve guests before an Italian dinner or as a vegetarian lunch. Simple to toss together with fresh ingredients, rustic bread, and homemade vinaigrette dressing.
Don't worry if you only have fresh bread on hand, you can toast the bread in a light drizzle of olive oil in the oven or stovetop to give it a crisp exterior.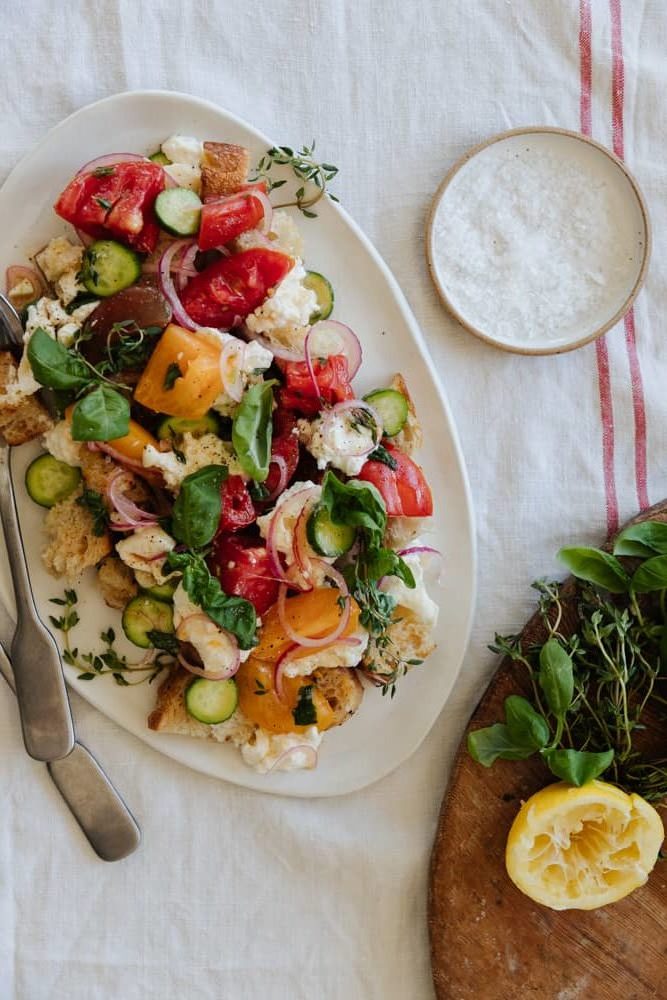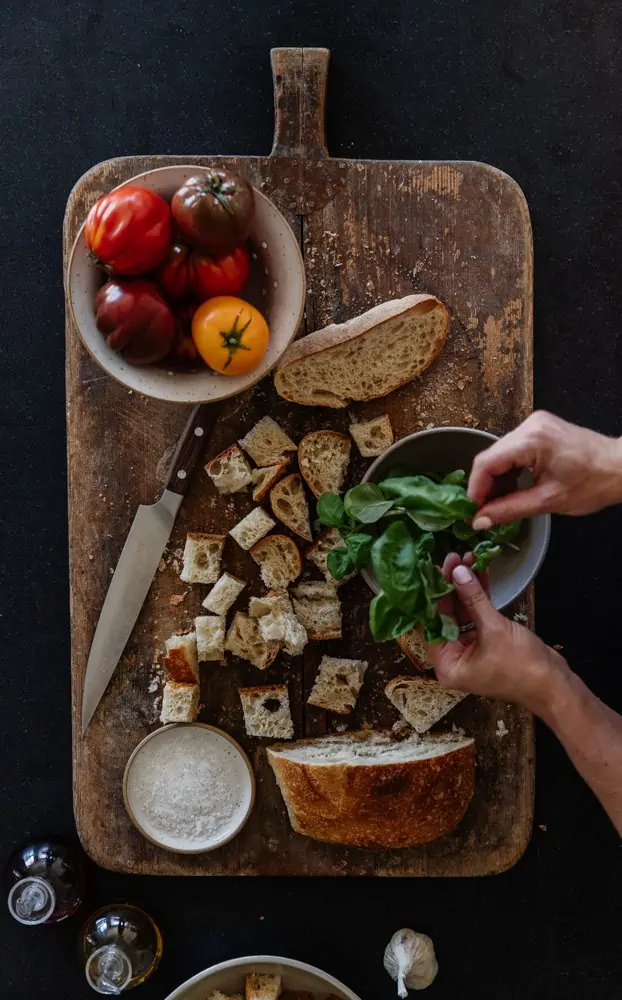 Panzanella Salad Ingredients
Sourdough Bread: This is a great way to use up a slightly stale loaf of bread. Fresh bread also works just fine because it's toasted to get a slight crunch to the outside yet still soft and chewy in the center.
Cucumbers: You can use regular or mini, whichever you prefer. Slice them into thin bite-sized pieces.
Heirloom Tomatoes: You'll want good quality tomatoes since this is a primary ingredient in the dish.
Red Onion: Add as much or as little as you prefer and slice them into very thin slices.
Burrata: A nice and creamy cheese that's best served fresh. You can also substitute fresh mozzarella.
Red Wine Vinegar: This brings a nice tangy flavor and adds acid to the vinegarette dressing.
Olive Oil: Use a nice quality extra virgin olive oil. You'll use some to toast the bread and the rest as part of the dressing.
Dijon: A small dollop of dijon will help emulsify the dressing and add a little spice to the flavor.
Garlic: Chop or thinly slice fresh garlic to toss with the dressing.
Basil: Roughly chop a bunch of fresh basil to toss with the salad and reserve a few leaves to garnish on top.
Thyme: Grab a few sprigs of thyme and strip off the leaves to add to the dressing.
Oregano: Repeat the same process as you did with the thyme. If the leaves are large, give them a rough chop before mixing with the dressing.
Sea Salt: The salt helps draw the juices out of the tomatoes and also seasons the salad.
Step by Step Instructions for Panzanella Salad
Start by cubing the sourdough bread into roughly 1″ squares.
Toss the bread with a little bit of olive oil until it's lightly coated.
You can either toast the bread in the oven at 420 degrees or add them to a pan and toast them on the stovetop until the croutons are golden brown.
Slice the cucumbers, tomatoes, and onions and mix them together in a bowl.
Next, make the dressing. Chop garlic, and fresh herbs, then blend them together with the olive oil, vinegar, and dijon in a jar. Give the jar a good shake to combine together.
Add the toasted bread in with the cucumber, tomato, and onion.
Drizzle the vinegarette dressing over top of the salad and toss to coat.
Place the salad on your serving tray or bowl and tear pieces of burrata to mix in and top with fresh basil.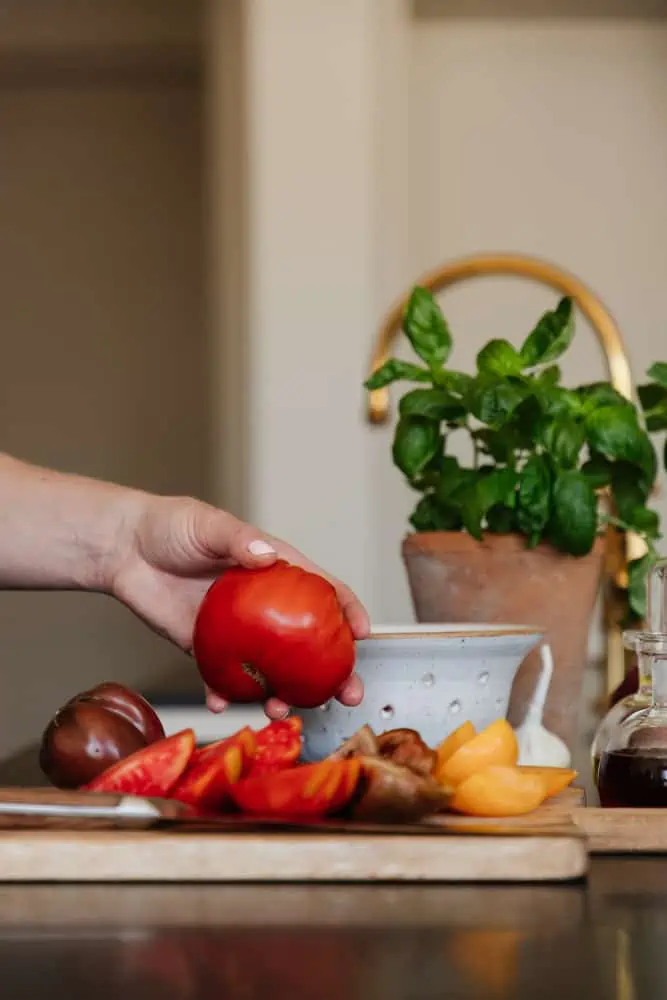 Tips for Success & FAQs
Try salting your tomatoes first to draw out some of the juice to add to the vinegarette dressing for a more intense flavor.
Don't skip toasting the bread! This is the most important step for giving the croutons the best texture and keeping them crunchy within the salad.
Make sure to use the best quality tomatoes available since they are a key ingredient in this Panzanella salad.
To prevent your vinegarette dressing from separating don't skip the dijon, which acts as the emulsifier for the oil and vinegar.
What's the difference between mozzarella and burrata?
Burrata cheese is mozzarella that's formed into a thin pouch and then filled with soft, stringy curd and cream called stracciatella. Burrata is much softer and creamier than mozzarella with multiple textures.
Why is it called Panzanella?
The term Panzanella comes from the combination of two words "pane" (bread) and "zanella" (soup bowl).
What do you serve Panzanella with?
This is a great side dish for any pasta meal, roasted chicken, or grilled fish. It's also hearty enough to have alone as lunch!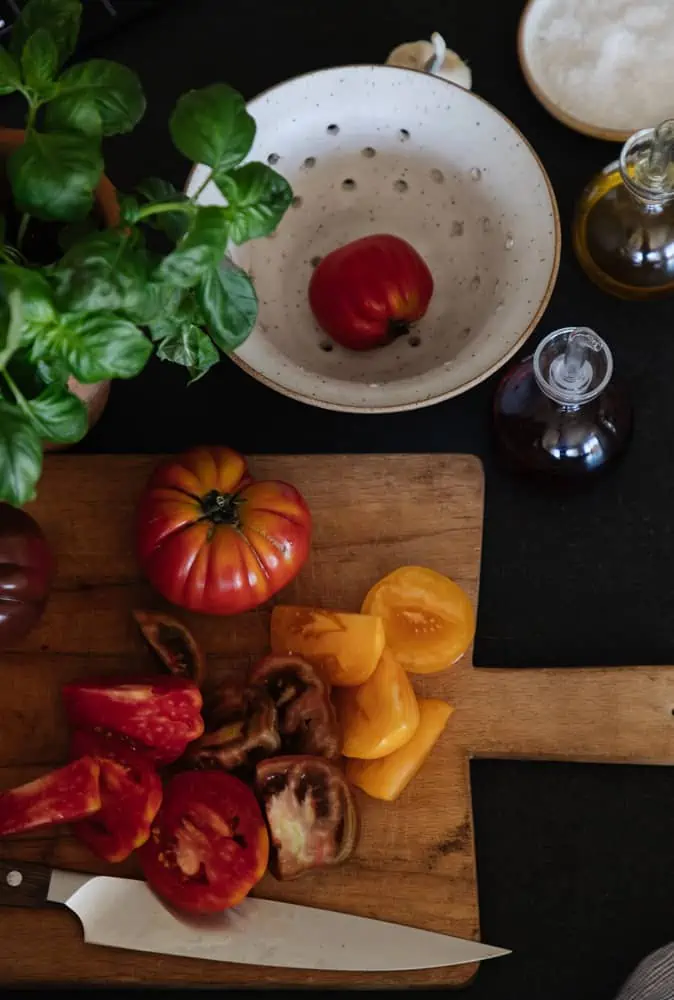 More Recipes for you to Try
Here's a complete meal idea for a dinner party or simply just a Tuesday with the family. Panzanella salad makes a great appetizer, then some homemade meatballs and pasta as the main dish, and finish with a delicious fruit tart for dessert.
Let's not forget about cocktails! You know I'm obsessed with this Hugo cocktail right now or if you need a non-alcoholic option this tangerine mocktail will hit the spot.
The Recipe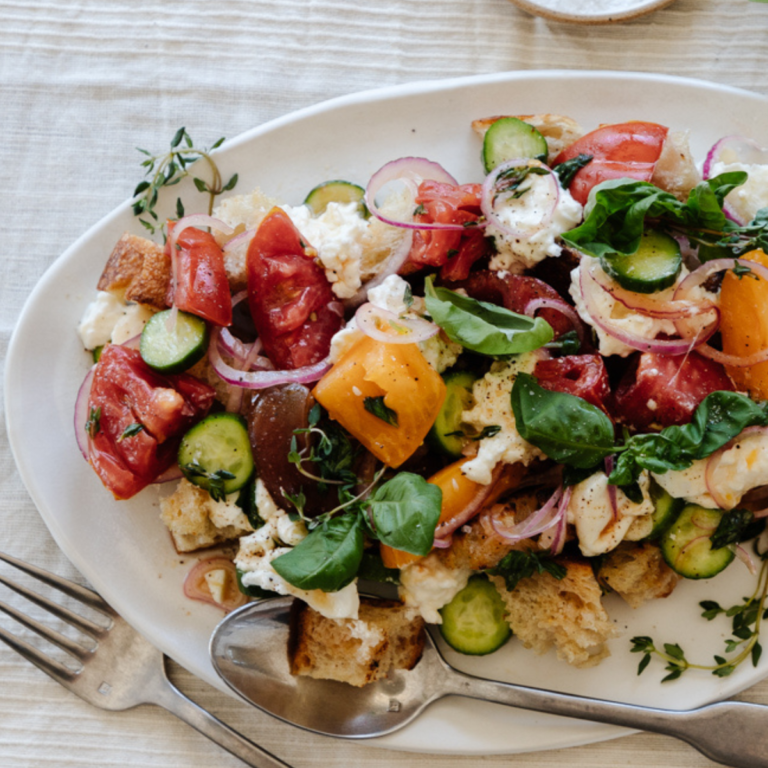 Panzanella Salad
Ingredients
Loaf of Sourdough Bread

(1-2 day old bread is best!)

1-2

Cucumbers

regular or mini, sliced

3-4

Heirloom Tomatoes

cubed

½

Small Red Onion

thinly sliced

3

cloves

Garlic

thinly sliced

8

oz.

Burrata

Sea Salt

to taste

4

tbsp

Red Wine Vinegar

½

cup

and 3 tbsp Olive Oil

divided

1

tsp

Dijon Mustard

Fresh Basil

Fresh Thyme

Fresh Oregano
Instructions
Start with cutting the sourdough bread into 1" cubes.

Toss the cubed sourdough in a tiny bit of olive oil.

Toast the cubes in the oven at 420 degrees or on the stovetop in a pan until toasted.

Slice the cucumbers, tomatoes, and onion and mix together in a bowl.

Create the dressing by chopping up the garlic and fresh herbs and mix together with the olive oil, red wine vinegar, and dijon mustard.

Add all ingredients into a large bowl and toss together.

Place on a serving tray and tear the burrata over top and garnish with fresh basil.