I have been thinking about my favorite colors to decorate with and I keep coming back to pink and blue. Alone, together…it doesn't matter, I love them!
I think they are the perfect colors that go with any style for a nice pop of color, and one of the easiest ways to add them into your home is with textiles.
Whether that be through something as simple as a new set of napkins, or with more of a commitment like an area rug or runner, adding a bold pop of pink with textiles is a great way to add a bit of character and warmth to a space.
Vintage area rugs are one of my favorite ways to instantly add character and charm to a room. Some of the colors are so beautiful, especially pink! I think you'll love the inspiration found below!
If you're stuck on size, be sure to check out our area rug size guide.
1. A Pink Rug for the bedroom.
Pink doesn't need to be reserved for a nursery or even a bachelorette pad. See how Mitzi Maynard Interiors combines clean elements like black and white photos and crisp white linens with a serious punch of pink on the floor. The rug grounds the space and ties the whole room together.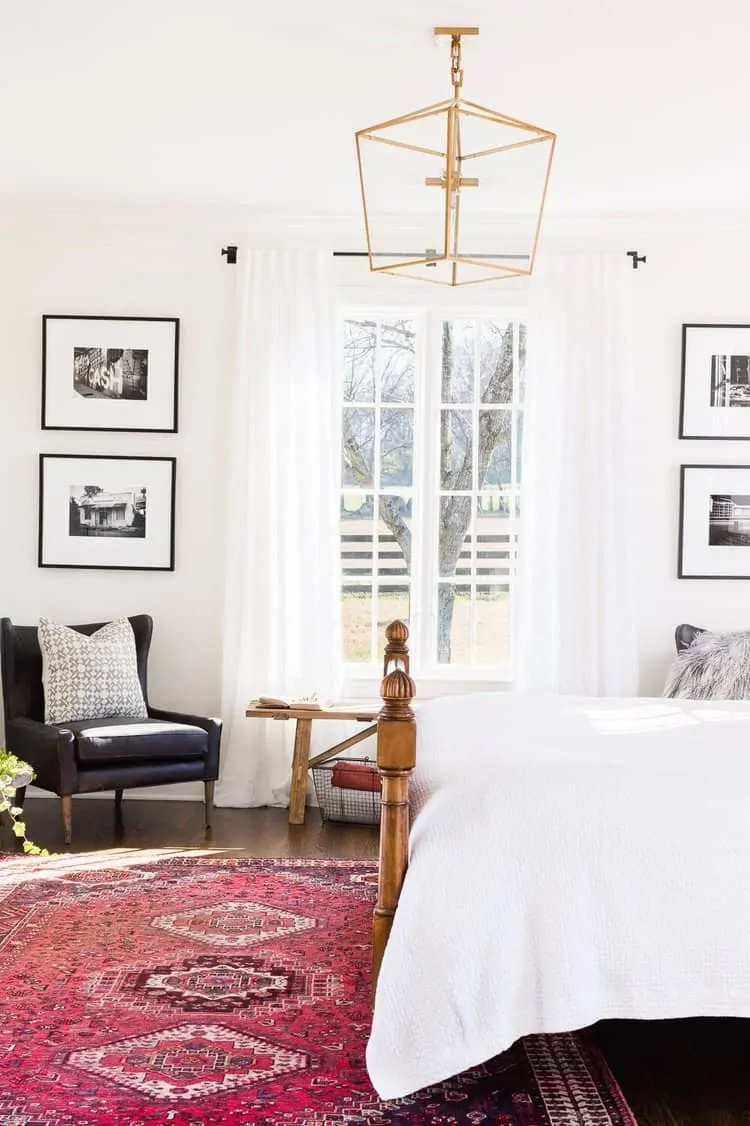 above: Mitzi Maynard Interiors
To keep things a bit more classic, try using a vintage rug and adding a few antique wood elements, but if your style is a bit more modern, skip wood elements and incorporate lots of blue and grays into the mix – see below.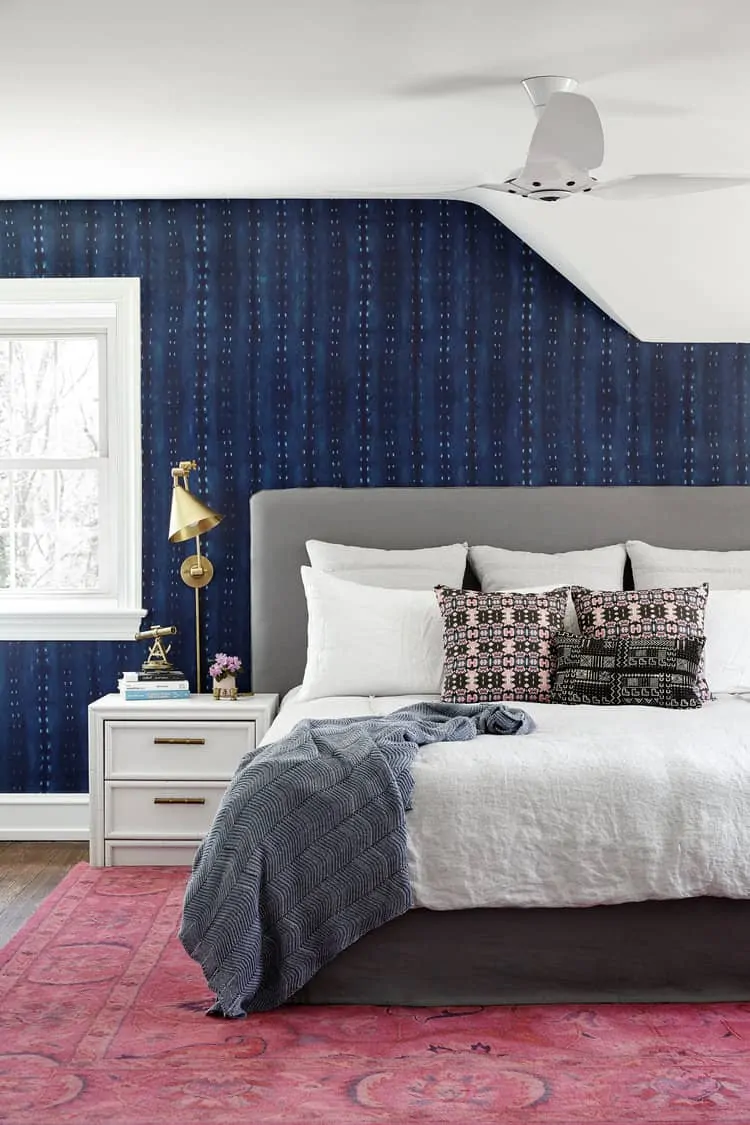 above: Michelle Gage
I'm tempted to print this photo out and pin it to my current mood board, Michelle Gage did an incredible job on this space for her One Room Challenge. The room is very bold, yet inviting and relaxing. I love the way she incorporates five different patterns, yet maintains a sense of calm. And that indigo wall paper!? Amazing!
Can you tell I am obsessed with this room? Michelle, can we come over?
2. A splash of Pink In the bathroom.
Marble & pink go together like honey and butter on a biscuit. The grays (and golds) from marble look stunning when paired with pink accents.
Since bathrooms are a smaller area, you can add pink without spending too much money! It is very easy to find a small pink vintage runner on Etsy, and often they are under $75!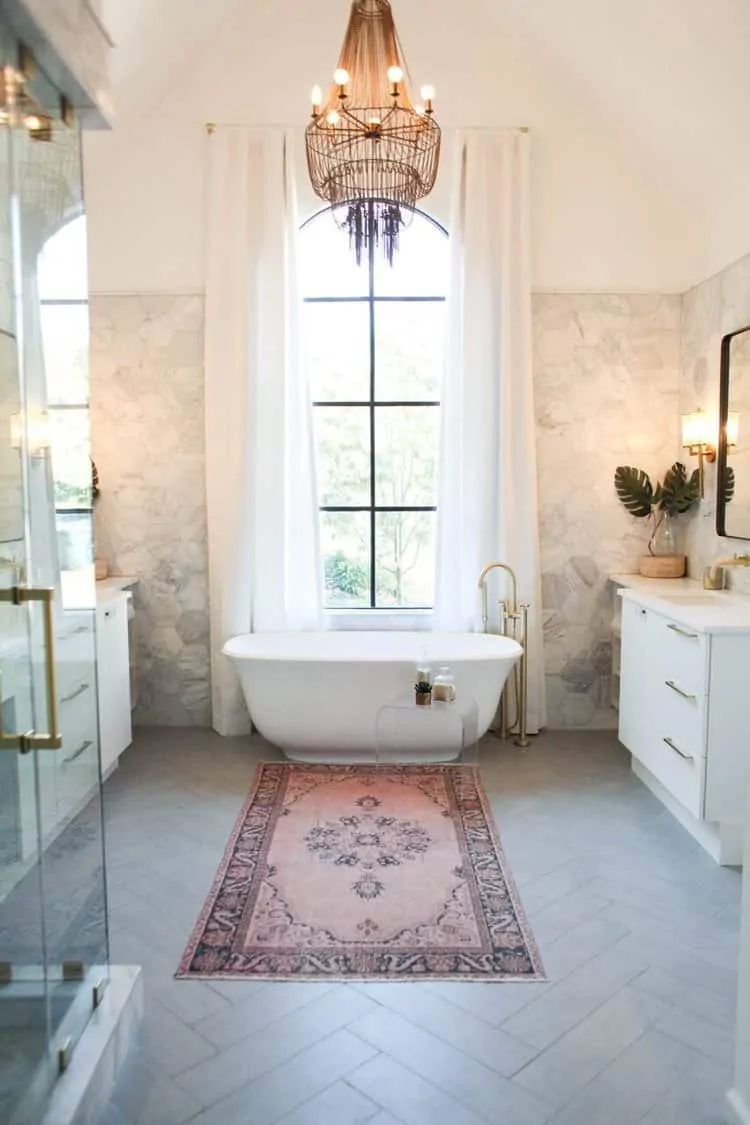 pretty pink & marble bathroom by olivia carswell interiors
3. Using Pink in the Dining Room
We all know I am a fan of a pink dining room, and this space from Mrs. Paranjape shot by Alyssa Rosenheck does not disappoint. Alyssa always captures a space so so very beautifully, and I love how clean and minimal this kitchen design from Mrs. Paranjape is.
The blend of modern and vintage is perfectly done: modern light fixtures paired with laid back slip covered chairs speaks deeply to me.
The show stopper of this room is the beautiful vintage mauve area rug that pops just enough against the light wood floors.
If you have a bold paint color or dark floors, opting for a more muted pink in a dining space will help blend a larger area rug into your home. While I love a lovely pop of pink, you don't want it to compete against the other elements of your room!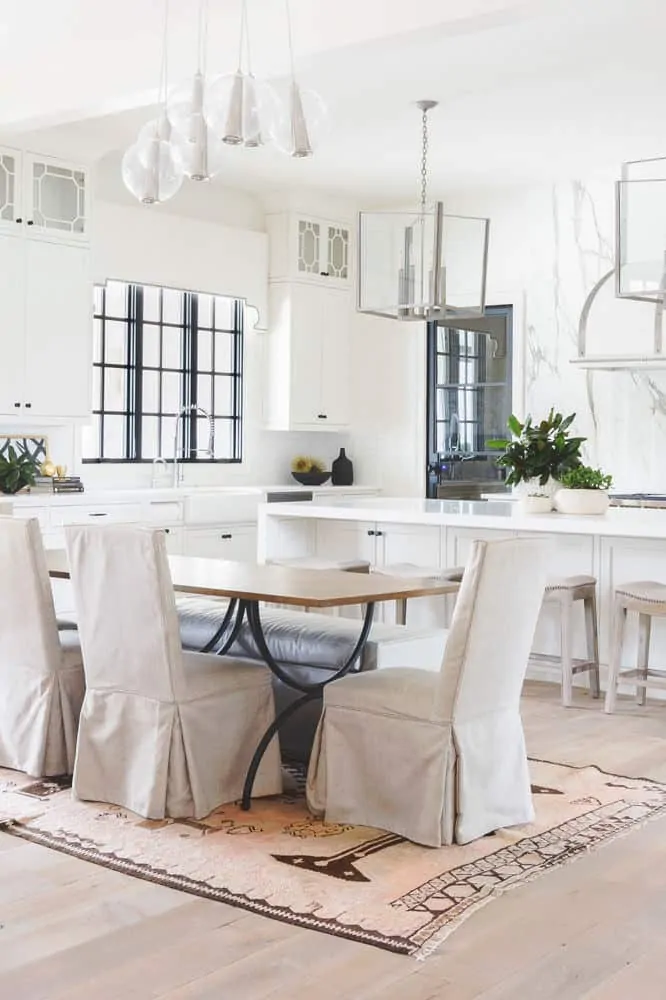 above: neutral pink area rug Mrs. Paranjape shot by Alyssa Rosenheck
4. Adding Pink to a Living Room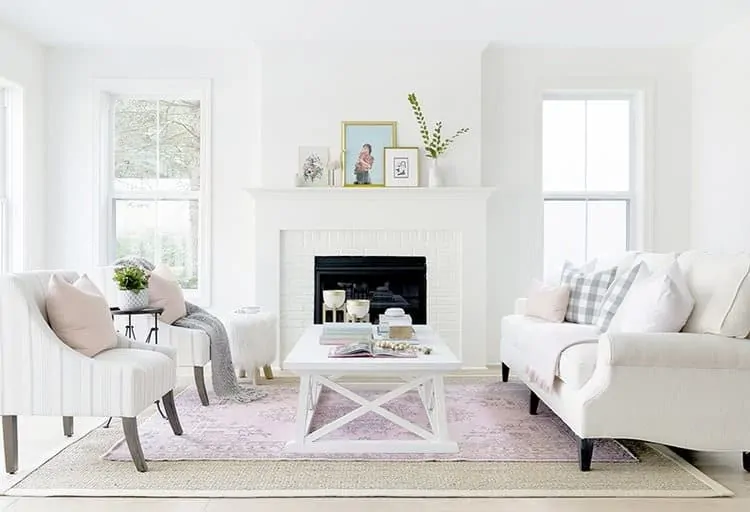 above: a layered living room with pinks & neutrals by Briah Hammel Interiors
Adding pink to the living room adds a splash of femininity, and I couldn't love it more! However, like all of the above examples, it doesn't have to be overly feminine. To create some balance, add warm elements like wood, and colors like navy, hunter green, and grey.
I am absolutely smitten over the set design of Home Again (below) by Nancy Myers. Nancy Myers is known for her incredible sets like Father of the Bride and The Intern. This AD interview talking about the inspiration behind the home's design is wonderful!
But back to pink…the living room below is feminine, yes; however, is is balanced with all of the warm textures and tones. I love the wood coffee table and large plant in the corner which add a bit of life and warmth. All of the pink in this room is just, perfect.
To keep things from being too pink, try layering over a chunky jute rug. World Market has a bleached jute rug that I have used as a 'base' rug throughout our home, it adds texture and coverage inexpensively!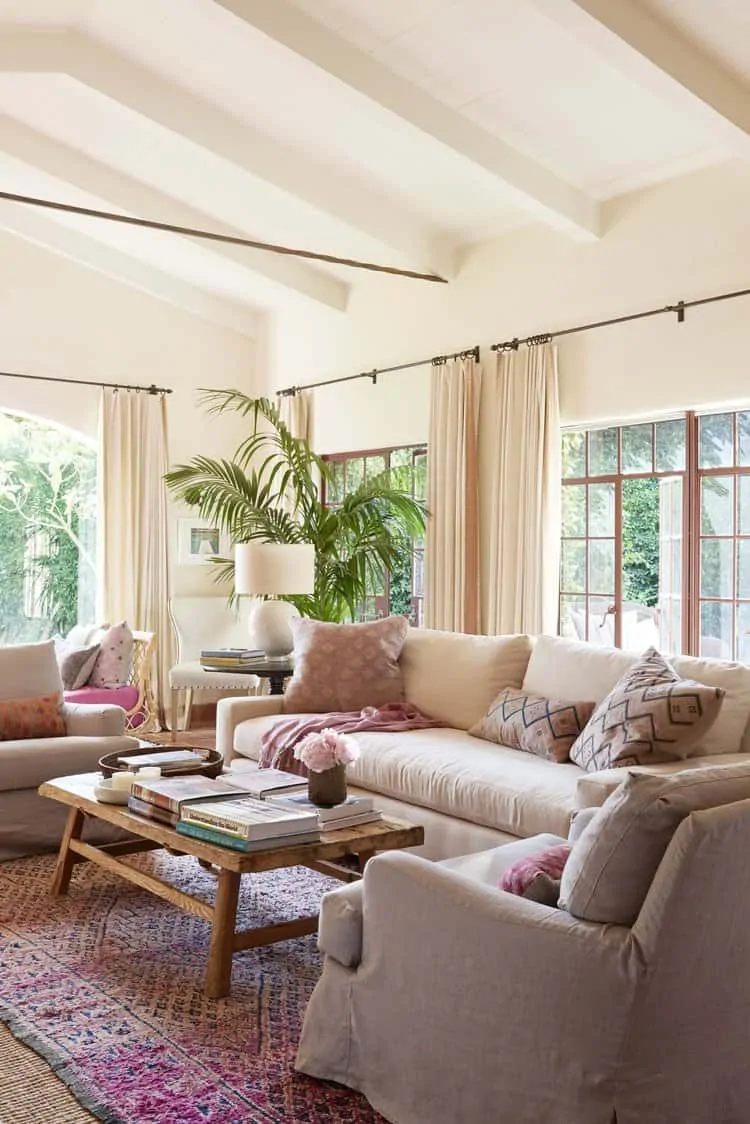 The film: Home Again set design by Nancy Myers photo by Amy Neunsinger
5. Pink Runners in the Kitchen
If I had to pick where I'd add a pop of pink in my home, it would be the kitchen. Pink runners look beautiful with navy, black, gray, green, and white cabinets. That's the beauty of pink, it's a beautiful neutral that will look good with so many accent colors.
While blue is my very favorite, emerald green runs a close second.
Keep in mind when selecting a runner, that you'll want its accent colors to play well together. So if your cabinets are gray, stick with a runner with gray accents.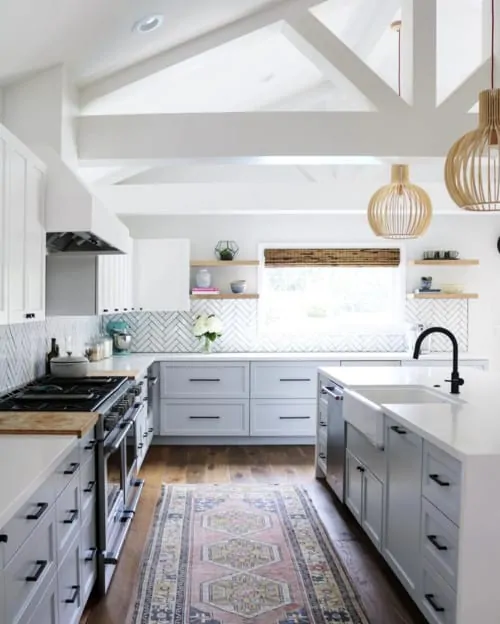 Laura from Helmick Hacienda pulled the gray tones from her cabinets in with this pink vintage runner.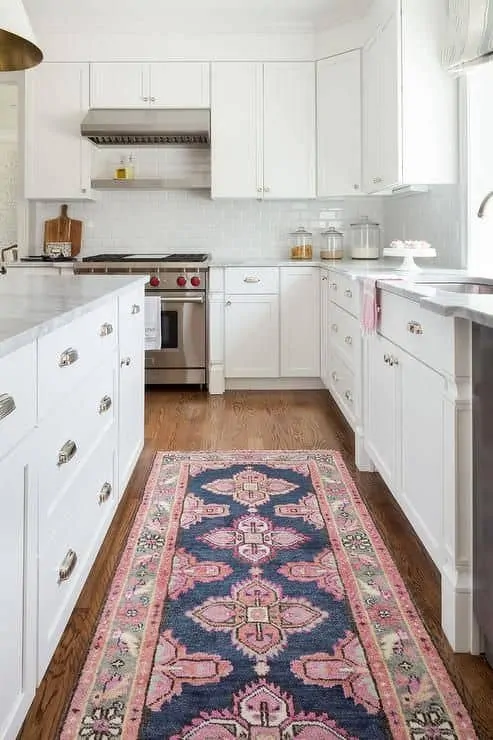 A pop of color in the kitchen with a blue & pink runner by Bees Knees Interior Design.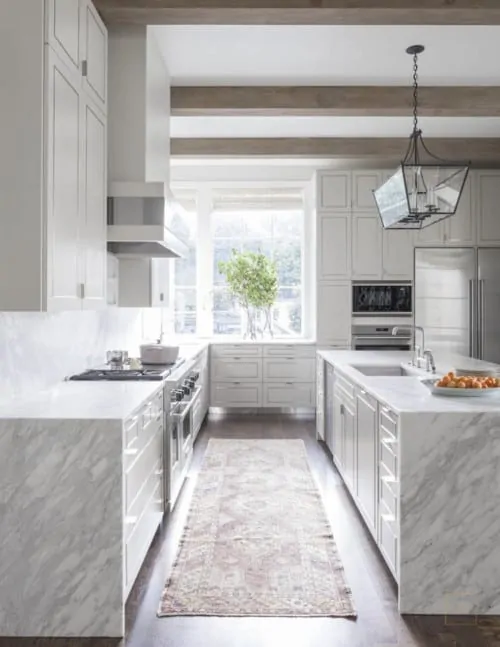 Collins Interiors added a vintage pink runner to this modern marble kitchen, and it's perfection.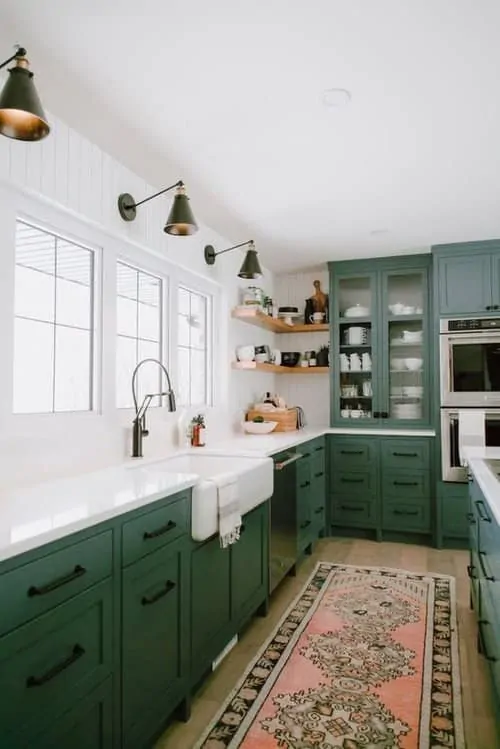 This kitchen is so beautiful with green cabinets & a vintage rug – by Jaclyn Peters Design.
---
a few pretty pink rugs