The Best Sources for Scoring Vintage Rugs!
This post may contain affiliate links, please read my disclosure policy.
Vintage rugs add timeless character to a room. Here's where to buy vintage area rugs! Learn all about the different types of vintage rugs and discover the best sources and how to find high quality vintage area rugs!
Vintage Rugs are Timeless
Vintage area rugs are inherently timeless – they have already stood the test of time, and are making their way back into contemporary design. I think they're a major design trend of 2020, but they aren't anything new, and I don't think they're going anywhere either!
I absolutely love the rich colors of vintage area rugs, especially the jewel tones like pink, blue, and green!
An added benefit of these rugs is that they are incredibly durable due to the traditional weaving methods used by the tribes that created the rugs many years ago, so they will continue to age beautifully!
I am currently searching for a set of beautiful vintage runners for our hallway, which is one of the reasons this blog post was born. I am a huge fan of white everything, but I am drawn to the colorful patterns of vintage Persian rugs.
These handmade textiles are like art for the floor, and shouldn't be taken too seriously. Allow their quirks, imperfections, and nuances to shine! They are a wonderful way to add color to a space that can easily be swapped out down the road when your tastes change – they will hold their value well!
One of the great things about investing in a vintage rug: it can always be resold in a few years. So have fun experimenting with different patterns and colors!
design above: Amber Interiors | photography by Tessa Neustadt
Antique Rugs vs. Vintage Rugs
When searching for vintage or antique area rugs, it's important to know that in rug terms vintage is anywhere between 1920-1970, and antique is any time prior to 1920. This can help narrow down your search if you are on the hunt for a particular style.
Antique rugs are a bit older, and will typically be more expensive, but not always. It's important to invest in rugs that your drawn to whether they're new, old, or super old! Don't get too caught up in title and labels. Just buy what you love!
READ MORE
How to Choose the Right Rug Size
My Living Room Sources and Decorating Tips
Light and Airy Organic Bedroom Design Inspiration
Moroccan
There are three types of Moroccan rugs: Beni Ourain, Berber, and Cactus Silk. When it comes to vintage Moroccan rugs, we most commonly see Berber and Beni Ourain.
Beni Ourain (a subset of Berber) and Berber rugs are made of wool from different Moroccan tribes. There are 17 tribes in Morocco that create Beni Ourain rugs, these rugs are known for their simple patterns and neutral colors, and can be incorporated into modern design very easily.
Turkish
Turkish rugs (which are very similar to Persian rugs) are woven with a double knot technique. Most Turkish rugs are woven with straight, geometric designs that feature tribal and meaningful motifs.
Persian (Kilim Rugs)
Vintage Persian rugs are generally handwoven, dyed using natural dyes, and are grouped into what is called Kilim Rugs.
They are known for their bold patterns and intricate designs. Persian rugs are made with a single knot technique and often have oriental, elegant, and round designs with a medallion in the center.
---
Check Out My Most Recent Designs
Earthy Farmhouse Living Room Design
---
via MyDomaine | Sabra Lattos Photography | by DesignStiles
---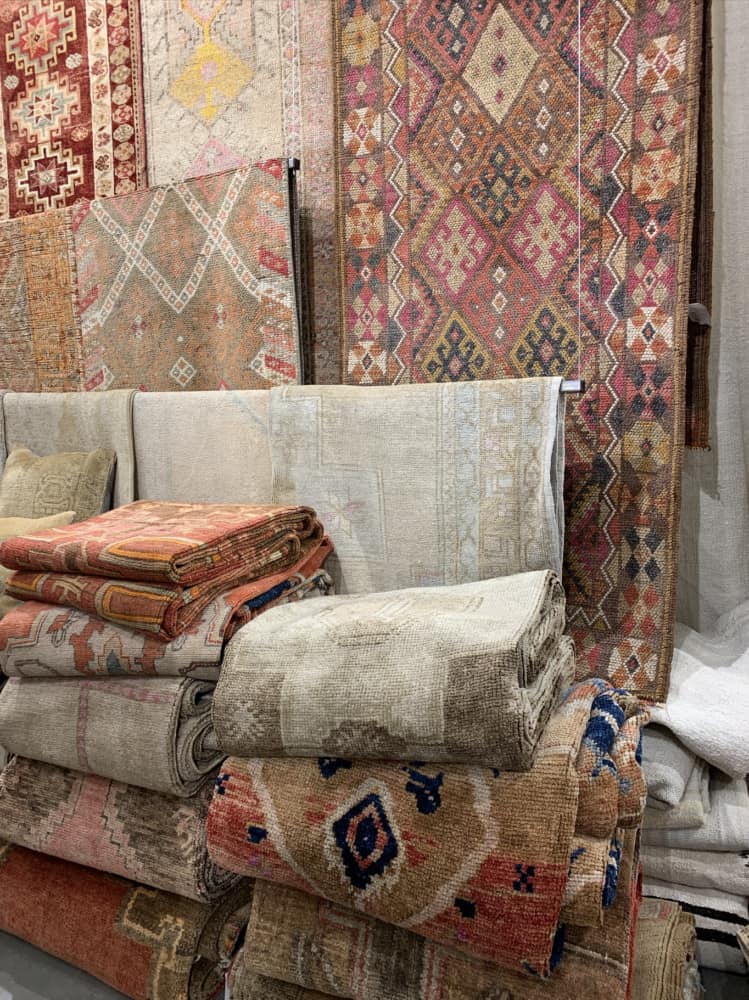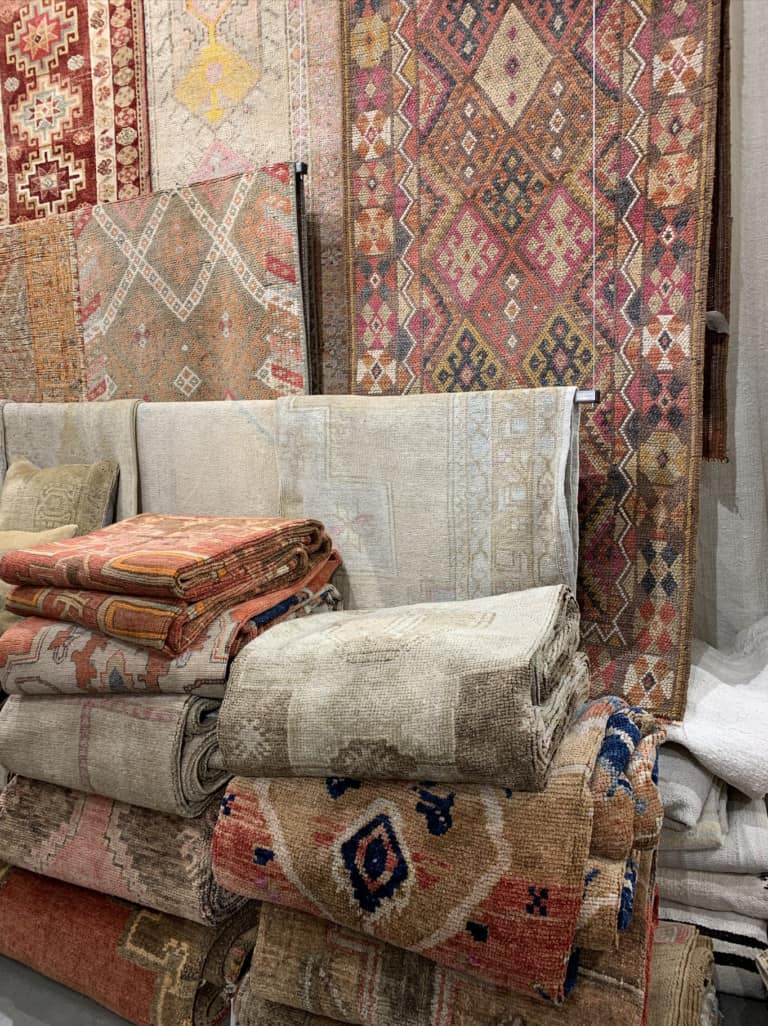 The Best Sources for Vintage Rugs
I have spent countless hours looking at rugs for our home, and have found a few sites that are full of really beautiful options. From neutral to colorful, you will have no problem finding the perfect rug for your home. These are my favorite shops for sourcing and buying vintage rugs!
Check out Mesa Vintage, Vintage Rug Shop, and The Southern Loom!
---
Vintage Inspired Replicas
If your budget doesn't allow for truly vintage, or if you're in search of a specific size rug, try one of these vintage inspired area rugs!

---