Rugs are one of my favorite things to select when putting a room together, they are like giant pieces of artwork for the floor. Picking the right size is one of the most important decisions when it comes to rug buying, here's how to choose the right rug size for a room!
If you've ever wondered what rug size is best for your room, you've come to the right place! Getting your rug size nailed down will help your home feel like it was expertly designed!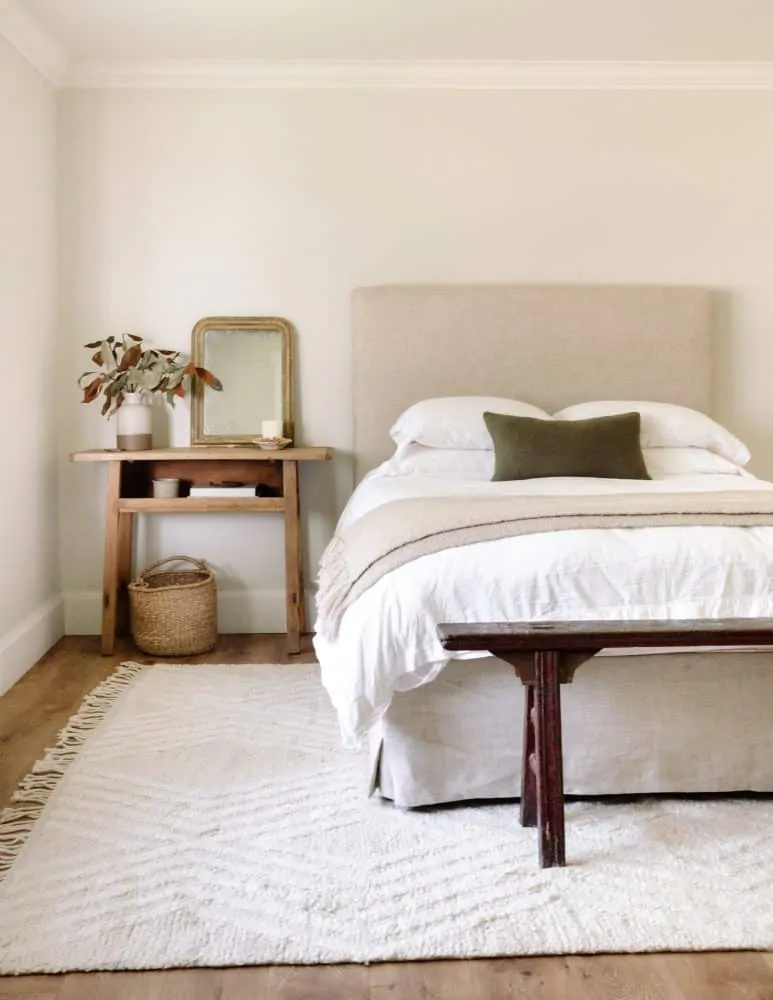 We recently added a large jute rug to our living room, and although I knew it would make a great impact on the room, I underestimated just how great of an impact!
Rug sizes are something so important when designing a room, because too small of a rug will throw off the entire feel of the space. You could have the best furniture ever, but too small of a rug will make your room feel undone and underwhelming.
It can be tricky though when purchasing rugs because large rugs can be so expensive. So what gives? Do you spend your entire budget on a large rug and sacrifice all other elements in the room?
The answer is: you don't have to!
There are so so so many inexpensive rugs to choose from, I don't think you ever have to spend over $700 for a rug, and there are many options well under $500.
I think the key to this is to stay neutral and go with an all natural fiber. This creates a base for the rug which can then be changed as your tastes change or as the room develops!
Large jute rugs are very inexpensive, plus their inherent organic nature goes well with nearly any style. If you have a more modern aesthetic try a gray rug. Personally, I love a bleached jute rug because it creates a clean canvas for layering!
Looking for something vintage? Here are some of my favorite places to find vintage rugs! Plus get inspired with these pink area rugs or some of my favorites from LuLu & Georgia!
How to Pick a Rug Size for a Room
If you are unsure of what size rug to purchase for your space, you are not alone! Before you can select a rug size, you need to consider the furniture layout. Will you have chairs or a sofa? How long is the dining table? What size bed will be in the room?
So, first things first, nail down your furniture selection. :) Then move onto rug sizes…
My best piece of advice for picking out a rug size, is to get all of the furniture in place, and then tape it out on the floor with painters tape (you can even use string if you want!). If you don't have all of the furniture, but you have a good idea of where the furniture will go…still tape it out. Before buying a rug, tape. it. out!!!!
Bedroom Rug Size
When selecting a rug for a bedroom, make sure to leave about a foot wide perimeter around the room. Meaning, don't let the rug take up the whole room! If the room is on the smaller side, try using runners along the sides of the bed in lieu of a larger rug. Just like selecting too small of a rug, selecting too large of a rug will completely consume the space.
design by cetra ruddy | shot by raquel langworthy | source Domino
I like to add a rug under the bed, but not completely under the night stands, allowing the night stands to anchor at least their back feet on the floor rather than on the rug. You may find that it looks best to leave the nightstand completely off the rug, it just depends on the room & size of the bed!
If you're skipping night stands, I'd still pull the rug out a bit so that the headboard is anchored on the floor, while the foot of the bed remains on the rug.
For bedrooms a good rule of thumb is:
FULL: 6×9 or 5×8
QUEEN: 8×10
KING: 9×12

Dining Room Rug Size
I love adding a rug to a dining room, but it is important that you find the sweet spot on size. You don't want the rug to be so small that the chairs do not fit on it; however, you don't want the rug to be so large that the floor is completely covered from wall to wall. If you have a large table in a small room and adding a rug would take up the floor space of the room, I say skip the rug in the dining room altogether.
If you do add a rug, allow at least a foot or two of flooring to remain visible along the perimeter of the room, but make sure that the rug extends roughly 18″-24″ from all sides of the table which will allow the chairs to rest on the rug rather than on the floor.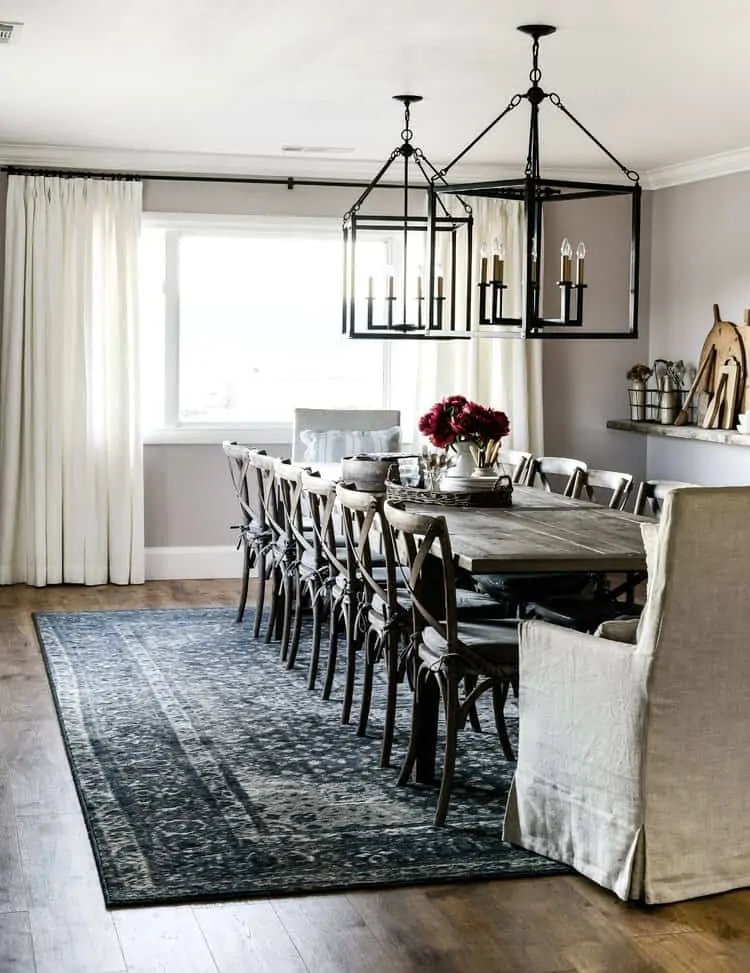 In the room above, our dining table is unusually long, so I went with an 10×14 rug. Before ordering the rug, I used tape to mark the corners of a 10×14 rug to make sure all of the chairs would fit on the rug, and that the length of the table wouldn't extend past the rug. Below is a general guide, but I encourage you to tape out the measurements before purchasing!
This sizing concept can also be applied to small work areas and desks.
Typical sizes for rugs in the dining room:
6 person table / 6 ft long (72″): 6×9 or 8×10 rug
8 person table / 8 ft. long (96″): 9×12 rug
8 person table / 9 ft. long (108″): 9×12 rug
10-12 person table / 10 ft. long (120″): 10×14 rug
Living Room Rug Size
The living room is often the heart of a home, so a durable rug is just as important as selecting the right rug for the space. I love jute rugs in the living room which can be layered upon with inexpensive smaller rugs that have a bit more interest to them. This adds warmth, depth, and texture to the room making it so much more inviting!
If layering, make sure that the ratio of large rug to smaller rug is enough to show off each rug, for example, a 9×12 rug would look great with a 6×9 rug layered on top.
When figuring out which size rug is best for your room, first determine how large your couch and/or chairs are. If you have a very large living room, you may find a 10×14 rug is best for your space.
Make sure that the front legs of the furniture are on the rug and allow 6-8″ of rug space on either side of the couch/chair.

If you have a large living room, and the seating area is floating in the center – opt for a large rug and place all of the furniture on the rug. If the living room is smaller or the couch is up against a wall, you can opt for a slightly smaller rug with the front legs of the furniture resting on the rug and the back legs resting on the floor.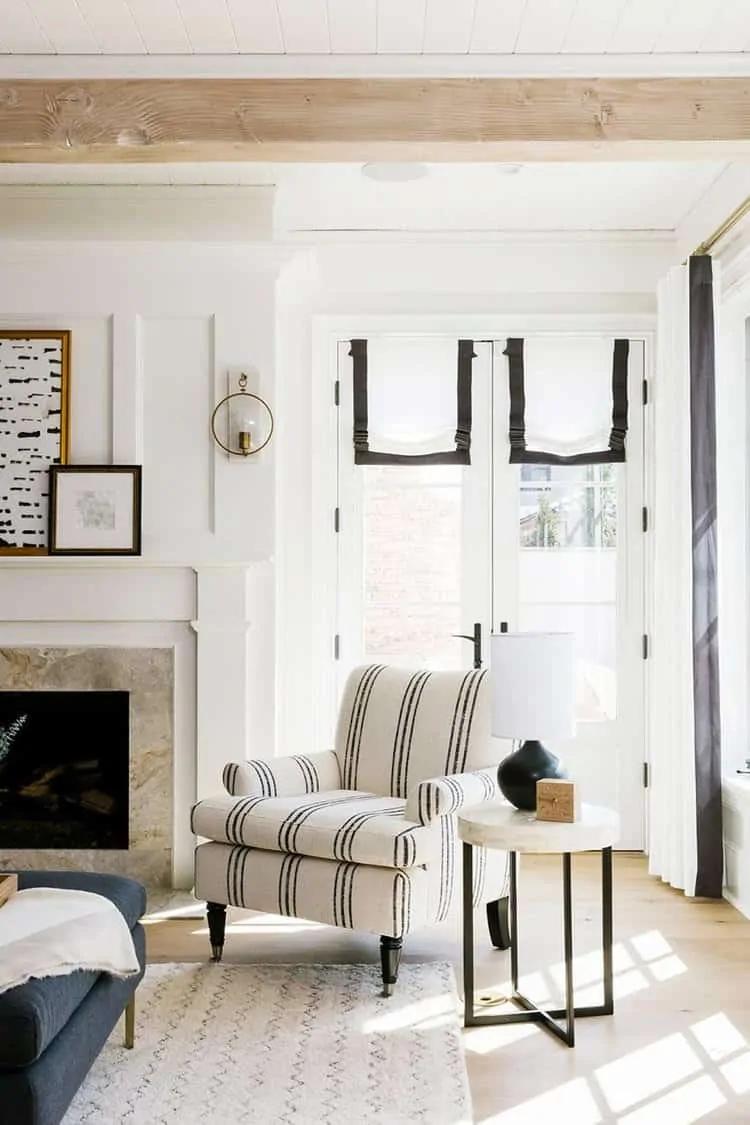 design by: shelby girard | photo by: morgan levy | source: MyDomaine
Entryway Rug Sizes
Entryways allow for you to get creative because you generally don't need a very large rug for this space! You can choose between a runner or a small area rug. If you select an area rug, select a size that allows the front legs of your entry table to rest on the rug, but the back legs to rest on the floor.
If you select a runner, allow 6-8″ of floor space between the rug and any furniture. You want to make sure it appears to be a runner and not an awkwardly placed area rug.
---
I hope that this guide for choosing the right size rug for a room was helpful! Of course, rules were meant to be broken, and you ultimately must love the design of your home above all else!
This is simply a guide to help steer you in the right direction if you have a tricky space to decorate! Thanks so much for stopping by, have fun rug shopping!
---
A Few Beautiful Rugs