The best anti-aging skincare can be confusing! Learn more and try these products to prevent and treat signs of aging! This guide will walk you through the anti-aging products that actually work.
You don't need more, you need meaningful has never been more accurate! Many skincare products are just fluff. Keep your skincare routine lean with just these effective anti-aging products.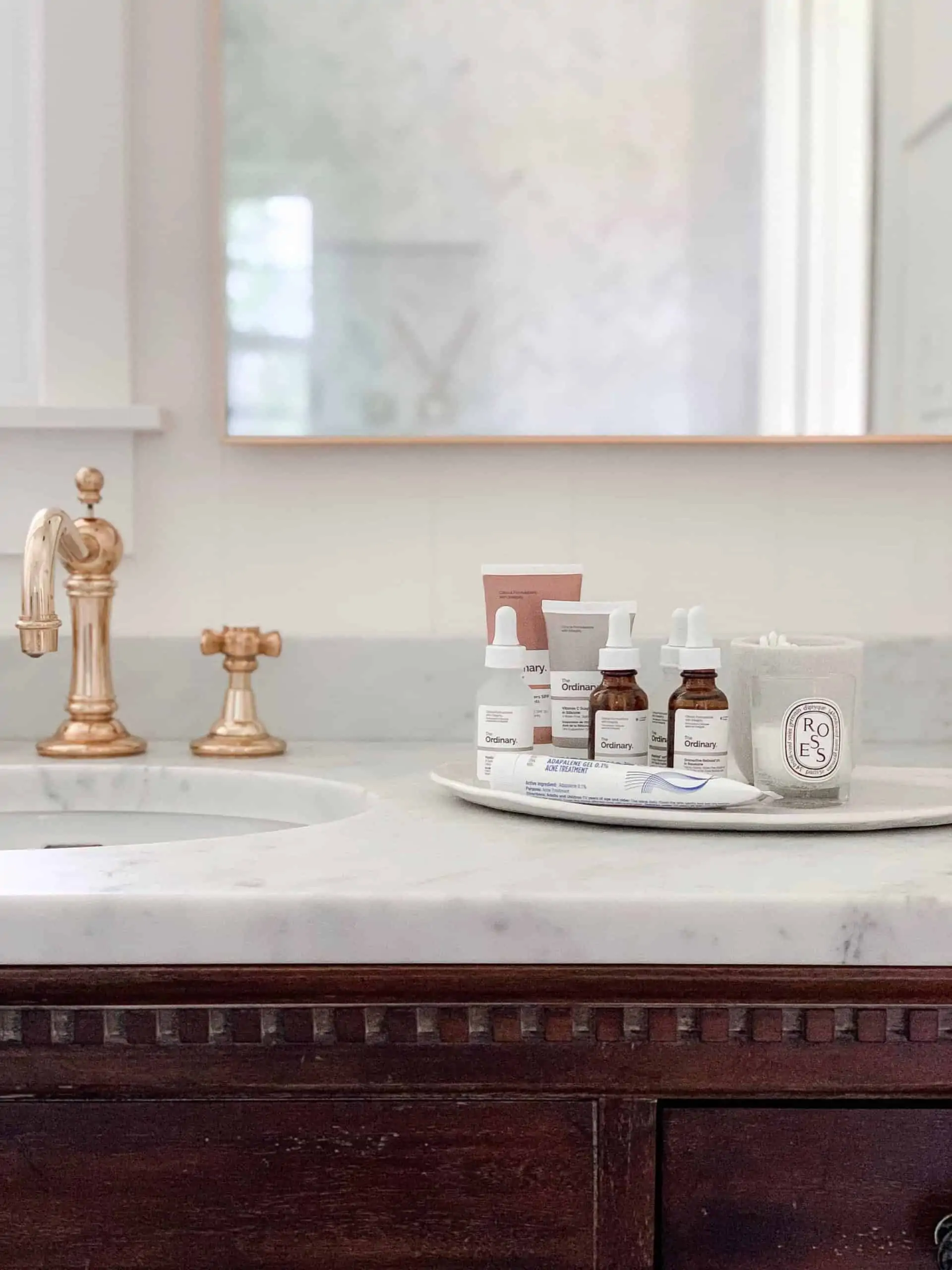 The Best Skincare Products for Anti-Aging
One of the most instantly popular posts on my blog is this post about my favorite skincare products of 2018. I couldn't believe how many people clicked over to read about those products, which I still love.
I have had my fair share of amazing facials and done a lot of research on skincare.
Over the past few months, the topic of "what are the best anti aging products?" has popped up in conversation on Instagram, casually with friends, and during my facials.
Time and time again I have heard of these products as being the best to prevent aging…and that other products really don't do much. So I figured I'd share this with you, because we'd all like to age as gracefully as possible wouldn't we?
Best Anti-Aging Skincare Ingredients
After hearing about Retinol, sunscreen, antioxidants, etc… time and time again, I figured I should do a little research on the matter. After all, marketing has us convinced that we need at least 75 expensive beauty products in our rolodex at all times.
So I began doing some research on Retinol. I started on Allure.com and the like, but was reading contradictory information. So I went deeper. I started reading medical journal reports and clinical trials. During which, I found out some very interesting information.
The best known anti-aging ingredients that have proven results for preventing and treating aging are: Retinol, antioxidants, sun protection and avoidance, and, of course, a great moisturizer.
I hope you find this information interesting and useful! Please do your own research and consult your dermatologist before adding products into your skincare routine!
Check out this blog post for a simple break down on my favorite anti-aging products!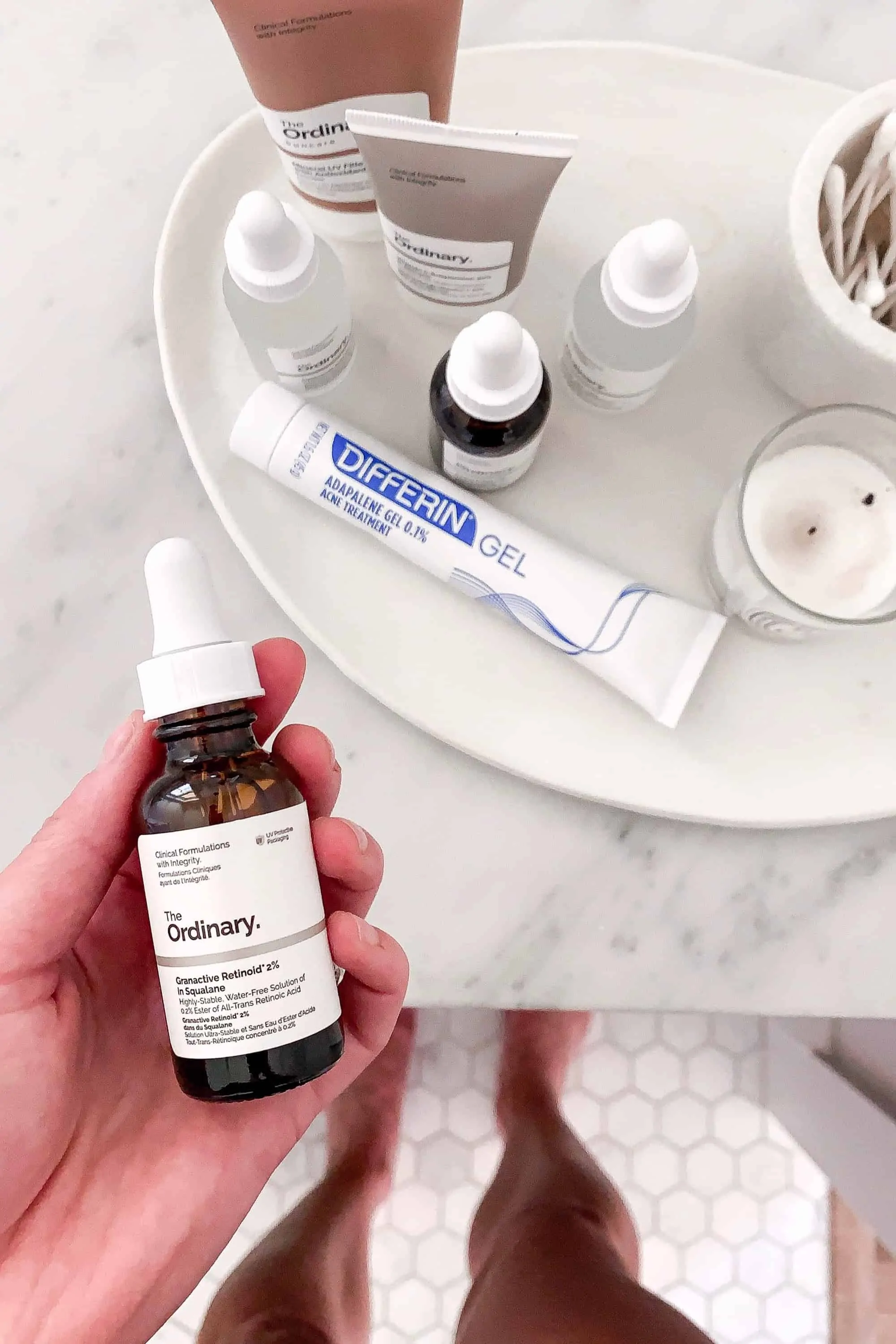 Retinol (Retinoids): The #1 skincare product for anti-aging.
With so many retinol options on the market…how can you figure out which one to use?
Retinoids is the umbrella term for OTC Retinol products containing an active form of Vitamin A.
As we age, our skin begins to lose Vitamin A, causing fine lines, wrinkles, and aging over all. The use of Retinoids helps increase cell turn over, essentially training the skin to regenerate at a faster rate and quite literally erasing (or preventing) signs of aging.
Not only does Retinol treat and prevent wrinkles, it also treats acne, dark spots, shrinks pores, and helps with discoloration. It's no wonder it's the #1 recommendation by dermatologists for treating aging skin!
Retinol Facts: Retinoids are backed by many clinical studies proving that the use of topical Retinoids boosts collagen production, reduce wrinkles, and thicken the skin.
Retinoids and Retinols are not the same thing!
There are different types of Retinoids in skincare products. This is because there are different strengths, availability, and uses.
Retinol must be converted into Retinoic Acid (the key ingredient!) before your skin can make use of it, thus prescription based Retinoids – which contain ready to use Retinoic Acid – are most effective.
Note: Retinol can be just as effective as Retinoids, but it will take longer to see results.
How can you find prescription grade retinol without going to the dermatologist? Formerly, Retinoids were only available with a prescription; however, Differin (Adapalene) is now available OTC. My friend Julie Blanner told me about it and it seems to be fairly popular in my research!
Types of Retinol
Retinol (simple Vitamin A)

– Least potent, least irritating.

Adapalene (Differin)

– Formerly prescription only, potent.

Tretinoin (Retin-A, generic)

– Most potent, prescription only.

Tazarotene (Avage, Tazorac)

– Most potent, prescription only.

Granactive Retinoid:

Offers the same results as Retinoic Acid without the irritation! Granactive Retinoid, is a solubilized system of Hydroxypinacolone Retinoate, is a non-prescription ester of retinoic acid. It offers a multi-fold better effect against signs of aging than retinol, retinyl palmitate and nearly all other forms of non-prescription retinoid. (

source

)
Derivatives called pro-retinols: retinyl palmitate, retinyl acetate, and retinyl linoleate, are weaker and less effective.
How to Use Retinoids (Retinol)
Retinoids can be irritating as your skin adjusts to the product. However, this is totally normal, and your skin will adjust.
Retinoids can treat acne, but you may see breakouts during your initial use. Just stick it out, any irritation and acne will subside.
It takes at least 12 weeks before you will see a noticeable difference
Use Retinoid/Retinol as a part of your evening routine. After cleansing, wait 10-20 minutes for all water on your skin to evaporate. Start with a pea size amount, and use every 3-5 nights, gradually working your way up to every night or every other night.

Retinol can cause flakiness or drying, so be sure to use a moisturizing serum (non water-based) as a follow up to keep your skin moisturized.

Retinoids will not plateau over time, and can be used to treat or to prevent (ie: at all ages).

Do not use retinol/oids if pregnant or breast feeding.

Do not use acids or peels (AHA, Glycolic, etc…) in conjunction (on the same night) with Retinol.

If extreme inflammation, acne, or irritation persists, try switching to a more gentle form such as Retinol or decreasing use.
Antioxidants: Vitamin C, Vitamin E, and Ferulic Acid
These ingredients neutralize and protect against free radicals, and should be used together for best results.
Vitamin C
Known biologically as: L-ascorbic acid (an AHA – alpha-hydroxy acid)
Vitamin C is a water-soluble antioxidant, and naturally found in fruit, tea, and veggies. This vitamin has been thoroughly studied to prevent winkling and smooth skin texture.
Vitamin C also brightens skin complexion and studies have proven it to increase Collagen production!
In addition, Vitamin C is an effective UV free radical neutralizer.
Vitamin E
Vitamin E actually refers to a group of oil soluble oxidants. There are many different types of Vitamin E, but is almost always labeled tocopherol in skin-care products.
It is helpful in treating burns, scars, and sun damage. It is anti-inflammatory which helps it calm and hydrate skin.
Vitamin E is oil based, so can cause some breakouts, so if you have sensitive skin, skip it!
Ferulic Acid
Ferulic acid is a potent free-radical scavenger that works best in combination with other antioxidants. It is a plant based antioxidant found naturally in bran, oats, rice, eggplants, citrus, and apple seeds.
When Vitamin C, Vitamin E, and Ferulic Acid are combined, they work synergistically together to protect the skin from UV rays dramatically.
Sunscreen is known to only block about 55% of free radicals, but using a combination of Vitamin C, E, and Ferulic Acid the skin has a topical free radical neutralizer. (source)
How to use these antioxidants?
It is SO important to find pure and potent forms of these antioxidants. Some Vitamin E oils will contain soy, and Vitamin C is often sold in diluted forms, as is Ferulic Acid.
SkinCeuticals is one of the most well known brands that offers these antioxidants in a premixed bottle, as is Drunk Elephant. I also LOVE this Vit. C & E + Ferulic Acid Serum. If you like the convenience of a single product, they are great options, but are quite expensive.
Instead, you can mix a simple Vitamin C product, and Resveratrol 3% + Ferulic Acid 3%, with a drop of pure Vitamin E oil.
Note: Vitamin C at a high concentration as found in The Ordinary products can cause a stinging sensation, if you haven't used Vitamin C, start with something mild to make sure your skin can handle it! Check out the Ordinary's Vitamin C guide if you'd like to try Vitamin C products.
I really like Mario Badescu Vitamin C, but my VERY favorite is this combo!!
Sunscreen
Over the years, this has become a no-brainer for us, but it's important to mention how vital sunscreen is to the prevention of wrinkles, sun spots, and aging in general.
A step further is sun protection, making sure to wear hats and protect yourself from sun damage. This will be a key component in protecting your skin! Avoiding the sun is one of the best things you can do for your skin to prevent aging.
Sunscreen options I really like La Roche-Poasy sunscreen which was recommended to me by my dermatologist.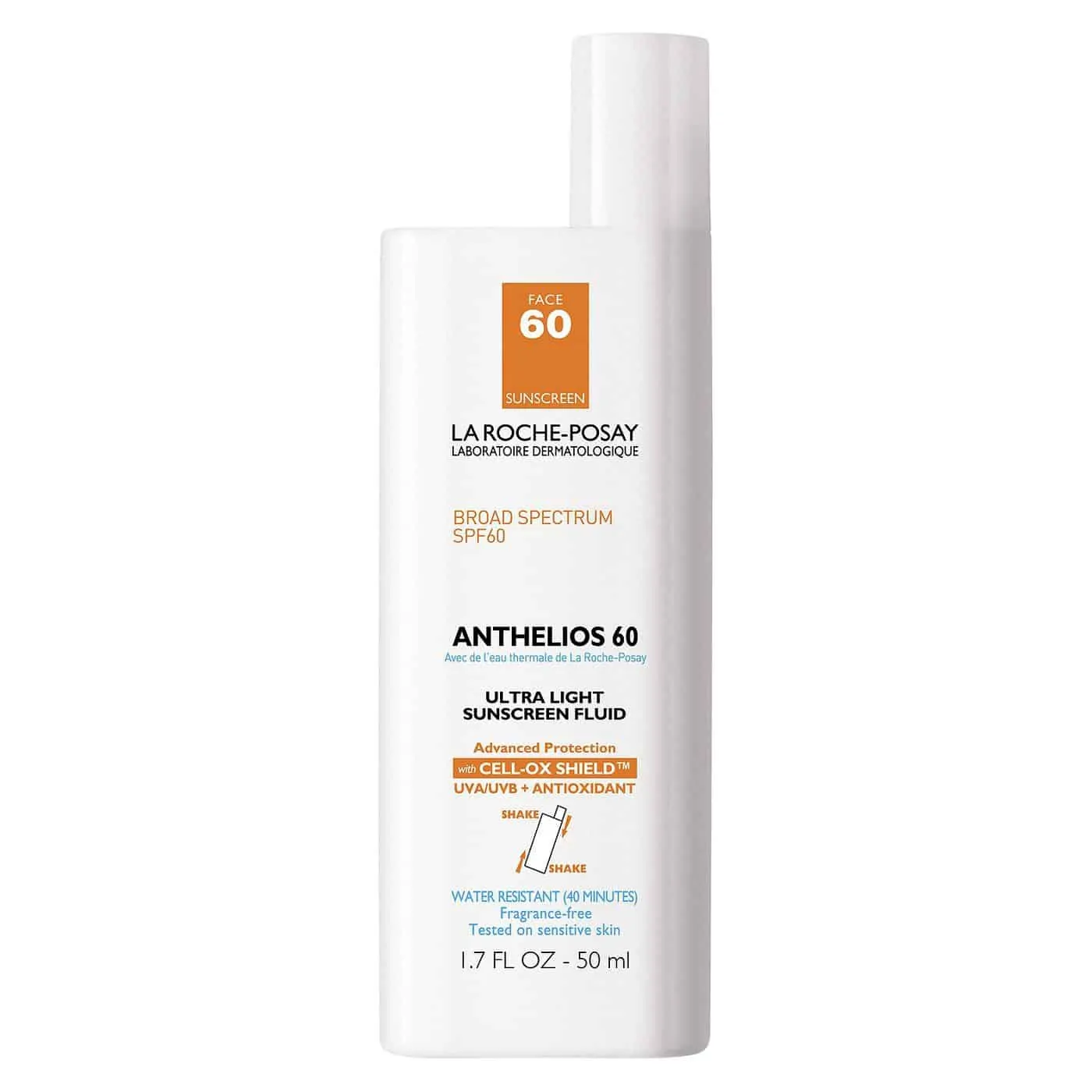 Matrixyl (aka Pentapeptides)
If you are not a fan of Retinol, Matrixyl is a great option for you. This pentapeptide formula was discovered in 1993, but wasn't recognized as an effective anti-aging product until 2002 when it was presented at the 20th World Congress of Dermatology in Paris, France.
The studies conducted compared Matrixyl to Vitamin C and Retinol in blind studies testing skin roughness and wrinkle depth.
The results were astonishing with wrinkle depth decreasing by 18% after only 28 days of use!
When compared to Retinol, Matrixyl ultimately loses, but just by a smidge. Retinol will provide more anti-aging benefits in the long run. However, if you're not a fan of Retinol, Matrixyl is proven to produce very competitive results and is an awesome alternative product. (source)
The Ordinary offers Matrixyl at a great price!
*Do not use Matrixyl in combination with Vitamin C or Acids.
If you're wondering about AHAs…
Another one of the best skincare products for anti-aging is AHAs (alpha-hydroxy-acids). They have been studied and proven to reduce signs of aging. You might know AHAs as Lactic or Glycolic acid.
AHAs and Retinol have very similar effects, so using both doesn't really do much. Retinol has been studied much more than AHAs and has more science backing it. However, if you're not a fan of Retinol, AHAs are a good alternative.
Don't use AHAs and Retinol together, AHAs create an undesirable pH for Retinol. If you'd like to use both Retinol and AHAs in your skincare routine, apply them on alternating nights. (source)