Chickpea, Kale, and Fried Egg Stew
This post may contain affiliate links, please read my disclosure policy.
A vegetarian chickpea recipe to serve for dinner. Like every night of the week.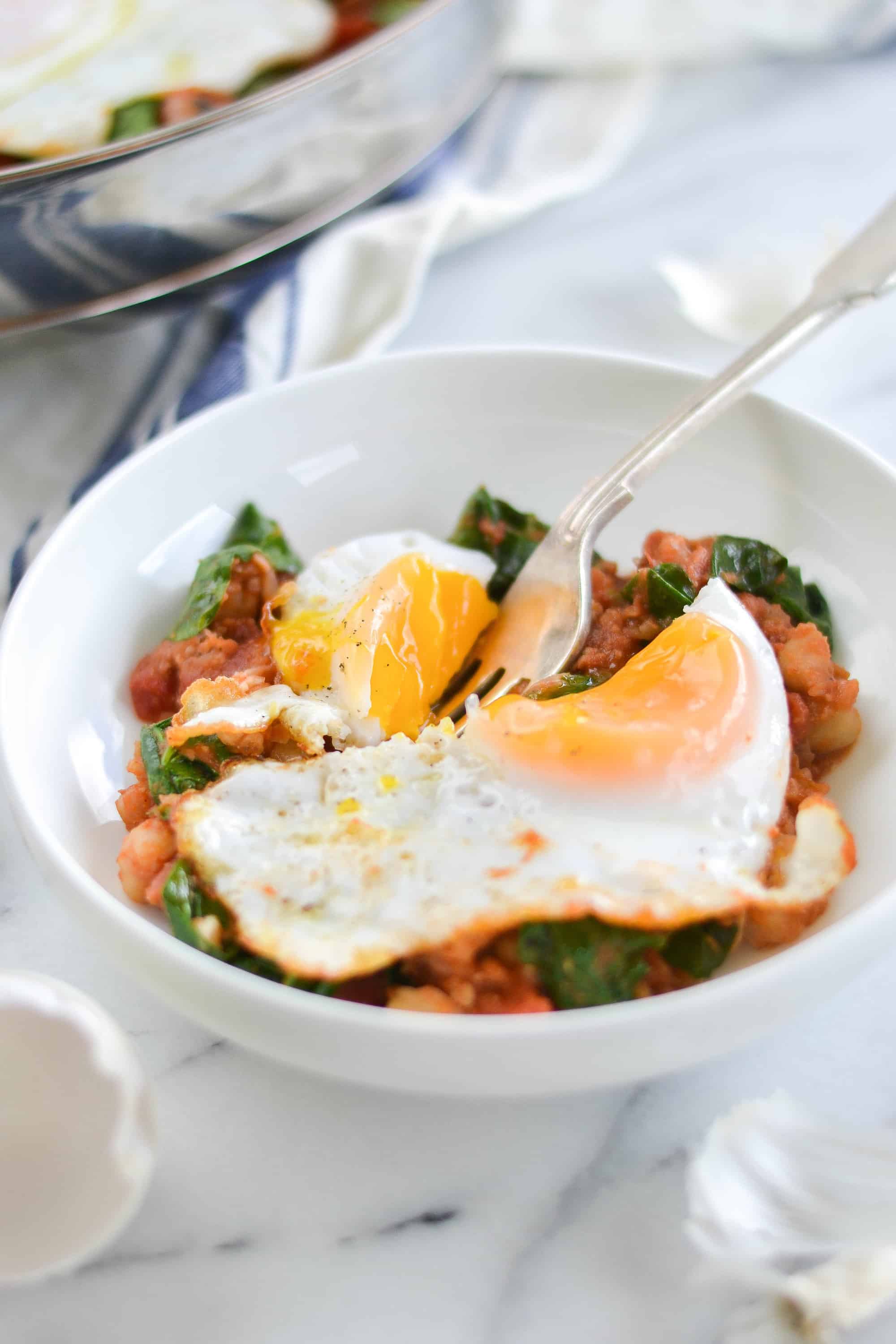 I found this chickpea recipe a while back on Pinterest. The first time I ever made it, I thought it was one of the most difficult recipes on the planet Earth. Who has time to wipe out a pot after wilting spinach? Who has time to wait for the spinach to wilt? No one.
Since making it that very first time, I've come up with a few shortcuts, and have adapted it to our tastes. This is one of my very favorites because it only requires pantry items, meaning that if I've forgotten to go to the grocery store, I can generally whip this up. Only needing eggs, onions, canned tomatoes, broth, and garbanzo beans is really convenient!
I always throw in extra kale to add more nutritional value to the dish – if you don't already love kale, check this article out – usually, I just grab a bag of preserved kale from last year's garden, and toss it right on in!
Sometimes goat cheese also gets thrown in, sometimes we use shallots, and sometimes we omit the greens (if the fridge is sparse). This is also a great vegetarian recipe – it's actually hard to believe something this good is vegetarian, but I didn't write the rule book.
The fried egg on top is sort of like chocolate sauce on top of strawberry ice cream. This whole dish is as good as any steak you can find, and it's even cowboy approved.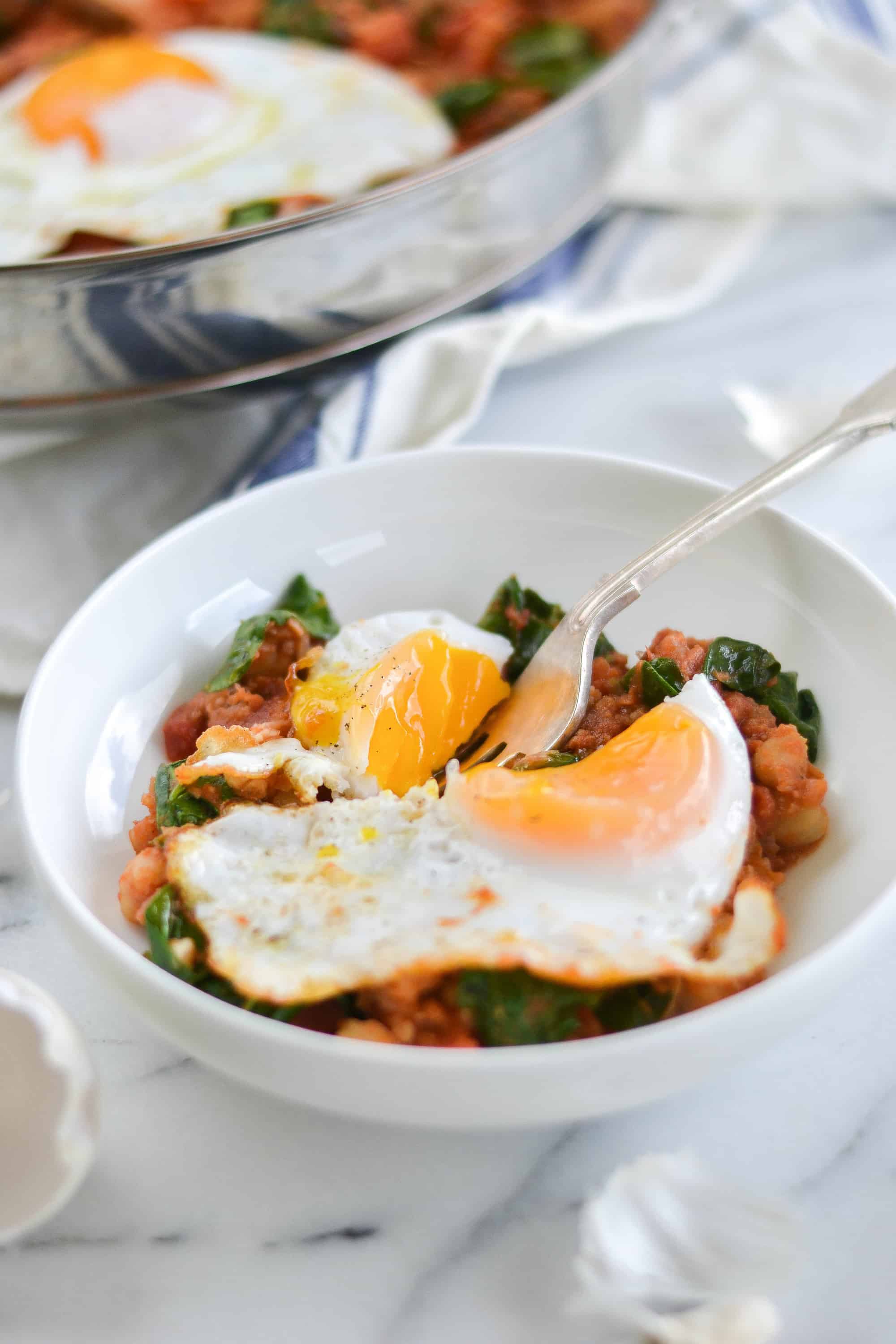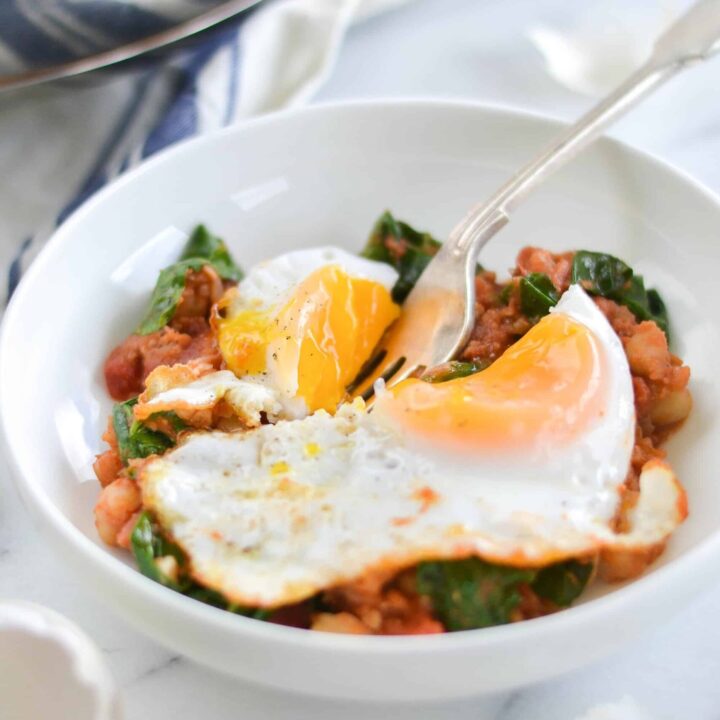 Chickpea Kale Stew
A vegetarian chickpea recipe to serve for dinner. Like every night of the week. Recipe adapted from this Bon Apetit recipe
Ingredients
1 can garbanzo beans, rinsed
3 cups kale, de-veined/stemmed
1 large white onion, finely choped
4 cloves garlic, finely diced
3 tablespoons olive oil
3 teaspoons Cumin
2 cups chicken broth (or broth of choice)
2 14 oz. cans roasted, diced tomatoes
salt & pepper to taste
Instructions
In a large skillet heat 2 tablespoons olive oil. Add onion & garlic, and saute until fragrant.
Stir in cumin, garbanzo beans, and kale, and saute until cumin is toasted.
Reduce heat and add tomatoes, let simmer until the broth has reduced by half. About 10 minutes.
Add in broth, and scrape up any bits stuck to the bottom (aka liquid gold). Simmer until the mixture becomes stewlike, another 10 minutes.
In a separate skillet:
Heat the remaining 1 tablespoon olive oil, fry eggs 'sunny side up' until cooked to liking.
Serve in a large bowl, and top with a fried egg.
What's your favorite way to enjoy meatless Monday? Let me know in the comments below!!