Homemade Marshmallows
This post may contain affiliate links, please read my disclosure policy.
A collection of delicious Christmas treats recipes for those that want to skip the classic Christmas cookie. Everything from marshmallows to toffee, these are the perfect homemade gifts!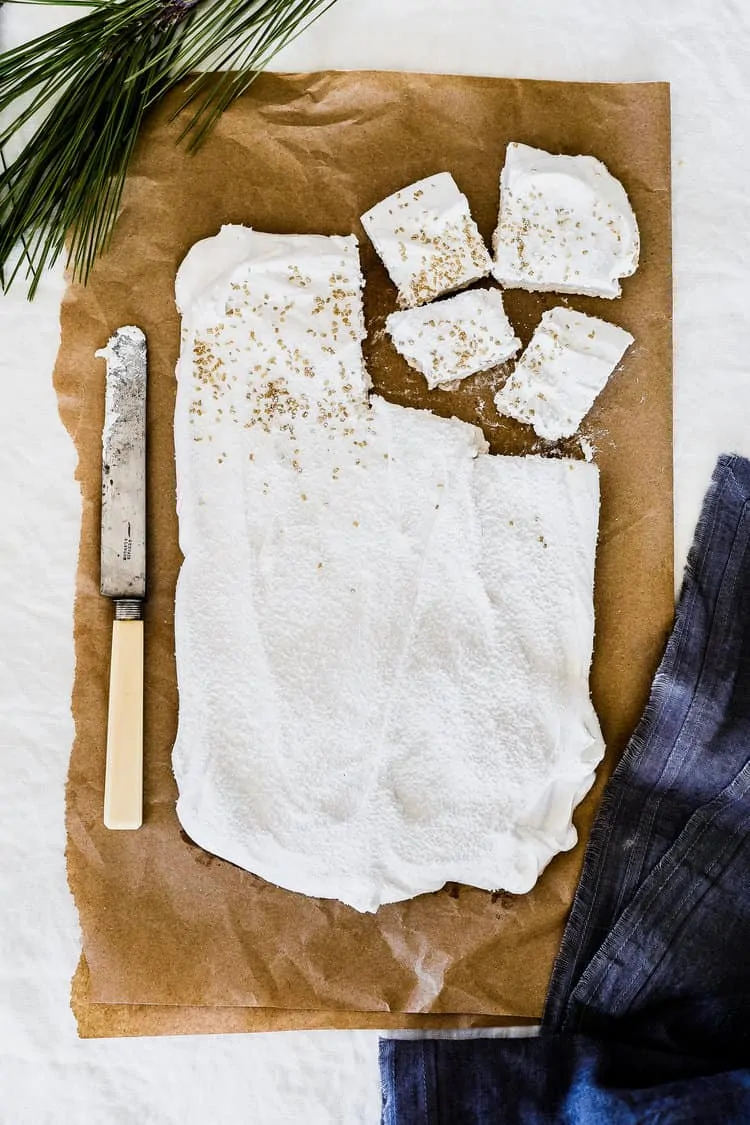 How to Make Homemade Marshmallows
I've always wanted to make homemade marshmallows, but I have always been a bit intimated by them. When I started making these I realized just how easy they are to make. They require no baking, and they are 100% more delicious than the store bought version. Maybe 200%.
These were truly so very easy to make, and although I stuck with a basic recipe, they would be very easy to adapt to make special. Try peppermint extract instead of vanilla, or add a bit of food coloring. Maybe dust with cocoa powder or add chocolate chips at the last minute! These would be a great topping for Amaretto Hot Chocolate, too!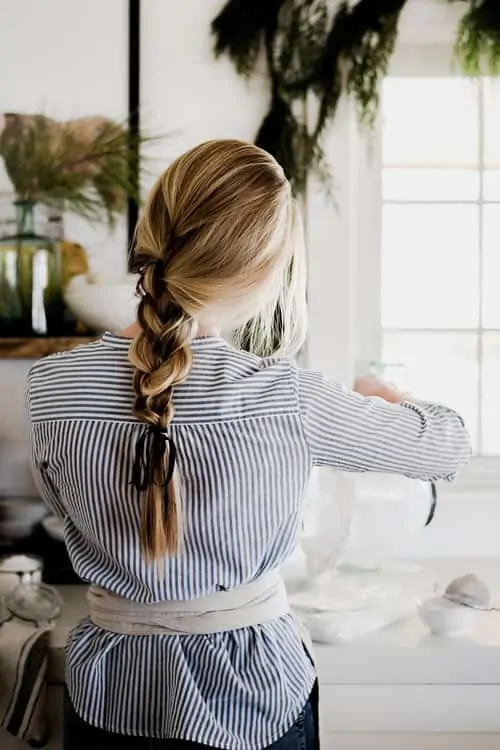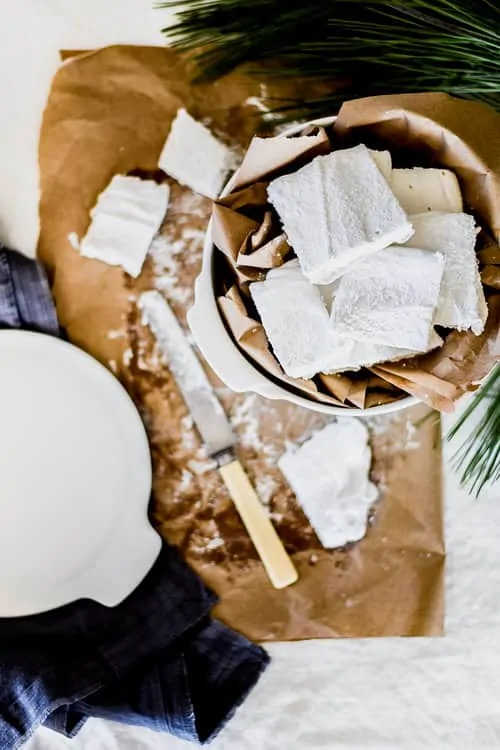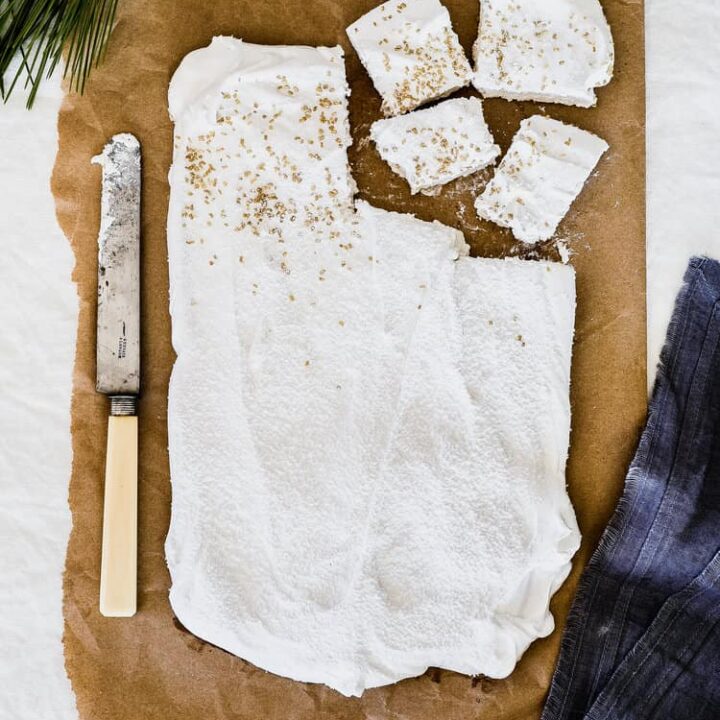 Homemade Marshmallows and other Christmas Treat Recipes (that aren't cookies)
Ingredients
1 cup water, divided into two 1/2 cups
3 packets unflavored gelatin
1 tsp kosher salt (I used Maldon)
1 tablespoon vanilla extract
1 1/2 cups granulated sugar
1 cup light corn syrup
1/4 cup cornstarch
1/2 cup confectioners sugar
non-stick cooking spray
Instructions
Recipe adapted from Ina Garten

Prep: Combine cornstarch and confectioners sugar in a small bowl. Spray a 13x9" dish with non-stick spray, then dust it with the cornstarch mixture. You will have some starch/sugar left over - save it to dust the top of the marshmallows.
Step 1: In a large mixing bowl (I used my electric mixing bowl), combine gelatin and 1/2 cup cold water. Whisk to dissolve the gelatin completely, allow to sit while you prepare the rest of the recipe.
Step 2: Combine granulated sugar, salt, corn syrup, and the remaining 1/2 cup water in a saucepan. Over medium heat, stir the ingredients to dissolve the sugar. Once dissolved, turn the heat to high and bring to a boil - using a candy thermometer, closely monitor the temperature.
Step 3: Whisk the mixture as it boils and keep a close eye on the temperature. Do not be tempted to step away from the mixture - it can burn quickly! As soon as it reaches 240 degrees F remove it from the heat. This takes about 15 minutes.
Step 4: Once the mixture reaches 240 degrees F, slowly pour it into the dissolved gelatin mixture. Use an electric mixer to whip the mixture for about 15 minutes - use your whisk attachment for best results. It will become light and fluffy...like marshmallows! Note: this is easiest if done using an electric mixing stand - set it to a medium speed, and let it mix! If you are using a hand mixer, your arm is probably going to get a bit tired!
Step 5: Once the mixture becomes marshmallow-like, add the vanilla (or extract of choice) and mix until combined.
Step 6: Use a spatula to pour the marshmallow mix evenly into the prepared baking dish. Dust with remaining confectioners sugar mixture, and let the marshmallows sit overnight, uncovered. Once the mallows have dried out a bit, you can cut and dust with more confectioners sugar or sprinkles!
Notes: We live in a dry environment, and I left mine out overnight, uncovered. They remained a bit sticky, and were tricky to cut. I think leaving them out longer would do the trick; however, I didn't mind the "stickiness" - they were delicious!!! Try dusting with more confectioners sugar so that they won't stick together if you plan on gifting these.
Some have mentioned that the mallows were a bit hard to remove from the pan, if you have some handy, you can use parchment paper to line the dish!
More Christmas Treat Recipes