Zucchini Bread Recipe: The Easiest Recipe from my Grandma
This post may contain affiliate links, please read my disclosure policy.
An easy zucchini bread recipe with dried cherries.
Grandma's Easy Recipe
As we've discussed – my grandmother recently visited. Before she came, she asked if she could bring anything. I told her to just bring herself, but of course, she insisted on bringing something else – because she's a grandma, and that's what grandmas do. So I told her to bring some zucchini.
Table of contents
She brought me 4 large zucchinis – some made it into a big salad and the rest went into this zucchini bread recipe. She also brought me a handwritten recipe card that looks to be about 40 years old with her zucchini recipe on it. #NeverThrowingThatAway. There's just something about homemade bread that is so comforting. I love different flavors like apple or pumpkin.
It called for 3 cups of flour and 3 eggs. Of course, I didn't realize we were out of eggs until I was halfway through measuring the last 2 cups of flour we had left. Doesn't life always seem to work like that? Luckily one of our hens had a busy morning and I was able to find some fresh eggs.


Zucchini Bread Ingredients
Ingredients
All purpose flour
Oatmeal
Salt
Baking soda
Baking powder
Eggs
Granulated sugar
Applesauce – Applesauce helps keep the bread moist and the perfect. fluffy texture
Cooking oil
Vanilla extract
Shredded zucchini
Dried cherries – You can always use raisins or cranberries, too!
Optional: chopped walnuts
Tips For Zucchini Bread
My grandma's recipe called for raisins, but I used cherries instead. I loved the added tartness. Her recipe also called for walnuts, but I chose to omit the walnuts. This zucchini bread recipe would be great with dried cranberries, too!
Serving Zucchini Bread
I love serving this bread toasted with unsalted butter and a drizzle of fresh honey – not exactly guilt free, but hey, at least there are some veggies in there, right?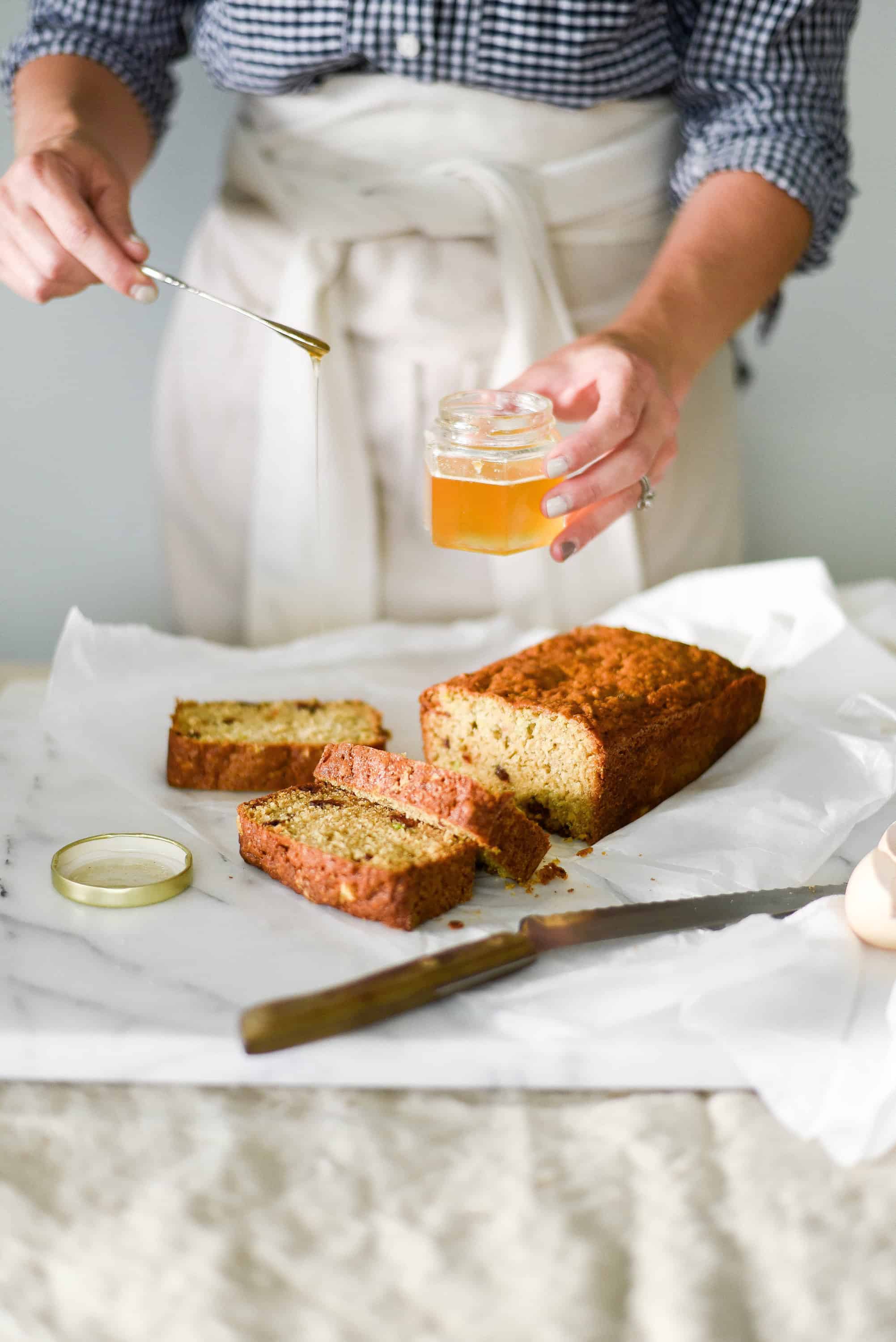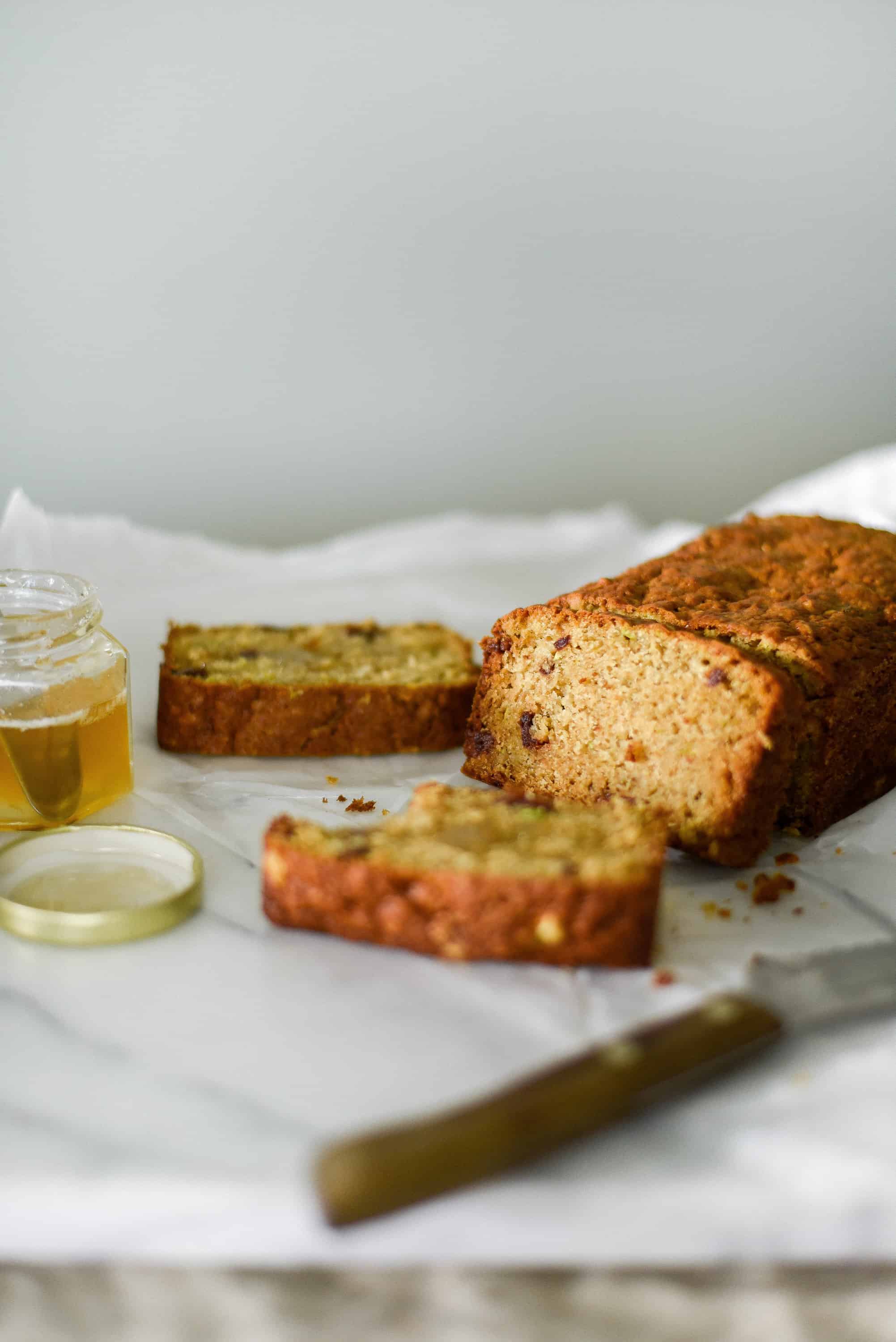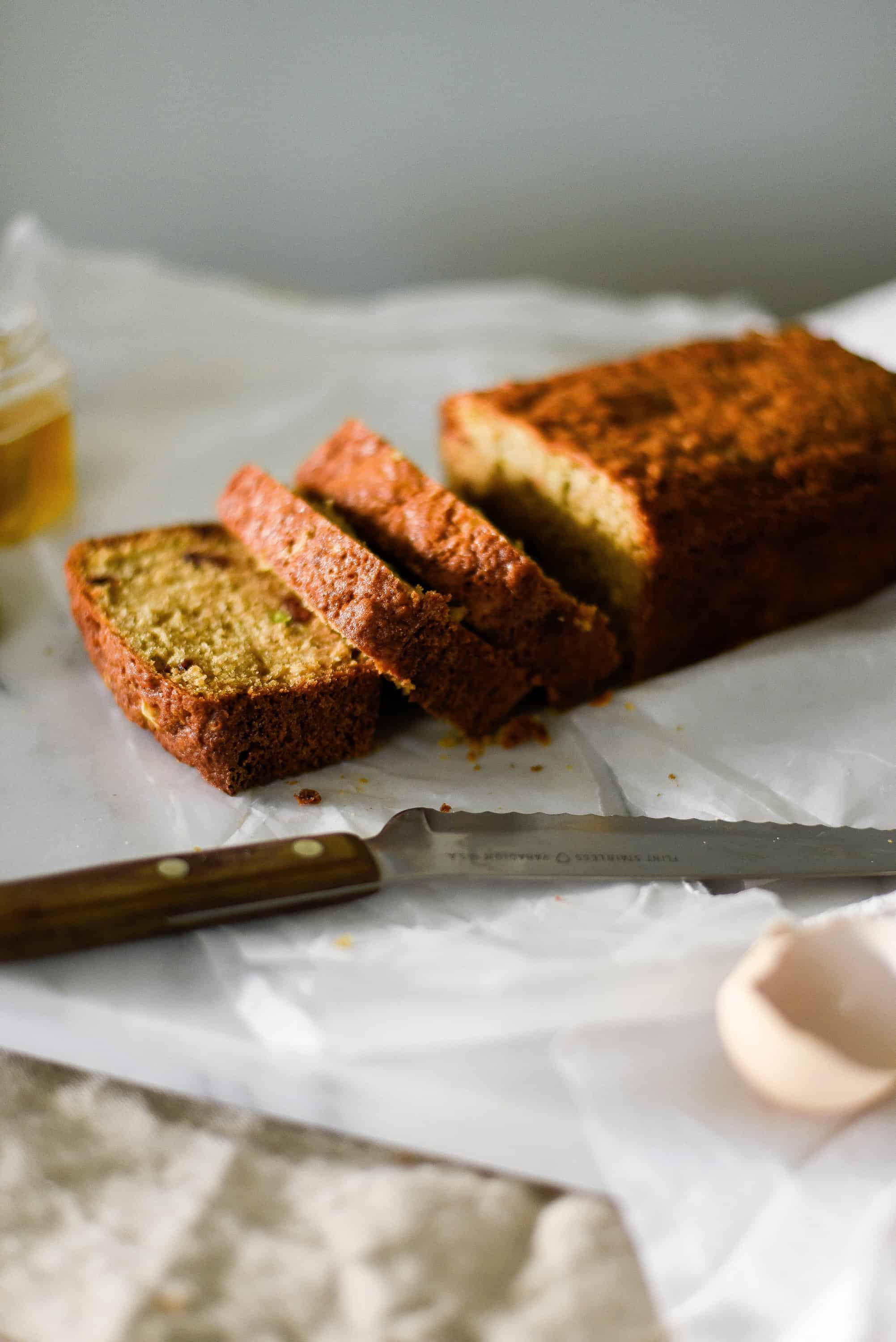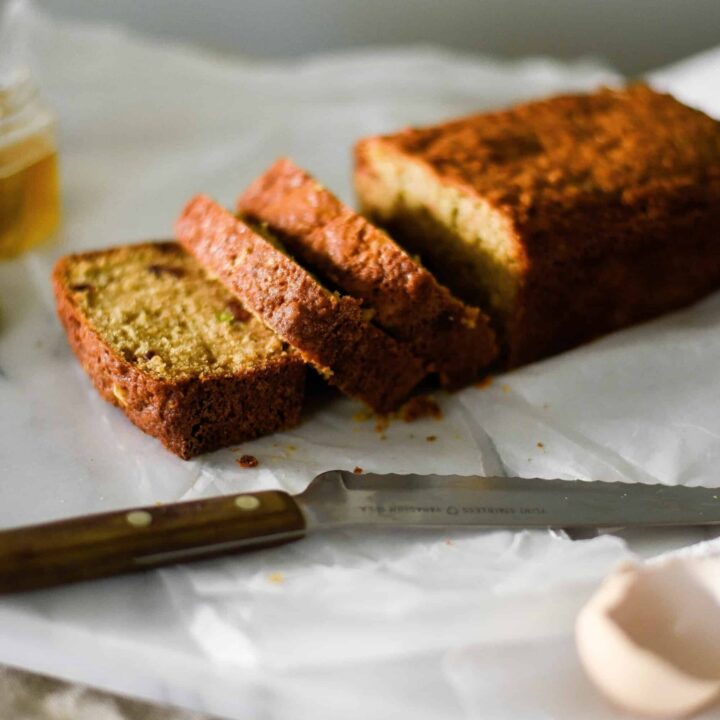 Zucchini Bread
An easy zucchini bread recipe with dried cherries. 
Ingredients
1 1/4 cup all purpose flour
1 cup oatmeal
1/2 tsp. salt
1 tsp baking soda
1 tsp baking powder
2 eggs
1 cup granulated sugar
1/2 cup applesauce
1/2 cup cooking oil
2 tsp vanilla extract
2 cups shredded zucchini
1/2 cup dried cherries
Instructions
Preheat oven to 350 degrees.
Place cherries in a small bowl of hot water. Let sit.
Peel 2-3 zucchinis, and shred... or use this really handy tool to chop.
Drain cherries, and roughly chop. Set Aside.
In a medium bowl, combine flour, oatmeal, salt, baking soda, and baking powder. Stir to combine and set aside.
In a large bowl, beat eggs and sugar until light and fluffy. About 2 minutes. Stir in applesauce and oil. Add vanilla extract, cherries, and zucchini. Stir to combine.
Add dry ingredients, and stir until combined.
Pour batter into a greased loaf pan and bake for about 30 minutes. The bread is done with it peels away from the sides of the pan.