This post is in collaboration with SOLLiD Cabinetry and Space Home Outfitters.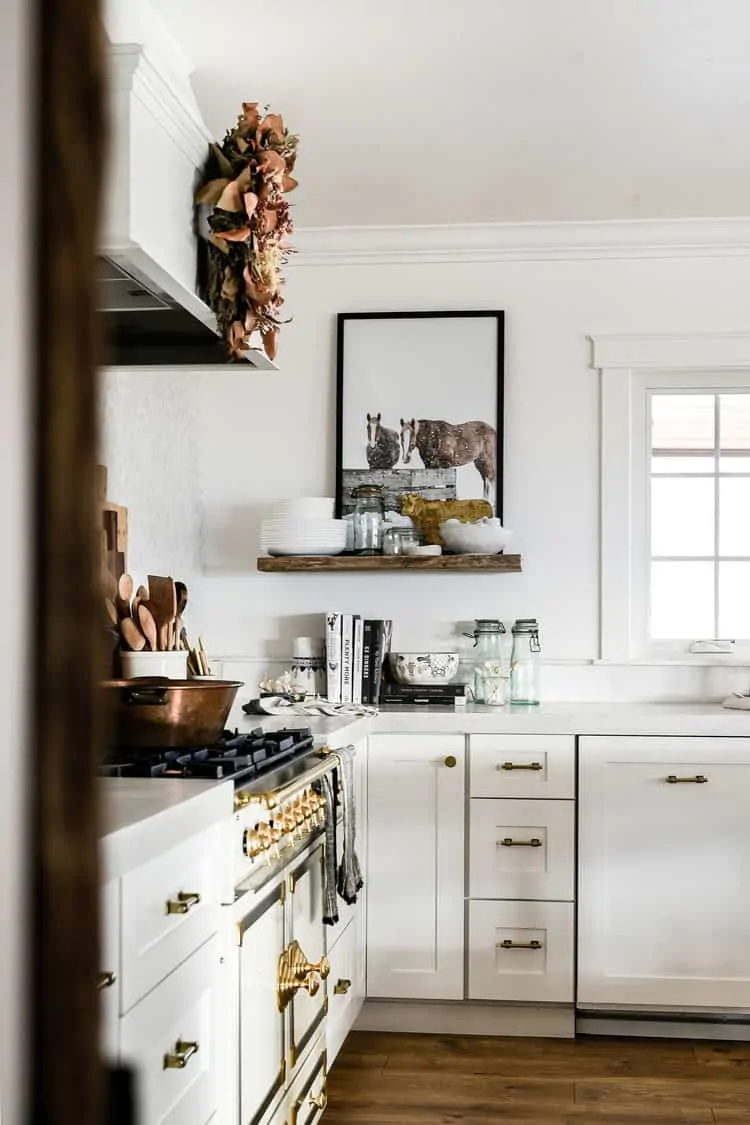 The most common questions I receive about our home, are regarding our kitchen cabinets. Where are they from? What color paint did you use? Do you like them? Well, today I am going to break down every last little bit of our cabinets for you!
When we first started remodeling, I was put in contact with Rob from SOLLiD Cabinetry. I had initially planned on using Ikea cabinets because of their ease of install, design, etc… I figured we could go the SemiHandmade route – I mean Studio McGee does it – so why wouldn't we?
One of my neighbors installed Ikea cabinets in her mudroom, and they are beautiful; however, you can tell by feeling them, that they aren't *custom made cabinets*.
So, I started working with Rob in depth to use SOLLiD in our kitchen, and just like that we were no longer using Ikea. Rob put me in touch with Sandra from a company called Space Home Outfitters. She is based in Arizona, but helped me virtually layout our kitchen. I sent her over some drawings and measurements, and like magic, she provided me with professional mock-ups of our kitchen with SOLLiD cabinets.
I remember thinking back to my initial plan of using Ikea, and being so much happier with the customization and quality of SOLLiD and working with Sandra.
If you are designing a kitchen, especially your own, you know how nerve wracking each selection is. It reminded me of planning my wedding. Everything seemed like such a big decision. Am I going to like my dishwasher on the left hand side? Will I regret not going with uppers? What if I hate the small drawers?
During what I call "the second guessing stage" of the design, I had a small moment of panic and thought, "Oh my God, my kitchen is going to be a white hole and look like a hospital." So I asked SOLLiD if they would be able to paint the cabinets a custom color?
The good news is that the answer is yes – SOLLiD will custom paint cabinets for you, the bad news is that it is more expensive. The expense talked me off the edge, and we opted for their standard white cabinets…which we love. I am so happy we didn't end up going with the custom gray color that I had seriously considered. Although SOLLiD does have a few gray options that come standard if you are interested.
The cabinets took about a month to arrive because we ordered custom sizing (our breakfast bar drawers are only about 12″ deep to allow for leg room on the opposite side), but generally the Value Series cabinets are ready to go in 12-14 business days, which is a huge bonus if you are looking for high-quality wood, affordable, custom cabinets quickly.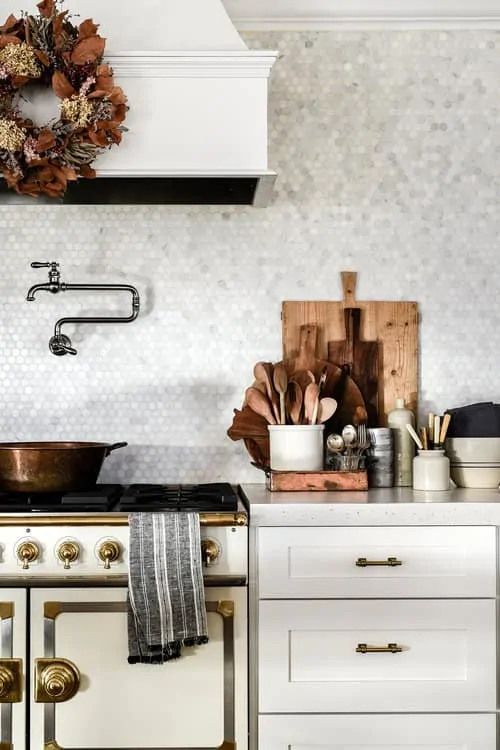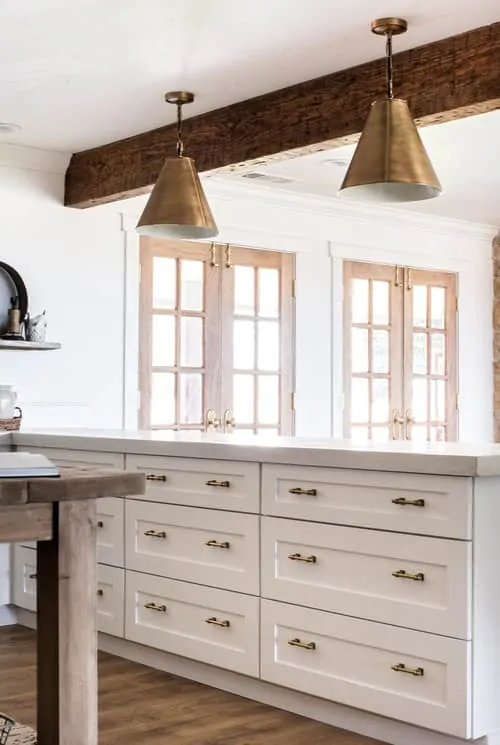 We decided to forgo upper cabinets in our kitchen, and stick solely with a few open shelves. There was one night when my husband realized this and had a full on panic thinking we wouldn't have enough space in the kitchen to keep our things. He insisted that I order uppers, but I held my ground, and I am happy I did because we actually have a few empty drawers in our kitchen. I tell you this in case you are worried that skipping upper cabinets will leave you without enough space in your kitchen. We have more than enough room to house everything, and then some.
You'll notice that we used mostly drawers in the kitchen. I think we only have 2-3 true cabinets. I am so happy we did this. It makes everything accessible at all times, and nothing is shoved to the back and hidden. Actually, now that I'm thinking about it, the one true cabinet we do have in our kitchen is the space that gets used the least. I wish I would have added more drawers there so that I could use up every inch of the kitchen.
When the cabinets arrived it was amazing to see the space finally come together, after months and months of planning. The cabinets fit perfectly, and looked beautiful, even without the countertops installed.
Sandra and SOLLiD worked with me to provide Rev-A-Shelf products to insert into the cabinets. We have a double layer utensil drawer which we love love love! We also have a double trash can hidden next to our sink, a cookie sheet holder, wood lazy susans in our corner cabinets, and spice/utensil inserts. When Rob at SOLLiD told me about Rev-a-Shelf, I had no idea just how much we would want and need their products in the kitchen, they add so much, and I couldn't recommend them more.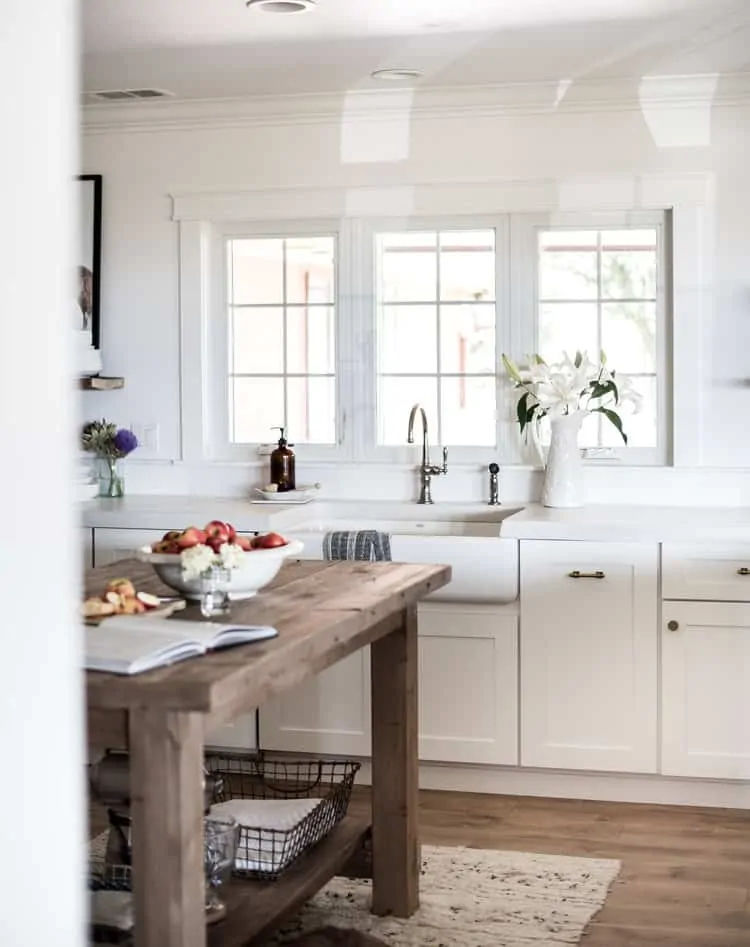 I get asked quite a bit if we like the shaker style cabinets, and if they are easy to clean? Yes! I love the style, and they are very easy to wipe down and clean. Even though they are white, I don't notice them becoming overly dirty, and whenever I see finger prints or food, I only have to use a sponge to wipe them down.
I also get asked if I like the color. I talked a little bit about the color above, but yes, we do really love the color. Our walls are painted Bistro White by Valspar, and they look beautiful along with the color of the cabinets. PS: Our stove is the "ivory" LaCornue, in case you were wondering.
If you have any questions that I didn't touch on in this post, please don't hesitate to ask! I am happy to answer, because I remember what it was like making these decisions! My best advice is to stay true to what you love, even if that means having a big ol' white kitchen.
Thank you so much to SOLLiD Cabinetry for working with me on this project, and a big thanks to Sandra at Space Home Outfitters for her help with the details of the space!