The Perfect Flank Steak Marinade for Tender Meat (Every Time!)
This post may contain affiliate links, please read my disclosure policy.
Flank Steak is an affordable and lean cut of beef that's packed with intense flavor. It comes from the belly muscle of a cow and can become tough if overcooked. This makes flank steak a perfect match for using a marinade to tenderize the meat.
To get a juicy, tender, and flavorful steak use this marinade that combines sweet and savory flavors flawlessly. Honey, balsamic vinegar, soy sauce, and Montreal steak seasoning blend together beautifully in this recipe. You won't be able to stop eating it!
Make sure to give yourself at least 2 hours for the flank steak marinade to work its magic to tenderize the meat. The best timing would be to mix the ingredients together before lunch so it's ready to go by dinner. All you'll need to do is preheat the grill to high heat and sear both sides for a few minutes until your desired temperature is reached for a quick and delicious meal.
Why We Love This Recipe:
Since flank steak is a budget-friendly cut of meat you can enjoy a steak meal without splurging. A great marinade helps transform simple into spectacular. Another benefit of this recipe is that it's tossed together quickly saving time in the kitchen.
You can cook the marinaded flank steak in several different ways. Oven, stovetop, grill, or even broiled are all great methods. The only consistent portion is using high heat to help maintain tenderness. The faster the flank steak cooks, the better.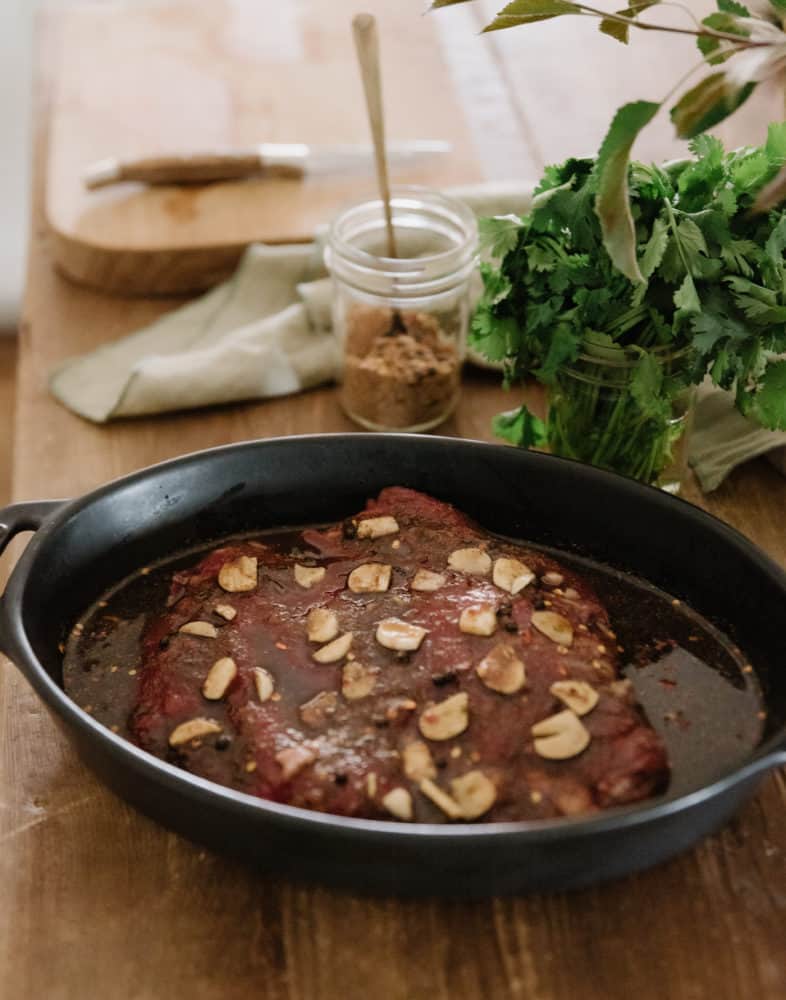 Flank Steak Ingredients
Flank Steak: A lean budget-friendly cut of meat full of flavor. You could also use skirt steak if that is all you can find.
Lime: Lime juice is an important ingredient because of the acidity it brings to the marinade. The acid helps tenderize the meat.
Montreal Steak Seasoning: You can buy premade or make your own homemade seasoning.
Garlic: Another important seasoning that comes with lots of health benefits. You'll want to slice them thin for this recipe.
Honey: Honey or brown sugar will help balance out the acids and will help caramelize the meat.
Worcestershire Sauce: The hardest word to pronounce yet it adds such great depth of flavor to any meal.
Soy Sauce: Soy sauce adds salt to the marinade and also helps tenderize the meat by breaking down proteins.
Balsamic Vinegar: Balsamic vinegar is another acid that also brings a distinctive taste to the marinade.
Step by Step Instructions for Flank Steak
Combine the marinade ingredients together in a large bowl.
Add the steak to the bowl and flip it over to completely coat the meat with marinade.
Cover the bowl with plastic wrap and place in the refrigerator to marinate for at least 2 hours up to 12 hours.
Preheat the grill to high heat and keep the grill lid closed while preheating.
Remove the steak from the marinade and gently shake off the excess.
Place the steak on the grill and sear for 2-4 minutes on each side.
To cook it further (if needed) place the steak in a cooler section inside the grill to finish cooking to your desired temperature. Rare steak is 120-125°F, medium rare is 130-140°F, and medium is 145°F.
Remove the steak from the grill and rest the meat on a cutting board and cover with aluminum foil to rest for 10-15 minutes.
Slice the steak across the grain to break up the muscle fibers to prevent tough and chewy meat.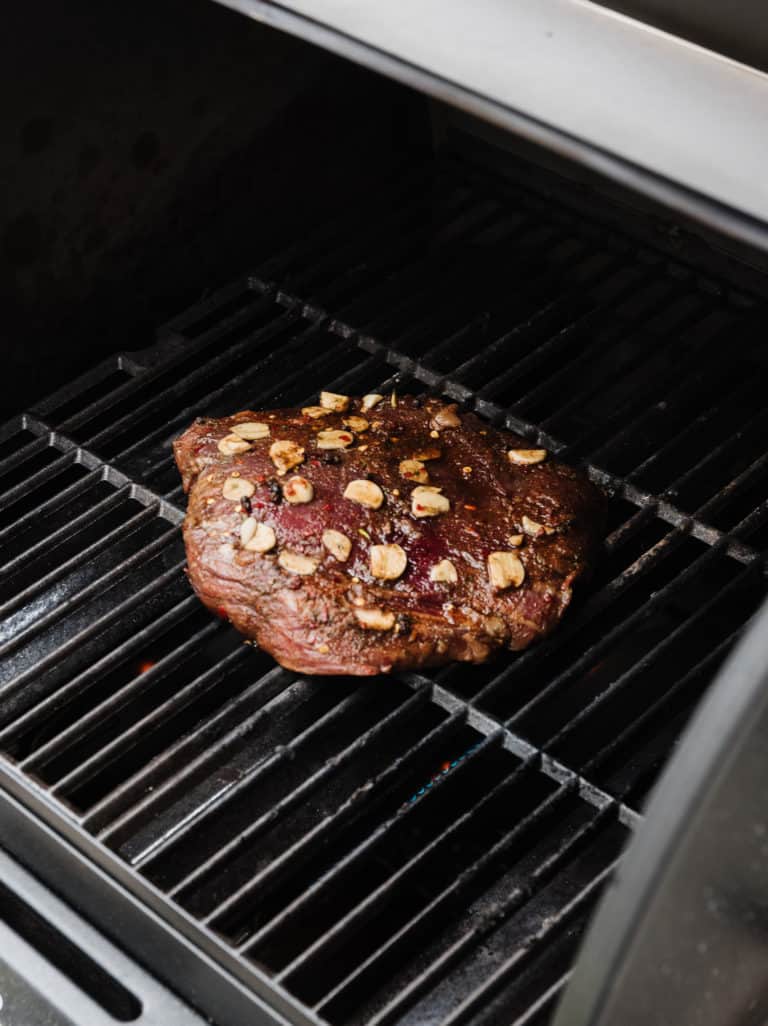 Tips for Success & FAQs
Cook the remaining marinade as a sauce for the flank steak.
Resting the steak for 10-15 minutes with an aluminum foil tent helps keep the juices inside the steak resulting in a more flavorful and tender flank steak.
Take the flank steak off the grill when it's 5°F below your desired final doneness because it will continue to cook off the grill while resting.
Should you tenderize flank steak before marinating?
You should pound the steak to an even, thin thickness to tenderize and for even cooking.
Can you marinate for too long?
Yes, marinating the flank steak too long will give you a grainy mouthfeel and can make it tough. Keep the marinading time from 2 hours to 12 hours max.
Do you close the grill while cooking flank steaks?
Flank steaks are thinner cuts of meat so it is best to keep the grill open while cooking. Keep the grill lid closed while preheating.
What is a flank steak alternative?
Hanger steak or skirt steak are great alternatives to flank steak. They all come from the underside of the cow and are affordable cuts of meat.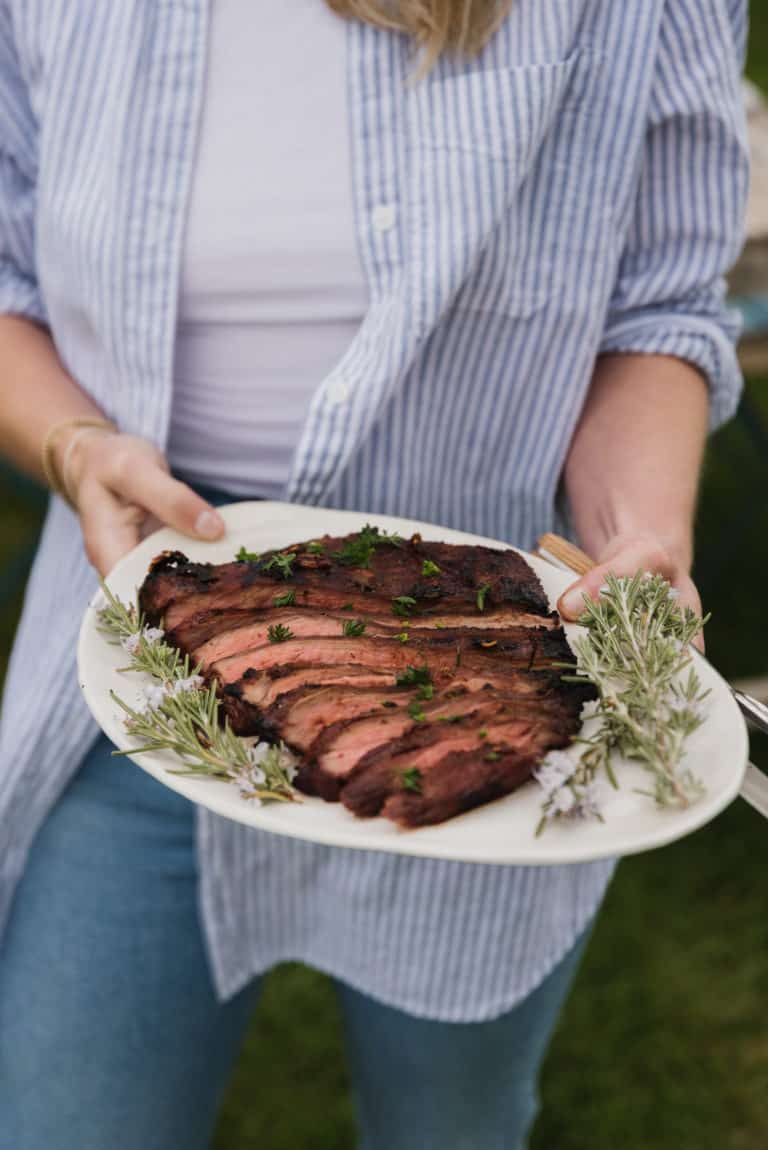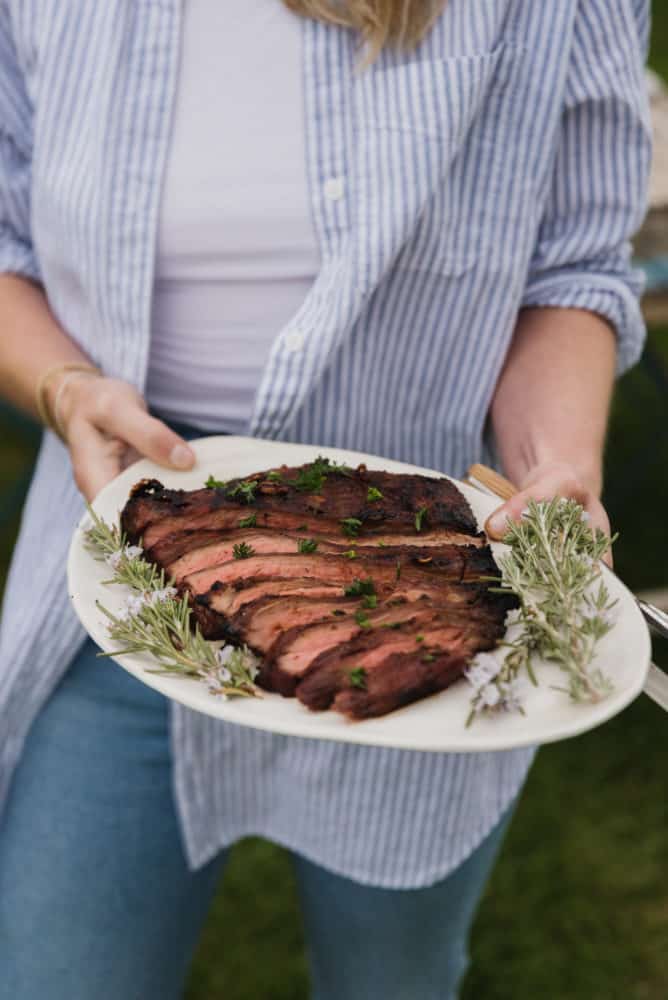 More Recipes for you to Try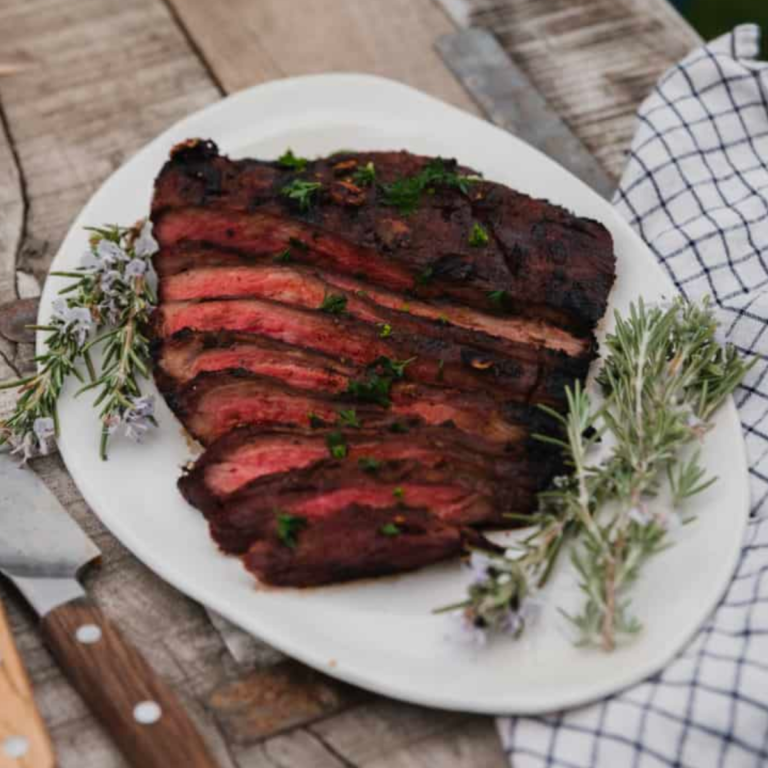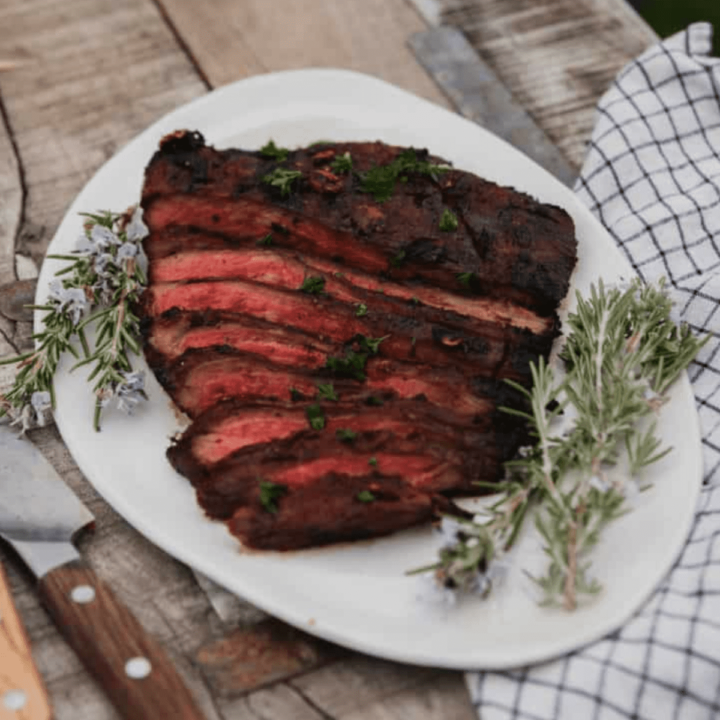 Tender Flank Steak with Honey Balsamic Marinade
Total Time:
5 hours
20 minutes
A simple and delicious marinade for flank steak to make it tender and flavorful every time.
Ingredients
1 lime, juiced
2 tbsp montreal steak seasoning
3 cloves of garlic, sliced
1⁄4 cup honey (or brown sugar)
2 tbsp worcestershire sauce
1⁄4 cup soy sauce
1⁄4 cup balsamic vinegar
1 lbs flank steak
Instructions
Add all of the ingredients into a bowl and cover with plastic wrap, making sure the steak is well coated.
Let it marinate in the refrigerator for a minimum of 2 hours and a maximum of 12 hours.
Preheat your grill to medium-high, once it's to temperature add the steak to the grill and cook for about 4-5 minutes on each side or until your desired temperature. A hot grill gives it a nice outer crust.
Notes
High heat is the best way to cook flank steak, the hotter and quicker it cooks the less tough it will be.
Make sure that the steak thickness is even to ensure your desired doneness. If the difference between sides is more than 1⁄4 inch, cut the steak apart. Alternatively, you can pound it to even thickness.
Marinading the flank steak longer than 12 hours can give it a grainy mouthfeel, so this is best prepared just a few hours before serving.
Flank steak gets tougher the more cooked it is, so this cut is best served rare to medium-rare. (125-130°F)
Slice the flank steak against the grain for maximum tenderness. After the steak has rested, cut thinly across the grain with a sharp knife at a 45-degree angle.