Learn how to make some delicious Beef steak tacos perfect for taco Tuesdays with a few fresh ingredients. Pair these with a great cocktail and some chips and dip to make a perfect meal to enjoy with family and/or friends.
You will love how fresh these steak tacos are, served with quick pickled onions and radishes and a deliciously light cabbage slaw they are refreshing yet filling! This is a great recipe for backyard BBQs and alfresco dining!
This post is a collaboration with Beef. It's What's For Dinner. on behalf of the Beef Checkoff. I received compensation, but all opinions are my own.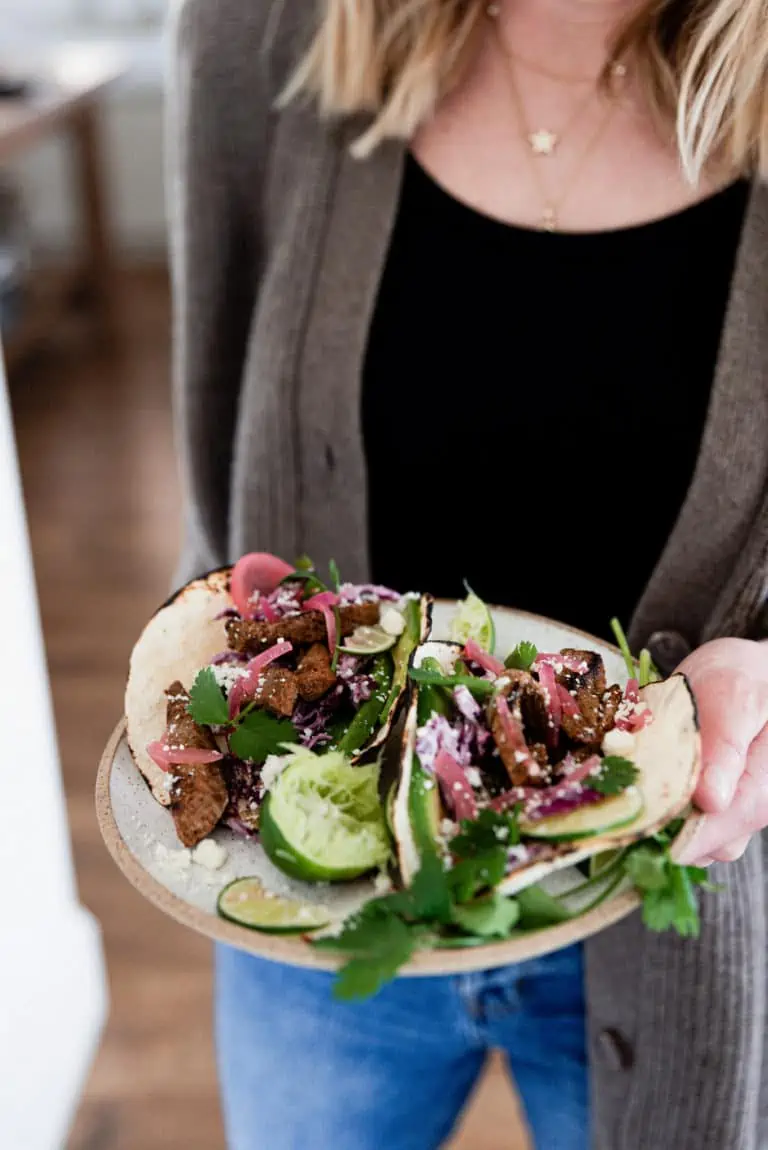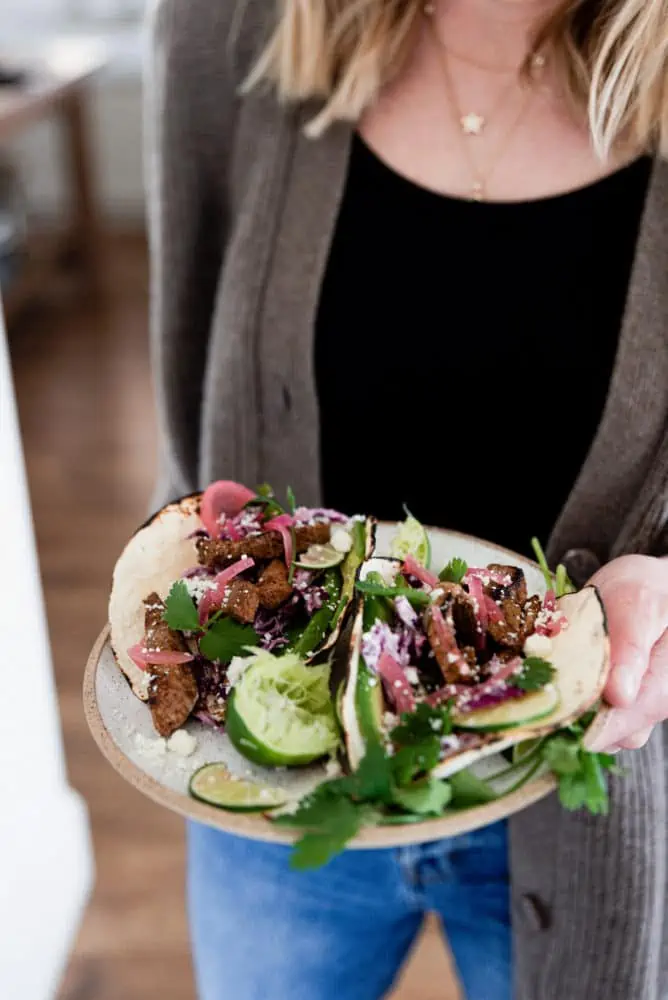 Steak Tacos
If you're planning a dinner party or simply your weekly menu, this is a fantastic and easy recipe thank includes fresh ingredients for super flavorful tacos!
A quick slaw made with Greek yogurt and cabbage combined with quick pickled vegetables takes these steak tacos to the next level! Add cayenne pepper to pack a punch, or lime juice and cilantro for a fresh flavorful twist!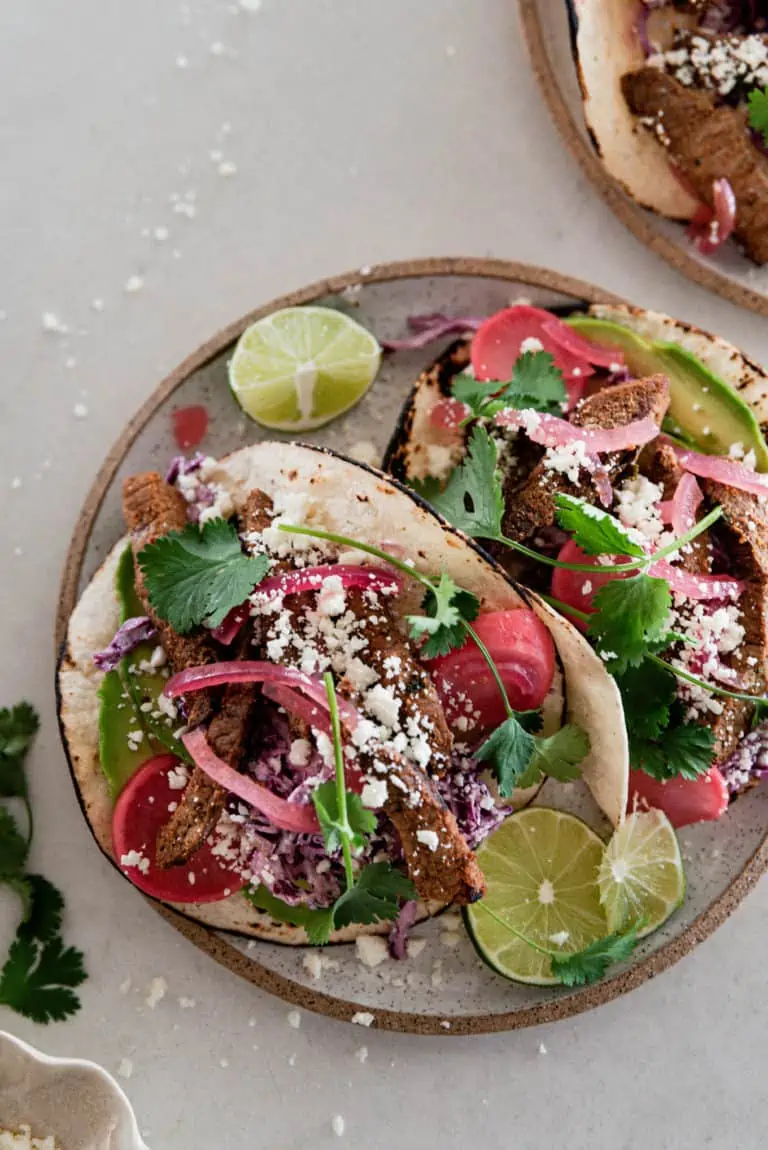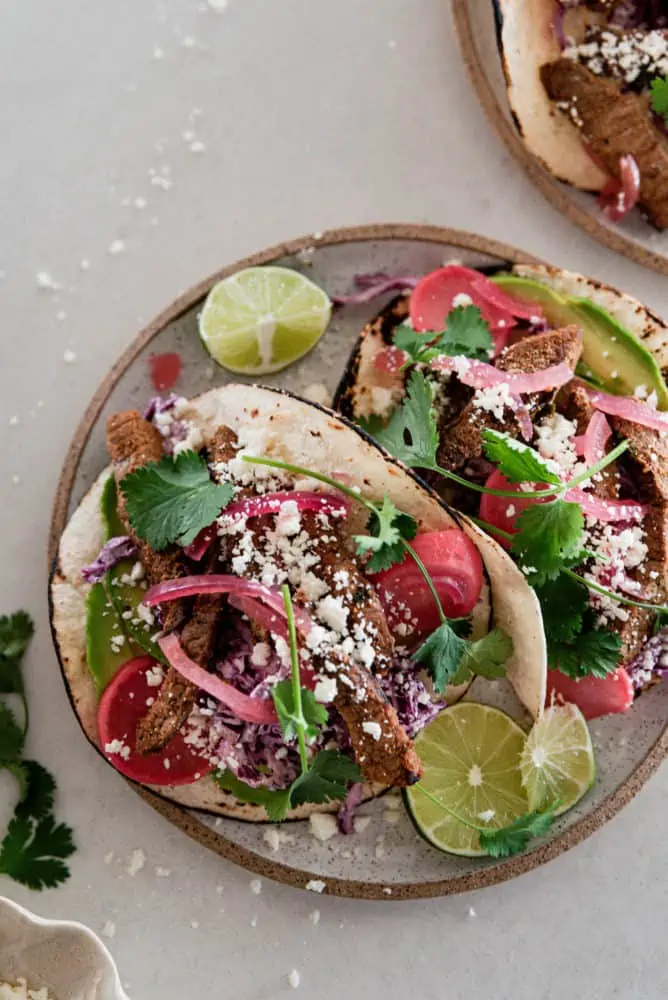 A Quick History about Tacos
Did you that tacos as we know them are relatively new to the culinary world? They were introduced to the United States in 1905 by Mexican migrants coming to work on the railroads and silver mining jobs.
Tacos were mainly street food because they were highly portable and inexpensive. The fillings were incredibly spicy and unknown to the American palate. By 1920 they started to adapt them to use with American ingredients such as ground beef and chicken with toppings like cheese, lettuce, and tomato.
Fun Fact: The name taco came from Mexican silver miners, gunpowder was wrapped in a paper like a "taquito" and inserted into holes carved into the rock face and detonated. One of the first descriptions of the meal was tacos de minero (miner's tacos). Source
Ingredients Needed for Steak Tacos
Steak: This can be any type of steak you love just cut it into thin strips.
Seasoning: You're basically making a homemade taco seasoning with cumin, chili powder, paprika, garlic, onion powder, salt, and pepper. If you want to add a little heat toss in some cayenne pepper too!
Fresh Ingredients: Limes that you will juice and cilantro are a perfect addition.
Taco Shells: Pick your favorite kind, corn, flour, or hard taco shells. If you want to get really crazy you can make your own fresh shells too!
Tip: This is a great recipe to use up leftover steak!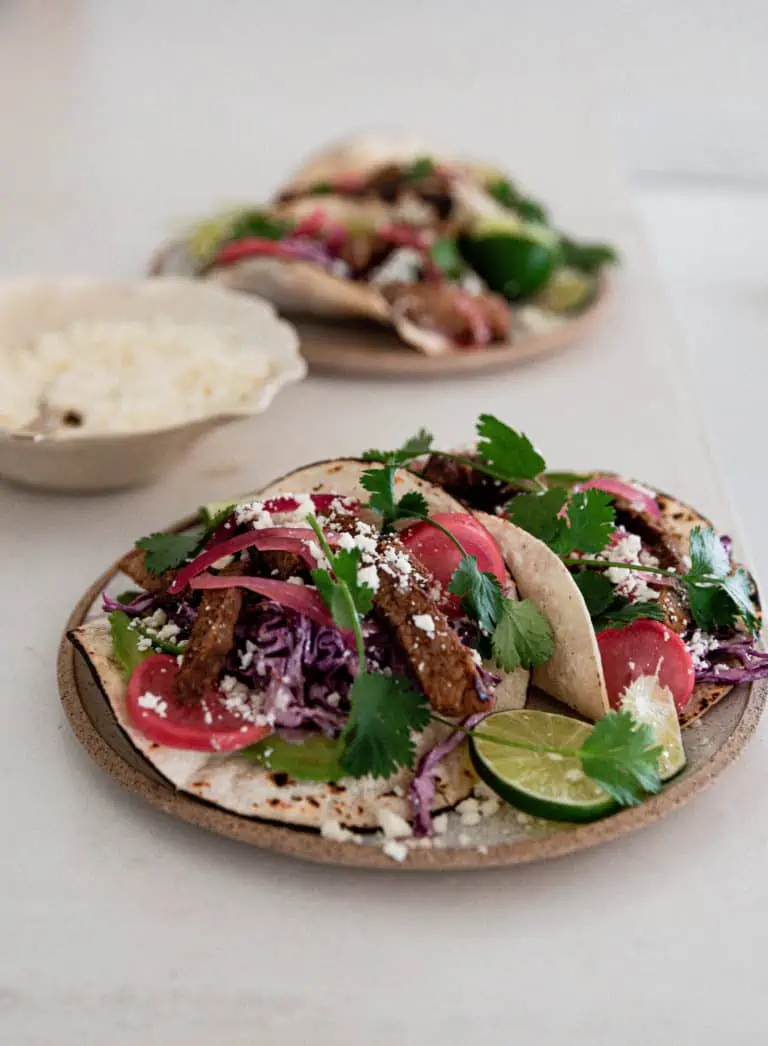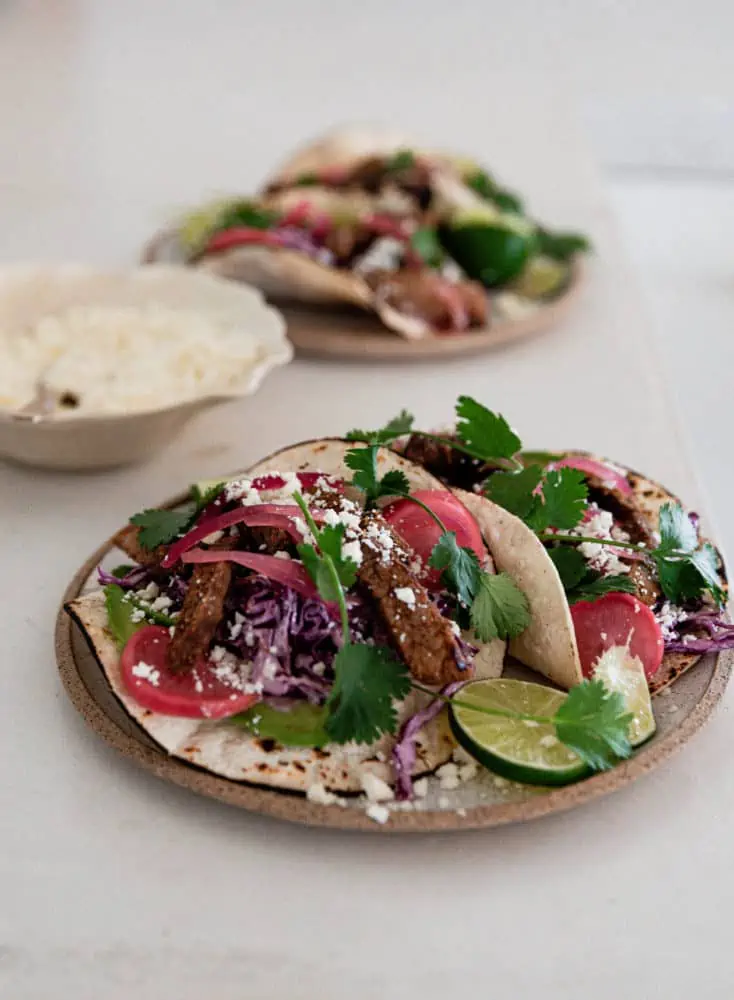 How to Cook Steak Tacos
Be sure to scroll all the way down for the full recipe and cooking instructions!
On the Grill:
Start by preparing the steak marinade, then coating the Beef and marinating for at least 15 minutes!
Next, heat the grill to high heat. Place the steaks directly on the grill and cook until golden brown, about 4-5 minutes.
Flip the steak and cook for another 5 minutes until it reaches your desired temperature, when sliced thinly it's best to keep it around medium-rare (145F with a 3 min rest).
Finally, let the steak rest with a loose foil tent for about 3 minutes before slicing.
On the Stovetop:
Start by preparing the steak marinade, then coating the Beef and marinating for at least 15 minutes!
Heat a skillet or frying pan on high heat, add your steak directly to the hot pan. You should hear a delicious sizzle when you place the Beef on the skillet!
Cook the steak until golden brown, turning once. Continue to cook until the steak is at your desired temperature.
Tip: You can cook the steak whole or pre-sliced. If you pre-sliced the steak it will cook very quickly!
Let the steak rest for at least 3 minutes before serving.
Steak Taco Toppings
Cilantro
Shredded Cheese
Fresh Lime Juice
Fresh Jalapeños
Pico De Gallo
Avocado
Cabbage (see recipe below!)
Pickled Vegetables (see recipe below!)
Even more topping ideas: If you like a sweet and spicy combo, try Candied Jalapeños or Sweet Pineapple Chili Sauce! If you love some spice and pickled onions, you will definitely enjoy Pickled Jalapeños! Or, try adding a dollop of homemade Tomatillo Salsa on top!
You can create a fun taco bar for your guests to customize their steak tacos to include all of their favorite toppings.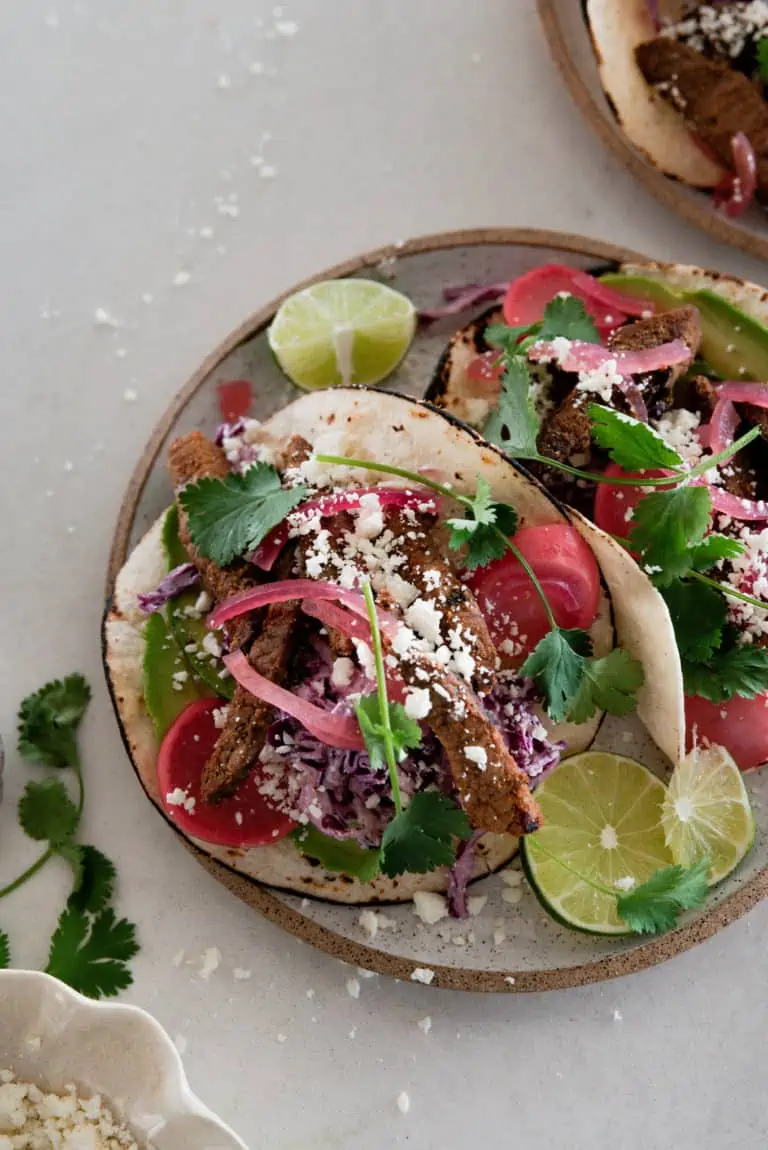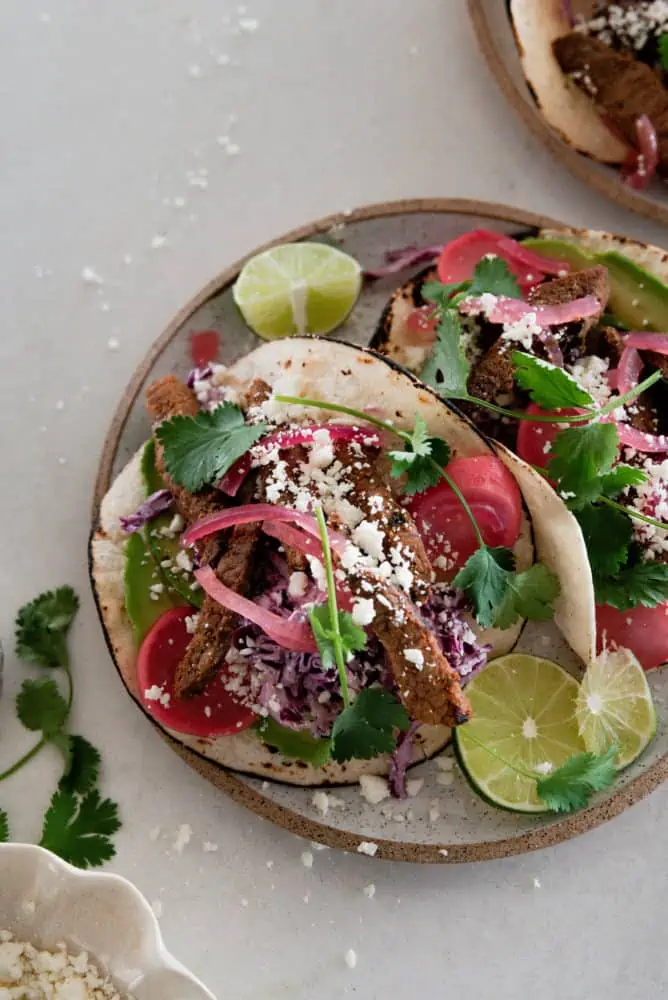 Steak Handling Tips
To get the most tender steak for your tacos here are a few tips for how to handle the Beef:
Cut the steak across the grain, it helps break up the muscle fibers, which makes it more tender.
Don't overcook the meat, when sliced thinly for meals like tacos it's best to keep it around medium-rare. Always use an instant read thermometer to measure the internal temperature, when sliced thinly for meals like tacos it's best to keep it around medium-rare (145F with a 3 min rest).
Cook the steak over high heat to get a nice sear on the outside.
Allow the steak to rest for a few minutes after cooking to keep the flavor and juices inside.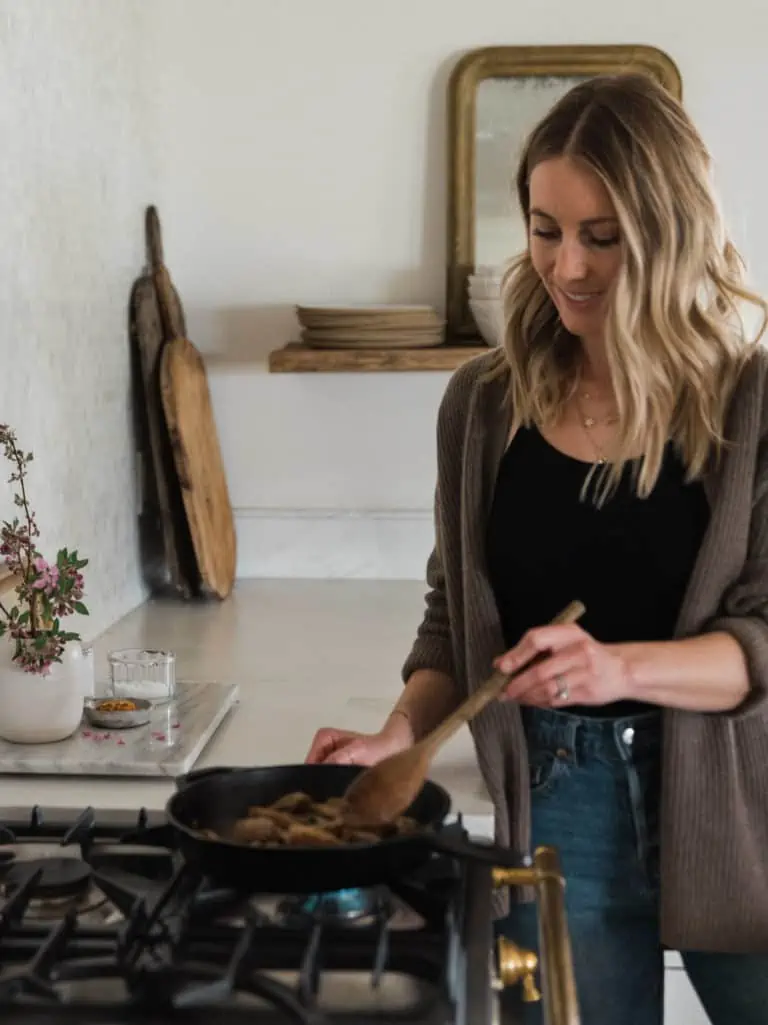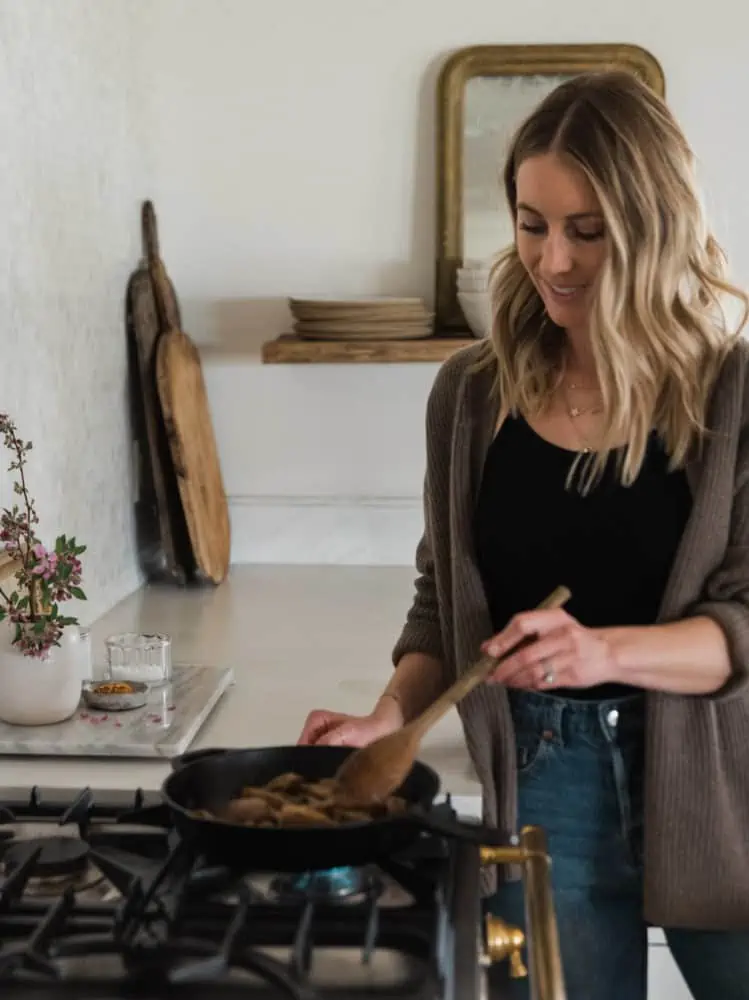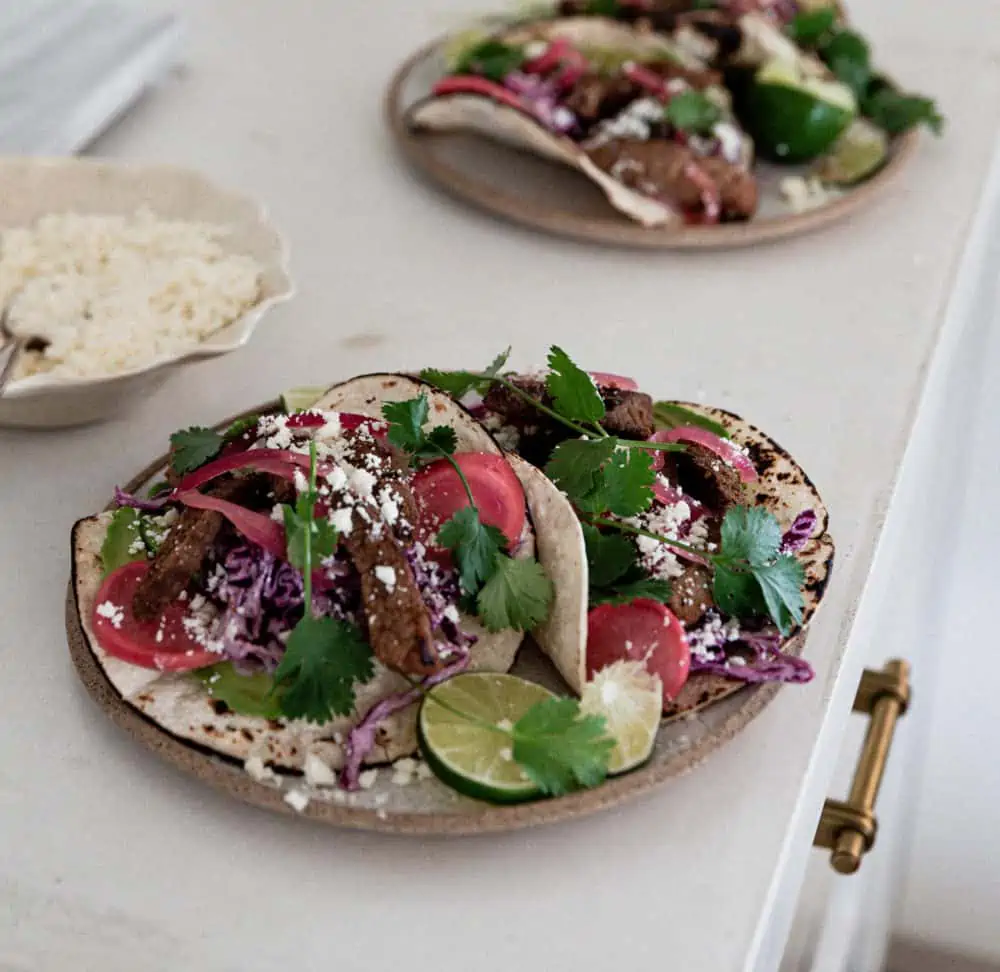 The Recipe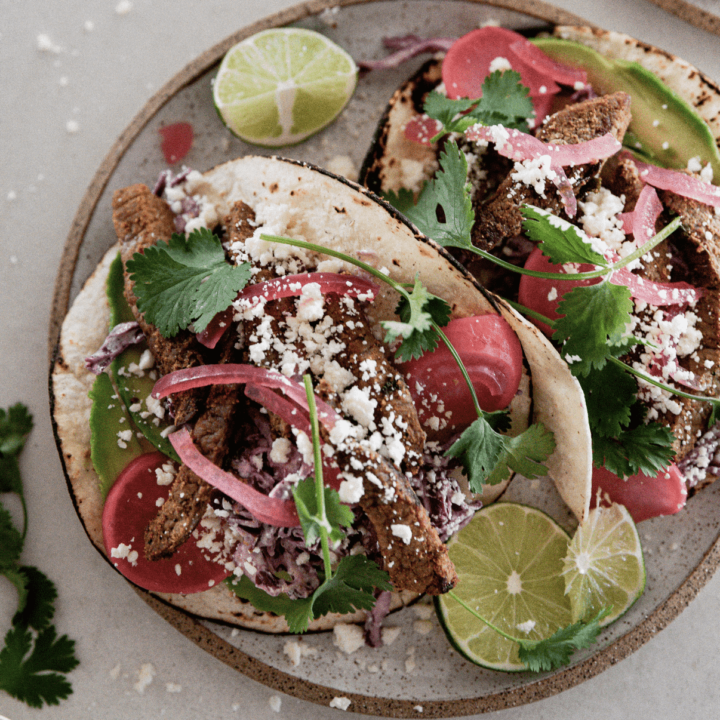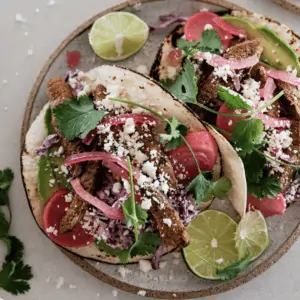 Steak Tacos
Simple Steak Tacos topped with delicious fresh toppings are perfect for taco Tuesdays or any night of the week!
Ingredients
1

pound

of choice round steak cut into ¾" thick strips

8

taco shells

Steak marinade

recipe below

Simple slaw

recipe below

Quick pickled radishes with onion

recipe below

Toppings: avocado

jalapeño, cotija cheese, cilantro, lime
Steak Marinade:
1

lime

juiced

½

tablespoon

garlic powder

1

teaspoon

paprika

½

tablespoon

chili powder

½

teaspoon

cumin

1

teaspoon

salt

½

teaspoon

onion powder

Fresh cilantro

to taste

1

tablespoon

olive oil

to coat the meat
Simple Slaw
½

small head of cabbage

sliced very thin

½

cup

plain greek yogurt

1

tablespoon

olive oil

½

teaspoon

salt

1

teaspoon

cumin

½

teaspoon

garlic powder

¼

teaspoon

smoked chili powder
Quick Pickled Radishes with Onion
4

radishes

cut into ⅛" slices

¼

red onion

cut into ⅛" slices

½

cup

vinegar

white or apple

1

tablespoon

sugar

¼

cup

water

½

teaspoon

salt
Instructions
Marinate the Steak:
In a medium-sized bowl toss together all of the steak marinade ingredients and add the sliced steak and let it marinate for at least 15 minutes up to overnight in the refrigerator.
Prepare the Pickled Radishes:
While the steak marinades start prepping the pickled radishes and onions. Add all of the liquid ingredients and spices together in a medium-sized pan and bring it to a boil on the stovetop. Add the radishes and onions into a bowl and pour the boiled liquid on top and let cool to room temperature. You can prepare this in advance as well, just store it covered in the refrigerator after it's cooled to room temp.
Prepare the Slaw:
Mix the greek yogurt, oil, and seasonings together in a bowl and then toss with the sliced cabbage until coated. Cover and store in the refrigerator until ready to serve. This can also be prepared up to a day in advance.
Cook the Meat:
Once all of the toppings are prepped and ready it's time to cook the meat. Heat a medium cast-iron skillet or pan over high heat and add the marinaded meat and cook to your desired temp. It shouldn't take long since they are cut into thin strips. When sliced thinly for meals like tacos it's best to keep the Beef around medium-rare (145F with a 3 min rest).
Assemble the Tacos:
Prepare your tortillas by lightly grilling or frying then add your steak, slaw, pickled radishes, and any other desired toppings. Serve while hot and enjoy!
Notes
You can use any type of steak you prefer or even leftover steak is perfect for a quick and easy dinner.
Spanish rice and refried beans would make great sides or chips and salsa.