French Range Review: La Cornue CornuFé
This post may contain affiliate links, please read my disclosure policy.
French ranges are known for their classic style and elegant beauty – they seem to be popping up in American kitchens left and right! If you're considering purchasing a French range, I hope you will enjoy this review! Spoiler alert: we love it!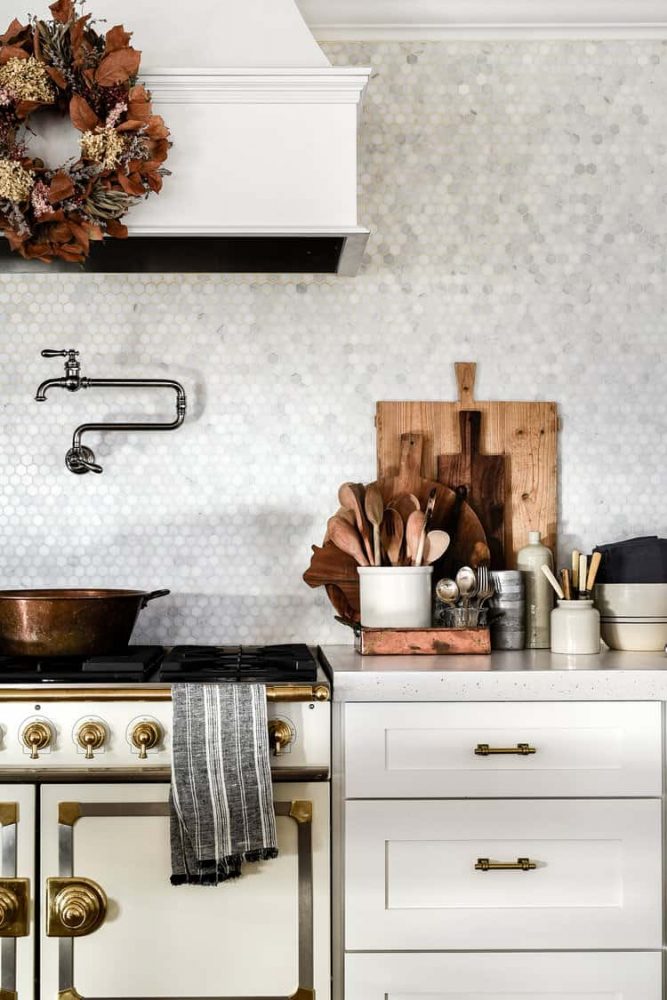 French Range Review
Over the past year, I have received so many questions about our La Cornue CornuFé French range, but I have been hesitant to share a review until I fully broke our stove in. Well, today is the day…Let's talk all about my French range review!
Let's start off with: I love it.
I love every single bit of it. There isn't one detail that makes me go "eh".
Design wise, it is lovely. It is a total show stopper – I love the brass elements that continue to develop a beautiful patina, and I love the way the stainless steel adds a modern twist to the vintage design of the stove.
I am so glad we decided to splurge on this element in my kitchen design, it is beautiful and one of my most favorite things in our home.
Throughout writing this post I learned that the La Cornue stove was actually the very first convection oven! It was developed by La Cornue's Albert Dupuy in 1908! You can read more about their story here, the video is really incredible! They truly value the craftsmanship and creative aspect of each stove.
But back to business, let me answer some of your questions!
Where to Purchase A French Range?
We purchased our La Cornue CornuFe from Williams-Sonoma online. It was really simple, and the white glove delivery was quite nice. If I remember correctly, they estimated a few months before the stove could be delivered, but we actually received it within weeks.
Although you can purchase the stove from Williams-Sonoma, you can also search for local vendors that carry La Cornue. I know that local mom-and-pop appliance stores would be more than grateful for the business of such a large item.
They may even be willing to offer a discount to you. You might say something like, "We know we could purchase this elsewhere, but we really want to support local business, is there any way we can negotiate on the price?"
What Color White Is Our Range?
I have received quite a few questions inquiring about the exact color of our range. We purchased the ivory color with brass and stainless steel accents.
Someone asked if I thought the ivory stood out against the white cabinets in a negative way.
I have to say, I was worried about the same thing, but it doesn't stand out at all. In fact the variation in white adds a bit of depth and character to the kitchen, I really like the different tones of white.
Missing An Oven Window:
Until I started writing this post, I had forgotten all about the missing window. In short – I do not miss the window.
Although I am sure a window is in some ways useful, I find that checking food is much more reliable when opening the door (with window or not) and properly checking doneness / temperature of food with a thermometer or knife.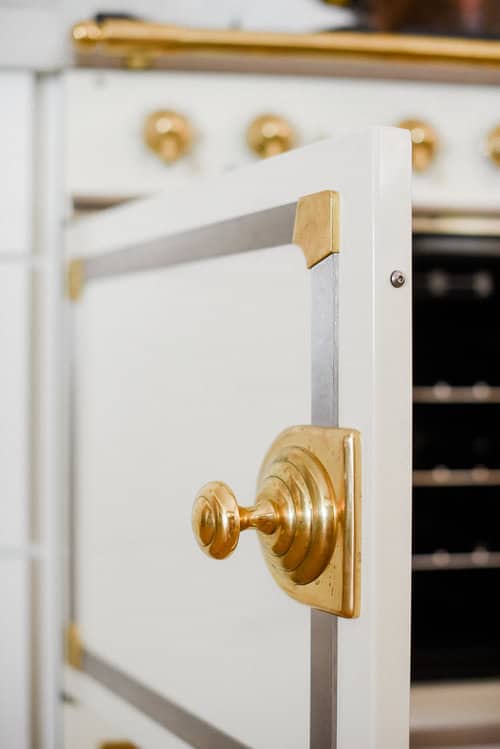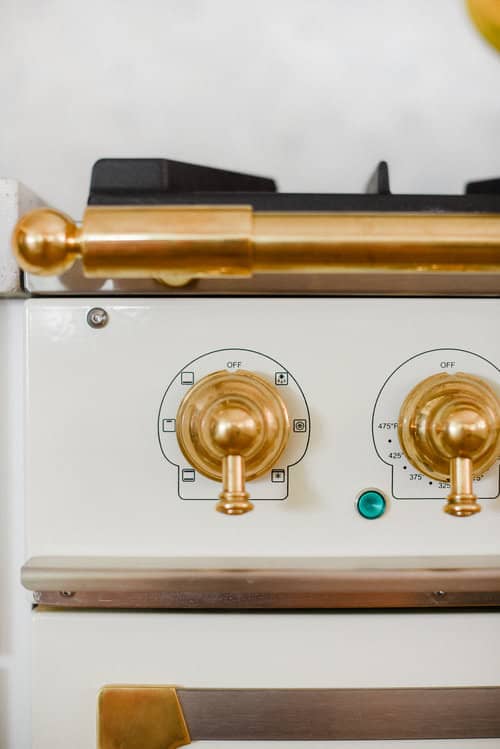 What Cooking Settings Does the CornuFé Offer?
I mentioned that one of the two ovens on the CornuFe offers seven cooking options to choose from. They include: thaw & serve, convection, convection broiling, convection assist, conventional oven, browning, and warming.
I typically use the convection setting, but having all of these settings is very nice.
The other oven is a single-setting oven which allows you to simply select a set temperature. This is handy for fuss-free baking. Its simplicity is also very husband friendly. ;)
Can You Broil Food In A CornuFé?
I heard a rumor that you cannot broil with the CornuFe, but that is not the case. The Cornufe features two ovens, one of which has 7 settings to choose from. It offers a convection broiling setting as well as a browning setting, both are fantastic.
Does a French Range Require Gas or Electrical Power?
The short answer is: both. The range is both gas & electrical powered. The ovens are powered with electricity, and the cook top is powered with gas. If you are remodeling, this shouldn't be a problem because you can ask your contractor to make sure that gas and electric power is available for the stove; however, if you are simply replacing an old stove and do not have gas already installed, this may be a bit of a problem for you.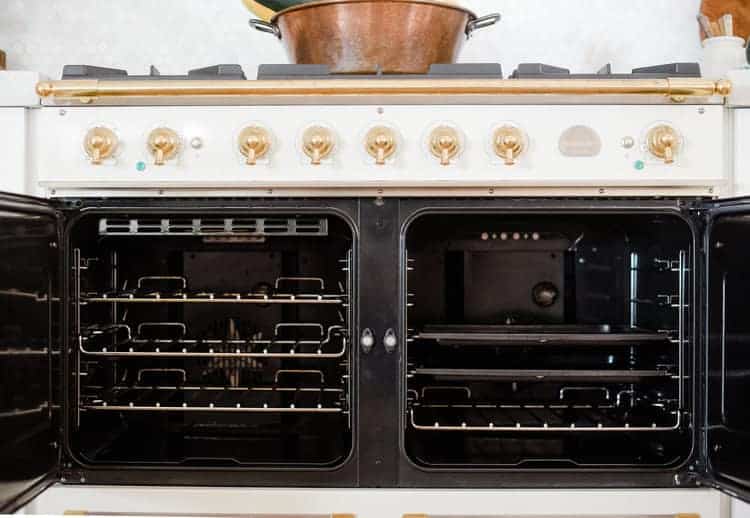 What Is The Cooking Power of A French Range?
We have found that this range is incredibly powerful and cooks things very quickly. If a recipe calls for 12 minutes, I usually check at 8. We are above 5,000 feet, and should have installed the high elevation package…but we didn't! I haven't noticed any adverse side affects.
We switched over from a very old electrical stove and I was amazed at how much better the La Cornue range cooks. I didn't think I would really notice that big of a difference while cooking, but it has been night and day. I have been completely blown away by the La Cornue.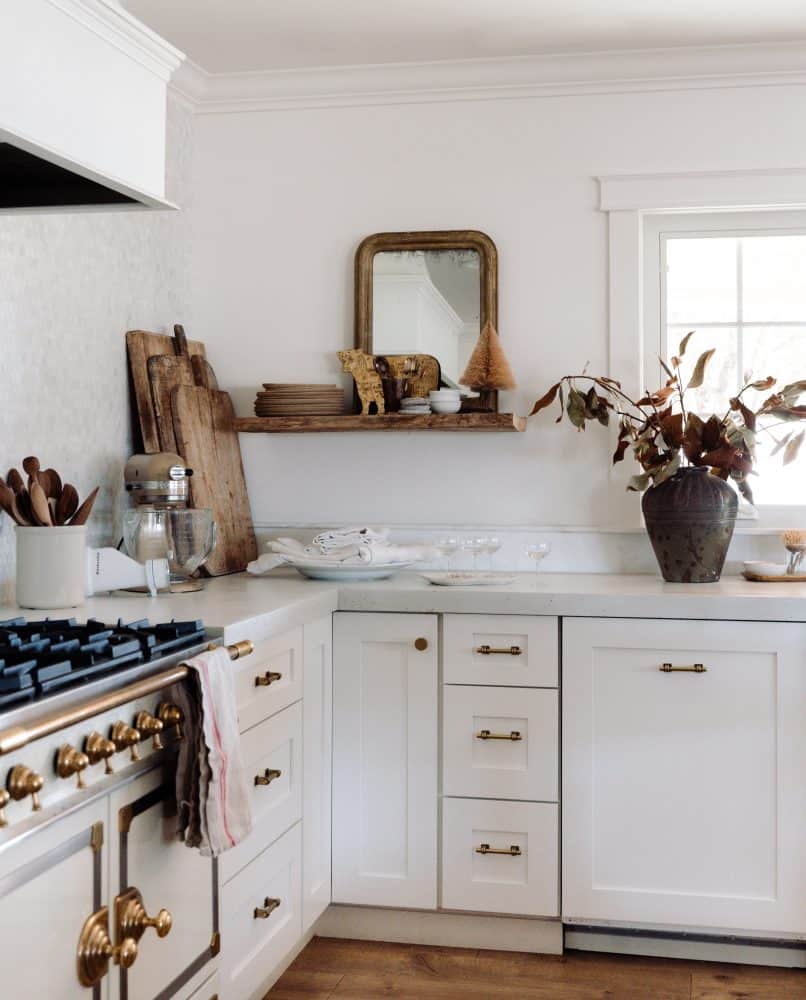 Do You Have to Buy Special Cookie Sheets?
Your range will come with multiple slide-in baking racks and trays. The trays and racks are specifically made to slide into little slots on the side of the oven's interior (sort of like shelves).
I use these baking racks as cookie sheets, but you could also use regular cookie sheets placed on top of the wire baking racks.
I absolutely love this feature. It is probably one of my favorite things about the oven. This feature allows for very even cooking and baking. Have you ever experienced a slightly askew baking tray leaving you with lopsided cakes or dishes? I have! The La Cornue baking racks and trays perfectly slide-in for even cooking and baking, they are fabulous!
I almost never cook anything without using a Silpat baking mat. They are one of my favorite kitchen tools and prevent me from having to wash the baking trays after each use.
---
Beautiful Kitchenware

---
What About Thanksgiving?
Let's talk about cooking for the holidays with a French range. In short, I find that for the size, the CornuFé is much more versatile than a standard oven. The CornuFé offers two ovens making it easy to cook a variety of foods at once. In addition, the slide in baking racks allows for you to cook more in one oven than you would normally be able to.
You can cook layers of casseroles in one oven all at once because of the professional circulation of heat within the oven. You don't have to worry about one casserole burning while the others remain raw.
While you've got your casseroles going, you can use the other oven to bake a turkey or ham. While the oven may not be incredibly deep, it is quite tall and can comfortably house a large turkey without problem.
In my opinion, this range is a great option for holiday cooking, and doesn't add any restriction that should be noted.
---
If you are considering a French range and would like to learn more about the alternative to La Cornue: the LaCanche, visit my friend Julie's kitchen! 
---
The Cornue Does Have ONE Drawback:
We can't cook a take and bake pizza in the oven without cutting it in half first. This honestly doesn't bother me at all, but I thought I would mention it in the case that you care very much about take and bake pizzas.
The ovens simply aren't deep enough to fit a 16″ circular shape within them, so we simply cut the pizzas in half or allow one side to slightly bend up. The pizza is of course still delicious!
I hope you have enjoyed reading about our CornuFé range! In case you can't tell, I really love it! Not only does is produce wonderfully cooked foods, but it also serves as a beautiful piece of art in the kitchen! If you have any other questions, please leave them in the comments, I will be sure to answer! Have a lovely day, thanks so much for stopping by!
Read Next: How to Select the Perfect Kitchen Backsplash