Are you ready to freshen up your home with some new paint colors but you don't know where to start? Picking a neutral color is always a timeless choice that will adapt to any style. If you're wondering how to choose the perfect gray paint color you've come to the right place!
Gray paint colors can be light or bold depending on the statement you're trying to make. Do you want a soft look as a great backdrop or do you want it to make it the focal point? This can change from room to room as well as the surface you're putting it on.
Paint is the most cost-effective way to change the look of a space and can be done fairly quickly. This is a simple do-it-yourself project that anyone can do.
Is Gray Paint Going Out of Style?
Now you're probably wondering, is gray going out of style? The quick answer is no, gray is a great foundational color that will work with any design style. There are thousands of shades to choose from so you're sure to find one that will perfectly match your aesthetic.
Gray doesn't have to be a wall color only. You can paint your cabinets, trim, furniture, etc. to help bring in a neutral grounding tone to accent the other colors you have in your space.
Personally, I think that you always need a few neutral tones to balance a more colorful accent. Your eye needs a place to rest otherwise the overall look can be overwhelming.
How to Choose the Best Gray Paint?
First, you need to decide the overall tone of gray paint you want to use. Do you want it to be a true gray, neutral, warm, cool, etc? If you have a rug or other textile already planned for the space I would start there, look to see what colors exist in the other furniture pieces in the room.
Make sure you're checking the colors in the correct lighting as well and various times throughout the day. Lighting plays a very important role with colors. If you are painting a room it's best to buy a sample can of paint and place swatches in different locations around the room. To get the most accurate read on the new color it's best to paint the new color over a white piece of cardstock or thick paper so the undertone of the existing paint color doesn't affect the hue.
Finally, think about the overall mood you want for your space. Do you want it warm and cozy, dark and moody, light and fresh, cool and calming? Warmer tones will help make a space feel like it's advancing or closing in on you which is great for making a large room feel more inviting. Cool tones will help a smaller space feel larger since those tones visually recede.
How to Find the Undertone of The Color?
The best way to find the true undertone of gray paint color is to look at the full fan card in a paint deck. Most paint companies will have them laid out with the same hue ranging from the lightest shade to the darkest shade. Here is an example showing that for you: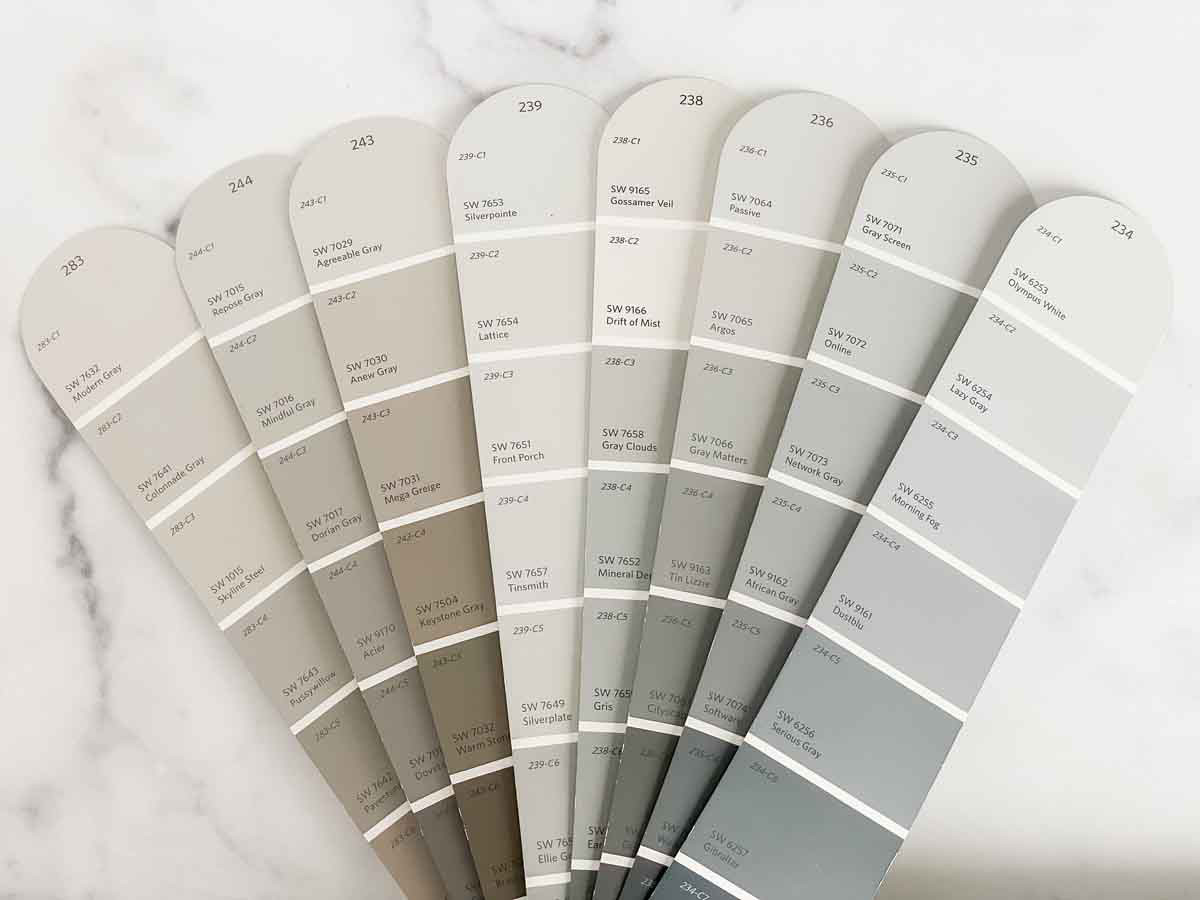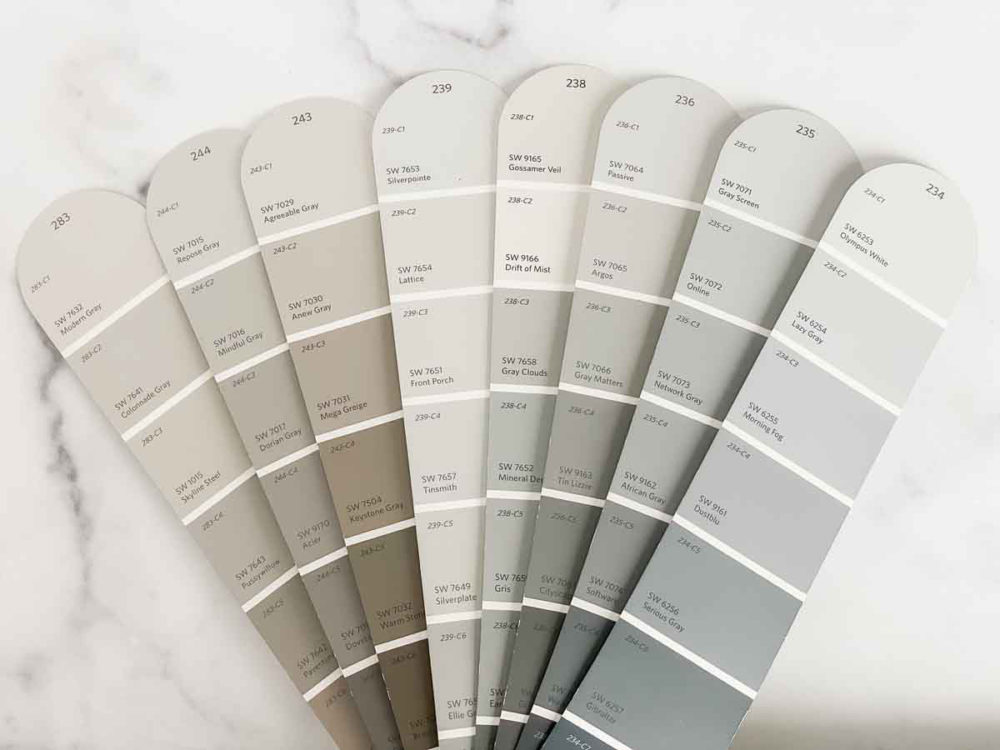 Look at the darkest shade to see what color you see. Is it brown, green, red, etc? This will help you see if you like that particular shade of gray paint because that tone will be the most accurate to the overall look of your room.
Sometimes the undertone isn't obvious if you're looking at one single card, so make sure to look at several swatch cards next to each other to help your eye register the correct tone. Most paint companies will have a fan deck available to purchase or at least borrow to look at while you're at the store. You can also go online to their websites to see the full-color range as well.
Once you've narrowed down your choices buy some of the sample paint cans to test the colors in your room. Seeing it in a larger painted square will make a huge difference versus seeing the small paper sample. It's worth the small investment before buying several gallons of paint to make sure you're happy with the final color.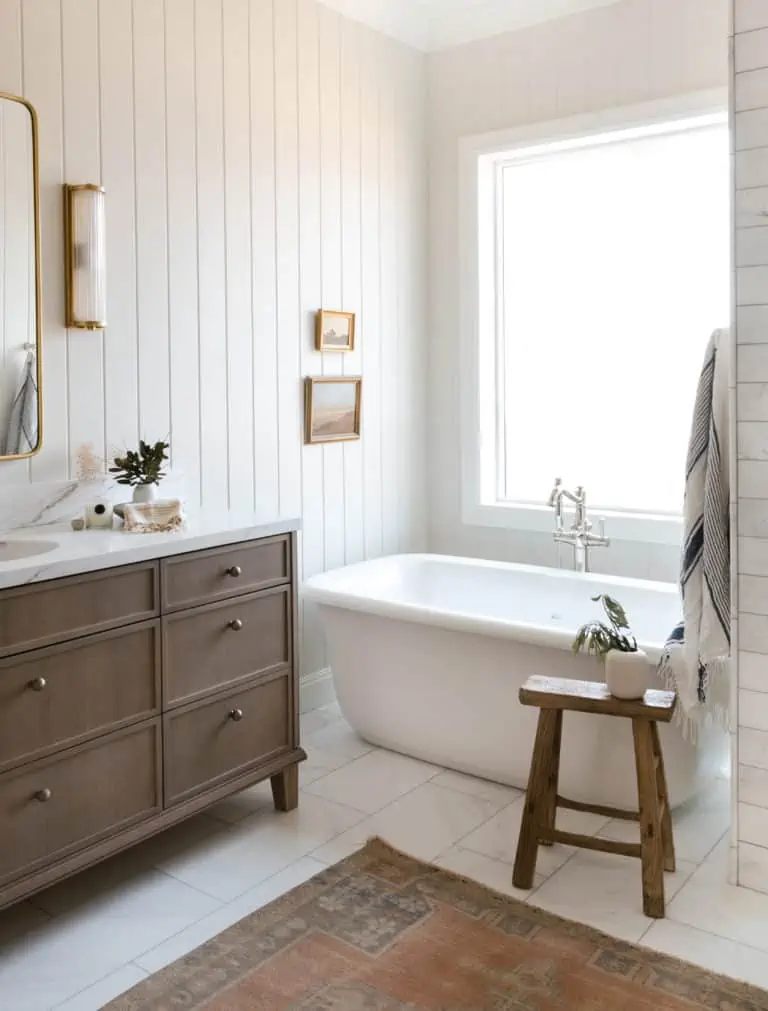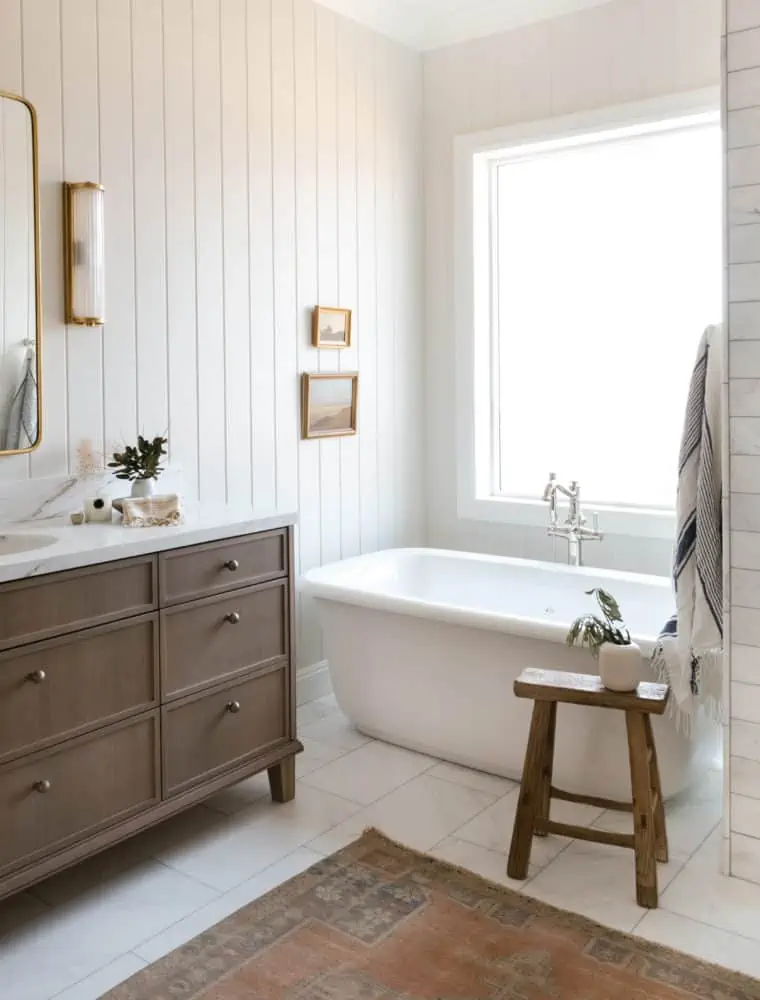 above: Classic Gray by Benjamin Moore
What is the Most Neutral Gray Paint Color?
One of the most popular colors of gray paint is Agreeable Gray by Sherwin Williams. This is a perfect "greige" tone where it blends gray and beige to coordinate with nearly anything.
Repose Gray by Sherwin Williams is another great color that will work for most spaces. Repose Gray has a slightly cooler undertone than Agreeable Gray but still reads as a neutral gray overall.
Coventry Gray by Benjamin Moore is part of their historical collection making it a great timeless shade for your home. This is one of their best-selling colors for a reason!
What are the Best Warm Gray Paint Colors?
To create a warm and inviting environment while also being flexible enough to blend with any style you're best picking a warm gray paint color. The three colors listed above definitely fit that bill, but here are some other great choices to pick from.
Sherwin Williams:
Mindful Gray
Dorian Gray
Colonnade Gray
Gossamer Veil
Useful Gray
Worldly Gray
Benjamin Moore:
Balboa Mist
Classic Gray (one of Chloe's favorites!)
Gray Owl
Pale Oak
Revere Pewter
Edgecomb Gray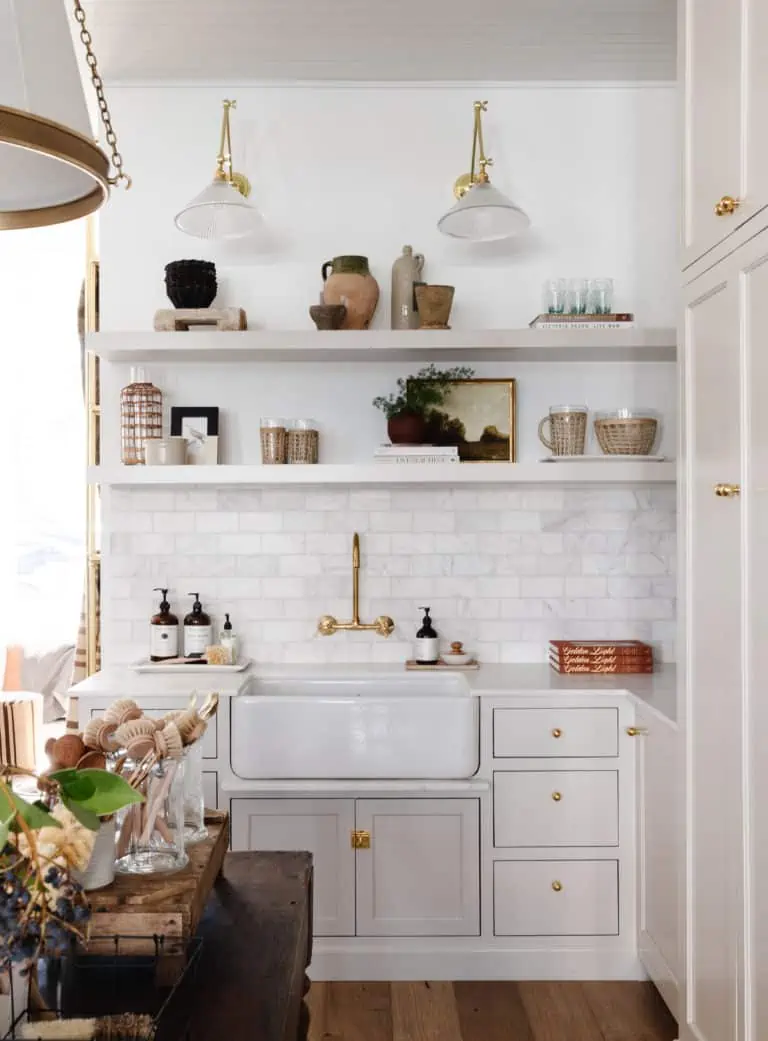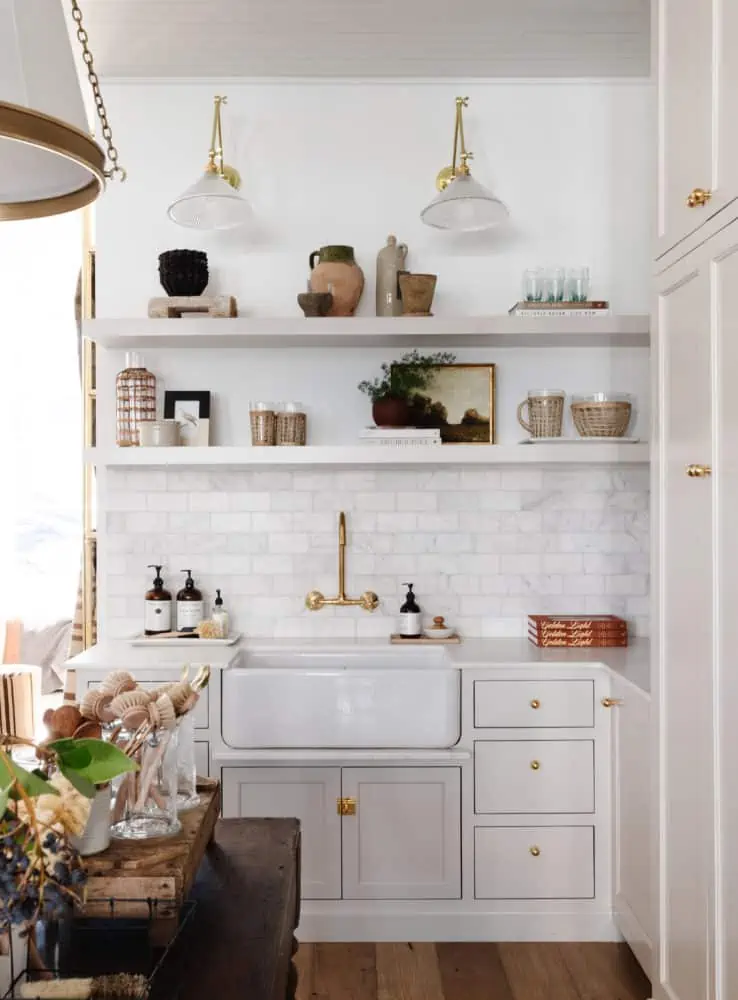 above: Cabinetry painted in Gossamer Veil by Sherwin Williams
What are the Best True Gray Paint Colors?
If you want a clean and classic feel to your space you might want to pick a true gray paint color, these will have a slightly cooler feeling to your eye.
Sherwin Williams:
Gray Screen
Online
Olympus White
Reflection
Passive
Benjamin Moore:
Silver Chain
Stonington Gray
Harbor Gray
Chelsea Gray
Gray Cloud
What are the Best Dark Gray Colors?
Do you want to create a dark and moody room in your home? This would be great for a home theater or a bedroom or anywhere you want to create a bold look.
Sherwin Williams:
Iron Ore
Gauntlet Gray
Peppercorn
Dovetail
Web Gray
Urbane Bronze
Benjamin Moore:
Kendall Charcoal
Whale Gray
Graphite
Wrought Iron
Iron Mountain
Cheating Heart
Did you know you can also order samples as sticker sheets as well as sample pots? This is a great way to help narrow down options before committing to putting actual paint on your walls, cabinets, or furniture without damaging them.
What space do you have on your list to paint next?