Homemade Candles with Essential Oils | DIY Lemon Lavender Candle
This post may contain affiliate links, please read my disclosure policy.
Learn how to make homemade candles with essential oils! This is a great DIY candle recipe using lavender and lemon essential oils!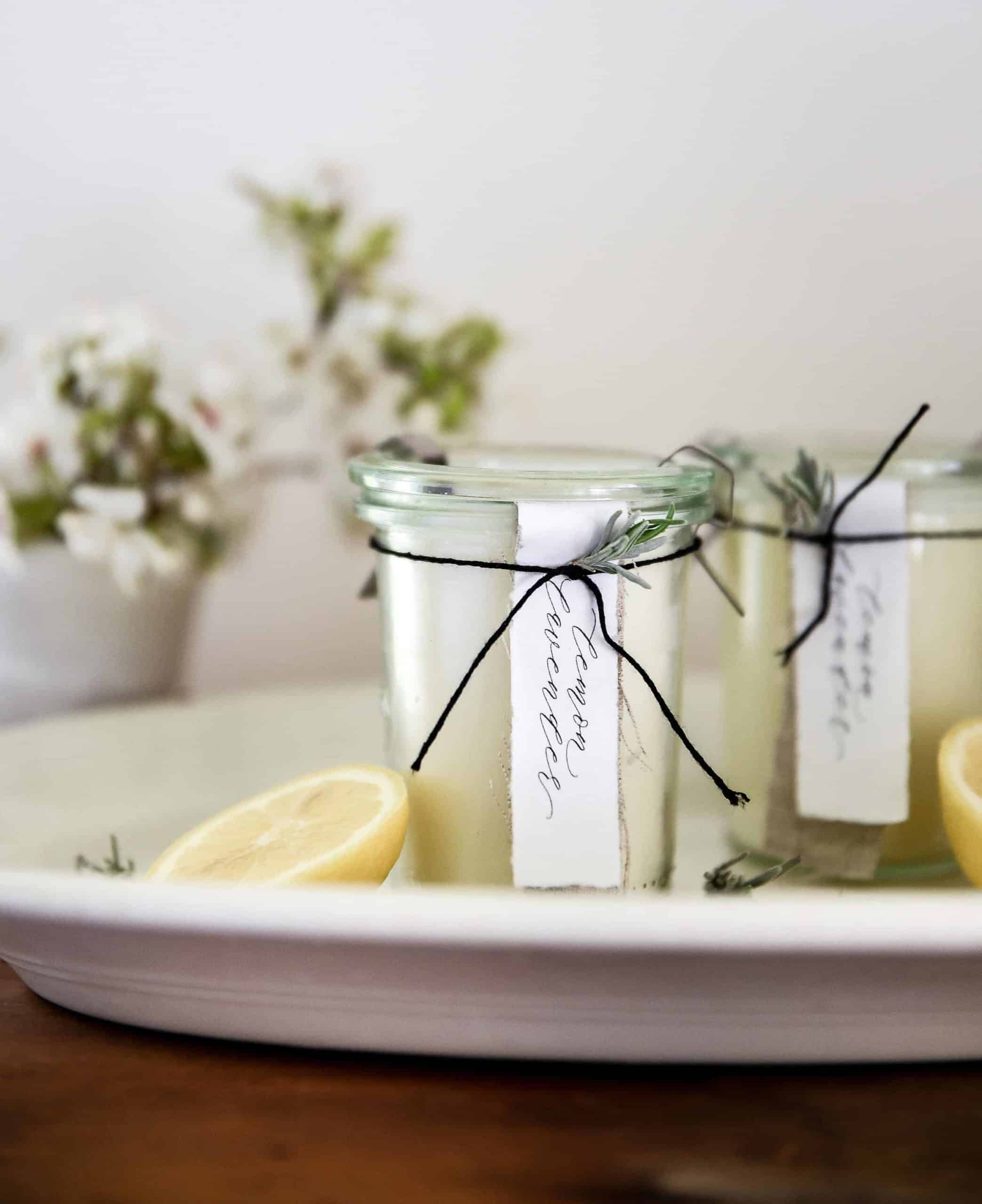 Homemade Candles with Essential Oils
Lemon & Lavender Essential Oil Candles
I continuously have candles burning, and I'll admit, I love a strong scent in my home. However, on a quest to live a little bit more naturally, I have been second guessing the safety of burning scented candles in my home.
I have yet to source a great naturally scented candle, so instead, I have been opting to make my own! Making homemade candles is really so easy, and it gives you control of the scents you burn in your home.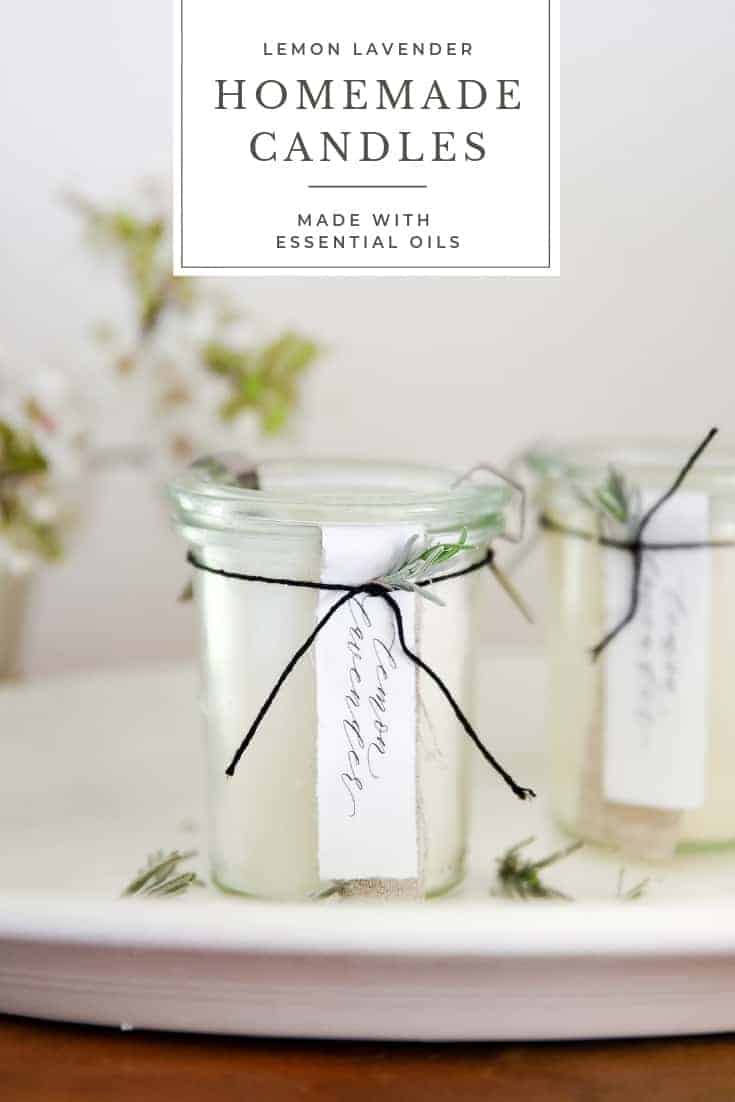 This project is quite easy, and fun! This would make a wonderful Mother's Day gift or hostess gift this summer! Whip up a large batch and keep them on hand for gifts throughout the year! Pair with a tea towel or a set of linen napkins and you're good to go!
If you're looking for a great Christmas gift or fall hostess gift, try my DIY Pumpkin Spice candle or my easy Homemade Spruce Christmas Candle.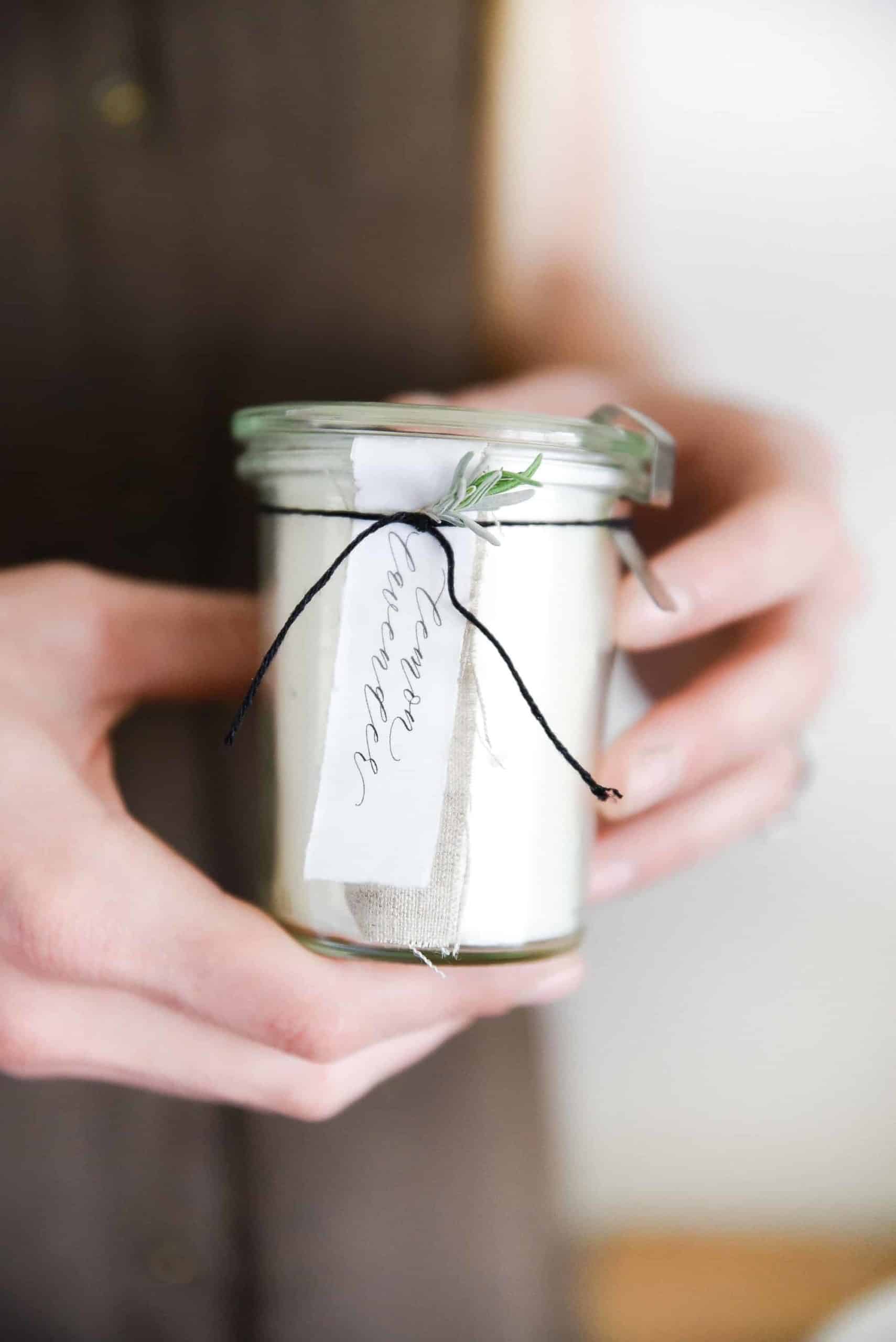 What kind of wax can be used for homemade candles?
You can use Beeswax, Soy Wax, Parrafin, Palm Wax, or Granulated Wax.
I suggest using Beeswax or Soy Wax because they are 100% natural waxes. While Palm Wax is also natural, it is derived from Palm Oil, which is not the most sustainable product. If using Palm Wax, please make sure it is sourced from a reputable farm. Click here for more information about candle wax.
Best Jars for Homemade Candles
I love making homemade candles in mason jars! They are great because they can tolerate high heat, and I do not have to worry about them cracking when I pour hot melted wax into them. Some of my favorites are Ball, Weck, LeParfait, and Kilner.
How to Scent Homemade Candles?
You can scent homemade candles with candle scent/fragrance, or essential oils! Apothecary fragrances are great, and smell so good; however, most are not as natural as using essential oils. If using essential oils, make sure to buy quality essential oils from reputable brands.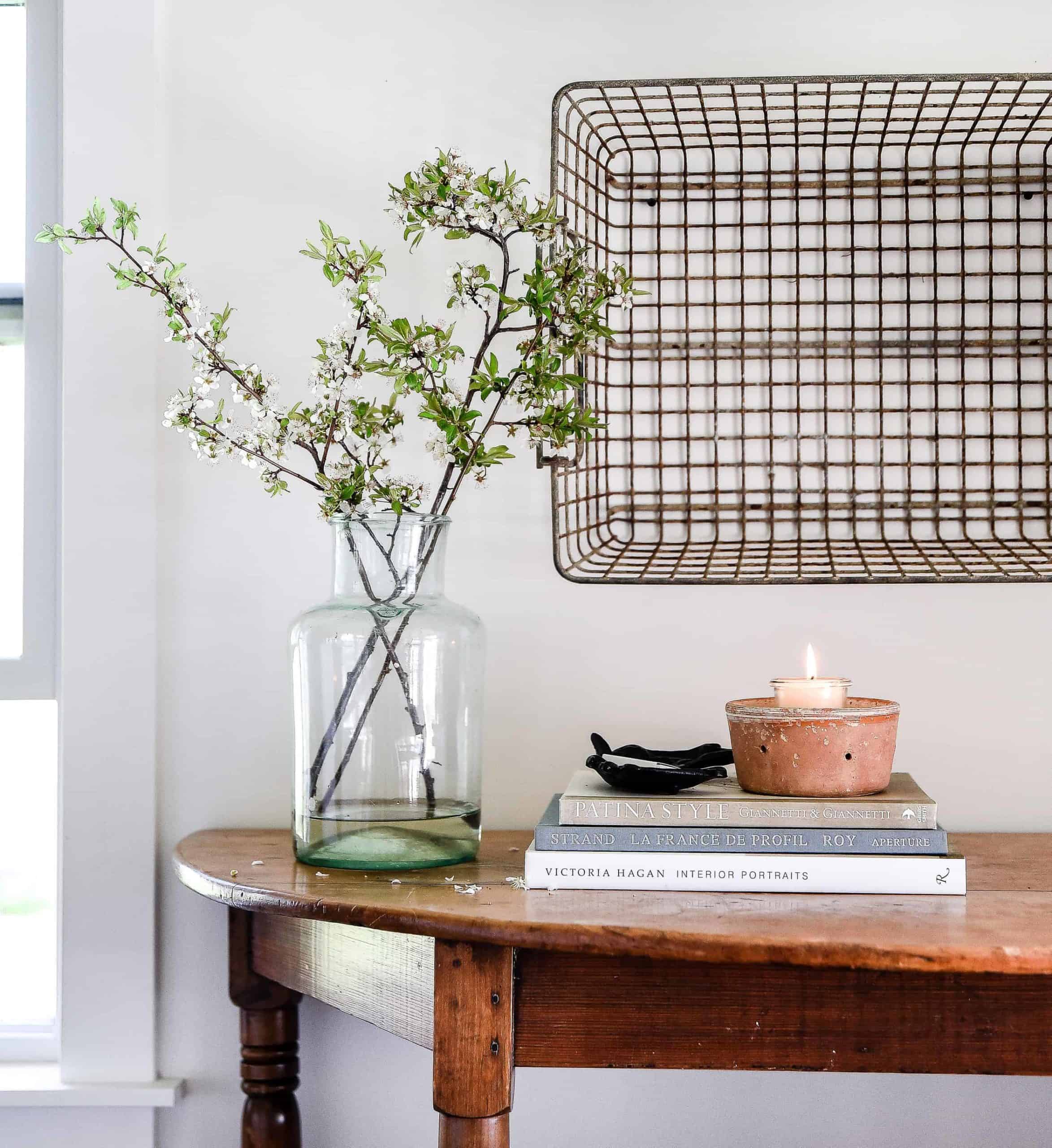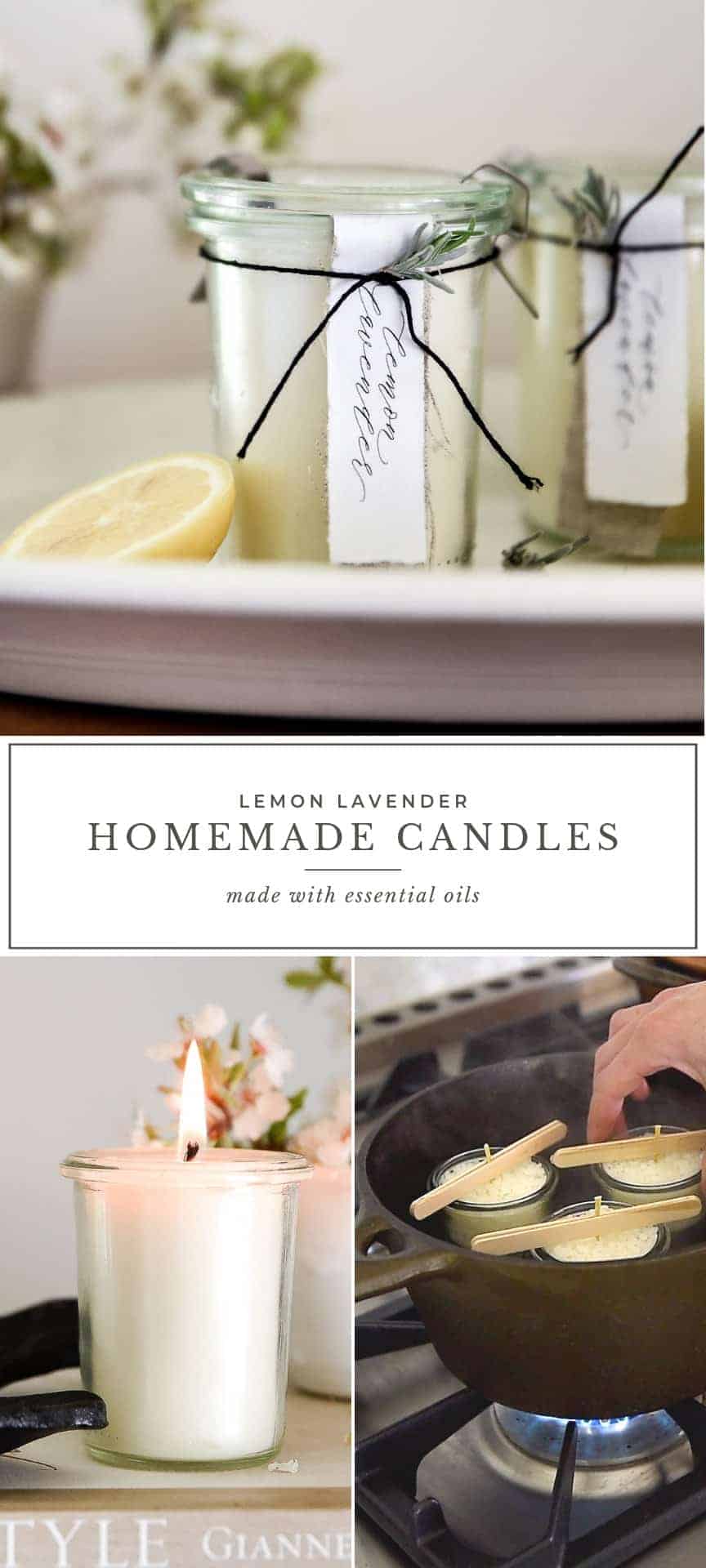 ---
Homemade Candles with Essential Oils
---
Supplies
Instructions
Secure each wick into place using glue dots or melted wax.

Note: You can add the wick after melting the wax, which actually proved easier! Just skip step three.

Fill the jar with the wax. Fill it all the way to the top and then pack it down.

Place a glue dot on each end of one of your popsicle sticks. Place the popsicle sticks on either side of the wick and then glue the sticks together while pulling the wick tight. Once the wick is securely fastened, cut the wick down to proper candle wick size.

Place a large pot on the stove and boil water. Place enough water in the pot that it will almost reach the top of your candle container without allowing water to get in.

Once the water is boiling, place the glass containers inside and let the wax melt for 20-30 minutes.

You'll see that the wax has melted down a bit, carefully add more wax to the glass jars, and melt for 20-30 minutes (or until fully melted).

Once the wax is melted, add in essential oils or scent of your choice and stir together.

If you haven't added the candle wick yet, complete step 3 at this time.

Let candles cool completely.

Remove the Popsicle sticks, and trim wick as needed.

Optional labels: Click here to download,

print onto standard printer paper rather than card stock. Fold to mark tear lines, and tear the tags rather than cutting them. This will give them a rustic look. Attach to the jars any way you desire!