If you're searching for the perfect modern farmhouse kitchen stools for your kitchen, look no further! Here are some of my favorite kitchen stools for getting that modern farmhouse look.
Whether you want to go more farmhouse or more modern I have rounded up some of my very favorites for your to get the perfect kitchen stools for your home!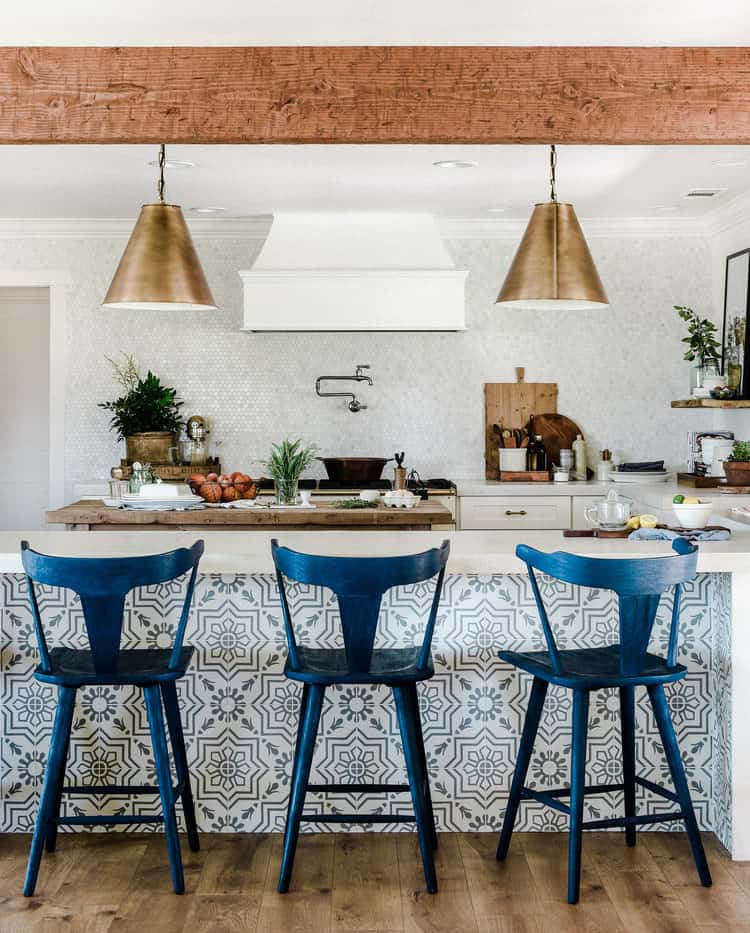 Stools, like lighting, are a tough selection for me! Just like selecting a kitchen backsplash, there are just so many great (and not so great) options out there. I will never forget ordering stools for a remodel project we were working on, and pulling them out of the box in pure disbelief/disappointment.
It was laughable how dinky they were, and I was very annoyed that I had to pay to ship them back. Anyways, I learned my lesson: sometimes it's best to invest in something you will be using frequently (kinda like nice linen sheets). 
In a kitchen, stools are a big part of the design, but they can be hard to nail without spending a TON on them. I once fell in love with thousand dollar stools, needless to say my love affair remained a distant relationship.
Since we remodeled our kitchen and added our concrete countertops and shaker cabinets, I have been on the hunt for the *perfect* stools. I actually envisioned vintage French wood barstools – I had seen a few the last time I went to High Point, but they are hard to find at the proper height!
So for the past year we used some stools my dad gave us, they were covered in some sort of hide and very modern. They weren't the right fit for the kitchen, but since we had them, I was willing to use them until I found just what I wanted for our kitchen.
It wasn't until Country Home Magazine decided to come out and shoot our kitchen that I felt the pressure to pull the trigger on something. So I started to search harder…
I came across these modern farmhouse kitchen stools from Anthro and found them to be just the right pop of color.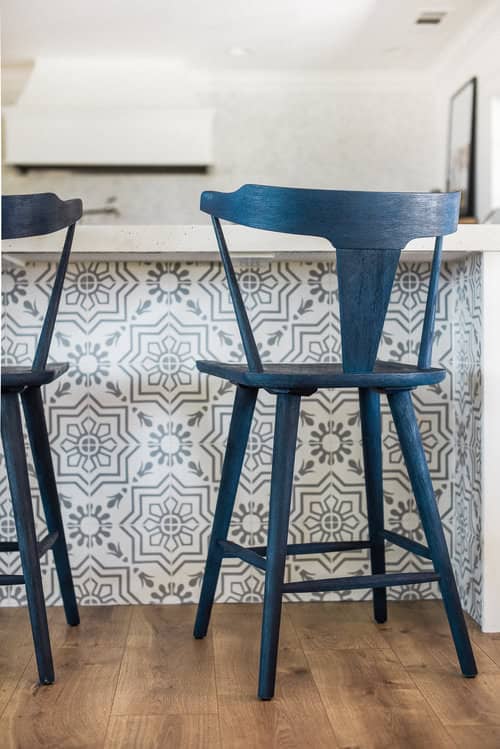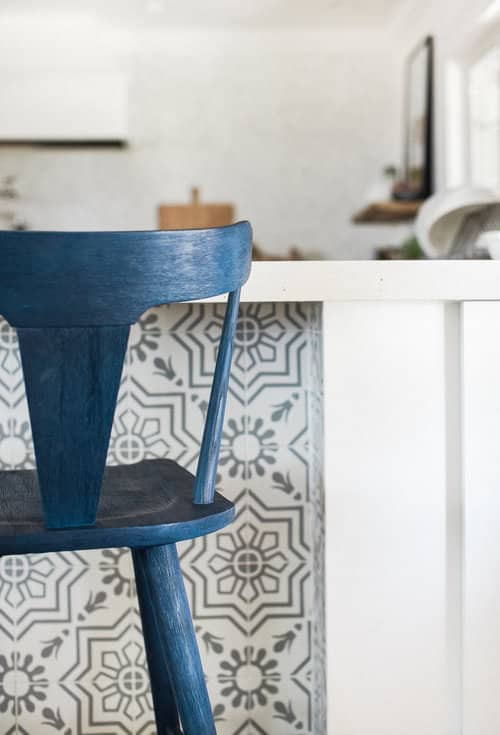 Usually, my style is a bit more vintage and neutral so I surprised myself when I decided that I really liked these stools. In fact, I let myself mull over them for about a week before pulling the trigger because I wanted to be really sure they were what we wanted.
When they arrived, I was so excited to see them up against the patterned tile, they are perfect.
Our kitchen is white; however, I have used wood, brass, and pops of blue to warm it all up so that it doesn't feel like a whitewashed room. The tile is really playful and fun, and I love the way the blue makes the space feel a bit warmer. I imagine that someday patterned tile will be terribly outdated, but for now, I can't get enough of it, and I think it adds a bit of fun & character to any room!
I am so happy with out kitchen counter stools, and am glad I waited to find just what I was looking for rather than rushing the process. I always find that it helps eliminate buyers remorse! Do you have any projects that took a looooong time to get *just right*?
---
Modern Farmhouse Kitchen Counter Stools

{you can click the photos above to be directed to source}
YOU MIGHT ALSO LIKE: