How to Choose Light Fixtures
This post may contain affiliate links, please read my disclosure policy.
If you're looking for the best lighting for an open floor plan, or just hoping to understand how to choose light fixtures for your home, you've come to the right place! Learn all about selecting lighting for your home!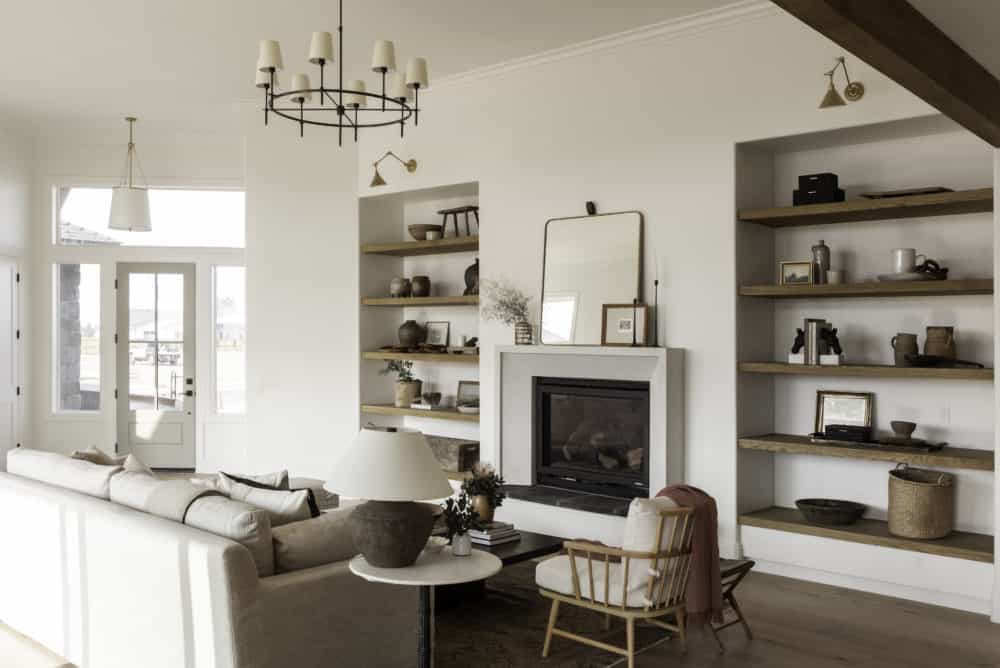 How to Choose Light Fixtures
When I first started designing, I didn't put much thought into lighting. It honestly came as an after thought. Perhaps because I wasn't very confident in selecting cohesive lighting.
Now…it's one of my favorite things! We actually start projects off with lighting, it's so important! In addition to the overall effect lighting has on a project, it's also something that needs to be considered first during construction (the wiring comes right after demo!).
Today I am sharing our tips for choosing cohesive lighting for your home. Whether you're working on a new build, remodel, or simply want to update some existing lighting, I hope you find this post helpful!
This is the beginning of a series in cohesive design. We will be breaking it down like interior design 101 for you to gain confidence in designing your own home! If you're stuck on design, you can get even more design tips by checking out my post about selecting kitchen backsplash or shopping for furniture like an interior designer!
How to choose light fixtures for an open floor plan?
An open floor plan means that your light fixtures will need to coordinate in order to have a consistent design.
Coordination of the lights doesn't mean they all have to match, instead add some variation in size, shape, and style!
You can absolutely mix metals finishes, but don't mix more than three different finishes.
Mix the overall size to create a curated look: large in the living room, small or medium the kitchen, and small or medium in the dining room.
When in doubt, I say bigger is better when it comes to lighting!
Overall make sure each fixture has the same underlying essence: don't mix something ultra modern with something ultra traditional, maintain balance when mixing styles and avoid extremes.
---
Open Floor Plan Lighting Combinations
---
Contemporary

Traditional

Transitional

Modern

---
More interior design tips:
How to Choose the Perfect Kitchen Backsplash
The Best Brass Faucets for your Bathroom
---
The Impact of Lighting
Lighting dramatically improves a space and shouldn't be an after thought. Consider it the jewelry of the ceiling or the furniture for the 5th wall (the ceiling).
Think about the difference lighting makes in a space in a hallway, living room, entry, kitchen, etc…
You can create what we call, a hallway of dreams, simply by adding three pendants! Lighting makes a grand entry vs. a staircase. A cold white kitchen vs. warm inviting space.
Am I stressing its importance enough for you? ;)
What to Consider
So you might be wondering, how do I choose light fixtures for my home? There are three major considerations we take into account when making selections:
Finishes: Mixing metals is great, we encourage it. In fact, I don't think I'd design a space without mixed metals. Be sure not to get too many brasses or too many bronzes. A few shades is okay, but if you're mixing a lot of different brands, the variations in brass can start to feel distracting, especially with budget friendly options.
Styles: Mixing styles is fine, bridge the gap with balance. Be careful, more modern finishes are going to be matte black or champagne brass, or chrome. When you're matching make sure you're not putting bronze with black.
Size: Make sure the lights are big enough. Larger is going to feel more luxurious. I think pendants should be at least 14". Go bigger with less quantity – 2 large is better than 3 small.
Finishes
The 'finish' of a light is the color. Some lights are ceramic or enamel, but most lights are some sort of metal finish such as brass, nickel, bronze, or chrome.
I highly encourage you to mix it up and include multiple metal finishes within your home! It will create a layered, beautiful look. The rule of thumb is to keep it to about 3 finishes in a single space.
If you're mixing brands, you'll most likely get different variations of a finish – especially with brass. So I suggest ordering a sample or analyzing the photos in details to make sure that the brass shades coordinate well!
Some of my favorite mixed metal combinations are:
Brass + Black + Nickel
Brass + Nickel (could also add in some bronze)
Brass + Bronze
Chrome + Black
Bronze + Nickel
Overall brass, bronze, and nickel are warm finishes and chrome and black are cooler finishes (although black can go either way). When mixing metals, it's best to mix warm colors with each other and vise versa. Sort of like picking paint!
Style
The overall style of the light is the key factor of selecting cohesive lighting. You want to make sure that each light comes from the same family.
While this may or may not come intrinsically, you can look for curved edges vs geometric angles.
A more angled light fixture is generally a more modern piece and a curved light fixture is usually more traditional. This isn't a firm rule, but it can help you analyze each fixture to see if they coordinate well together.
Consider the shade style: Either match them or make them different enough so that it doesn't look like you tried to match them and missed the mark.
Overall Style: Mixing styles is fine, but bridge the gap by balancing the shapes and lines.
Don't match everything: I don't like to have more than one shaded fixture in a space, or more than one dome fixture in a space, etc… I will pick three different types of lights to get a curated look. Ex: One chandelier, one large pendant, and one medium pendant.
Size
A common mistake I see is too small of lighting. Unless you're strategically designing a minimal space, make sure the lights you select are larger enough for your design.
Larger lights will feel more luxurious.
I think pendants should be at least 14". In a kitchen, I typically suggest bigger with less quantity (2 large is better than 3 small…usually). Always adjust for scale though!
Mix up the size in a single space so that you have variation, don't select lights that are all the same size and shape.
Design Tips for Lighting
Not all light fixtures work in all rooms. For example, sloped ceilings will require a chain or a back plate that allows for a sloped ceiling. Some lights are not appropriate for a bathroom. Some lights require a smaller backplate.
To ensure that you don't run into any issues, share the 'spec sheets' with your contractor or electrician and walk through each space. Don't assume they will pick up on those details on their own – point them out to them.
Don't mix more than three finishes in a single space.
Hang pendants about 30″ from the countertop.
Pendants in the kitchen should spaced be about 30″ apart edge to edge.
Chandeliers should be about 7'+ from the floor. Higher if you have high ceilings.
When in doubt, bigger is better!
Kitchen island pendants should be about 14″ +/- in diameter, adjust for scale as needed (a smaller kitchen = smaller pendants and vise versa).
Wall Sconces
Wall sconces are tricky if you're specifying things on your own because there's not a one-size-fits-all approach to placement.
The length, shape, and backplate placement will dictate where to install the light box on the wall.
For example: You generally want the light of a wall sconce to be situated center of the mirror in a bathroom. But some wall sconces have a backplate placed at the top or bottom of the light, rather than at the center.
If that is the case, your light isn't going to be centered because the electrician is going to assume the backplate is centered. So be sure to sketch things out ahead of time even if it's just on graph paper.
Read next: French Range Review La Cornue