Easy Homemade Strawberry Cake
This post may contain affiliate links, please read my disclosure policy.
Easy Homemade Strawberry Cake
Strawberry cake is a delicious treat that can be enjoyed any time of year, but it is especially delicious during strawberry season. This is the perfect strawberry dessert recipe to use up those large ripe berries!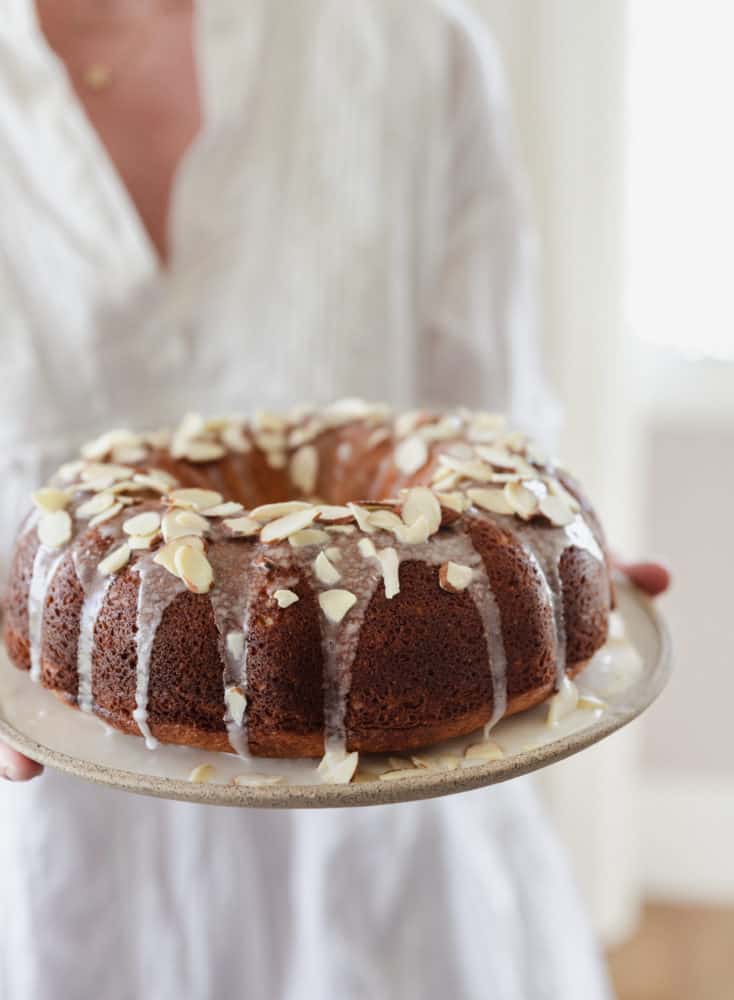 This is a simple strawberry cake recipe that can be put together in under 15 minutes. With freshly sliced strawberries and almond extract, it is full of flavor without much fuss!
Don't worry about pureeing berries or straining seeds, instead simply slice up some berries and fold them into the delicious batter before baking.
This cake is light and fluffy and dense all at the same time. It has a lovely rise to is, but has a high fat content to satisfy a craving for cake!
I like making this cake in a bundt pan for a few reasons. One, it's pretty. Two, it makes it very easy to bake in one pan. However, you can absolutely bake this cake in a 9×13 baking dish, or two round cake pans (8″ or 9″).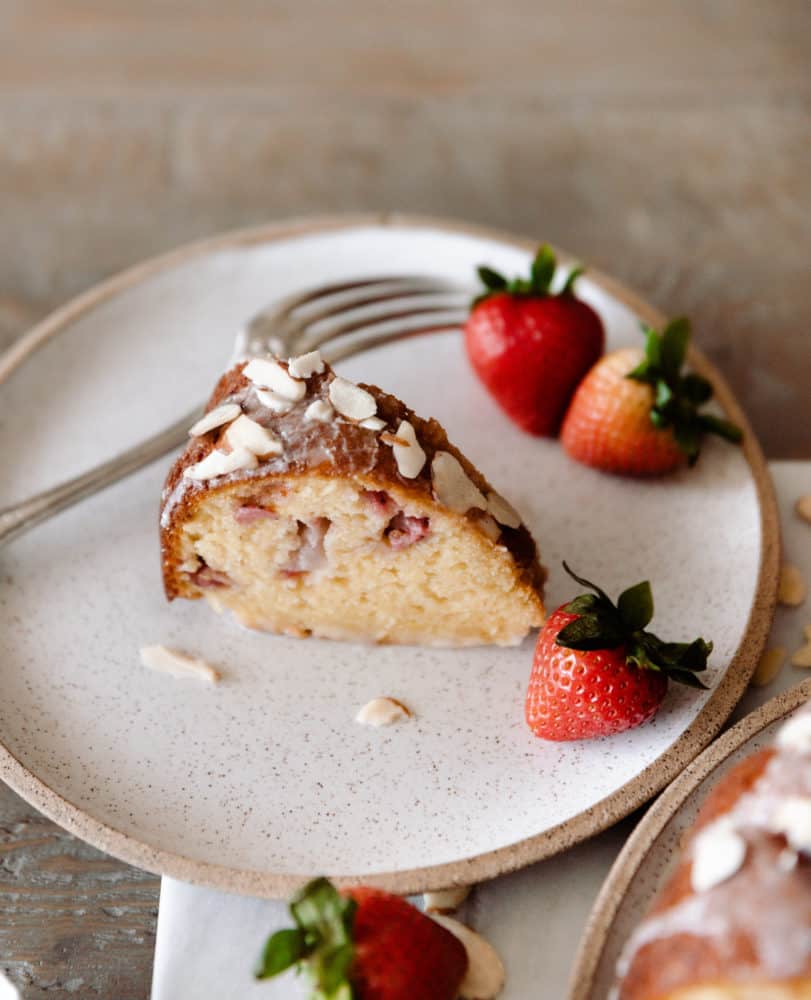 Ingredients for Strawberry Cake
For the Cake
eggs
granulated sugar
extra virgin olive oil
plain greek yogurt
almond extract
milk (any type)
all-purpose flour
almond flour
baking powder
baking soda
salt
fresh sliced strawberries
For the Glaze
powdered sugar
lemon juice
almond extract
If you love strawberries you will love my strawberry crepe cake, it's worth all of the effort it takes to make! Or try my strawberry muffins for a quick weekend treat!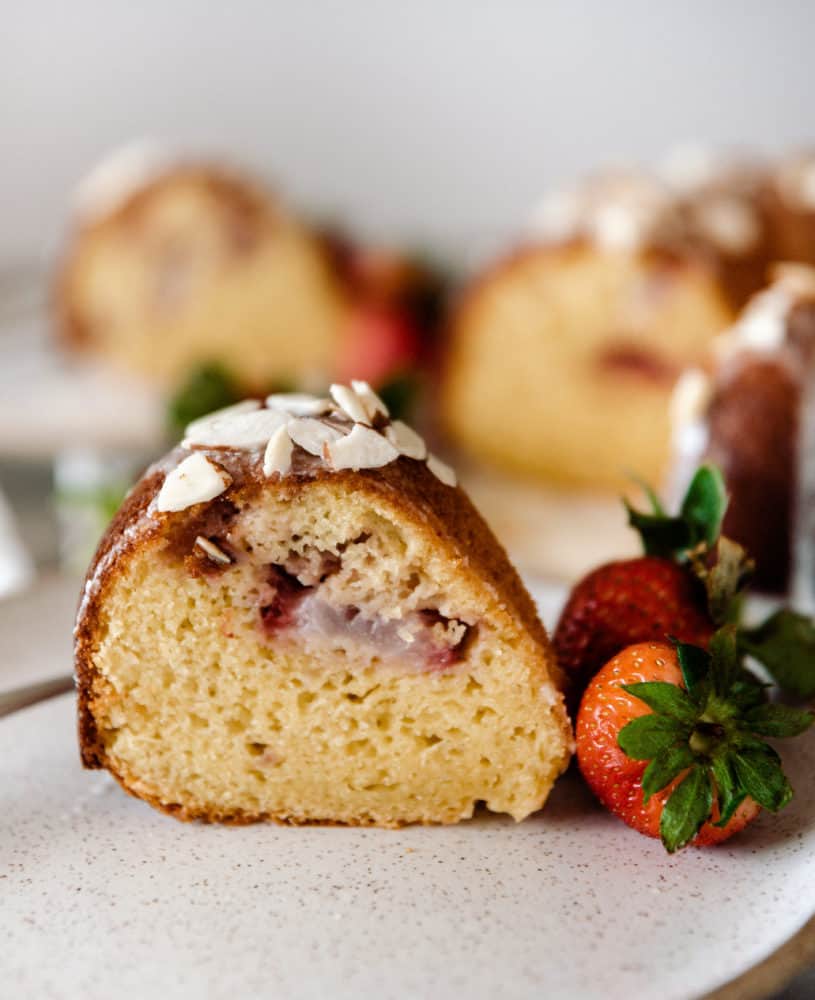 How to Make Strawberry Cake
Start by mixing the wet ingredients and the sugar. Combine the eggs, sugar, oil, yogurt, milk, and extract in a large bowl.
Then add in the remaining dry ingredients: all-purpose flour, almond flour, baking soda, baking powder, and salt.
Lastly, fold in the strawberries.
Bake for 30-40 minutes at 350 F, until just golden and springs back gently like a sponge.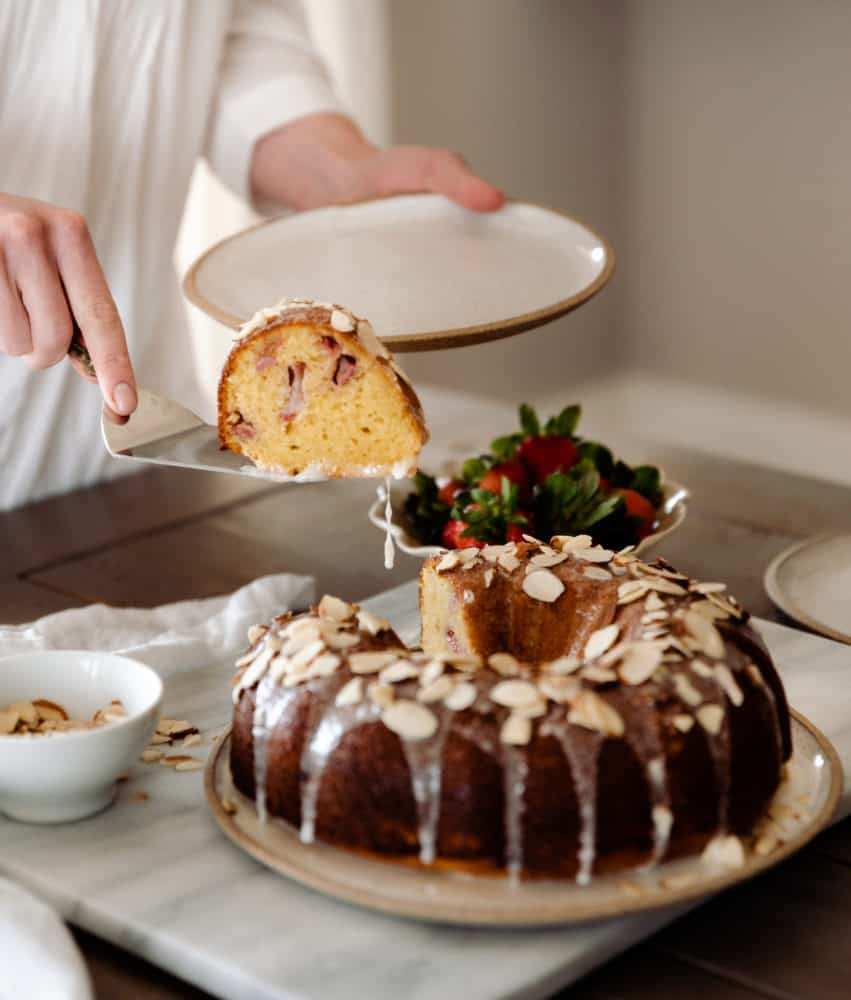 Tips for Baking this Cake
Don't over-mix the batter! Over-mixing batter can be detrimental to cakes and cookies. Stir until just combined, a few lumps are okay.
Use high quality olive oil: be sure to use a high quality olive oil as it is a key player in this recipe.
Use fresh strawberries: This recipe will taste best with juicy, ripe strawberries!
Test the center for doneness: This cake takes a bit longer to bake than you'd think. Before pulling it out of the oven, be sure to use a cake tester to check for doneness. Simply slide a tooth pick or cake tester into the thickest part of the cake and remove – if it comes out clean, the cake is ready!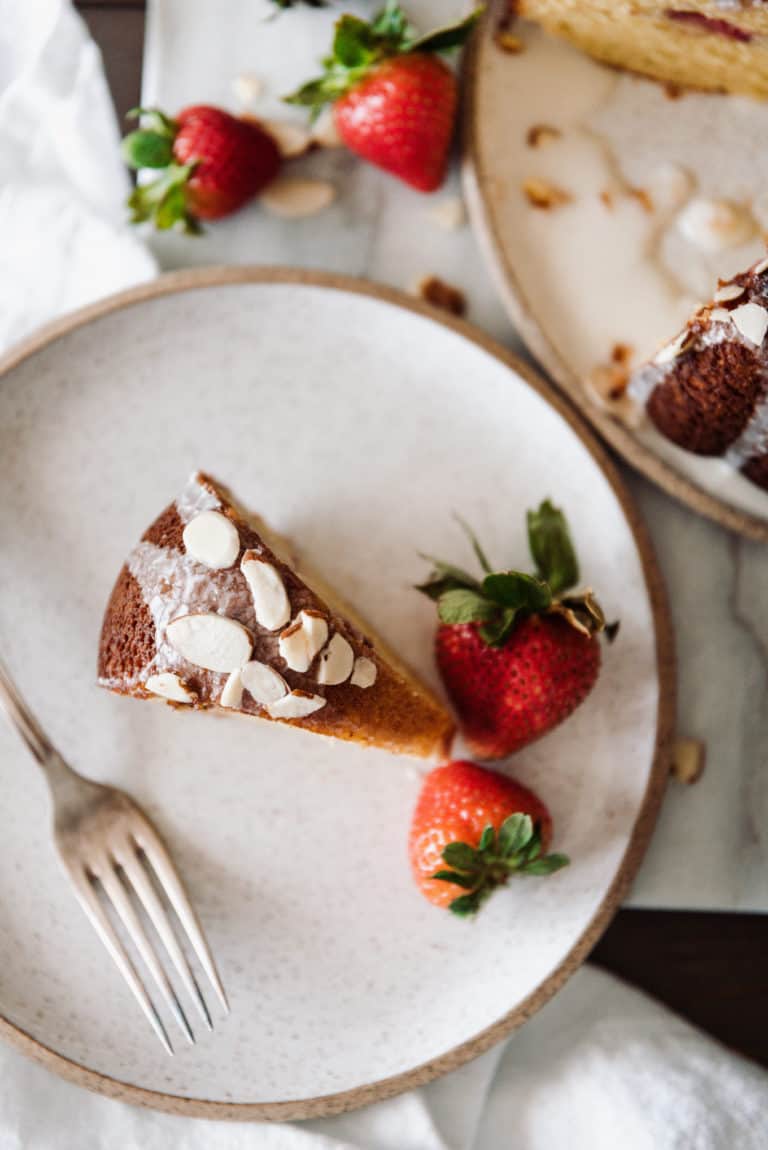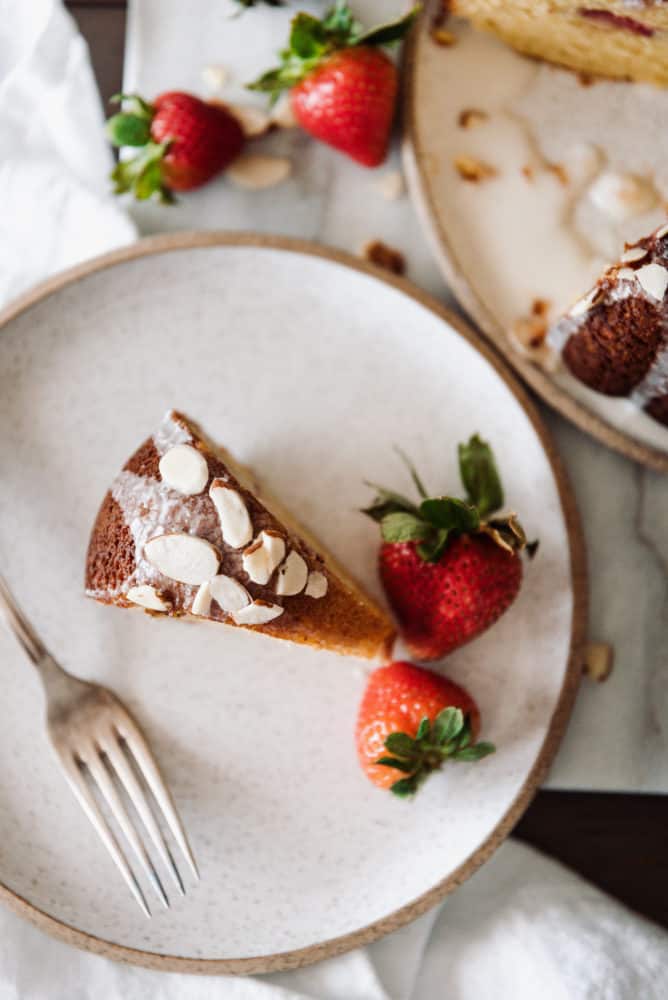 Frozen vs. Fresh Strawberries
While recipe testing my strawberry muffins, I learned that frozen strawberries will release a bit more moisture than fresh strawberries.
You can absolutely use frozen strawberries for this recipe, but reduce the milk by about 1/4 cup.
Make Ahead Instructions
To make this cake ahead of time, bake the cake as instructed, but don't add the glaze until ready to eat!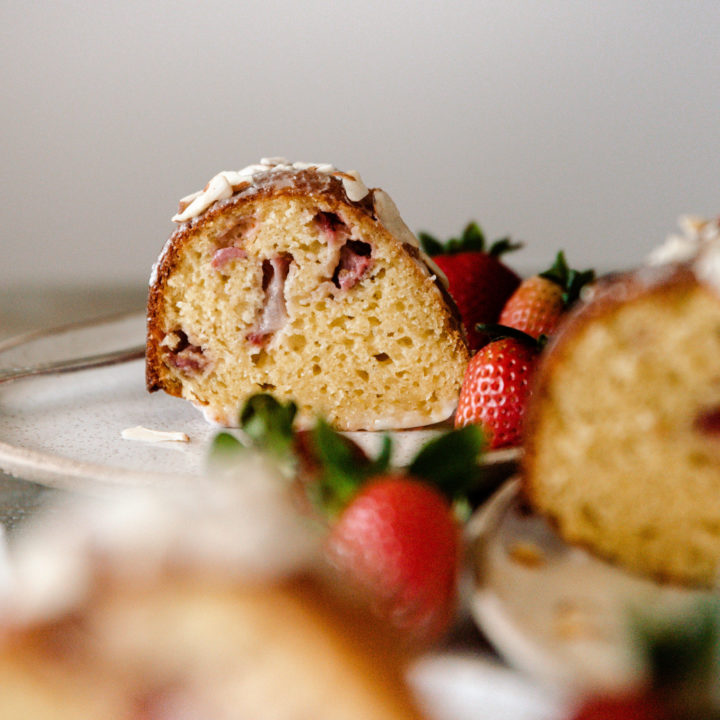 Easy Homemade Strawberry Cake
Additional Time:
10 minutes
This delicious homemade strawberry cake is full of flavor with almond extract, fresh sliced strawbrries, and slivered almonds!
Ingredients
For the Cake:
4 eggs
1 1/2 cup granulated sugar
1/2 cup extra virgin olive oil
1/2 cup plain greek yogurt
1/2 teaspoon almond extract
3/4 cup milk (any type)
2 cups all purpose flour
1/2 cup almond flour
1 1/2 teaspoons baking powder
1/2 teaspoon baking soda
1 teaspoon salt
2-3 cups fresh sliced strawberries (depending on how many you'd like!)
For the glaze:
1 1/4 cup powdered sugar
2-3 tablespoons lemon juice
1/4 teaspoon almond extract
Instructions
Preheat oven to 350 F.

In a large mixing bowl whisk together the eggs, granulated sugar, extra virgin olive oil, plain greek yogurt, almond extract, and milk.

Once combined, fold in the flour, almond meal, baking powder, baking soda, and salt until just combined (some lumps are okay).

Then gently fold in the fresh sliced strawberries.

Transfer the batter to a greased bundt pan and bake for 30-40 minutes or until the cake springs back like a sponge and is just golden.

While the cake cools make the glaze. Stir together the powdered sugar, lemon juice, and almond extract. The glaze should be the consistency of liquid glue. Add more powdered sugar or liquid as needed to reach your desired consistency.

After the cake has cooled completely, drizzle with the glaze and sprinkle with almond slivers.