Maple roasted heirloom carrots are the perfect Thanksgiving side dish, but taste great all year long! Your family will love these roasted carrots sweetened with a hint of pure maple syrup and tangy with a little bit of mustard and cracked sea salt.
These delicious roasted carrots are a household staple that I meal plan each week!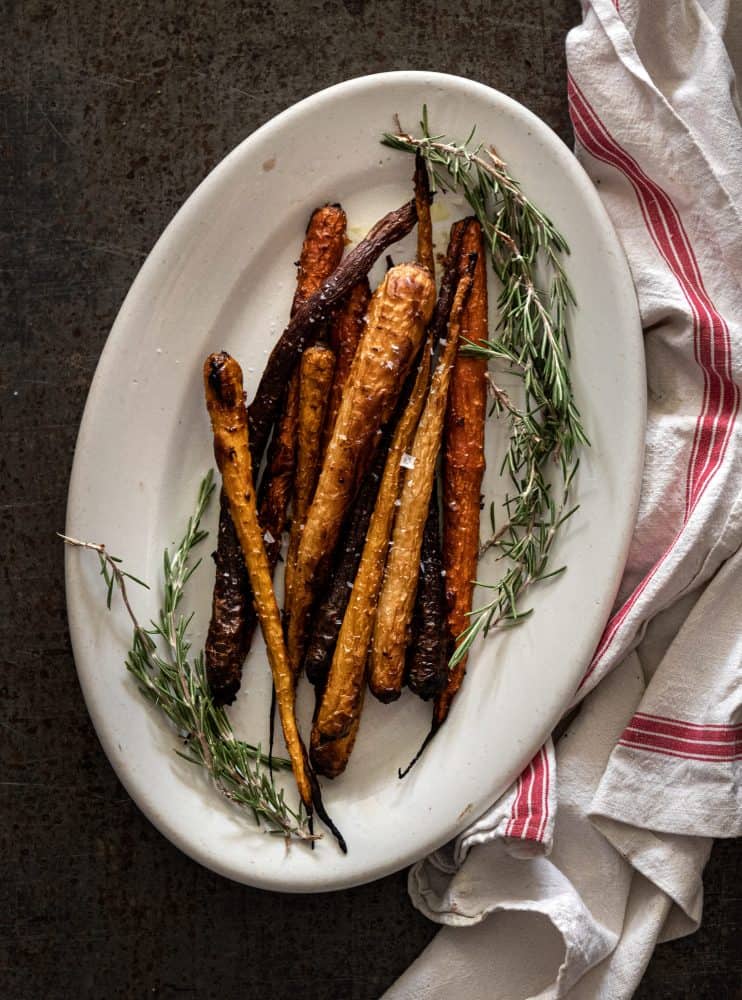 Maple Roasted Carrots
Looking for a delicious roasted carrot recipe? These heirloom carrots are glazed to perfection with maple syrup and extra virgin olive oil. A blend of spices takes the flavor to the next level!
To make these maple roasted carrots you simply need to wash and slice the carrots (I skip peeling them!), prepare the glaze, toss, and roast!
I like roasting my vegetables at a high temperature to create a bit of bite while also tenderizing, especially root veggies!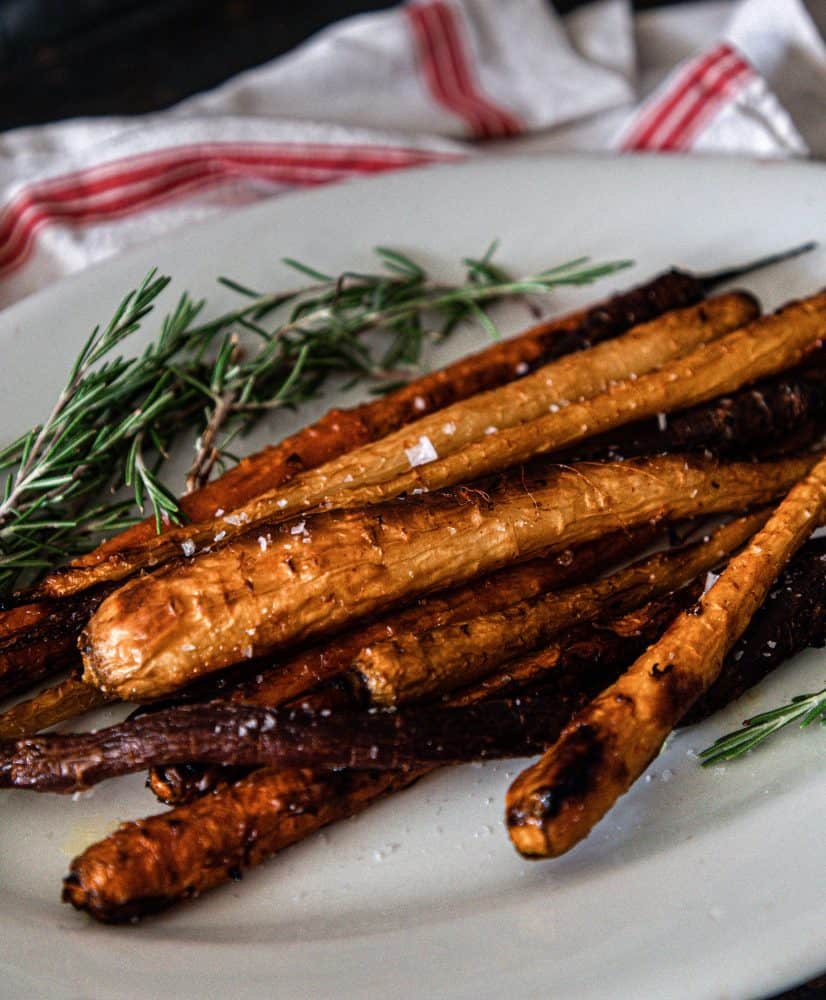 A long time ago I used to be a nanny, and the kids I nannied for were very well-fed children. I enjoyed cooking for them and learned a lot of wonderful recipes throughout the years! Their mom had a variety of great cookbooks – one of my favorites was Gwenyth Paltro's as well as some of the Williams-Sonoma's cookbooks.
This maple glazed roasted carrot recipe comes from my days of nanny-ing for them. It is adapted from one of Gwyneth's recipes – I go off memory now, and have tweaked it over the years.
It is one of those staple recipes that I seem to make almost every week. It's also very adaptable and goes great with any root vegetable. These maple roasted carrots are sweet and tangy and a little salty, and oh so delicious.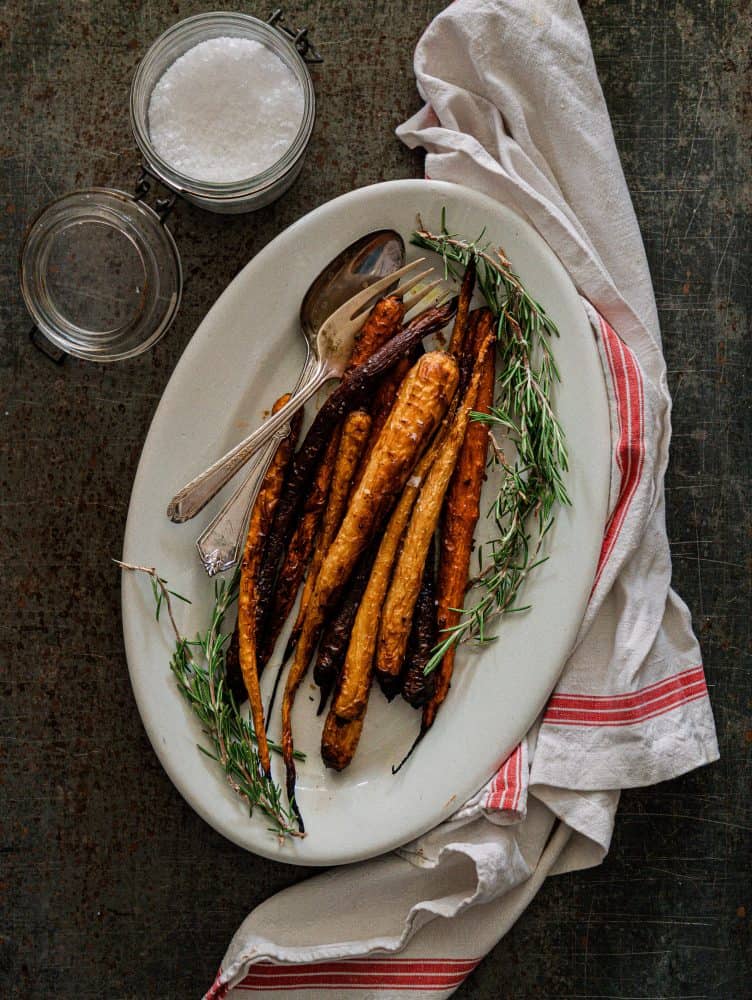 Heirloom Carrots
I love using heirloom carrots whenever I can find them, I think their flavor is so much richer than traditional carrots. I love the color they bring too! Purple carrots are so beautiful when cut in half, look at that yellow & purple beauty!
What are heirloom carrots?
Heirloom carrots come from heritage or heirloom seeds that have been passed down for many generations. There are many different varieties of heirloom carrots with different flavors and colors. Heirloom seeds can be beneficial for a variety of growing climates!
Where can I find heirloom carrots?
I typically find heirloom carrots at Whole Foods! A farmer's market or other organic grocer will probably have these root vegetables (especially during the fall months). If you can't find heirloom carrots, you can always grow your own, or simply use regular ol' orange carrots!
Maple Roasted Carrots FAQ
Should I peel the carrots?
I never find peeling carrots to be necessary. I love the organic and rustic nature of the exterior of a carrot. Scrub well and skip the extra work of peeling!
Ingredients for maple roasted carrots:
Carrots: I love using heirloom carrots, but any carrot will work. Even a baby carrot will work!
Maple Syrup: I like to use a Grade A maple syrup, but any high quality pure maple syrup will work!
Dijon Mustard: The flavors from mustard balance out the sweetness of the maple syrup. A little goes a long way. A high quality, grainy variety tastes delicious!
Garlic: The more the merrier when it comes to garlic! Fresh sliced garlic adds tremendous flavor, but granulated will work as well.
Olive Oil: The olive oil combined with maple syrup creates a delicious glaze on the carrots.
Apple Cider Vinegar: The tart vinegar rounds out the sweetness from the maple syrup. Don't skip it! If you don't have apple cider vinegar, a red wine or white wine will work well too.
Fresh Herbs: Adding some fresh herbs like rosemary or sage creates even more flavor within this dish. If you don't have fresh herbs, you can skip it!
Maldon Sea Salt: Finishing with a little Maldon Sea Salt really plays well with the sweetness of this recipe. It's a delicious finish to the dish! A little sprinkle will do!
More easy fall side dish recipes!
The Recipe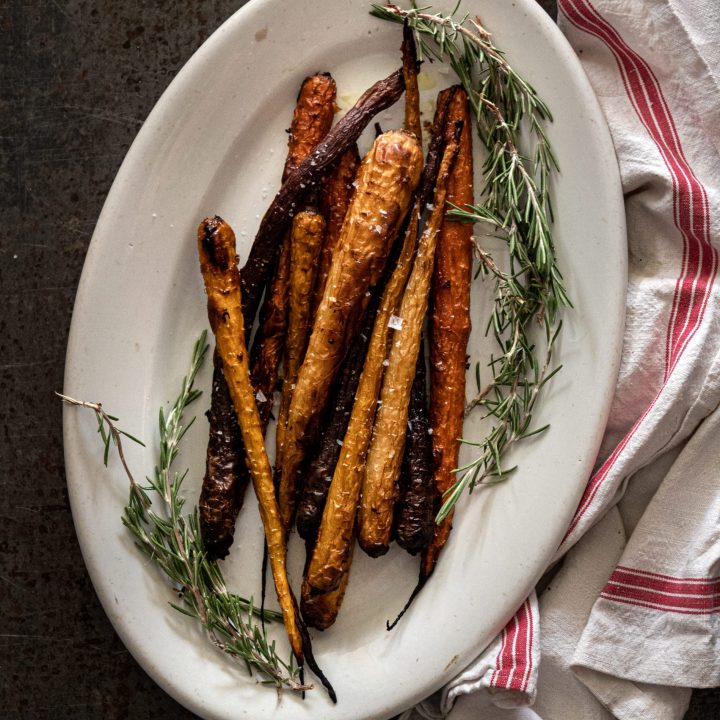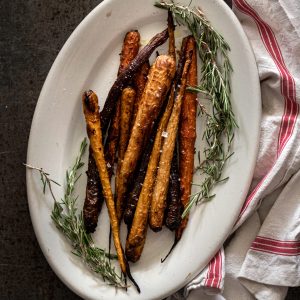 Maple Glazed Roasted Carrots
Maple roasted carrots are the perfect fall side dish – a new Thanksgiving staple – but delicious any time of year!
Ingredients
1

bundle

about 8 carrots heirloom carrots

1/4

cup

olive oil

2

tsp.

dijon mustard

splash apple cider vinegar

3

tablespoons

pure maple syrup

4

cloves

garlic

a few sprigs fresh herbs such as rosemary

thyme, or sage

pinch

Maldon's salt
Instructions
Preheat oven to 420 degrees F.

Trim the tips off of the carrots and slice lengthwise into halves.

In a small dish, whisk together oil, mustard, vinegar, garlic, and syrup.

Place carrots on a cookie sheet and drizzle the mixture over them. Toss to coat each carrot evenly.

Top with fresh herbs and bake for 20-30 minutes at 420 degrees.

Check them intermittently – you want them to be roasted, but not burnt! Pull them out of the oven and sprinkle with Maldon's salt. You can find Maldon's at Whole Foods, it is a wonderful finishing salt!
Notes
You may find that you don't need all of the oil mixture to evenly coat the carrots, start by drizzling half of the oil mixture, and if needed, add more!