This crepe cake recipe is a show-stopper, and is perfect for special occasions! The cake is made of delicate crepes and filled with strawberries & whipped cream!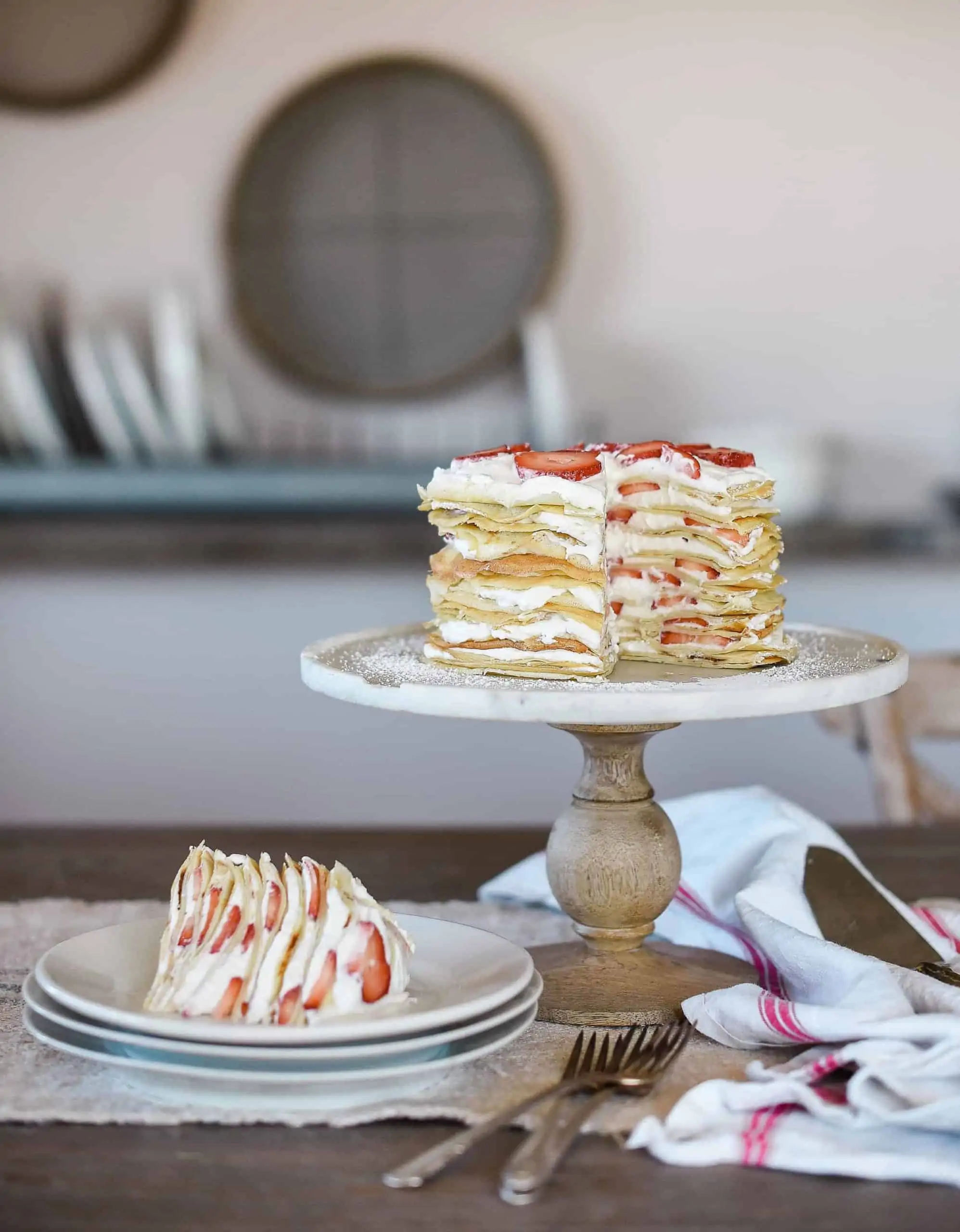 Crepe Cake Recipe with Strawberries and Cream
Creating this show-stopping cake is very easy and will be a memorable treat to serve at a bridal shower, baby shower, birthday, or Valentine's Day! If you love classic French crepes, this crepe cake takes it to the next level by layering delicate crepes with fluffy whipped cream and sweet strawberries.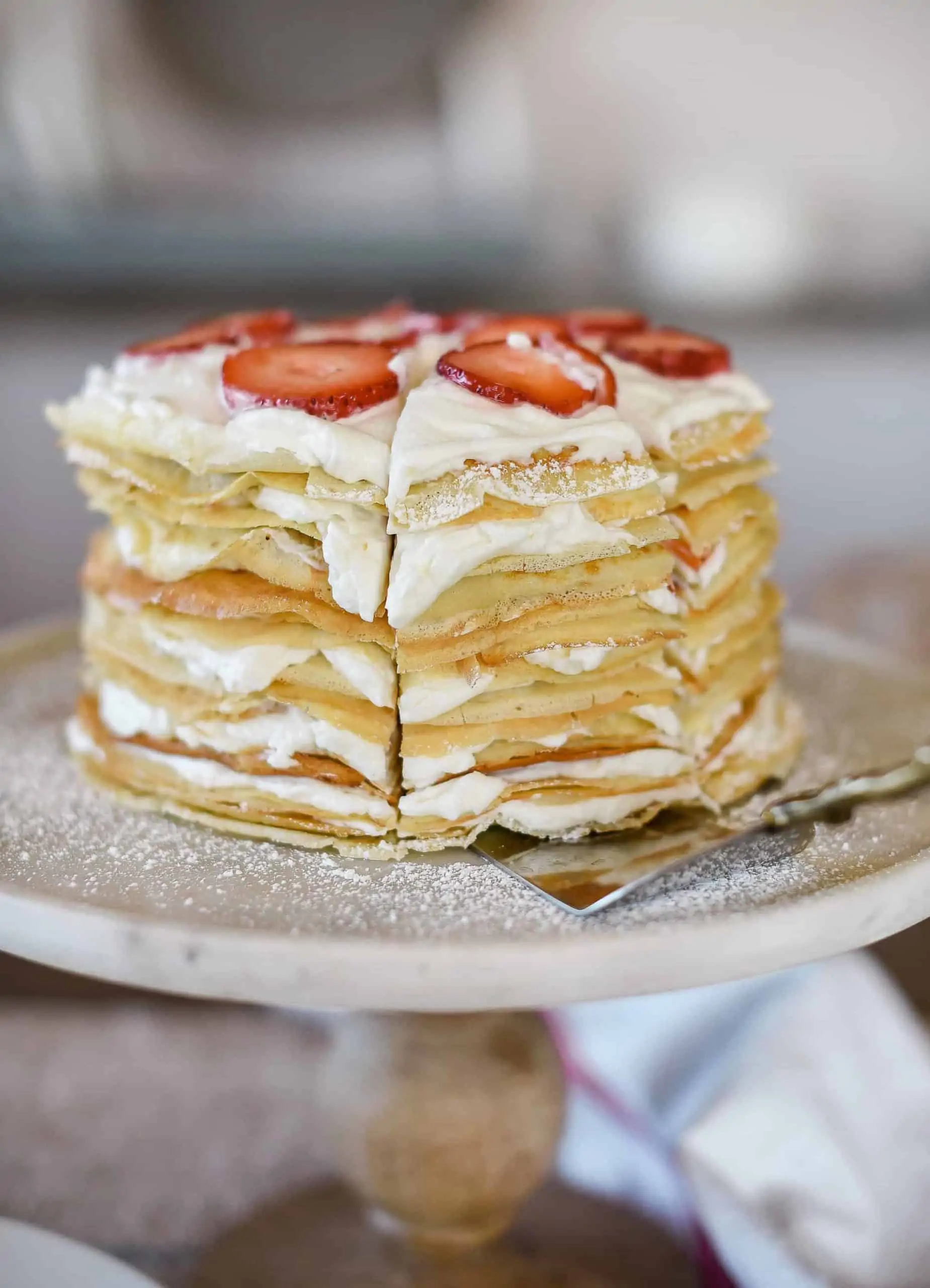 This recipe uses my basic French crepe recipe and combines it with whipped cream and strawberries to create a beautiful cake! While this cake is very simple to create, it is a bit time consuming, yet very much worth it!
Layering the crepes is a somewhat soothing as you see the cake come to life. Be sure to spread the whipped cream evenly, making sure to reach the edges, so that the cake does not sag on the edges. If you see "sagging" you can insert a few strawberries to give the cake a little facelift where needed.
I suggest breaking the steps up over a few days. You will need to make the batter the night before you plan on making the crepes. This can be done during the week or a few days ahead of time. Then, when you're ready to assemble the cake, all you will need to prepare is the filling: strawberries and whipped cream.
Check out my quick and easy homemade strawberry cake recipe if you're looking for something that isn't as time intensive! Or try strawberry muffins for a great weekend breakfast!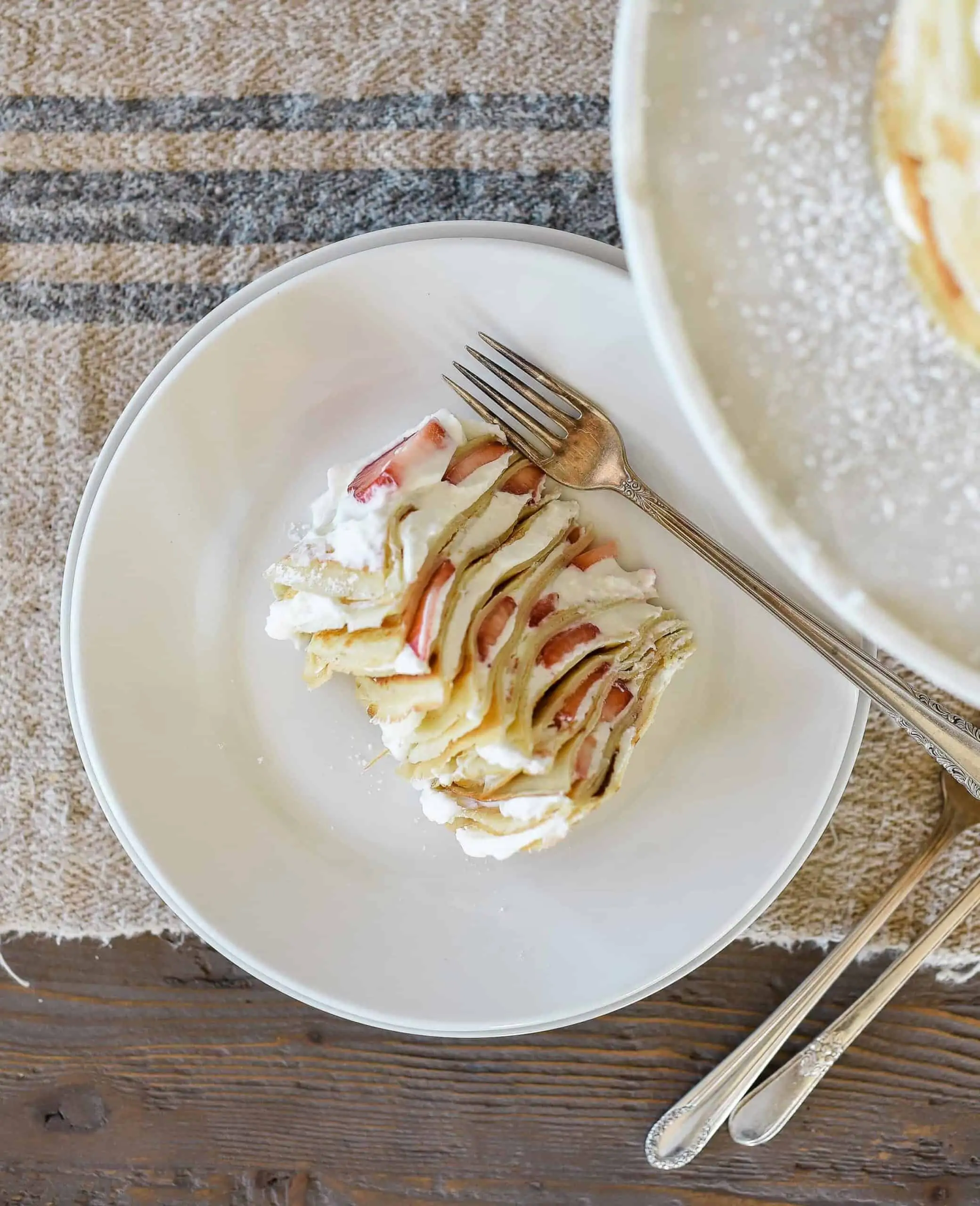 This cake is the perfect dessert to make for birthday parties, bridal showers, baby showers, or Valentine's Day! After sharing my French crepe recipe a few weeks ago, I was inspired to turn the crepes into a cake for a friend's birthday.
It is so much fun to see the joy baking something like this brings to those you share it with! While this crepe cake takes a little longer to assemble than most cakes, it is truly a show stopper and a crowd pleaser! Your friends will be so impressed with this cake's beauty, and I think you will love spending the time creating it!
Don't be intimidated by the lengthy recipe and steps. Take this cake step-by-step. Even though there are many steps, it is not complicated and there isn't much that can go wrong.
Ingredients
Milk
Eggs
Flour
Melted butter
Salt
Heavy whipping cream
Strawberries
Confectioners' sugar
Granulated sugar
How to Make A Crepe Cake
Step 1: Prepare the crepe batter. Refrigerate overnight.
Step 2: The following day, make the crepes, and allow them to cool completely.
Step 3: Prepare the filling.
Step 4: Layer crepes and filling to build a beautiful crepe cake!
Expert Tip
If you notice your cake is becoming a little lop-sided, you can gently adjust the cake to straighten it. Additionally, make sure to refrigerate the cake for a few hours after you assemble it so that the cream can firm up, this will prevent the cake from slipping and sliding around when you cut it. Use the sharpest knife you have to cut the cake swiftly.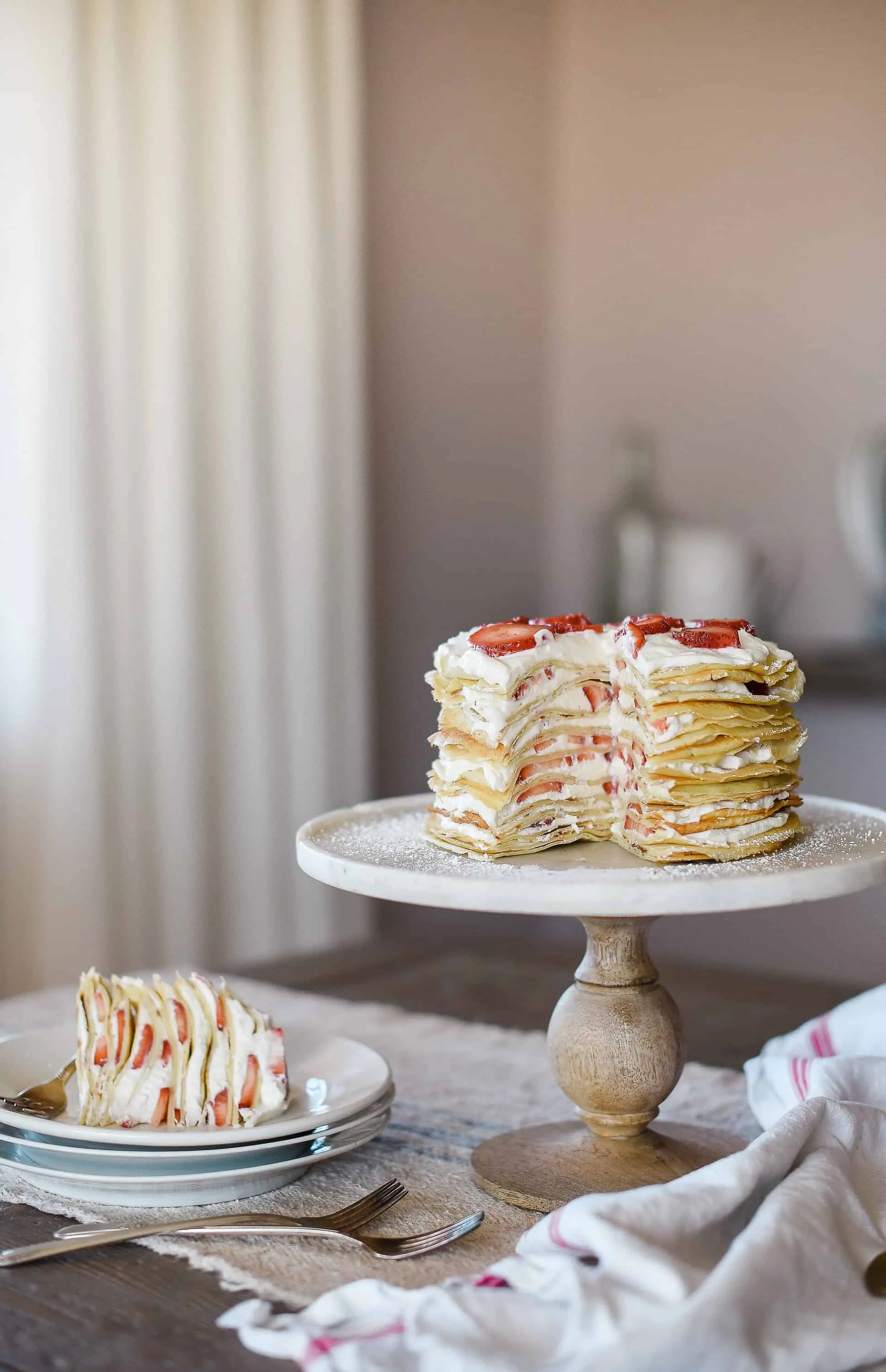 FAQs
Can I make the crepes for the crepe cake in advance?
Yes! You can make ahead the crepes 2-3 days in advance. Refrigerate in an airtight container. Then when it comes time to assemble the cake, just prepare the filling and you can begin building your crepe cake!
How many crepes do I need for a crepe cake?
I used 24 crepes, but I also doubled them up in each layer, so technically my crepe cake is just 12 layers high. This recipe makes 24, 8" crepes. You can build your cake as tall or as short as you'd like. I don't recommend doubling up the crepes between layers because they will slide around when you cut the cake. The cream acts as glue to hold it together!
Can I use something besides strawberries for my crepe cake?
Absolutely! You can get creative with the filling! If you prefer a richer filling, try using a buttercream frosting or even a chocolate frosting with raspberries! Your imagination is encouraged with this recipe!
How to Avoid Rubbery Crepes
If your crepes are turning out rubbery there are a few possibilities.
1. Most likely…your pan is not hot enough, and you are cooking the crepes too slowly. Raise the temperature and cook for a shorter amount of time. They should be ready to flip in less than 60 seconds. Which leads me to…
2. You may be flipping too quickly. There should be small golden brown circles on the crepe when you flip it. If you don't see that, let it cook longer.
3. You are not refrigerating the batter overnight. The gluten from the flour needs a rest, at least for a few hours, but ideally overnight.
4. You are overtaxing the batter (this is unlikely), but is possible.
5. You are adding too much batter to the pan. Crepes are intentionally incredibly thin, if you pour too much batter into the pan, the crepe will be too thick and can become rubbery.
The Recipe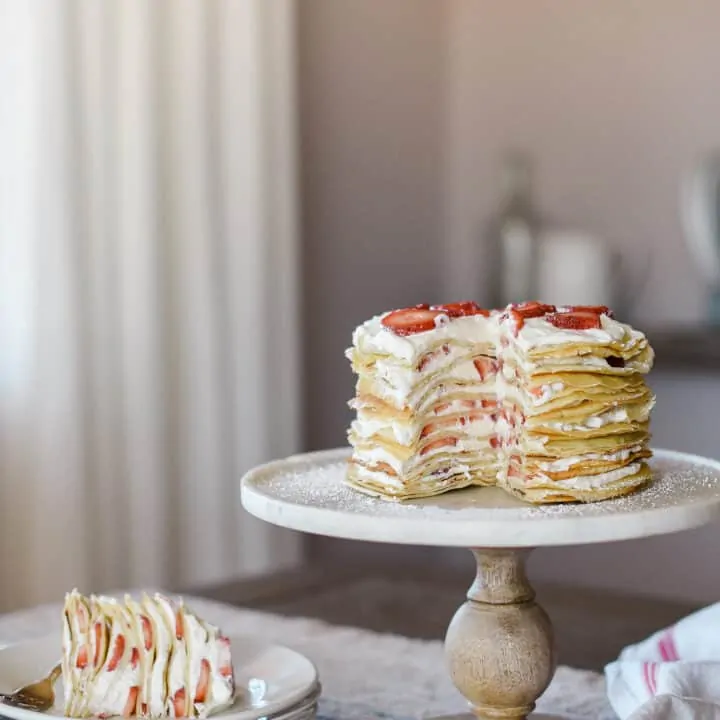 Crepe Cake Recipe with Strawberries and Cream
This crepe cake recipe is a show-stopper, and is perfect for special occasions! The cake is made of delicate crepes and filled with strawberries & whipped cream!
Ingredients
For the crepes:

4

cups

milk

4

eggs

2

cups

flour

4

tablespoons

melted butter

healthy pinch of salt

For the filling:

32

oz

1 Qt. cold heavy whipping cream

1

carton

1 Lb. strawberries

1/2

cup

confectioners' sugar

1/2

cup

granulated sugar
Instructions
Prepare the crepe batter the night before:
In a medium mixing bowl gently scramble the eggs. Add milk to the eggs, and whisk well. Add a healthy pinch of salt.

Sift the flour into the mixture, whisking as you add. Once the flour is mixed in, stir in 4 tablespoons melted butter.

Cover and refrigerate overnight.

Remove from the fridge and whisk the batter as it will have separated a bit from sitting overnight.

Check the consistency of your batter – it should resemble half & half. If it is too thick, add a splash more milk and a dash of canola oil as needed, until you have reached the desired consistency. This is an eyeball measurement system. You want it to be thicker than non-fat milk, but not as thick as pancake batter.
Begin preparing the crepes for the cake:
Use your best non-stick frying pan to cook the crepes. Over medium/high heat, add a very small amount of canola oil to the frying pan, allowing it to get glossy. Then swirl the pan around so that the oil evenly coats the surface of the pan. You can use a paper towel here to wipe away excess oil and make sure the oil has coated the entire surface of the pan.

Pour 1/4 cup batter onto the hot pan, tilt the pan around in a circular motion so that the batter spreads evenly in a very thin layer.

Cook on medium high heat for 45-60 seconds. It is ready to flip once the edges begin to curl, and the cooked side shows small golden circles. Flip, and cook for an additional 30-60 seconds (until golden). Remove and cover until all of the batter is cooked. Makes about 24, 8" crepes.

Once the crepes have been cooked, place them in the fridge (or even briefly in the freezer) to cool completely.
While the crepes cool, begin preparing the filling:
Slice the strawberries into thin 1/8" slices removing the tops. Place the slices in a bowl and sprinkle with 1/2 cup granulated sugar, stir to coat evenly.

Let the strawberries soak in the sugar and prepare the whipped cream: In a large mixing bowl, combine heavy whipping cream and confectioners' sugar. Using the whipping attachment on your electric mixer, whip the cream until stiff peaks form.
Begin preparing the cake:
On a cake stand or plate, place one crepe down in the center. Spread a thin, even layer of whipped cream (about 1/4 cup) to the entire crepe making sure to reach the edges of the crepe, add a few sliced strawberries in the same manner you would place pepperoni on a pizza. Top with a crepe, and repeat with another layer of cream and strawberries. Continue this process until you have reached your desired cake height, checking as you go that the layers are even and your crepe stack is straight.

To finish the cake, add a final layer of whipped cream and strawberries, and dust with confectioners' sugar. Place the cake in the fridge for 2-4 hours to allow the cream to set. Use a very sharp knife to cut the cake.
I hope you enjoy this strawberry crepe cake recipe, if you love this recipe, please leave a 5-star rating and share on social media! Tag me @boxwoodavenue!