A simple sugar scrub recipe will exfoliate your skin and leave your body feeling silky smooth! This is a great way treat yourself to a little self care without actually eating any sugar! In addition, sugar scrubs just like coffee scrub, have many benefits for the skin. You're going to love this simple homemade recipe.
To make the scrub, you'll use rose petals, organic sugar, rose water, and oil making this super simple to put together, and even organic!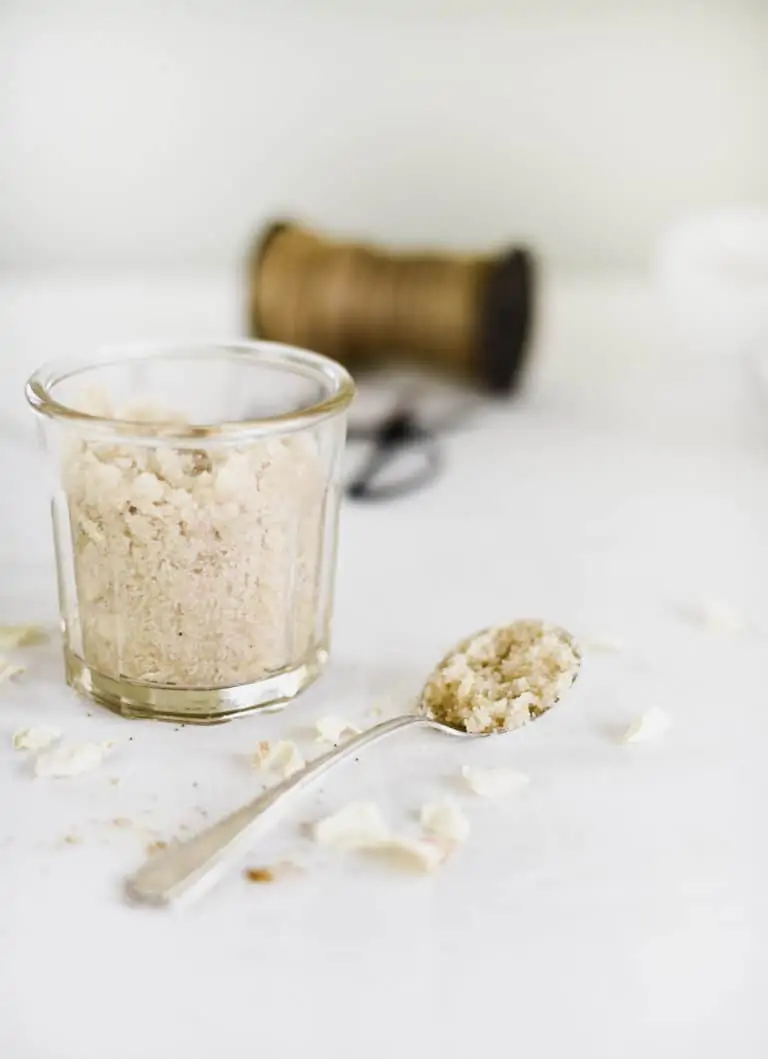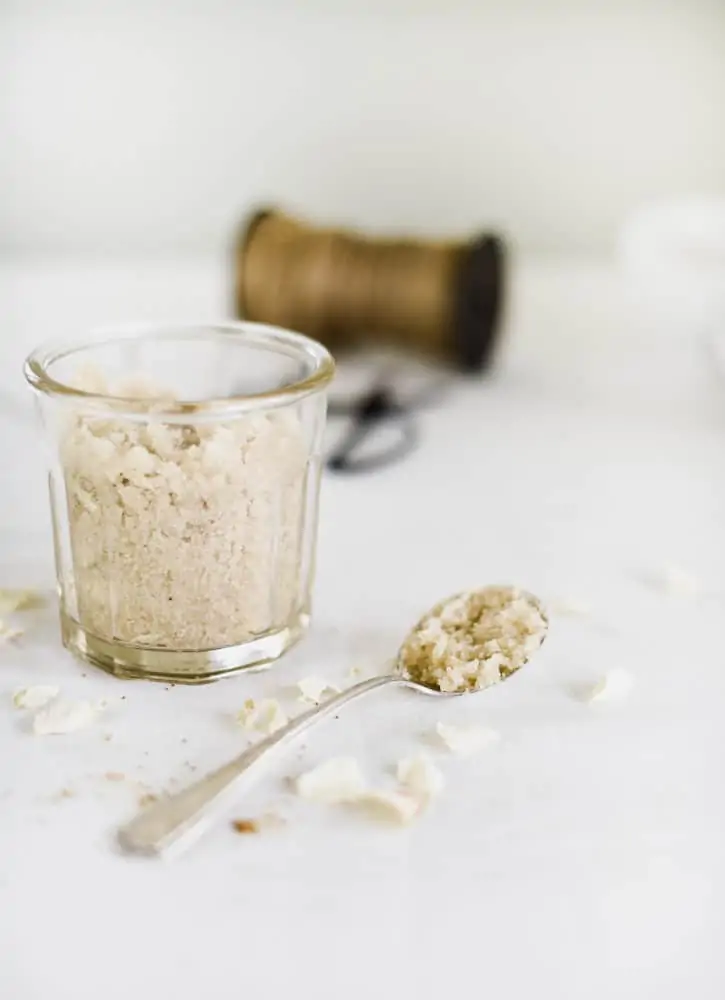 Sugar Scrub Recipe
The winter months can leave our skin feeling dull and dry. Using a sugar scrub can help exfoliate and moisturize to help battle common winter skin conditions.
I love using sugar scrubs in the winter, especially with grapeseed oil as a moisturizer. This recipe is the perfect DIY project to make this time of year. I like to place the mixture in small glass jars for easy (last minute) gifting. I decided to keep this batch for myself, and placed it in an old French jar. It has made my recent baths that much more relaxing.
While great in the winter months, I absolutely love using body scrubs anytime of year. They are a great way to moisturize the skin and practice a little self care. Scrubs are so easy to put together, and make wonderful handmade gifts! Coconut Coffee Scrub is another great gift and the scent is perfect for summer months!
I hope you enjoy this simple sugar scrub recipe!
Benefits of Sugar Scrubs
One of the biggest benefits of using a body scrub is to exfoliate the body leaving you with silky smooth and glowing skin!
We often exfoliate our faces, but don't always spend the extra time to exfoliate our entire body. Exfoliating helps remove dead skin cells and revives our skin leaving it feeling smooth and rejuvenated.
Not only do scrubs exfoliate the skin, the essential oils used within body scrubs have specific purposes. Lavender essential oils are calming, while citrus oils are invigorating. Making your own homemade scrubs is a great way to invigorate or de-stress!
How to use Sugar Scrub for Glowing Skin
I use sugar scrubs in the shower whenever I need a little extra exfoliating!
To use, scoop about 1/4 cup of sugar scrub into your hand and rub onto your body in circular motions, working in sections. I usually scrub my arms and chest first and then move onto my legs.
Rinse with warm water, and be careful not to slip in the shower because the scrubs have oil in them. I don't find it necessary to rinse with soap, because I like to allow the oil soak into my skin!
Ingredients
Sugar: The star of the show in this recipe is the sugar. You can really use any type of sugar you'd like here. I prefer a coarse sugar (like sugar in the raw). Granulated sugar will work well too. The sugar acts as a skin buffing ingredient.
Oil: Once the skin is exfoliated from the sugar granules, the oil will help replenish and bring moisture back into the skin. I love using grapeseed oil because it is absorbed easily by the skin, plus is doesn't have a strong odor. Olive oil or coconut oil are also great options!
Essential Oil: This is an optional addition to the scrub recipe. Essential oils have many different benefits, you can customize your scrub for your own needs. Essential oils known to help promote glowing skin are geranium and organ oil!
Rose Water: Softly scents the scrub naturally. This is entirely optional, but it adds a wonderful aroma!
Rose Petals: Totally optional, but adds some texture and color to the scrub. You can also try dried herbs like rosemary or lavender to customize the scent.
Frequently Asked Questions
What type of sugar should be used in a sugar scrub?
You can use regular ol' granulated sugar in homemade sugar scrub recipes, or for a deeper exfoliant, try using sugar in the raw or brown sugar. If you don't have sugar, you can always use salt!
How much scrub should I use?
You can use as much or as little scrub as you'd like! I like using this on my face to exfoliate, and only need about 1/4 cup. However, I also like to use this on my entire body, which requires about 1 cup of sugar scrub.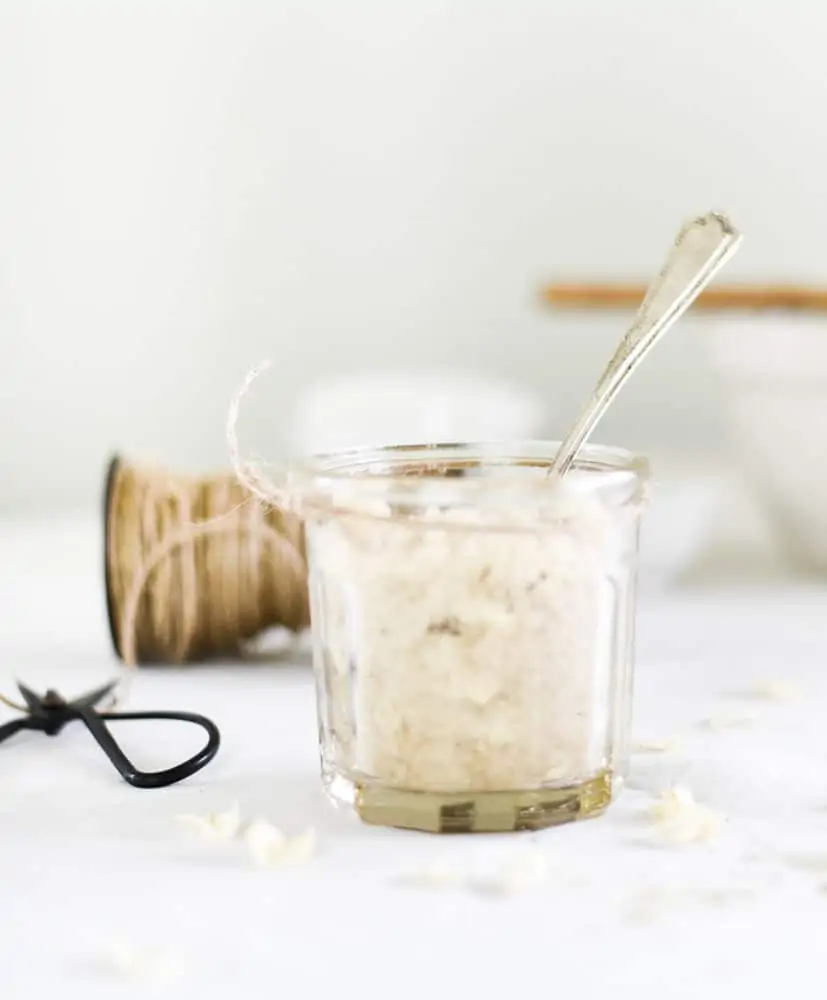 How long will rose sugar scrub last?
Heat, water, and bacteria from our hands can cause the sugar scrub to grow mold after one month. If you use this sugar scrub with clean hands and avoid shower water seeping in, it will last much longer (8-12 months). I suggest putting 2-3 uses worth into glass jars that way you can use up a jar in about a month's time.
What are the benefits of rose water?
Rose water is made from the steaming of rose petals and has a wonderful aroma! It is a great way to fragrance beauty products naturally. Rose water has natural anti-aging and calming properties. It is known to soothe skin and reduce redness. This makes it a wonderful addition to homemade beauty recipes.
Where can I find rose water and culinary rose petals?
While culinary rose petals aren't totally necessary for this rose sugar scrub recipe, they are a great staple to have on hand for DIY beauty projects! You can find them on Amazon. I also found my rose water on amazon. I like keeping both of these things handy for lots of different homemade beauty recipes!
If you would rather purchase rose essential oil, you can swap out the rose water for 20-30 drops of rose essential oil for this recipe.
While many rose scented beauty products completely miss the mark, this sugar scrub smells perfectly like a fresh picked flower. The grapeseed oil has a very faint scent, and allows the rose water to take over – it smells so good.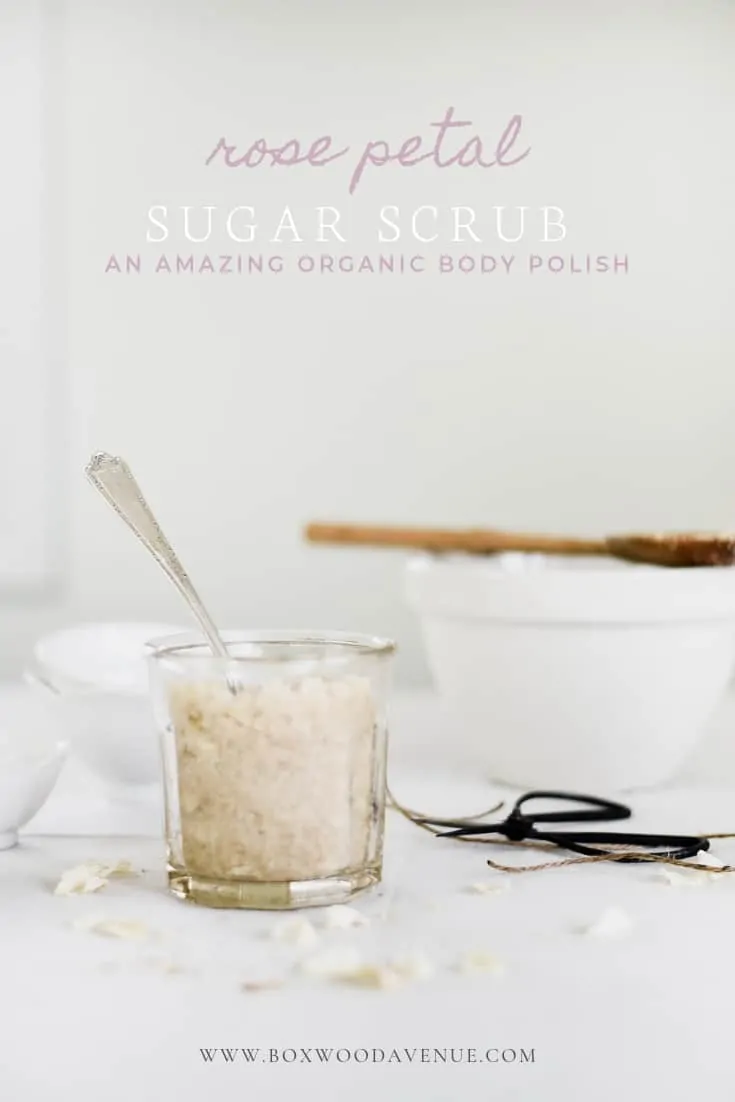 Sugar Scrub Variations
Lavender Sugar Scrub: Combine lavender essential oil, olive oil, and dried lavender buds.
Winter Citrus: Combine sugar, oil, and a mixture of spruce, clove, and orange essential oils. This makes a great holiday gift!
Coco Rose: Use coconut oil instead of grapeseed oil for a wonderfully tropical body scrub!
Additionally, You can mix and match any variety of essential oils and extracts to create a completely custom sugar scrub!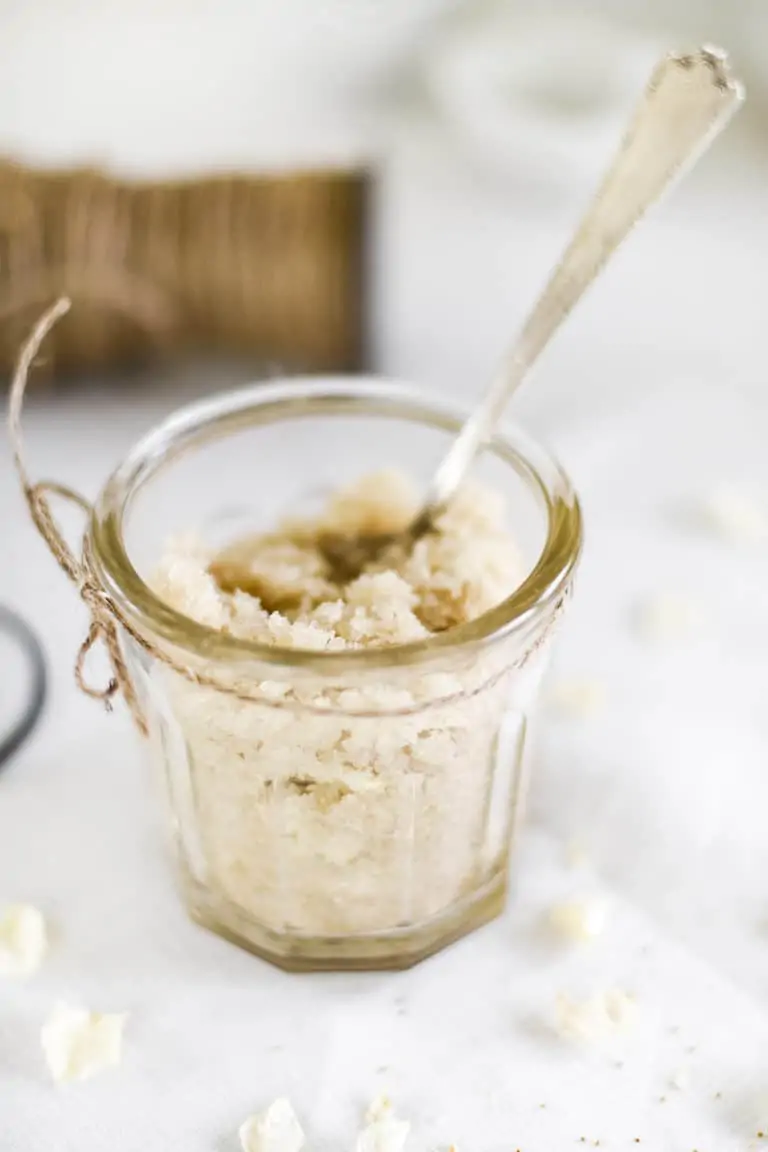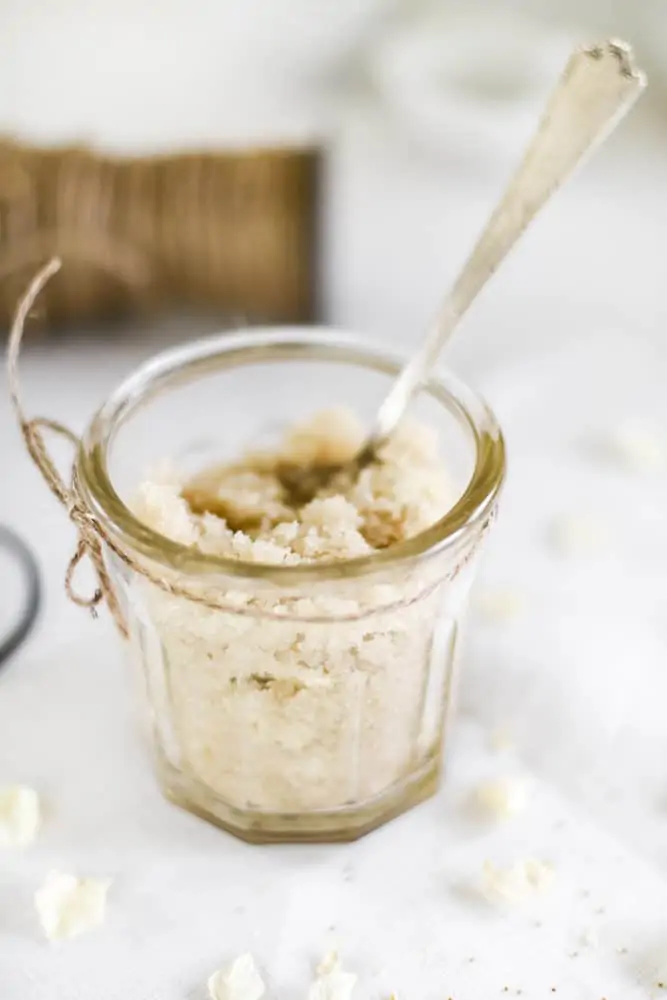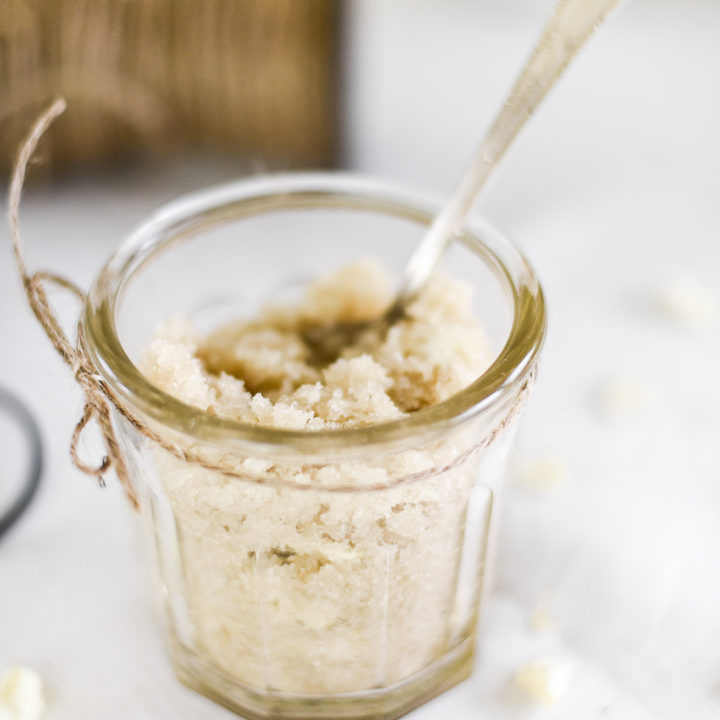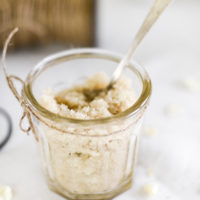 Print
Sugar Scrub Recipe
Get glowing skin with this simple suagr scrub recipe! Exfoliate and brighten while practicing self care!
Equipment
Small glass jars

Mixing Bowl
Materials
3/4

cup

coarse sugar

2

tablespoons

rose water

optional

1/8

cup

culinary rose petals

optional

1/4

cup

grapeseed oil

or oil of choosing

essential oils of choice

optional
Instructions
Combine all ingredients in a medium-sized mixing bowl and stir well.

Place into an 8 ounce re-sealable glass jars.
Notes
If you do not have grapeseed oil, olive oil or coconut oil is a great alternative.
If you do not have rosewater, skip it, it is optional.
Add essential oils of your choosing to customize the scent and benefits of the scrub.
The more coarse the sugar, the more exfoliating the scrub will be. Any type of sugar will work well.