Oh concrete countertops, we have such a tumultuous relationship, but…we are set in stone forever, so I will embrace all of your quirks.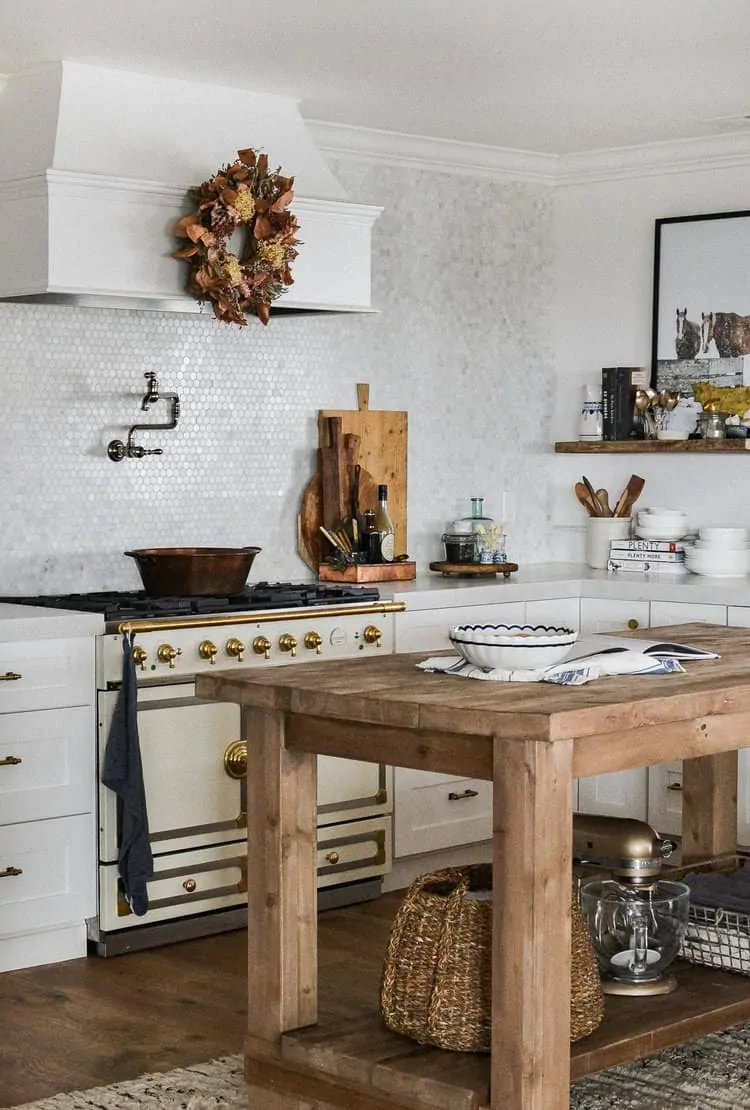 I get asked daily about our concrete countertops, and this post has been a long time coming. Before you dive into this post I will tell you that although we love our countertops, I wouldn't necessarily recommend concrete countertops to you.
Chances are, you've poured over every tutorial. You've read every blog post. You've looked at every picture. You think you're ready to pull the trigger on concrete, and here you are, reading my point blank honesty.
Here we go…
Our concrete countertop adventure started as my idea of a way to save a little money in our kitchen renovation. I wanted the look of marble, but didn't want to pay the price for it. In fact I never even priced out marble (or quartz for that matter). I assumed that concrete would be cheaper. People DIY'd it, so it's gotta be cheaper right? Not so fast. Our supplies alone cost almost $4,000, which isn't really that much less expensive than a prefabricated quartz slab.
I am not sure the exact total of the countertops because the labor was so expensive. The materials were relative compared to the time spent installing them. While the molds could probably be installed yourself, I would not recommend you mixing and pouring the concrete yourself. There is zero room for error, and if you've never worked with concrete before, this is not the place to start. The term 'set in stone' is very literal. Sure, it can be done, but I wouldn't recommend.
We hired a professional with lots of experience pouring concrete. The time he spent on these countertops was costly, but absolutely necessary. He is a craftsman through and through and did not cut a single corner.
You can read about the pouring and initial sealing here. It's long, and there's a lot of information….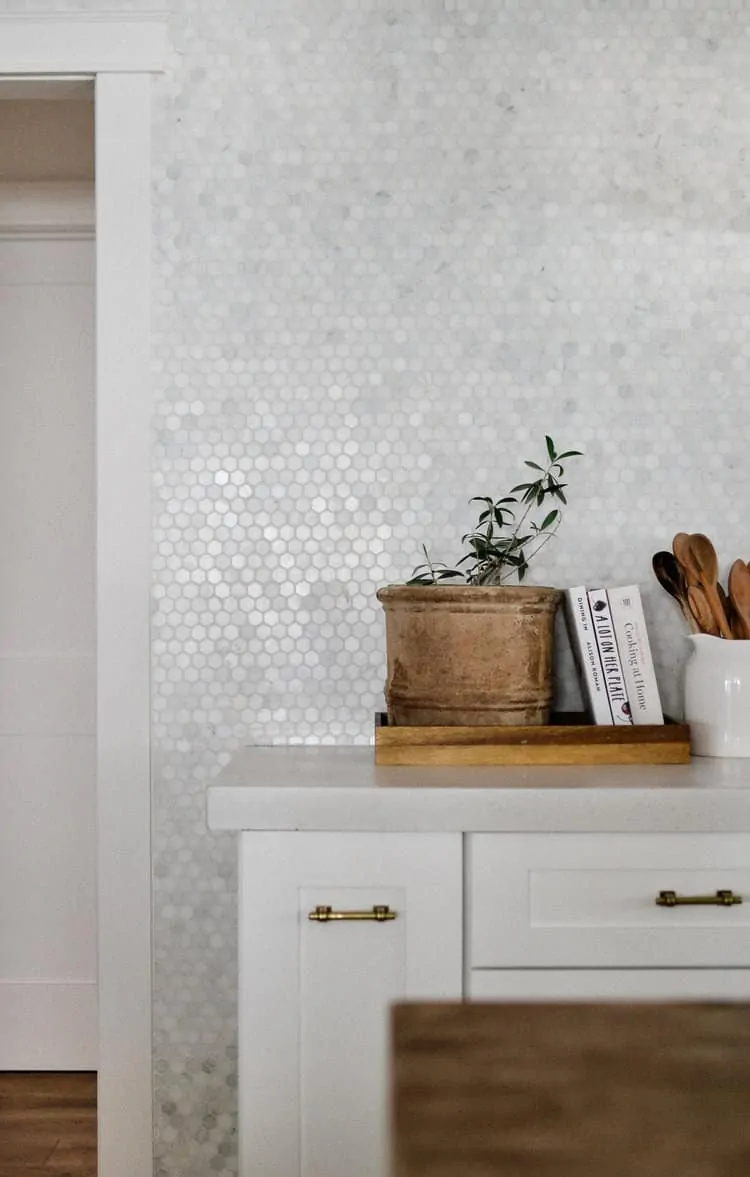 Fast forward to the final sealant: We purchased the STONELOK sealant system with high hopes. After reading how durable the sealant is supposed to be, we were sure it would be the ticket to success.
It's good, but it's not great.
First of all: mixing it is like a science experiment. The instructions are very detailed, but each step is extremely intricate. It's not something you can just whip up. The company was incredibly helpful, and I am happy with the product, but not blown away like I thought I would be.
We used a foam brush and rolled it on with no problem, there aren't any seams. We somehow ended up with extra low gloss in the kitchen and low gloss in the pantry. For reference: I prefer the low gloss over the extra low gloss.
I was prepping for our annual Friendsgiving and decided to test the sealant by cutting the stuffing on the countertop. I know this sounds crazy, but the videos of the razor blade being scraped across concrete sealed with STONELOK was very promising. My first cut proved otherwise: the sealant is not blade-proof. Which isn't really that big of a deal, just something to be aware of.
It is; however, much more durable than the first sealant. It acts as a barrier sort of like a clear coat of paint on top of the cement. Red wine, pasta sauce, etc… does not seep through. There are a few little holes in the sealant (I'm not sure how they got there), and if something gets in the holes I have to pour bleach over them.
Also, the sealant bubbles under heat. Even with a hot pad underneath of a hot pan, I notice that a bubble forms between the sealant and concrete. It usually goes back down once everything cools down, but there are a few places where cracks have formed in the sealant.
This may be because the STONELOK system was the second sealant we used on the countertops. We removed the first sealant as best we could, but some of it may have soaked into the countertops preventing the STONELOK system from fully curing. I will never know the true answer to this…but those are my assumptions.
We have to be very careful with heat and abrasive materials on the countertops (even twisting a wine bottle on the countertop as you unscrew the cork will cut into the sealant). I suppose this is similar to marble, but we opted for concrete because we were under the impression that it would be more durable. For example: I rested a piece of tape on the counter and when we picked it up, it ripped the sealant off. I was able to glue the sealant back down, but still…
The countertops have been a journey. One that I don't think I'd like to go on again.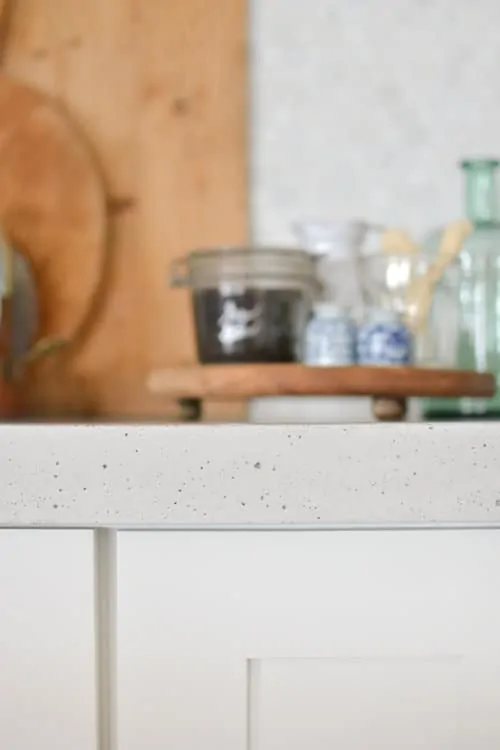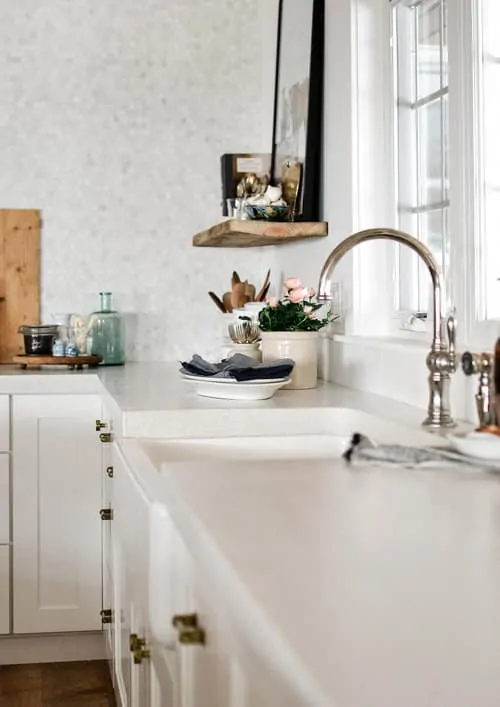 With all of that said, we really do LOVE them. I'm not just saying, "oh we love them!" as a way to try and convince myself of it, we do actually love the look and feel of them. They are great! They are cool to the touch like stone, they give off a very old world, well-loved appearance, and they are a wonderful creamy color! However, if you have kids, teenagers, or aren't the type to be careful with heat etc… concrete is not for you. Once you pour – they are literally set in stone, and remodeling ten years down the road is not going to be as simple as "removing the old countertops".
They are beautiful and they give the look of an organic surface, so if you're single and have a small kitchen you want to use concrete, go for it! Just know that it's not something I'd recommend DIY'ing, and that they require a lot of love.
If I were to do this all over again, I'd probably opt for quartz. They make such beautiful options now that you can hardly tell the difference between quartz and marble. I also love black soapstone for a classic look.
I think a lot of people see concrete countertops and think they will be an easy, cheap, and durable option for their kitchens. This really isn't the case. I would advise you to go to a local cabinet company or ask your tile pro about stone slabs. Chances are, you'll be able to find something beautiful in your budget! In fact, pre-manufactured quartz slabs are quite inexpensive and very beautiful! We are using some in our laundry room, I will let you know how we like them once they are installed!
Until then, feel free to ask any questions you might have in the comments below!
PS: If you do want to go with concrete. Make sure to find someone who has worked with them before. Perhaps they have a sealant that they love using, or maybe they know of a particular cement brand that is great to work with… Their knowledge will be worth the investment!